Family: Rosaceae
Synonyms: Fragaria abnormis, Fragaria aliena, Fragaria alpine, Fragaria americana, Fragaria botryformis, Fragaria bracteate, Fragaria californica, Fragaria chinensis, Fragaria concolor, Fragaria eflagellis, Fragaria gillmanii, Fragaria helleri, Fragaria hortensis, Fragaria insularis, Fragaria minor, Fragaria monophyla, Fragaria multiplex, Fragaria muricate, Fragaria nemoralis, Fragaria nuda, Fragaria portentosa, Fragaria retrorsa, Fragaria roseiflora, Fragaria succulenta, Fragaria sylvestris. Fragaria unifolia. Fragaria vulgaris, Potentilla vesca.
Common Names: Woods strawberry, Woodland strawberry, Wood strawberry
Starveling strawberry, Wild strawberry
Local Name: Bhoomphal (भूमफल ). Jangli Strawberry (जंगली स्ट्रॉबेरी),
Bhoomphal is a perennial herb which grows from a central rootstock and produce a rosette of leaves above. Plant is commonly seen growing in grassland, scrub and moist slopes of mountain region from 1000- 3500 m in Western Himalayas.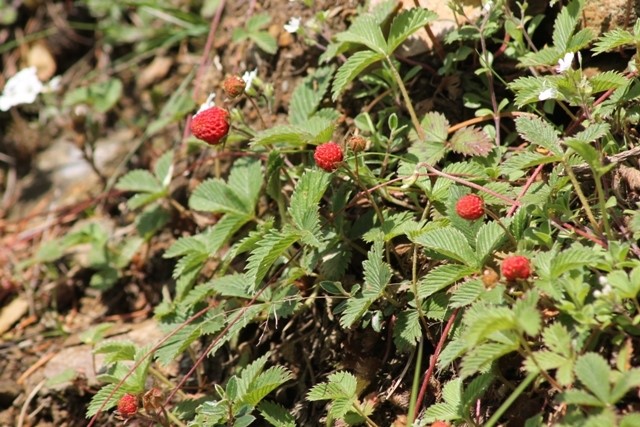 Bhoomphal usually prefers a fertile, well-drained, moisture retentive soil in sunny habitat. The small plants cover the hill slopes with their attractive white flowers and red fruits imparting a very pleasant look to inhabitants and visitors.
Bhoomphal fruits are very tasty with a pleasant blend of sweet and sour. It is mostly wild but sometimes plant is cultivated in gardens as an ornamental for its attractive red edible fruits. Bhoomphal is native to Europe and temperate region of Asia.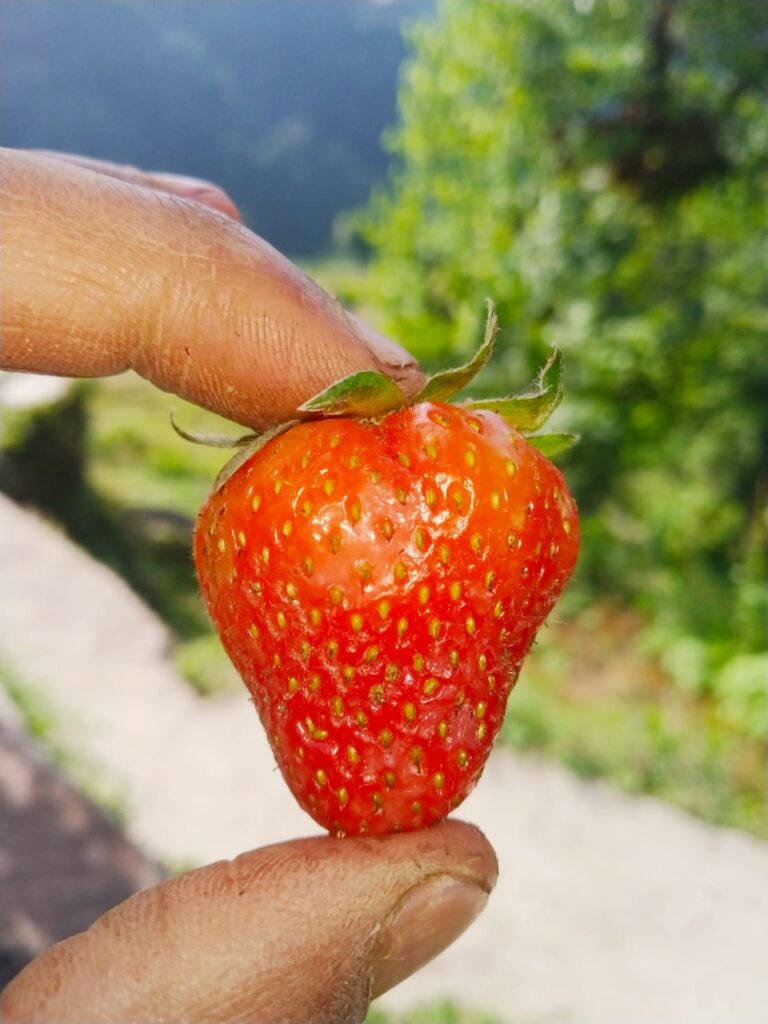 Bhoomphal ripe fruits are edible. These are aromatic and delicious and fondly eaten by local people specially children. However, these are not sold. The root has been used as a coffee substitute in India 1.
Bhoomphal is harvested from the wild for local use as a food, medicine and source of materials.
Bhoomphal Plant:
Plant is erect or ascending, perennial, hairy, stoloniferous herbs.
Leaves are 3- foliate; leaflets 2-5 to 1.5- 3 cm oval, sessile or petiolulate, sparsely hairy or glabrescent above, pubescent beneath, toothed; teeth tipped with tuft of silky hairs; stipules entire.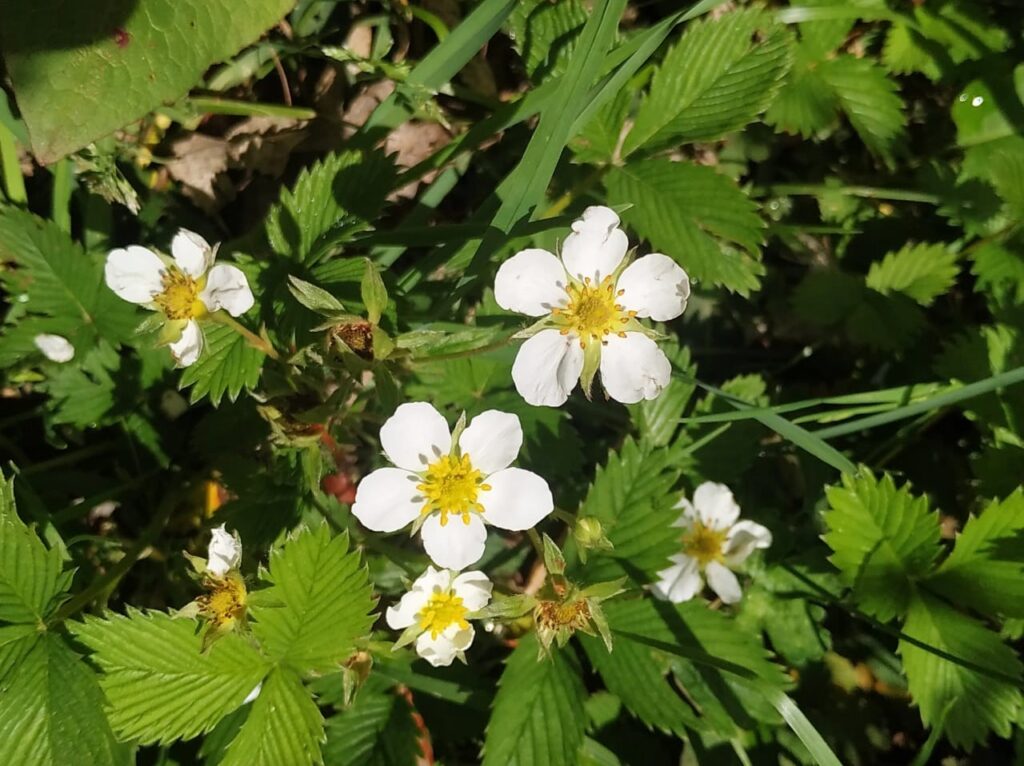 Flowers are white, solitary or 1-3 together, on long peduncles. Bracteoles entire.
Fruits are globular, red, containing many glabrous achene's; receptacle fleshy.
Bhoomphal best provide edible plant parts leaves from spring season to winters and edible fruits from rainy season to autumn.Sustainable harvesting is needed for sustainable promotion of wild edibles.
Edible Uses:
Fruits, leaves and roots of bhoomphal are edible. Ripe fruits are edible and eaten both raw or cooked. These are added to desserts, puddings etc.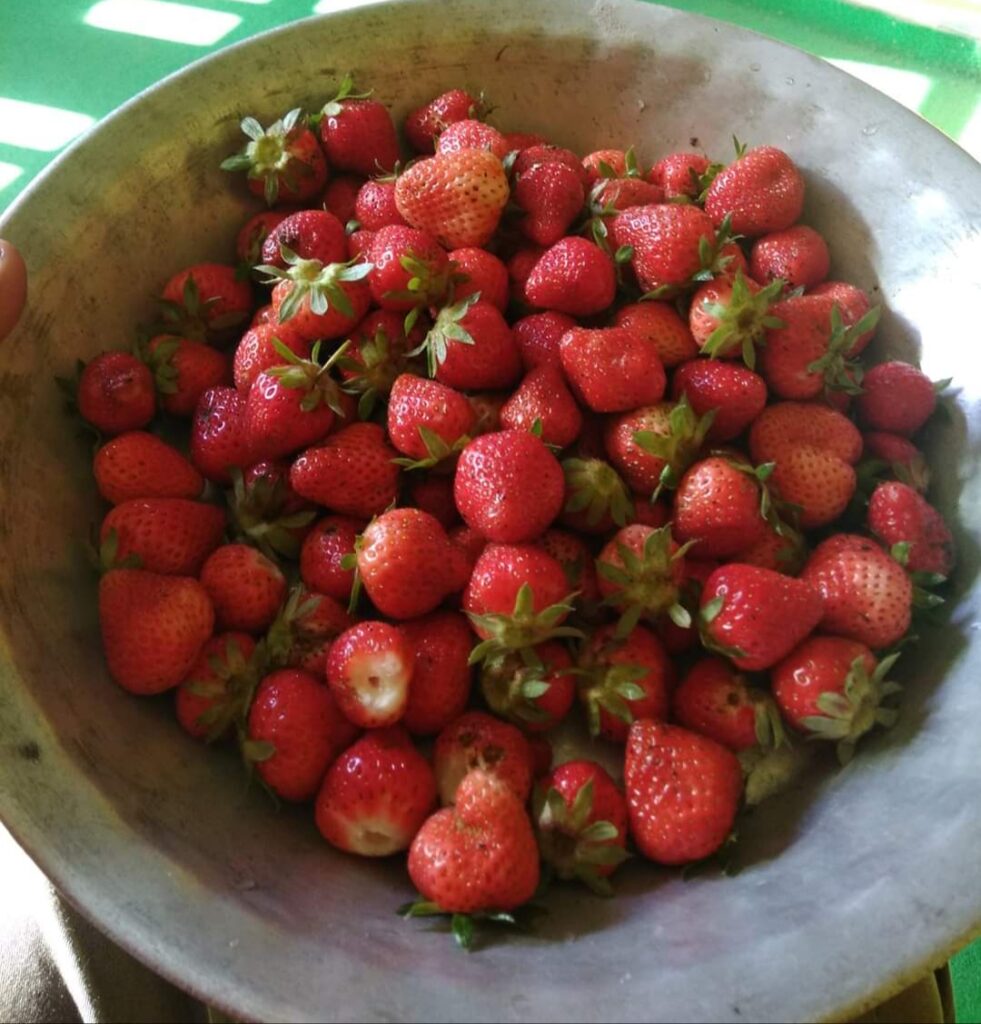 Leaves are eaten fresh or used as potherbs along with other greens to harness their medicinal values. These are used in tea and also dried or preserved for latter use. A traditional delicious dish kachru or sosaru can be prepared from fresh young leaves along with basen and spices. Decoction of fresh leaves is used as a refreshing drink in summer and considered good for children. Dried roots are used as coffee substitute.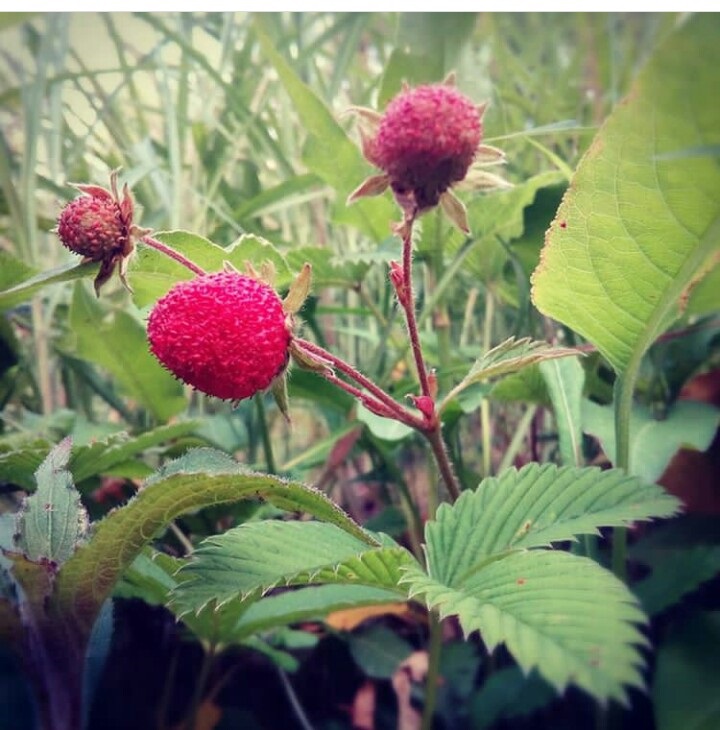 Vegetable:
Ingredient:
Ground bhoomphal leaves, 300g -500g; chopped potatoes in cubical shape, 1 kg: mustard oil, 3-4 table spoons; coriander powder, 1 table spoon; fenugreek powder, ½ table spoon; cumin seed, 1 tea spoon; turmeric powder, 1 table spoon; red chilies , 2-3; chopped medium sized onions 2-4; garlic, 4-5 cloves; ginger paste ½ table spoon; meshed tomatoes, 3-4; milk cream, 1-2 spoon, and salt, according to taste.
Method:
In hot mustard oil shallow fry spices listed above in a sequence. Add meshed tomatoes, ground sa bhoomphal leave paste and saute for one minute, Now add chopped potato pieces and again saute for 2-3 minutes in slow flame. Then add 1-2 medium sized glass of water and cook till potato pieces are soft enough to eat. Add 1/4 spoon of garam masala to it and serve with rice or chapatis.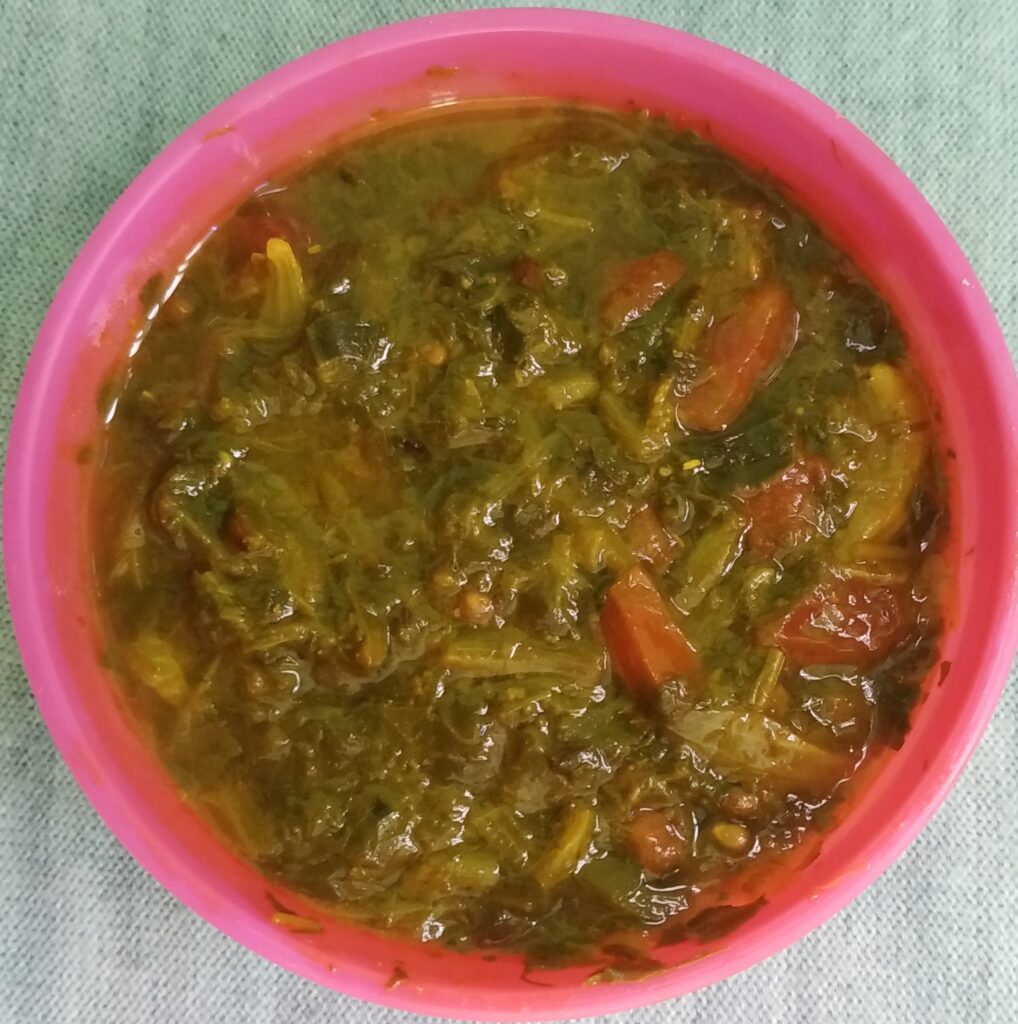 Desserts:
Ingredients:
Ripe fruits of bhoomphal and other chopped fruits acc. to taste,1/2kg; curd, 1kg; sweetener like honey/ sugar/ condensed milk, 1-3 tea spoon; cardamom powder,1/4 tea spoon; black salt according to taste.
Method:
Take curd in a bowl. Add to it sweetener according to choice and stir well. Add cardamom powder, black salt, ripe bhoomphal fruits and other chopped fruits according to preference. Mix well and serve.
Kachru or sosaru:
For preparing a kachru, ingredients required are 1kg fresh leaves, 1/2 kg besan (black gram powder) or corn flour. 1 cup amount fresh coriander leaves,1/2 table spoon ajwain, 3-5 green chillies, ½ table spoon turmeric powder, 2-3 chopped onions and salt according to taste
Method:
Make a paste of leaves, besan or corn flour and spices. Heat some oil on a flat heating pan. Put this paste over a pan and cook for 15 to 20 minutes then kachru will be ready to serve.
Refreshing Summer Drink:
For preparing refreshing summer drink, boil leaves of bhoomphal 250g in half litre of water for 8-12 minutes then wait for cool down. Add to this 12-15 honey drops, fresh or dried mint leaves, pinch of salt and black pepper as required then mix it well and now it is ready to serve. Drink is considered as a cooling agent in full summers.
Nutrient Value:
The fruits contain water, 87-88; sugars 3.0-4.5; free acids, 1.33-1.65; and ash 0.6-0.7 per cent 2.
Seek professional advice before treating this plant medicinally.
Medicinal Value:
bhoomphal leaves are mildly astringent and diuretic 3. The plant is little used medicinally today, but it can be taken to throat to treat diarrhoea and dysentery 3. The leaves were used as a gargle for some throats and in a lotion for minor burns and grazes 3. The leaves are mainly used, though the fruits are an excellent food to take when feverish and are also effective in treating rheumatic gout 4. A slice of strawberry is also excellent when applied externally to sunburnt skin 4. and also, as an external wash on sunburn 5. The fruits contain salicylic acid and are beneficial in the treatment of liver and kidney complaints, as well as in the treatment of rheumatism and gout6. The roots are astringent and diuretic 4,5.
Chemical constituents: the leaves contain flavonoids, tannins and a volatile oil. The fruit contains fruit acids and a volatile oil with methyl salicylate and borneol 3.
Other Uses:
The fruit is used as a tooth cleaner 4. The fresh fruit removes stains from teeth if it is allowed to remain for about 5 minutes 4. The fruit is also used cosmetically in skin-care creams 7. It tones and whitens the skin, combats wrinkles, lightens freckles, soothes sunburn and whitens the teeth 5.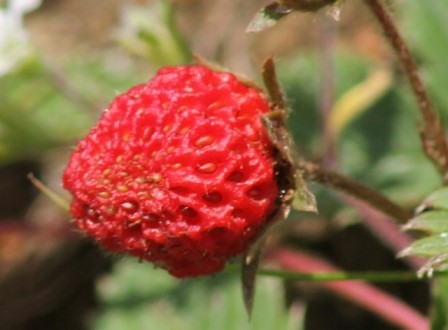 References:
Chopra, R. N., Nayar, S. L., & Chopra, I. C. (1956). Glossary of Indian medicinal plants (Vol. 1, pp. 138-139). New Delhi: Council of Scientific & Industrial Research.
Parmar. C. and Kaushal. M.K. (1982) Wild Fruits of the Sub-Himalayan Region. Kalyani Publishers. New Delhi.
Purohit SS, Sharma AK, Prajapati ND, Kumar T. (2009); A handbook of medicinal plants: a complete source book. 2:352-3.
Grieve (1984). Penguin. A Modern Herbal.
Foster, S., & Duke, J. A. (1990). A field guide to medicinal plants: eastern and central North America. The Peterson field guide series (USA).
Phillips. R. & Foy. N. (1990). Pan Books Ltd. London. Herbs.
Chiej. R. (1984) MacDonald. Encyclopaedia of Medicinal Plants.