Family: Agaricaceae
Synonyms: Agaricus procerus, Lepiota procera, Amanita procera, Mastocephalus procerus, Leucocoprinus procerus, Lepiotophyllum procerum
Common Name: Parasol mushroom
Local Name:Badi chhattri (बड़ी छतरी)
Badi chhattri plant often grows abundant in the early monsoon period and is one of the well-known edible mushrooms of Western Himalaya. It is seen growing in small clusters or individually, in forests, parks, gardens, meadows, pastures. or woodland edges and very often in disturbed or poor soil. Badi chhatri forms fruiting bodies from June to November in lighted position. It prefers warm positions on calcareous and sandy soils.
Badi chhatri plant is harvested from wild habitat as a source of food. It is mainly eaten to harness its nutritional value. In general, it is very are high in protein and low in fat and carbohydrates. It specifically tends to collect and concentrate certain minerals from the soil, so are very high in essential minerals such as iron, calcium, potassium, and zinc 1.
Badi chhatri Plant:
Badi chhatri plant is 6.5 to 9 cm high and 4.6 to 9.5 cm wide.
Cap: Surface convex, brown to greyish brown (5D3) with olive brown umbo (4E4) covered with greyish brown (5D3) to brownish orange (5C3) appressed fibrillose scales over yellowish white background; margin inflexed, irregular, splitting at maturity; cuticle fully peeling; flesh creamish white, unchanging, 0.4 – 1.0 cm thick; taste and odour mild. Very round initially, opening to almost flat with a bump in the center, sometimes quite large. The flesh is soft and whitish and does not bruise.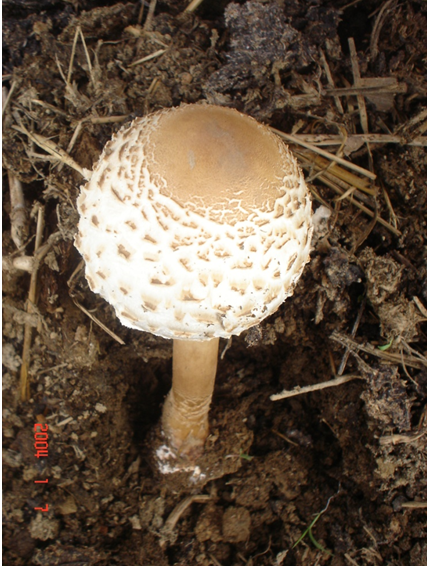 Gills: Free from the stem, crowded, white. Lamellae free, collariate, close to crowded, unequal, of 3 – 4 lengths, 0.5 – 0.8 cm broad, yellowish white (4A2), ventricose; gill edges smooth.
Stipe: central, 6.2 – 16 cm long, 0.5 – 0.7 cm broad, 2 cm near the base, yellowish white (4A2), often covered with greyish brown (5D3) scales which breaks up into irregular patches, at some places stipe surface cracked resulting in to banded appearance, more dense towards the base, obclavate; annulate, annulus double, brown layered on the lower side, annulus fibrous, funnel shaped, initially attached, finally movable.
Spores: Ellipsoidal, smooth.
Spore color: White
Badi chhatri is harvested from wild from rainy season to early autumn
Edible Uses:
This is the most desirable mushroom, well known for its delicious culinary and medicinal properties. It can be cooked as vegetable and can also be pickled. These are mostly cooked in combination with potatoes and can be eaten along with rice.
Vegetable:
Ingredients required:
Freshly harvested badi chhatri, 1 kg; medium sized potato; 2-4, mustard oil, 3-4 table spoons; coriander powder, 1 table spoon; fenugreek powder, 1 tea­­­­­­­­ spoon; cumin seed, 1 table spoon turmeric powder, 1 table spoon; red chillies, 2-4; medium sized ground onion, 2-3; ground garlic cloves, 4-5; tomato puree 2 cup, cream, 3-5 table spoon, green coriander leaves(chopped), 1/2 cup amount; branded garam masala,1/2 table spoon amount; salt, according to taste.
Method:
Badi chhatri pieces and chopped potato are sauted in hot oil along with spices listed above like coriander, cumin seeds, chillies, turmeric, onion and garlic paste, tomato puree and cream in sequence. Cook for 20 to 30 minutes till become soft. Garnish recipe with chopped green coriander leaves and garam masala before serving.
Pickle:
Ingredients:
Freshly harvested badi chhatri, 1 kg; mustard oil, 6-8 table spoons; coriander powder, 1 table spoon; fenugreek powder, 2-4 table­ spoon; cumin seed, 1 table spoon turmeric powder, 1 table spoon; red chillie powder, 4-6 tea spoon; mustard seed powder, 3-4 table spoon; salt, according to taste.
Method:
Boil chopped pieces ofbadi chhatri for 2=4 minutes and dry in full sunlight for four to five hours. In hot mustard oil mix these well along with spices, add to it mustard seed powder mix well and put inside ceramic jar. Pickle is ready to eat after 10 to 15 days.
Nutrient value :
Moisture (g/100 g of fresh weight) 90.01±1.73,
Ash, 9.86±0.72; Fat, 1.45±0.13; Protein, 7.62±0.08, Carbohydrates  80.38±0.19. Energy, 365.01±0.59 ,Mannitol 4.73±0.26 , Trehalose 2.92±0.13, Fatty acids (relative percentage of each FA) Stearic acid 2.38±0.08 ; Linoleic acid   64.55±0.34 ; Total SFA 24.63±0.55  Total MUFA 10.17±0.31, Total PUFA 64.72±0.35 (g/100 g of dry weight)2.
Seek professional advice before using this plant medicinally.
Medicinal Uses:
Badi chhatri plant is known to possess antioxidant, antimicrobial, and anticancer properties 3
References:
1.Kuldo, E., Jarzyńska, G., Gucia, M., Falandysz, J. (2014). Mineral Constituents of Edible Parasol Mushroom, Macrolepiota procera (Scop. Ex Fr.) Sing and Soils Beneath Its Fruiting Bodies Collected from a Rural Forest Area. Chemical Papers. 68(4): 484–492.
2, Buruleanu, L. C., Radulescu, C., Georgescu, A. A., Danet, F. A., Olteanu, R. L., Nicolescu, C. M., & Dulama, I. D. (2018). Statistical characterization of the phytochemical characteristics of edible mushroom extracts. Analytical Letters, 51(7), 1039-1059.
3. Fernandes, Â., Oliveira, M. B. P., Martins, A., & Ferreira, I. C. (2012). Add-value of Lactarius deliciosus and Macrolepiota procera wild mushrooms due to their nutritional and nutraceutical potential. In International Congress on Pormotion of Traditional Food Products, 3 a 5 de Maio de 2012.
4. (Pic credit to) Dr. Babita Thakur. Research Associate.Directorate of Mushroom ResearchChambaghat, Solan HP 173212
[email protected] 3