Family: Oxalidaceae
Synonyms: Oxalis dehradunensis, Ionoxalis intermedia
Common Name: Broadleaf woodsorrel
Local Name: Trikhada (त्रिखड़ा), Kunth.
Trikhada is a perennial, acaulescent herb commonly seen growing upto an altitude of 750- 1000 m in Western Himalaya. It can grow anywhere in moist but well drained habitat and is very frequent in gardens, orchards roadsides, fencerows, wastelands and fields.
For many people trikhada is an inimical ugly weed that devitalize water, fertilizer and garden space because if once it gets a root hold in a garden, it's there forever. But it is not weed for many other, in spite of weed it is a easily available organic food plant for them, which need not to be grown as long as it's growing where one want it to grow.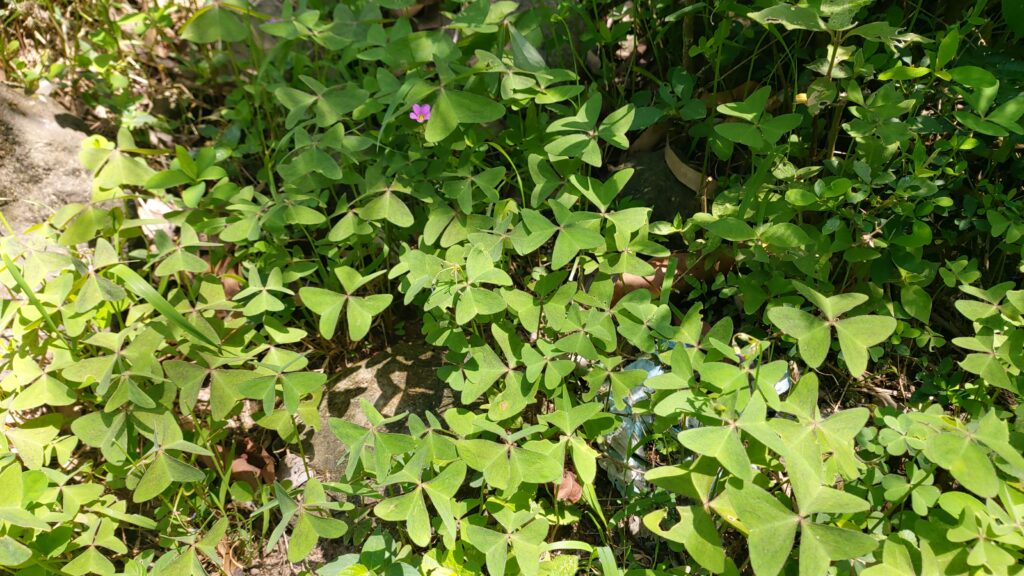 Leaves, stem, bulb, flowers, seedpods of trikhada are edible and eaten both raw or cooked. Leaves and stem eaten raw as salad. Along with bulbs these are cooked to make vegetable with other greens or potatoes. Leaves are also used in making chutney, soup or refreshing drink for summer. Like other Oxalis species it is rich in oxalic acid, so should be used in moderation.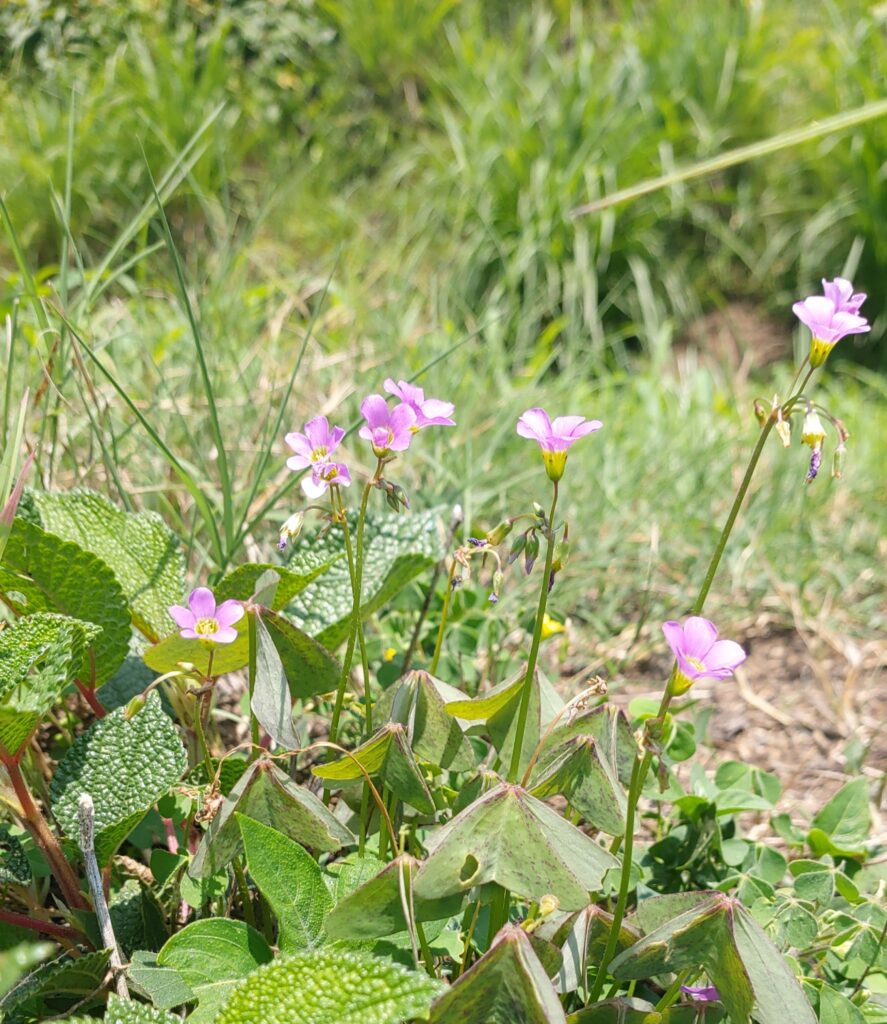 Best way to use trikhada is by mixing it with other available greens of the season and then cook as a leafy vegetable 'saag'. This was a very common traditional practice in villages where women used to collect more than 70 herbs which includes both cultivated and wild depending upon their availability and then cook these into leafy vegetable 'saag' once in a week.. In this way they use almost all medicinally important edible plants in moderation without having any side effects. This practice of including many nutritionally rich medicinal food plants in the food plate was very helpful to maintain good health of all the family members. But due to westernization, urbanization and modernization, there is a sharp decline of traditional knowledge and practice among younger generation. As a result this practice is losing ground and at present only very few women living in villages practice it.
Trikhada is harvested from the wild habitat for local personal use of food, fodder and medicine by the inhabitants of Western Himalaya.
Trikhada Plant:
Plant is perennial, acaulescent herbs, 16-25 cm tall.
With 2-6, long-petioled, radical leaves and 1-3 scapes, all arising from a cluster of small sessile bulblets.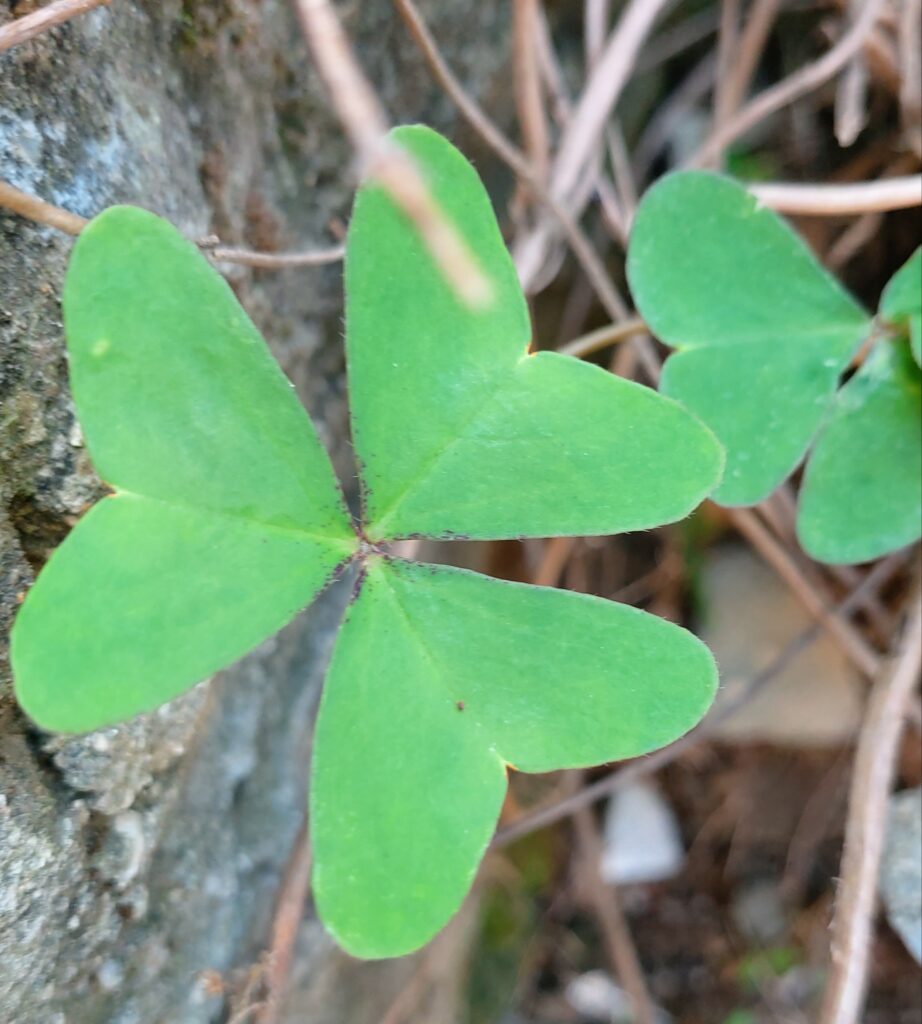 Leaves are 3-foliolate; leaflets almost sessile, obtriangular to broadly obtriangular, 20-50 mm long, cuneate at the base, glabrous, sub- bilobed; the lobes divergent and acute or round. Scapes up to 30 cm long, with terminal, 5-6 flowered umbels.
Flowers pink, pedicelled. Sepals 5, oblong. Petal pink, 8-12 mm, turning purple or violet on drying, united at the base.
Ovary elongate, 5 locular; stigma 5.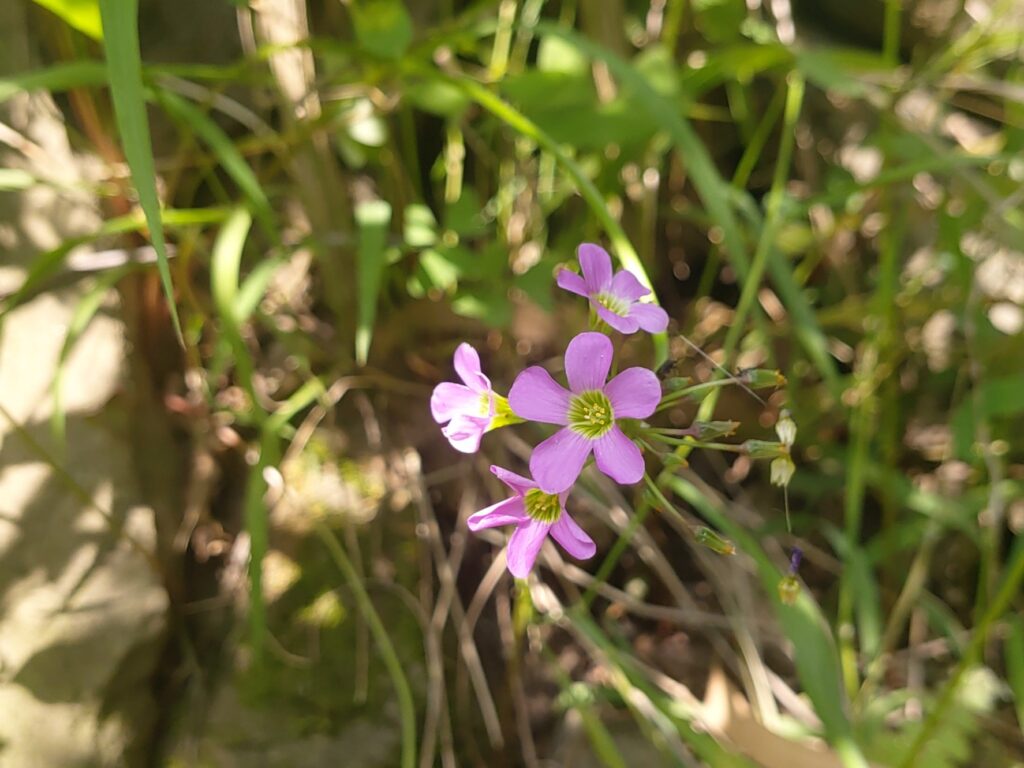 Trikhada best provide edible plant parts from beginning of spring season to pre-winter . Although plant is considered as a weed and its growth is luxuriant. But for ensuring sustainable development harvest plant by sustainable manner like rotation of habitat.
Edible Uses:
All the parts of are used by local people as food. A refreshing summer drink is very popular. Ariel parts and bulb are cooked into vegetable, Leaves and flowers are also used in chutneys or cooked into 'kachru' a local delicious traditional dish. As raw these are eaten in salad. Fresh raw leaves are liked by all but children specially relish these sour leaves during their play.
Crispy aloo tikki with addition of trikhada as a green
Vegetable:
Ingredients:
All parts of trikhada and other greens, 1 kg; mustard oil, 3-4 table spoons; coriander powder, 1 table spoon; fenugreek powder, ½ table spoon; cumin seed, 1 tea spoon; turmeric powder, 1 table spoon; red chilies, 2-3; chopped medium sized onions 2-4; garlic, 4-5 cloves; ginger paste ½ table spoon; boiled potatoes and salt, according to taste.
Method:
Boil trikhada and other available greens till they are soft. Then mesh manually or in a mixer. Then sauté with hot mustard oil and the spices listed before in sequence. This sauted saag is then ready and can be served as such or can be mixed with 2 or 3 chopped onions or boiled potatoes and cooked for another 5 to 10 minutes before serving.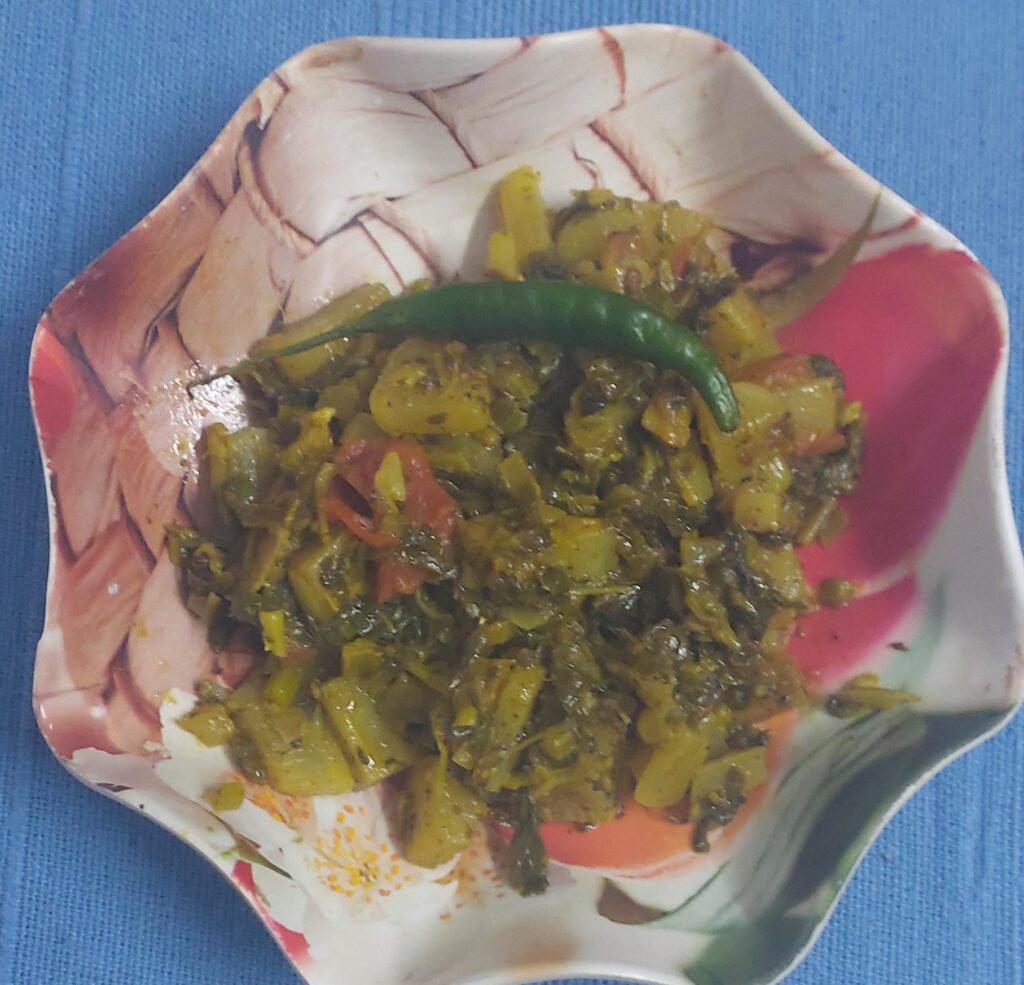 Chutney:
Ingredients:
Trikhada leaves and flowers, 200g; mint leaves, 200g; medium sized onion, 2; green chilies, 6-8 and salt and sugar according to taste.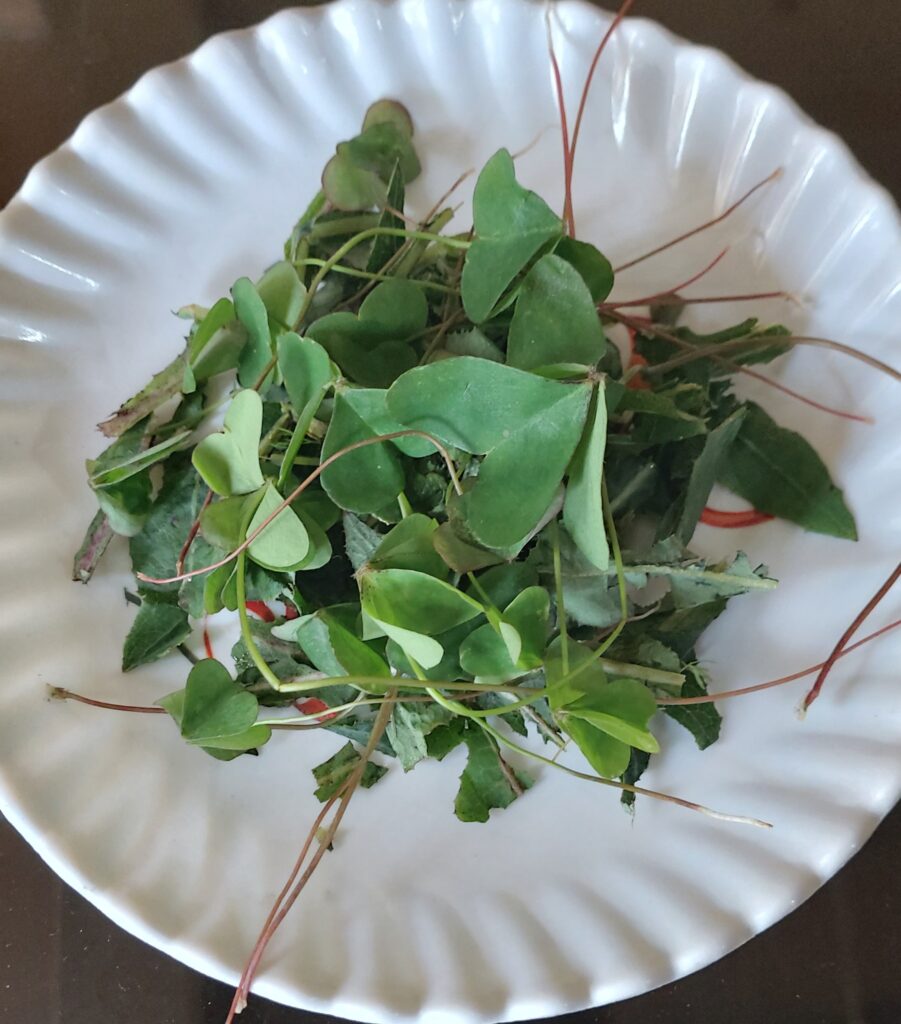 Method:
For preparing chutney grind all the ingredients in a mixer grinder and add to it salt and sugar according to taste. Now chutney is ready to serve.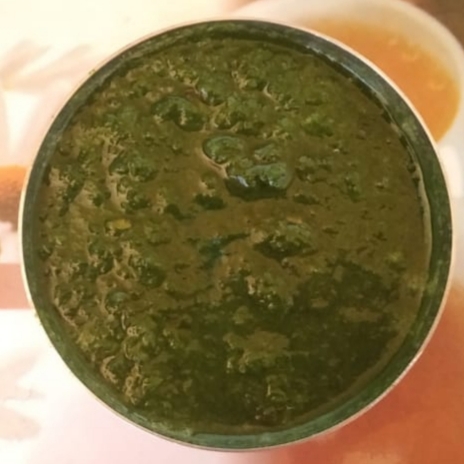 Kachru:
For preparing a kachru, ingredients required are 1kg fresh leaves, 1/2 kg besan (black gram powder) or corn flour. 1 cup amount fresh coriander leaves,1/2 table spoon ajwain, 3-5 green chillies, ½ table spoon turmeric powder, 2-3 chopped onions and salt according to taste
Method:
Make a paste of leaves, besan or corn flour and spices. Heat some oil on a flat heating pan. Put this paste over a pan and cook for 15 to 20 minutes then kachru will be ready to serve.
Refreshing Summer Drink:
Ingredients:
Ariel parts of trikhada, 250 g; Water, half liter: honey, 1-2 table spoon; mint leaves, 4-6; pinch of salt and black pepper as par choice or taste.
Method:
For preparing refreshing summer drink grind leaves in a mixer. Mix it with water and all above ingredients. Keep it overnight in refrigerator before serving. Drink is considered as a cooling agent in full summers.
Seek professional advice before treating this plant medicinally.
Medicinal Uses:
Mixture of powered aerial parts of oxalis latifolia and mentha piperita (1:1) useful against headache; 1 teaspoon twice daily 1.
Other Uses:
The juice of trikhada leaves can be used to coagulate milk for cheese making. It is also fodder for grazing animal.
References:
Sood SK, Thakur S. (2004): Ethnobotany of Rewalsar Himalaya. Deep Publications.