Family: Amaranthaceae
Synonyms: Achyranthes acuminate, Achyranthes asperoides ,Achyranthes australis , Achyranthes canescens, Achyranthes daito-insularis, Achyranthes ellipticifolia,Achyranthes fruticose,Achyranthes grandifolia, Achyranthes obovate, Achyranthes obovatifolia, Achyranthes okinawensis, Achyranthes robusta, Achyranthes sicula, Achyranthes tenuifolia.Cadelaria punctate,.Centrostachys aspera, Centrostachys australis, Centrostachys canescens, Centrostachys grandifolia, Centrostachys indica, Stachyarpagophora aspersa.
Common Name: Devil's Horsewhip
Local Name: Puthkanda (पुठ्कानडा)
Puthkanda is an annual to perennial plant of Western Himalaya with herbaceous stem that can become woody. It succeeds best in fertile soil and is very frequent in waste places, grassland, and roadsides, up to an altitude of 2000 meter.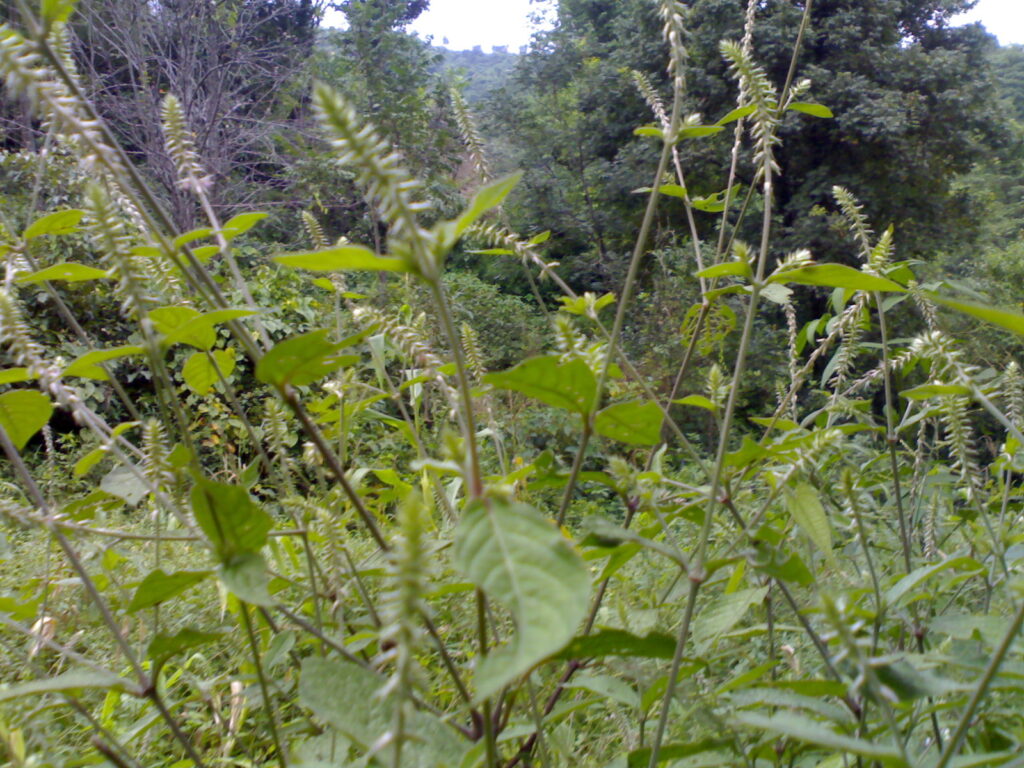 Puthkanda leaves and seeds both are edible and eaten cooked. Leaves are used as potherb with orher available greens, while seed are cooked in milk as pudding (kheer) and considered highly nutritious. In past seeds were used as an emergency food when nothing good was available.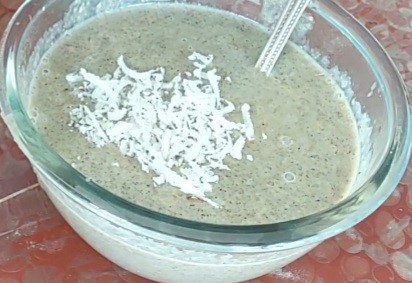 According to local people if kheer made up of Puthkanda seeds is eaten, it is sufficient to avoid hunger for 3-4 days without losing weight and consuming anything. One can live upto maximum seven days without eating anything. But currently people know Puthkanda more as medicinal plant as compare to food plant.
Fresh and dried puthkanda stem is used as toothbrush that can cure any dental problems. Puthkanda is propogated by seeds. Its seed stick to passing animal fur and human clothing and thus easily transported to fresh locations.
Puthkanda is a sacred plant for local people and worshiped in various religious festivals and rites, According to local vaidyas this plant assist in child delivery and considered as a abortificient, so women of this region keep fast (Channanshasti vrat or channanchatti vrat) after six years of completion of their menopause period. They keep this fast in a row for next six years during end of rainy season and worship stem and leaves of this plant in every fast till closing ceremony..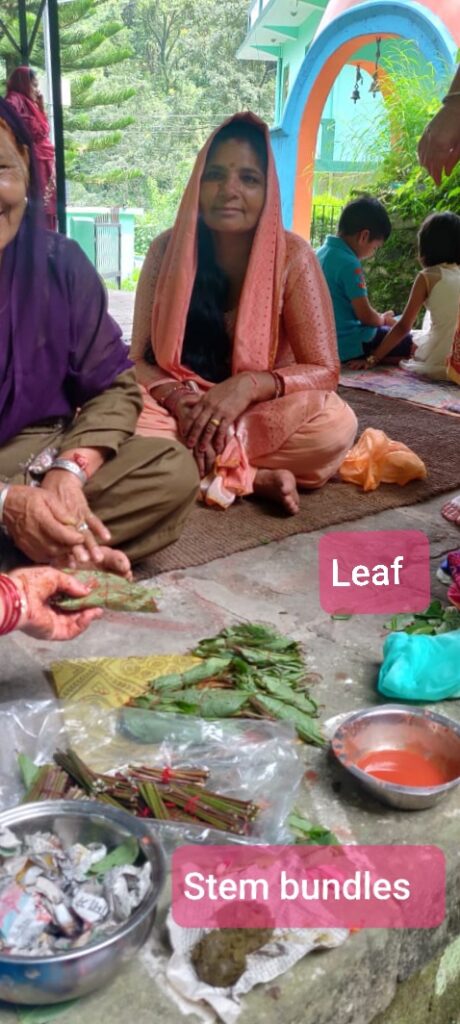 Puthkanda is collected from wild habitat as a source of food, medicine and material for local personal use. Plant is also cultivated as a food crop in some countries like China 1
Puthkanda Plant:
Erect, simple or slightly branched, pubescent herbs or undershrub's, 30-990 cm tall.
Leaves are opposite, petiolate, usually thick, leathery, variable, elliptic- obovate or suborbicular, 6-12.5 cm long.
Flowers are greenish- white, sharply deflexed, I terminal spikes, which elongate in fruits up to 50 cm. perianth- lobes 5, scarious; segments lanceolate acute, stamens 5, alternating with 5 staminodes.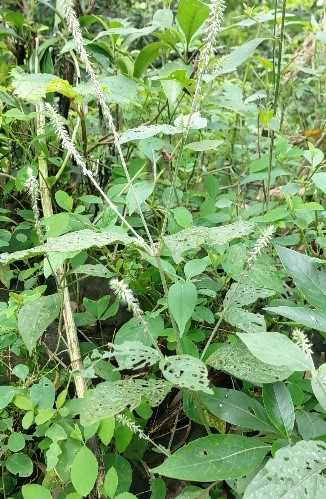 Utricles oblong, encloses I the hardened perianth.
Seeds sub cylindric, with truncate apex, brown.
Puthkanda leaves are best harvested from spring season to pre-winter, while seeds can be collected from summer end to autumn season. Seeds should be collected from different habitat for ensuring sustainable development.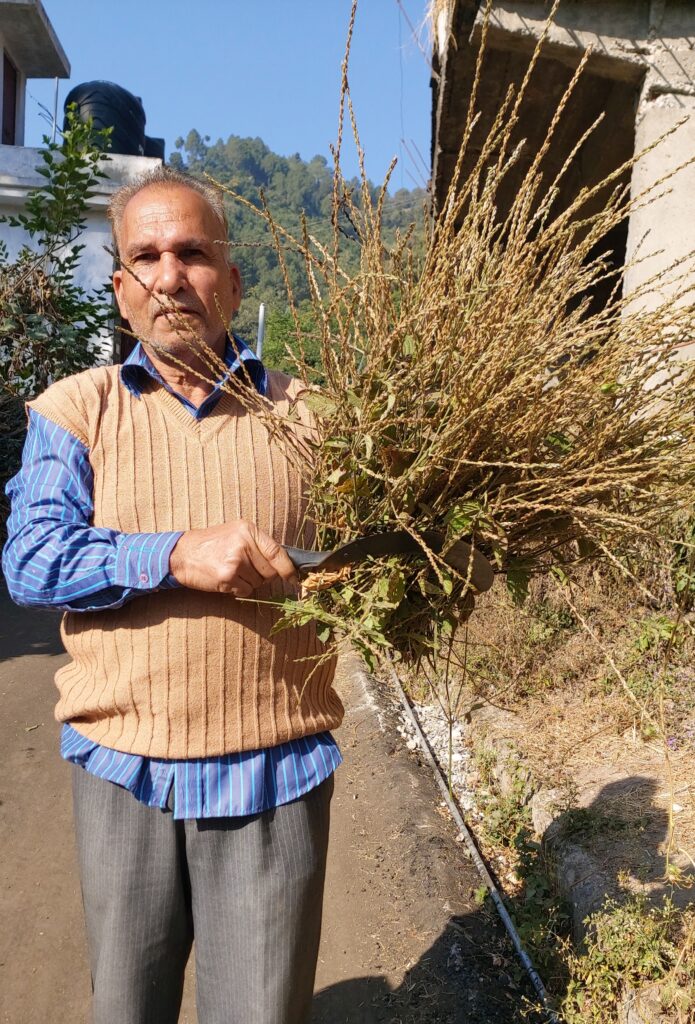 Edible Uses:
Puthkanda cooked leaves and seed are eaten. Leaves can be used as spinach substitute or cooked along with other potherbs as ssag or kachru. Seeds are cooked in pudding (Kheer)
Kheer (Pudding):
Ingredients:
Puthkanda seed, 500 g; milk, 1 liter; sugar, 250 g; grated dry fruits according to taste.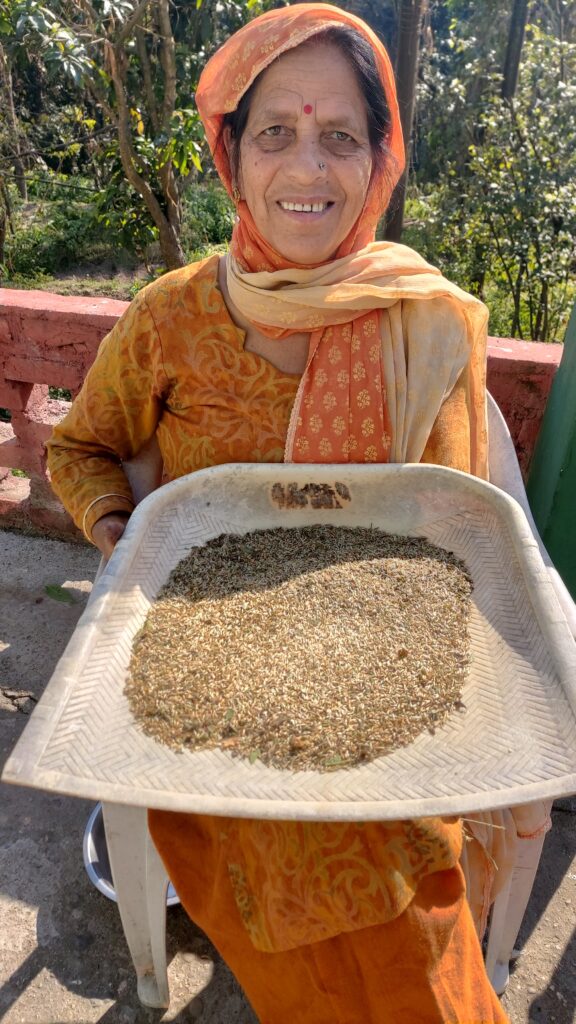 Method:
For preparing keer cook whole Puthkanda seed with sugar in milk till they are soft then garnish the recipe with grated dry fruits acc.to taste and serve. Recipe can be served during fast also.
Vegetable:
Ingredients:
Tender leaves of Puthkanda and other available pot herbs, 1 kg; mustard oil, 2 table spoons; coriander powder 1 table spoon; fenugreek powder, ½ table spoon; cumin seed ¼ table spoon; turmeric powder, 1/4 table spoon; red chilies, 2-3; chopped onions 2-4; garlic, 4-5 cloves; ginger paste ½ table spoon and salt according to taste.
Method:
Boil chopped leaves they become soft. Then mesh manually or in a mixer. Then sauté with hot mustard oil and the spices listed before in sequence. This sauted saag is then ready and can be served as such or can be mixed with 2 or 3 chopped onion and cooked for another 5 to 10 minutes before serving.
Kachru:
For preparing 1/2 kg leaves of Puthkanda Kachru ingredients one will need 250g besan (black gramflour) or corn flour,1 cup fresh coriander leaves (chopped), 3-5 green chilies, ½ table spoon turmeric powder, 1/2 table spoon caraway, 2-3 medium sized chopped onions and salt according to taste.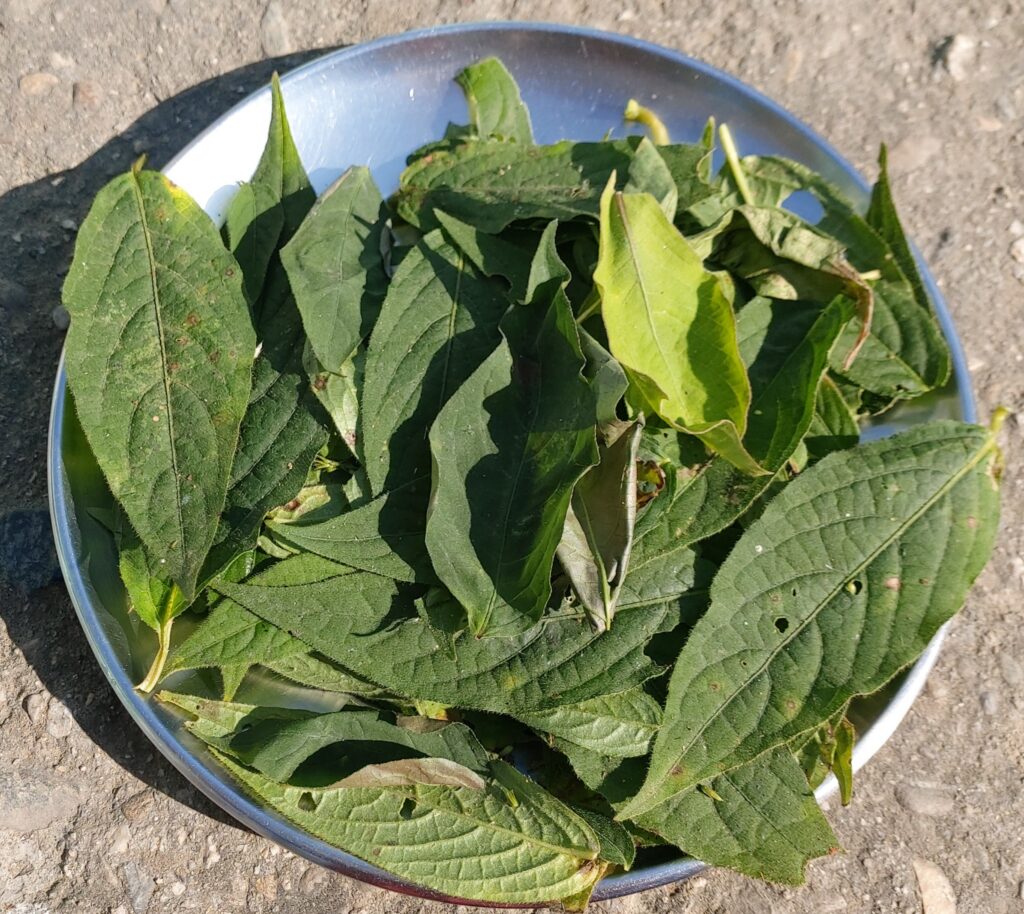 Method;
Make a paste of flowers with besan or corn flour and mixing it with spices. Heat some oil on a flat cooking pan and spread paste on it. Heat for 15-20 minutes occasionally turning it to other side and kachru will be ready. Serve hot with tomato sauce or some other ketchup.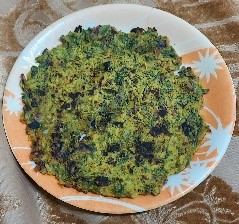 Nutritional values:
Plant contains moisture 4.05%, proteins 20.54%, fats 0.903%, ash 20.25%, carbohydrates 54,26% and energy 294 Kcal. Vitamin profile was found to be B(1) 0.27mg/100g, B(2) 0.28mg/100g, B(3) 0.58mg/100g, B(6) 0.27mg/100g and B(9) 39μg/100g. The content of sodium, calcium, magnesium, potassium, chloride and phosphorus was found to be 1119.67, 5385.23, 5446.08, 1343.6, 675880.73 and 1447.5mg/kg respectively and trace metals i.e. iron, copper, zinc, manganese and aluminum were detected as 283.05, 8.062, 48.37, 16.12 and 9.853 mg/kg respectively 12.
Seek professional advice before treating this plant medicinally.
Medicinal Uses:
Fresh or dried stem and roots are used as toothbrush by locals. They use dried one in off season, Whole plant is useful in treatment of dropsy, piles, boils and skin problems 2.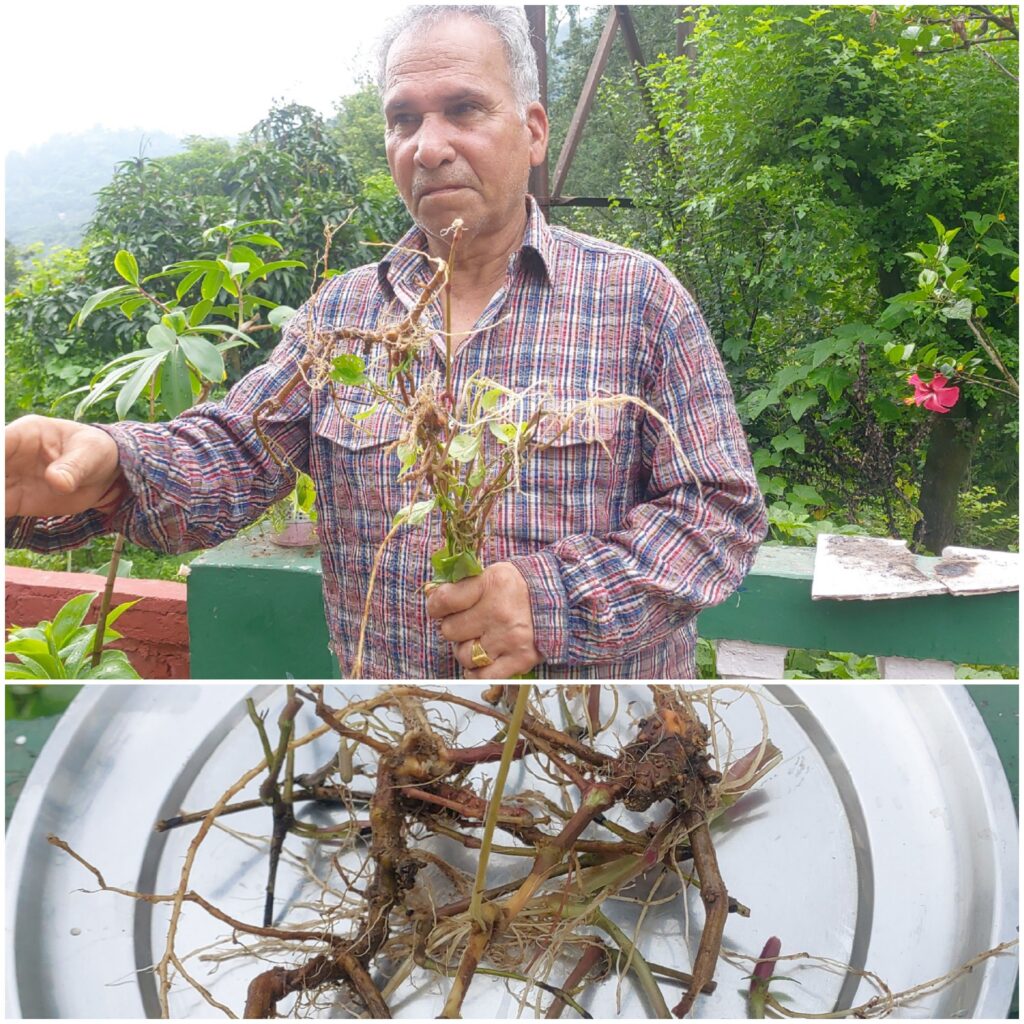 So far in India plant is known as diuretic, febrifuge, abortifacient, germicidal, tonic, and treatment for asthma, anti fertility in women, boils, bronchitis, cold, colic, child birth, cough, debility, dropsy, dysentery, ear complaints, eye complaints, headache, hydrophobia, insect- bite, laxative, leuoderma, liver complaints, pain in ribs and body, piles, pneumonia, reducing hunger, renal complaints rheumatism, scabies, scorpion- bite, skin diseases, snake- bite, sore, stomachache, syphilis, toothache whooping cough, wounds; and also to expel placenta, worms and word off ghosts 3,4,5 . It is reported to be useful in cancer 6.
Chemical constituents:
The roots contain triterpenoid saponins, betaine, achyranthine, hentriacontane, ecdysterone and two glycosides of oleanolic acid have been reported. The dried dehusked seeds contain amino acids6.
Biological activity:
Hypertensive and cardiotonic activity found positive 7. Benzene- soluble fraction of the plants showed 100% abortifacient activity in rabbits at a single dose level of 50 mg/ kg. Total alc. Ext. neither estrogenuic nor antiestrogenic or androgenic 8
Spiritual Uses:
Whole puthkanda plant is considered as a sacred plant by the inhabitant of Western Himalaya and worshipped in many spiritual rites.Local people of Mandi area of Himachal Pradesh worship this plant as a whole along with some other sacred plants of this area in famous SEER festival of rainy season. Puthkanda stem and leaves are used in worship during closing ceremonies of various fast like Haritalika fast.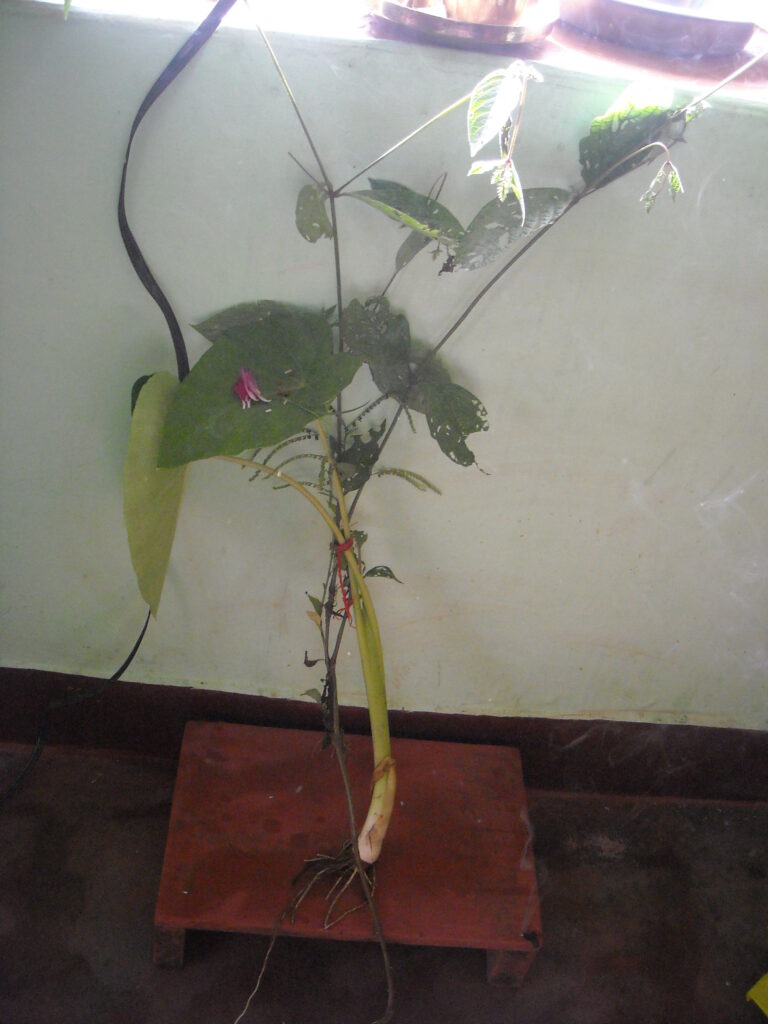 Other Uses:
This species is considered to be an indicator of soil fertility in the areas where it grows 9. The ash from the burnt plant, often mixed with mustard oil and a pinch of salt, is used as a tooth powder for cleaning teeth 10. A rich source of potash, it is used for washing clothes 10 and as a source of alkali in dyeing 11. The dried twigs are used as toothbrushes 10, 11.

References:
1. Reid. B. E. (1977): Famine Foods listed in the Chiu-Huang Pen-ts'ao.Southern Materials Centre; Taipei Publication.
2. Singh PB. (2018). Flora of Mandi district. Himachal Pradesh: North West Himalaya.
3.Jain, S. K. (1991). Dictionary of Indian folk medicine and ethnobotany. Deep publications.
4. Karnick, C. R., Tiwari, K. C., Majumdar, R., & Bhattacharjee, S. (1981). Newer ethnobotanical and folklore studies of some medicinal plants of Gauhati and surrounding areas. Nagarjun, 24(11), 240-245.
5. Tiwari, A. K. (1979). Singular Products of Distributions. Mathematische Annalen, 240, 39-40.
6. Purohit SS, Sharma AK, Prajapati ND, Kumar T. (2009); A handbook of medicinal plants: a complete source book. 2:352-3.
7 Anonymous. (1975). Underexplited Tropical Plants with Promising Economic Value. National Academy of Sciences, Washinton D .C.
8. Bhattacharyya-Pakrasi, S. M., Dickeson, K., & Santoro, S. A. (1998). α2β1 Integrin recognition of the carboxyl-terminal propeptide of type I procollagen: Integrin recognition and feed-back regulation of matrix biosynthesis are mediated by distinct sequences. Matrix biology, 17(3), 223-232.
9. Ruffo, C.K.: Birnie, A. & Tengnas, B.( 2002): Edible Wild Plants of Tanzania Regional Land Management Unit; Nairobi. Publicaton. ISBN; 9966-896-60-
10. Manandhar. N. P.(2002); Plants and People of Nepal. Publication; Timber Press. Oregon.ISBN; 0-88192-527-6
11. Uphof. J. C. Th (1959); Dictionary of Economic Plants. Weinheim, publication
12. https://www.ncbi.nlm.nih.gov/pubmed/25176360.