Family: Asteraceae
Synonyms: Aster annuus
Common Name: Annual Fleabane. The daisy fleabane
Local Name:  Phuntha (फुंठा)
Phuntha is an annual to perennial herb with hairy stems and hairy leaves. It is a pretty, but ubiquitous plant that seems to appear on its own in wild habitat.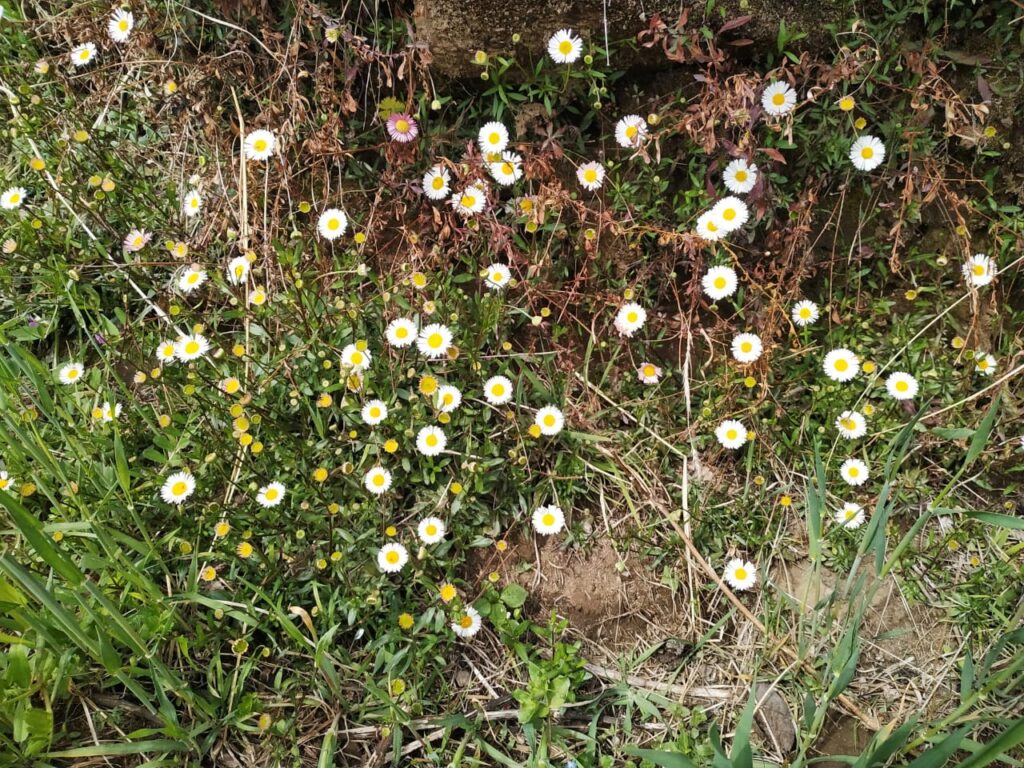 Phuntha is commonly seen growing on shady moist slopes, fields, roadsides and waste places up to an altitude of 1800 m in Western Himalaya. It generally prefers a moderately fertile well-drained soil in full sun. It is propagated by seeds and widely spread in natural habitat of Western Himalayas.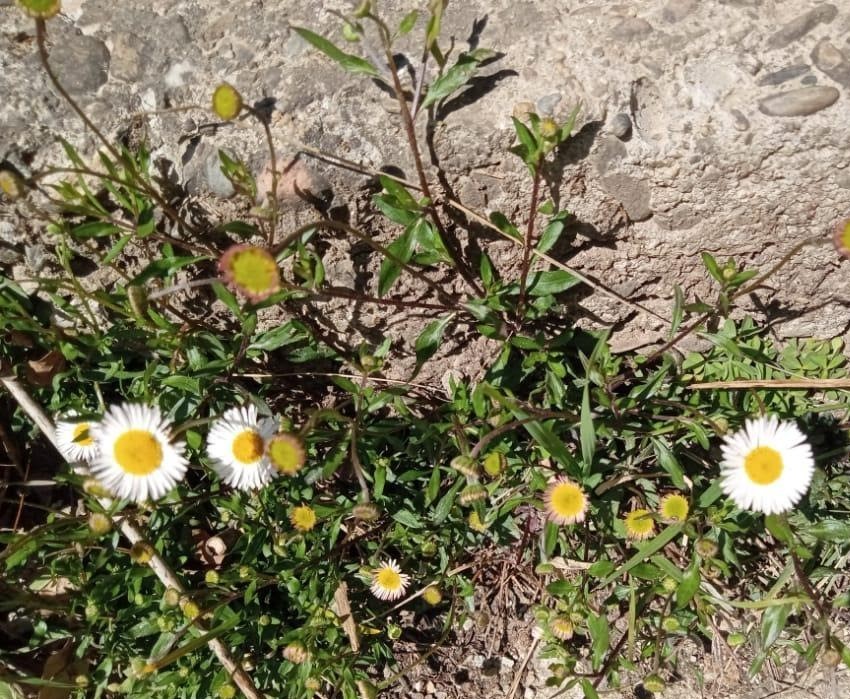 Leaves of phuntha are edible and eaten as cooked vegetable with other greens. leaf extracts contain caffeic acid which is an active compound that has antioxidative and neuroprotective effects on neuronal cells 11. So, an herbal tea is also prepared from its fresh or dried leaves.
Plant is harvested from wild habitat as a source of food and medicine for local personal use. Phuntha leaves are also sold in local market of some countries of the world like sold in local food markets in Korea 1.
Phuntha Plant:
Plant is erect annual herbs, 50-70 cm or taller.
Stem branched, sparsely hirsute.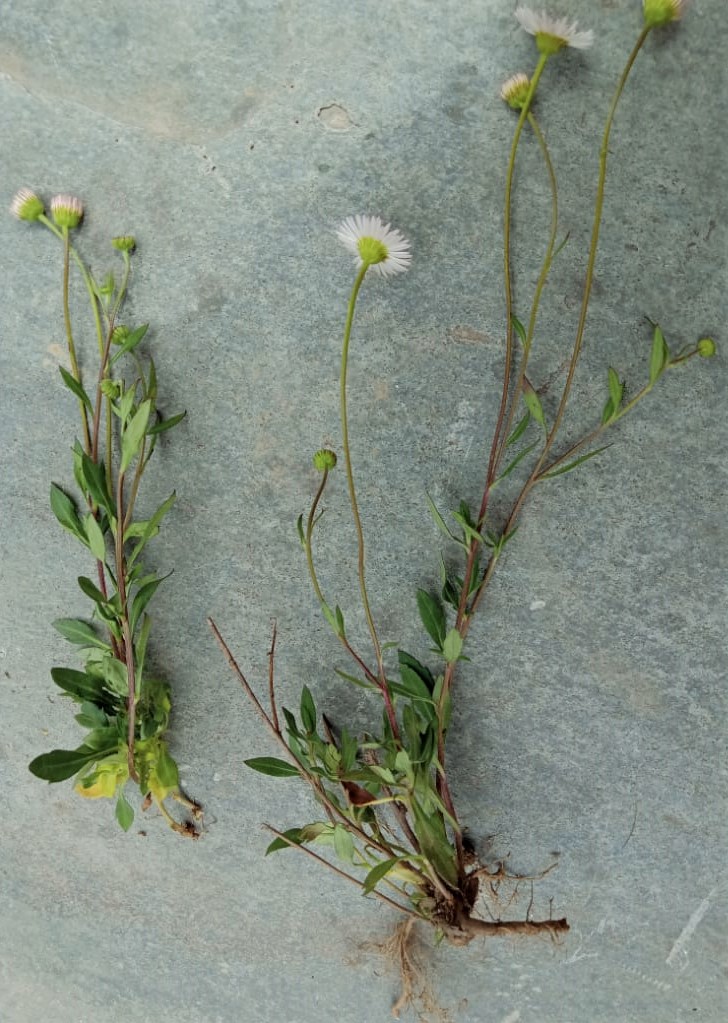 leaves are of two different type; lanceolate-to-ovate, basal leaves are long, broadly ovate or obovate, ca 5.5 to 2.5 cm, sparsely hairy, lower cauline laves ovate- lanceolate; upper lanceolate.
Heads 3- many, in corymbiform panicle. Florets dimorphic. Involucral bracts 2-3 seriate. Ligules white, twice as long as involucral bractd; disc florets yellow, tubular. Achnes ca 1 mm long, minutely pubescent. Pappus of disc achenes double; outer series of minute scales, inner series of minute hairs. Pappus of ray achene's of minute scales only.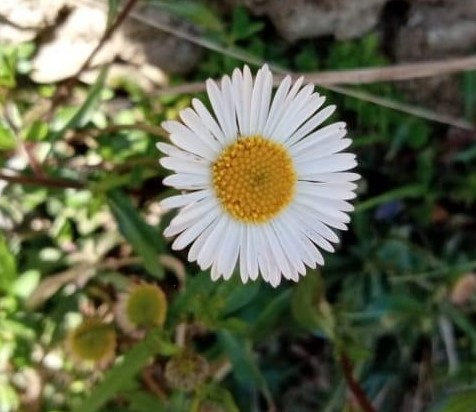 Edible leaves of phuntha are best harvested before flowering and fruiting in this plant which usually occur from summer to autumn season of the year.
Edible Uses:
Young plant and leaves of phuntha are boiled with other available greens and made into leafy vegetable saag. Fresh are dried leaves are taken as herbal tea.
Leafy Vegetable (saag):
Ingredients:
Tender leaves of phuntha and other available greens, 1 kg; mustard oil, 2 table spoons; coriander powder 1 table spoon; fenugreek powder, ½ table spoon; cumin seed ¼ table spoon; turmeric powder, 1/4 table spoon; red chilies, 2-3; chopped onions 2-4; garlic, 4-5 cloves; ginger paste ½ table spoon and salt according to taste.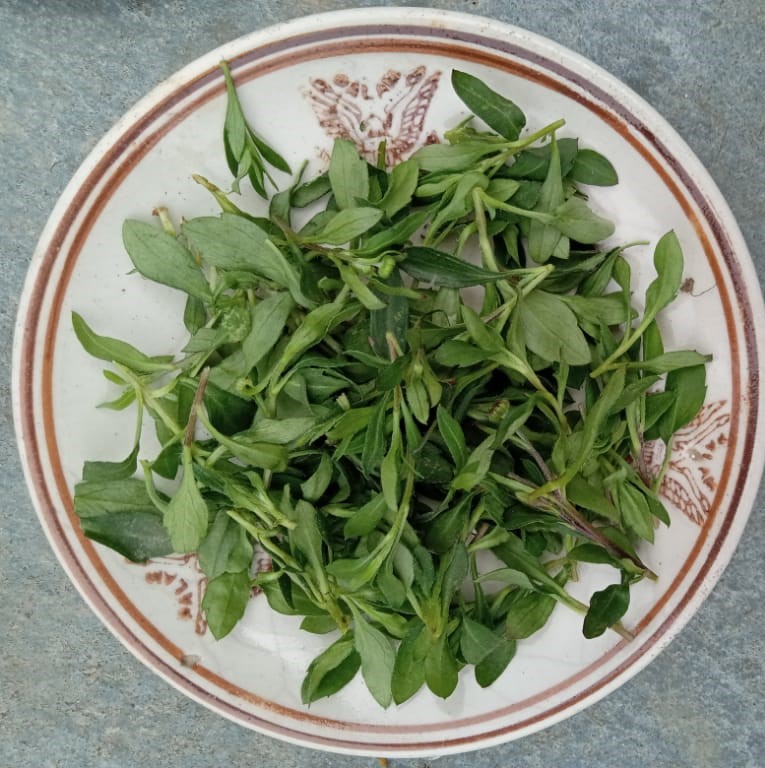 Method:
Boil chopped leaves till they become soft. Then mesh manually or in a mixer. Then sauté with hot mustard oil and the spices listed before in sequence. This saluted saag is then ready and can be served as such or can be mixed with 2 or 3 chopped onion and cooked for another 5 to 10 minutes before serving.
Tea:
Ingredients:
Dried or fresh leaves of phuntha, 5-15 g; Sugar/honey. 1-2 table spoon, Water, 2 cup amount.
Method:
Boil phuntha leaves in water for 3 to 5 min. Add to it sugar/honey and stir well. Strain and serve hot.
Seek professional advice before treating this plant medicinally.
Medicinal Uses:
Antimicrobial, diuretic, astringent, respiratory, congested cough, digestion, diarrhoea, loss of appetite, kidneys and bladder, menstrual problems, postpartum bleeding, haemorrhage kidney stimulant, antioxidant12.
Chemical composition of the Essential Oils from the roots of phuntha:
Plant has been used in Chinese folk medicine for the treatment of indigestion, enteritis, epidemic hepatitis and haematuria 2. Chloroform and n-hexane extracts from the roots of phuntha showed moderate antiproliferative effectiveness against MCF7 cells 3. As the constituents of the aerial part of phuntha γ-pyranone derivatives 4.5, flavonoids 6, phenolic acids and their derivatives 7, sesquiterpenoids 2,8, cyclopentenone derivatives 8 have been reported. Essential oil from the roots of phuntha led to the identification of only a few compounds (β-elemene, β-eudesmol, α-cadinol, lachnophyllum ester, matricaria ester and trace amount of phenols and acids)10.
Other Uses:
phuntha can be grown as an ornamental plant in garden or in-home front-yards.
References:
Pemberton, R. W., & Lee, N. S. (1996). Wild food plants in South Korea; market presence, new crops, and exports to the United States. Economic Botany, 50(1), 57-70.
Li, X., Yang, M., Han, Y. F., & Gao, K. (2005). New sesquiterpenes from Erigeron annus. Planta medica, 71(03), 268-272.
. Réthy, B., Csupor‐Löffler, B., Zupkó, I., Hajdú, Z., Máthé, I., Hohmann, J., … & Falkay, G. (2007). Antiproliferative activity of Hungarian Asteraceae species against human cancer cell lines. Part I. Phytotherapy Research: An International Journal Devoted to Pharmacological and Toxicological Evaluation of Natural Product Derivatives, 21(12), 1200-1208.
. Proksa, B., Uhrin, D., & Fuska, J. (1990). Secondary metabolites of Stenactis annua L. Chem. Papers, 45, 837-844.
. Li, X., Pan, J., & Gao, K. (2006). Gamma-pyranone derivatives and other constituents from Erigeron annuus. Die Pharmazie, 61(5), 474-477.
. Yoo, N. H., Jang, D. S., Yoo, J. L., Lee, Y. M., Kim, Y. S., Cho, J. H., & Kim, J. S. (2008). Erigeroflavanone, a flavanone derivative from the flowers of Erigeron annuus with protein glycation and aldose reductase inhibitory activity. Journal of natural products, 71(4), 713-715.
. Jang, D. S., Yoo, N. H., Lee, Y. M., Yoo, J. L., Kim, Y. S., & Kim, J. S. (2008). Constituents of the flowers of Erigeron annuus with inhibitory activity on the formation of advanced glycation end products (AGEs) and aldose reductase. Archives of pharmacal research, 31(7), 900.
. Iijima, T., Yaoita, Y., & Kikuchi, M. (2003). Five New Sesquiterpenoids and a New Diterpenoid from Erigeron annuus (L.) P ERS., Erigeron philadelphicus L. and Erigeron sumatrensis R ETZ. Chemical and pharmaceutical bulletin, 51(5), 545-549.
. Iijima, T., Yaoita, Y., & Kikuchi, M. (2003). Two New Cyclopentenone Derivatives and a New Cyclooctadienone Derivative from Erigeron annuus (L.) P ERS., Erigeron philadelphicus L., and Erigeron sumatrensis R ETZ. Chemical and pharmaceutical bulletin, 51(7), 894-896.
. Miyazawa, M., & Kameoka, H. (1979). The constituents of the essential oil from Erigeron annuus. Agricultural and Biological Chemistry, 43(10), 2199-2201.