Family: Apiaceae
Synonyms: F.capillaceum, f.officinale, F.dulce, F. panmorium.
Common Name: Fennel. Common fennel, Garden fennel, Wild fennel
Local Name: Saunf (सौंफ) Sans. Madhurika
Meethi- saunf is an evergreen perennial herb of Western Himalaya, considered as an useful aromatic plant which is used to flavor various food items. Plant is considered as an escape plant, because it is usually cultivated for its edible leaves, seeds and bulb. Meethi- saunf is found wild in waste places, roadsides, riverbanks, and other nonagricultural habitat up to an altitude of 2000 meters. Plant succeed well in sunny dry location
All the parts of meethi- saunf are useful for local people, they use this plant as a highly aromatic and flavourful herb in many culinary preparations. Its seeds are anise like in aroma and are used as flavourings agent in various food items like baked goods, pastries, sweet pickles and dishes, ice cream, alcoholic beverages as well as in various herbal mixtures both fresh and dried. Bulb of meethi- saunf are eaten both raw or cooked. These are cooked into a crispy, hardy root vegetable. Dried leaves and seeds are used in preparing tea locally, specially to prevent cough and cold. Crushed meethi- saunf fruits can be used in making tea, in tea bags. Green shoots are blanched and then cooked as vegetable.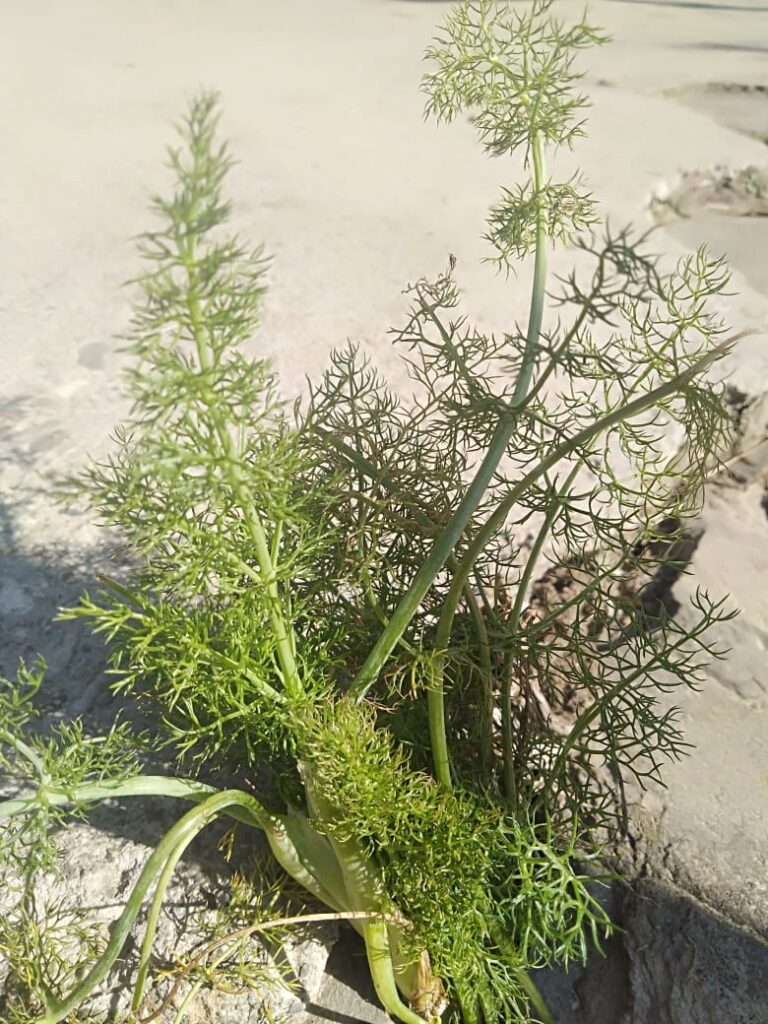 Inhabitants of Western Himalaya harvest this plant from wild habitat and also cultivate it as a source of food, medicine and material.
Meethi- saunf Plant:
Plant is erect, green, aromatic, glabrous herbs up to 1.50 meters tall.
Stem is hollow.
Leaves are 2-4 pinnate; segments thread-like.
Flowers are yellow, in complicated umbel.
Fruits are oblong or ellipsoid, ribbed.
The flowers are produced in terminal compound umbels.
The fruit is a dry seed 4–10 mm long.
Seed face is generally flat.
Leaves of Meethi- saunf can be harvested throughout the year and fruits and seeds can be best harvested from summer to winter season. Bulbs can be best harvested from pre winter to pre-spring season.

Edible Uses:
All the parts of Meethi- saunf are edible and used to flavor various food items, especially sweet dishes. Bulb and blanched shoots of Meethi- saunf are cooked as vegetable. Infusion of seeds is widely consumed as tea and body coolant to avoid indigestion, cough and cold. Fruits are used as indispensable condiments for giving agreeable flavor in sweet dishes.
Vegetable:
Ingredients:
Chopped bulb or blanched shoot of Meethi- saunf, 1 kg; mustard oil, 2 table spoons; chopped potato, 2-4; coriander powder 1 table spoon; fenugreek powder, ½ table spoon; cumin seed ¼ table spoon; turmeric powder, 1/4 table spoon; red chilies, 2-3; chopped onions 2-4; garlic, 4-5 cloves; ginger paste ½ table spoon, chopped coriander leaves, 1 cup amount and salt according to taste.
Method:
Sauté chopped bulb or blanched shoot of Meethi- saunf along with chopped potato in hot mustard oil with the spices listed before in sequence. Cook till bulb and potato pieces become soft. Garnish with green coriander leaves and serve. Bulb and leaves can be cooked alone along with potatoes .
Masala Tea:
Tea is one of the most popular hot beverages in Western Himalayas and is a widely accepted social drink for all types of meetings and gatherings. Tea can be prepared with milk or milk powder and other various types of tea powders. The key ingredients for Masala tea from milk tea are Meethi- saunf (fennel), cardamom, cinnamon and leaves of Tulsi or mint.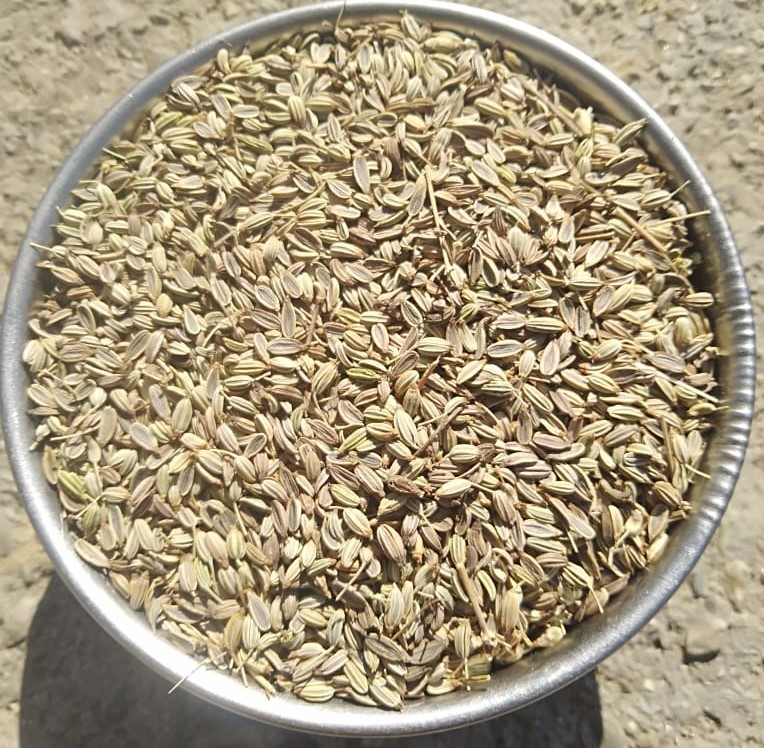 Ingredient:
Milk, 2 cups; ginger piece,1/2″; Meethi- saunf , ½ tea spoon; cardamom,1; clove,1; tea powder (chai patti), 2 teaspoons; water, 1/4 cup; sugar, 3 teaspoons. Cinnamon leave/ bark powder,1/4 teaspoon; Tulsi or mint leaves, 4.
Method:
Boil water in a saucepan, crush cardamom, ginger and clove using mortar and pestle or grinder to a medium coarse powder, add to this boiling water crushed powder, meetha patta powder, Meethi- saunf, tulsi or mint leaves, sugar and tea powder in it and boil it for 3-4 minutes on medium flame. Add milk to it and boil it over medium flame for 6-7 minutes or until bubble starts to rise. strain tea in cups.
Food Value:
100 g of dried Meethi- saunf contains Moisture, 90.21 g; Energy, 31 kcal;  Protein, 1.24 g, Total lipid (fat), 0.2 g; Carbohydrate, 7.3 g; Total dietary fiber, 3.1 g; Sugars, 3.93 g; minerals, Ca, 49 mg; Fe, 0.73 mg; Mg, 17 mg; P, 50 mg; K, 414 mg; Na, 52 mg; Zn, 0.2 mg; Vitamin C, 12 mg; Thiamin B-1, 0.01 mg; Riboflavin B-2, 0.032 mg; Niacin B-3, 0.64 mg; Vitamin B-6, 0.047 mg, Folate, 27 μg; Vitamin A, 48 μg; Vitamin E, 0.58 mg; Vitamin K, 62.8 μg 1.
Seek professional advice before treating this plant medicinally.
Medicinal Uses:
Local people use fruits decoction to cure indigestion, cough and cold. Plant is considered useful as an aromatic, stimulant and carminative, and for burning sensation in body, chest diseases, colic, cough, dysentery, fever flatulence, headache, kidney problems, menstruation and spleen complaint, thirst, toothache and wounds 2,3,4.
Chemical constituents:
Umbelliferone and bergapten (roots), anethole, fenchone, anisalehyde and feniculum (plant), columbianetin, 7- hydroxyl and 6,7- dihydroxy- coumarins, marmesin, osthenol, psoralen, scoparone, seselin, xanthotoxin, alpha and beta- amyrins, oleanolic acid. Stigmastadienol, linoleic, oleic, palmitic and petroselinic acids (fruits/ seeds) have been isolated 5,6.
Other Uses:
The seed yields up to 5% of an essential oil 7. This is used medicinally, as a food flavoring agent, in toothpastes, soaps, perfumery, air fresheners etc7. The dried plant is an insect repellent 8, the crushed leaves are effective for keeping dogs free of fleas 9 The plant was formerly used as a strewing herb9. Yellow and brown dyes are obtained from the flowers and leaves combined10.
References:
1.Badgujar, S. B., Patel, V. V., & Bandivdekar, A. H. (2014). Foeniculum vulgare Mill: a review of its botany, phytochemistry, pharmacology, contemporary application, and toxicology. BioMed research international, 2014.
2. Ambasta, S. S. (1986). The useful plants of India (p. 650). CSIR, New Delhi, India: Publications & Information Directorate.
3.Bhalla, D. K., & Owen, R. L. (1982). Cell renewal and migration in lymphoid follicles of Peyer's patches and cecum—an autoradiographic study in mice. Gastroenterology, 82(2), 232-242.
4.Uniyal, M. R. (1968). Medicinal plants of bhagirathi Valley lying in Uttarkashi forest division. Indian Forester, 94, 407-420.
5. Asolkar, L. V., Kakkar, K. K., & Chakre, O. J. (1992). Second supplement to Glossary of Indian Medicinal Plants with Active Principles Part-I (AK). Council of scientific and industrial research (PID)(part-I), New Delhi, 217-218.
6. Chatterjee, A., & Pakrashi, S. C. (1997). The Treaties On Indian medicinal plants, volume-3. National Institute of Science Communication (CSIR), New Delhi, 16.
7.Uphof. J. C. Th (1959); Dictionary of Economic Plants. Weinheim, publication 46
8. Holtom. J. and Hylton. W. (1979); Complete Guide to Herbs. Rodale Press
Publication. ISBN; 0-87857-262-7.
9. Allardice.P. (1993); A – Z of Companion Planting. Publication. Cassell Publishers Ltd.ISBN;0-304-34324-2.
10. Grae. I.(1974);Nature's Colors – Dyes from Plants. MacMillan Publishing Co. New York. Publication. ISBN;0-02-544950-8