Family: Fumariaceae
Synonyms: Fumaria parviflora var. indica, Fumaria vaillantii var. indica
Common Name: Indian Fumitory
Local Name: Pitpapra (पीतपापरा), parpataka
Pitpapra is a small, much- branched, herbaceous annual plant of Western Himalaya. It is found growing wild in plain to mid hills zones up to an altitude of 1800 meters. Pitpapra is very common weed of wheat fields, other cultivated fields and waste places.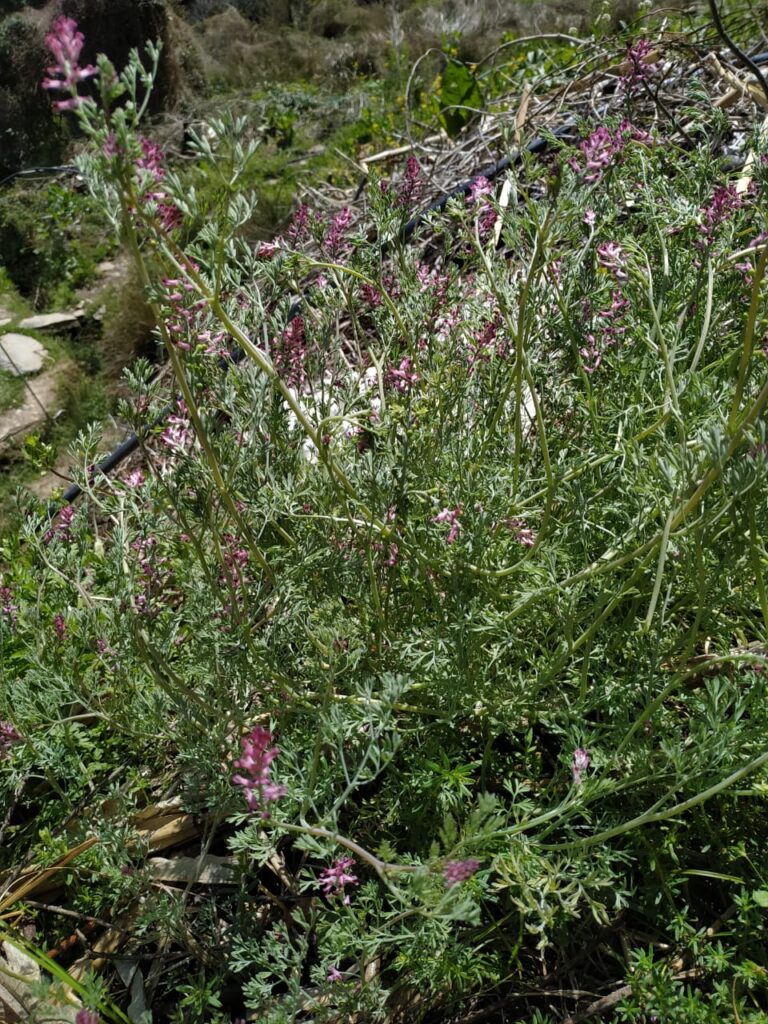 Whole plant of pitpapra is medicinally useful and is used in AYUSH medicine as a tonic, alternative, diuretic and diaphoretic 1. For harnessing its medicinal value local people collect some above ground parts of this plant and cook it as leafy vegetable 'saag' with other available greens. A cooling drink is also made from above ground plant parts of pitpapra by mixing infusion of the plant with honey or some other sweetener.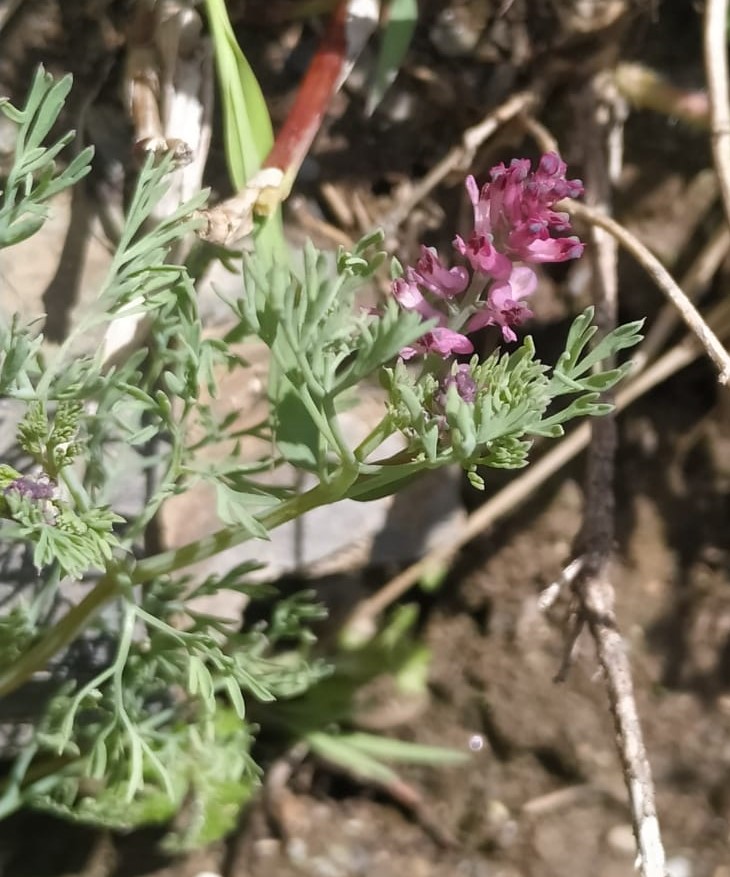 Pitpapra is harvested from wild habitat as a source of food, fodder and medicine for local personal use. It is used both fresh as well as dried. Plant is usually dried for later personal use and some people dry it and sold in local market. Thus, it is easy good source of earning for local people.
Pitpapra Plant:
Plant is diffusely spreading or erect, much- branched, annual herbs, 15-60 cm long.
Leaves are finely divided; segments flat.
Flowers are rosy- pinkish, 8-15 mm long, in 15-20 flowered recemes. Bracts lanceolate.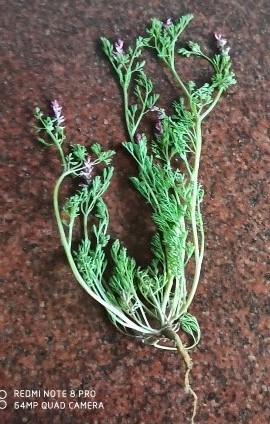 Fruits are globose, indehiscent.
Seed single nutlet.
Pitpapra can be best harvested from winter to early summers.
Edible Uses:
Pitpapra above ground parts are edible and used to make cooling drink and vegetable with other potherbs. Pitpapra fresh or dried plant parts can be added to sour plant milks. A few sprays are added to each liter of liquid and left until the liquid has soured thickly. The sprays are then removed. It gives a tangy taste to the milk. acts as a preservative and prevents the rancid taste that can accompany soured milk 2.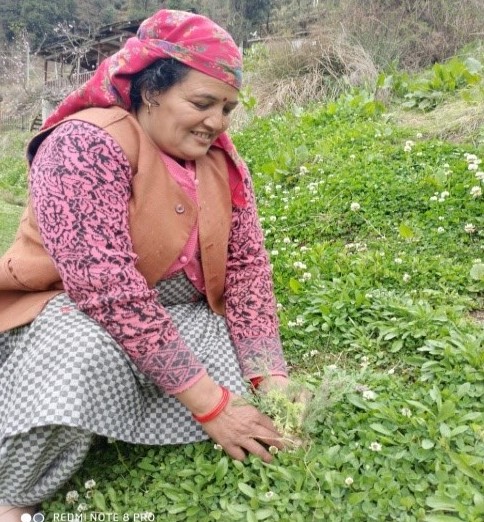 Saag:
Ingredients:
Above ground parts of pitpapra, and other wild potherbs, 1 kg; mustard oil, 2 table spoons; coriander powder 1 table spoon; fenugreek powder, ½ table spoon; cumin seed ¼ table spoon; turmeric powder, 1/4 table spoon; red chilies, 2-3; chopped onions 2-4; garlic, 4-5 cloves; ginger paste ½ table spoon and salt according to taste.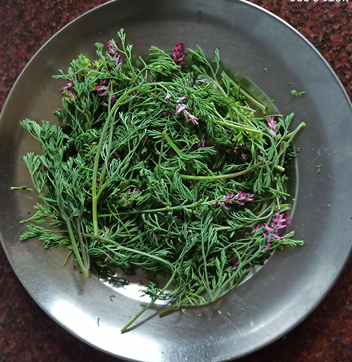 Method:
Boil chopped plant parts they become soft. Then mesh manually or in a mixer. Then sauté with hot mustard oil and the spices listed before in sequence. This sauted saag is then ready and can be served as such or can be mixed with 2 or 3 chopped onion and cooked for another 5 to 10 minutes before serving.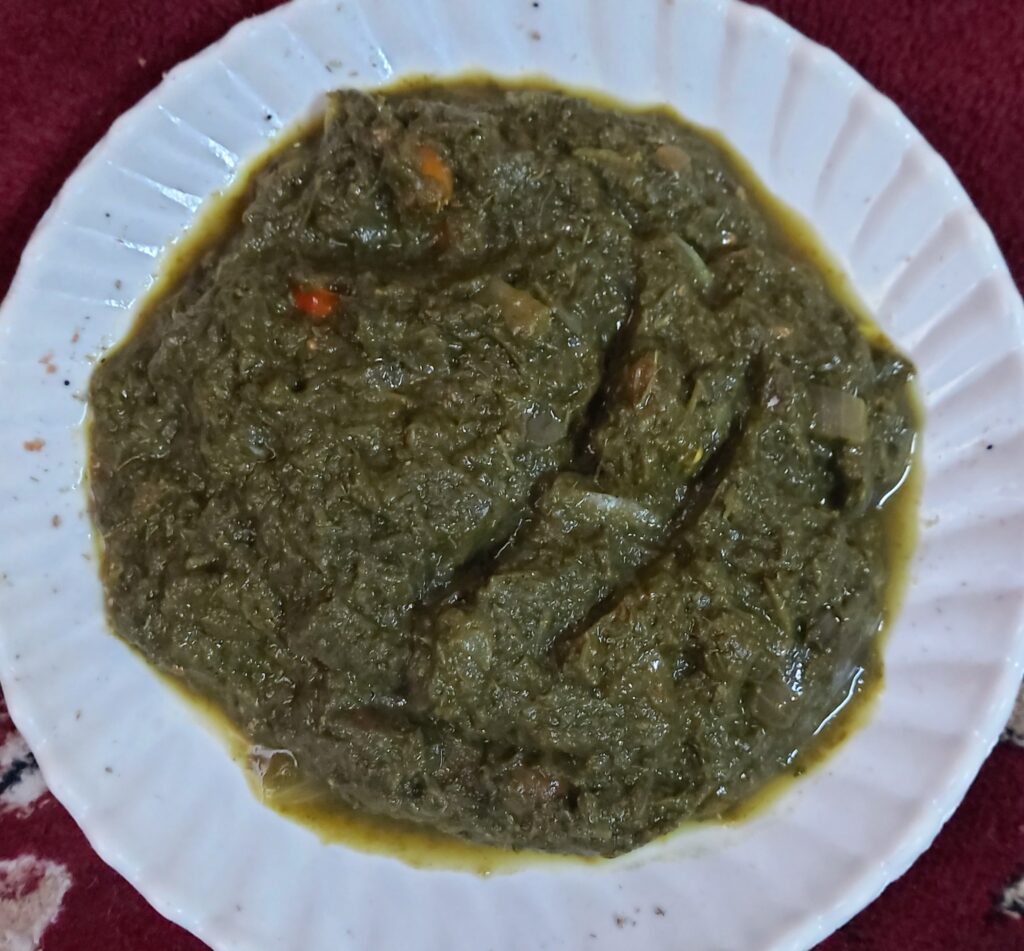 Cooling Drink:
Ingredients:
Ariel parts of pitpapra, 200-250 g; Water, half liter: honey/ sugar, 5-6 table spoon; mint leaves, 4-6; pinch of salt and black pepper as par choice or taste.
Method:
For preparing cooling drink boil plant for 10-15 minutes. Let it cool down and mix it with all above ingredients. Keep it overnight in refrigerator before serving. Drink is considered as a cooling agent in full summers.
Seek professional advice before treating this plant medicinally
Medicinal Uses:
Folk uses Decoction of the plant used to treat fever, half cup once every morning for 3-5 days 2.
Known to be used for body ache, diarrhea, fever, flue, indigestion, liver complaints, mouth ulcer and skin diseases and as an anthelmintic, aperient, blood purifier, diaphoretic, appetizer, laxative, cool drink and vegetable 3,4,5.
Pitpapra alone or combined with Tinospra cardifolia, Emblica officinalis, Santalum album or Zingiber officinale was prescribed for alleviating fever 8. The plant is sold under the name pitpapra in Ayurvedic bazaars8. It is also used in the Unani system of medicine and incorporated into trifala shahtara8. A cold infusion of the plant is used to treat wasting diseases of children and to help cooling during fever and in the treatment of constipation and dyspepsia8. It is used as a blood purifier for skin diseases and applied externally in leucoderma and as a fomentation for swollen joints8. The dried plant is also used as an anthelmintic, diuretic and diaphoretic and, in combination with black pepper, for jaundice8.
Chemical constituents:
Protopine, nonacosanol, sitosterol, n-alkanes and sterols (leaves and stem); protopine and 1- terahydrocoptisine, d- 8- OMe- dihydrosanguinarine, fumarilinc and oxysanguinarine (seeds); sanguinarine, protopine, cryptopine, fumaridine, fumaramine, perfumidine, perfumine, d and dl-bicuculline, dl-tetrahydrocoptisine, fumariline, fumarilicine, narceimine, dehydrochilanthifoline, copticine and narlumidine have been isolated 6.
Other Uses:
Plant is collected as fodder along with other weeds of wheat field.
References:
Singh PB. (2018). Flora of Mandi district. Himachal Pradesh: North West Himalaya.
Sood SK, Thakur S. (2004): Ethnobotany of Rewalsar Himalaya. Deep Publications.
Nayar, S. L., Chopra, I. C., & Chopra, I. C. (1956). Glossary of Indian medicinal plants. New Delhi.
Dhiman, D. R. (1976). Himachal Pradesh Ki Vanoshdhiya Sampada.
Dury, G. H. (1978). The future of geomorphology. na.
Asolkar, L. V., Chakre, O. J., & Kakkar, K. K. (1992). Glossary of Indian Medicinal Plants:(A-K). Publications & Information Directorate.
http://www.naturalmedicinalherbs.net/herbs/f/fumaria-officinalis=fumitory.php
https://rahulsharmawildflora.blogspot.com/2014/02/fumaria-indica-indian-fumitory.html.