Family: Asteraceae
Synonyms: Gnaphalium pensylvanicum, Gnaphalium peregrinum, Gnaphalium purpureum var. spathulatum, Gnaphalium spathulatum.
Common name: Spoonleaf purple everlasting, Pennsylvania Cudweed.
Local Name: Dhoodu (धूडू)
Dhoodu is an annual herb having light green leaves with woolly hairs on the surfaces. Contradictory to its name, it is native plant of South America in spite of Pennsylvania. This plant is commonly seen growing in cultivated beds, wastelands, along roadsides and pathways in well drained exposed moist habitat upto 1700 m in Western Himalaya.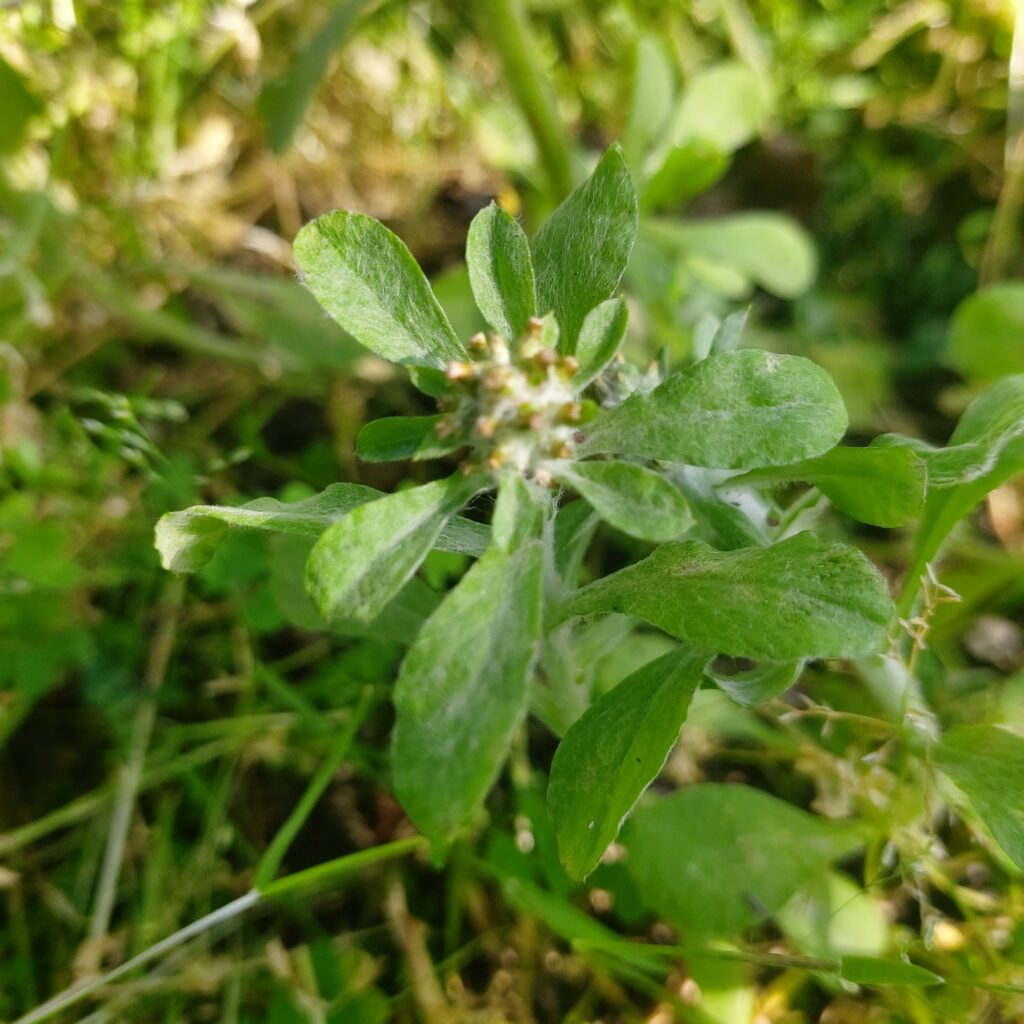 Above ground parts of this plant are considered medicinal and used against diabetes, high blood pressure, stomach ulcers, diarrhea, gut infections etc.
Leaves and young flowering shoot terminals are edible and mainly eaten to harness its medicinal value. So, local people usually collect these plant parts with other available greens of the season and cook into a leafy vegetable saag.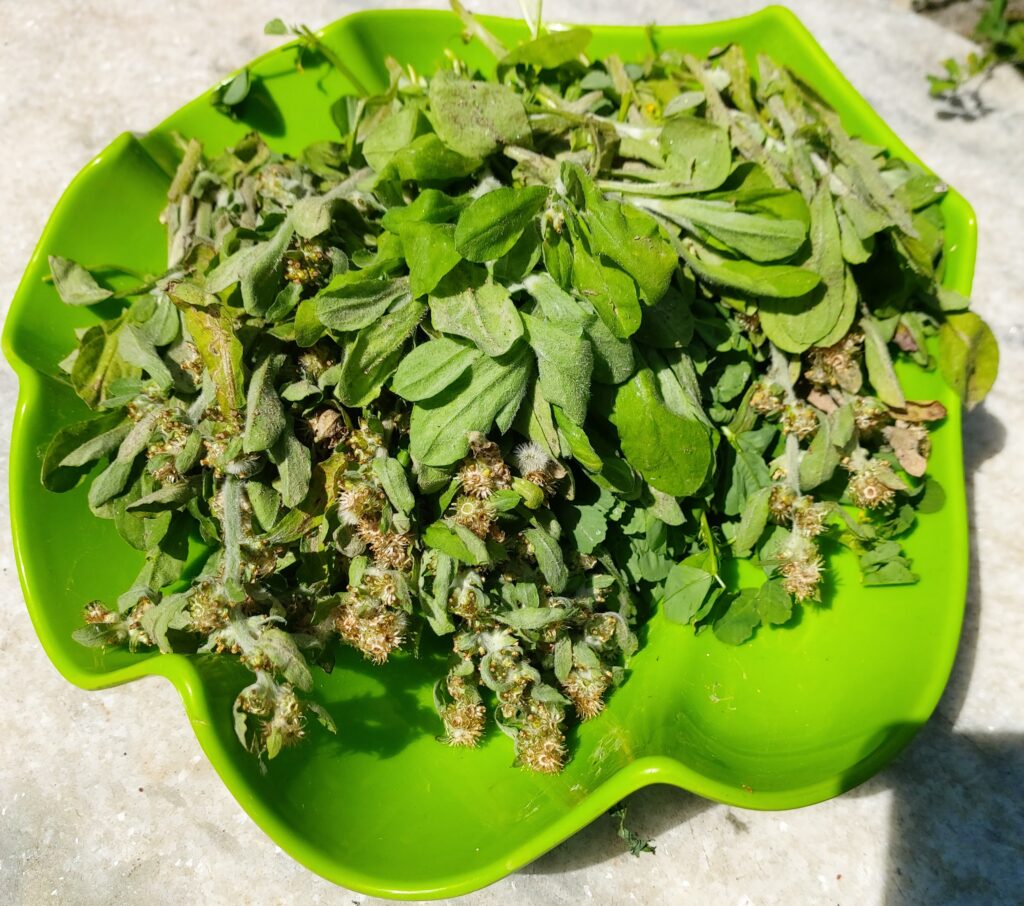 Dhoodu is harvested from wild habitat for local use of food and medicine by the inhabitants of Western Himalayas.
Dhoodu Plant:
Plant is erect herbs, up to 40 cm tall.
Stem is with thin, white cottony tomentum.
Leaves are spathulate, narrowed at base, broadly rounded at apex, entire, 1-7 to 0.2-1 cm, puberulous upper surface, white pappus, and white pannose on lower surface.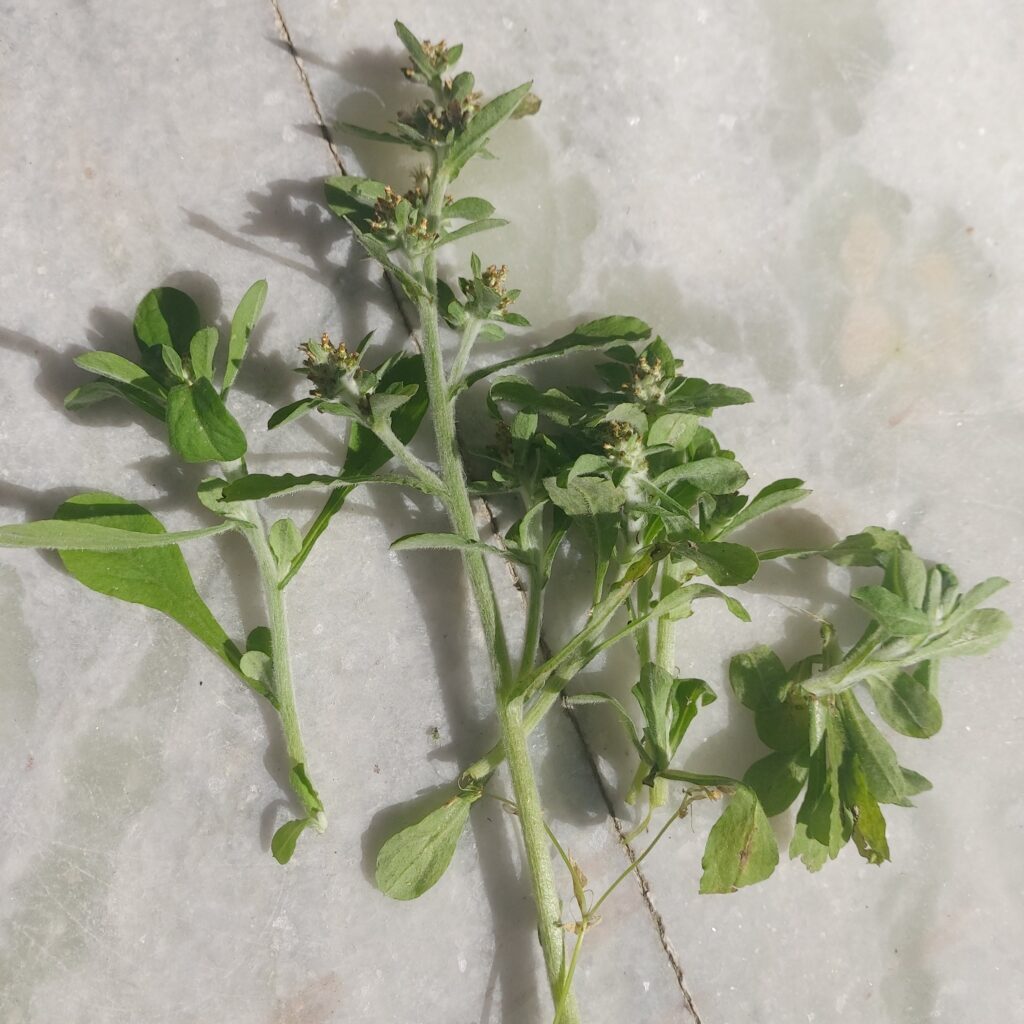 Heads in short, spicate clusters, ca 2 mm across. Involucral bracts 3-4 seriate; outermost brown at apex, oblong- spathulate, with white, woolly tomentum at base. Ray florets female, with oblong filiform corolla, pink at mouth; disc florets bisesual, 5- toothed.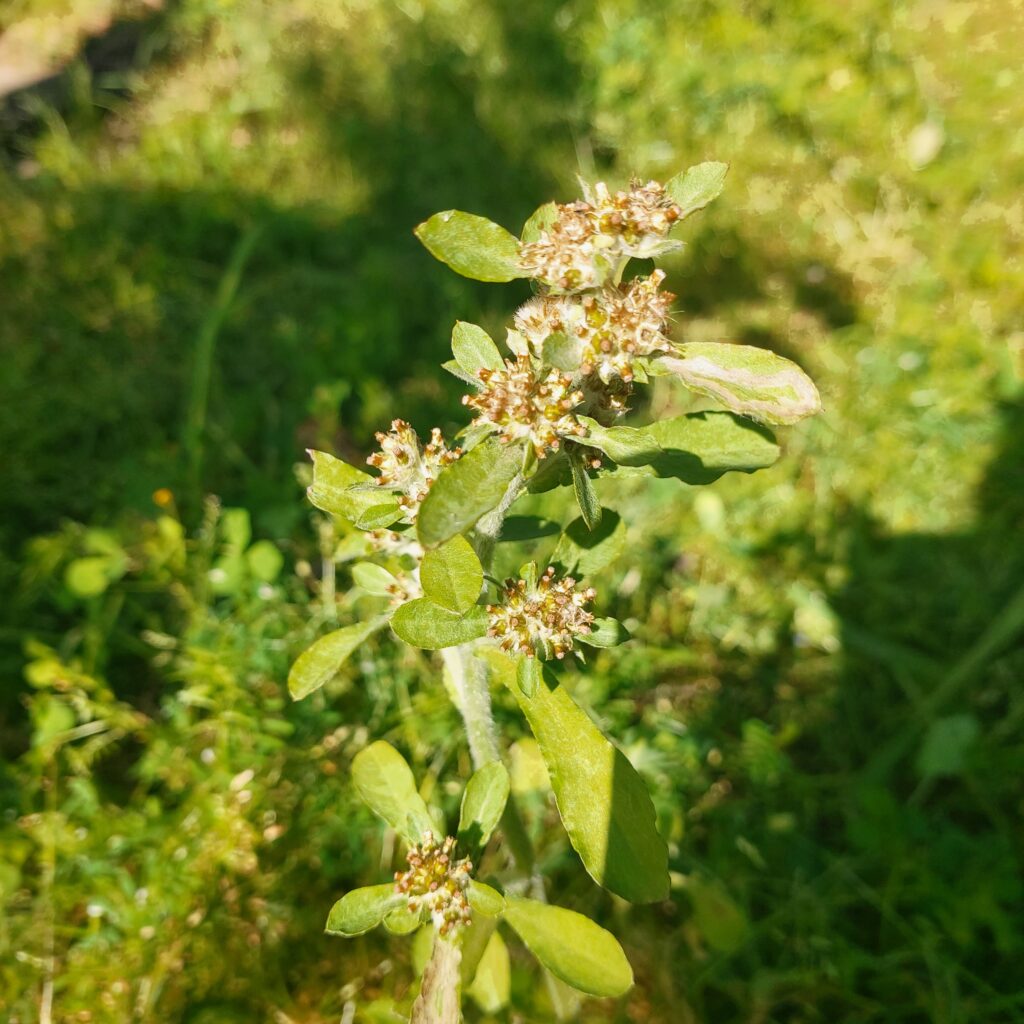 Achens obong, ca 0.5 mm long. Pappus hairs white, united at base
Edible Plant parts of Dhoodu can be best harvested from spring to pre- winter season of the year. Sustainable harvesting of this plant on the basis of habitat rotation is needed to ensure sustainable development.
Edible Uses:
All above ground plant parts are edible and cooked as saag with other greens or can be made into a delicious traditional dish of Western Himalaya 'Kachru' eaten as a snack with tomato ketch-up or chutney.
Vegetable (Saag):
Ingredients:
Tender shoot tips and leaves of dhoodu and other available better tasting herbs like khokhnam (Medicago polymorphia) Roadi (Vicia sativa) Shershni (Capsella bursa-pastoris), Mil-malori (Rumex acetosa), Gujjar ghas( Cardamine hirsuta), Matar- phali (Lathyrus aphaca) etc. 1 kg; mustard oil, 2 table spoons; coriander powder 1 table spoon; fenugreek powder, ½ table spoon; cumin seed ¼ table spoon; turmeric powder, 1/4 table spoon; red chilies, 2-3; chopped onions 2-4; garlic, 4-5 cloves; ginger paste ½ table spoon and salt according to taste.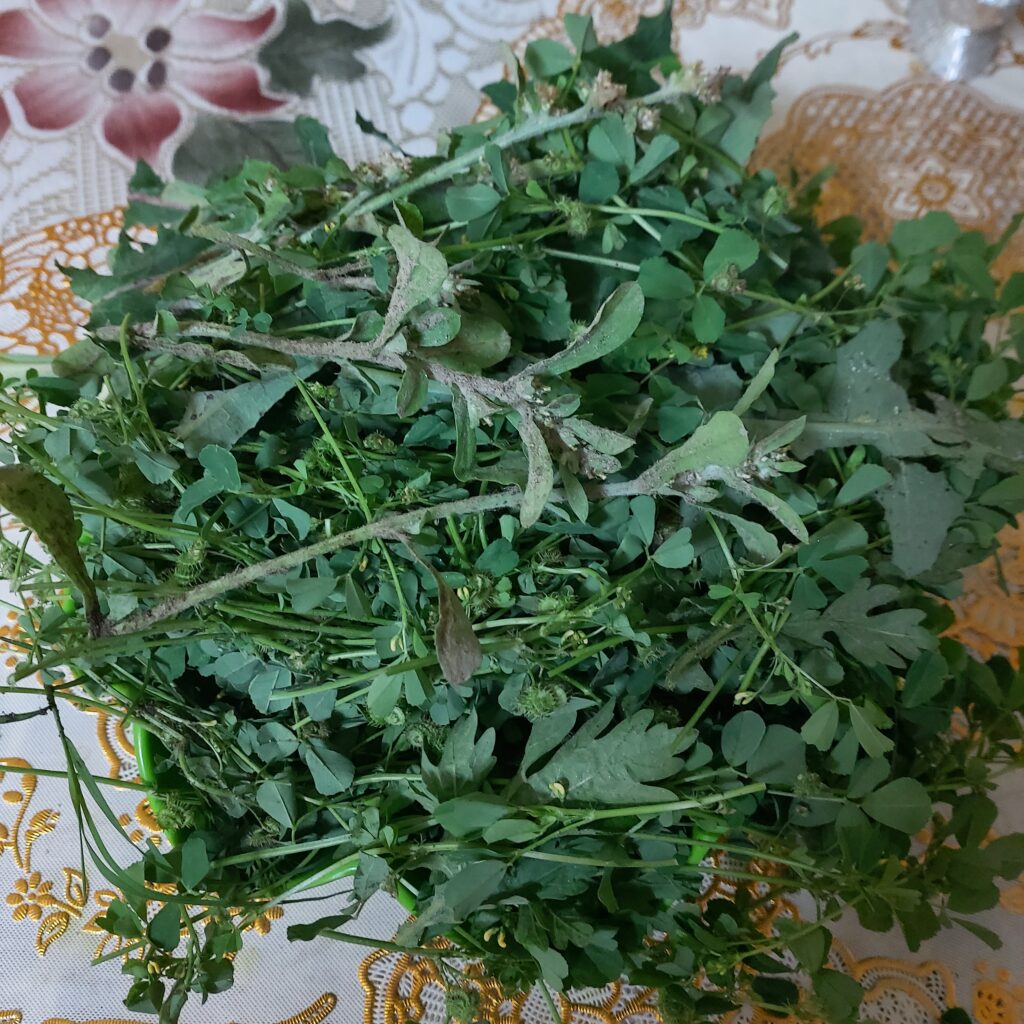 Method:
Boil chopped leaves till they become soft. Then mesh manually or in a mixer. Then sauté with hot mustard oil and the spices listed before in sequence. This saluted saag is then ready and can be served as such or can be mixed with 2 or 3 chopped onion and cooked for another 5 to 10 minutes before serving.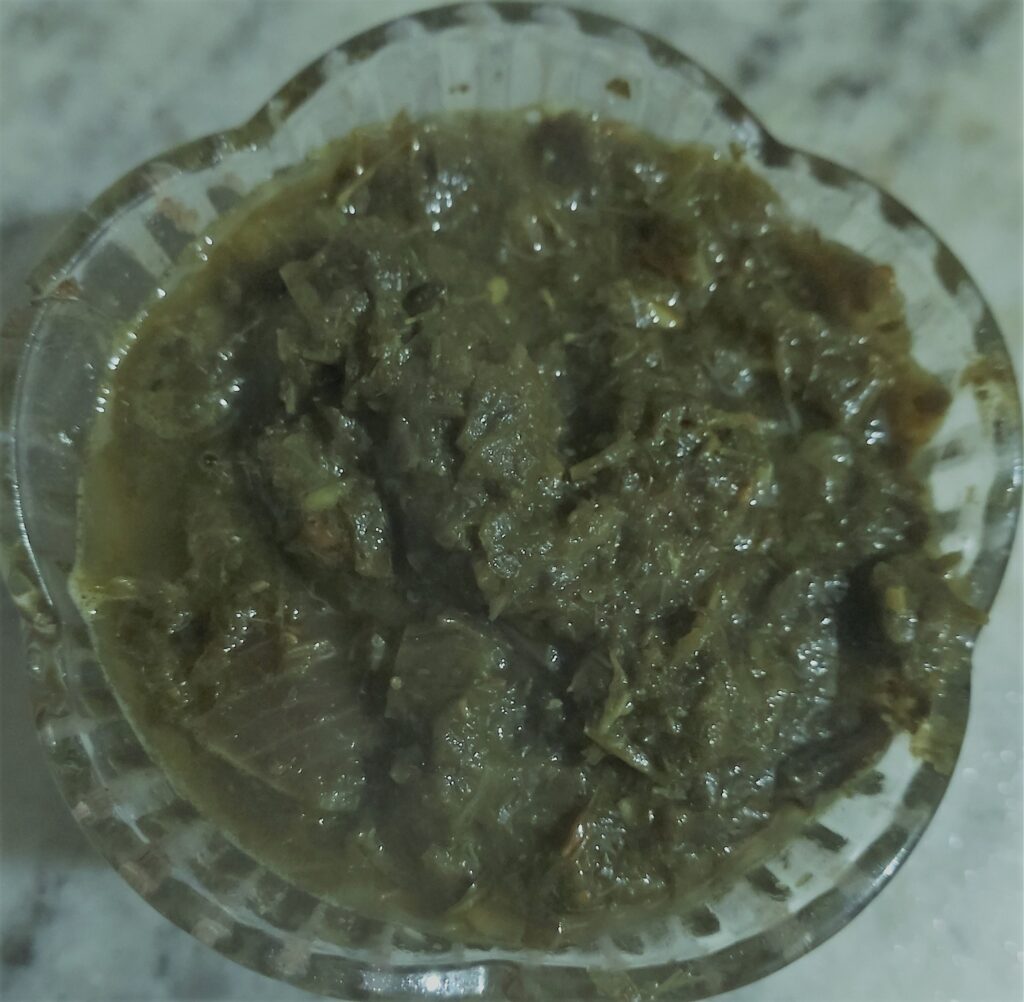 Kachru:
Ingredient:
Shoot terminals and leaves of dhoodu andother greens according to taste, 1/2kg; besan (black gram powder) or corn flour., 250g; fresh coriander leaves,1 cup amount ajwain, 1/2 table spoon; green chillies, 3-5, ½ table spoon turmeric powder, 2-3 chopped onions and salt according to taste.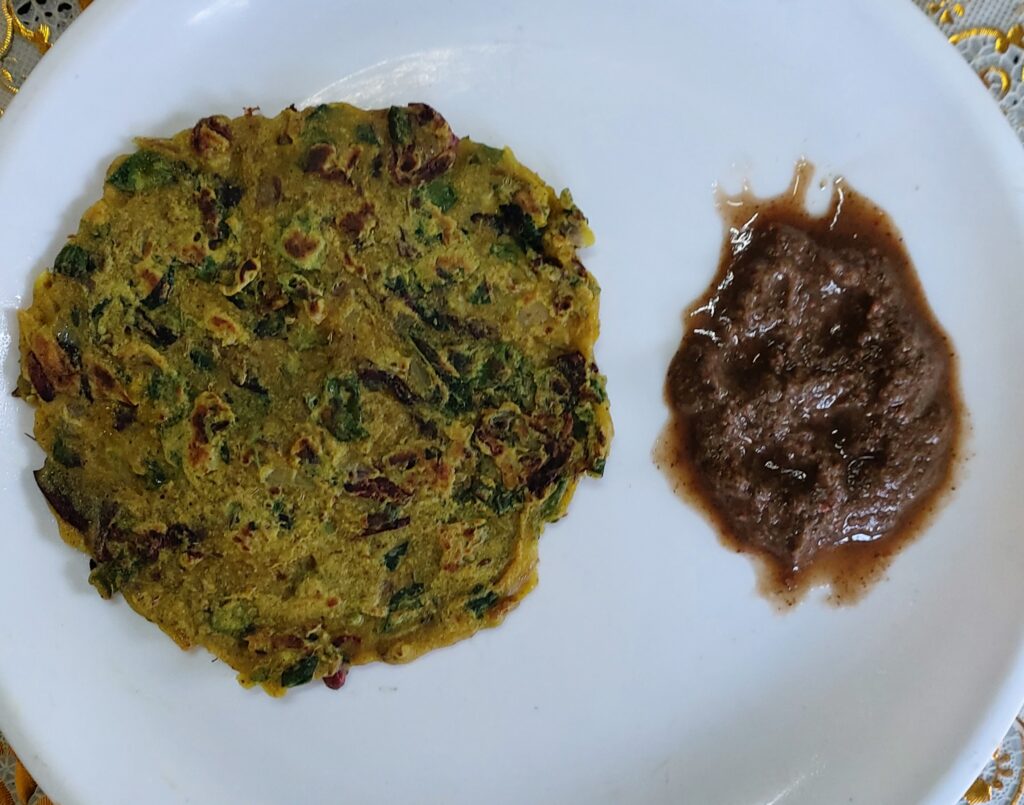 Methods:
Make a paste of chopped plant parts, besan or corn flour and spices. Heat some oil on a flat heating pan. Put this paste over a pan and cook for 15 to 20 minutes then kachru will be ready to serve. Serve hot with chutney or tomato ketch-up
Medicinal use:
Local people consider this plant effective against diabetes, high blood pressure, stomach ulcers, diarrhea, gut infections etc. According them it should be added to other vegetable for harnessing its medicine.