Family: Caryophyllaceae
Synonyms: Behen alpinus, Behen angustifolius, Behen fabarius, Behen glareosus,Behen oleraceum, Behen puberulus, Behen trachiatus, Behen vesicarius, Behen vulgaris, Behenantha behen, Behenantha cserei, Behenantha glaucescens, Behenantha inflata, Behenantha saponariifolia, Cucubalus alpinus, Cucubalus angustissimus,Cucubalus antelopum,Cucubalus behen, Cucubalus inflatus, Cucubalus latifolius, Cucubalus littoralis, Cucubalus marginatus, Cucubalus montanus, Cucubalus personii, Cucubalus rotundifolius, Cucubalus saponariifolius, Cucubalus scaber, Cucubalus venosus, Cucubalus viridis, Elisanthe zawadskii, Lychnis behen, Oberna alpine, Oberna antelopum, Oberna behen, Oberna marginata, Oberna rupicola, Oberna schottiana, Oncerum glareosum, Oncerum globosum,Silene alpine,Silene angustissima,Silene brachiate, Silene brachyantha, Silene coulteriana, Silene cucubalus ,Silene fischeri,Silene inflata, Silene latifolia, Silene marginata, Silene microloba,Silene oleracea,Silene persoonia, Silene pseudobehen, Silene puberula,Silene rupicola, Silene scabra, Silene schottiana, Silene venosa, Silene vesicaria, Silene wallichiana, Silene zawadskii, Viscago behen, Cucubalus angustifolius, Oberna angustifolia, Silene tenoreana, Silene bosniaca, Silene commutate, Oberna suffrutescens.
Common Name: Bladder campion
Local Name: Jhunjhunu gha (झुञ्झुणु घा)
Jhunjhunu gha is a herbaceous perennial plant arising from a from woody rhizomes and produce a dense cluster of stems. The most eye-catching part of this plant is the calyx, which is a large inflated pale green or green yellow color structure having the shape of a balloon or bladder hence the common name Bladder Campion is given to Jhunjhunu gha.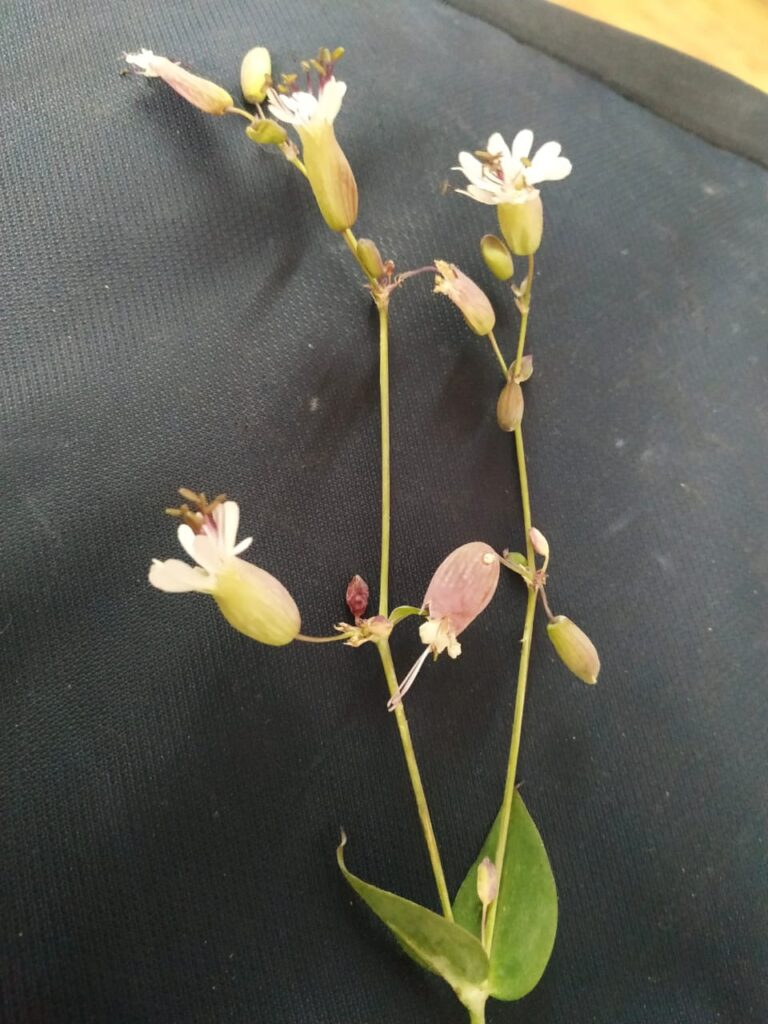 Plant is very common in apple orchards, cultivated and wastelands upto an altitude of 2200- 2500 m in Western Himalaya. Jhunjhunu gha can be found in other variety of habitats including sandy and stony pastures, meadows, yards, cultivated lawns, banks, roadsides, rocky cliffs, scrub, woodland clearings, uncultivated fields, seashores, cracks in rocks, woodland, grassy slopes and other weedy places, in open semi-dry and dry places. It succeeds well in full sun to partial shade, mostly preferring a well-drained habitat. When grow in cultivated land it significantly reduces the yield of economically important crops through competition and the lack of selective control.
Tender shoots and young leaves of Jhunjhunu gha are edible and can be eaten raw or cooked. The young leaves are sweet and very agreeable in salads. These can be finely chopped to use as garnishing agent in many dishes or can be added to 'rayata'. The young shoots however are with a slight bitterness. This bitterness can be reduced to some extent by blanching the shoots.
Jhunjhunu gha known to contains toxic substances saponins, these are very poorly absorbed by the body and so tend to pass through without causing harm. They are also broken down by thorough cooking 5.
Jhunjhunu gha is harvested from wild habitat for local use of food, fodder, medicine and material by the inhabitants of Western Himalaya.
Edible leaves are best harvested before flowering and fruiting which takes place in summers from June to July. As edible plant part is leave so it can be used without any fear of extinction.
Description:
Plant is erect or ascending, glabrous, perennial herbs, 30-90 cm tall.
Leaves pale- green, 3-7.5 cm long, ovate- lanceolate, acute.
Flowers few, drooping, in loose, terminal panicles with deeply lobed petals, and its avoid, inflated, bladder-like greenish sepal tube with a network of darker veins. Calyx inflated, ovoid. Petals white, 2- lobed. and have the shape of a balloon or bladder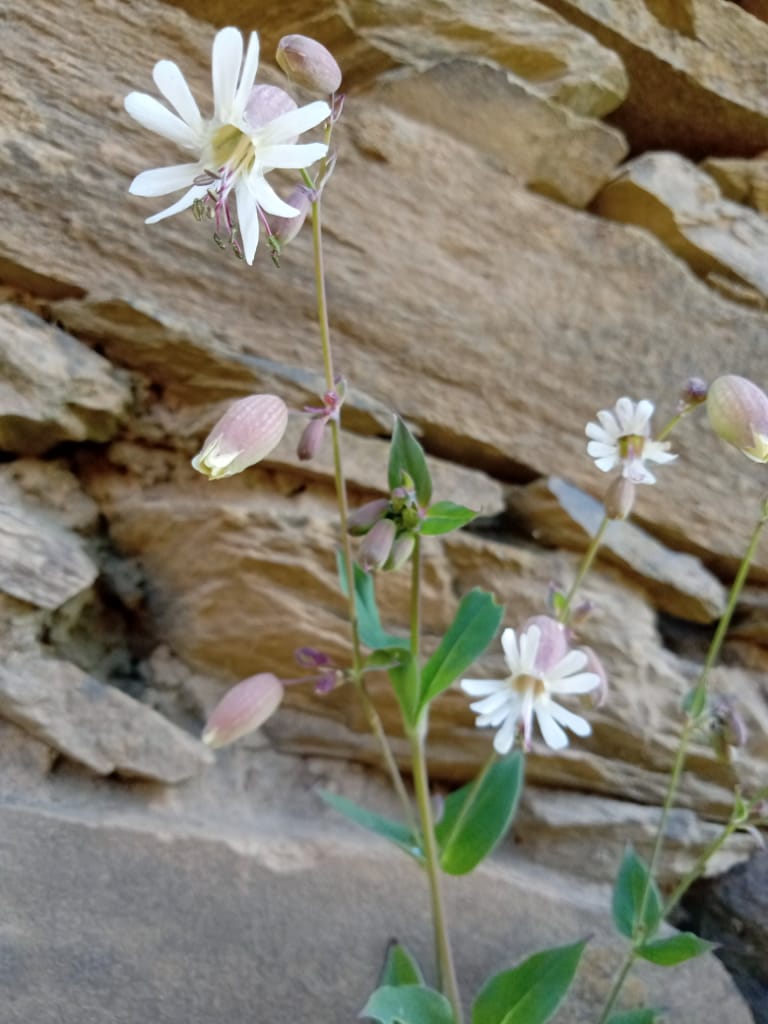 Capsules globose, 6- toothed.
Seeds with lines of tubercles.
Edible Uses:
Jhunjhunu gha young leaves and tender shoots are usually harvested from cultivated beds specially of wheat and orchards where it is considered as a weed to be removed. Edible parts are collected along with leaves and terminals of other wild pot herbs like Cardamine hirsuta (Gujjar ghas), Capsella bursa-pastoris (Shershni), Lathyrus aphaca (Sudu), Stellaria media (Padyala), etc. and cooked as a saag. Finely chopped leaves can be used as salad. Only young leaves and tender terminals should be collected for cooking as mature one may be bitter in taste. To avoid bitter flavor in saag plant parts are usually harvested before flowering begins and should be blanched or mixed with other potherbs.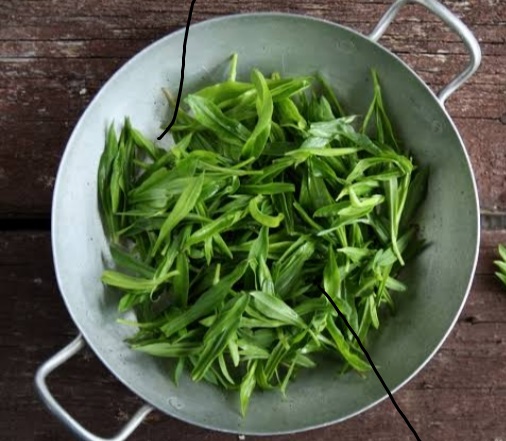 Jhunjhunu gha Leafy Vegetable Saag;
Chopped leaves and tender shoot tips of Jhunjhunu gha and other potherbs, 1 kg; mustard oil, 2 table spoons; coriander powder 1 table spoon; fenugreek powder, ½ table spoon; cumin seed ¼ table spoon; turmeric powder, 1/4 table spoon; red chilies, 2-3; chopped onions 2-4; garlic, 4-5 cloves; ginger paste ½ table spoon and salt according to taste.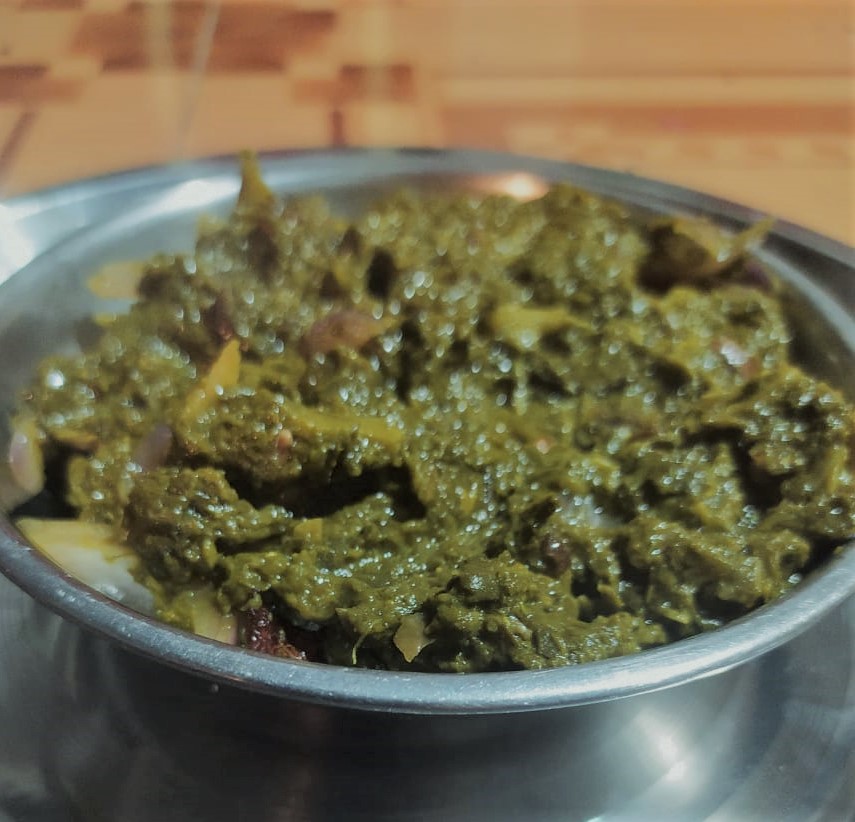 Method:
Boil chopped leaves they become soft. Then mesh manually or in a mixer. Then sauté with hot mustard oil and the spices listed before in sequence. This sauted saag is then ready and can be served as such or can be mixed with 2 or 3 chopped onion or boiled potato and cooked for another 5 to 10 minutes before serving.
Nutritional value of Fresh young leaves and stems of Jhunjhunu gha:
Water, 85.9 g; Energy, 34 Kcal; Protein, 2.47 g; Total Fat (lipid), 0.67 g; Ash, 1.53g; Carbohydrate, 2.32 g; total dietary fiber, 4.36 g; Minerals Calcium, 160 mg; Iron, 1.93 mg; Magnesium, 50.4 mg; Phosphorus, 44.2 mg; Potassium, 601 mg; Sodium, 22.4 mg; Zinc, 0.408 mg; Copper, 0.114 mg; Manganese, 0.709 mg; Vitamin B9, 267 µg; Vitamin C, 25.5 mg, Ascorbic acid, 17.1 mg, Dehydroascorbic acid, 7.34 mg 6.
Seek advice from a professional before using this plant medicinally.
Medicinal:
The plant is said to be emollient and is used in baths or as a fumigant 1. The juice of the plant is used in the treatment of ophthalmia1. A decoction of the roots in milk or water are used as an emetic; a general antidote in the treatment of poisoning; and a remedy against constipation and intestinal pains 7. An infusion is used externally to treat wounds, scabies, itching and various skin conditions7. The plant is a potential immunostimulant, antiviral, and antibacterial 2.
Other Uses:
An extract of the whole plant is used as an ingredient in commercial cosmetic preparations as a skin conditioner 8. Although no specific mention has been seen for this species, it is most likely that the following use can be made of the plant: -The root is used as a soap substitute for washing clothes etc.3,4. The soap is obtained by simmering the root in hot water 5.
References:
1. Chopra, R. N., Nayar, S. L., & Chopra, I. C. (1956). Glossary of Indian medicinal plants (Vol. 1, pp. 138-139). New Delhi: Council of Scientific & Industrial Research.
2. Kermath B.M; Bennett B.C. (2014). Food plants in Americas: A Survey of the Domesticated cultivated and wild plants, used for Human Food in North.
3. Uphof.J.C.Th. (1959). Dictionary of Economic Plants.
4. Usher G. (1974). Dictionary of Plants Used by Man.
5.Temperate Plants Database, Ken Fern. temperate.theferns.info. 2020-03-18. <temperate.theferns.info/plant/Silene+vulgaris>
6. www.healthbenefitstimes.com › Herbs and Spices.