Family: Liliaceae
Synonyms: Tulipa praecox, Tulipa rubroalba, Tulipa stellate, Tulipa hispanica,  Liriactis albiflora,Tulipa fernandezii, Tulipa porphyreochrysantha, Tulipa aitchisonii, Tulipa hafisii,Tulipa chitralensis, Tulipa grey-wilsonii, Tulipa oreophila.
Common Name: lady tulip
Local Name: Titru ka phool (तितरु का फूल),
Titru ka phool is an erect, glabrous, bulbous herb of Western Himalaya known for its attractive beautiful spring bloom. It is commonly seen growing in wastelands, crop fields, rocky slopes, forest openings and dry savannah and open slopes up to an altitude of 800- 2000 meters. Usually it is present as a weed of cultivated land. Titru ka phool best grow in  partial  to full sunlight, in a dry location with well-drained soil.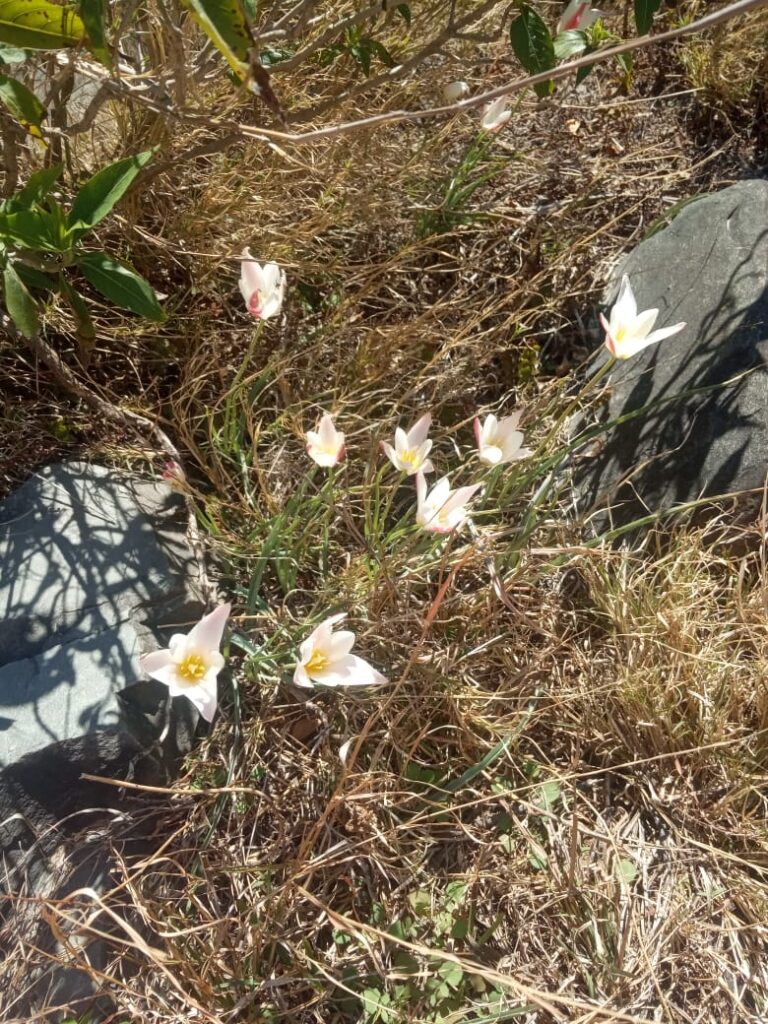 Bulb of this plant are edible and eaten both raw or cooked. Bulb are also dried for later use. Flowers used as an offering to deities. Titru ke phool make a delightful flowering vase arrangement.
Plant is harvested from wild habitat for their local use of food, ornamentation and offering to God.
Titru ka phool plant:
Plant is erect, glabrous, bulbous herb, 30-45 cm high; bulb- scales woolly within.
Leaves 4-6, linear, 20-30 cm long, acute, channeled, sheathing base.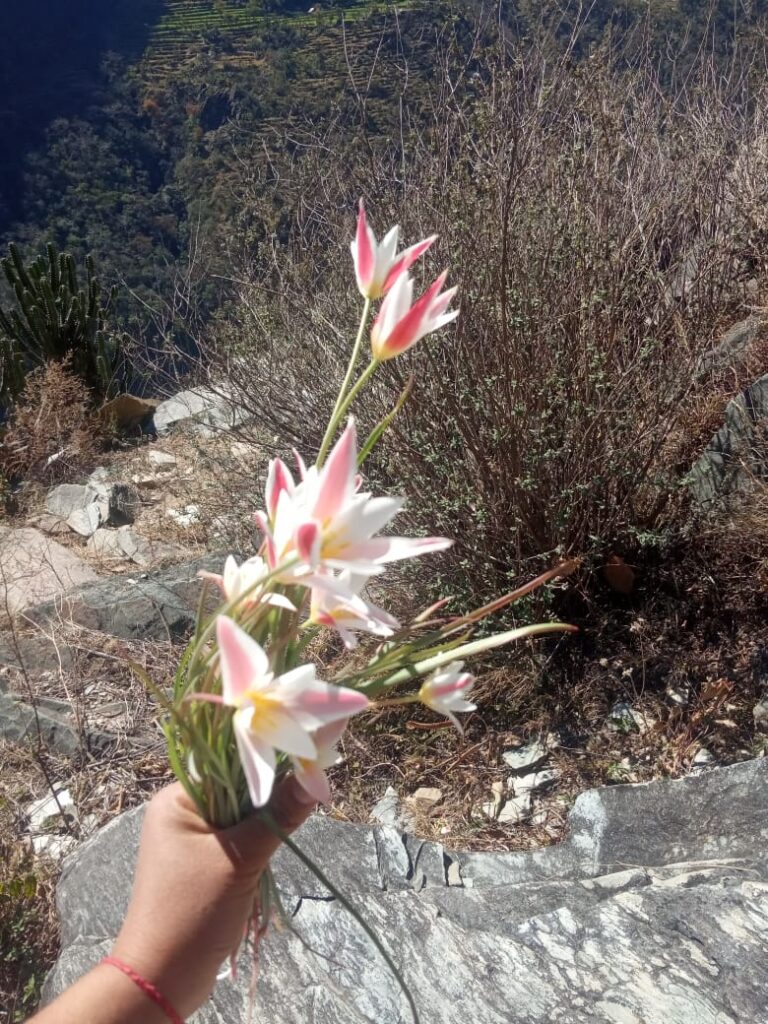 Flowers solitary, campanulate, terminal, on long scape. Perianth- segments 6, oblanceolate, 2-4 cm long, are spreading when fully expended, white on the interior, and cherry red on the exterior, base yellow inside giving the flower a striped look as it opens. Prominent reddish stamens. Flower stem is 8 to 12 inches tall.
Capsules oblong, 2.5 cm long.
Titru ke phool bulb can be best harvested from spring end to beginning of autumn season. As bulb are edible which are important for regeneration so, these need to be harvested sustain ably on the basis of habitat rotation.
Edible Uses:
Bulb of this plant are eaten raw or cooked into a delicious vegetable.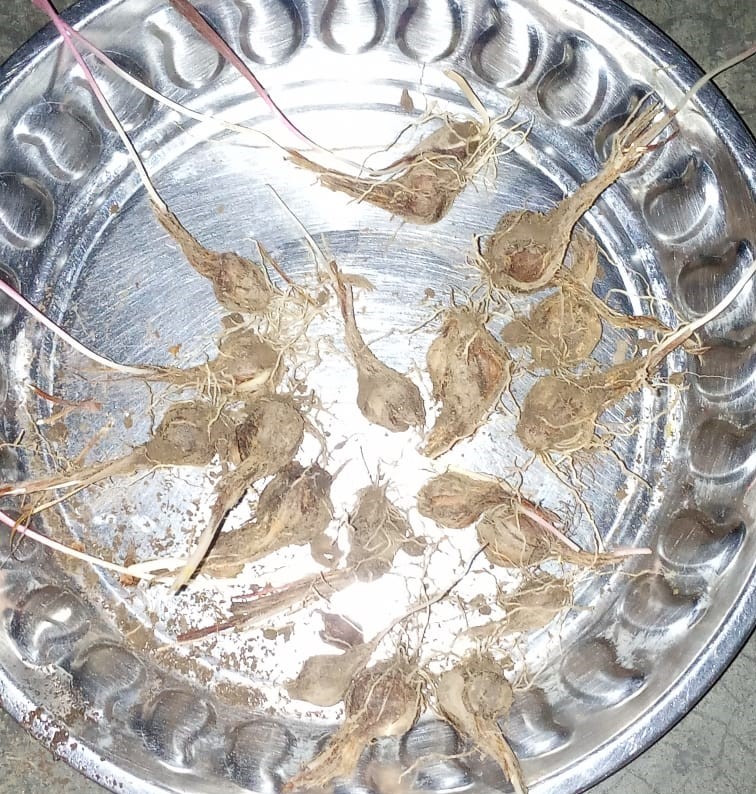 Vegetable:
Ingredients:
Bulb of titru ke phool, 1/2 kg; mustard oil, 2 table spoons; chopped potato, 2-4; coriander powder 1 table spoon; fenugreek powder, ½ table spoon; cumin seed ¼ table spoon; turmeric powder, 1/4 table spoon; red chilies, 2-3; chopped onions 2-4; garlic, 4-5 cloves; ginger paste ½ table spoon, chopped coriander leaves, 1 cup amount and salt according to taste.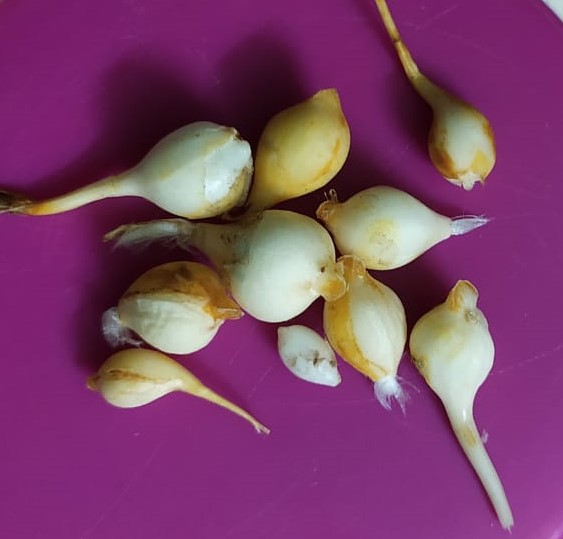 Method:
Sauté bulb of titru ke phool along with chopped potato in hot mustard oil with the spices listed before in sequence. Cook till bulb and potato pieces become soft. Garnish the recipe with green coriander leaves and GARAM MASALA before serving . Bulb can be cooked alone along with potatoes.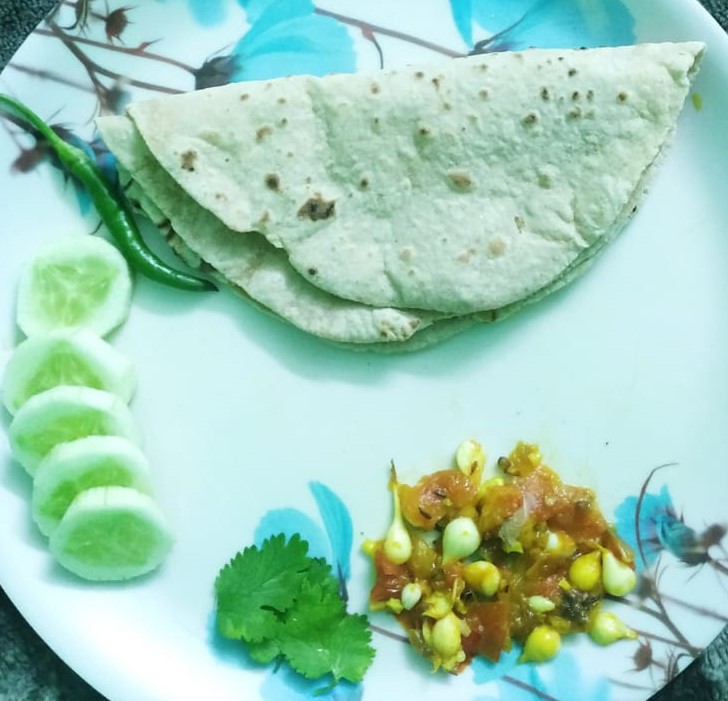 Other Uses:
Flowers of titru ke phool used as an offering to deities. Titru ke phool make a delightful flowering vase arrangement.