Family: Vitaceae
Synonyms: Vitis parviflora, Vitis purani. Vitis wallichii. Vitis cavaleriei
Common Name: Himalayan wild grape
Local Name: Jangali angoor (जंगली अंगूर)
Jangali angoor is a deciduous woody climber which prefers to grow in well-drained sunny or semi-shade habitat in Western Himalaya. It is common in scrub forests and roadsides, over bushes and shrubs in dry or moist soil upto an altitude of 900-1500m.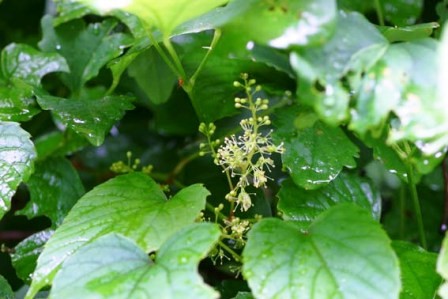 Ripe fruits of jangali angoor are edible and eaten raw or added to desserts. These are also dried to be used in winters. Young leaves and tendrils of jangali angoor are cooked and made into a delicious traditional dish Kachru made up of basen and spices. It is eaten like a snack with tea. Sap obtained by cutting new growth of jangali angoor vine used as a refreshing summer drink.
Jangali angoor is harvested from wild habitat as a source of food, medicine and material. It is also cultivated in garden for its edible fruits. The fruits are very sweet and have a delicate flavor too. These are widely eaten by local people. These are also sold at some places.
Jangali angoor Plant:
Plant is glabrous, slender, deciduous trailing, woody climbers 5 to 8 m tall.
Branches are slender, terete, striate, glabrous.
Leaves are simple, ovate, 5-8 to 3-6 cm, cordate at base, acuminate at apex, dentate or very distantly serrate, sometimes lobed, glabrous, base 5- nerved. Tendrils branched.
Flowers are pentamerous, green, in 3-7 long, erect, simple or branched racemes.
Berries globose, 5-7 mm across, black, 2-4 seeded.
Jangali angoor are best harvested from summer to rainy season. For ensuring sustainable development plant should be cultivated in large scale.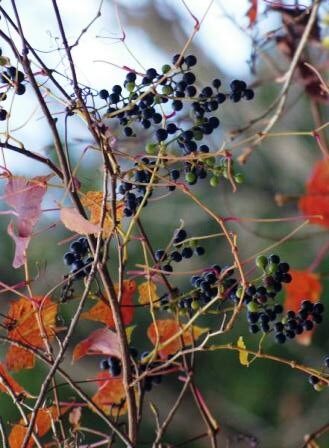 Edible Uses:

Fruits are eaten raw or dried for winter use. These are added in desserts. Young leaves and tendrils are made into Kachru. Sap collected from young vines is sweet in taste it is used as refreshing drink.
Desserts:
Ingredients:
Ripe fruits of jangali angoor and other chopped fruits acc. to taste,1/2kg; curd, 1kg; sweetener like honey/ sugar/ condensed milk, 1-3 tea spoon; cardamom powder,1/4 tea spoon; black salt according to taste.
Method:
Take curd in a bowl. Add to it sweetener according to choice and stir well. Add cardamom powder, black salt, ache fruits and other chopped fruits according to preference. Mix well and serve.
Kachru:
For preparing a kachru, ingredients required are 1kg young fresh leaves and tendrils of jangali angoor , 1/2 kg besan (black gram powder) or corn flour. 1 cup amount fresh coriander leaves,1/2 table spoon ajwain, 3-5 green chilies, ½ table spoon turmeric powder, 2-3 chopped onions and salt according to taste
Method:
Make a paste of leaves, besan or corn flour and spices. Heat some oil on a flat heating pan. Put this paste over a pan and cook for 15 to 20 minutes then kachru will be ready to serve.
Refreshing summer drink:
Collect sap by cutting new growth of Jangali angoor vine add to it honey, mint leaves, black salt, black pepper powder according to taste and serve.
Seek professional advice before treating this plant medicinally.
Medicinal uses;
The fruit is restorative, strengthening and tonic 1. The sap is used to restore youth and black hair1. The root is said to be warming to the sinews1.
The aerial parts of the plant contain various medicinally active compounds that have cytotoxic properties and are of potential use in the treatment of cancer2.
Other Uses:
A yellow dye is obtained from the fresh or dried leaves 3
References:
Duke. J. A. and Ayensu. E. S. (1985); Medicinal Plants of China reference Publications, Inc. ISBN 0-917256-20-4
Kuete, V., Seo, E. J., Krusche, B., Oswald, M., Wiench, B., Schröder, S., … & Efferth, T. (2013). Cytotoxicity and pharmacogenomics of medicinal plants from traditional Korean medicine. Evidence-Based Complementary and Alternative Medicine, 2013.
Grae. I.(1974);Nature's Colors – Dyes from Plants. MacMillan Publishing Co. New York. Publication. ISBN;0-02-544950-8
<!