Family:  Brassicaceae
Synonyms: Alliaria alliacea, Alliaria alliaria, Alliaria fuchsii,Alliaria mathioli, Alliaria officinalis,  Arabis alliaria, Arabis petiolata, Clypeola alliacea, Crucifera alliaria , Erysimum alliaceum, Erysimum alliaria, Erysimum cordifolium, Hesperis alliaria, Sisymbrium alliaceum, Sisymbrium alliaria. 
Common Name: Garlic Mustard
Local Name: Masru ghaa (मशरू घा)
Masru ghaa is an erect, biennial herb of Western Himalayas producing a single or branched stem from a taproot. It is commonly seen growing in field boundaries, road sides, wastelands, damp places, edges of woods and other shady areas up to an altitude of 1000-1500 meters in Western Himalaya.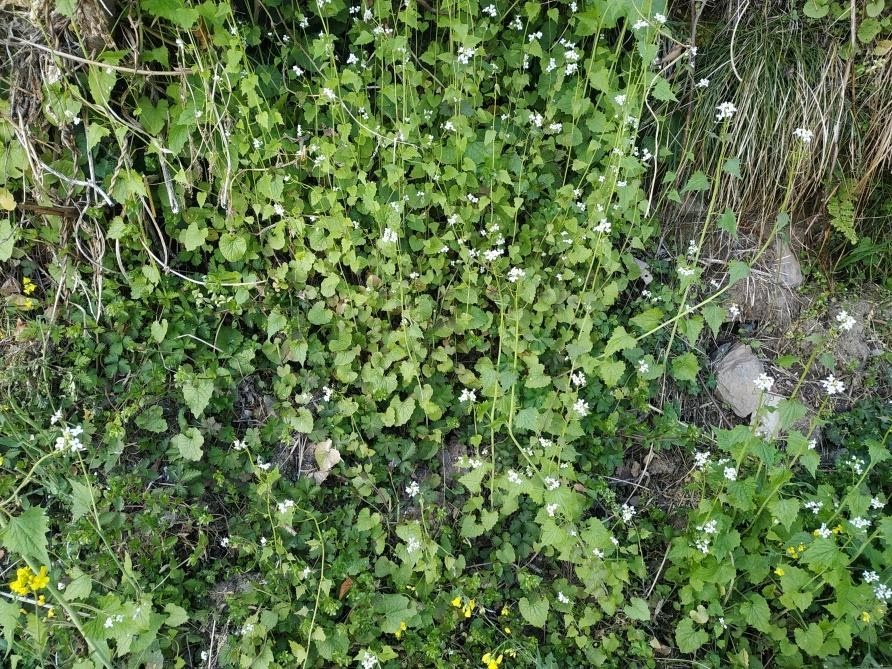 Masru ghaa is propagated by seeds. It can easily grow in variety of habitat like from fully sunny to fairly deep shady places, but it grows best in damp shady areas.
When leaves of masru ghaa are crushed, they release garlic like smell and taste. That's the reason provably it is given its common name Garlic mustard and is used often as an alternative of true garlic in variety of food preparations. The leaves of masru ghaaare mainly eaten for their rich vitamins A and C content7.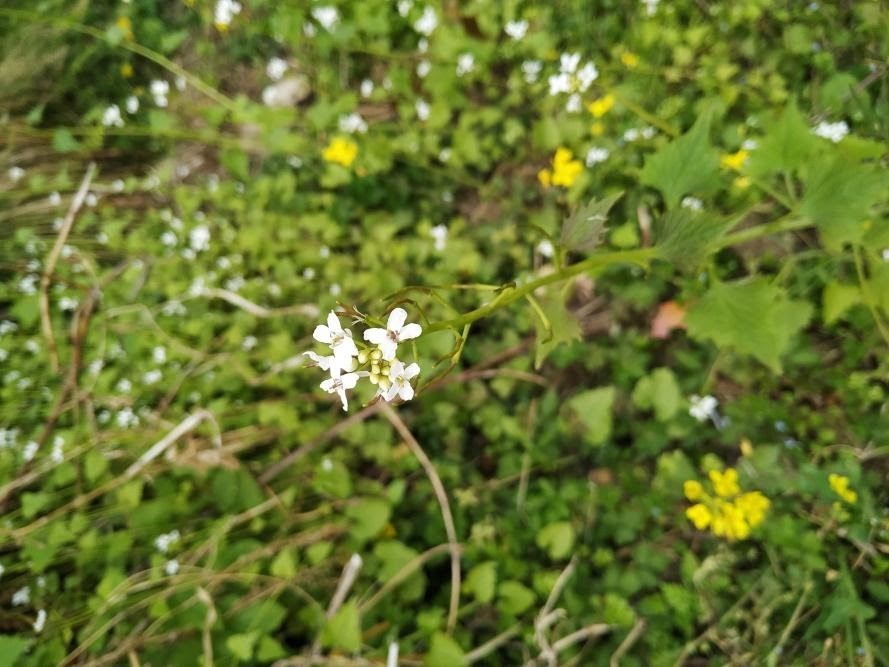 All the plant parts of masru ghaa viz root, leaves, flowers and young seed pods are edible. Leaves, flowers and young pods of this plant are eaten both raw or cooked. Edible masru ghaa leaves can be eaten in any season, but once the weather gets hot and flowering starts the leaves will taste bitter. So, better to use leaves when these are young.
Masru ghaa is harvested from wild habitat as a source of food, fodder, medicine and material for local personal use.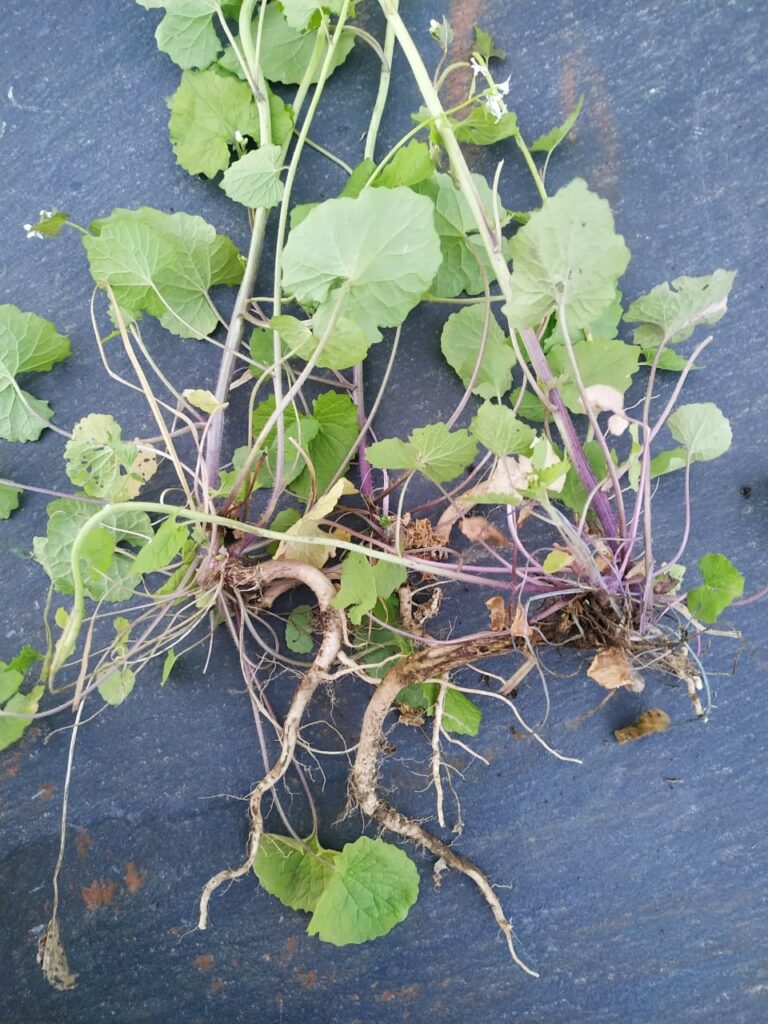 Masru ghaa Plant:
Plant is herbs, branched or simple, 30-90 cm tall.
Basal leaves reniform, denate; petiolate 3-5 cm long, upper leaves ovate- cordate or deltoid, crenate; petiolate 1-2 cm long.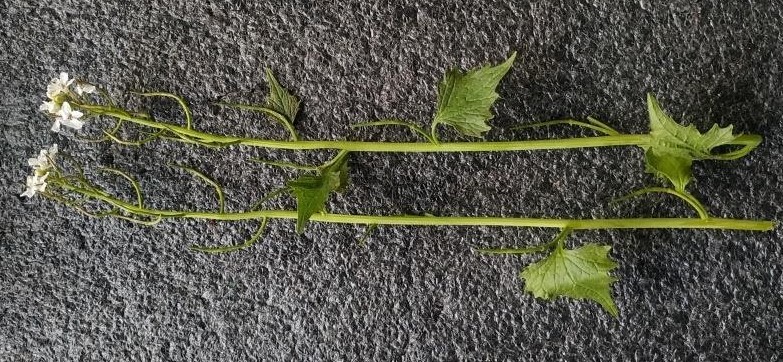 Flowers white ca 4 mm across, in 10- 30 flowered racemes. Fruits 3.5- 5.5 cm long; valves 3- nerved, with slot midrib. Seeds oblong. Striate and dotted, dark brown.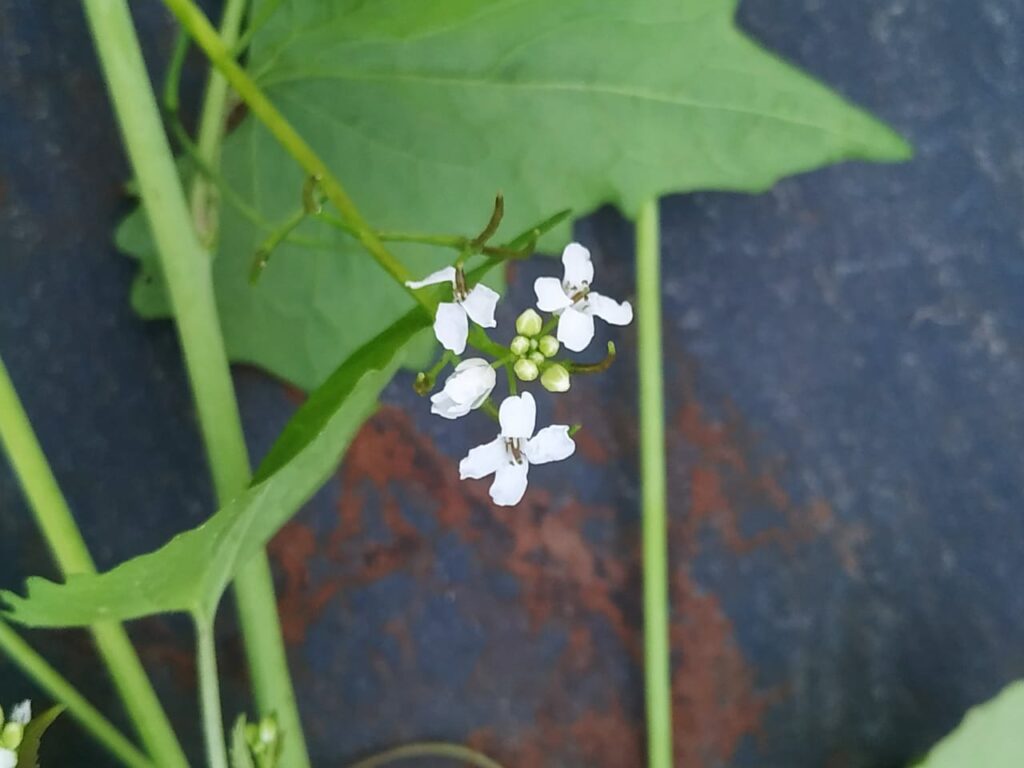 Masru ghaa leaves can be harvested round the year but these are best tasting when collected before flowering. Flowers and seed pods can be collected from spring to beginning of summers, these should be collected from different habitat. Roots are available round the year can be best collected after flowering for ensuring sustainable development.
Edible Uses:
Masru ghaais used pot herb as a whole plant. Almost all the parts of this plant are edible and ingredients of many recipes. Leaves can be eaten in any season, but these taste better before flowering starts. Flowers and young leaves can be eaten in salad or added to 'rayata', 'chutneys' and cooked into a delicious 'kachru'.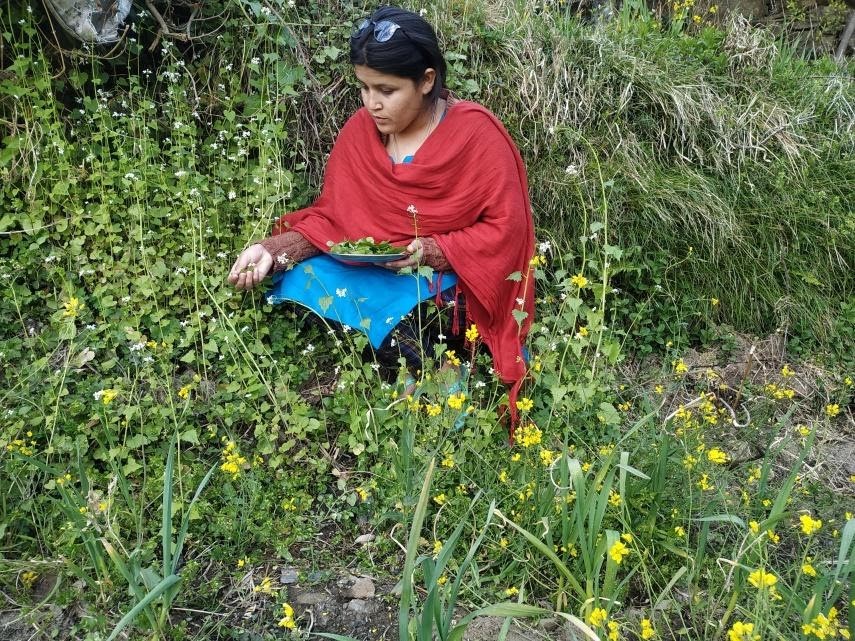 Masru ghaa crushed leaves releases true garlic like smells and taste. So, plant is often used as a substitute of true garlic and used in same way in various food preparation as true garlic is used.
Masru ghaa leaves along with coriander leaves, other greens and green chillies are ground with salt to make a special paste. This paste is mixed to chopped ripe citrus fruits and made into a traditional sour recipe known as 'khatta'. Some sweetening agent is added to 'khatta' for diluting its acidulant flavour and to taste better. It is made in winters and eaten in full sunlight.
Masru ghaa vegetable:
Tender leaves of masru ghaa and roots, 1 kg; mustard oil, 2 table spoons; coriander powder 1 table spoon; fenugreek powder, ½ table spoon; cumin seed ¼ table spoon; turmeric powder, 1/4 table spoon; red chilies, 2-3; chopped potato, 2-4; chopped onions 2-4; garlic, 4-5 cloves; ginger paste ½ table spoon and salt according to taste.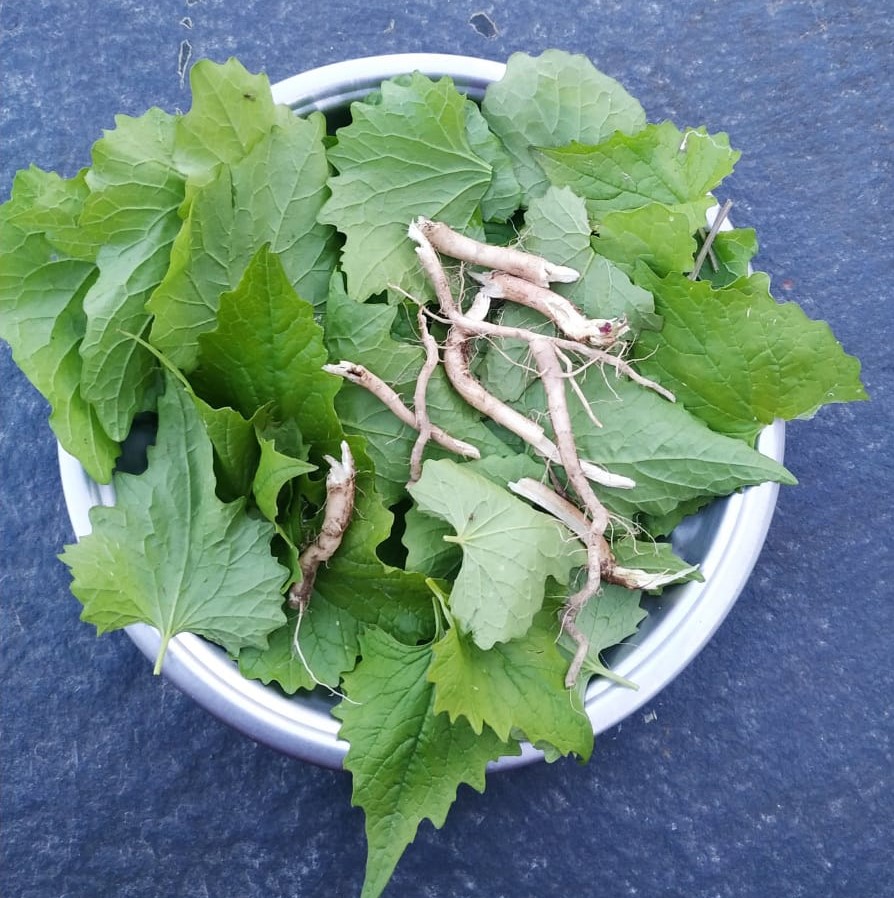 Method:
In hot mustard oil saute chopped leaves, roots and chopped potato along with spices listed above in a sequence. Cook till the leaves and potato are soft. Garnish with chopped green coriander leaves and garam masala and serve.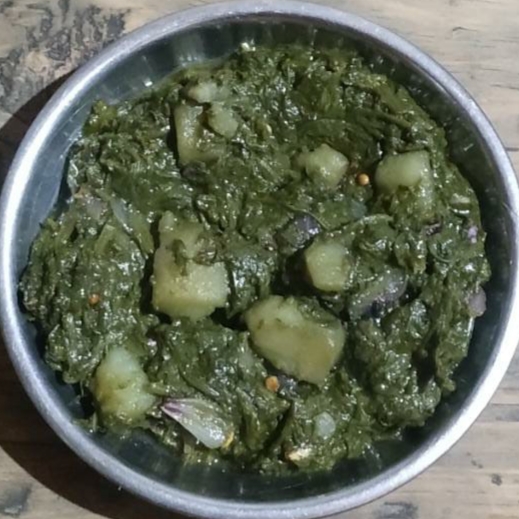 Masru ghaa chutney:
Fresh masru ghaa leaves and flowers, 250 g; fresh mint (poodina), curry leaves, coriander leaves, 150 gm; anardana, 100 gm; red chillies, 5-8; medium sized chopped onions, 1-2; sugar.1 tea spoon and salt, according to taste.
Method:
Chutney is normally prepared from fresh leaves and flowers. For preparing chutney, grind all the ingredients in a mixer except salt. Take out this mixture in a bowl and add salt. Now is masru ghaa ready to serve.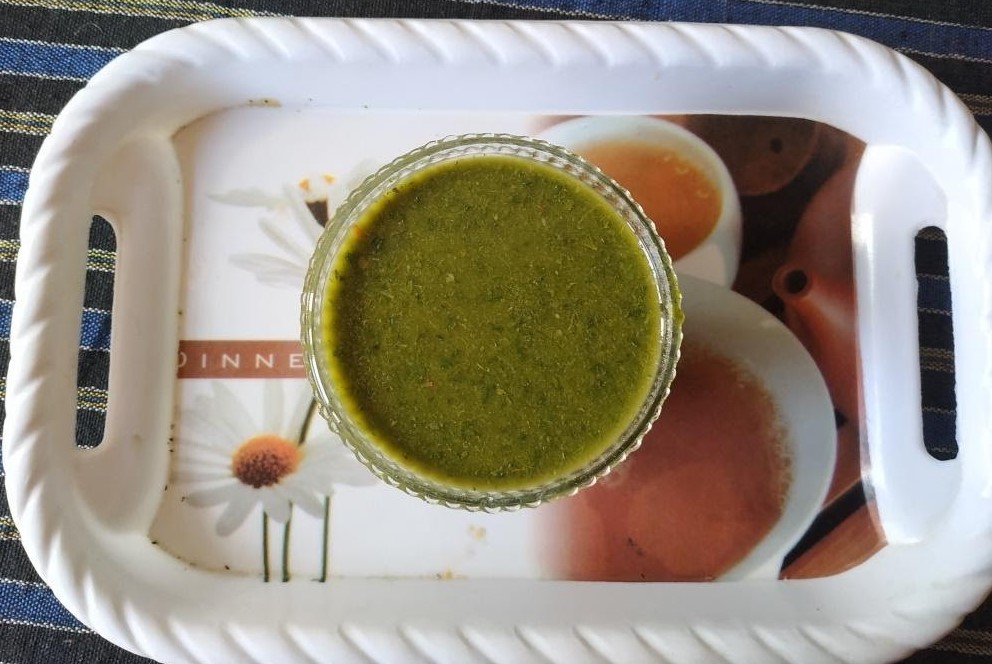 'Kachru':
For preparing a kachru, ingredients required are 1kg fresh leaves and flowers, 1/2 kg besan (black gram powder) or corn flour. 1 cup amount fresh coriander leaves,1/2 table spoon ajwain, 3-5 green chillies, ½ table spoon turmeric powder, 2-3 chopped onions and salt according to taste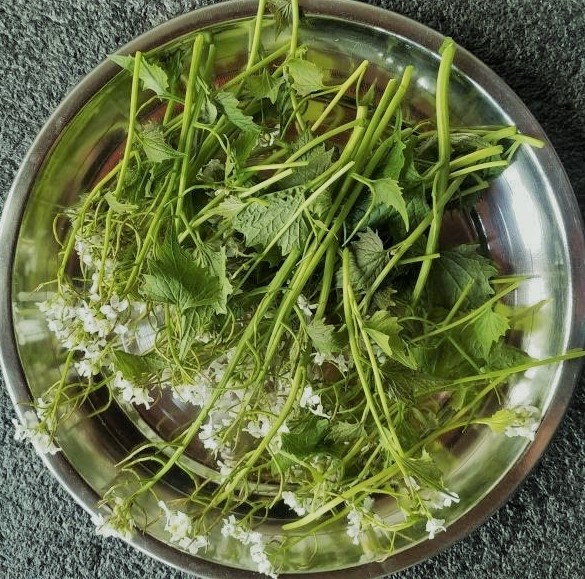 Method:
Make a paste of leaves, besan or corn flour and spices. Heat some oil on a flat heating pan. Put this paste over a pan and cook for 15 to 20 minutes then 'Kachru' will be ready to serve.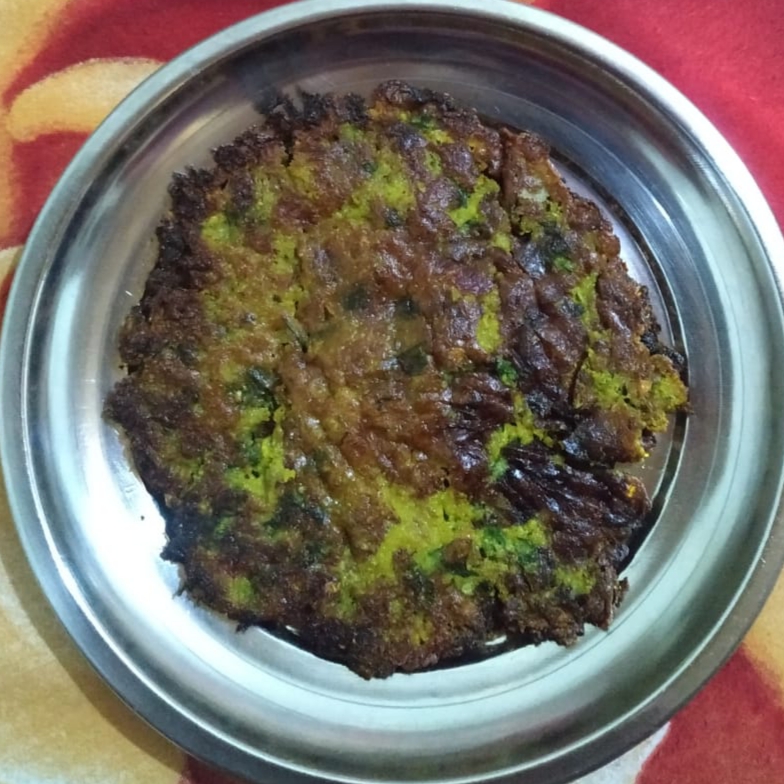 'Khatta':
Ingredients:
Citrus medica or Citrus hystrix ripe fruits, 2-3; masru ghaa, other greens and coriander leaves, 250 g; red or green chillies, 5-6; sugar, 2-3 table spoon. salt according to taste.
Method:
Peel off and chop ripe citrus fruits into small cubes. Make paste of masru ghaa leaves, other green leaves, chillies and salt by grinding all in a pestle and mortar. Add the paste to chopped citrus fruits and mix well. Now add to it sugar according to taste and eat in full sunlight.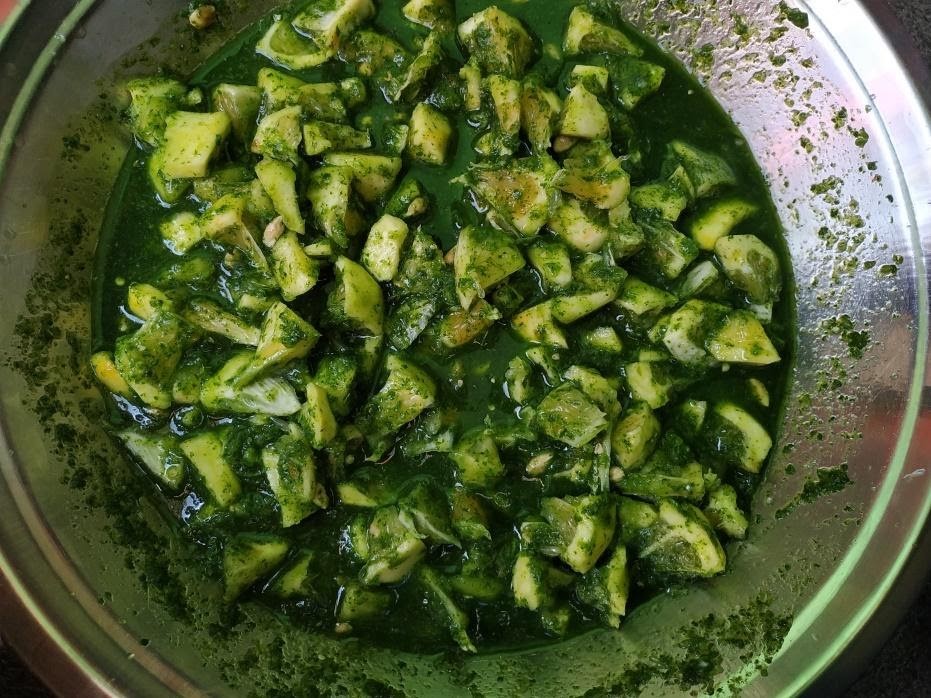 'Rayata':
Ingredients:
250 g chopped young leaves of masru ghaa, 1/2 Kg curd, 1 cup fresh coriander leaves (chopped), 1 cup fresh mint leaves (chopped), 3-5 green chillies, a pinch of black pepper powder, 1 table spoon raie powder, 3-4 medium sized chopped onions and salt according to taste.
Method:
Add chopped leaves of masru ghaa to curd with onion and other spices listed before. Garnish recipe with coriander and mint leaves and serve.
Seek professional advice before treating this plant medicinally.
Medicinal Uses:
The leaves and stems are antiasthmatic, antiscorbutic, antiseptic, deobstruent, diaphoretic, vermifuge and vulnerary1,2. The leaves have been taken internally to promote sweating and to treat bronchitis, asthma and eczema1.Applied externally, the leaves have been used as an antiseptic poultice on ulcers etc.1, and are effective in relieving the itching caused by bites and stings 3. The leaves and stems are harvested before the plant comes into flower and they can be dried for later use 4. The roots are chopped up small and then heated in oil to make an ointment to rub on the chest in order to bring relief from bronchitis 5. The juice of the plant has an inhibitory effect on Bacillus pyocyaneum and on gram-negative bacteria of the typhoid-paratyphoid-enteritis group 6. The seeds have been used as a snuff to excite sneezing 1.
Other Uses:
Masru ghaa is used as fodder. A yellow dye is obtained from the whole plant 2.
References:
Grieve, M. (1984). Tansy. A Modern Herbal. Penguin Books Ltd, Middlesex, Great Britain, 789-790.
Chiej. R. (1984). Encyclopaedia of Medicinal Plants. ISBN;0-356-10541-5.
Arayne, M. S., Sultana, N., Mirza, A. Z., Zuberi, M. H., & Siddiqui, F. A. (2007). In vitro hypoglycemic activity of methanolic extract of some indigenous plants. Pak J Pharm Sci, 20(4), 268-273.
ISBN,0-7513-020-31.
Genders. R. (1994);Scented Flora of the World. Robert Hale. London. Publication ISBN; 0-7090-5440-8.