Family: Brassicaceae
Synonyms: Brassica argyi, Brassica arvensis juncea, Brassica besseriana, Brassica cernua,Brassica chenopodiifolia, Brassica integrifolia, Brassica japonica, Brassica juncea japonica, Brassica lanceolate, Brassica napiformis, Brassica richeri,Brassica rugosa, Brassica taquetii, Brassica willdenovii, Crucifera juncea, Raphanus junceus, Rhamphospermum volgense, Sinabraca juncea, Sinapisa byssinica, Sinapis brassicata, Sinapis campestris, Sinapis cernua, Sinapis chinensis, Sinapis cuneifolia. Sinapis japonica, Sinapis juncea, Sinapis lanceolate, Sinapis oleracea, Sinapis patens, Sinapis ramose, Sinapis rugosa,Sinapis sinensis, Sinapis tenella, Sinapis timoriana.
Common Name: Brown Mustard
Local Name: Raie (राई)
Raie is an annual to biennial herbaceous plant of Western Himalaya. It is cultivated widely for its edible leaves and seeds. Raie often met with as an escape wild food plant in waste places near crop fields and habitation up to an altitude of 3000 m in Western Himalaya. It succeeds well in full sun in most well-drained moisture-retentive fertile soils.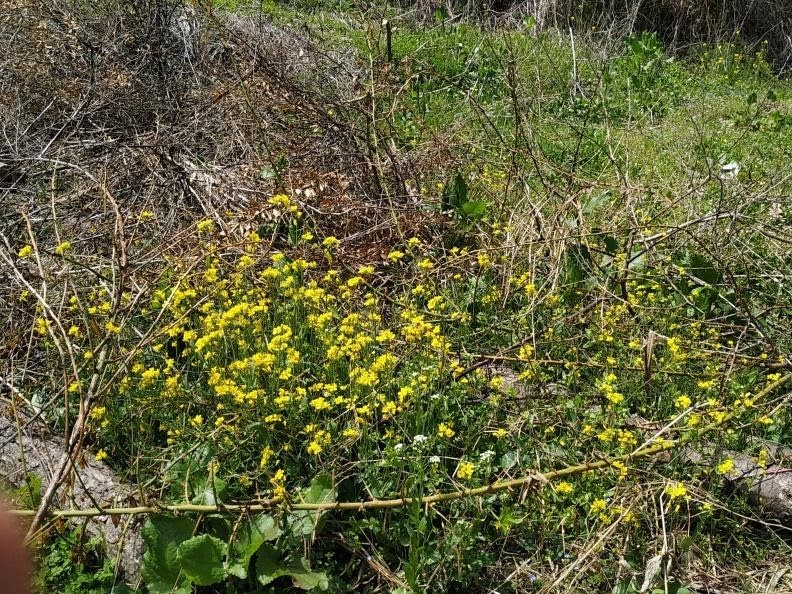 Raie seeds yields edible oil and its leaves are eaten as vegetable. It is mainly eaten for its wide range of medicinal uses. Seed are dried ground into powder and used to sour pickle, curries, 'rayata' and other traditional sour recipes. Oil is extracted from seeds which is used as a cooking oil. Seeds are also used as a condiment to flavor various recipes. Oil is also used as hair oil and massage oil.
Raie is harvested for local and commercial uses both from wild and cultivated habitat as a source of food, oil. medicine and sometimes fodder.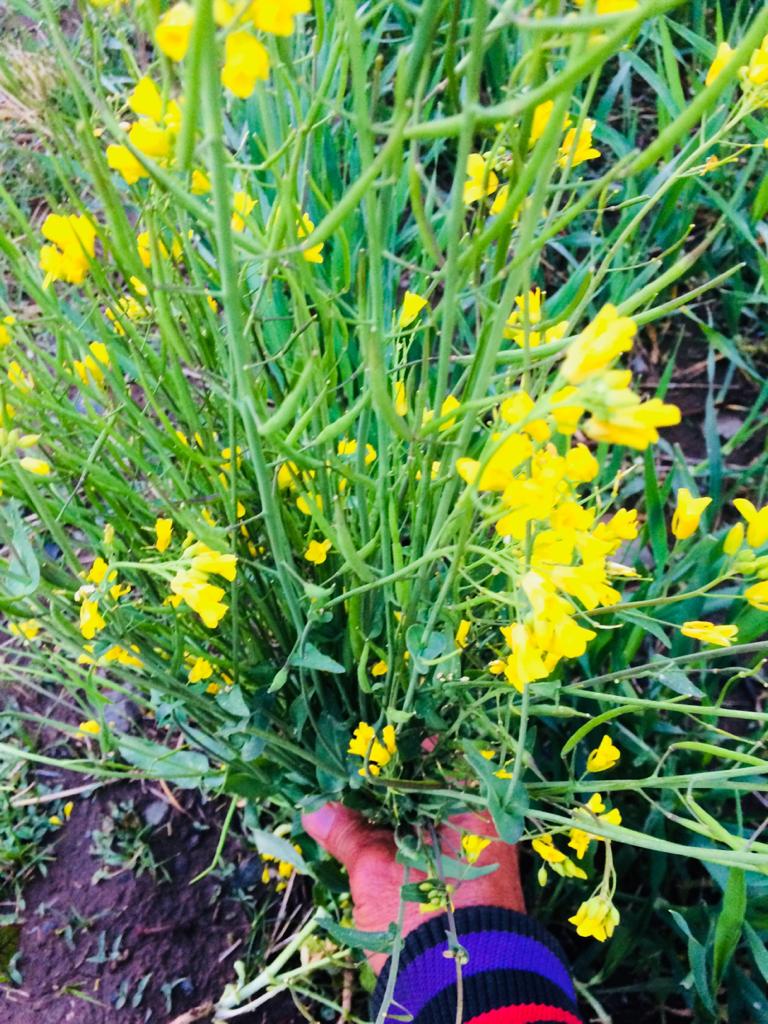 Local people collect Raie leaves and seeds and sold in surrounding market to earn money. Raie seeds are considered sacred and used in plenty of religious rites, these are specially used to keep away evil spirit.
Raie Plant:
Plant is erect, tall, branching, slightly hispid, annual herbs, 90-150 cm tall.
Lower leaves petiolate, lyrate or pinnatifid; upper ones oblong, decreasing in size.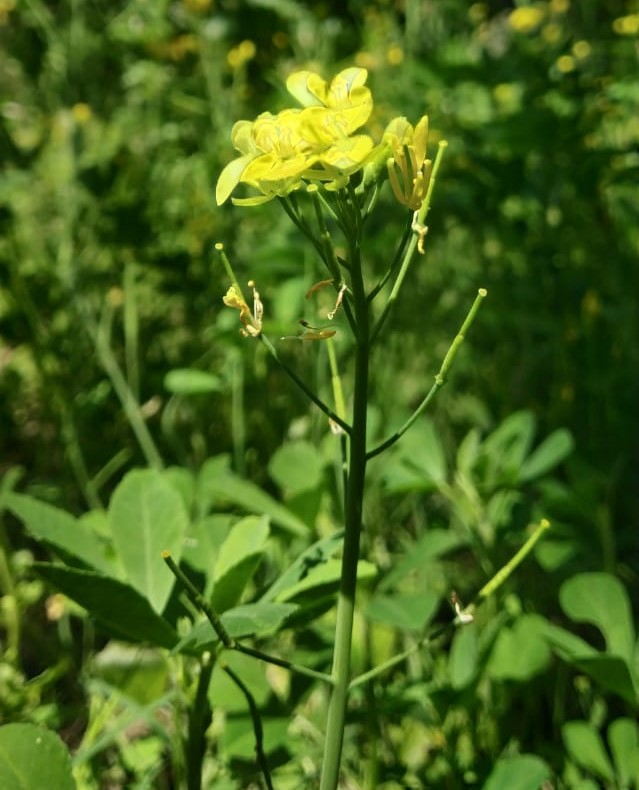 Flowers bright yellow, 8 mm across, in racemes.
Sepals spreading.
Fruits narrow, 2.5- 4 cm long, torulose; beak narrowly conical, seedless.
Seeds reddish- brown.
Edible raie leaves are collected from pre-winter to spring season of the year and edible seeds are harvested from spring to beginning of summer season.
Edible Uses:
Seeds and leaves ofraie are edible and eaten. Leaves are used to make leafy vegetable saag alone or with other potherbs. Seeds are rich source of essential oil and condiments. Oil is used for cooking. Seeds or seed powder is used as a souring agent in curries and pickle.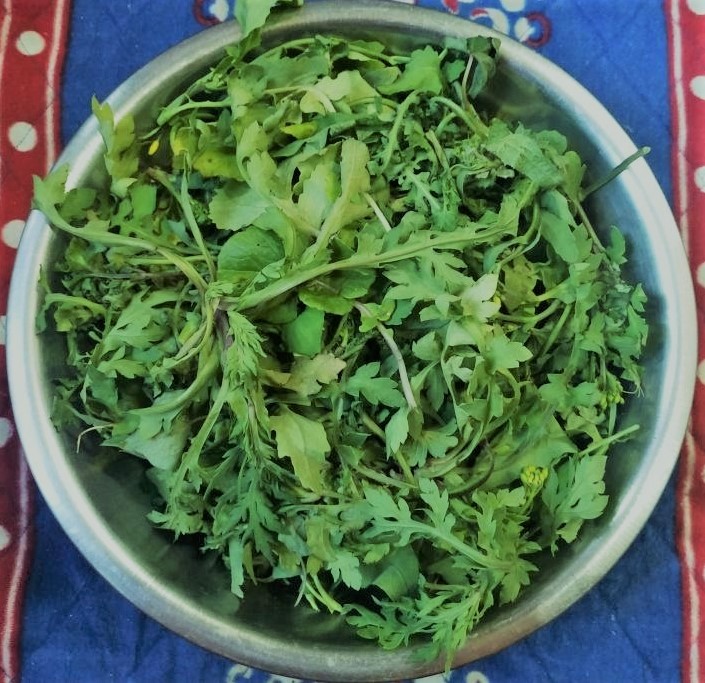 Saag:
Ingredients:
Chopped raie leaves, 1 kg; mustard oil, 2 table spoons; coriander powder 1 table spoon; fenugreek powder, ½ table spoon; cumin seed ¼ table spoon; turmeric powder, 1/4 table spoon; red chilies, 2-3; chopped onions 2-4; garlic, 4-5 cloves; ginger paste ½ table spoon and salt according to taste.
Method:
Boil chopped leaves till they become soft. Then mesh manually or in a mixer. Then sauté with hot mustard oil and the spices listed before in sequence. This saluted saag is then ready and can be served as such or can be mixed with 2 or 3 chopped onion and cooked for another 5 to 10 minutes before serving.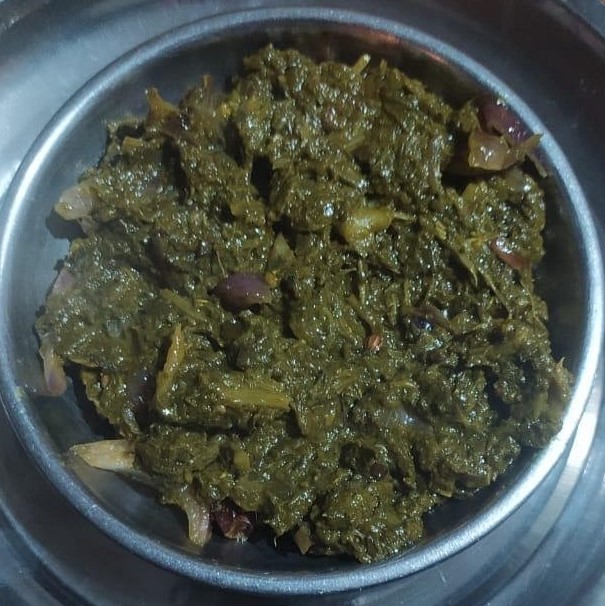 Rayata:
Ingredients:
250 g chopped young raie leaves, 1/2 Kg curd, 1 cup fresh coriander leaves (chopped), 1 cup fresh mint leaves(chopped), 3-5 green chillies, a pinch of black pepper powder, 1 table spoon raie powder, 3-4 medium sized chopped onions and salt according to taste.
Method:
Add chopped leaves of raie to curd with onion and other spices listed before. Garnish recipe with coriander and mint leaves and serve.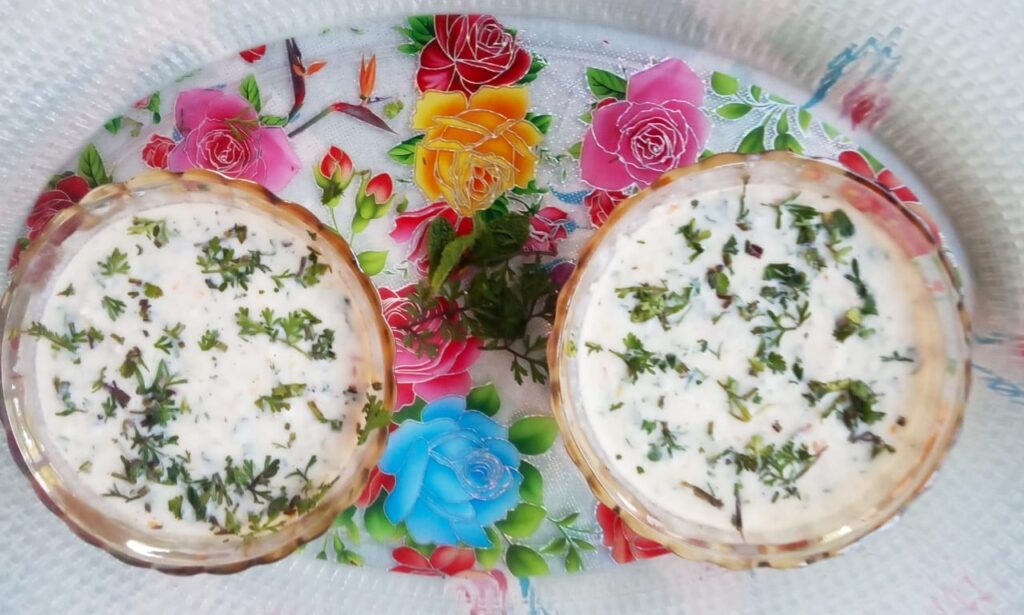 Food Value:
Nutritional value of Mustard greens, cooked, boiled, drained, without salt
Serving Size: 1 Cup, 140 g
Calories 36 Kcal; Water, 128.49 g ; Energy, 36 Kcal; Protein ,3.58 g; Total Fat, 0.66 g; Ash, 0.97 g; Carbohydrate, 6.31 g; Total dietary Fibre, 2.8 g; Total Sugars, 1.97 g; Minerals Ca, 165 mg; Fe, 1.22 mg; Mg, 18 mg; P,59 mg; K, 227 mg; Na, 13 mg; Zn, 0.31 mg; Cu, 0.204 mg; Se, 0.8 mg; Vitamins B1, 0.057 mg; Vitamin B2, 0.088 mg; Vitamin B3, 0.606 mg; Vitamin B5, 0.168 mg; Vitamin B6, 0.137 mg; Vitamin B9, 13 µg; Folate, food 13 µg; Folate, DEF 13 µg; Cl, 0.6 mg; Betaine 0.3 µg; Vitamin C,35.4 mg; Vitamin A, 865 µg; Beta Carotene, 10360 µg; Alpha Carotene, 13 µg; Beta Cryptoxanthin, 49 µg; Lutein + zeaxanthin, 14560 µg; Vitamin E, 2.49 mg; Vitamin K, 829.8 µg 5.
Seek professional advice before treating this plant medicinally.
Medicinal Uses:
The seeds are acrid, bitter, thermogenic, anodyne, anti- inflammatory, carminative, and digestive, anthelminitic, aperient, sudorific and tonic1. They are useful in vitiated conditions of vata and kapha, dengue fever, abdominal colic, anorexia, dyspepsia, intestinal worms, flatulence, inflammations, morbid state of the cerebrospinal system, skin diseases, spelnomegaly and persistent vomiting1. Mustad is used in large dose as an emetic in cases of poisoning and will cause hyuperdispia, burning sensation, and other disorders due to the vitiation of pitta1.
Chemical constituents:
Seeds contain sinigrin, gluconapin base and a volatile isothycoynate, essential oil 1.
Spiritual Uses:
Raie seeds are considered sacred by the local people of Western Himalaya. People use these in various religious rites and it is believed that these helps to keep away evil spirit.
Other Uses:
Green foliage when occur gregariously as a weed depending upon habitat is used as fodder and given to milch cattle. It is supposed to enhance milk yield. The plant can be used as bioremediator to reduce boron and selenium levels in contaminated soils 2. has been found to have a high potential to remediate cadmium, lead and zinc from polluted environments. It is especially effective with lead, which it concentrates in the roots and greatly restricts its translocation to the shoots. This plant can therefore be grown in environments that are contaminated with heavy metals, after which the plant biomass can be harvested and burned to ash to recover the metals or to be disposed of appropriately and safely3. There is some evidence that if this plant is grown as a green manure it is effective in reducing soil-borne root rots in pea crops 4. An oil is obtained from the seed 6. It is used as cooking oil, massage oil, hair oil and as lubricant.
Source of Income:
Village woman collect Raie leaves a along with other wild greens like Takli (Silene conoidea), Sudu (Lathyrus aphaca), Vicia sativa (Roadi), Gujjar ghas (Cardamine hirsuta) etc, and sold in surrounding local market for Rs 30 to 40 /kg.
References:
Purohit SS, Sharma AK, Prajapati ND, Kumar T. (2009); A handbook of medicinal plants: a complete source book. 2:352-3.
Banuelos, G. S., Cardon, G., Mackey, B., Ben‐Asher, J., Wu, L.,Beuselinck, P., & amp; Zambrzuski, S. (1992). Boron and SeleniumRemoval in Boron‐Laden Soils by Four Sprinkler Irrigated PlantSpecies. Journal of Environmental Quality, 22(4), 786-792.
Anamika, S., Eapen, S., & Fulekar, M. H. (2009).Phytoremediation of cadmium, lead and zinc by Brassica juncea L.Czern and Coss. J Appl Biosci, 13, 726-736.
Larkcom J. (1991). Oriental Vegetables