Family: Rosaceae
Synonyms: Fragaria indica
Common Name: Mock Strawberry, False Strawberry, Indian Strawberry, Yellow-flowered Strawberry.
Local Name: Bhuin ankhe (भुई आखे)
Bhuin ankhe is a softly- silky perennial herb of Western Himalaya, commonly found growing in cool and moist shady places, on hill slopes, cultivated fields, wastelands and forests, up to 2400 meters.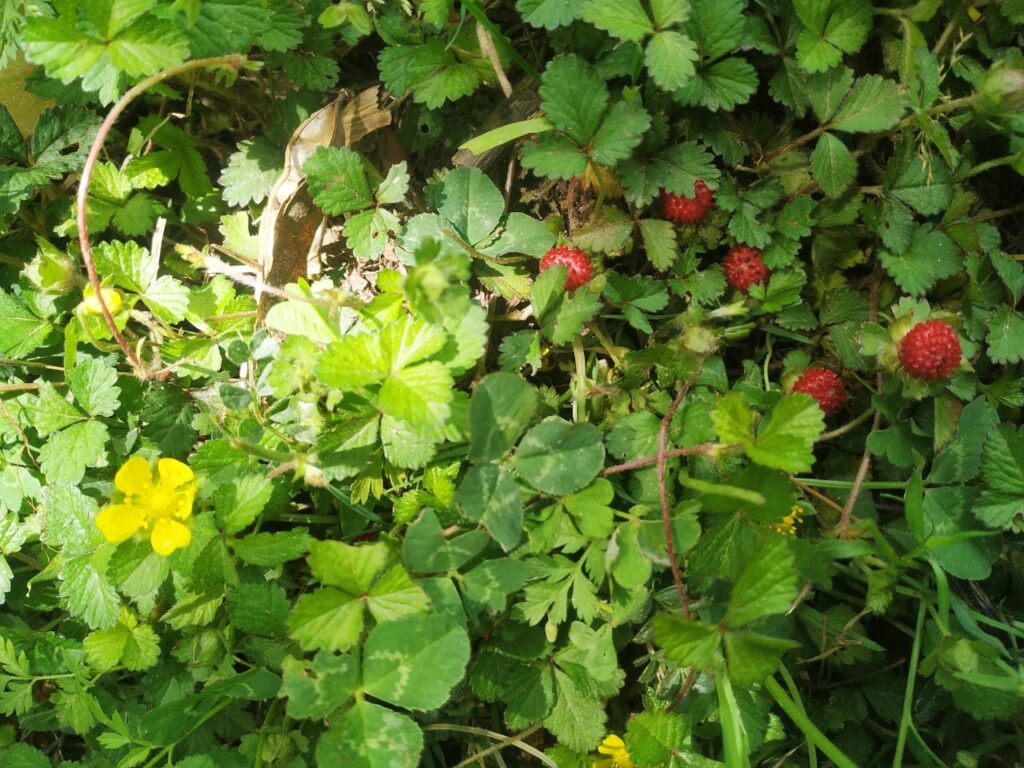 The plant resembles the strawberry to a great extent. Bhuin ankhe is easily propagated by seeds. It prefers a moist but well-drained soil in a sunny position and grow best in semi-shade.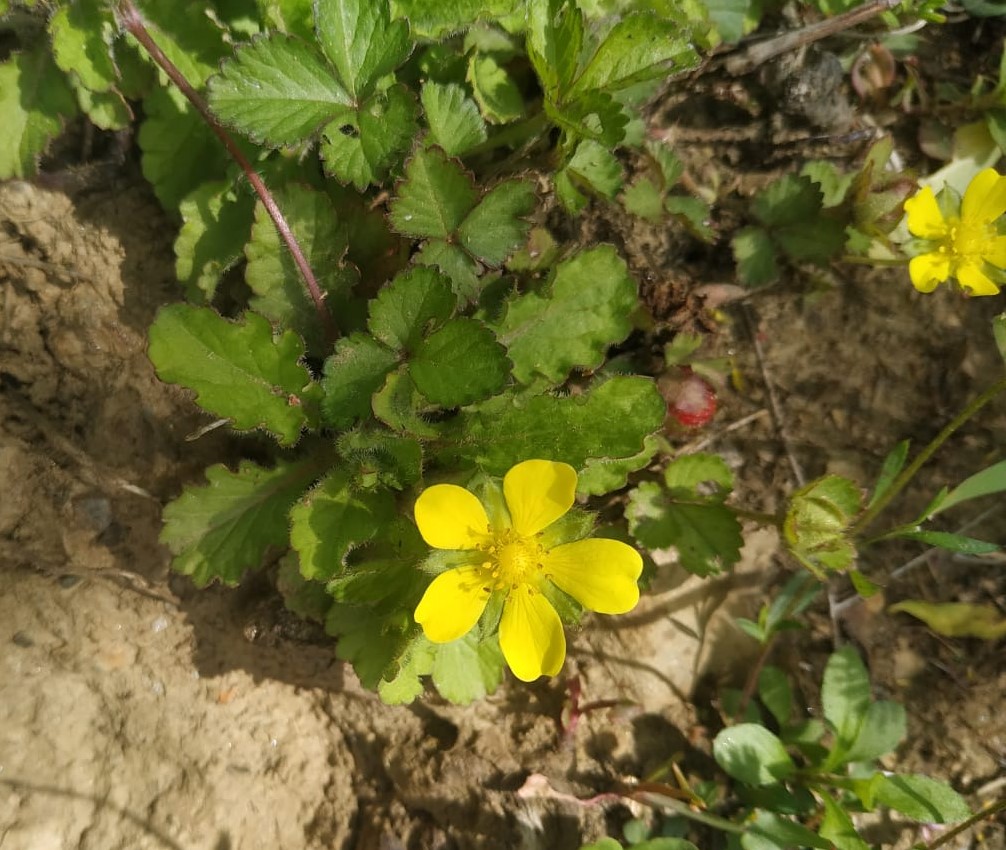 Leaves, flowers and fruits of bhuin ankhe are edible. Leaves are eaten both raw or cooked. The small ripe bright-red fruits of bhuin ankhe are eaten by local people, specially children. They are, however, not very popular, as they lack sweetness and have a flat taste. So, ripe fruits are good addition to desserts, puddings and smoothies.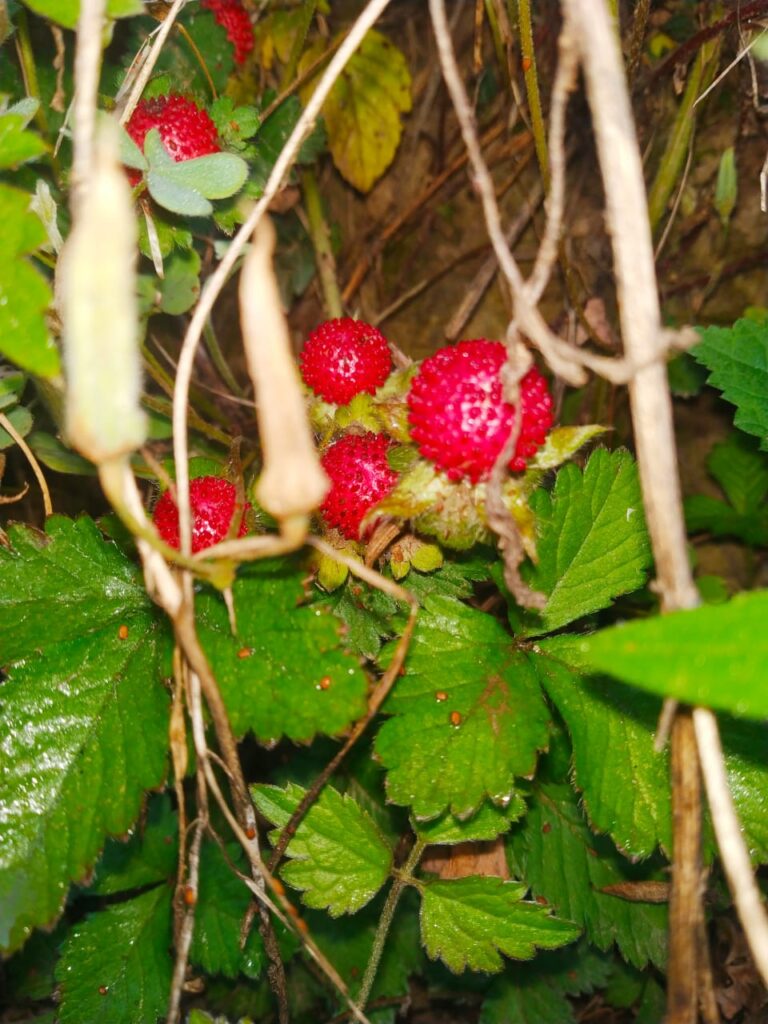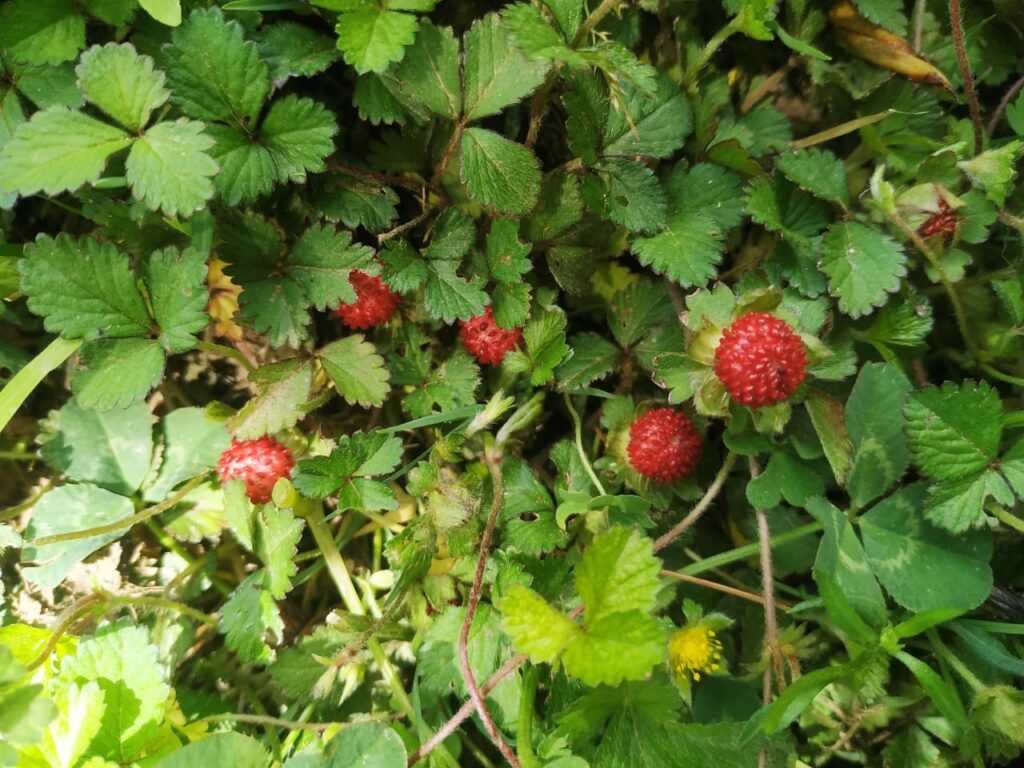 Young leaves and flowers are eaten raw in salad and 'rayata' etc. Like fruits these are also added to desserts and soups. Leaves are generally used as potherb and cooked along with potato, other available greens, into vegetable.
Bhuin ankhe is harvested from wild habitat for local use as a source of food, fodder and medicine. Sometime it is grown as a good plant cover in lawn or gardens.
Bhuin ankhe Plant:
Plant is softly- silky, perennial herbs up to 0.10 meters tall with runners.
Leaves are 3- foliolate; leaflets 1-3 cm long, obovate, toothed; stipules broad, toothed.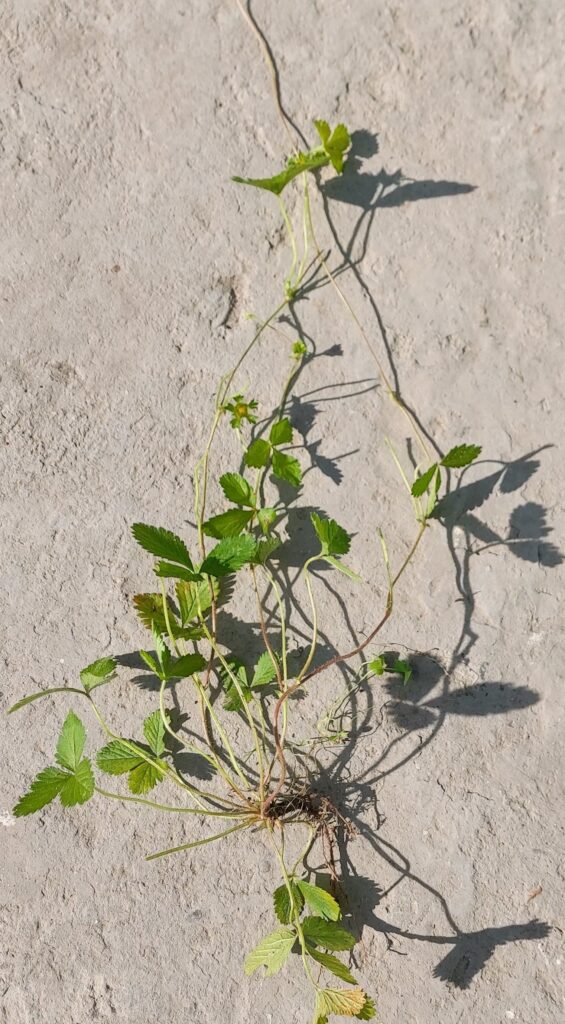 Flowers yellow, 1.5-2 cm across, solitary or a few in axillary or terminal cymes. Bracteoles 3- toothed. Calyx- lobes 5, ovate or lanceolate. Petals 5, obovate, emarginated.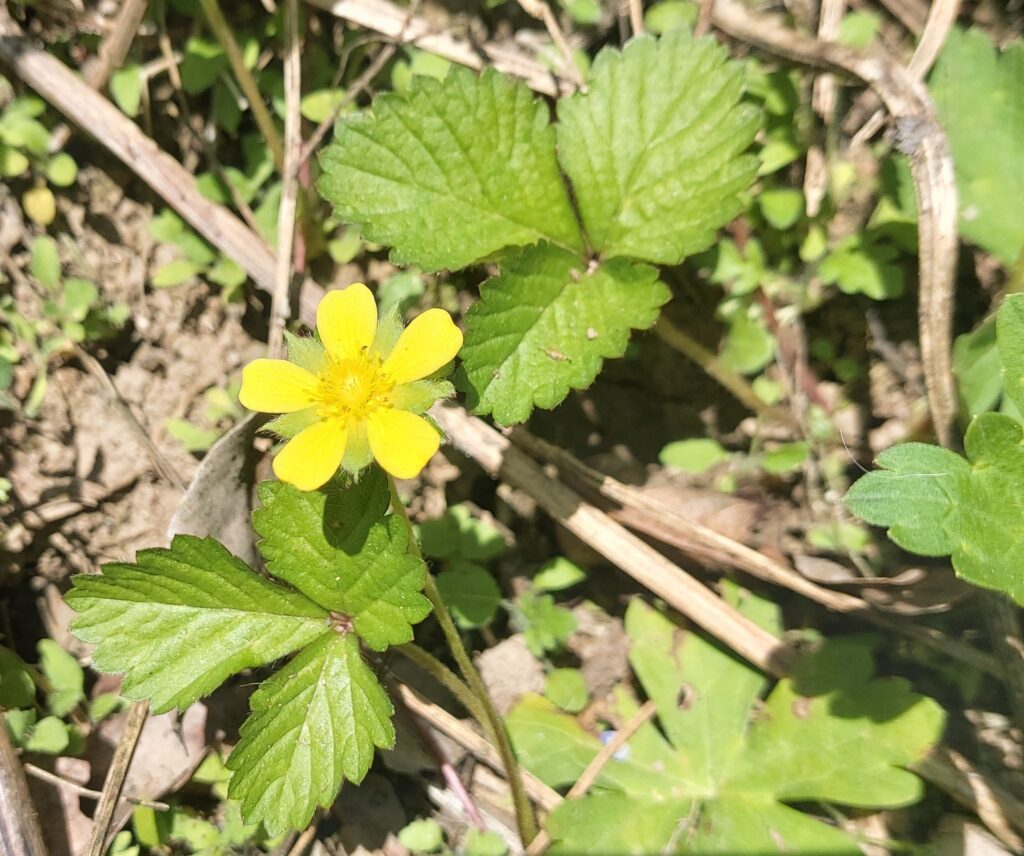 Fruits globose or oblong, bright- red, spongy, containing many glabrous achenes.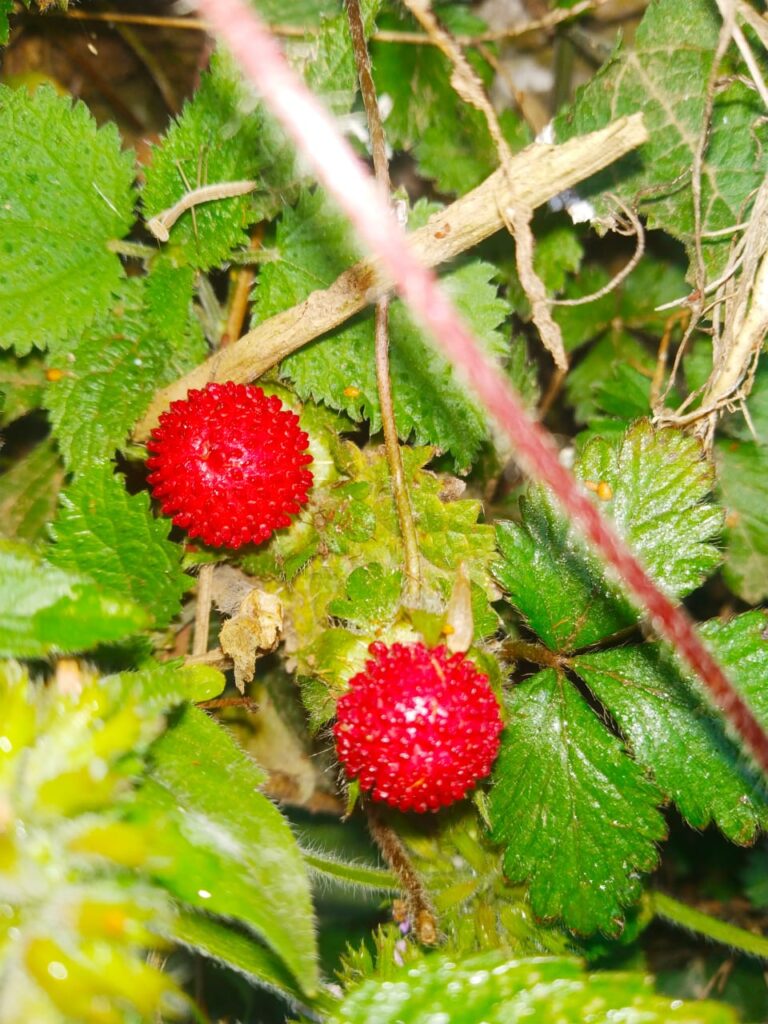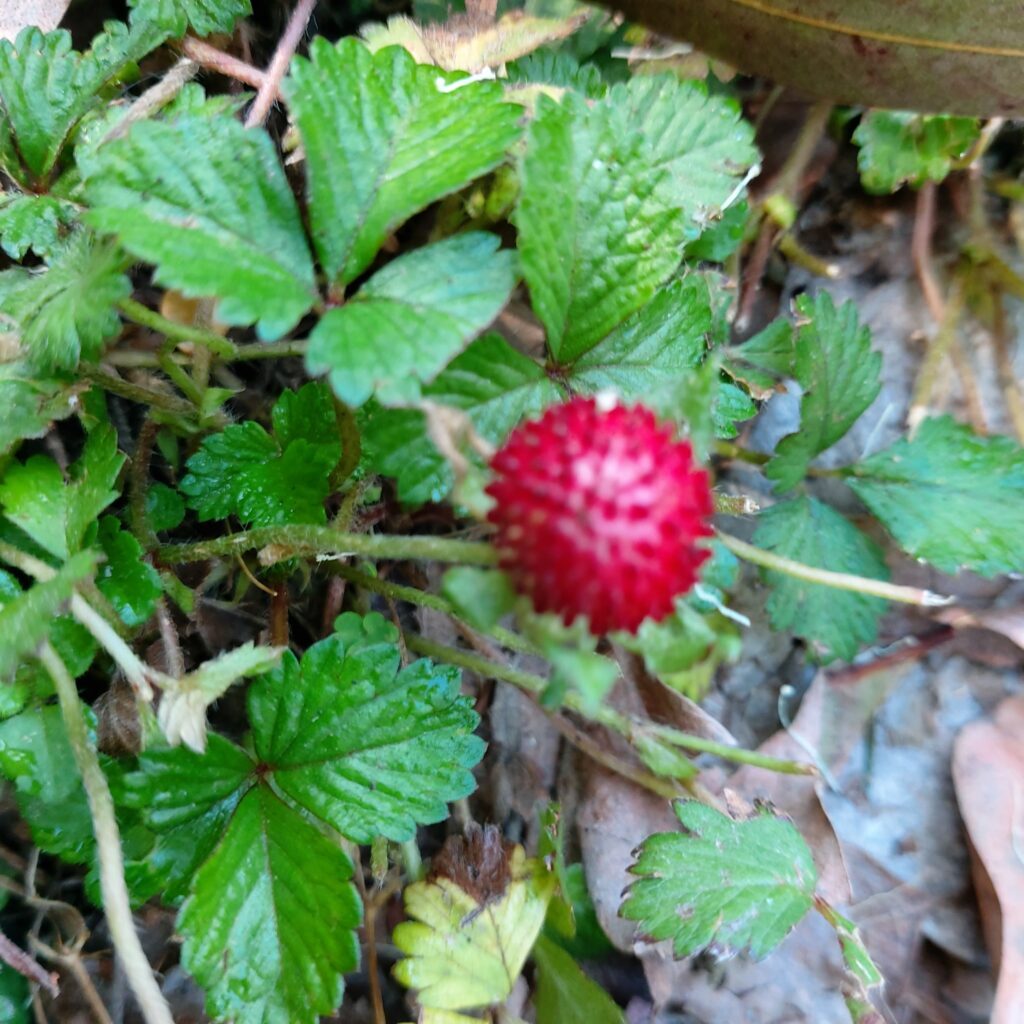 Bhuin ankhe leaves can be collected throughout the year and flowers and fruits can be collected from spring to late summers.Collect flowers and fruits from different habitat to ensure sustainable development.
Edible Uses:
Fruits, leaves and flowers of bhuin ankhe are edible. Ripe fruits are edible and eaten raw. These are added to desserts, smoothies, puddings etc. Leaves are eaten fresh or used as potherbs along with other greens to harness their medicinal values.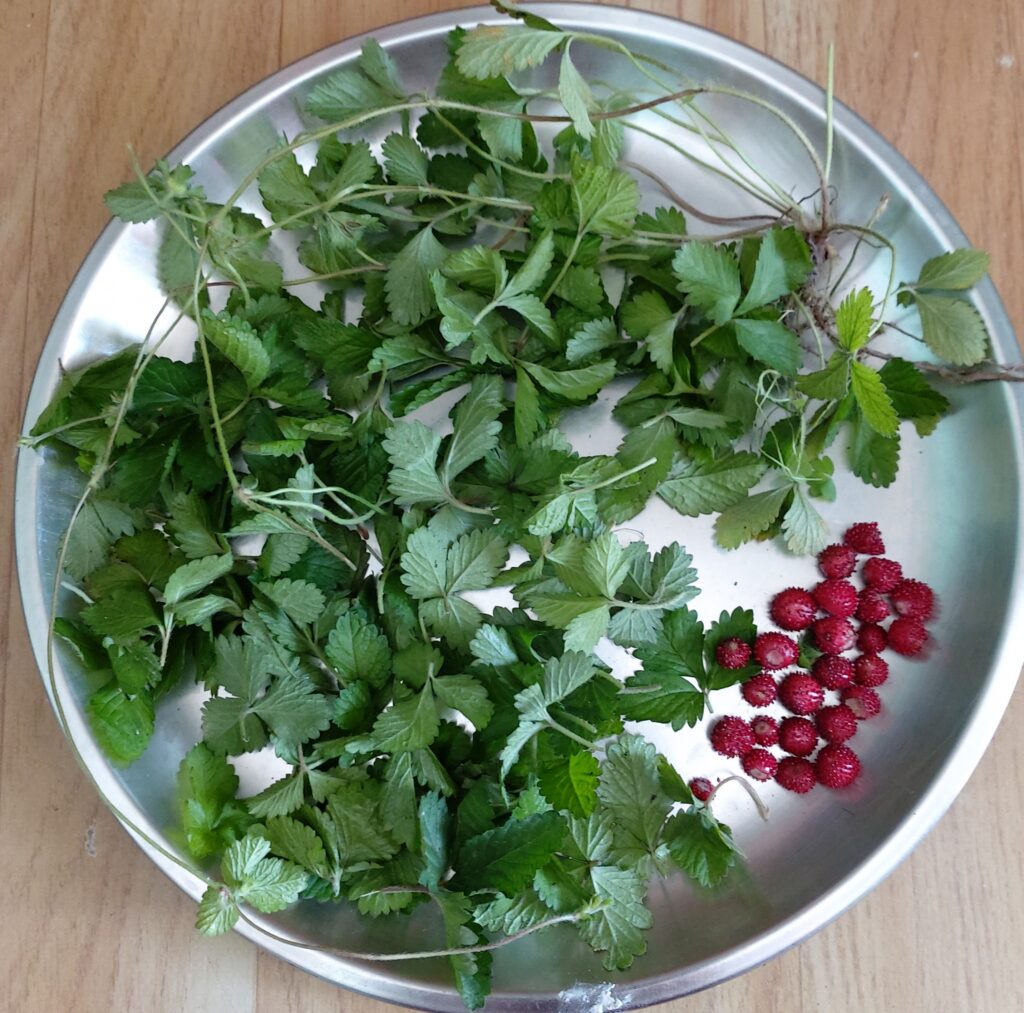 These are used along with fruits in desserts, 'rayata' and are good addition to soups and 'parantha'. A traditional delicious dish kachru or sosaru can be prepared from fresh young leaves along with basen and spices. Decoction of fresh leave is used as a refreshing drink in summer season.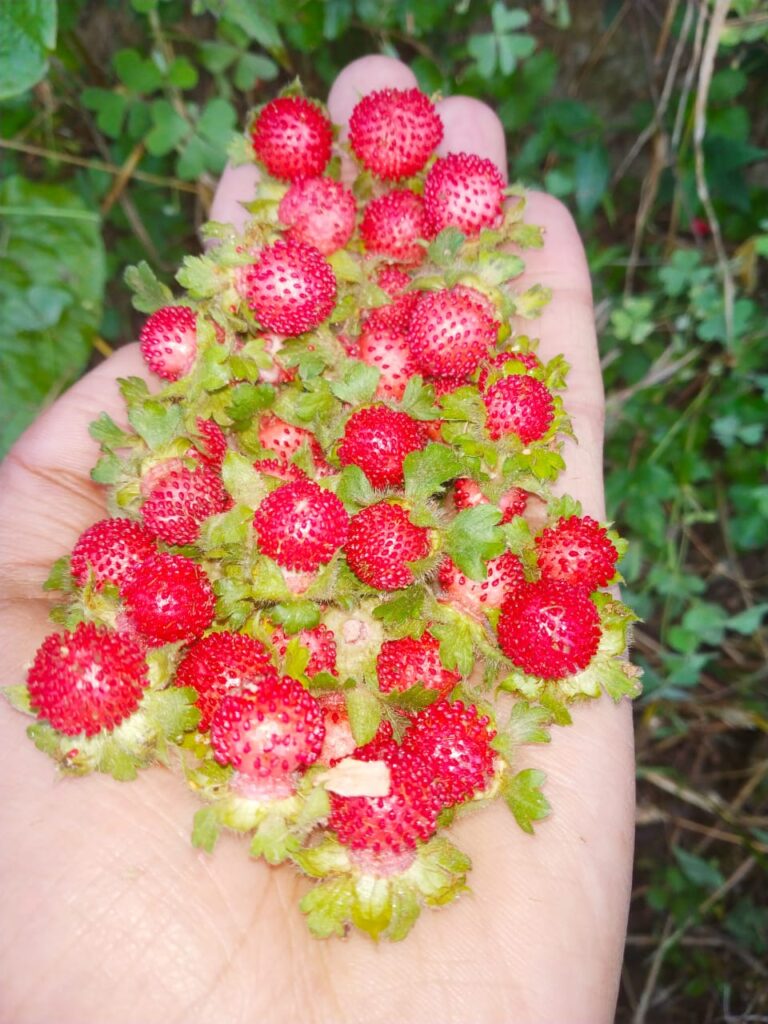 Vegetable:
Leaves are cooked with other greens as a leafy vegetable saag or with potato as a vegetable in following manner:
Ingredient:
Ground bhuin ankhe leaves, 300g -500g; chopped potatoes in cubical shape, 1 kg: mustard oil, 3-4 table spoons; coriander powder, 1 table spoon; fenugreek powder, ½ table spoon; cumin seed, 1 tea spoon; turmeric powder, 1 table spoon; red chilies , 2-3; chopped medium sized onions 2-4; garlic, 4-5 cloves; ginger paste ½ table spoon; meshed tomatoes, 3-4; milk cream, 1-2 spoon, and salt, according to taste.
Method:
In hot mustard oil shallow fry spices listed above in a sequence. Add meshed tomatoes, ground bhuin ankhe leave paste and saute for one minute, Now add chopped potato pieces and again saute for 2-3 minutes in slow flame. Then add 1-2 medium sized glass of water and cook till potato pieces are soft enough to eat. Add 1/4 spoon of garam masala to it and serve with rice or chapatis.
For making saag boil bhuin ankhe leaves with other available green, mesh manually and sauté in hot mustard oil along with spices listed above in sequence. Cook for 5-8 minutes and serve.
Desserts:
Ingredients:
Ripe fruits of bhuin ankhe and other chopped fruits acc. to taste,1/2 kg; curd, 1 kg; sweetener like honey/ sugar/ condensed milk, 1-3 tea spoon; cardamom powder,1/4 tea spoon; black salt according to taste.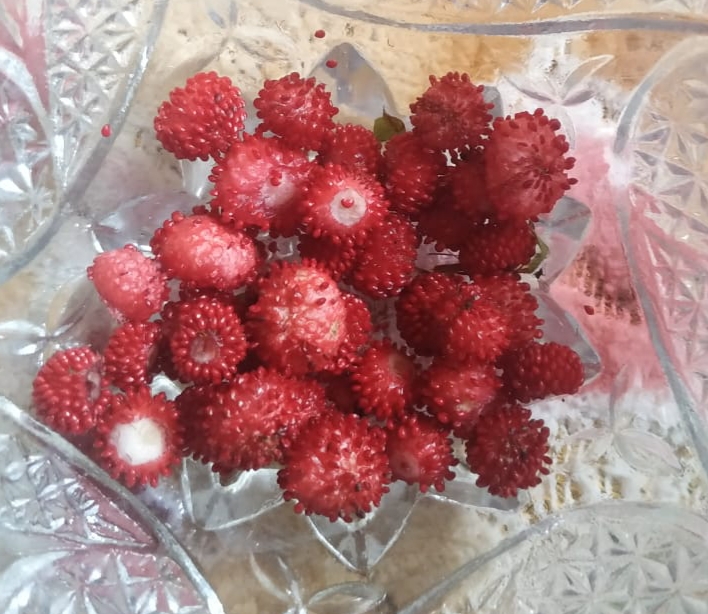 Method:
Take curd in a bowl. Add to it sweetener according to choice and stir well. Add cardamom powder, black salt, bhuin ankhe fruits and copped leaves, other chopped fruits according to preference. Mix well and serve.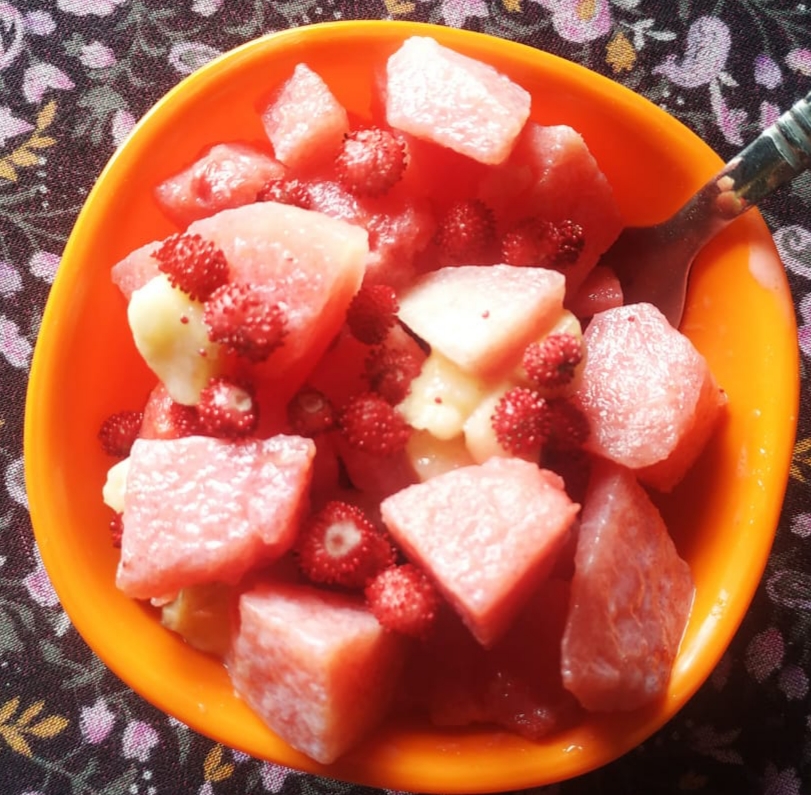 'Rayata':
Ingredients:
Ripe fruits of bhuin ankhe and other chopped leaves,1/2kg; curd, 1kg; Chopped medium sized onion, 3-4, red or green chilies, 3-4, black pepper, ¼ tea spoon, black salt according to taste.
Method:
Take curd in a bowl. Add to all above in sequence. Mix well and serve.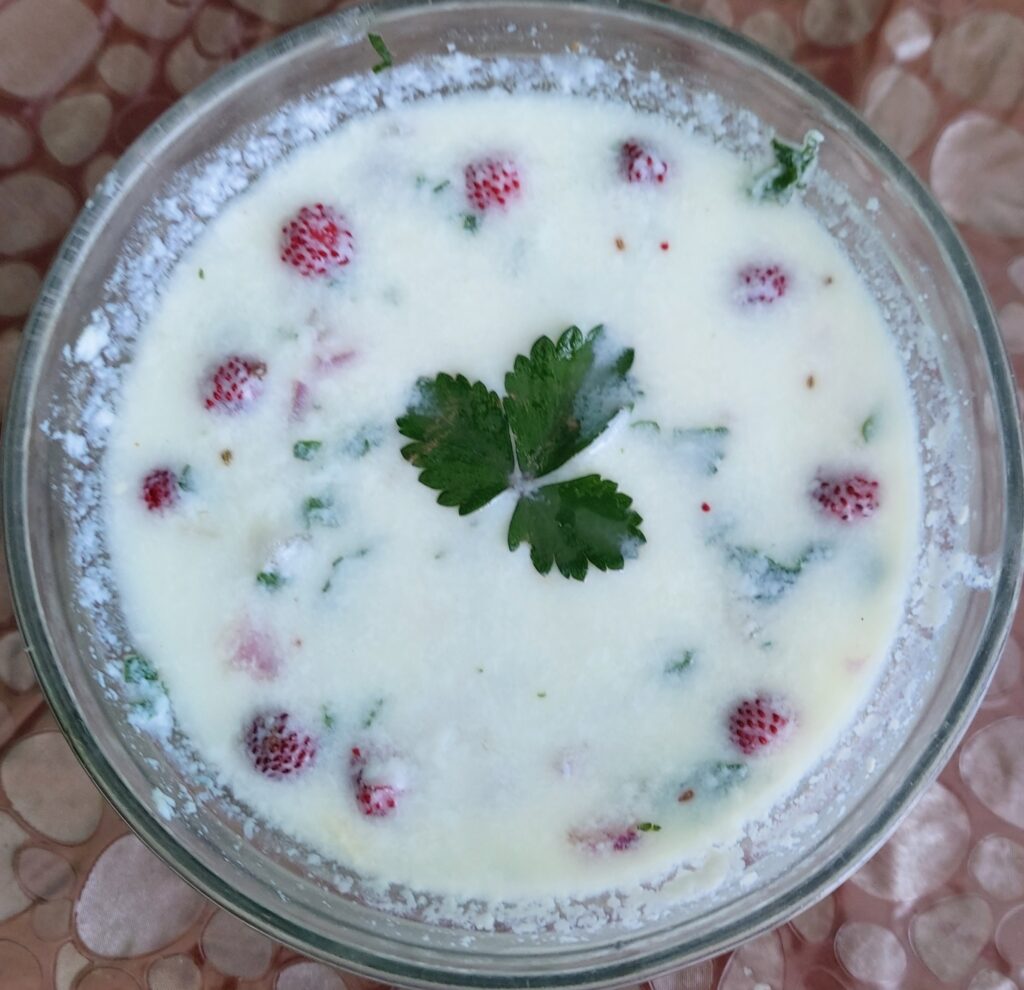 Method:
Take curd in a bowl. Add to all above in sequence. Mix well and serve.
'Parantha'
Ingredients:
Bhuin ankhe chopped leaves, 250 g; boiled medium sized potato; 4-5, Oil or ghee. 8-10 table spoon; wheat flour, 4 cup amount; chopped medium sized onion, 2-3, red or green chilies, 3-4, black pepper, ¼ tea spoon, black salt according to taste.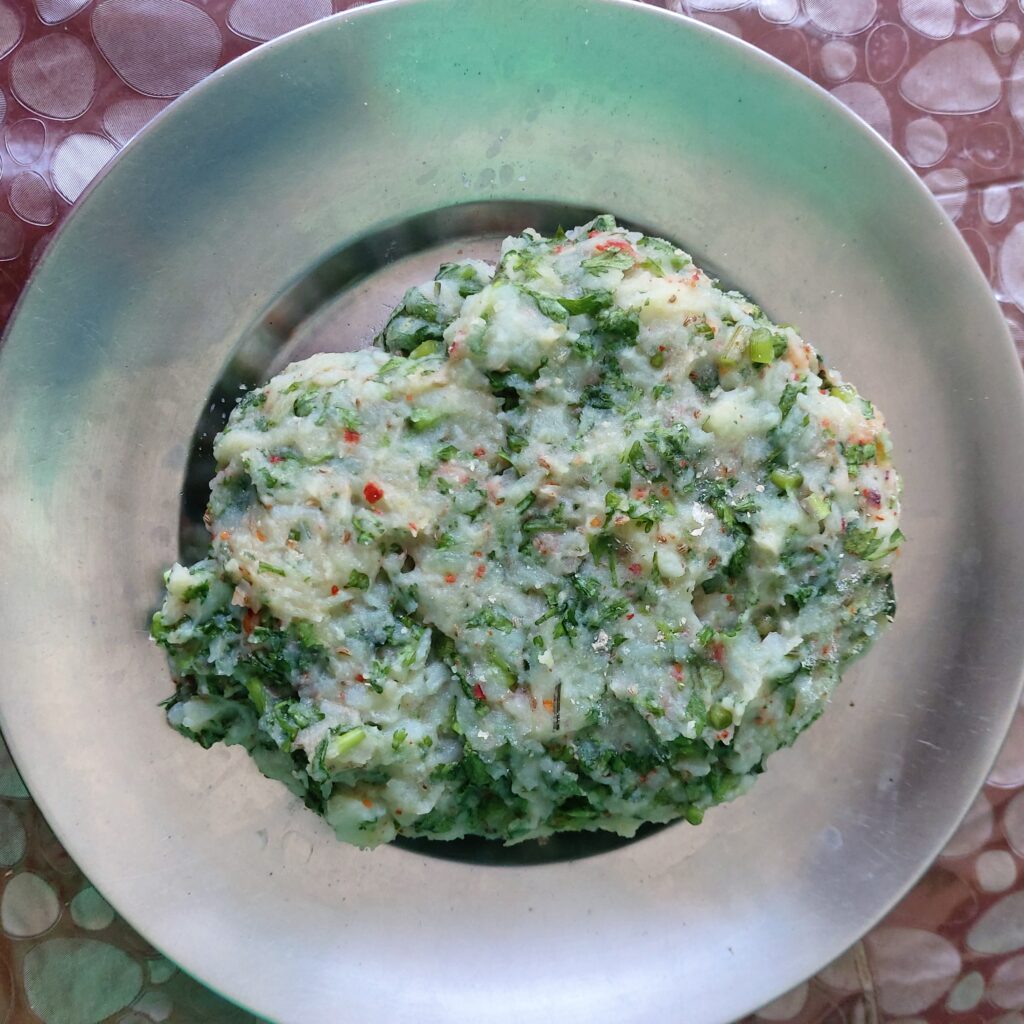 Method:
Mesh boiled potato. Add to it chopped bhuin ankhe leaves and spices listed above. Mix well to make Fine paste. Now parantha dough is prepared by mixing wheat flour and water. Knead dough till it is soft, let it rest for sometime. Make small round balls of dough, stuff paste inside balls and roll to thin layered flat breads, Now in hot tawa smear some oil and place flatbread over it. Cook both sides by applying oil. Now parantha is ready to serve. Serve it hot with chutney or tomato ketchup or pickle or butter or curd according to choice.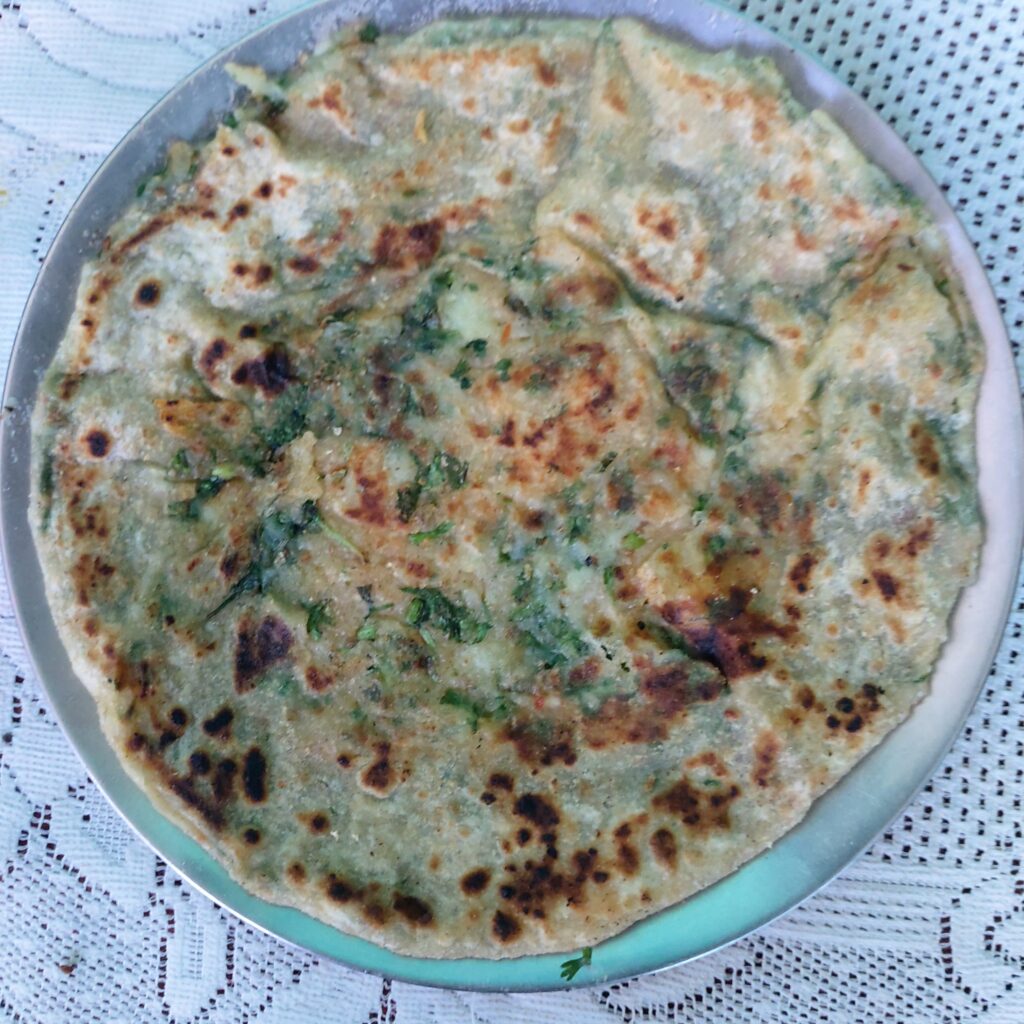 Kachru or sosaru:
For preparing a kachru, ingredients required are 1kg fresh leaves and flowers, 1/2 kg besan (black gram powder) or corn flour. 1 cup amount fresh coriander leaves,1/2 table spoon ajwain, 3-5 green chilies, ½ table spoon turmeric powder, 2-3 chopped onions and salt according to taste
Method:
Make a paste of leaves, besan or corn flour and spices. Heat some oil on a flat heating pan. Put this paste over a pan and cook for 15 to 20 minutes then kachru will be ready to serve.
Refreshing Summer Drink:
For preparing refreshing summer drink, boil leaves of bhuin ankhe 250g in half liter of water for 8-12 minutes then wait for cool down. Add to this 12-15 honey drops, fresh or dried mint leaves, pinch of salt and black pepper as required then mix it well and now it is ready to serve. Drink is considered as a cooling agent in full summers.
Nutritive value:
The fruits contain 58.7 per cent extractable juice and 77.4 per cent moisture. They also contain 6.,2 g of total soluble solids, 0.67 g acidity, 3.40 g of total sugars, 1.78 g of reducing sugars and 1.54 g of non-reducing sugars per 100 ml of the juice. Almost a negligible quantity of tannins was found in this fruit. The vitamin C content of the fruit is 6.29 mg per 100 ml of the juice1.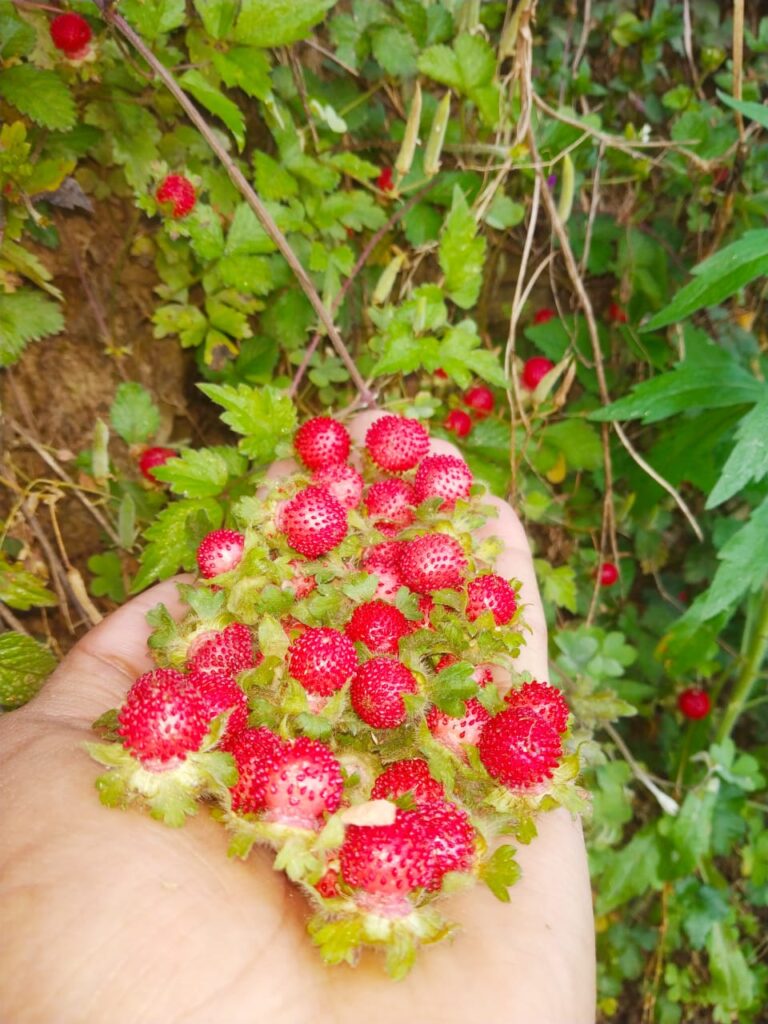 The total content of minerals of the fruit, as represented by its ash, is 1.647 per cent. The protein content of the fruit is 1.51 per cent. Other mineral elements, viz. phosphorus, potassium, calcium, magnesium and iron, are 0.077, 0.282, 0.126 0.121 and 0.010 per cent respectively1.
Seek professional advice before treating this plant medicinally.
Medicinal
The whole plant is anticoagulant, antiseptic, depurative (purifier) and febrifuge (fever reducer)2. A decoction of the leaves is used in the treatment of swellings 2,3. An infusion of the flowers is used to activate the blood circulation 3. The fruit is used to cure skin diseases 3. A decoction of the plant is used as a poultice for abscesses, boils, burns etc. 3.
Other Uses
Green foliage of bhuin ankhe are grazed by grazing animal as forage. It is also grown as a good ground cover in lawn and gardens.
References:
Parmar. C. and Kaushal. M.K. (1982) Wild Fruits of the Sub-Himalayan Region. Kalyani Publishers. New Delhi.
Stuart. Rev. G. A.(1911); Chinese Materia Medica.
Duke, J. A., & Ayensu, E. S. (1985). Medicinal plants of China (Vol. 2). Reference Publications.