Family: Polygonaceae
Synonyms: Fagopyrum cymosum, Fagopyrum emarginatum, Polygonum chinense, Polygonum dibotrys.
Common Name: Perennial Buckwheat
Local Name: Kathu (काठू).
Kathu is an easily grown annual to perennial herb of Western Himalaya commonly found growing along roadside, pathways, moist shady slopes, ditches, fertile soils and in forests up to an altitude of 1600- 3500 meters. It is propagated by seeds and succeeds best in moist shady places.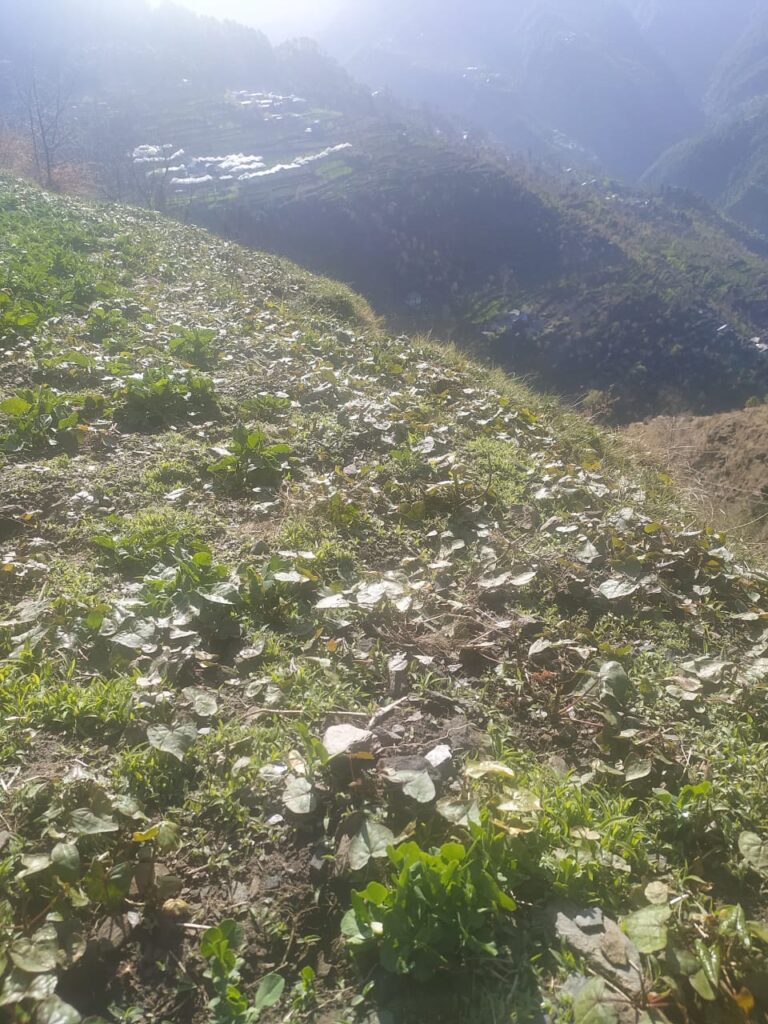 Leaves and seeds of kathu are edible and eaten both raw or cooked. Raw leaves are however slightly bitter in taste, but young ones can be used in salad to harness their nutritive and medicinal value. Seeds of Kathu are dried and used as other common cereals. They can be eaten sprouted or ground into flour and then added to other cereal flour. This seed flour is used as thickening agent in soups and many other traditional dishes. Kathu leaves are rich in rutin 2, while seeds are rich source of protein, minerals and vitamins 1,2. So, a traditional dish kachru is made from leaves and seed flour of this plant to be eaten as a snack along with chutney or tomato catch-up. Usually kachru is prepared with basen and spices, but to harness maximum medicinal and nutritive value of this plant it ia advisable to make kachru with seed flour of kathu in spite of basen.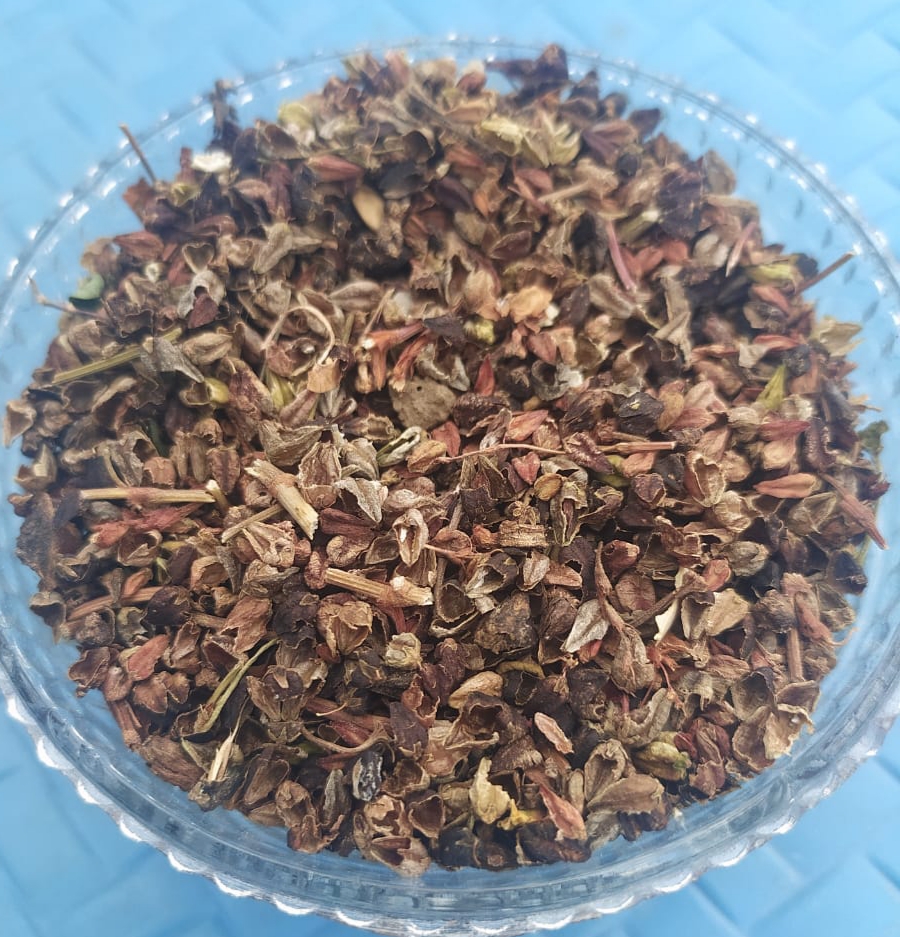 Kathu is harvested from wild habitat by the inhabitants of this region for their local personal use of food, fodder and medicine.
Kathu Plant:
Plant is erect, pubescent, branched, annual to perennial herbs,30-90 cm tall.
Leaves are long- petioled, entire, broadly triangular, 4-13 cm long, cordate, acutely pointed; stipules tubular.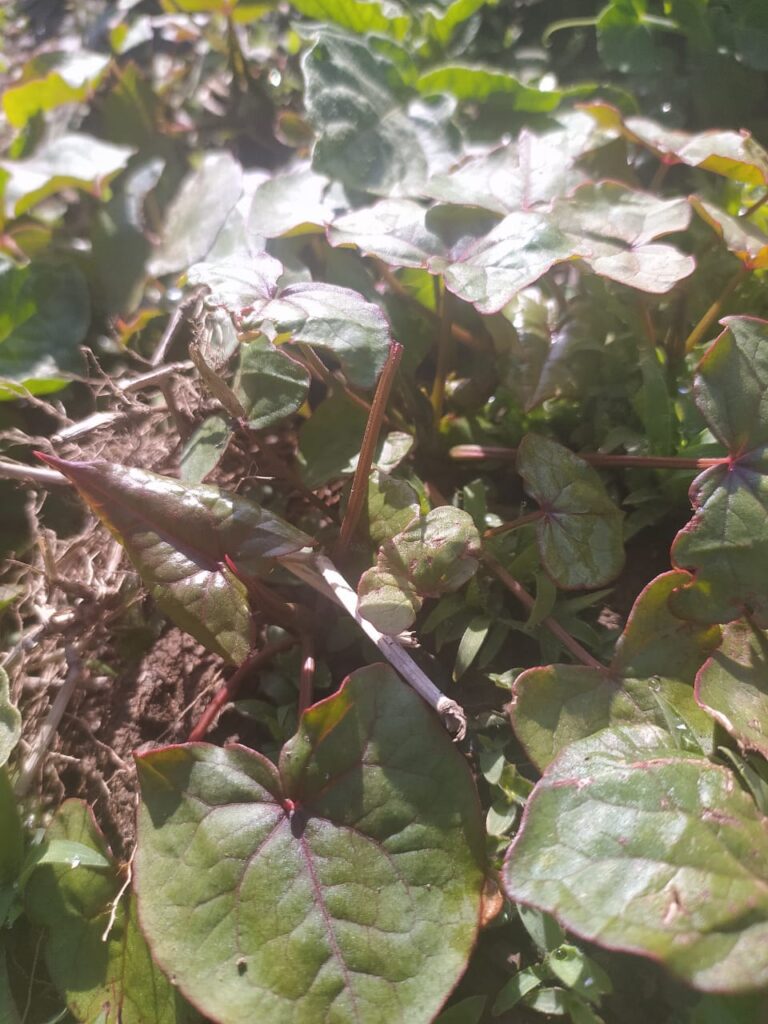 Flowers small, white, in racemes 4-12 cm long, forming long panicles; pedicles jointed near the middle. Perianth –segments 5, ovate, nearly equal. Stamens 8, alternate with the nectar gland.
Nuts are ovate, acutely 3-cornered, more than twice as long as the perianth its base.
Kathu leaves are best harvested from early spring season to early summers while seeds are available from summer end to autumn season of the year. As seeds are also means of regeneration. So, these need to be harvested in sustainable manner like rotation of habitat and keeping some of seeds on parent plant. For ensuring sustainable development Kathu need to be cultivated or domesticated.
Edible Uses:
Leaves and seeds of kathu are eaten both raw or cooked. Leaves are used as a potherb like spinach and can be cooked as a vegetable alone or with either other greens or potato. Seeds are eaten raw after making sprouts. These are ground into flour and used as other cereals. Seed flour is used to make Kachru along with young kathu leaves as follow;
Vegetable:
For making vegetable kathu leaves can be used alone or mixed with other greens or potato and cooked as saag or vegetable.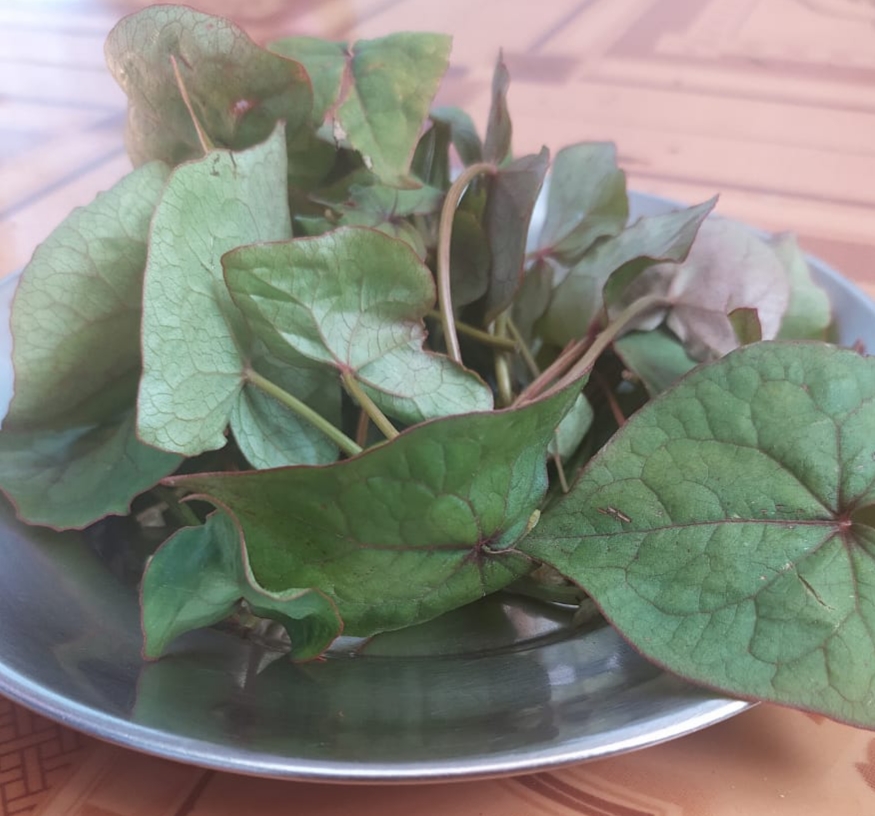 Ingredients:
Kathu leaves, 1 kg; mustard oil, 3-4 table spoons; coriander powder, 1 table spoon; fenugreek powder, ½ table spoon; cumin seed, 1 tea spoon; turmeric powder, 1 table spoon; red chilies, 2-3; chopped medium sized potato, 2-4; garlic, 4-5 cloves; ginger paste ½ table spoon and salt, according to taste.
Method:
Saute chopped kathu leaves in hot mustard oil along with chopped potato and spices listed above. Cook till these are soft and serve with chapatis. For making saag boil leaves till these are soft. Now mesh these manually or in a mixer grinder then saute with spices in hot mustard oil. Cook for some time and then serve.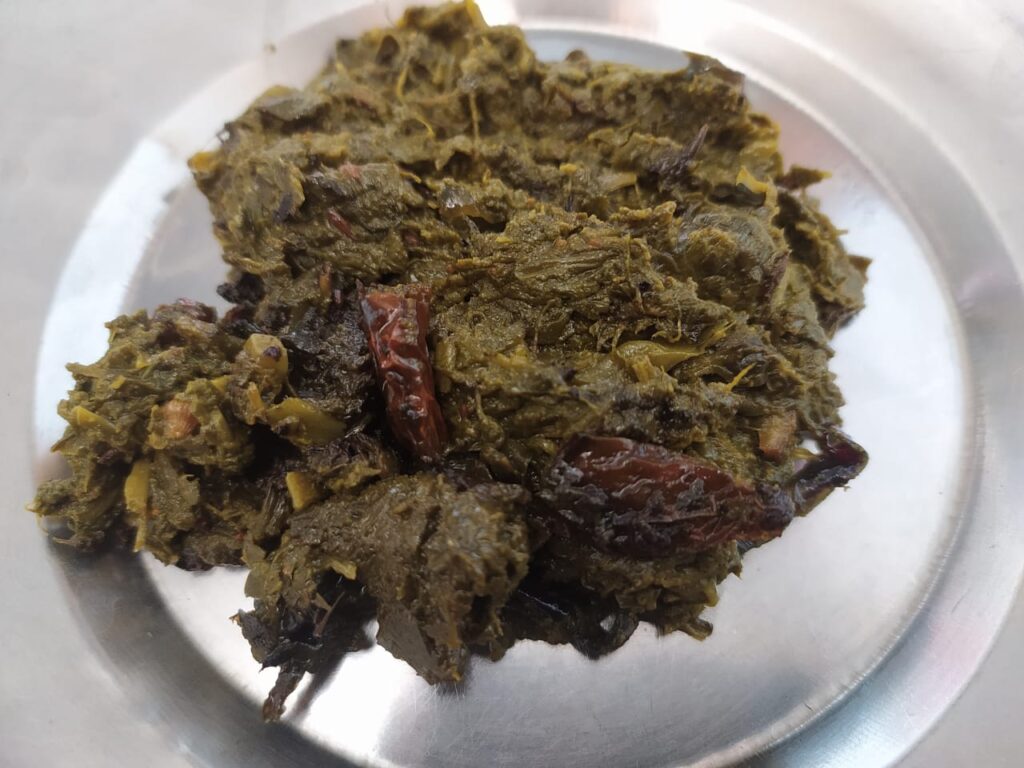 Kachru:
For preparing a kachru, ingredients required are 1/2kg fresh leaves of kathu , 1/2 kg kathu seed flour. 1 cup amount fresh coriander leaves,1/2 table spoon ajwain, 3-5 green chilies, ½ table spoon turmeric powder, 2-3 chopped onions and salt according to taste
Method:
Make a paste of leaves, seed flour and spices. Heat some oil on a flat heating pan. Put this paste over a pan and cook for 15 to 20 minutes then kachru will be ready to serve.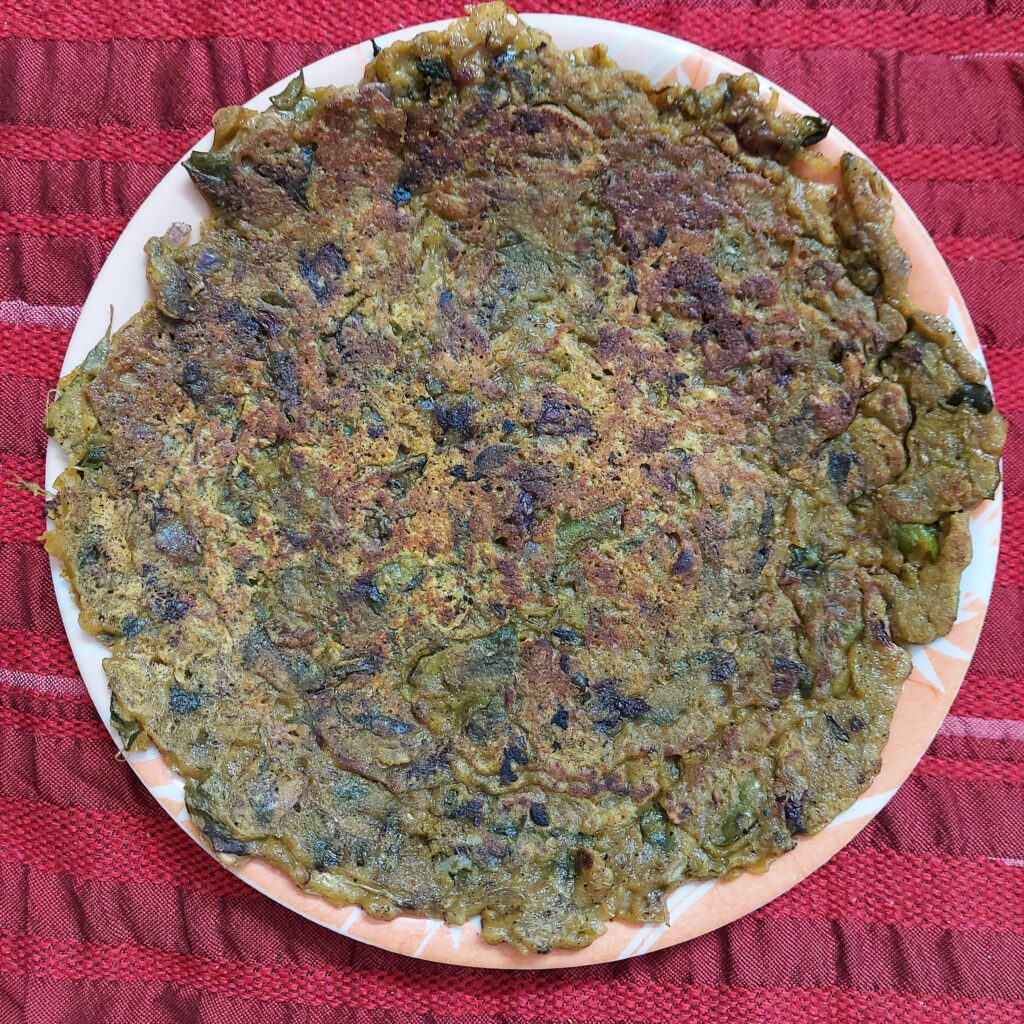 Nutritional value per 100 g of seeds:
100 g of kathu seeds contains: Energy 17%, Carbohydrates 55%, Protein 24%, Total Fat 17%, Dietary Fibre 26%, Vitamins Folates(B9) 7.5%, Niacin (B3) 44%, Pantothenic acid 25%, Riboflavin (B2) 33%, Thiamine (B1) 8.5%, Minerals Calcium 2%, Copper 122%, Iron 27.5%, Magnesium58%, Manganese 56.5%, Phosphorus 50 %, Selenium15%, Zinc 22% 3.
Seek professional advice before treating this plant medicinally.
Medicinal Uses:
Local people give kathu leaves to cattle to cure indigestion and dysentery. The whole plant is anodyne, anthelmintic, antiphlogistic, carminative, depurative and febrifuge. It stimulates blood circulation1. A decoction issued in the treatment of traumatic injuries, lumbago, menstrual irregularities, purulent infections, snake and insect bites1. A decoction of the roots is used in the treatment of insect bites, dysmenorrhoea, Inflammation, lumbago, snakebite and traumatic injuries 2 . The leaves are rich in rutin which is a capillary tonic, antioedemic, anti-inflammatory, antispasmodic and hypotensive2 .
inhibits
Other Uses:
Leaves are collected as fodder. Whole kathu plant is eaten as a forage by grazing cattle
References:
Duke. J. A. and Ayensu. E. S. (1985); Medicinal Plants of China reference Publications, Inc. ISBN 0-917256-20-4
Landy, D. (1977). Culture, disease and healing. Studies in medical anthropology, 467.
www.naturalmedicinalherbs.net/herbs/f/fagopyrum.