Family: Plantaginaceae
Synonyms: Arnoglossum lanceolatum,Lagopus lanceolatus,Lagopus timbale, Plantago abyssinica,Plantago ambigua, Plantago argentea, Plantago attenuate, Plantago azorica, Plantago byzantine, Plantago capensis, Plantago capitate,Plantago contorta, Plantago dalmatica, Plantago decumbens, Plantago dubia, Plantago elata, Plantago eriophora,Plantago flexuosa,Plantago gerardi, Plantago glabriflora, Plantago glareosa, Plantago hirsute, Plantago hungarica, Plantago intermedia, Plantago irrigua, Plantago kurdica, Plantago lanata, Plantago lanceifolia, Plantago lanceolate, Plantago lanceolate, Plantago lanuginose, Plantago linkii, Plantago longiscapa, Plantago longistipes, Plantago mediterranea, Plantago microcephala, Plantago minor, Plantago nigricans, Plantago nutans, Plantago preslii, Plantago schottii, Plantago sylvatica, Plantago timbale, Plantago tomentosa, Plantago trinervis, Plantago variabilis.
Common Name: Ribwort Plantain
Local Name: Safed Isbagol (सफ़ेद इशबगोल), Chashe re pach, Baltanga.
Safed Isbagol is a perennial herb commonly found growing in fields, lawn, wastelands, hill slopes, along roadsides, pathways and other dry places up to an altitude of 1200- 2400 m in Western Himalaya. It is propagated by seeds and grows best in fertile, well drained, sunny habitat.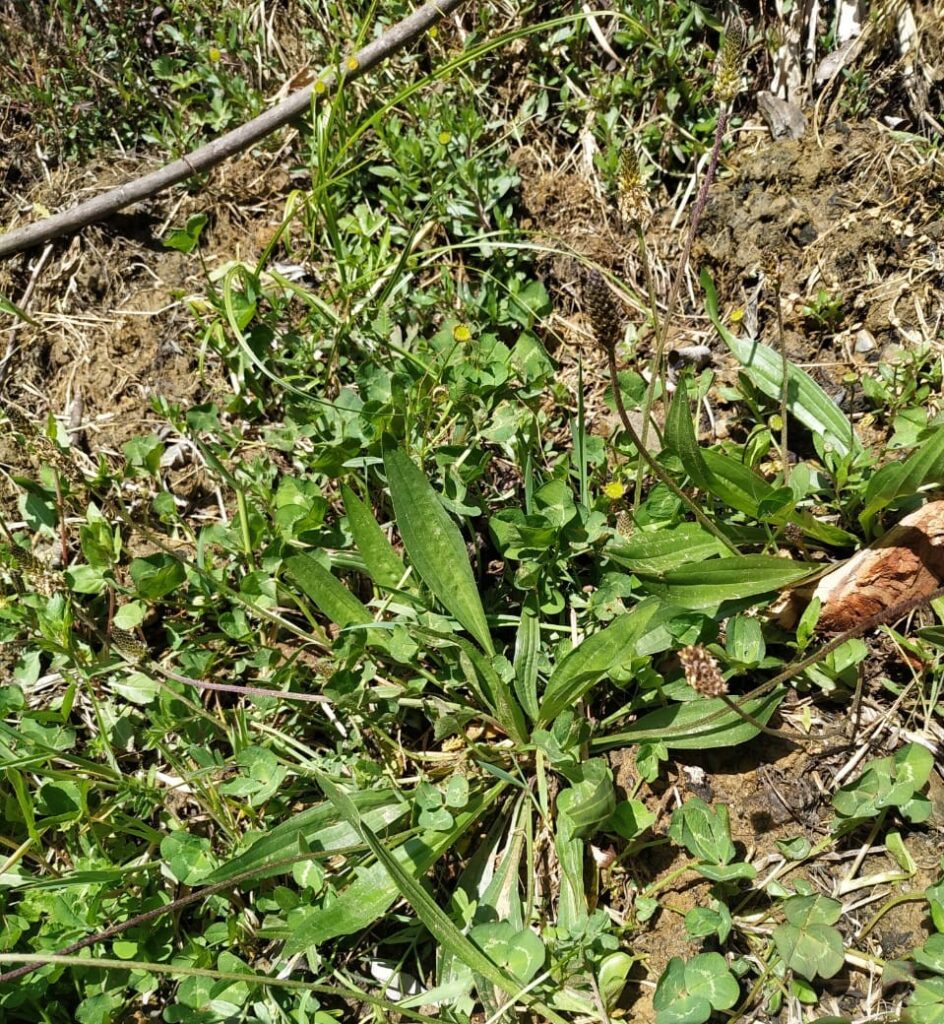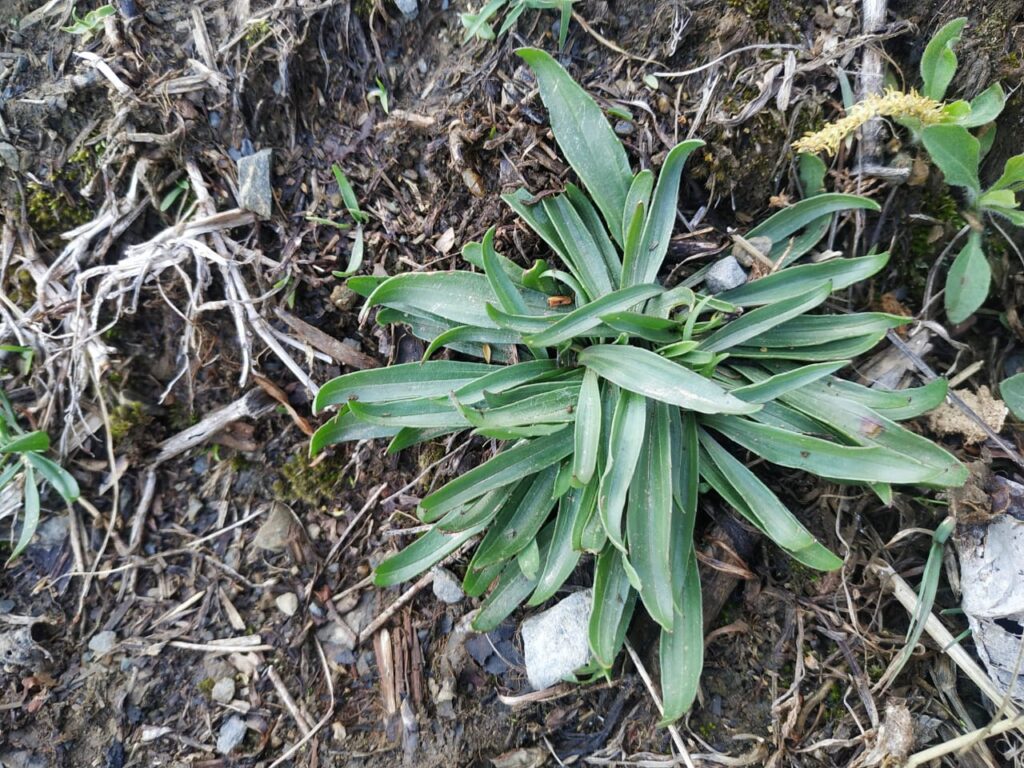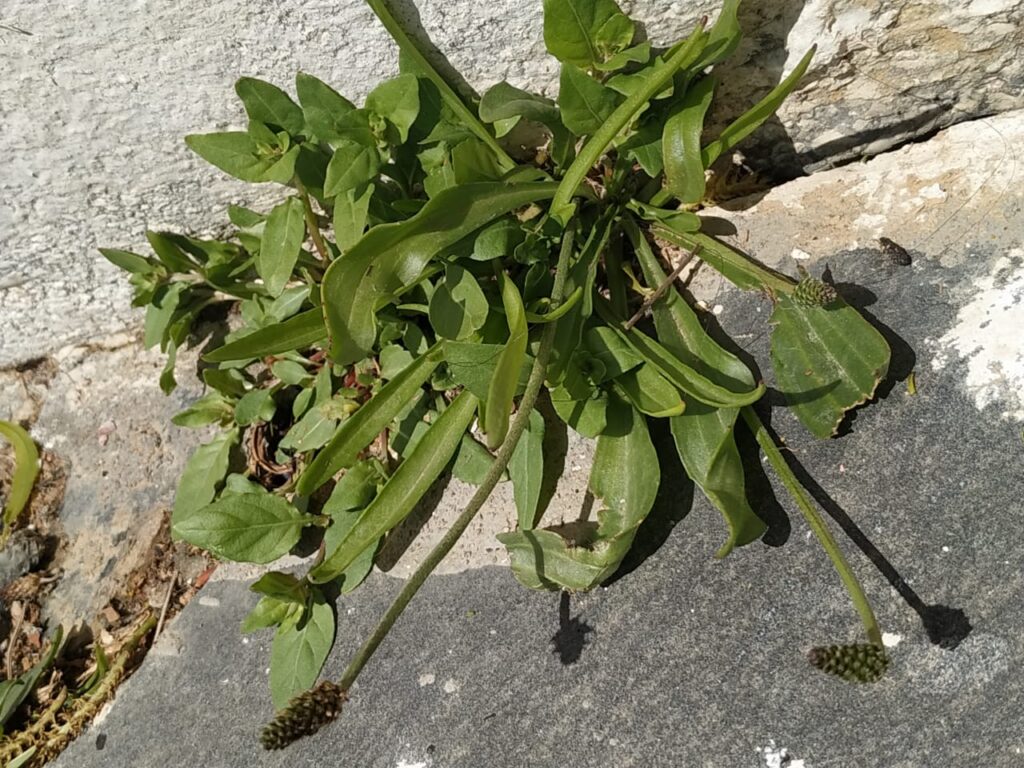 Young leaves and seeds of safed isbagol are edible and eaten cooked. Leaves are added to soups and salad for their rich medicinal values. Seeds are cooked to make puddings and ground into flour. This flour is mixed with other flour and cooked in various food preparation as thickening agent. A mucilage obtained from the seed coats is an excellent thickener and stabilizer that can be used in the ice-cream industry and also in the preparation of chocolate 11.
Safed isbagol is harvested from wild habitat for local personal use of food, fodder medicine and source of materials. Its seed are given to birds or domestic animals as a feed.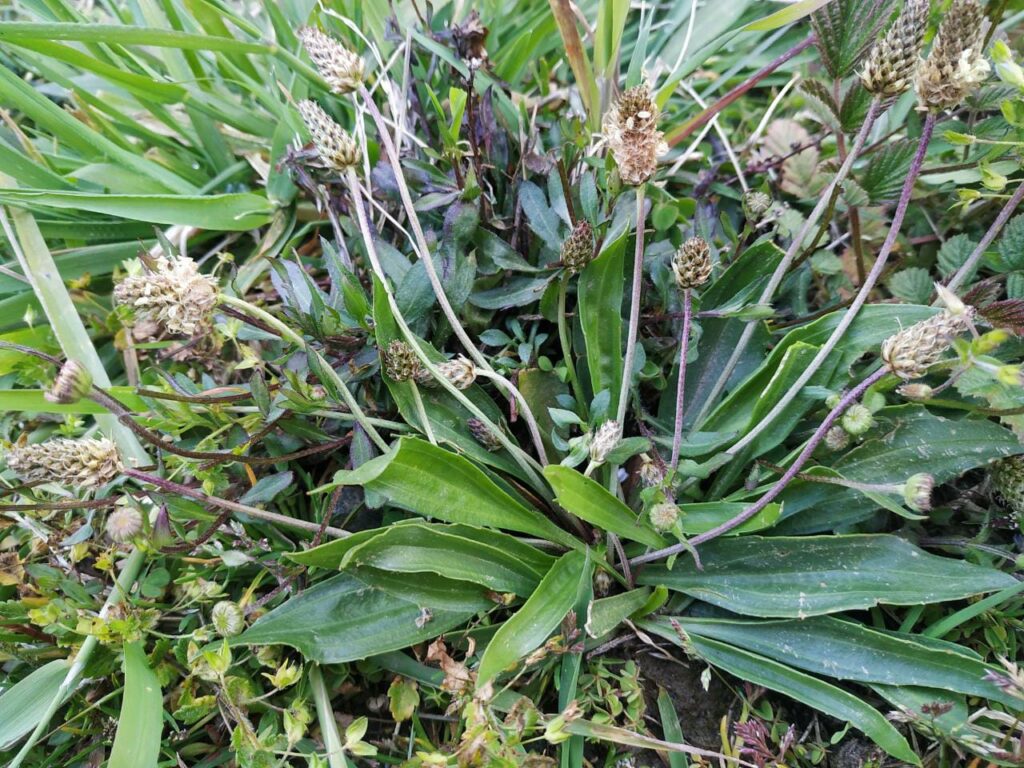 Safed Isbagol Plant:
Plant is perennial, glabrous herbs.
Leaves are radical, lanceolate, 7-20 cm long, 3-5 – ribbed, entire, base tapering into a short stalk.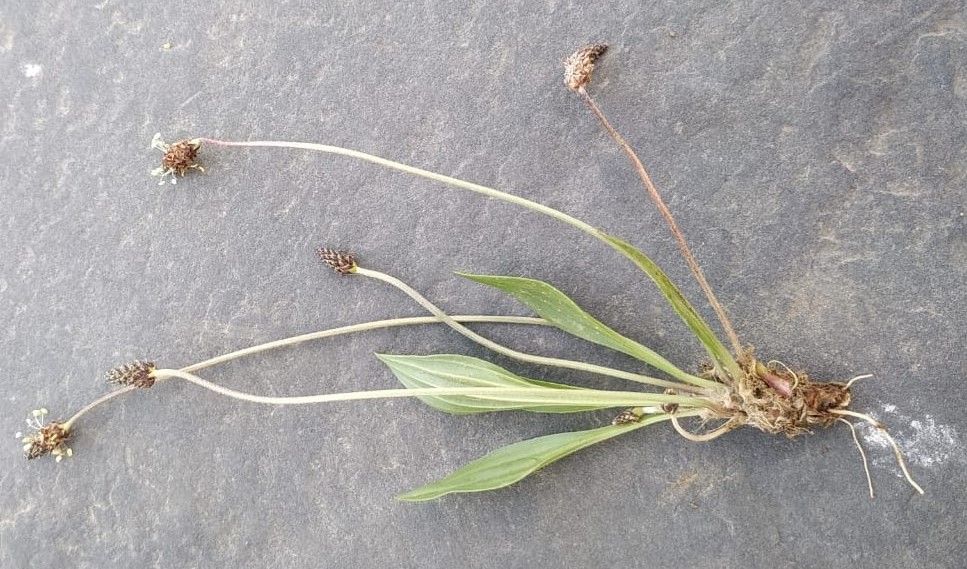 Scapes, few, 15-45 cm long, deeply ribbed, flowers 4-5 mm long, green, crowded in terminal, ovoid or shortly cylindrical, 2.5- 4.5 cm long spikes. Corolla- lobes 4, ovate. Stamens 4, far protruding.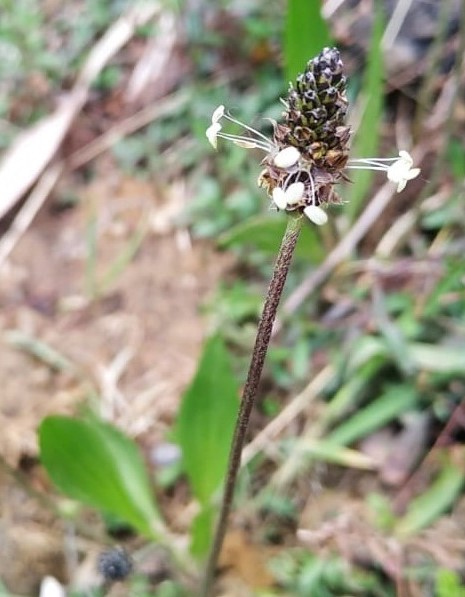 Capsules 2-4 seeded.
Seeds are oblong, black or dark- brown.
Young leaves of safed isbagol is best harvested from later winter to early spring season as mature ones are bitter in taste. Edible seeds are collected from summer to autumn season of the year. To ensure sustainable development seeds should be collected from different habitat and few should be left on parent plant.
Edible Uses:
Young leaves of this plant are cooked along with other potherbs of the season into a leafy vegetable saag. Leaves are mixed with other greens because older ones are bitter in taste. Seeds of safed isbagol are also edible, these are dried, ground into flour. This flour is used in various food preparation mainly to harness medicinal value and mixed with other flour. Seeds are cooked with milk to make puddings.
Saag:
Ingredients:
Tender leaves of safed isbagol and other available pot herbs, 1 kg; mustard oil, 2 table spoons; coriander powder 1 table spoon; fenugreek powder, ½ table spoon; cumin seed ¼ table spoon; turmeric powder, 1/4 table spoon; red chilies, 2-3; chopped onions 2-4; garlic, 4-5 cloves; ginger paste ½ table spoon and salt according to taste.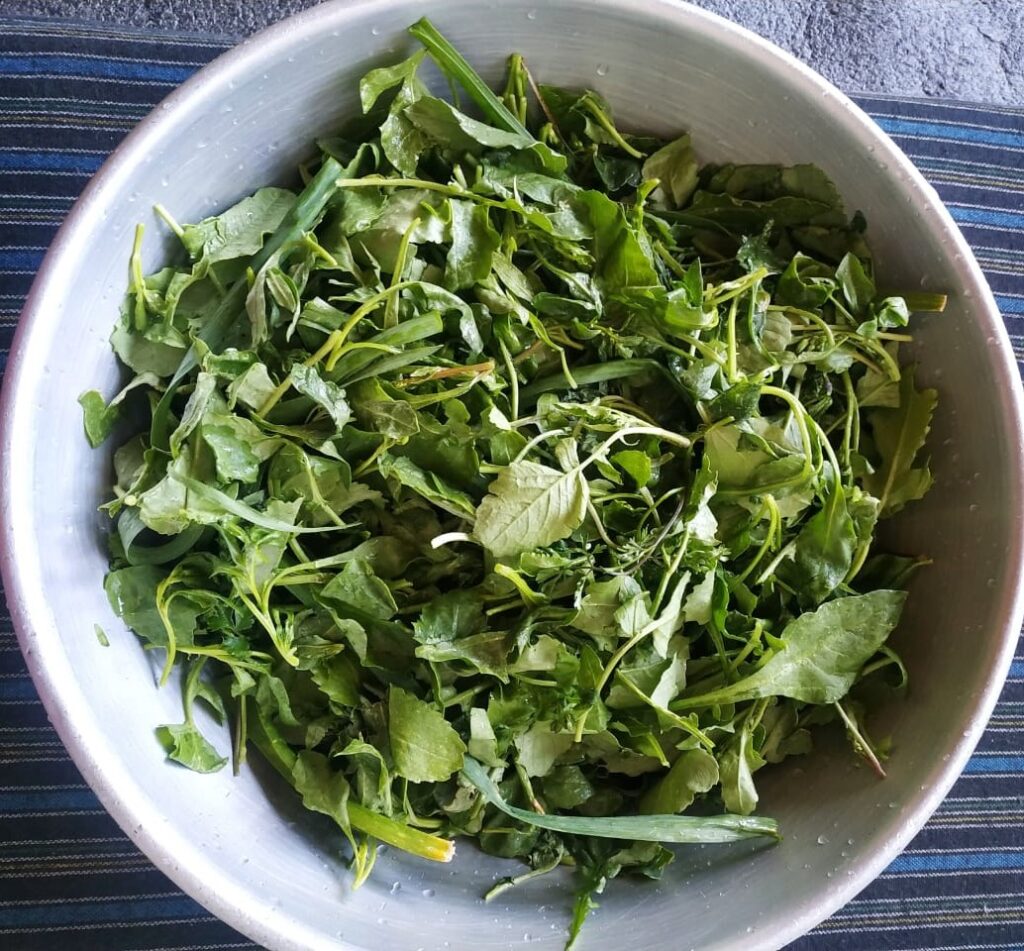 Method:
Boil chopped leaves they become soft. Then mesh manually or in a mixer. Then sauté with hot mustard oil and the spices listed before in sequence. This sauted saag is then ready and can be served as such or can be mixed with 2 or 3 chopped onion and cooked for another 5 to 10 minutes before serving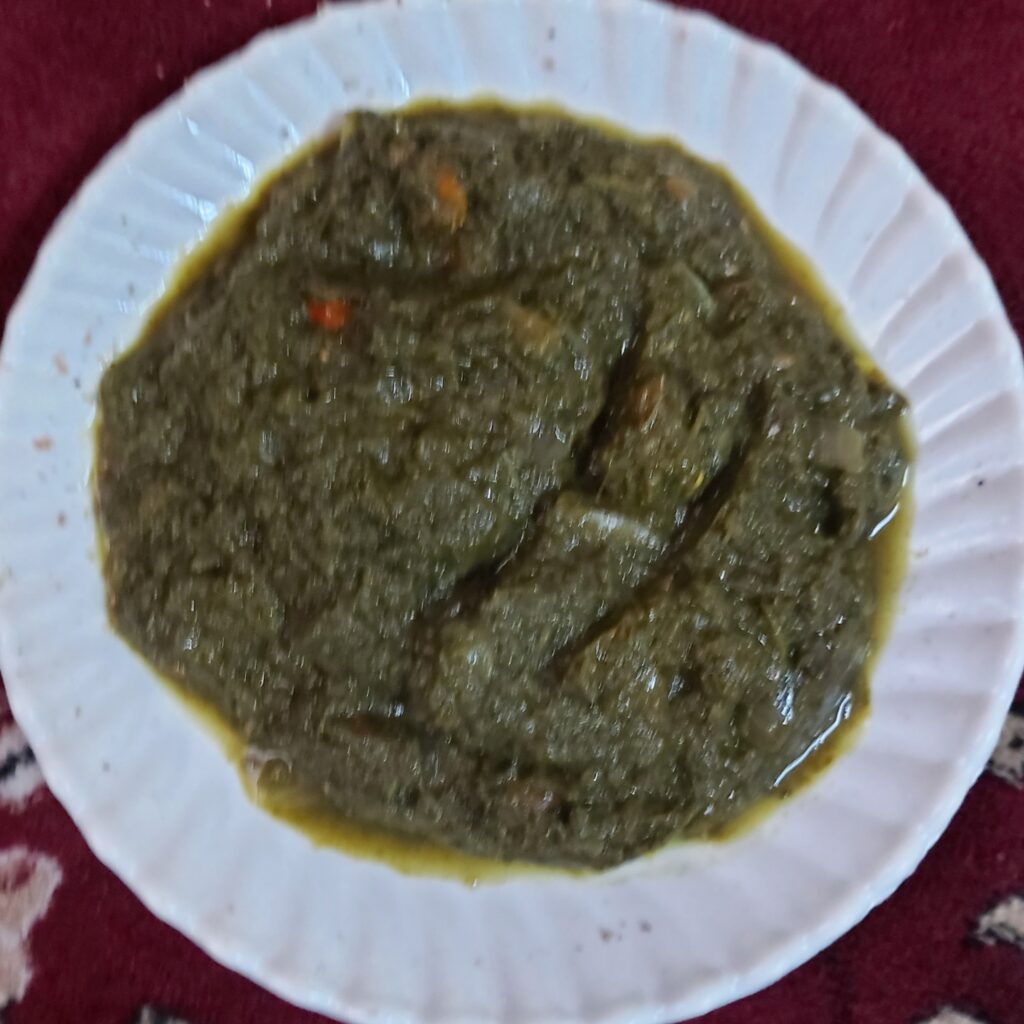 Kheer (Pudding):
Ingredients:
Safed isbagol seed, 500 g; milk, 1 liter; sugar, 250 g; grated dry fruits according to taste.
Method:
For preparing kheer cook whole seeds with sugar in milk till they are soft then garnish the recipe with grated dry fruits acc.to taste and serve.
Food Value:
100 g of safed isbagol leaves contains:
Water 86.2 g, Energy 28 Kcal Protein 1.72 g, Total Fat (lipid) 0.33 g, Ash 2.07 g, Carbohydrate 2.81 g, Total dietary Fiber 3.71 g, Insoluble Fiber 2.7 g, Total Sugars 1.06 g, Sucrose 0.112 g, Glucose (dextrose) 0.74 g, Fructose 0.211 g; Ca, 304 mg; Fe, 3.91 mg; Mg, 52.6 mg; P, 28 mg; K, 361 mg; Na, 21.3 mg; Zn, 0.548 mg; Cu, 0.159 mg; Mn, 0.661 mg; Vitamin C (Ascorbic acid) 13.6 mg, Oxalic acid 88 mg, Phenolics (total) 1109 mg, Hydroxycinnamic acids 509 mg, Flavonoids 49.6 mg, Anthocyanins 0.54 mg 12.
Seek professional advice before treating this plant medicinally.
Medicinal Uses:
Local people of Western Himalaya use root ext. and seeds to regulates kidney affections and urinary disorders. Powered seeds (2-3) with a pinch of sugar relieve constipation; once every morning with hot milk for 2-3 days 1. In India it is known as an astringent, blood purifier, diuretic, homeostatic and purgative, and for asthma, cough, pulmonary diseases, wounds, sores and swellings 2,3,4. Safed isbagol is a safe and effective treatment for bleeding, it quickly staunches blood flow and encourages the repair of damaged tissue 5. Internally, they are used in the treatment of a wide range of complaints including diarrhea, gastritis, peptic ulcers, irritable bowel syndrome, hemorrhage, hemorrhoids, cystitis, bronchitis, catarrh, sinusitis, asthma and hay fever 5,6. They are used externally in treating skin inflammations, malignant ulcers, cuts, stings etc. 7. The heated leaves are used as a wet dressing for wounds, swellings etc. 8.
Chemical constituents:
Seed contains tannin and fatty acid1.
Biological Activity:
Ext. of young leaves antibacterial1.
Other Uses:
Leaves are given to cattle and seeds to birds and domestic animals. A good fiber is obtained from the leaves 7. A mucilage from the seed coats is used as a fabric stiffener7. It is an excellent thickener that is used in cosmetics such as lotions and hair wave set 11. The seeds can be used as a source of a low-cost gelling agent suitable for tissue culture. The quality is comparable to that of agar, but at about 10% of the cost11. It is obtained by macerating the seed in hot water 9. Gold and brown dyes are obtained from the whole plant 10.
References:
Sood SK, Thakur S. (2004): Ethnobotany of Rewalsar Himalaya. Deep Publications.
Ambasta, S. S. (1986). The useful plants of India (p. 650). CSIR, New Delhi, India: Publications & Information Directorate.
Chopra, R. N., Nayar, S. L., & Chopra, I. C. (1956). Glossary of Indian medicinal plants (Vol. 1, pp. 138-139). New Delhi: Council of Scientific & Industrial Research.
Dar, G. H., & Virjee, K. P. and Buth, GM 1984. Ethnobotany of Kashmir-l. Sind valley. J. Econ. Tax. Bot, 5, 668-675.
Chevallier. A. (1996); The Encyclopedia of Medicinal Plants. Dorling Kindersley. London, ISBN, 9-780751-303148.
Bown. D. (1995): Encyclopedia of Herbs and their Uses. Dorling Kindersley, London. ISBN,0-7513-020-31.
Grieve, M. (1984). Tansy. A Modern Herbal. Penguin Books Ltd, Middlesex, Great Britain, 789-790.
Foster, S., & Duke, J. A. (1990). A field guide to medicinal plants: eastern and central North America. The Peterson field guide series (USA). 222
Polunin, O. (1969). Flowers of Europe. A field guides. Flowers of Europe. A field guide.
Grae. I. (1974); Nature's Colors – Dyes from Plants. MacMillan Publishing Co. New York. Publication. ISBN;0-02-544950-8.
http://www.prota.org.
https://www.healthbenefitstimes.com/narrow-leaf-plantain.