Family: Apiaceae
Synonyms: Aethusa leptophylla,Apium ammi, Apium depressum, Apium leptophyllum,Apium rivulare, Apium tenuifolium, Cnidium tenuifolium, Cyclospermum ammi, Cyclospermum ammi, Helosciadium heterophyllum, Helosciadium lateriflorum, Helosciadium leptophyllum, Helosciadium ranunculifolium, Oreosciadium andinum, Pimpinella domingensis, Pimpinella lateriflora, Pimpinella leptophylla, Ptychotis leptophylla, Selinum leptophyllum, Seseli ammi, Sison ammi.
Common Name: Slender Celery, marsh parsley, fir-leaved celery
Local Name: Jungli ajwain (जंगली अजवाइन), pahadi ajwain.
Jungli ajwain is an annual to biennial herbs of Western Himalayas present between an altitude of 700- 1500 m.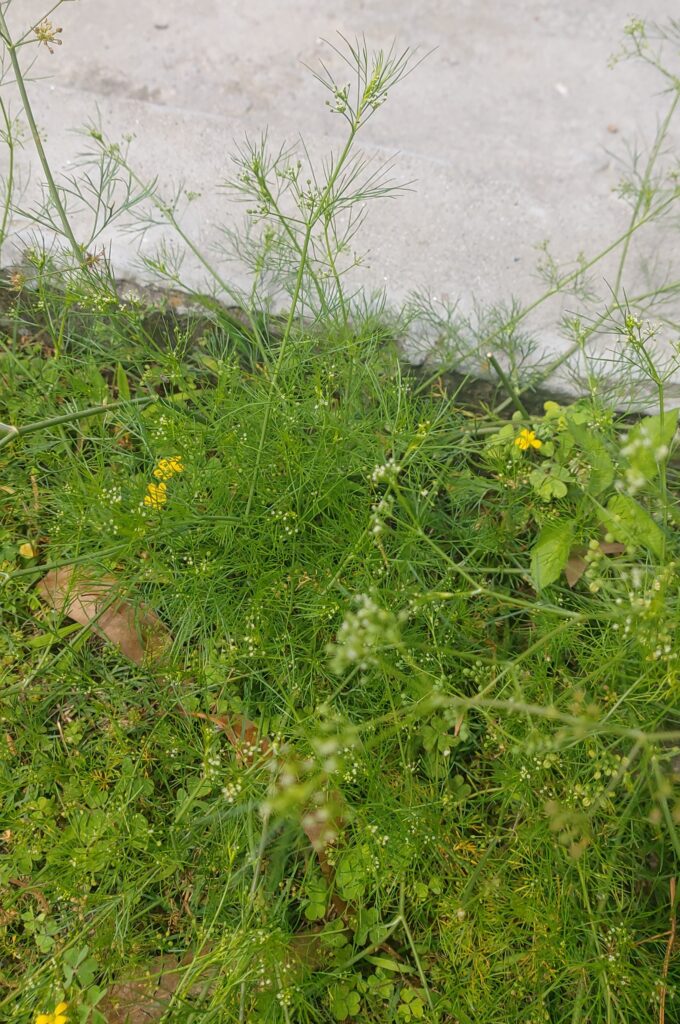 It is commonly seen growing as a weed near houses, edges of cultivated area, damp places, gardens and wastelands. Jungli ajwain spread aggressively with seeds and often treated as a noxious weed to be removed. It can grow in most of soils but succeeds best in sunny moist habitat.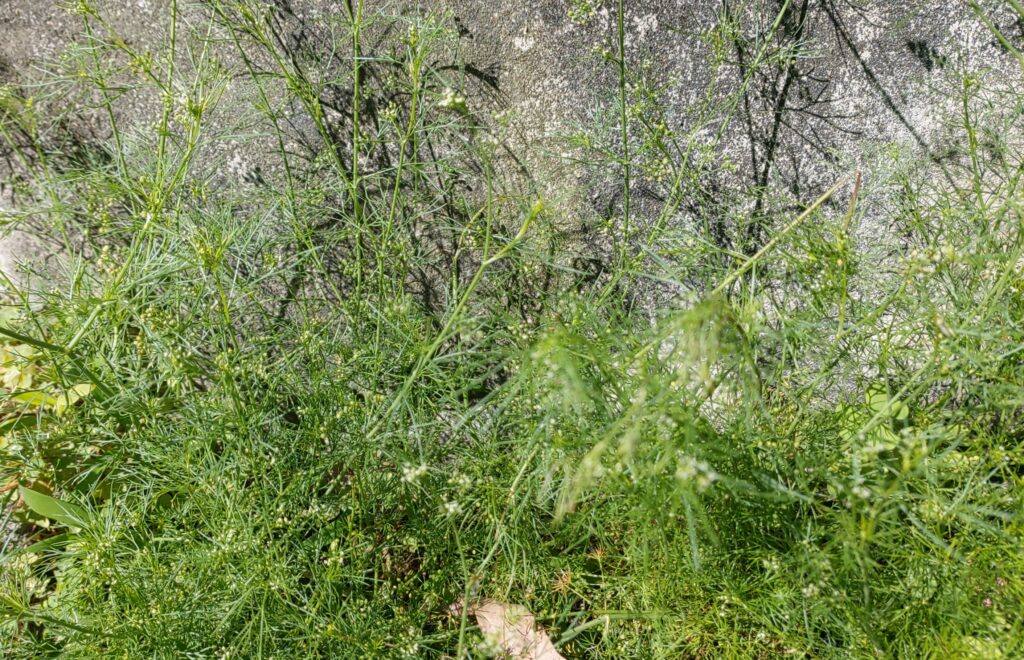 Leaves of jungli ajwain are edible and used as a flavoring or garnishing agent in various food items. These can be eaten both raw or cooked. As a green these can be a good addition to salads, sandwiches, soups, chutney, rayata, etc. Leaves are cooked as a potherb usually by mixing to other greens of winter to spring season a leafy vegetable saag is prepared. These can be cooked into a kachru (chilla) along with basen and spices.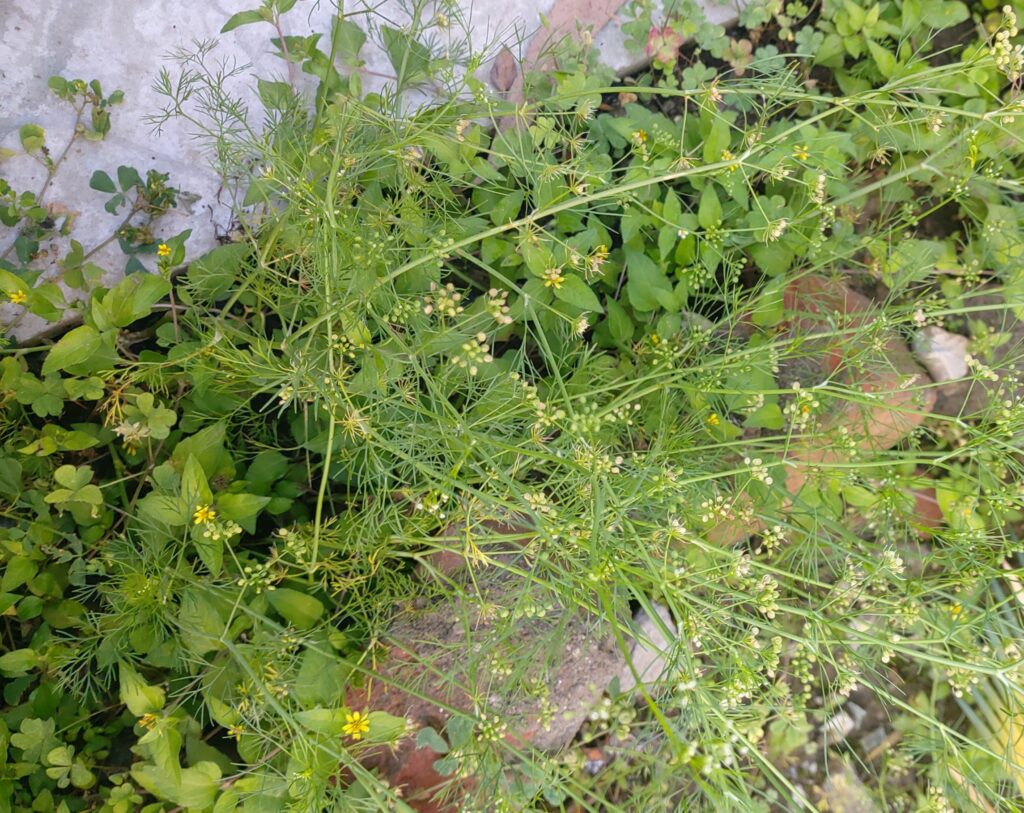 Jungli ajwain is harvested from wild as a source of food, fodder and medicine for local personal use by local people of Western Himalaya.
Jungli ajwain Plant:
Plant is erect or diffuse, much branched, glabrous, glabrous annual to biennial herbs, 15-m 40 cm tall.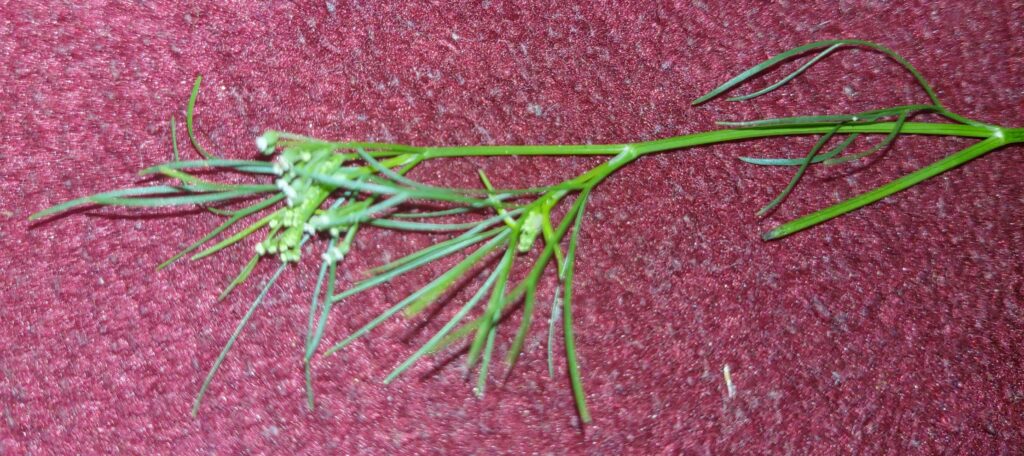 Stem is terete, branched from the base.
Leaves are ternately divided into numerous, filiform segments; leaf base sheathing.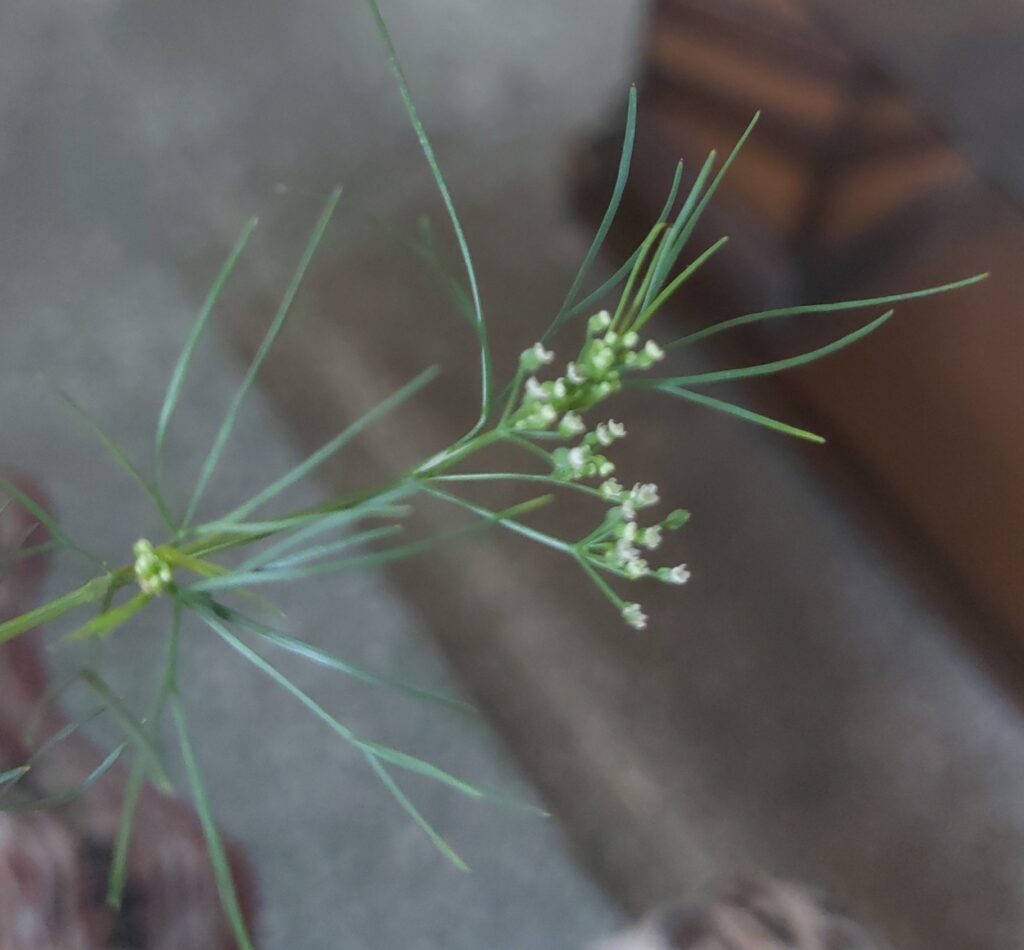 Flowers are minute, white to creamy, in pedunculate umbels, at the nodes. Bracts and bracteoles absent. Petals incurved, apiculate.
Fruits ovoid, 1.2 mm long, with prominent, thick almost corky ridges and one vitta in each groove.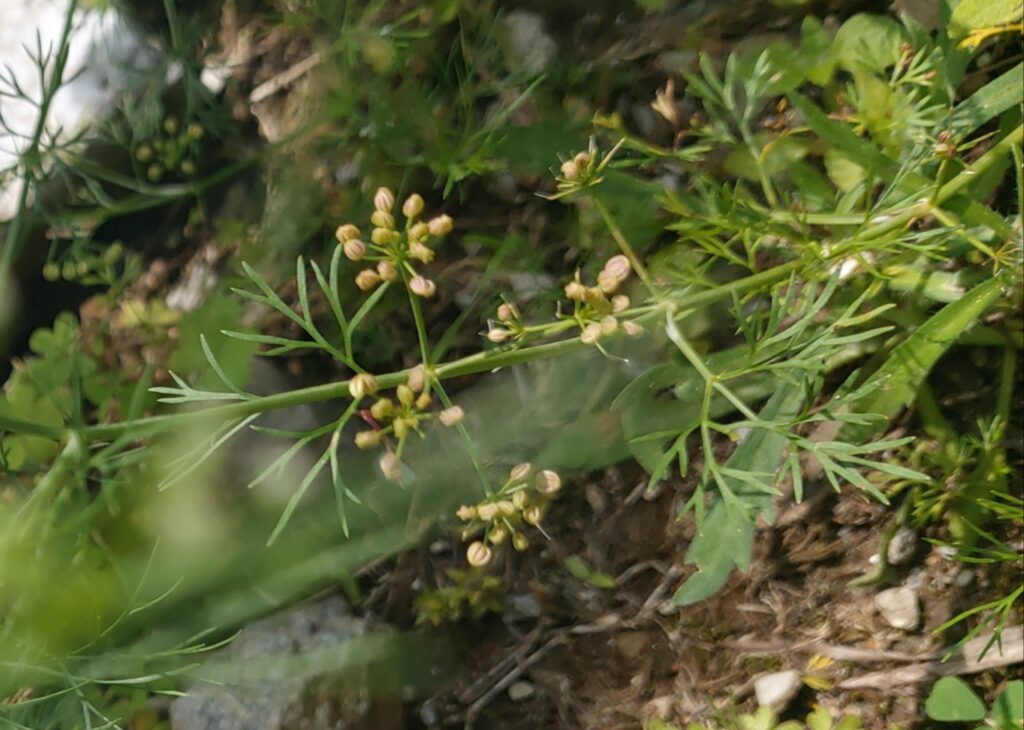 Jungli ajwain edible leaves are best harvested from winter to summer season of the year.
Edible Uses:
Young leaves are eaten both raw or cooked these can be used as garnishing or flavorings agent in various food items. Mainly as raw these make a good addition to soups, rayata, chutney, salad etc.
These can be cooked as vegetable along with other available greens. Here saag, masala oats, kachru and rayata are prepared by using fresh greens of jungli ajwain as follow: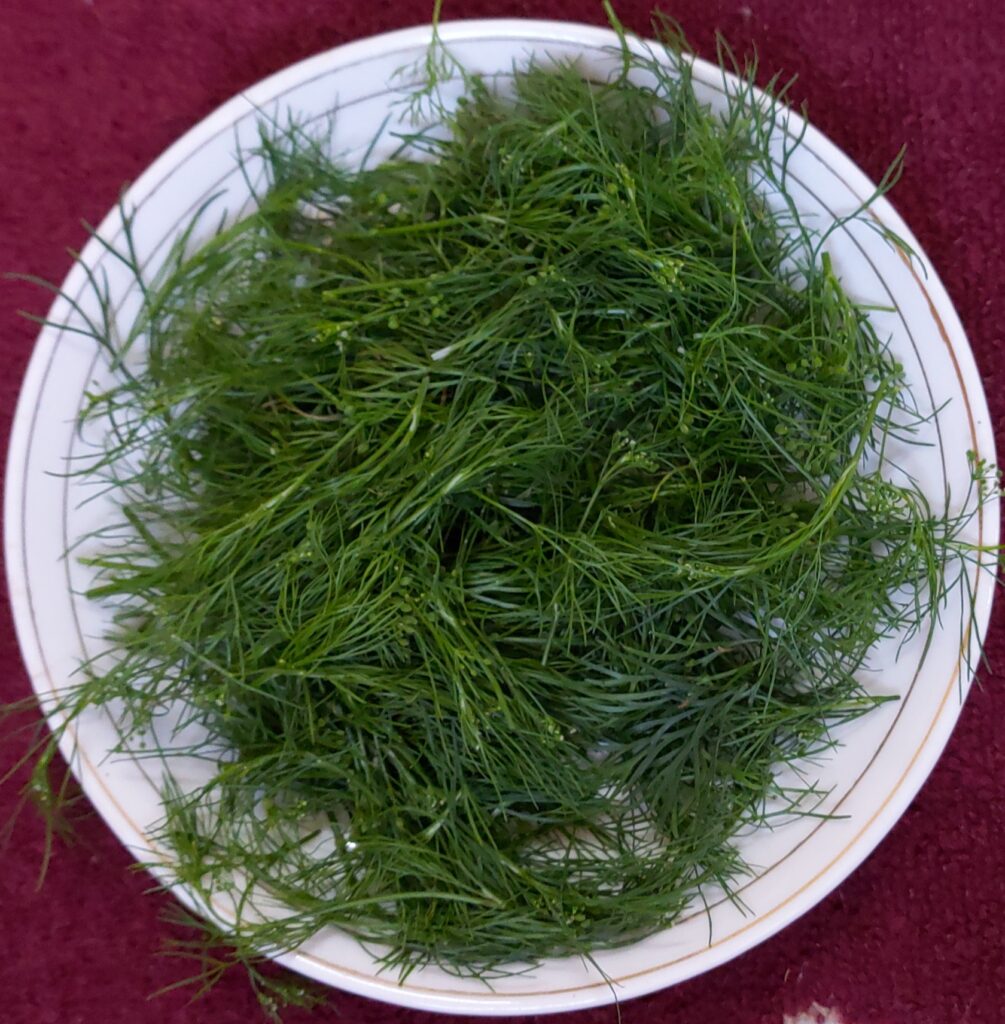 Saag:
Ingredients:
Leaves of jungli ajwain, and other wild potherbs, 1 kg; mustard oil, 2 table spoons; coriander powder 1 table spoon; fenugreek powder, ½ table spoon; cumin seed ¼ table spoon; turmeric powder, 1/4 table spoon; red chilies, 2-3; chopped onions 2-4; garlic, 4-5 cloves; ginger paste ½ table spoon and salt according to taste.
Method:
Boil leaves if jungli ajwain and other wild greens till these are soft. Then mesh manually or in a mixer and sauté with hot mustard oil and the spices listed before in sequence. This sauted saag is then ready and can be served as such or can be mixed with 2 or 3 chopped onion and cooked for another 5 to 10 minutes before serving.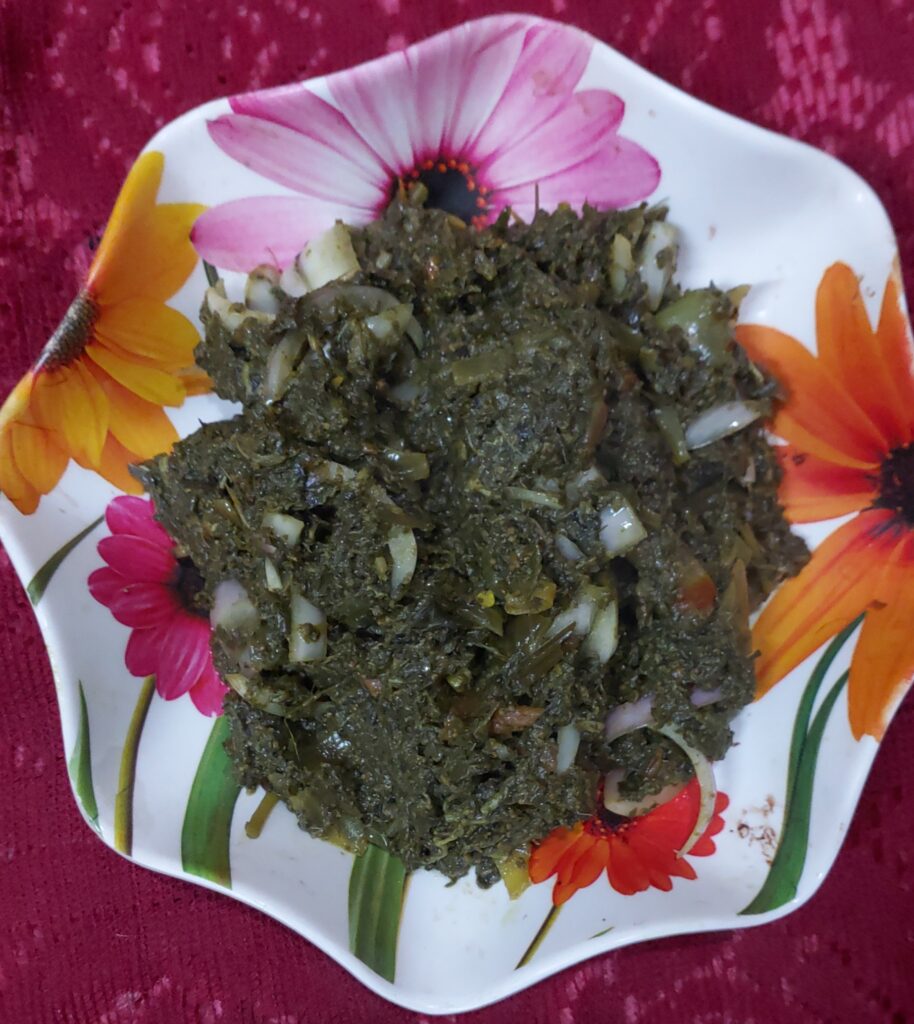 Masala oats is a quick morning breakfast cooked with oats, spices, some greens and with or without curd.
Ingredients:
Finelychopped leaves ofjungli ajwain, 250 g; oats, 3 cup amount; curd/ butter milk, 3 cup amount; chopped medium sized onion, 2, red or green chilies, 3-4, ajwain (carom seeds), ¼ tea spoon, turmeric powder, 1/4 table spoon; black pepper, ¼ tea spoon, mint and coriander leaves,1/2 cup amount; salt according to taste.
Method:
Cook oats with butter milk/ curd or water by adding finely chopped leaves of jungli ajwain, spices and salt according to taste. Cook till oats are soft and then serve after garnishing with chopped coriander leaves.
Kachru or sosaru:
For preparing a kachru, ingredients required are 250 g fresh leaves of jungli ajwain, 250 g besan (black gram powder) or corn flour. 1/2 table spoon ajwain, 3-5 green chilies, ½ table spoon turmeric powder, 2-3 chopped onions and salt according to taste
Method:
Make a paste of jungli ajwain leaves, besan or corn flour and spices. Heat some oil on a flat heating pan. Put this paste over a pan and cook for 15 to 20 minutes then kachru will be ready. Repeat this process till whole paste is over and serve hot with tea or chutney.
Rayata:
Ingredients:
Finely chopped leaves of jungali ajwain, 250 g ; curd, ½ kg; Chopped medium sized onion, 3-4, red or green chilies, 3-4, black pepper, ¼ tea spoon, black salt according to taste.
Method:
Take curd in a bowl. Add to all above in sequence. Mix well and serve.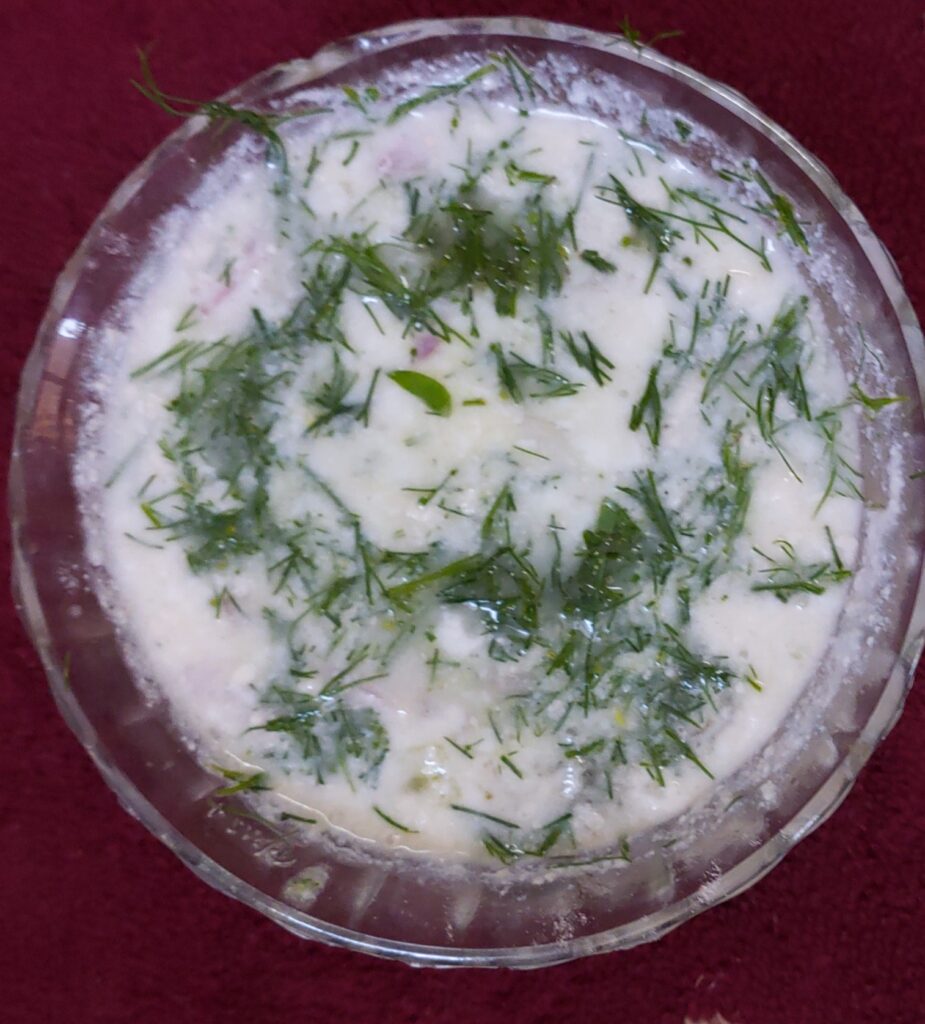 Seek Professional advice before treating this plant medicinally.
Medicinal Uses:
Local people use powered seed to cure cough. Fresh seeds, mixed with seeds of nicotiana tabacum and given to cattle to improve rumination. Traditionally fruit was widely used as an antinephritic, antirheumatic, carminative and was beneficial for prevention of tumor, anorexia, vomiting, colic pain, and mitch 1. These were found useful in bronchitis, cough, and asthma by various traditional practitioners of India. In addition, the fruits possess thermogenic and antispasmodic in asthmatic patients 1, 2. The volatile oil of the leaves possesses antimicrobial and radical scavenging activity 3.
Phytochemically, it contains volatile oils, coumarins, terpene hydrocarbons, phenolics, alkaloids, and is a rich source of flavonoids 1.
Chemical constituents:
Anhydrorutaretin, dihydrofurocoumarins, leptophyllidin, leptophyllin, its glucoside and umbelliferone, isopimpinellin and mannitol, marmesin, sitosterol glucoside, skimming- trans- khellactone, 9-OH- 4- OMe- psoralen (seeds); bergapten, seselin (fruits); and Me-ethers of thymol, carvacrol and thymoquinol (plant essential oil) have been isolated 4.
Other Uses:
Jungali ajwain is grazed as a forage by grazing animals. Plant is used to scent hair- oil 5. An essential oil can be obtained from all parts of the plant. It is used medicinally 6.
References:
Sahoo, H. B., Patro, S. K., Sagar, R., & Santani, D. D. (2015). Mutagenic evaluation and spectroscopic characterization of flavonoidal fraction of Apium leptophyllum (Pers.) fruit. International Journal of Nutrition, Pharmacology, Neurological Diseases, 5(2), 82.
Hardel DK, Das AK, Bhanja S. (2012)A comparison study of fluorescence characteristics of powder of Haritaki: Terminalia chebula (pericarp), Yavani: Trachyspermum ammi (fruit), Ajmoda: Apium leptophyllum (fruit), Sunthi: Zingiber officinale (rhizome) Int Res J Pharm, 3:255–7.
Asamenew, G., Tadesse, S., Asres, K., Mazumder, A., & Bucar, F. (2008). A study on the composition, antimicrobial and antioxidant activities of the leaf essential oil of Apium leptophylum (Pers.) Benth. growing in Ethiopia. Ethiopian Pharmaceutical Journal, 26(2).
Asolkar, L. V., & Chopra, R. N. (1992). Second supplement to glossary of Indian medicinal plants with active principles. Publications & Information Directorate.
Anonymous, 1985. The Wealth of India, Raw Material. Revised & enlarged Vol. IA. Publication & Information Directorate, CSIR, New Delhi.
Verma, R. S., Padalia, R. C., Verma, S. K., Chauhan, A., & Darokar, M. P. (2015). Chemical Composition and Antibacterial Activity of the Essential Oils of Laggera crispata (Vahl) Hepper & Wood, Cyclospermum leptophyllum (Pers.) Eichler and Perilla frutescens (L.) Britton. Analytical Chemistry Letters, 5(3), 162-171.
.