Family: Rosaceae
Synonyms: Crataegus bibas, Mespilus japonica, Photinia japonica.
Common Name: Loquat
Local Name:  Lukhat (लूखाट)
Lukhat is an evergreen shrub or small tree of Western Himalaya. It is prominently seen growing along borders of agriculture fields, roadsides, pathways and near habitations up to an altitude of 1500 m.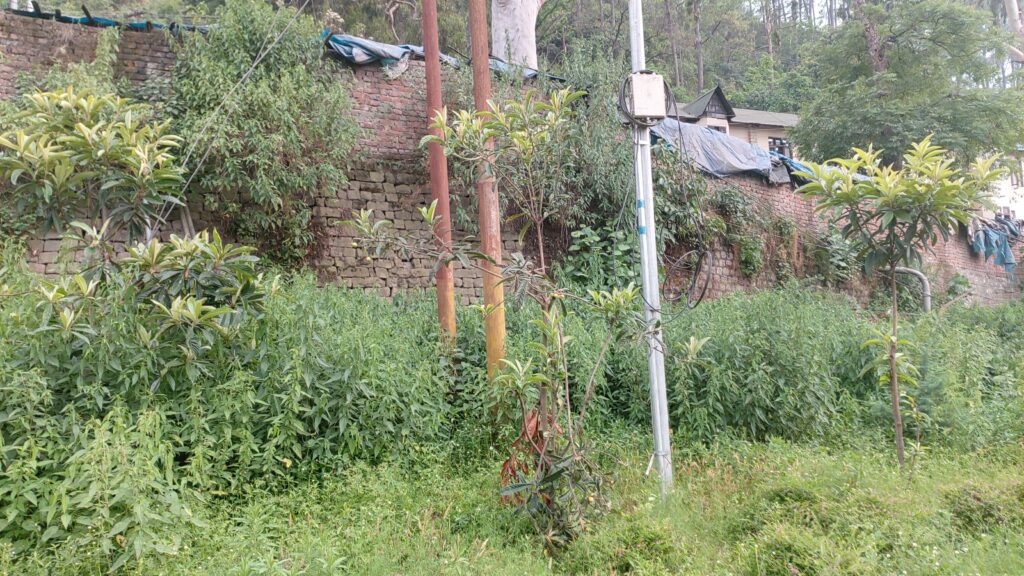 Lukhat is known for its edible fruits. Its plant is straight with low-branched bole and dense, rounded crown at its apex. This eye catching appearance of lukhat along with its rich nutritive and medicinal value is enough to list it among favorite ornamental plants, so quite often lukhat is planted in gardens and near to habitation as an ornamental food plant.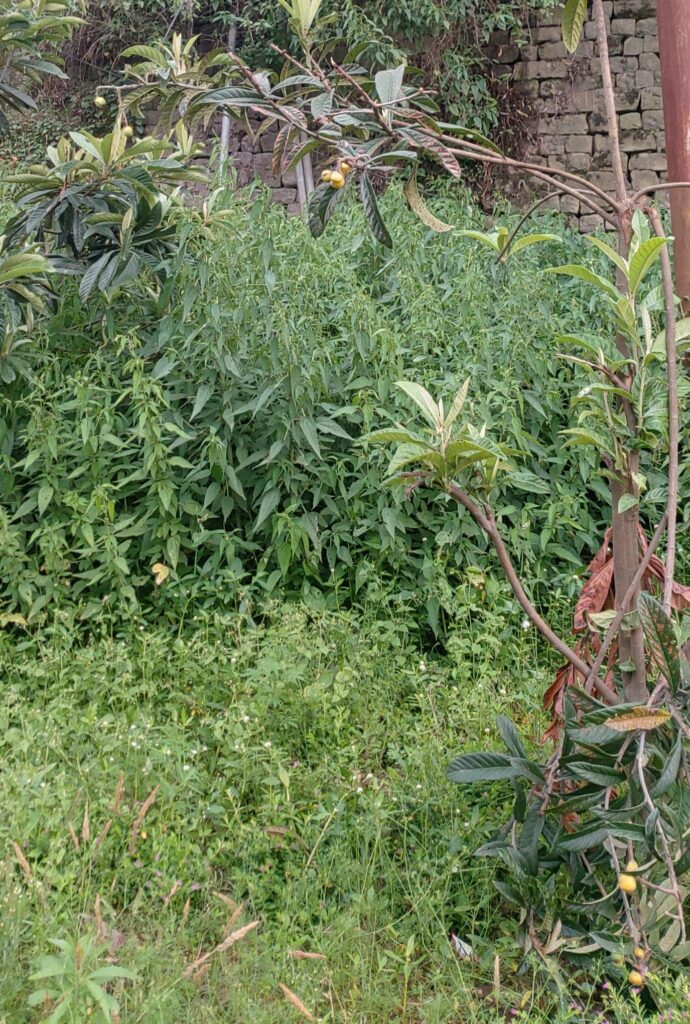 Lukhat is easily propagated by seeds and succeed well in a well-drained fertile habitat having full sun or partial shade. Vegetative propagation of loquat through air layering practice is highly successful 1.
Fruits, leaves and seeds of lukhat are edible. Fruits are eaten both raw or cooked and ripe or unripe. Unripe fruits are sour in taste and best to be used to in chutney. Ripe fruits are considered as a good appetizer and mostly consumed fresh. However, these can be used for making various value-added products like jelly, jam, preserves, juice and squash. Leaves are rich in medicinal properties so usually taken in the form of lukhat lemon tea. Lukhat seeds are pounded and used as a flavoring agent in small quantities. Roasted seeds are good substitute of coffee.
Raw lukhat fruits are sold in local market and are an easy source of earning for local people. For efficient marketing, fruits are generally graded into 2 grades. Large and fine fruits, free from all defects are put in one grade and remaining ones in the other. As the fruit is very delicate, it needs very careful packing with sufficient cushion to avoid injury 1. At room temperature, loquat fruits can be kept for 4-6 days. However, the fruits can be stored for 2 weeks at 11 C temperature and 85-90% humidity 1.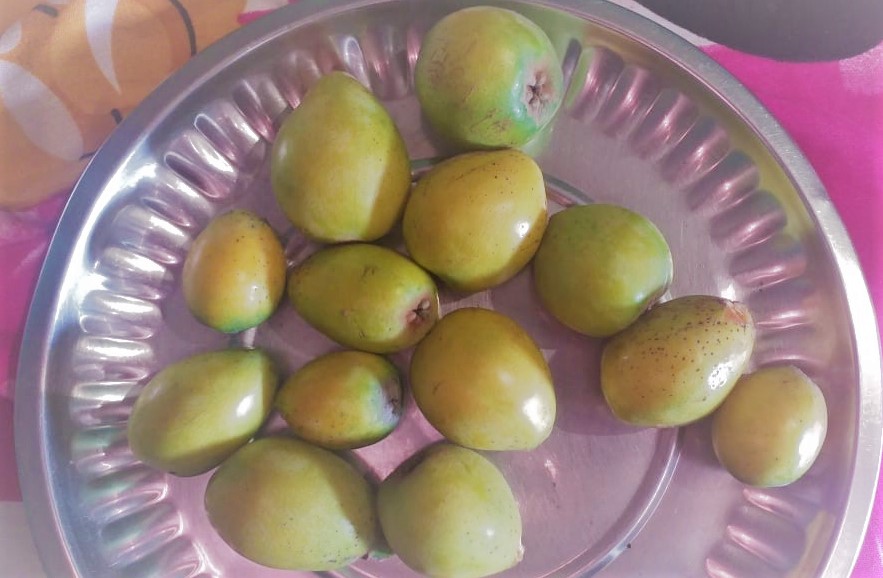 Lukhat is harvested from wild as a source of food, fuel, medicine and material for local personal. Plant is also grown as a food plant or ornamental tree.
Lukhat plant:
Small evergreen trees about 5 – 10 meters tall with a dense, rounded crown which arise from a straight, low-branched bole.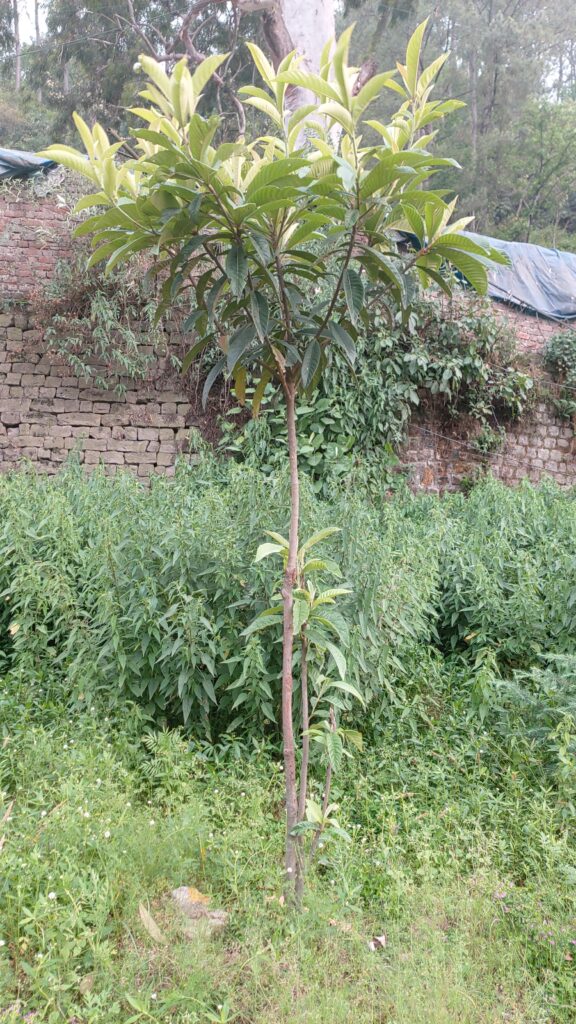 Leaves are long, narrowly oblanceolate, acuminate, clustered at the end.
Flowers are dull- white, fragrant, in terminal panicles.
Fruits are pyriform, because, yellow or orange when ripe.
Lukhat fruits can be harvested from spring to summer end of the year and leaves can be collected round the year. Plant should be cultivated on large scale in garden and near to habitation for personal and commercial use.
Edible uses:
Lukhat fruits are generally eaten fresh and ripe but can be used in various food preparation like chutney, jelly, jam, preserves, juice and squash etc. Lukhat lemon tea is taken to harness rich medicinal value of the plant in any season of the year. Seeds are pounded and used as a flavoring agent in small amount. Roasted seeds are taken as coffee substitute.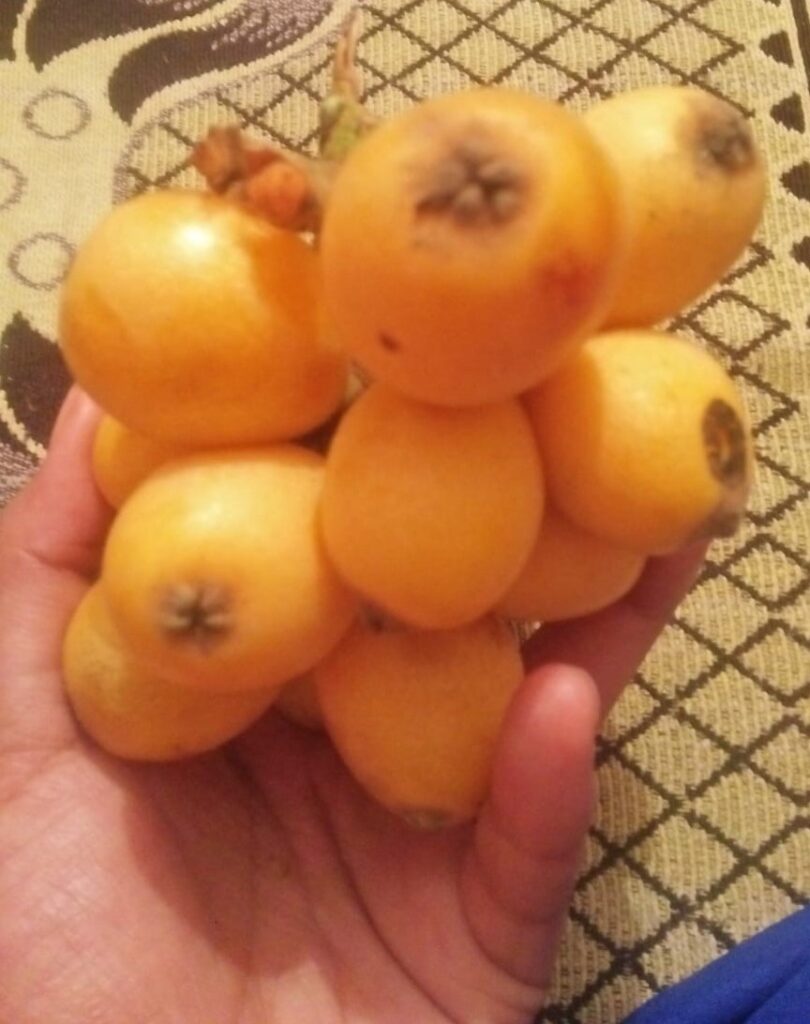 Lukhat fruit Jam:
Ingredients:
Lukhat,1 kg; sugar, 500 g; lemon juice, 4-5 tea spoon.
Method:
Peel off the fruit skin and discard the seed. Put deseeded fruits in pan, boil till they are soft and let them cool down. Mesh boiled fruit pulp manually or in a mixer. Place meshed pulp in a pan. Add sugar to it and cook in low flame with constant stirring till sugar dissolve completely and jam become dense. Now mix it well with lemon juice and let it cool down. Jam is now ready to serve. Jam should be used fresh and can be preserved for two months.
Chutney:
Ingredients:
To prepare chutney, take 100 gm lukhat raw immature fruits, 100 gm chopped mint leaves, 20 gm anardana or amchoor, 5-6 green chillies, 20 gm coriander leaves/ curry leaves, 2-3 onion, 1table spoon amount ginger.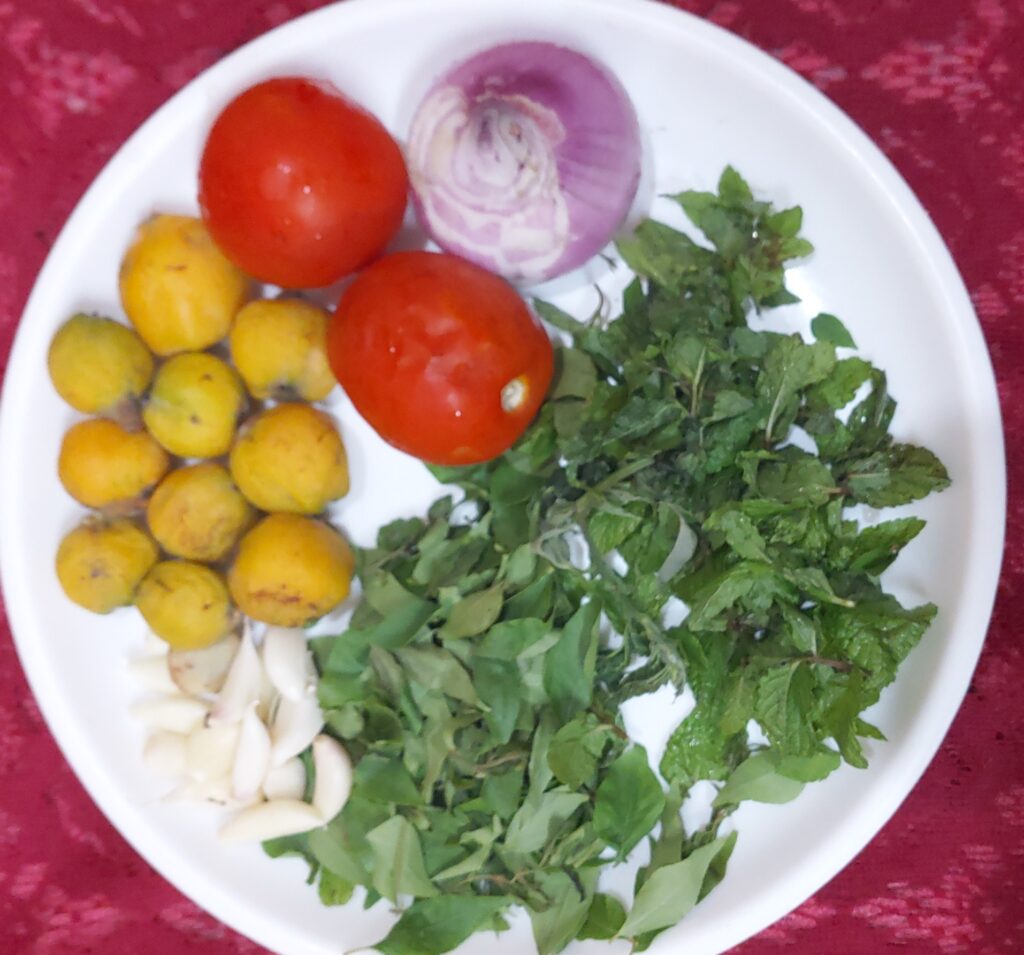 Method:
Grind well all above ingredients in a mixer grinder and add salt according to taste. Now chutney is ready to serve.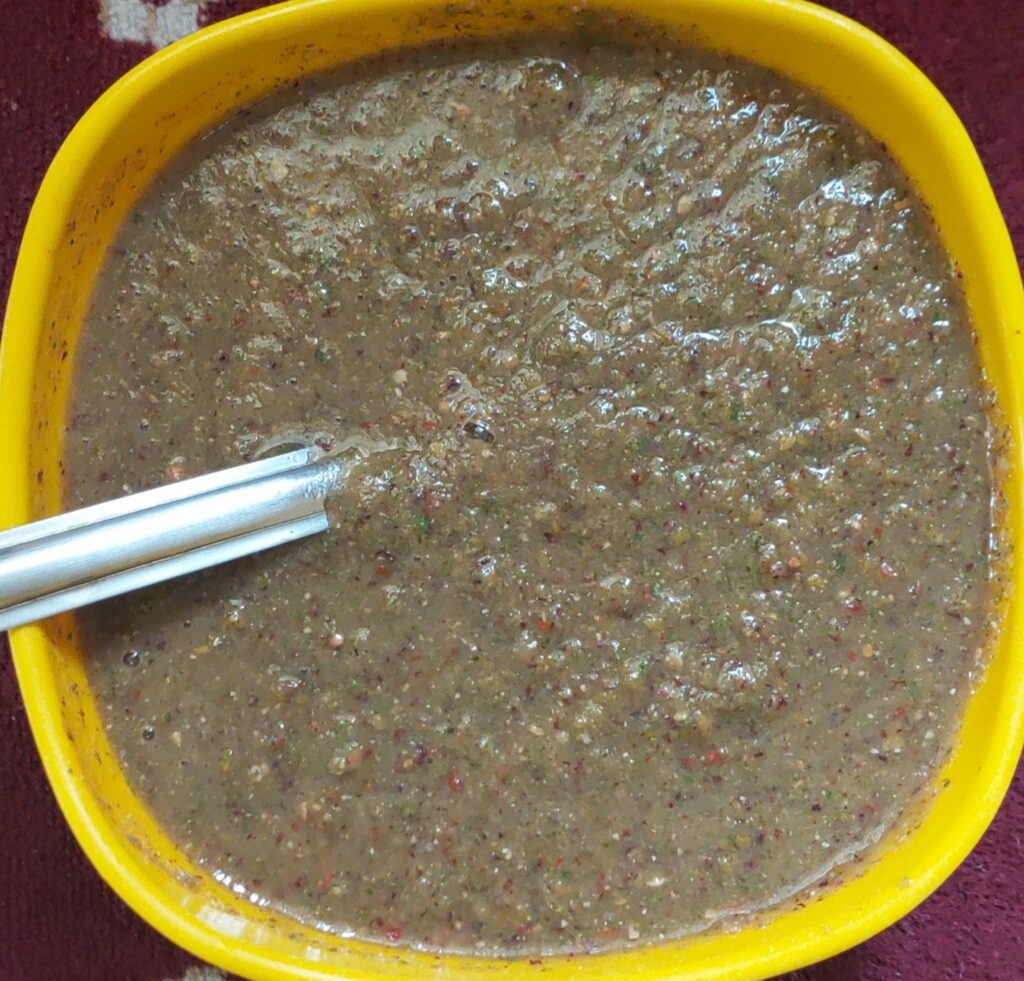 Juice or summer refreshing drink:
Ingredients:
For making three glass of lukhat fruit juice ingredients one will require are lukhat fruits, 100- 200 g; water, 2 glass amounts; sugar/honey/ any natural sweetener, 3 table spoons; lemon juice, 3 table spoon; black salt, ½ tea spoon; black pepper, ¼ tea spoon; mint leaves, 8-10.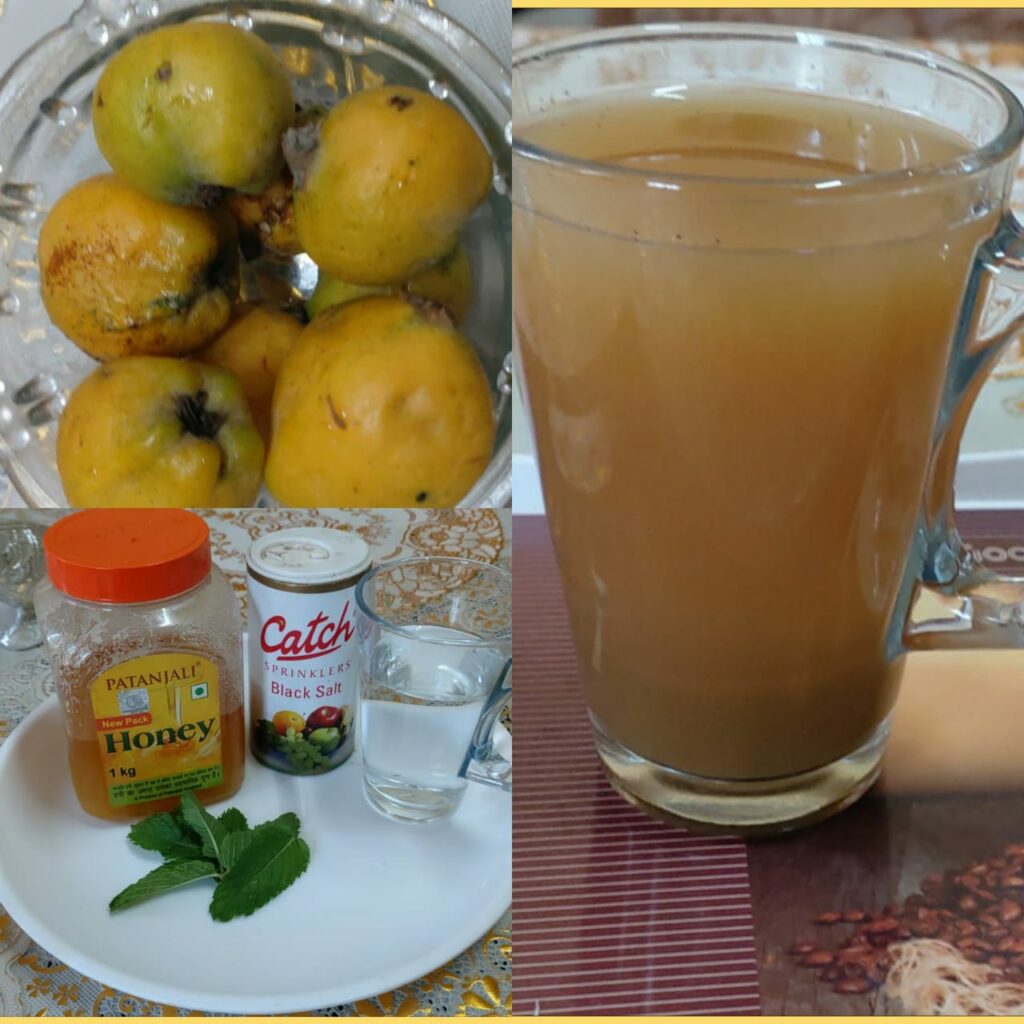 Method:
Peel off the fruits skin and discard seeds. Place all the above ingredients in a blender or mixer. Blend for few minutes add ice to it and serve.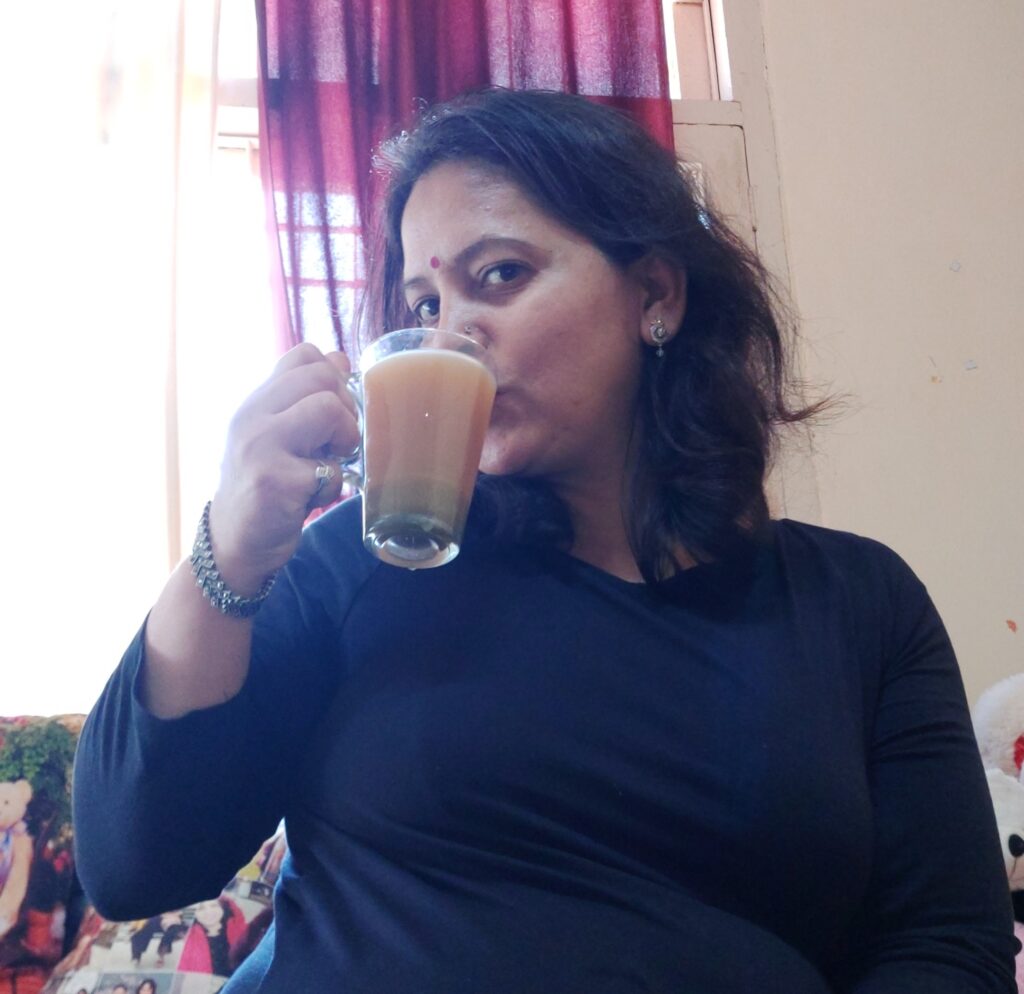 lukhat lemonTea:
Ingredients:
lukhat leaves, 3; water, 2 cup amount; sugar, 2 table spoons; lemon juice, 2 tea spoons.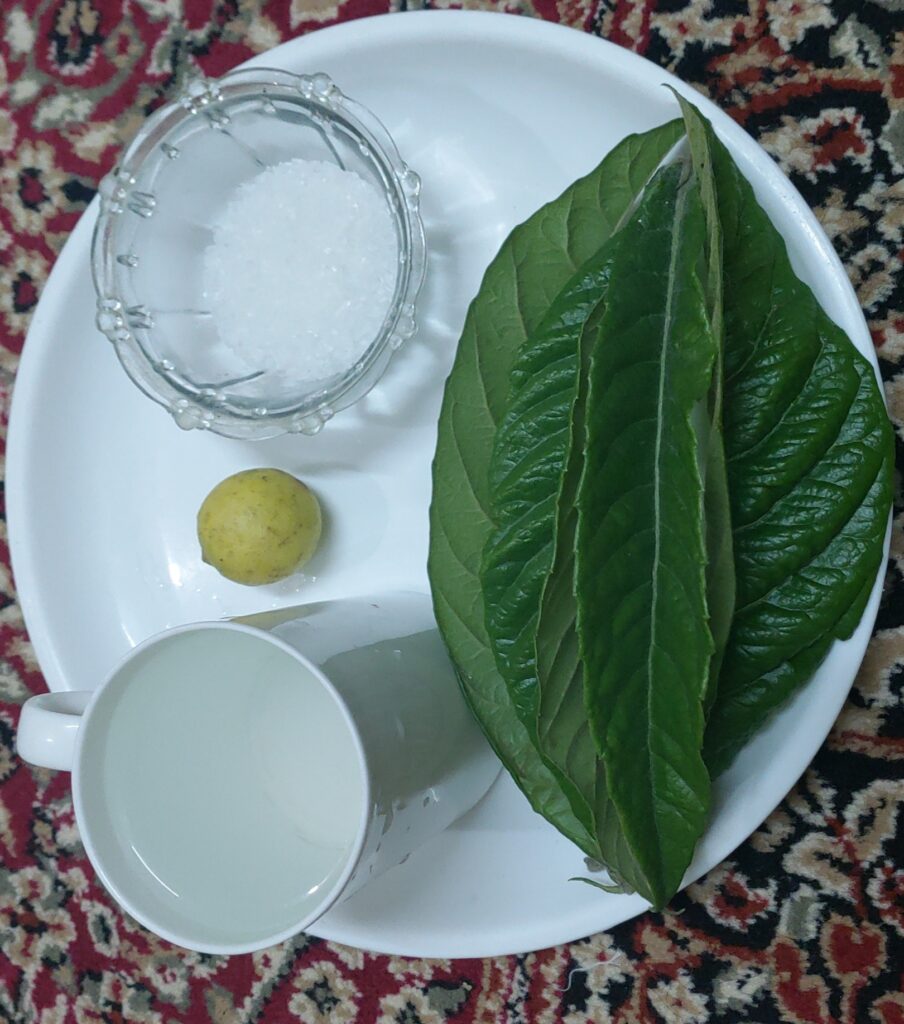 Method:
Dice leaves and boil with water. Add sugar to it and simmer in low flame for 10 minutes. Strain into tea cups. Add lemon juice to each and serve hot.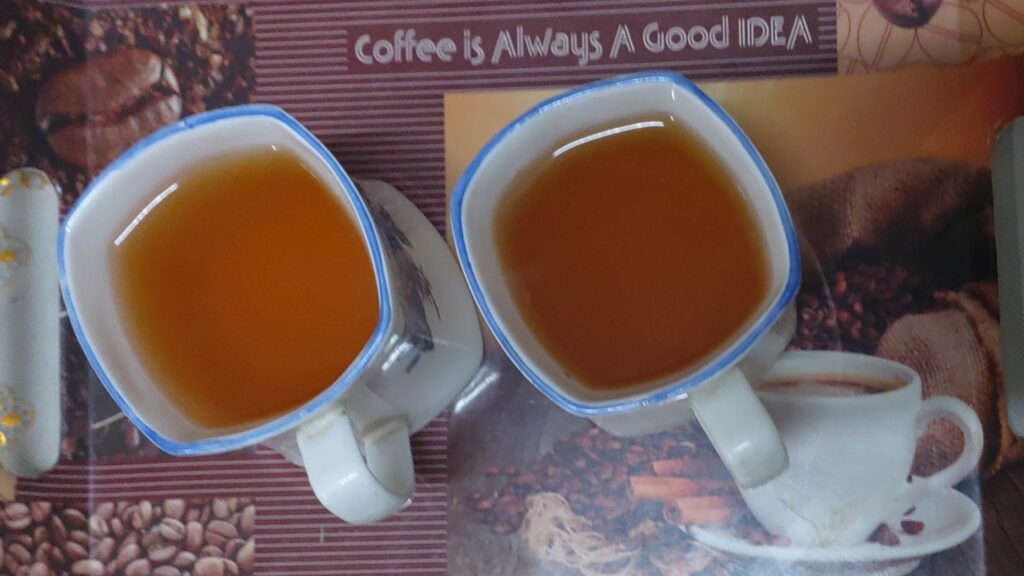 Nutrient Value:
lukhat is an excellent source of carbohydrates, vitamins and minerals. It is low in cholesterol and calories as it hardly contains any lipids, but contains monounsaturated fats like omega-3 and omega-6 fatty acid. 100 g of fruit contains; Water (g) 86.5–88.2 Calories (kcal) 47–168 Carbohydrate (g) 9.6–43.3 Total dietary fiber (g) 0.8–1.7 Protein (g) 0.43–1.4 Fat (g) 0.2–0.7 Ash (g) 0.4–0.5 Calcium (mg) 16–70 Iron (mg) 0.28–1.4 Magnesium (mg) 13 Phosphorus (mg) 20–126 Potassium (mg) 266–1216 Sodium (mg) 1 Vitamin C (mg) 1.0–3.0 Vitamin A (IU) 1528–2340 Total carotenoids (µg) 196–3020 Carotene (µg) 559 Total phenolics (mg) 33.6 Total flavonoids (mg) 24.3 2.
Seek professional advice before treating this plant medicinally.
Medicinal uses:
Fruit are used as an expectorant and sedative also used for allaying vomiting and thirst 3,4. The leaves possess antitussive and antispasmodic properties 5. They are prescribed in the treatment of cough, chronic, bronchitis, excessive expectation, fever, coryza, hyperemesis, especially vomiting of pregnancy5. The decoction is also to wash wounds5.
Chemical constituents:
The fruit contains sugars; laevulose and sucrose; malic, citric tartaric and succinic acids; cryptoxanthin, B – carotene, neo- B- carotene. The seeds contain amygdalin and a fatty oil. The leaves yields saponins, ursolic acid, oleanolic acid and cryophyllene5.
Other Uses:
Lukhat is planted in garden as a ornamental tree. It is useful for shade due to its dense crown and also act as a windbreak. Dried branches of lukhat are used as fuel. The flowers have insect repellent properties 7,8. The flowers emit a most potent oriental perfume 6. They can be used in perfume production 8. The wood is hard, medium-weight to heavy. It has very little tendency to split or check, and takes a good polish. It is suitable for poles and posts, carving and drawing materials such as rulers, and is in demand for making stringed musical instruments7,8.
Source of income:
Ripe lukhat fruits are good source of earning for local people. These are sold Rs 60 to 100/kg depending upon quality.
References:
Parmar. C. and Kaushal. M.K. (1982) Wild Fruits of the Sub-Himalayan Region. Kalyani Publishers. New Delhi.
Pareek, S., Benkeblia, N., Janick, J., Cao, S., & Yahia, E. M. (2014). Postharvest physiology and technology of loquat (Eriobotrya japonica Lindl.) fruit. Journal of the Science of Food and Agriculture, 94(8), 1495-1504.
Ambasta, S. S. (1986). The useful plants of India (p. 650). CSIR, New Delhi, India: Publications & Information Directorate.
Chopra, R. N., & Nayar, S. L. (1982). Chopra, 1. C.(1956) Glossary of Indian Medicinal Plants. Council of Scientific and Industrial Research, New Delhi, 164.
Purohit SS, Sharma AK, Prajapati ND, Kumar T. (2009); A handbook of medicinal plants: a complete source book. 2:352-3.
Genders, R. (1977). Scented flora of the world. St. Martin's Press.
http://www.worldagroforestry.org/.
http://ecocrop.fao.org/ecocrop/srv/en/home.