Family: Fabaceae
Synonyms: Lotus ambiguous, Lotus arvensis, Lotus balticus, Lotus carpetanus, Lotus caucasicus, Lotus komarovii, Lotus major, Lotus olgae, Lotus ruprechtii, Lotus tauricus, Lotus zhegulensis, Lotus japonicus, Lotus frondosus.
Common Name: Bird's Foot Trefoil
Local Name: Peula ghaa (पीउला घा)
Peula- ghaa is a perennial herb producing numerous decumbent to ascending stems from a taproot. It is very common plant of Western Himalaya found growing in hills between an altitude of 900- 4000 m. Peula- ghaa can grow in a variety of diverse habitats like open slopes, wet grazing grounds, thickets, scrub, damp meadows, dry hill pastures, grassy places, rocky slopes, ravines, roadsides, abandoned fields, cultivated ground and in Pinus plantations.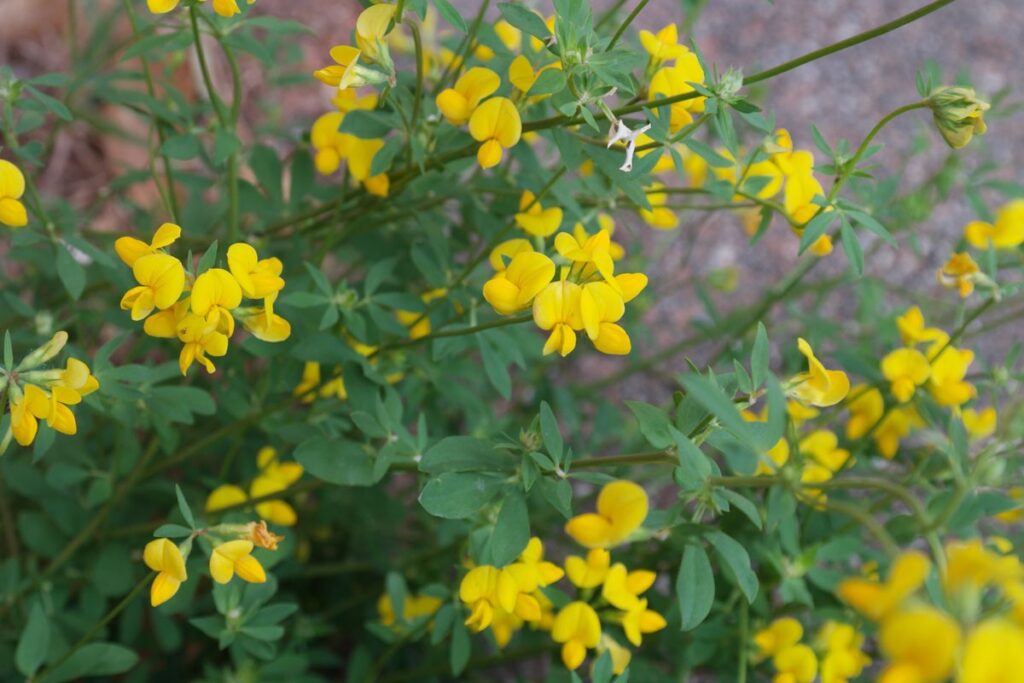 Peula- ghaa propagate easily with the help of seeds and grows best in well drained sunny habitat. Leaves are with 5 sessile leaflets, but appear as three because lower two leaflets are present at the base of petiole, like stipules and central three held conspicuously above the two, hence the word 'trefoil' may be in common name Bird's Foot Trefoil of this plant .
Above ground parts and young seed pods of peula- ghaa are edible. Seed pods are eaten both raw or cooked in small quantity. These can be cooked in famous Indian dishes poha, momo's and sambar along with other vegetables. Above ground plant parts are dried and taken in the form of tea or steeped and thoroughly washed to cook as kachru. Tea made of this plant is considered relaxing. Plant is a good source of mineral ions such as Ca, Cu, Fe, Mg, Mn, Se, S, Zn and Fats 1.
Peula- ghaa is harvested from the wild for local personal use as a food, fodder, medicine and dye by locals of Western Himalaya. Being a member of Fabaceae, it is efficient in fixing atmospheric nitrogen so, it can also be grown as a green manure and soil improver.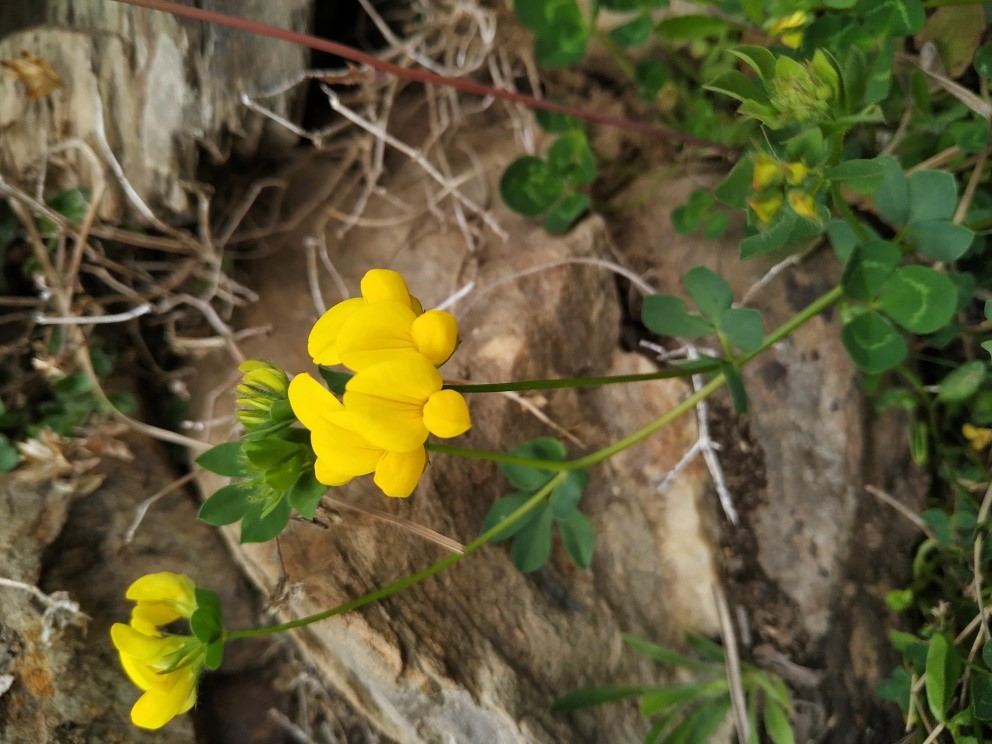 All parts of the peula- ghaa plant contain cyanogenic glycosides (hydrogen cyanide) 2. In small quantities, hydrogen cyanide has been shown to stimulate respiration and improve digestion, it is also claimed to be of benefit in the treatment of cancer. In excess, however, it can cause respiratory failure and even death. This species is polymorphic for cyanogenic glycosides3. Leaves of fresh plants encloses cyanogenic glycosides. When macerated, these cyanogenic glycosides yield little quantities of hydrogen cyanide. However, usually this is not toxic for humans, because the dosage is very small and our body can metabolize cyanide comparatively rapidly 4. In addition, this plant also contains condensed tannins and these are said to enhance the assimilation of protein in the small intestine 5.
Peula- ghaa Plant:
Plant is perennial, prostate-decumbent, glabrous or sparsely hairy herbs, 10- 15 cm tall.
Leaves are with 5 leaflets; leaflets sessile, obovate oblong, 6-12 to 3-6 mm, glabrous, margins ciliate; lowest pair of leaflets at the base of petiole, like stipules.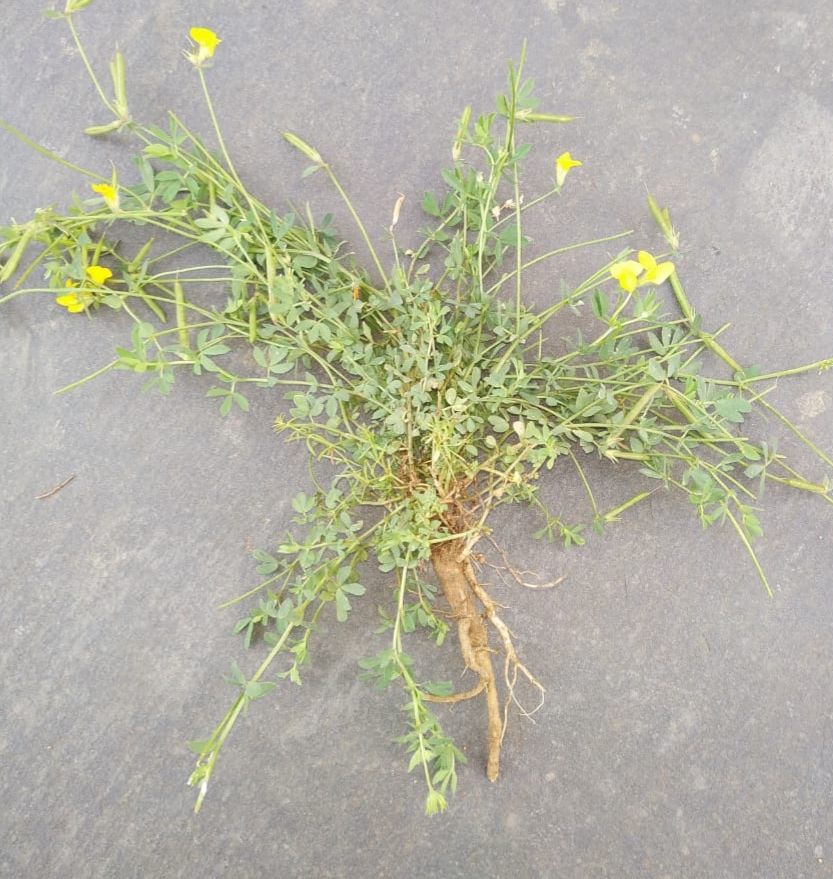 Flowers are bright yellow, often streaked with red, 1- 1.5 cm long, in 3-6 flowered, axillary, peduncleate umbels. Calyx bell- shaped, 4-8 mm long; teeth longer than tube.
Pods cylindric, straight, 1.5- 2.5 cm long, sparsely hairy, many- seeded.
Edible plant parts of peula- ghaa can be harvested from spring end to beginning of autumn season. Main edible plant part is seed pod so these need to be harvested in sustainable manner by rotating habitat.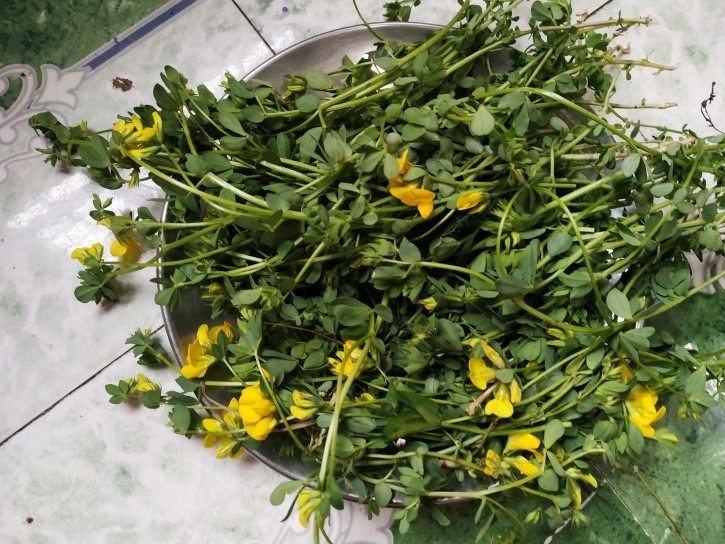 Edible Uses:
Seed pods, dried leaves and flowers of peula- ghaa are edible and taken in small amount. Dried plant is usually taken as tea. Tea is considered relaxing and taken to harness rich medicinal value of peula- ghaa. Fresh and dried flowers and leaves can also be cooked in small amount in to a traditional dish kachru along with basen and spices. It is eaten as an evening snack with tomato ketchup or chutney. Seed pods are eaten both raw or cooked. These are used as an excellent addition in cooking of poha, momo's or sambar with other vegetable.
Tea:
Ingredients:
Peula- ghaa leaves, 5-8 g; mint leaves, 2-3; water, 2 cup amount; sugar, 2 table spoons; lemon juice, 2 tea spoons.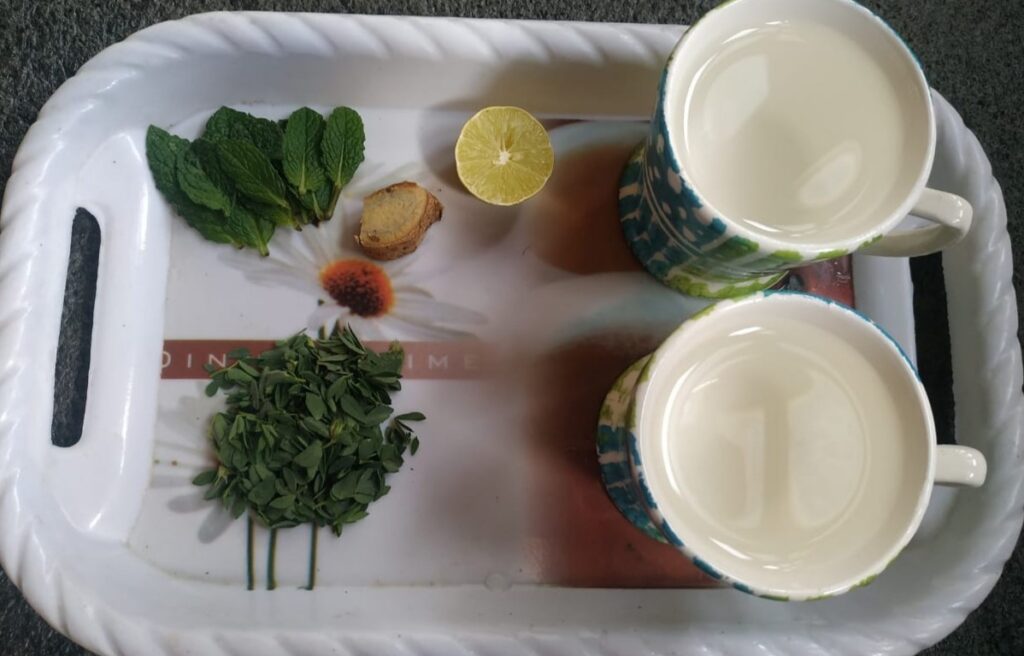 Method:
Mince peula- ghaa and mint leaves and boil with water. Add sugar to it and simmer in low flame for 10 minutes. Strain into tea cups. Add lemon and serve.
Sambar:
It is a popular South Indian dish made with lentil, mix vegetable, tamarinds, spices curry leaves and other herbs. Recipe is not only healthy and nutritious but also tastes delicious, as it is good source of protein, vitamins, minerals and antioxidant. It can be served with idli, dosa, vada, plainrice or with chapattis.
Ingredient:
Lentils (Arahar dal plus moong dal), chopped vegetable according to taste ( Carrot, beans, ladies finger, pumpkin or some wild seed pods like Senna tora, Lotus corniculata etc) here pods of peula- ghaa are taken along with other vegetable, 250 g; tamarinds, 1 cup amount; curry leaves, 200 g chopped medium sized onion, 2, red or green chilies, 3-4, ajwain ( carom seeds), ¼ tea spoon, turmeric powder, 1/4 table spoon; black pepper, ¼ tea spoon, mint and coriander leaves,1/2 cup amount; salt according to taste.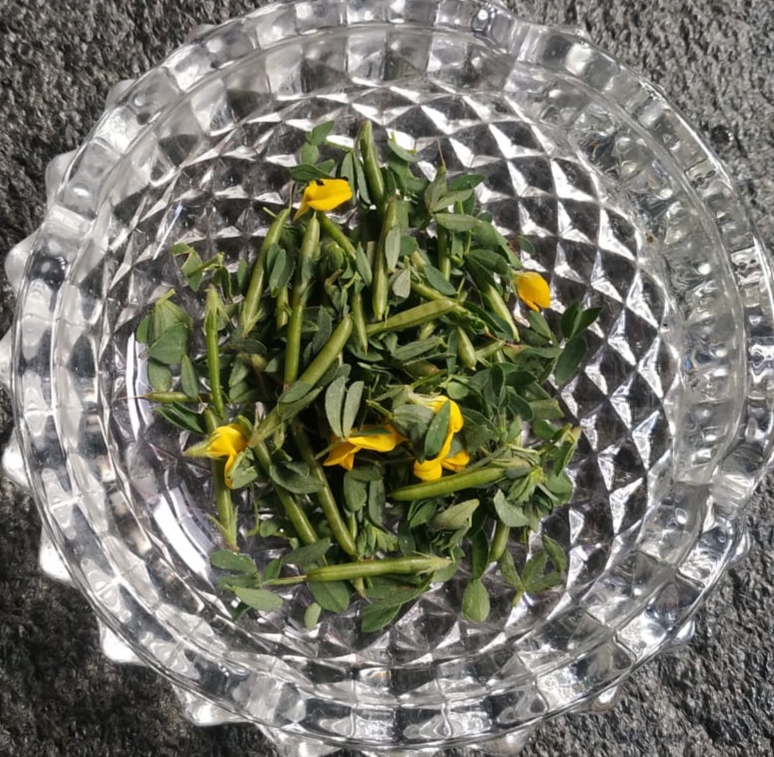 Method:
Boil chopped vegetable and steam cook lentils till these become soft. Mesh manually or in a mixer. In hot mustard oil saute meshed vegetable and lentils with curry leaves and spices listed above. Add to it tamarinds and cook for five to 10 minutes. Add garam masala and garnish with chopped coriander or mint leaves and serve.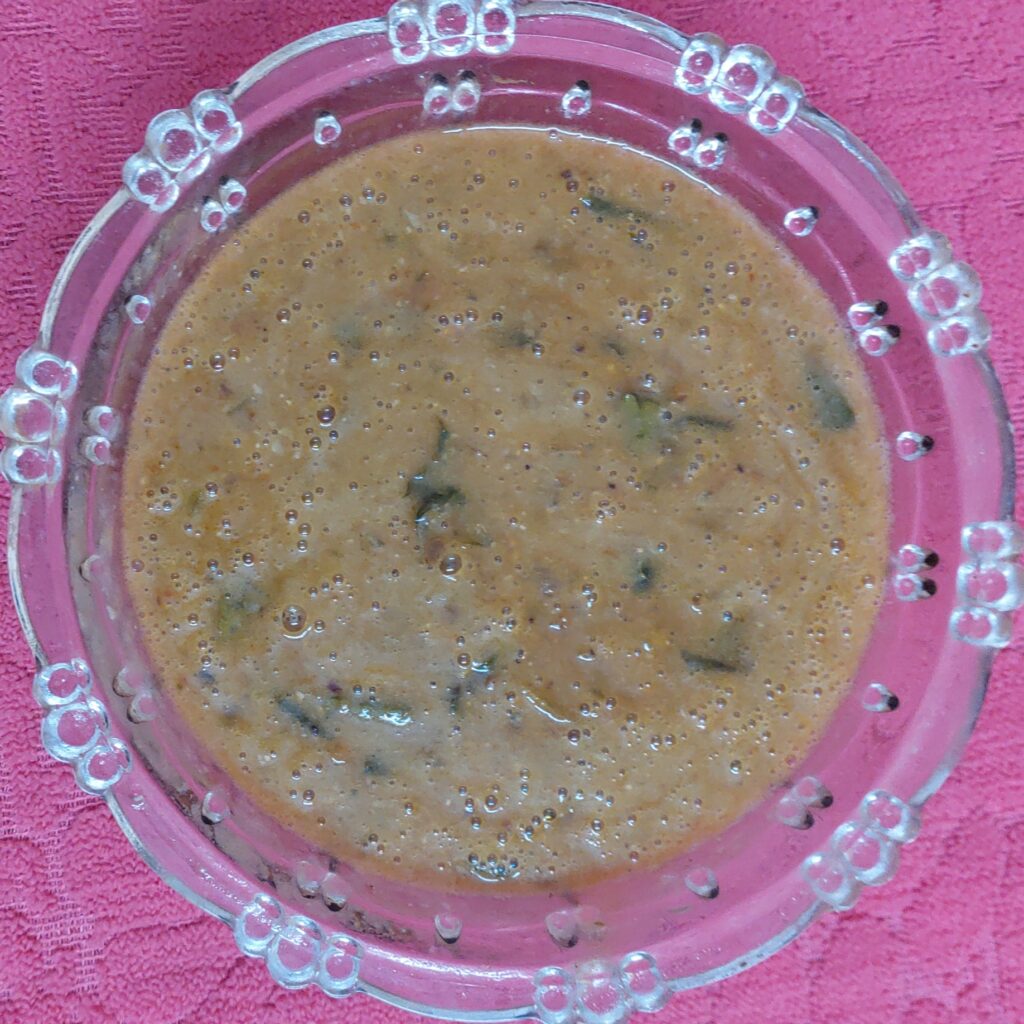 Poha:
Poha is a quick morning breakfast or evening snack prepared from beaten or flat rice flakes, greens. spices, onion, potatoes, peanuts/groundnuts and veggies according to choice.
Ingredients:
Beaten rice flakes, 3 cup amount; finely chopped young leaves, 250 kg; groundnuts,1/2 cup amount; veggies (Seed pods of peula- ghaa, Peas. carrot etc.) , 1-2 cup amount; boiled potato,1-2; mustard oil, 2 table spoons; coriander powder, 1 table spoon; fenugreek powder, ½ table spoon; cumin seed ¼ table spoon; turmeric powder, 1/4 table spoon; curry leaves,1/2 cup amount; red chilies, 2-3; chopped onions 2-4; garlic, 4-5 cloves; ginger paste ½ table spoon and salt according to taste.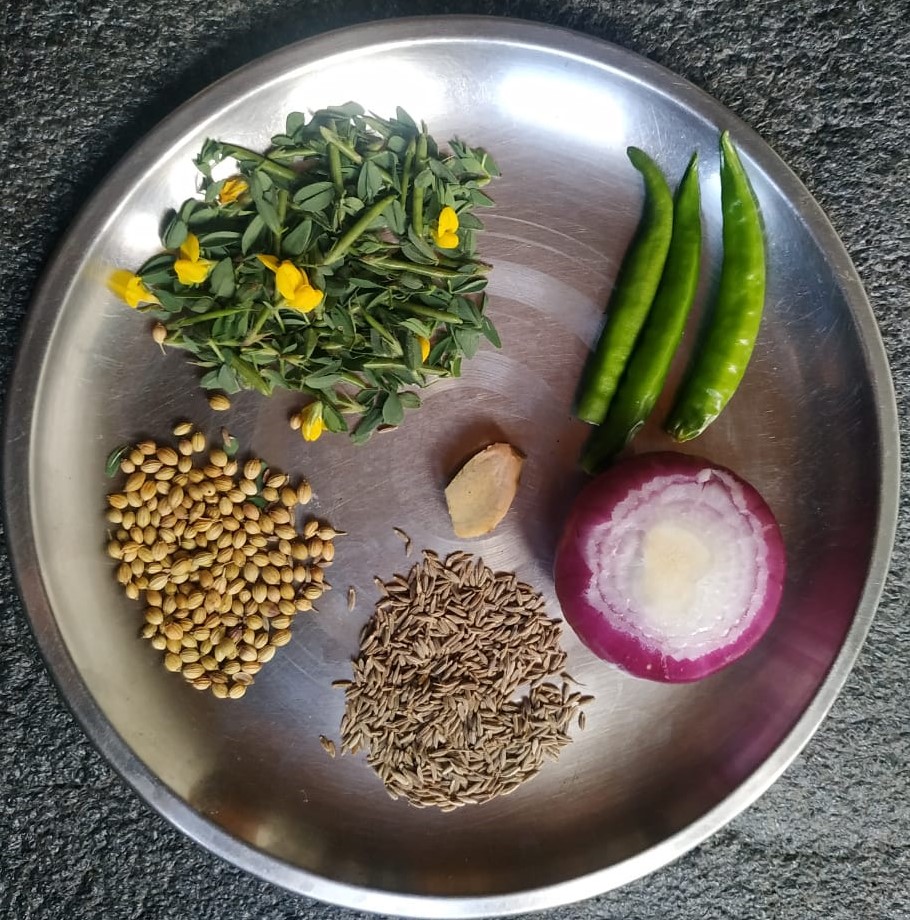 Method:
Take flakes in a strainer, pour water over them and rinse quickly. Drain water completely, rinse once more and set aside to soften. Heat oil in a pan and fry peanuts/groundnuts. Remove these and set aside in a plate. Now sauté spices in hot mustard oil in same pan and add peula- ghaa seed pods, cubed potatoes and veggies according to choice. Sauté for a minute. Cook till these are soft. Add poha mix well and cook on a very low flame until turn hot. Squeeze lemon juice. Garnish poha with roasted groundnuts or peanuts and serve with chutney.
Kachru or sosaru:
For preparing a kachru, ingredients required are 250 g above ground parts of peula- ghaa and other greens, 1/2 kg besan (black gram powder) or corn flour. 1 cup amount fresh coriander leaves,1/2 table spoon ajwain, 3-5 green chilies, ½ table spoon turmeric powder, 2-3 chopped onions and salt according to taste
Method:
Make a paste of leaves, flowers, besan or corn flour and spices.
Heat some oil on a flat heating pan. Put this paste over a pan and cook for 15 to 20 minutes then kachru will be ready to serve.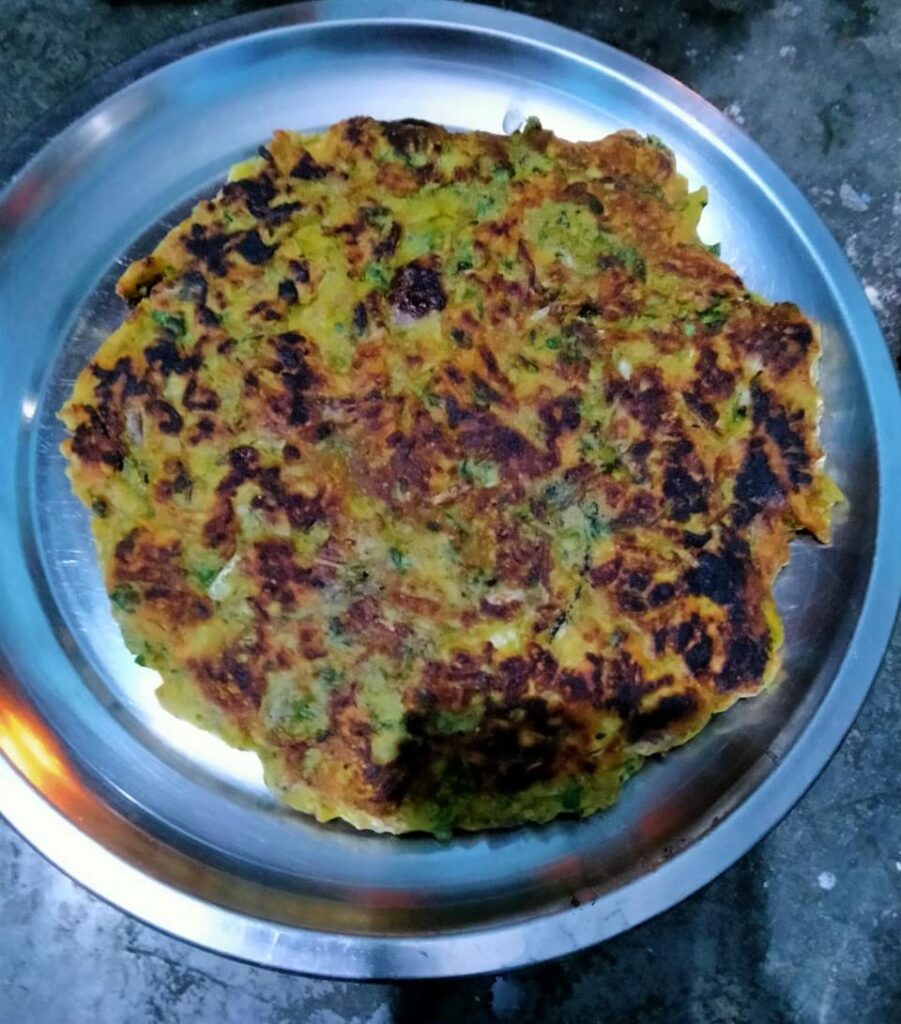 Seek professional advice before treating this plant medicinally.
Medicinal Uses:
Carminative, febrifuge, hypoglycemic, restorative, vermifuge 6. The flowers are antispasmodic, cardiotonic and sedative 7. The root is carminative, febrifuge, restorative and tonic3. The plant is used externally as a local anti-inflammatory compress in all cases of skin inflammation 7.
Other Uses:
Peula- ghaa is used as a fodder and forage plant, It can also be grown as an ornamental plant for its beautiful flowers and as a green manure and soil improver due to its ability to fix atmospheric nitrogen. An orange-yellow dye is obtained from the flowers 8. The plant's extensive root system makes it useful for binding the soil and preventing erosion 9. The plant can be used as bioremediatory to reduce boron and selenium levels in contaminated soils 10.
References:
Cooper, M. R., & Johnson, A. W. (1984). Poisonous plants in Britain and their effects on animals and man. HM Stationery Office.
Duke, J. A., & Ayensu, E. S. (1985). Medicinal plants of China (Vol. 2). Reference Publications.
Scriber, J. Mark (1 January 1978). "Cyanogenic Glycosides in Lotus corniculatus. Their Effect upon Growth, Energy Budget, and Nitrogen Utilization of the Southern Armyworm, Spodoptera eridania". Oecologia. 34 (2): 143–155.
Stuart. Rev. G. A. Chinese Materia Medica. Taipei. Southern Materials Centre
A translation of an ancient Chinese herbal. Fascinating.
Chiej. R. (1984). Encyclopaedia of Medicinal Plants.
Komarov, V. L. E. (1936). Flora of the USSR. Flora of the USSR., (6).