Family: Asteraceae
Synonym: Aster canadensis,Caenotus canadensis, Erigeron canadensis.Conyza parva,Conyzella canadensis, Erigeron myriocephalus. Erigeron pusillus, Erigeron setiferus, Erigeron strictus, Leptilon canadense, Leptilon pusillum, Marsea canadensis, Senecio ciliates, Trimorpha canadensis.
Common Name: Canada Fleabane, Horseweed, Canadian horseweed.
Local Name: Gujju ghaa (गुजू घा)
Gujju ghaa is a annual herbaceous plant of Western Himalaya commonly seen growing up to an altitudes of 3000 m. There are two plant called by the same local name gujju ghaa in Western Himalaya, but identified by two different botanical names viz. C. bonariensis and C. canadensis of family Asteraceae.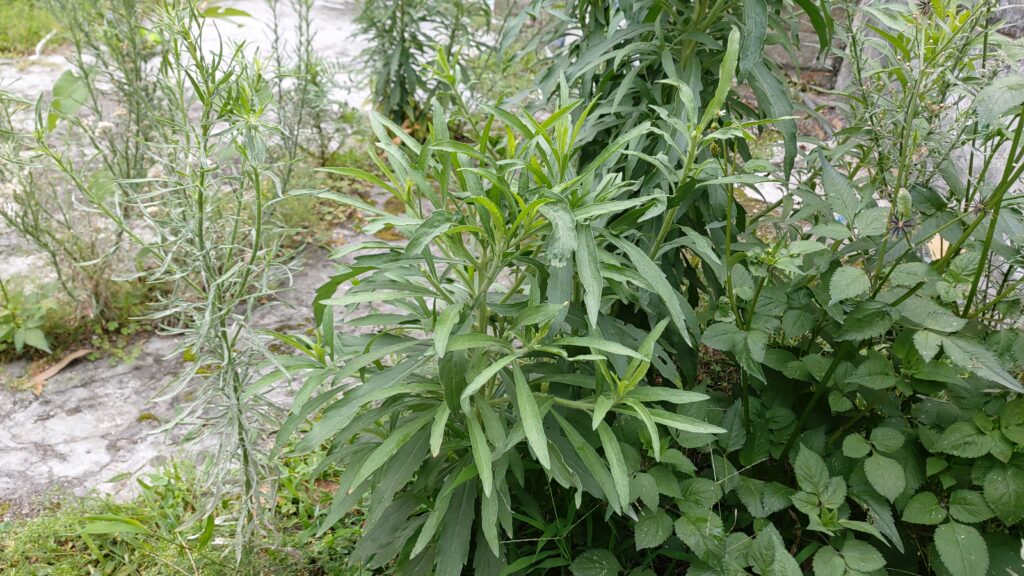 As these are closely related with each other and show quite similar appearance. C. bonariensis seems superficially similar to C. canadensis and for a layman both the plant appears same. but C. bonariensis can be distinguished from C. canadensis by its (C. canadensis) finer, glabrous, yellow-green flower heads, with distinct white ray florets on a much taller plant and broader, greener, shallowly toothed leaves or coarsely toothed margins with distinct hairs on the margins. C. bonariensis flowering starts much earlier (early April) than C. canadensis.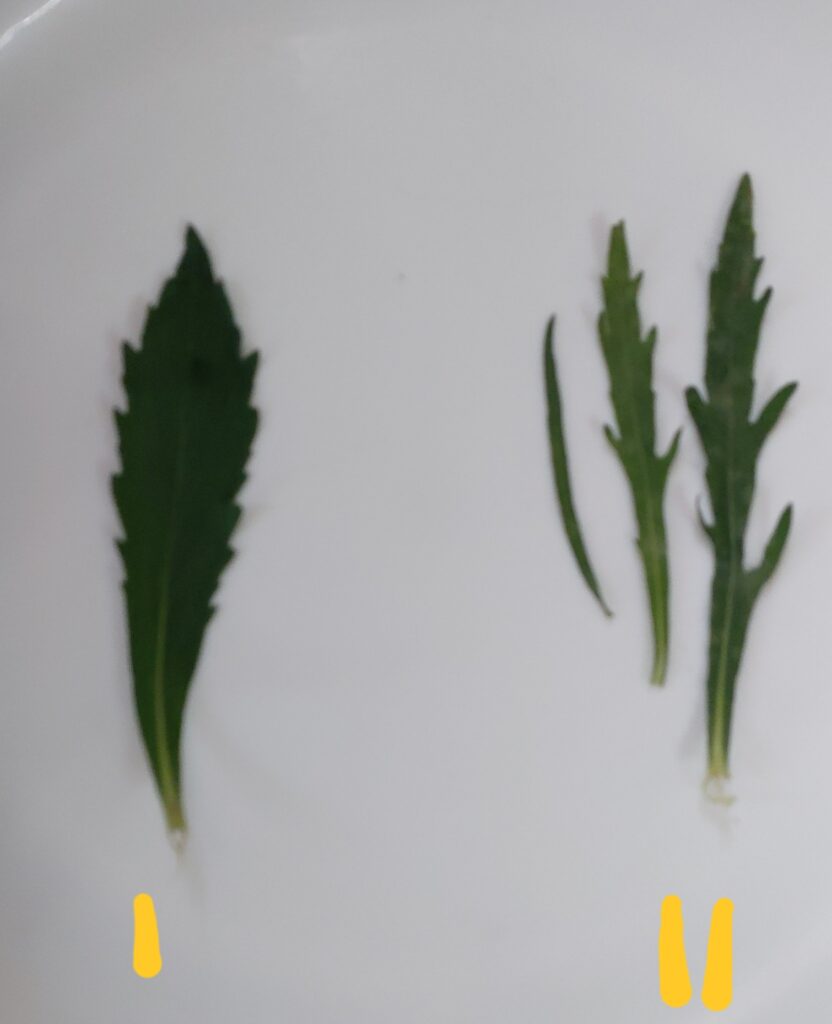 Plant we are discussing here with local name gujju ghaa is Conyza canadensis. It is found in a variety of habitat like on waste and cultivated land, walls, sandy soils, sand dunes, gardens, along roadsides, pathways and open grassy hills. Like C. bonariensis it also harbours various insect pests & if put in pet and human beds helps to keep away fleas. That's the reason provably common name Canada Fleabane and local name gujju ghaa is given to this plant.
Gujju ghaa easily propagate trough seeds and grows luxuriantly in well drained sunny habitat. Due to its luxuriant growth in garden, walls and cultivated field plant is often considered as a weed to be removed.
Yong leaves of gujju ghaa are edible and used as potherb along with other available green of the summer season. Leaves are aromatic and can also be dried for later use. Leaves are used as a food spice for its aromatic flavor in various food preparations. Whole plant is an excellent source of an essential oil that can be used commercially as a flavoring agent . For most of people gujju ghaa is a noxious weed to be removed and very few people here in Western Himalaya know about its edible uses and utilize this plant as a wild food plant.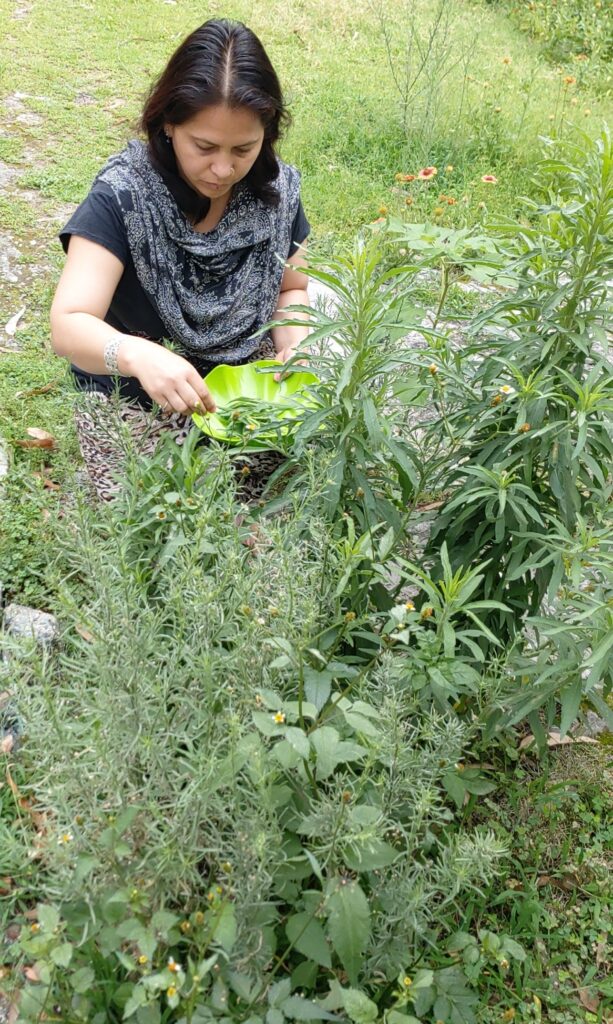 Gujju ghaa is harvested from wild habitat as a source of food, medicine and material for local personal use only.
Gujju ghaa Plant:
Plant is erect herbaceous annual with sparsely hairy stems growing upto 1-2 m tall.
Root is long taproot, stem is unbranched at the base but branched nearer the apex.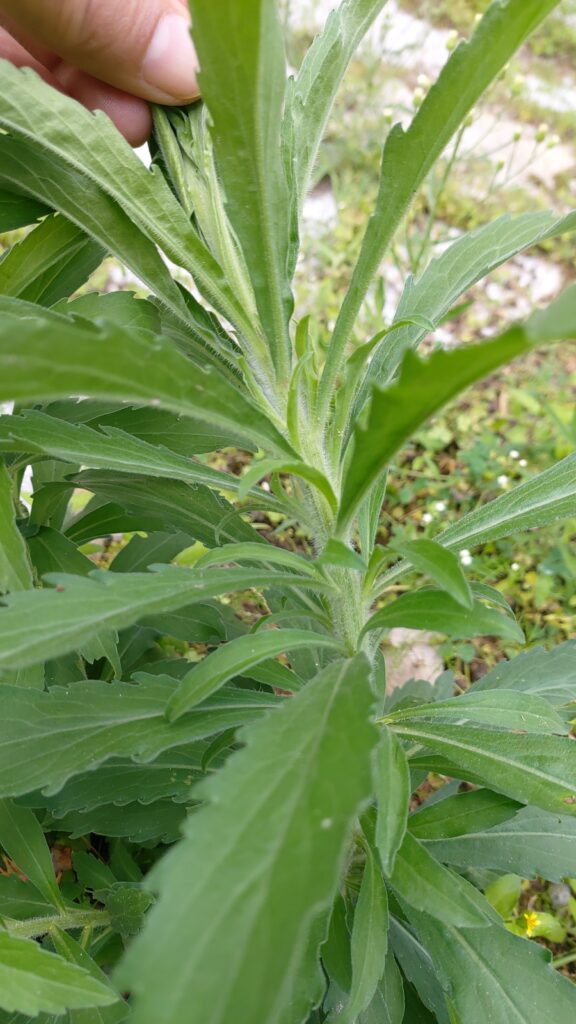 The leaves are slender, 2-10 cm long and up to 1 cm broad, with a coarsely toothed margin.
The flowers are produced in dense inflorescences 1 cm in diameter, with a ring of white or pale purple ray florets and a center of yellow disc florets, that quickly fade into silky white tufts.
Edible leaves can be harvested from pre- summer to rainy season of the year.Seeds are available from rainy to autumn period of the year.
Edible Uses:
Young leaves of gujju ghaa are cooked as potherb usually with other available green of summer season. Leaves are aromatic and can be used as a spice or condiment to flavor food items, so these can be a good addition to various food preparation like pakoras, kachru, potato fingers etc. Leaves can be dried for this purpose, to ensure their availability round the year. Seeds and seedlings are also edible and can be an addition to poha, oats and any sweet dishes.
Vegetable/ Saag:
Ingredients:
Young leaves and shoot terminals of gujju ghaa exclusively or in combination with other wild potherbs, 1 kg; mustard oil, 2 table spoons; coriander powder 1 table spoon; fenugreek powder, ½ table spoon; cumin seed ¼ table spoon; turmeric powder, 1/4 table spoon; red chilies, 2-3; chopped onions 2-4; garlic, 4-5 cloves; ginger paste ½ table spoon and salt according to taste.
For making vegetable additional ingredients required are half boiled medium sized potatoes.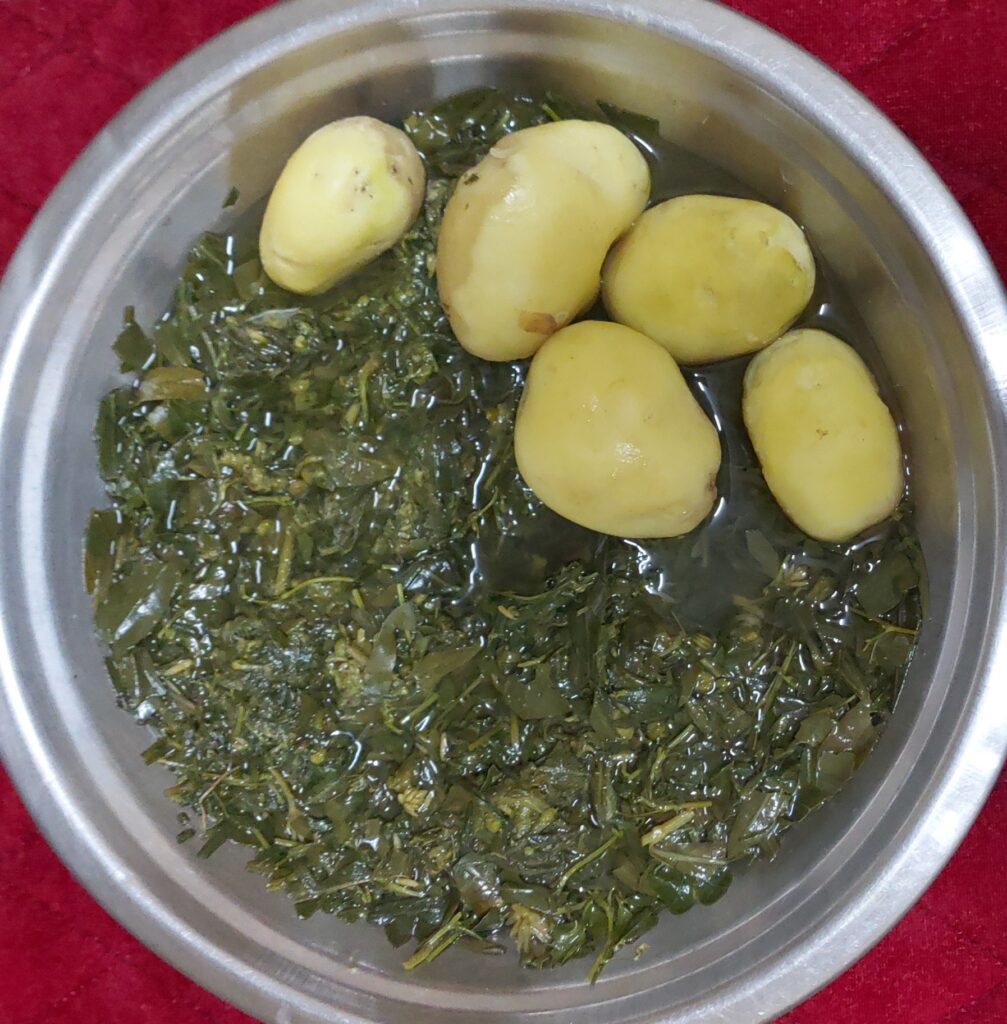 Method:
For making saag boil chopped gujju ghaa leaves they become soft. Then mesh manually or in a mixer. Then sauté with hot mustard oil and the spices listed before in sequence. This sauted saag is then ready and can be served as such or can be mixed with 2 or 3 chopped onion and cooked for another 5 to 10 minutes before serving.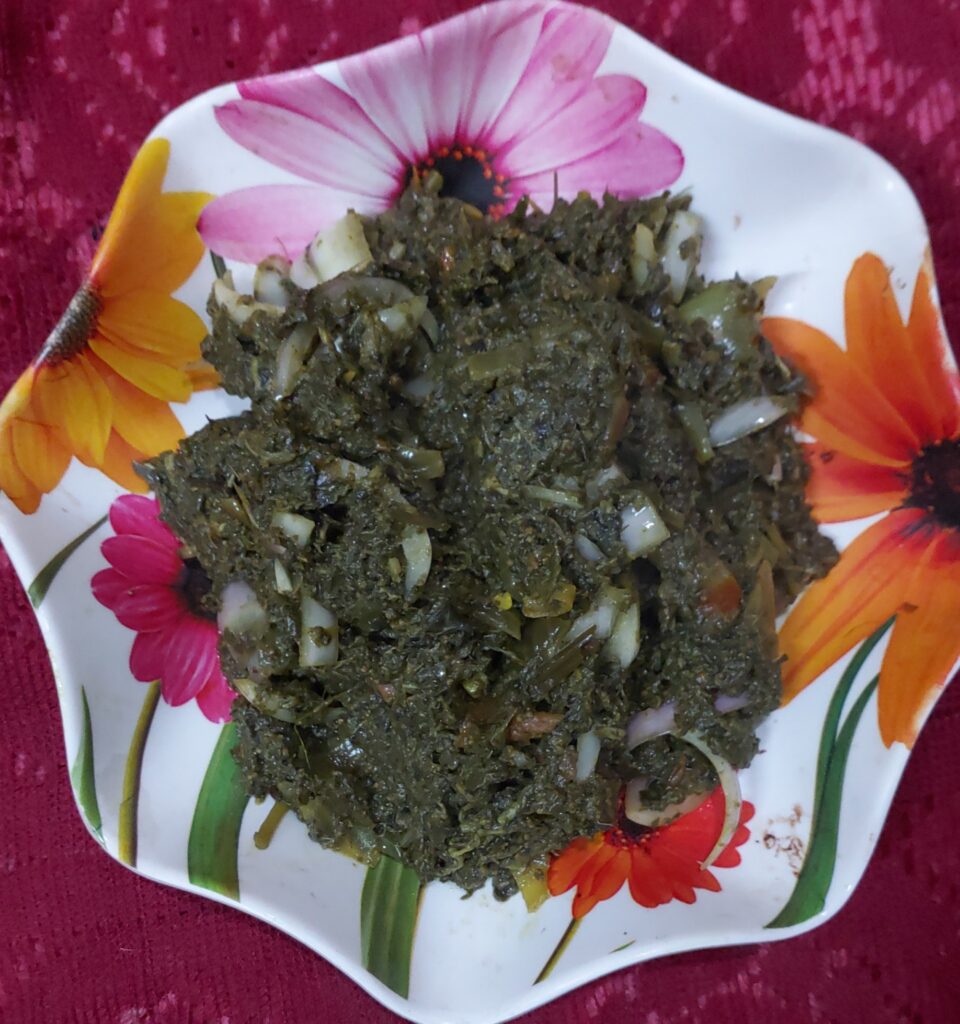 For vegetable preparation saute half boiled potato in hot mustered oil along with spices listed above in same sequence. Now add to it boiled and ground gujju ghaa leaves paste. Cook for another 5-8 minutes. Garnish with garam masala and serve with rice or chapatti.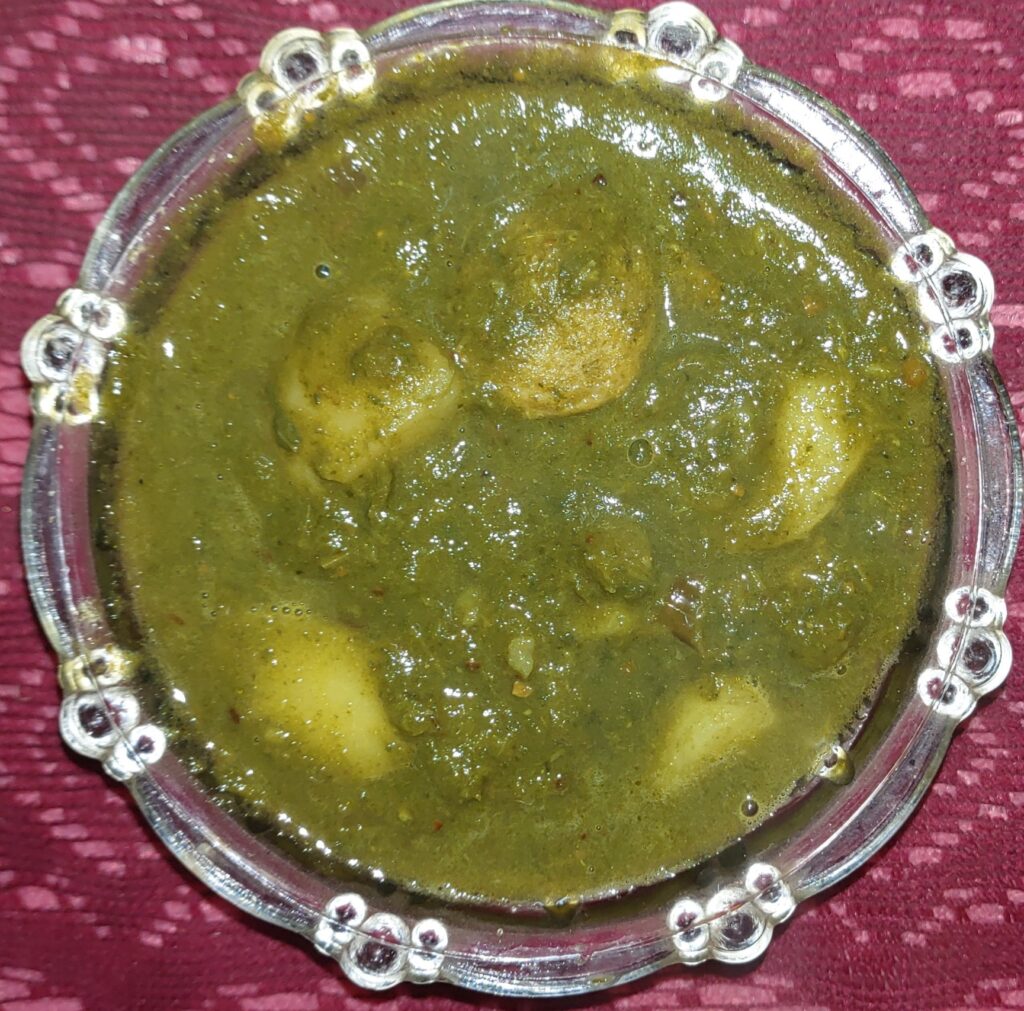 Masala oats:
Masala oats is a quick morning breakfast cooked with oats, spices with or without curd.
Ingredients:
Gujju ghaa fresh young leaves, 1-2 cup amount; oats, 3 cup amount; curd/ butter milk, cup amount; olive oil, 2-3 table spoon;3 chopped medium sized onion, 2, tomato, 1; red or green chilies, 3-4, ajwain (carom seeds), ¼ tea spoon, turmeric powder, 1/4 table spoon; black pepper, ¼ tea spoon, mint and coriander leaves,1/2 cup amount; salt according to taste.
Method:
Saute gujju ghaa leaves in hot oil with spices listed above and cook till these are soft. Add  oats and water in equal amount. Cook for 2-3 minutes and add curd/ butter milk & ajwain,  Cook till oats are soft add garam masala for garnishing. Mix well and serve.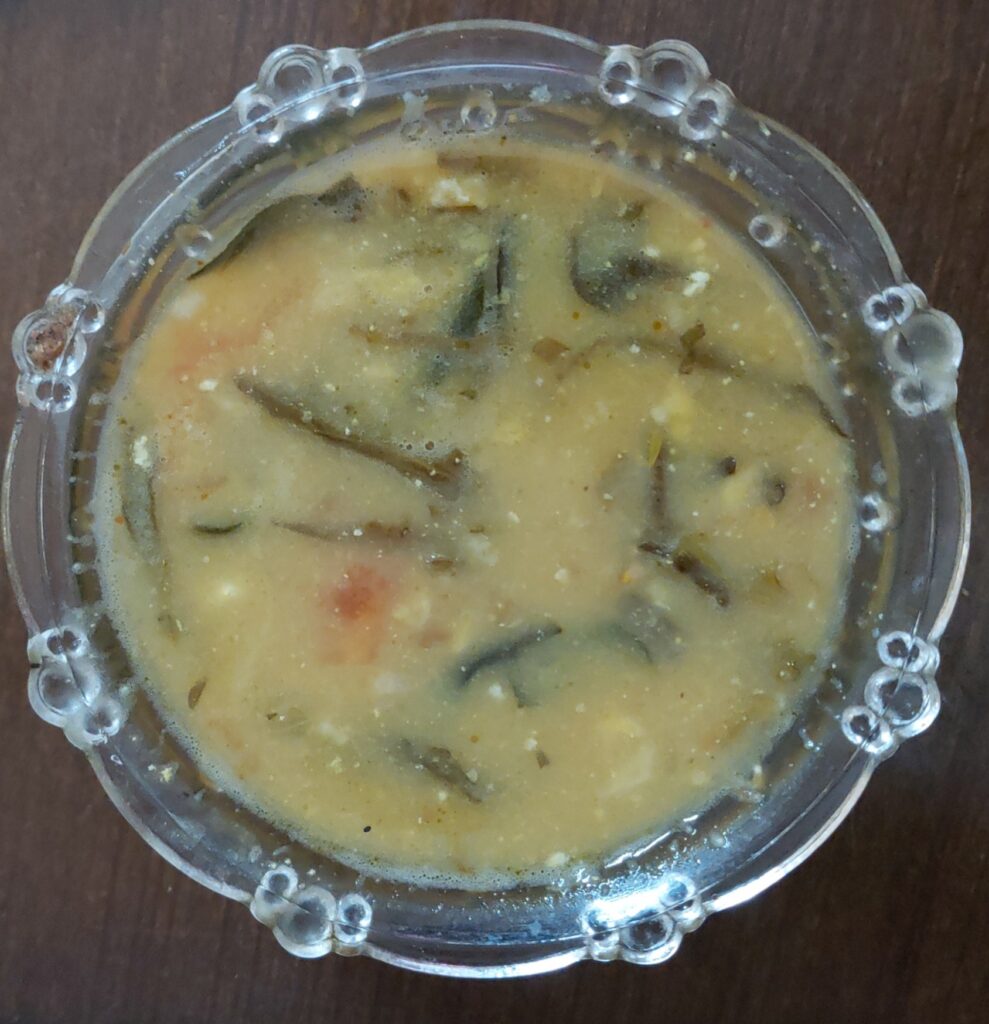 Nutrient Analysis:
Per 100g of dry weight the leaves have a small amount of protein and fat, more fiber, good amount of carbohydrates, 8.2 grams ash, 1010 mg of calcium, 280 mg phosphorus, and 2610 mg potassium. Fresh leaves contain 0.2 – 0.66% essential oil 1.
Seek professional advice before treating this plant medicinally.
Medicinal Uses:
An astringent herb, it is taken for gastro-intestinal problems such as diarrhea and dysentery. The herb is occasionally used as a diuretic for bladder problems to clear toxins in rheumatic conditions and to treat gonorrhea and other urinogenital diseases 2. It is said to be a very effective treatment for bleeding hemorrhoids 3. The whole plant is antirheumatic, astringent, balsamic, diuretic, emmenagogue, styptic, tonic and vermifuge 4,5. The leaves are experimentally hypoglycemic 6. The essential oil found in the leaves is used in the treatment of diarrhea, dysentery and internal hemorrhages 4, 6. It is a uterine stimulant and is also said to be valuable in the treatment of inflamed tonsils plus ulceration and inflammation of the throat 4.7. A tea of the boiled roots is used to treat menstrual irregularities 7.
Chemical constituents:
Plant contains a volatile oil, flavonoids, terpenes, plant acids and tannins 2.
Other Uses:
Gujju ghaa is an excellent source of an essential oil because this plant is easily available, so easy and free source for oil extraction that can be used commercially for flavoring sweets. Plant can be a good source of earning for local people. Plant is locally burn to smoke in rainy season to repel or keep away the insect.
References:
http://www.eattheweeds.com/conyza-canadensis-herb-fire-food.
Purohit SS, Sharma AK, Prajapati ND, Kumar T. (2009); A handbook of medicinal plants: a complete source book. 2:352-3.
Chevallier. A. (1996); The Encyclopedia of Medicinal Plants. Dorling Kindersley. London, ISBN, 9-780751-303148.
Grieve, M. (1984). Tansy. A Modern Herbal. Penguin Books Ltd, Middlesex, Great Britain, 789-790.
Chiej. R. (1984). Encyclopaedia of Medicinal Plants.
Duke. J. A. and Ayensu. E. S. (1985); Medicinal Plants of China reference Publications, Inc. ISBN 0-917256-20-4
Weiner, M. A. (1980). Earth medicine-earth food: plant remedies, drugs, and natural foods of the North American Indians. Macmillan.