Family: Zingiberaceae
Synonyms: Curcuma wenyujin, Curcuma zedoaria.
Common Name: Wild Turmeric
Local Name Van haldi (बन हल्दी)
Van haldi is aherbaceous perennial plant of Western Himalaya, which develop from tuberous rootstock. Its plant is commonly seen growing on open grassy slopes, hills & meadows upto an altitudinal range of 1000m in Western Himalaya. Van haldi propagate by seeds and rhizome cut section. It grows best in humus-rich, moist but well-drained sunny to partial shady habitat.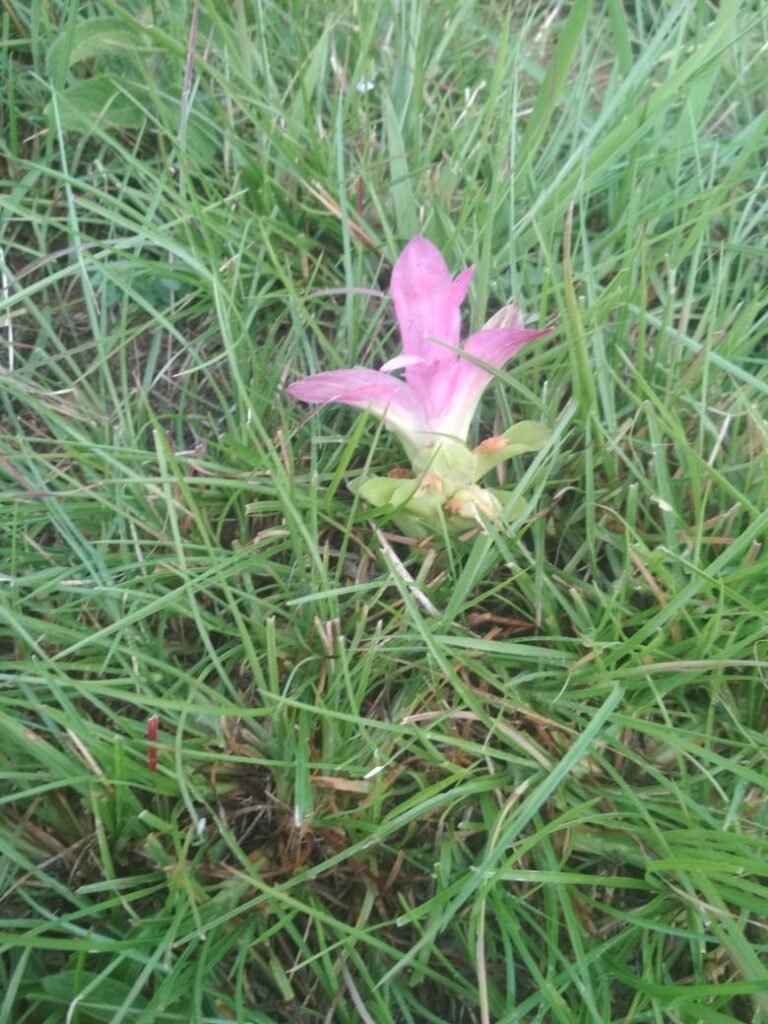 Van haldi rhizome is edible it is slightly bitter in taste, but mainly eaten to harness its rich ant cancerous, antioxidant, anti-inflammatory, antidiabetic, and wound healing properties. It is used as a tonic and can be taken both fresh or cooked. For consuming fresh rhizome juice is mixed with honey. Traditionally halwa a sweet dish is prepared from fresh van haldi rhizome that is usually taken as a medicinal food supplement. Only two to three table spoons of halwa are taken at a time to trap rich medicinal value of van haldi.
Dried rhizome is powdered and used as common turmeric substitute. Van haldi powder is employed as spice, food flavoring and coloring agent in food preparations mainly due to their exotic aroma. Oil extracted from this plant is rich source of essential oil.
Van haldi is gathered from wild as a source of food, medicine and oil. It is cultivated in many parts of world as a source of medicine and oil.
Van haldi Plant:
Van haldi is a herbaceous perennial, with tuberous rootstock producing clumps of erect, unbranched leaf stems about 1 meter tall.
Tubers are aromatic & yellow inside.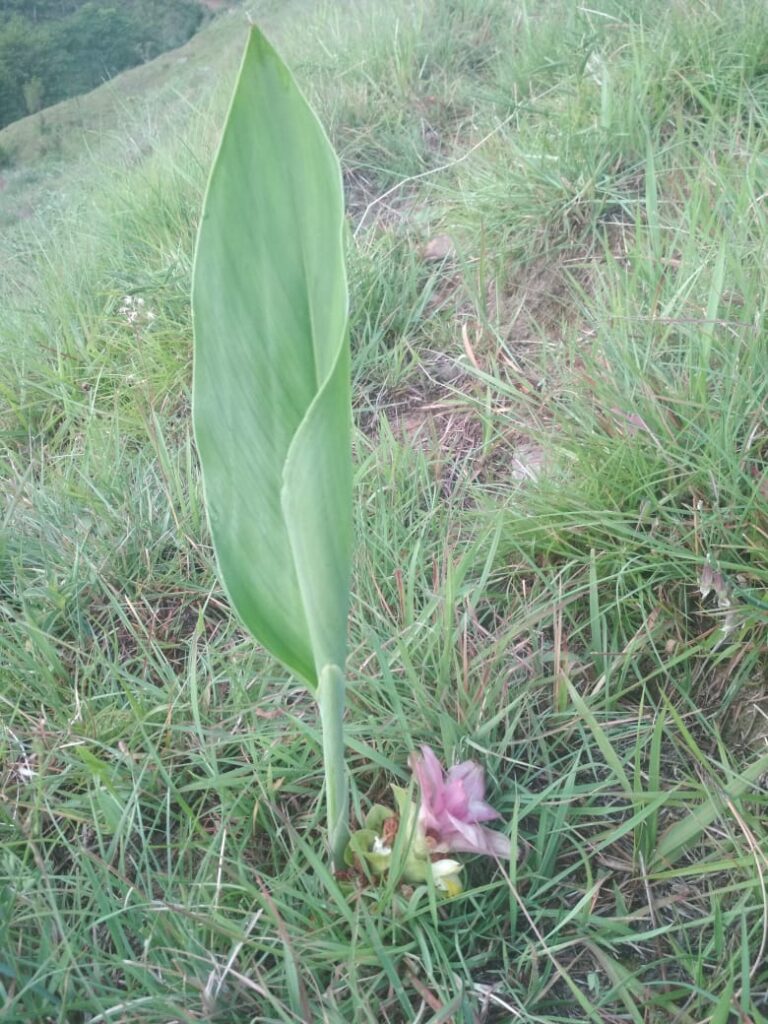 Leaves are elliptic, 90- 120 cm long and up to 20 cm wide, finely hairy beneath; leaf – stalk as long as blade.
Flowers are pinkish- white with an orange lip; dense in a leaflets spike, crowned with enlarged colored bracts, tipped with pink, and borne on a short stem with papery bracts, usually appearing before the leaves.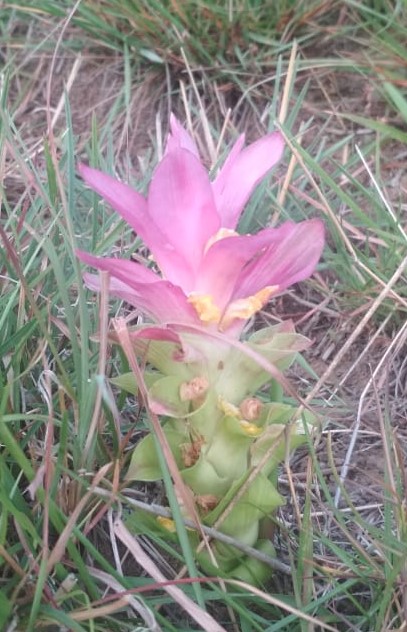 Floral bracts papery, the lower green, funnel- shaped, encircling several flowers with open in succession. Calyx short- cylindrical. Corolla tube fennel- shaped, the petals unequal, the upper concave and broader, staminodes oblong. Lip rounded with a reflexed swollen apex, obscurely 3- lobed.
Van haldi rhizome are available round the year but for ensuring sustainable harvesting rhizome are best harvested after flowering and fruiting is over (Flowering/ fruiting April- May). Generally, from summer end to spring season. These should be collected by rotating habitat.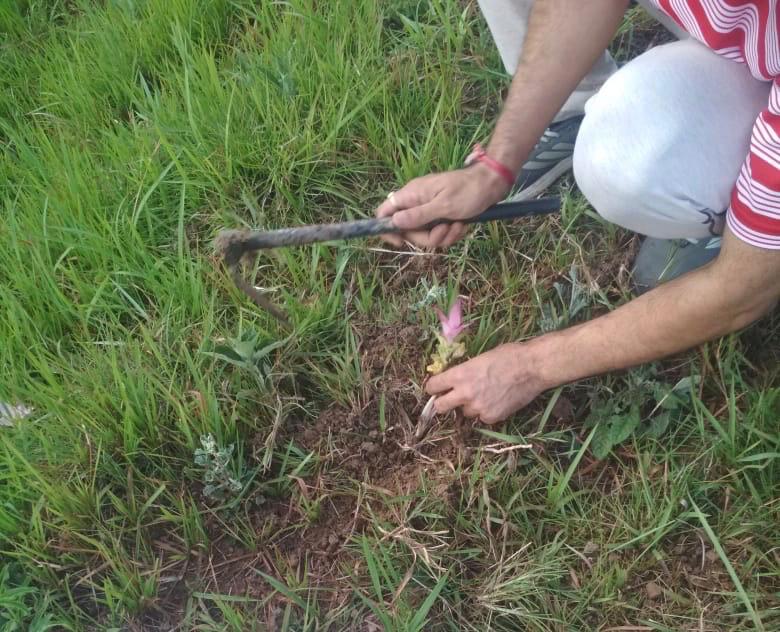 Edible Uses:
Rhizome and oil of van haldi can be employed in food preparation as a spice or flavoring agent like turmeric powder. Rhizome are boiled, dried and powdered before use. Fresh rhizome juice can be taken with honey or made into halwa as follow:
Halwa:
A sweet dish halwa is prepared from van haldi to harness its rich medicinal value. It should be taken in small amount 2-3 table spoon at a time.
Ingredients:
Van haldi fresh rhizome, 250 g, milk, 4 cup amount; wheat flour, 200g; jaggery, 200g; dashi ghee, 200 dry fruits,1 cup amount.
Method:
Peel off rhizome and ground into paste in a mixer by adding 2 table spoon water. In fry pan add two table spoon desi ghee and roast wheat flour till it turn brown. Take it out and cook van haldi paste in rest of desi ghee for 8-9 minutes or till desi ghee get separated from van haldi paste. Add to it roasted wheat flour and stir well for 5-6 minutes. Now add milk and jaggery then cook for another 5 minutes. Garnish the dish with grated dry fruits and serve.
Seek professional advice before treating this plant medicinally.
Medicinal Uses:
Rhizomes of van haldi are bitter, carminative, appetizer and tonic 1. The plant is also recognized as having strong antibiotic properties 2. These are used in combination with astringent and aromatics for bruises, sprains, and hiccough, bronchitis, cough, leukoderma, skin eruptions snakebite and antibiotic. 1,2,3,4. The rhizome is a pungent, cooling herb that improves digestion and stimulates the gall bladder and circulatory system, both checking bleeding and dissolving clots 5 .
It is used internally in the treatment of jaundice, nosebleeding, internal hemorrhage, painful menstruation, shock, chest pains associated with low liver energy, and angina 5. In Chinese medicine it is believed to play a role in preventing and curing cancer 2.
Chemical constituents:
d- camphene, 0.8; d- camphor, 2.5; sesquiterpenes, 65.5; sesquiterpenes alcohols, 22.0 acids, 0.7; and unidentified residues, 8.5 %. A sample from India yielded 9.4 % of essential oil, showing high amount of ar- curcumrne, beta- curcumene and xanthorhizol. Presence of 2- 4 methyl phenol also reported 1.
Other Uses:
Van haldi is source of oil with good composition of essential oil.
Major essential oil composition and yield (%)
Eucalyptol (53.86%), neocurdione (9.89%), linalool (4.24%), camphor (3.14–18.8%), α-terpineol (2.94%), germacrone (2.89–40.46%), α-vatirenene (34.73%), androstan-17-one (13.42%), 3-ethyl-3-hydroxy-,(5a) aromadendrene (3.97%), camphene (10.2%), 1,8-cineole (10.1%), borneol (8.2%), and ß-elemene (7.5%) 6,7,8 .
Reference
Purohit SS, Sharma AK, Prajapati ND, Kumar T. (2009); A handbook of medicinal plants: a complete source book. 2:352-3.
http://www.flowersofindia.net/
Devi, N. B., Singh, P. K., & Das, A. K. (2014). Ethnomedicinal utilization of Zingiberaceae in the valley districts of Manipur. J. Environ. Sci. Toxicol. Food Technol, 8(2), 21-23.
Chopra, R. N., Nayar, S. L., & Chopra, I. C. (1956). Glossary of Indian medicinal plants (Vol. 1, pp. 138-139). New Delhi: Council of Scientific & Industrial Research.
Bown. D. (1995): Encyclopaedia of Herbs and their Uses. Dorling Kindersley, London. ISBN,0-7513-020-31.
Angel, G. R., Menon, N., Vimala, B., & Nambisan, B. (2014). Essential oil composition of eight starchy Curcuma species. Industrial crops and products, 60, 233-238.
Chai, L., Liu, B. M., Lin, X., Li, Q. X., & Lai, M. X. (2012). Analysis of compositions of the essential oil from Curcuma aromatica by gas chromatography-mass spectrometry. Zhong yao cai= Zhongyaocai. Journal of Chinese medicinal materials, 35(7), 1102-1104.
Revathi, S., & Malathy, N. S. (2013). Antibacterial activity of rhizome of Curcuma aromatica and partial purification of active compounds. Indian journal of pharmaceutical sciences, 75(6), 732.