Family: Hypericaceae
Synonyms: Hypericum deidesheimense, Hypericum vulgare, Hypericum lineolatum, Hypericum mixtum.
Common Name: St. John's Wort, Common St. Johnswort, Hypericum, Klamath Weed.
Local Name: Basanti (बसन्ती)
Basanti is a herbaceous perennial plant of Western Himalaya. Its beautiful yellow bloom of from summer to rainy season of the year deliver a majestic scenic beauty to nature lover and a soothing long-lasting experience to the summer tourists visiting hills.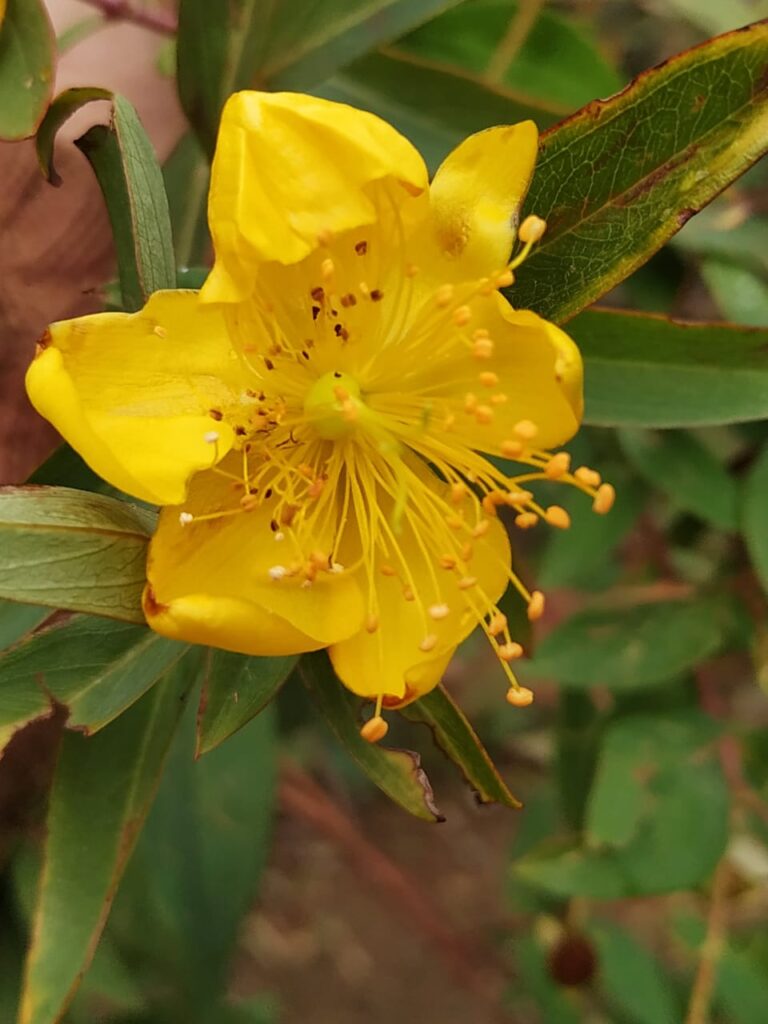 Basanti is found growing between an attitudinal range of 2000- 3200 m in Western Himalayas. It is fairly common along roadsides, pathways, in apple orchards, wastelands, open woods, hedge banks and grassland.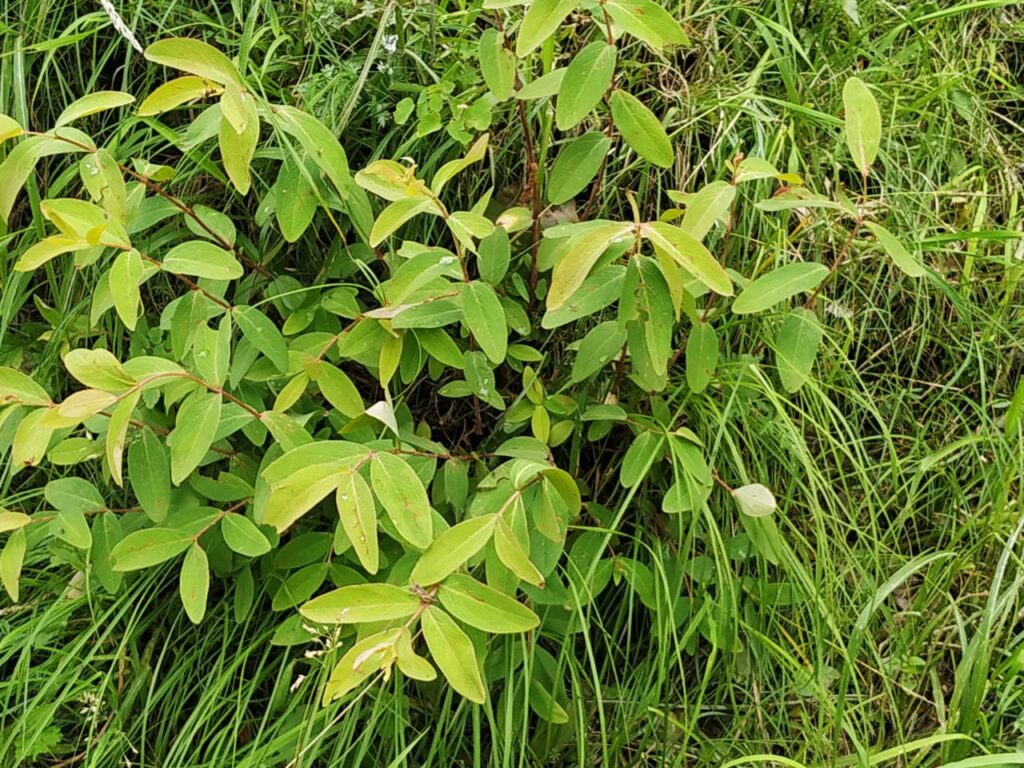 It can spread easily by seed, growth of rhizomes and rhizomes cut section. It grows best in well drained sunny habitat.
Ariel parts of basanti are edible and can be used as a food supplement both fresh and dried. These can be used in a variety of food preparation like, kachru a traditional dish made with basen & spices, pakora, rayata etc. Young leaves and fresh flowers can be eaten as tossed salad. Leaves and fruits are used in making herbal tea & local alcoholic drink to harness its medicinal properties like wound healing, antidepressant and antiviral. However, some health hazards are pointed by many researcher's like it may cause allergy and can interact in dangerous, sometimes life-threatening ways with a variety of prescribed medicines.1,2.
Basanti generally well tolerated, but may cause gastrointestinal trouble (such as nausea, abdominal pain, loss of appetite and diarrhoea) dizziness, confusion, failure, sedation, restlessness and headache 3,4,5,6. So, person already in using prescribed medicine should avoid it. Its better to use plant as a food supplement initially in small amount and check how body respond to it before its optimum use.
Basanti leaves and flowers are good source of fodder, dye and tannin. Flowers are also used to prepare healing oil.
Basanti is harvested from wild as a source of food, fodder, medicine and material for local personal uses. Basanti is very effective in homeopathy to control anxiety and depression. Acc. to a report "The Homeopathic Remedy Hypericum is considered the Arnica of the Nerves" That horrible sharp, shooting, hot pain from injuring a nerve rich area is more controllable with this plant 7.
As plant grows luxuriantly in natural habitat its commercial use needs to be encouraged in Western Himalaya, which is not in practice till date in many areas like Mandi district of Himachal Pradesh. In past few years it flung as a extremely valuable remedy for nervous problems. So, It can be good source of earning for local people of this region. Further for its sustainable harvesting its cultivation should be promoted. It can also be grown as a ornamental shrub in garden.
Basanti Plant:
Plant is erect, branched herbaceous perennial, up to 60 cm tall.
Leaves are oblong or ovate- oblong, obtuse, pellucid- punctate.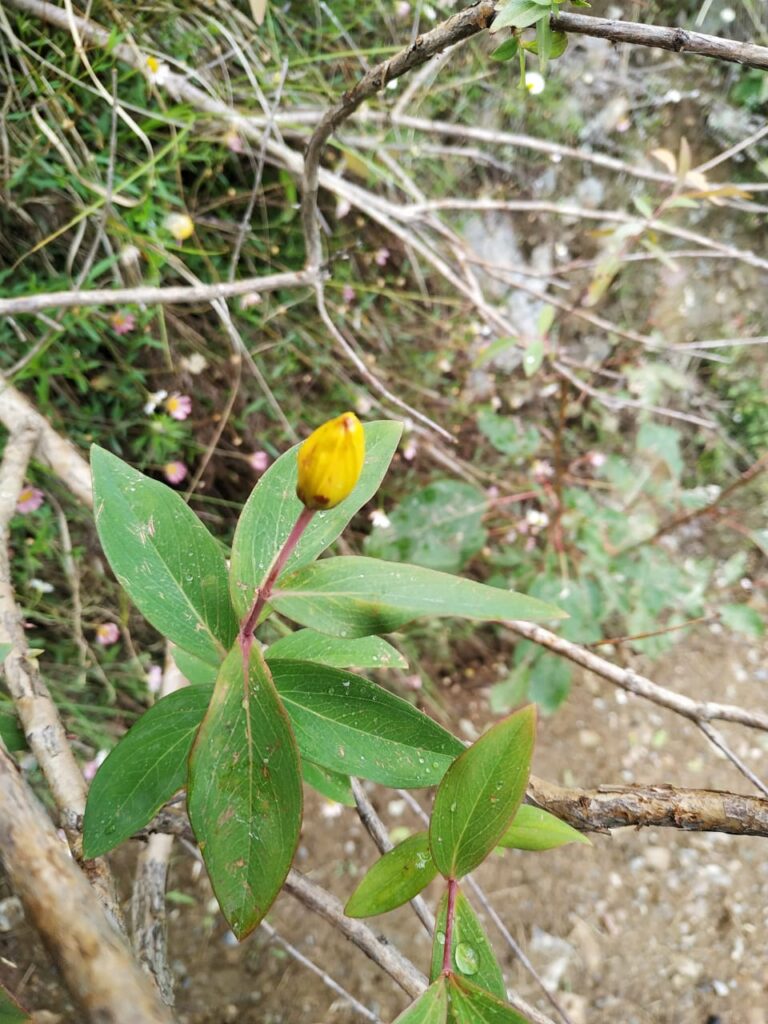 Flowers are terminal, yellow in color, corymbose cymes. Sepals narrowly lanceolate, acute. Petals punctate, black- dotted on the margins. Ovary 3- celled; style 3, twice as long as the ovary.
Capsules egg- shaped, rusty- brown, 4.5- 8.5 mm long.
Basanti young leaves can be harvested any part of year while flowers and fruits are available from summer to autumn period of the year. Sustainable harvesting should be done while harvesting flower and fruits like rotation of habitat and keeping some reproductive parts on parent plant & domestication as a garden, food or medicinal plant to ensure sustainable development.
Edible Uses:
Ariel plant parts like flower, fruits and leaves are edible. These are mainly used as a food supplement to prepare any dish like kachru, parantha, pakoras, rayata etc. both fresh and dried.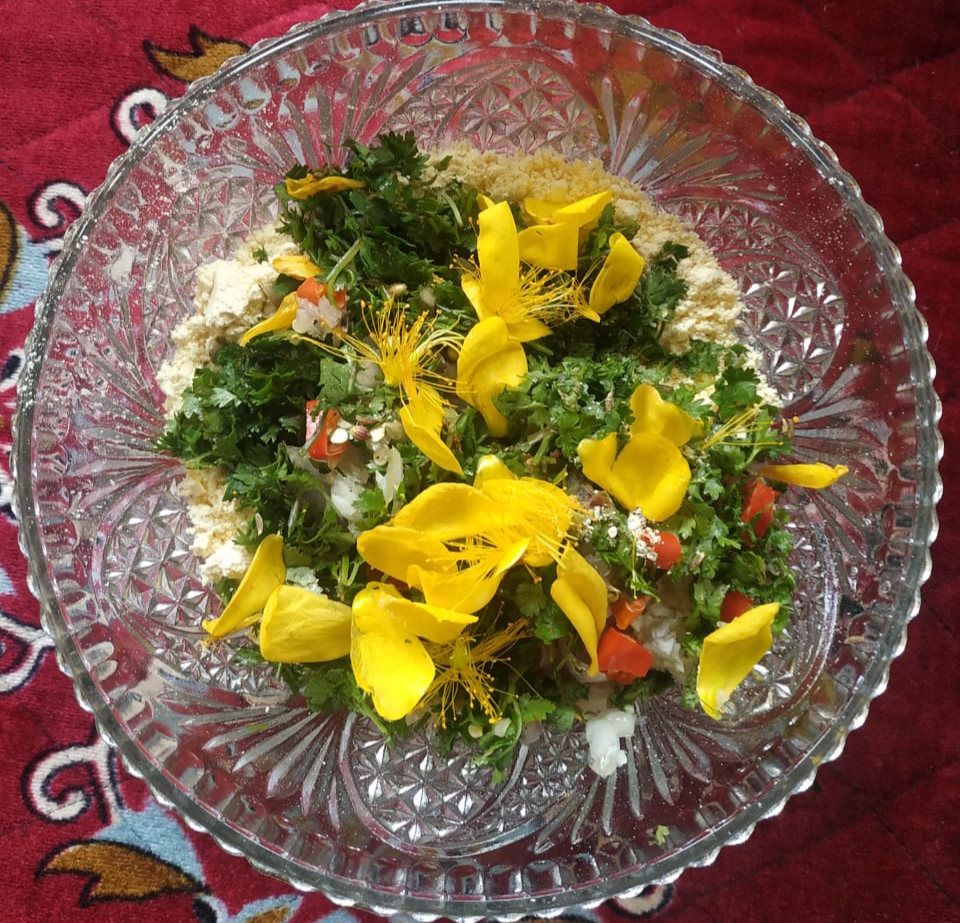 A local alcoholic drink is also prepared from Ariel plant parts are also used in preparation of both alcoholic or non-alcoholic (Herbal tea) local drink.
Kachru:
Basanti flowers, 250 g; besan (black gram flour) or corn flour, 1/2 kg; fresh coriander leaves (chopped),1 cup amount; 1/2 table spoon caraway, 3-5 green chilies, ½ table spoon turmeric powder, 2-3 chopped medium sized onions and salt according to taste.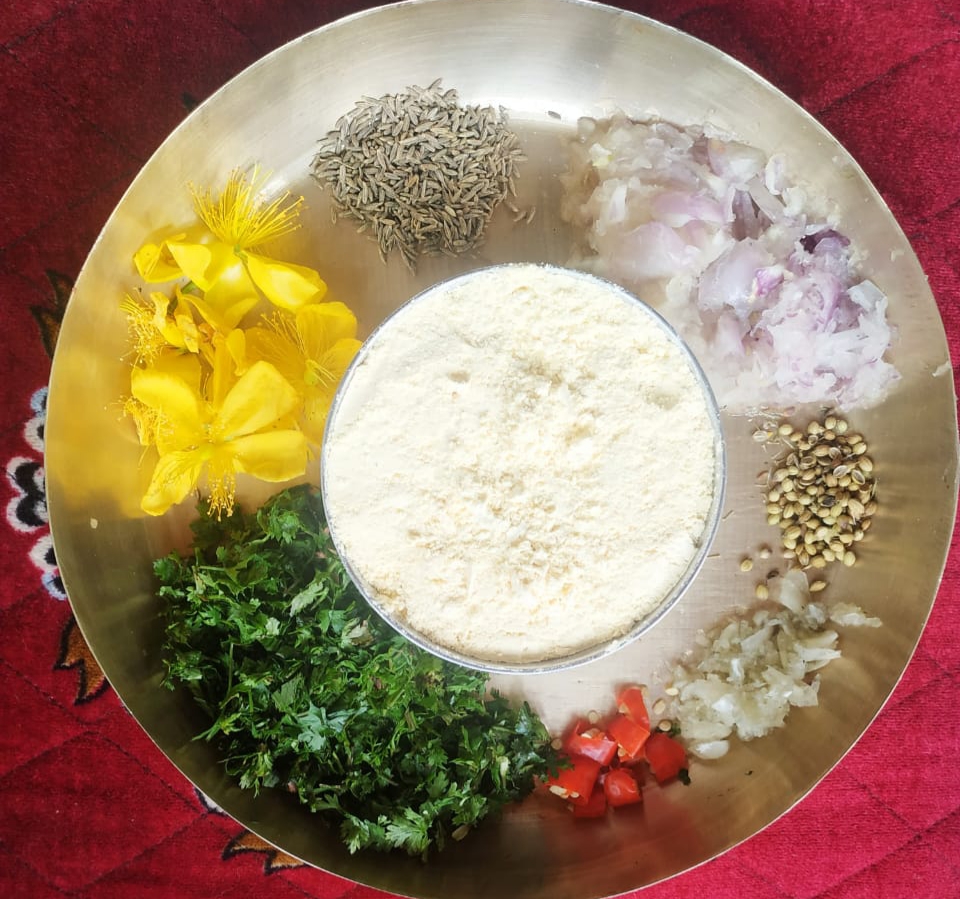 Method: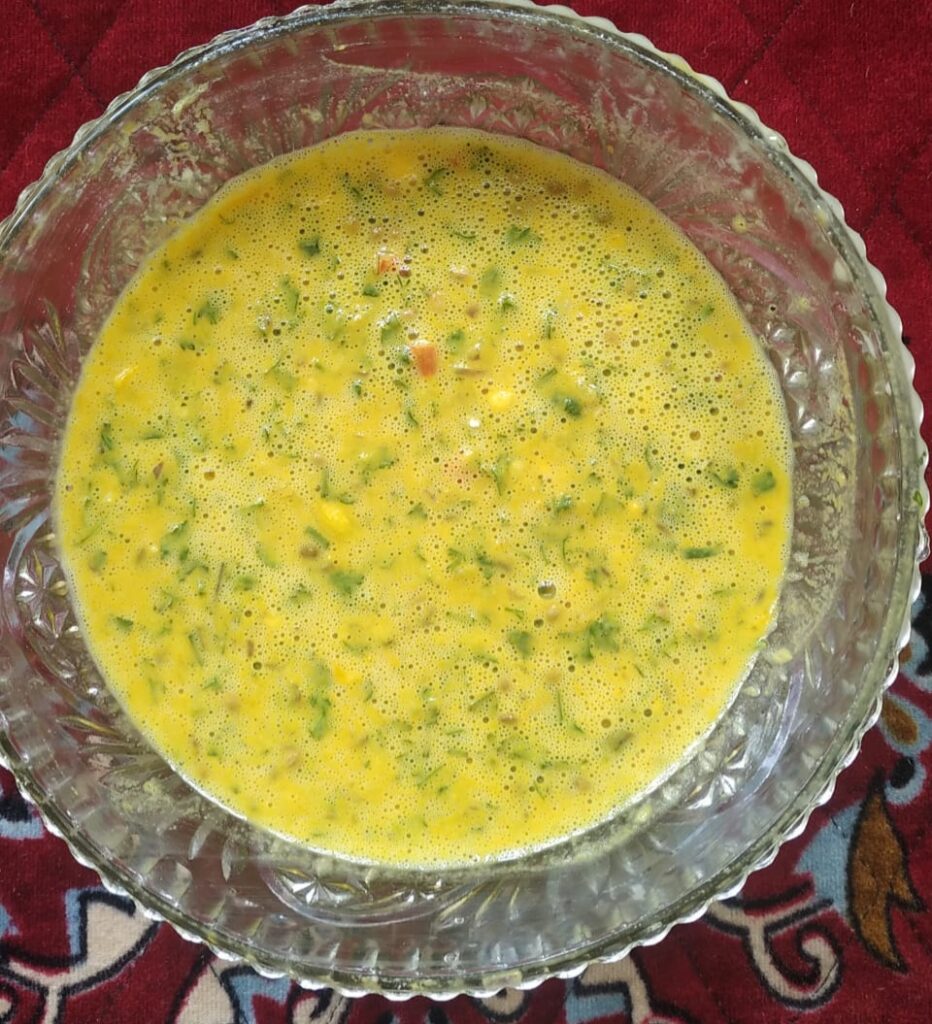 Make a paste of flowers, besan or corn flour and spices listed above. Heat some oil on a flat heating pan. Put some paste over a pan, spread paste and make it round like a bread spread.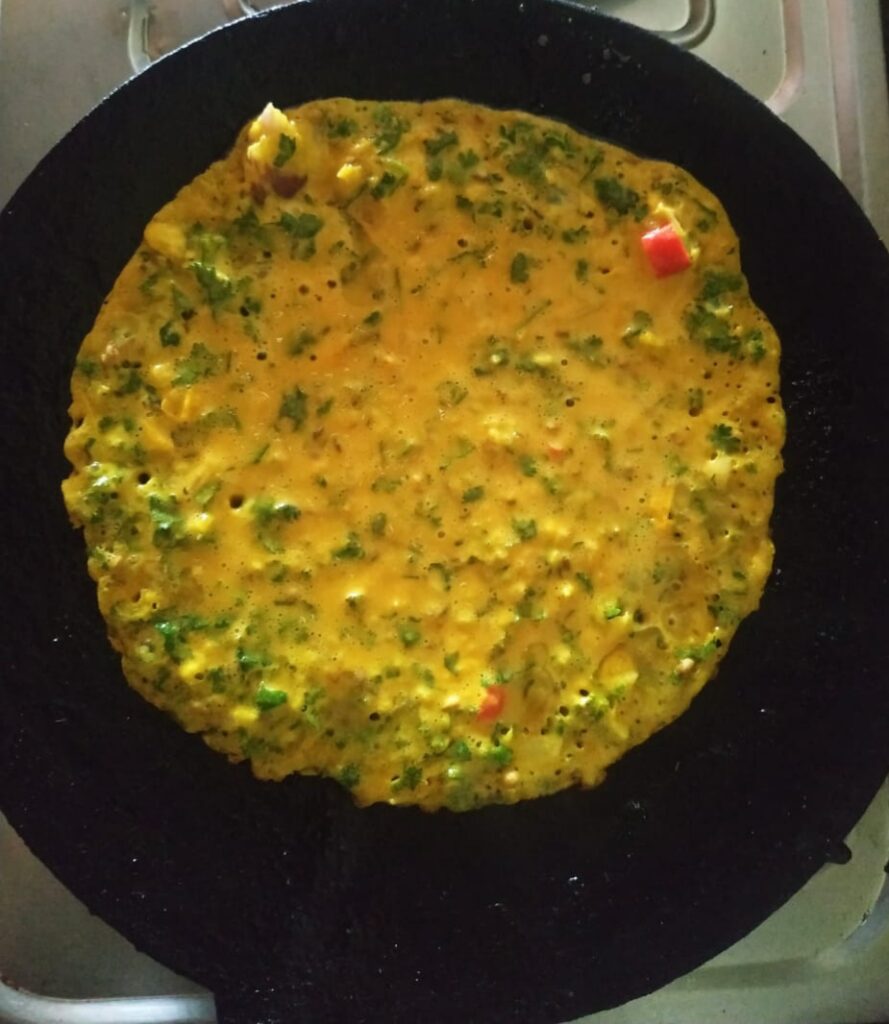 Cook from both sides for 15 to 20 minutes and kachru will be ready to serve.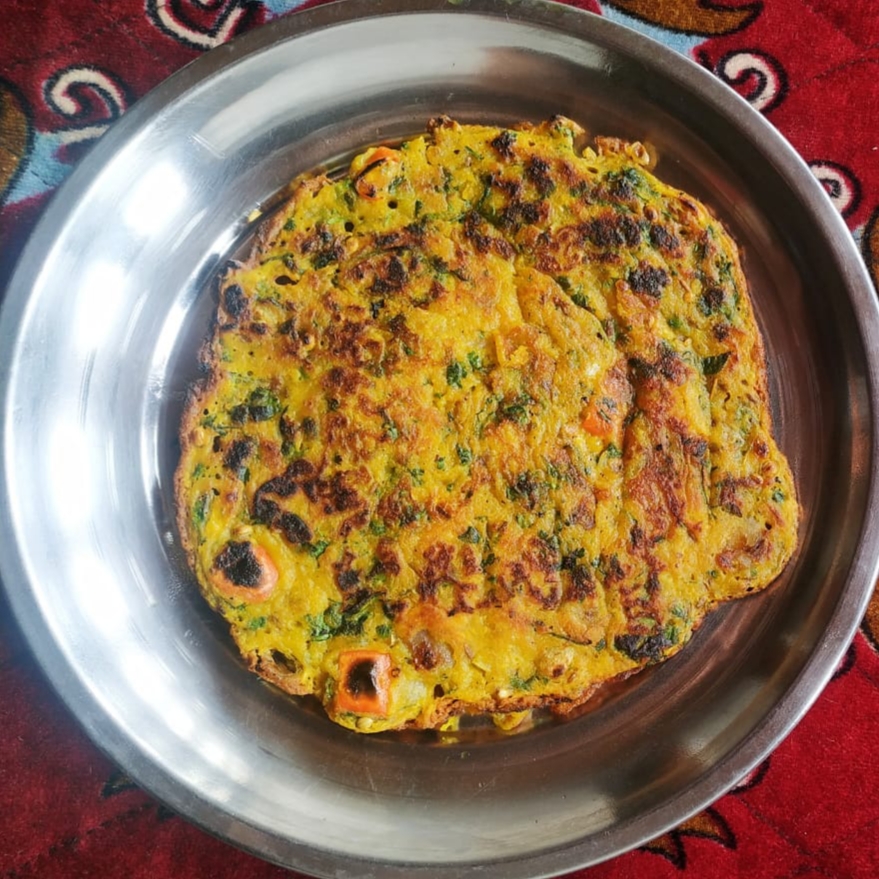 'Rayata':
Ingredients:
Flowers, 50-100 g; wild strawberry, 100 g curd, 4 cup amount; Chopped medium sized onion, 3-4, red or green chilies, 3-4, black pepper, ¼ tea spoon, black salt according to taste.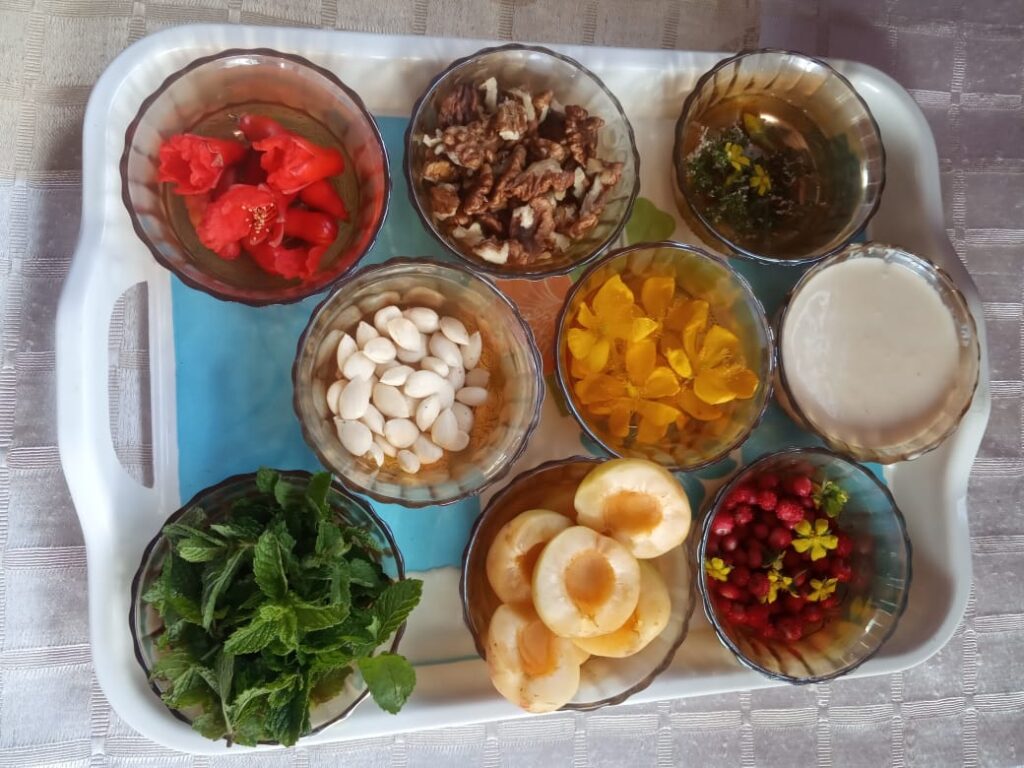 Method:
Take curd in a bowl. Add to all above in sequence. Mix well and serve.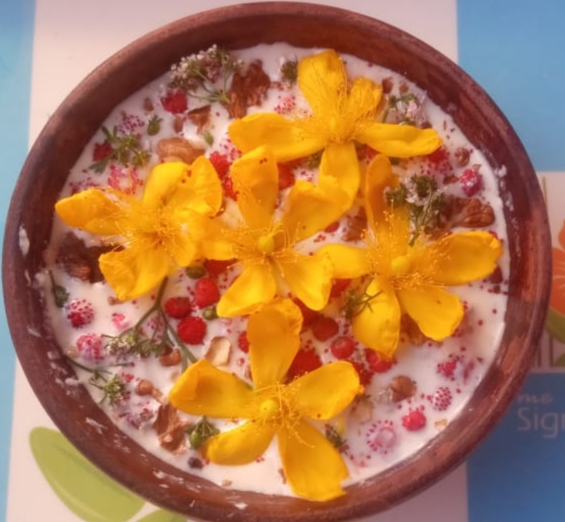 Basanti Herbal Tea:
Ingredients:
Basanti leaves, 3; water, 2 cup amount; sugar, 2 table spoons; lemon juice, 2 tea spoons.
Method:
Dice leaves and boil with water. Add sugar to it and simmer in low flame for 10 minutes. Strain into tea cups. Add lemon juice to each and serve hot.
Preparing local alcoholic Drink:
For preparing local alcoholic drink from basanti, crush ariel plant parts in pestle and mortar, mix with with jaggery/honey and yeast and placed inside a airtight container for fermentation. After 7-15 days depending upon weather condition this fermented product is ready for distillation. Distillation is usually performed in a special setup made up of two container or vessel plus outlet for distillate collection. Bottom vessel is meant for fermented mixture and top vessel or covering for vapour's collection. Covering vessel is usually sealed with dough to avoid any leakage of vapour. Distillate (alcoholic drink) is collected in glass bottles through outlet. Local people in different parts of Western Himalayas prepare this alcoholic drink for their personal medicinal use.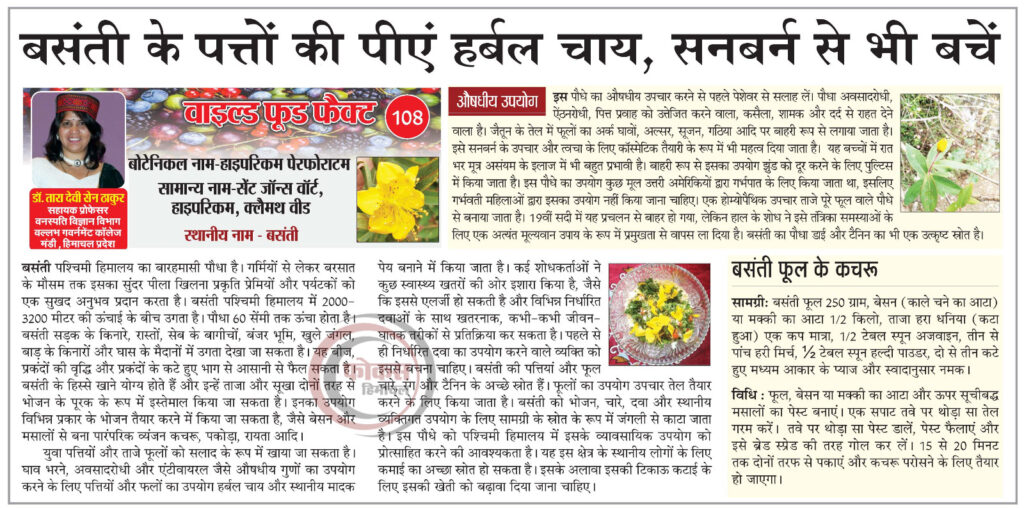 Seek Professional Advice Before Treating This Plant Medicinally.
Medicinal Uses:
Antidepressant, antispasmodic, stimulates bile flow, astringent, sedative. Relieves pain, antiviral 8. An infusion of the flowers in olive oil is applied externally to wounds, sores, ulcers, swellings, rheumatism etc 9. It is also valued in the treatment of sunburn and as a cosmetic preparation to the skin9. The herb is used in treating a wide range of disorders, including pulmonary complaints, bladder problems, diarrhoea and nervous depression 10. It is also very effectual in treating overnight incontinence of urine in children 10. Externally, it is used in poultices to dispel herd tumors, caked breasts, bruising etc10.
The flowering shoots are harvested in early summer and dried for later use 11. The plant was used to procure an abortion by some native North Americans, so it is best not used by pregnant women 12. A tea or tincture of the fresh flowers is a popular treatment for external ulcers, burns, wounds (especially those with severed nerve tissue), sores, bruises, cramps etc 13,14. The plant contains many biologically active compounds including rutin, pectin, choline, sitosterol, hypericin and pseudo hypericin 8.13. These last two compounds have been shown to have potent anti-retroviral activity without serious side effects and they are being researched in the treatment of AIDS 8,13,14. A homeopathic remedy is made from the fresh whole flowering plant 15. It is used in the treatment of injuries, bites, stings etc. and is said to be the first remedy to consider when nerve-rich areas such as the spine, eyes, fingers etc are injured 15. It fell out of favor in the nineteenth century but recent research has brought it back to prominence as an extremely valuable remedy for nervous problems 16. In clinical trials about 67% of patients with mild to moderate depression improved when taking this plant 16.
Chemical constituents:
Volatile oil, hypericin & pseudohypericin, flavonoids 8.
Other Uses
Locally plant is used as a fodder. It is also a excellent source of dye & tannin. Yellow, gold and brown dyes are obtained from the flowers and leaves 17. The plant is said to contain good quantities of tannin, though exact figures are not available 18.
Some Commercial Medicinal Product Of Basanti:
1.Hypericum Perfoliatum 30X – 250 Tablets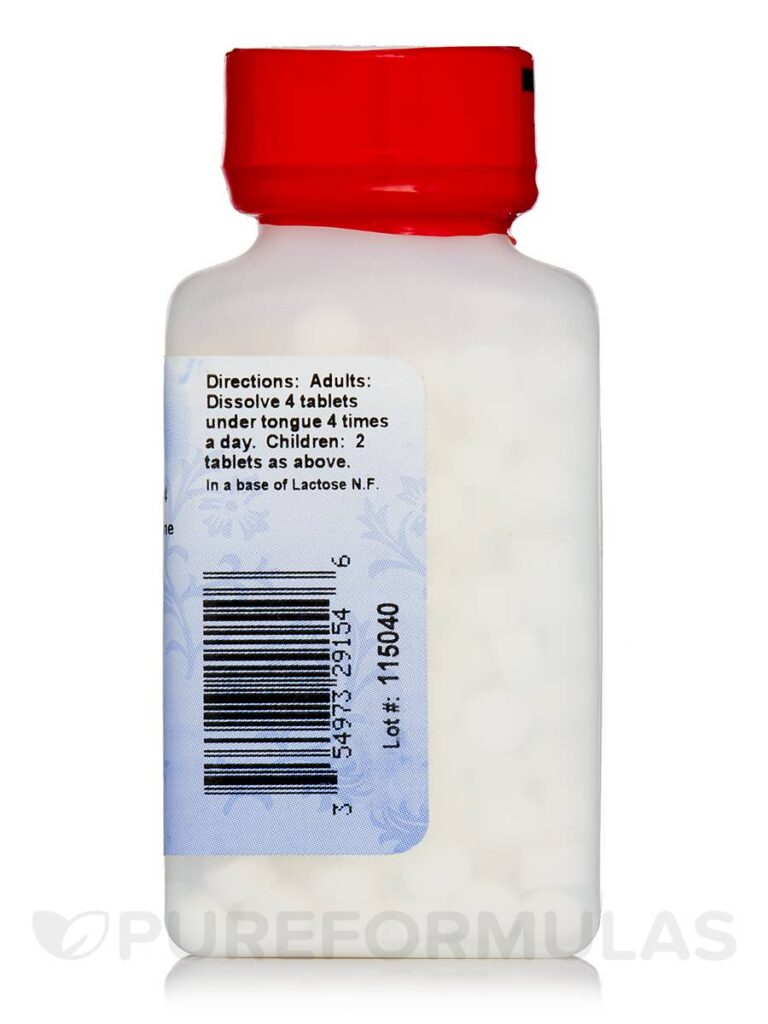 Description: Hypericum perforatum works well for healing bruises on injured parts and injuries that are rich in nerves. It has antidepressant properties and is useful for healingnerves. It improves functioning of nerves and enables quicker healing. Contains useful herbs that offer proper medication to bruises and enable them to recover. Also useful for injuries to fingertips and toenails.
Benefits:
No issue of side effects
Free from Aspirin
Can be used with other medicines
Sprains & Tendonitis
Suggestion:Adults: Dissolve 4 tablets under tongue 4 times a day. Children: 2 tablets as above.
Special Note: Nerve Injury. To be used according to label indications and -orstandard homeopathic indications.
Precaution: Do not use if cap band is missing or broken. If you are pregnant or nursing, consult a licensed health care professional before using this product.If symptoms persist for 7 days or worsen, contact a licensed practitioner.Keep this and all medicines out of the reach of children.
To be used according to label indications and/or standard homeopathic indications.
2. St. Johns Wort with Ginseng 500mg) – Kayos Naturals.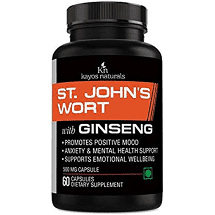 3.
SBL Hypericum Perforatum LM 0/25 (20g) : Nerve Injuries, Pain, Neuralgia, Headache,Depression,Relieves Anxiety.
4.Novel Nutrients St. Johns Worts 350mg Capsules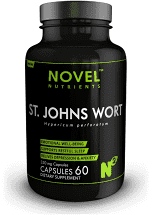 References:
1. St. John's wort". Drugs.com. 6 February 2020. Retrieved 4 April 2020.
2.St. John's Wort". National Center for Complementary and Integrative Health, US National Institutes of Health. September 2016. Retrieved 1 February 2018.
3. Ernst, E., Rand, J. I., Barnes, J., & Stevinson, C. (1998). Adverseeffects profile of the herbal antidepressant St. John's wort (Hypericumperforatum L.). European journal of clinical pharmacology, 54(8), 589-594.
4. Barnes, J; Anderson, LA; Phillipson, JD (2002). Herbal Medicines:A guide for healthcare professionals (2nd ed.). London, UK:Pharmaceutical Press. ISBN 9780853692898.
5. Parker, V., Wong, A. B. H., Boon, H. S., & Seeman, M. V. (2001).Adverse reactions to St John's wort. The Canadian Journal of Psychiatry,46(1), 77-79.
6. Greeson, J. M., Sanford, B., & Monti, D. A. (2001). St. John's wort(Hypericum perforatum): a review of the current pharmacological, toxicological, and clinical literature. Psychopharmacology, 153(4), 402-414.
7, (https://www.homeopathicremediesblog.com/remedies/hypericum).
8. Purohit SS, Sharma AK, Prajapati ND, Kumar T. (2009); A handbook of medicinal plants: a complete source book. 2:352-3.
9. Chopra, R. N., Nayar, S. L., & Chopra,I. C. (1956). Glossary of Indian medicinalplants (Vol. 1, pp. 138-139). New Delhi:Council of Scientific & Industrial Research.
10. Grieve. A Modern Herbal. Penguin 1984 ISBN 0-14-046-440-9. Not so modern
(1930's?) but lots of information, mainly temperate plants.
11. Chiej, R. (1984). The Macdonald encyclopedia of medicinal plants.Macdonald & Co (Publishers) Ltd.
12. Moerman, D. E. (1998). Native american ethnobotany. Timber press.
13. Foster, S., & Duke, J. A. (1990). Afield guide to medicinal plants: eastern and central North America. The Peterson fieldguide series (USA).
14. Bown, D. (1995). The Royal Horticultural Society encyclopedia of herbs & their uses. Dorling Kindersley Limited.
15. Castro. M. The Complete Homeopathy Handbook. Macmillan. London. 1990 ISBN 0-333-55581-3. A concise beginner's guide to the subject. Very readable.
16. Chevallier, A. (1996). The encyclopedia of medicinal plants (No.C/581.63403 C4).
17. Grae, I. (1974). NATURE'S COLORS,DYES FROM.
18. Rottsieper. E.H.W. (1946). VegetableTannins. The Forestal Land, Timber and Railways. A fairly detailed treatise on themajor sources of vegetable tannins.