Family:  Lamiaceae
Synonyms: Prunella asiatica, Prunella japonica,Prunella cinereal,Prunella hispida,  Prunella stolonifera,Prunella aequinoctia, Prunella algeriensis, Prunella alpine, Prunella angustifolia, Prunella australasica, Prunella australis, Prunella browniana, Prunella caerulea, Prunella capitellata,Prunella cordata, Prunella dissecta, Prunella elongate, Prunella fischeriana, Prunella gracillicaulia, Prunella heterophyla, Prunella hirsute, Prunella hirta, Prunella incisa, Prunella latifolia, Prunella longifólia, Prunella mariquitensis,Prunella microphylla, Prunella novae-angliae, Prunella obtusifolia, Prunella officinalis, Prunella ovata, Prunella pennsylvanica ovata, Prunella petiolaris, Prunella pratensis, Prunella purpurea, Prunella reptans,Prunella reticulate, Prunella rosea, Prunella scaberrima, Prunella sessilifolia, Prunella canadensis, Prunella caroliniana, Prunella laciniate,Prunella parviflora,Prunella pennsylvanica lanceolate,Prunella asiatica, Prunella japonica, Prunella cinereal,Prunella hispida,
Common Name: Self-heal, Common self-heal, Woundwort, Heart-of-the-earth, Blue curls.
Local Name: Neela ghoongru ghaa (नीला घूँघरू घा)
Neela ghoongru ghaa is a hairy herbaceous perennial plant bearing beautiful blue bell-shaped flowers. Local name neela ghoongru ghaa is given provably due to these blue flowers and thin curl like hairs present on the plant. Sometime plant is called commonly as Blue curl due to its appearance. Neela ghoongru ghaa is considered a sacred plant by local people, they believed that if plant is grown near to their home it keeps away the evil spirit. Plant was given name Self-heal as it was once proclaimed to be a holy herb and was thought to be sent by God to cure all ailments of man or beast 1.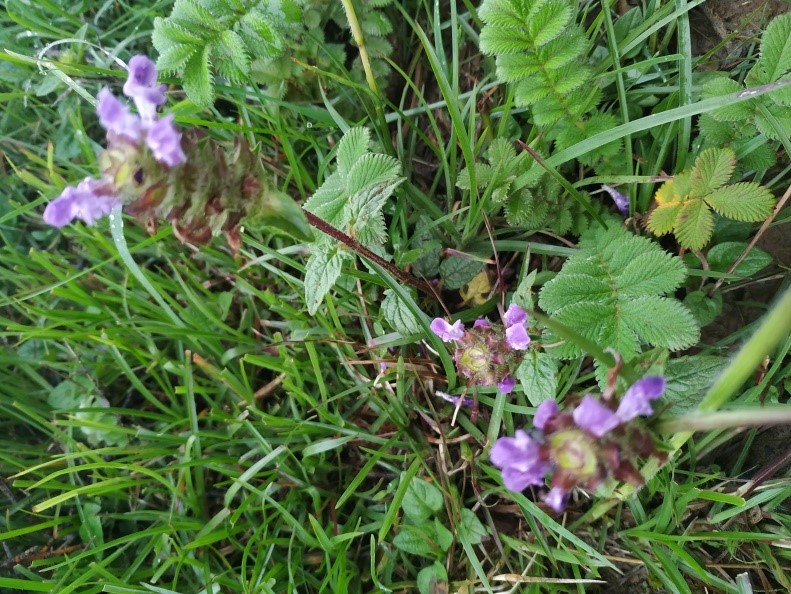 Neela ghoongru ghaa is a frequent plant of Western Himalaya and commonly seen growing in meadows and open slopes in waste ground, grassland, woodland edges upto an altitudinal range of 2000- 3600 m. This plant easily propagates through seeds and grow luxuriantly in damp soil with full sunny to light shady places.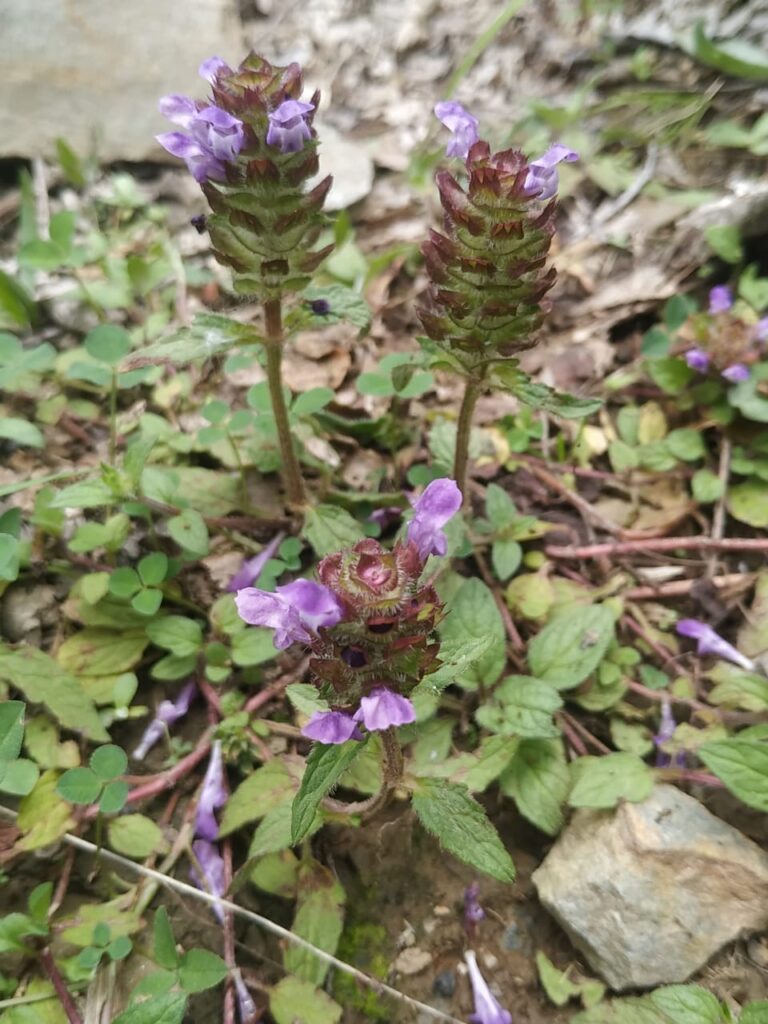 All the parts of neela ghoongru ghaa are edible and can be eaten both fresh and dried. Young green leaves and stem are boiled and made into a leafy vegetable saag in addition with other greens. Above ground plant parts are an excellent addition to soup, salad, parantha, kachru, pakoras, sambar etc. Roots are used both fresh and dried in tea or beverage making to harness rich medicinal value of this plant.
Neela ghoongru ghaa is harvested from wild for local personal use as a source of food, fodder and medicine.
Ghoongru ghaa plant:
Plant is erect or ascending, thinly hairy, perennial herbs, 10- 30 cm tall. Leaves petiolate, opposite, ovate or oblong, entire or toothed, 2.5- 5 cm long.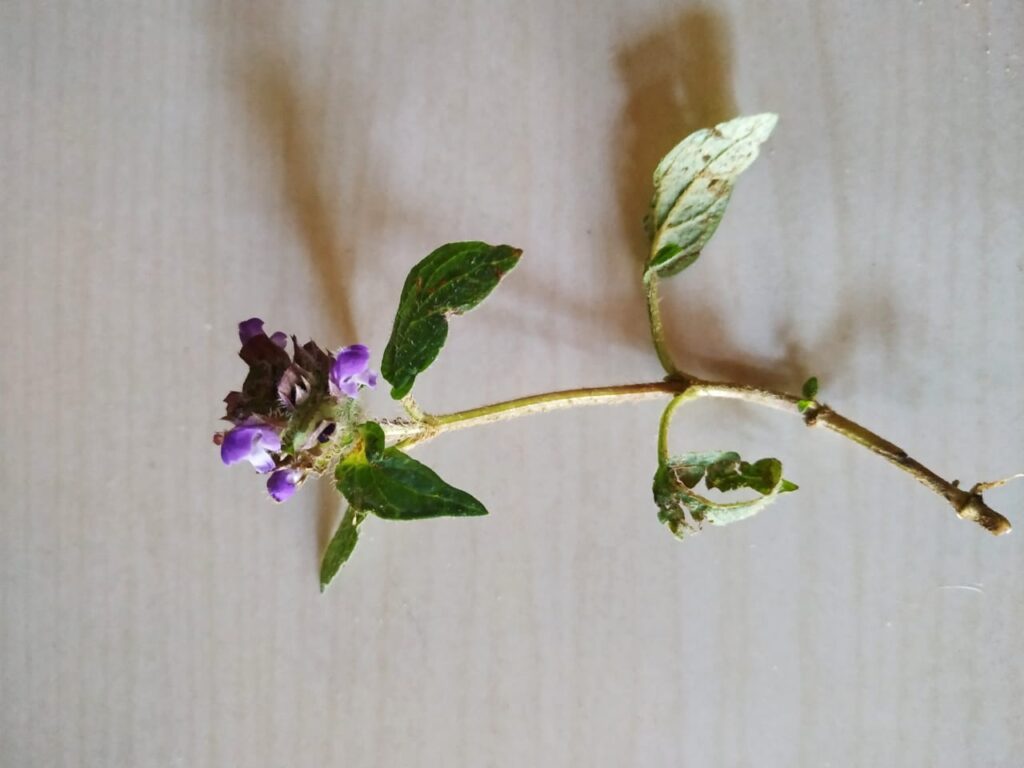 Flowers bright blue – violet or pinkish, ca 1.5 cm long, diamorphic, in whorls of 6, crowded in erect, cylindric, terminal spikes 2,5- 5 cm long; bracts leaf –like, ovate, purplish, overlapping. Calyx tinged with purple, bell- shaped, 2- lipped, the throat closed after flowering. Corolla 2- lipped; upperlip hooded, notched; lower spreading, 3- lobed. Stamens 4, in unequal pairs.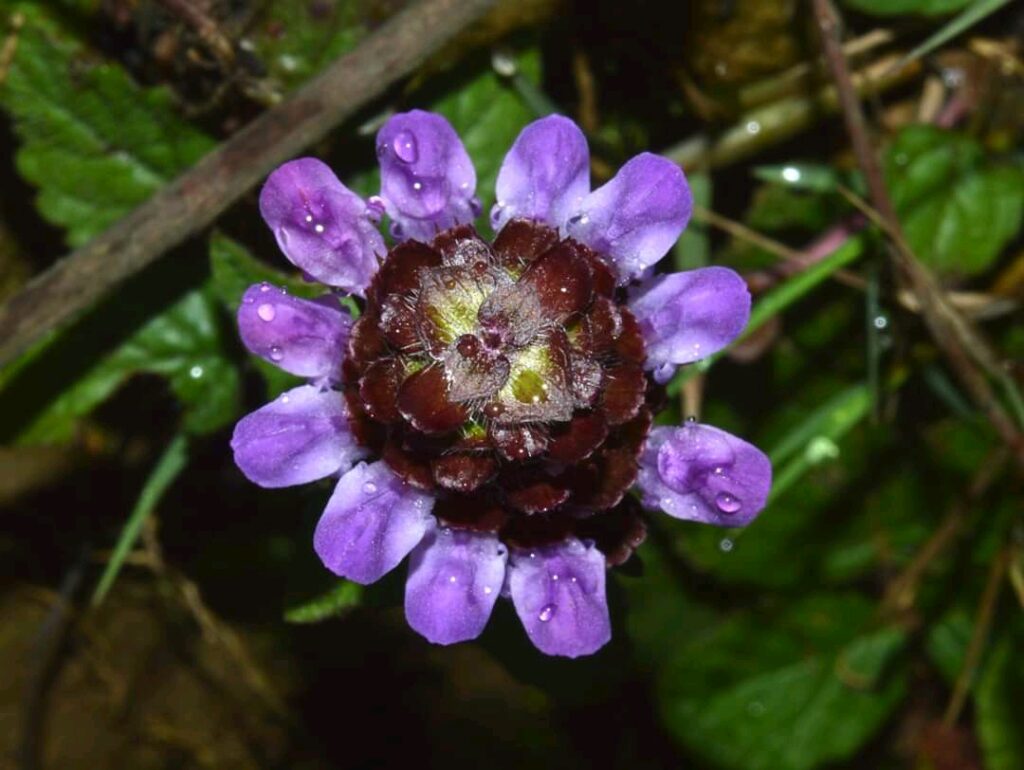 Nutlets oblong, smooth.
Edible leaves and roots are available throughout the year while flowers and fruits can be collected from summers to autumn season of the year. Roots should be harvested sustainably for ensuring sustainable development.
Edible Uses:
Leaves, roots, stem and reproductive parts of plant all are edible and can be taken as vegetable, tea, refreshing summer drink etc. Above ground plant parts are an excellent addition to soup, kachru, sambar, pakoras etc.
Saag:
Ingredients:
Above ground parts of neela ghoongru ghaa, and other wild potherbs, 1 kg; mustard oil, 2 table spoons; coriander powder 1 table spoon; fenugreek powder, ½ table spoon; cumin seed ¼ table spoon; turmeric powder, 1/4 table spoon; red chilies, 2-3; chopped onions 2-4; garlic, 4-5 cloves; ginger paste ½ table spoon and salt according to taste.
Method:
Boil chopped plant parts they become soft. Then mesh manually or in a mixer. Then sauté with hot mustard oil and the spices listed before in sequence. This sauted saag is then ready and can be served as such or can be mixed with 2 or 3 chopped onion and cooked for another 5 to 10 minutes before serving.
Siddu:
Siddu is a healthy delicious steam cooked dish of upper region of Western Himalayas
Ingredient:
Wheat flour, 3 cup amount; walnut seed, ½ cup amount; yeast ½ tea spoon; medium sized onion, 1; coriander powder, 1table spoon; red or green chilies, 4-5; chopped ariel plant parts of neela ghoongru ghaa and coriander leaves, 4 cup amount and salt according to taste.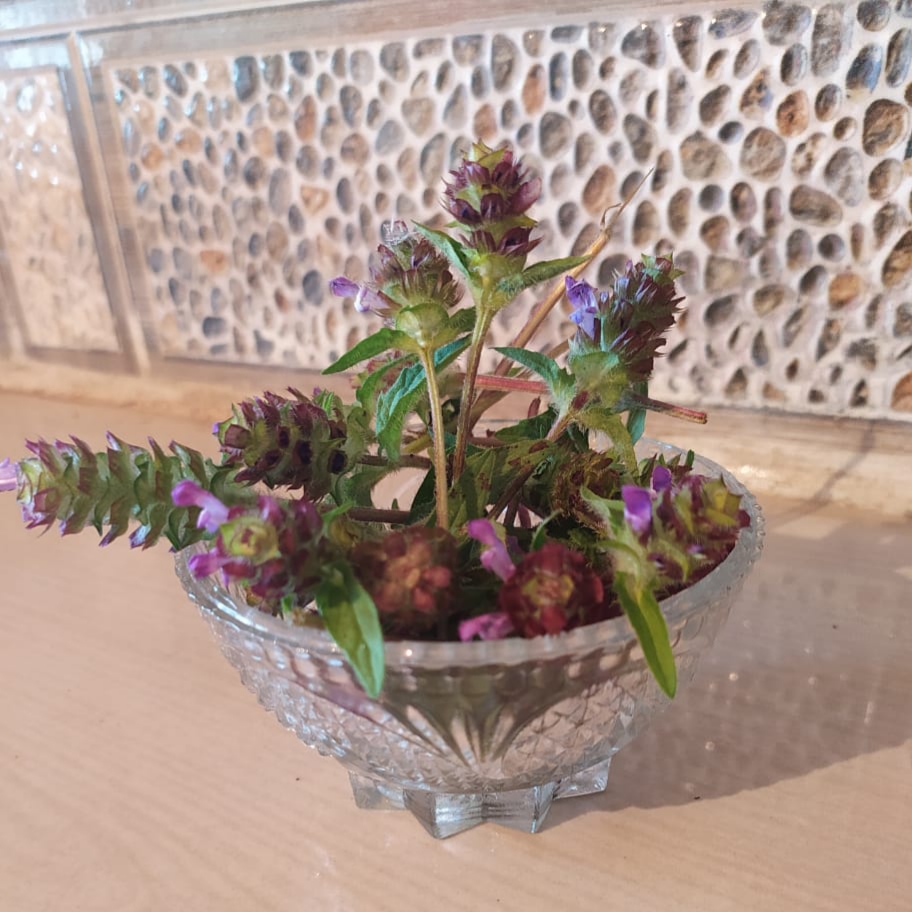 Method:
Dip yeast in half cup of water for 3-5 minutes. Add it to wheat flour along with one cup of warm water and then make its dough. Keep this dough for 3-4 hour and if weather is cool then cover dough with warm cloth. Dip walnut seed in water for 3 hour and grind dipped seed along with onion, chopped neela ghoongru ghaa plant parts, coriander leaves and chilies into paste for stuffing siddu.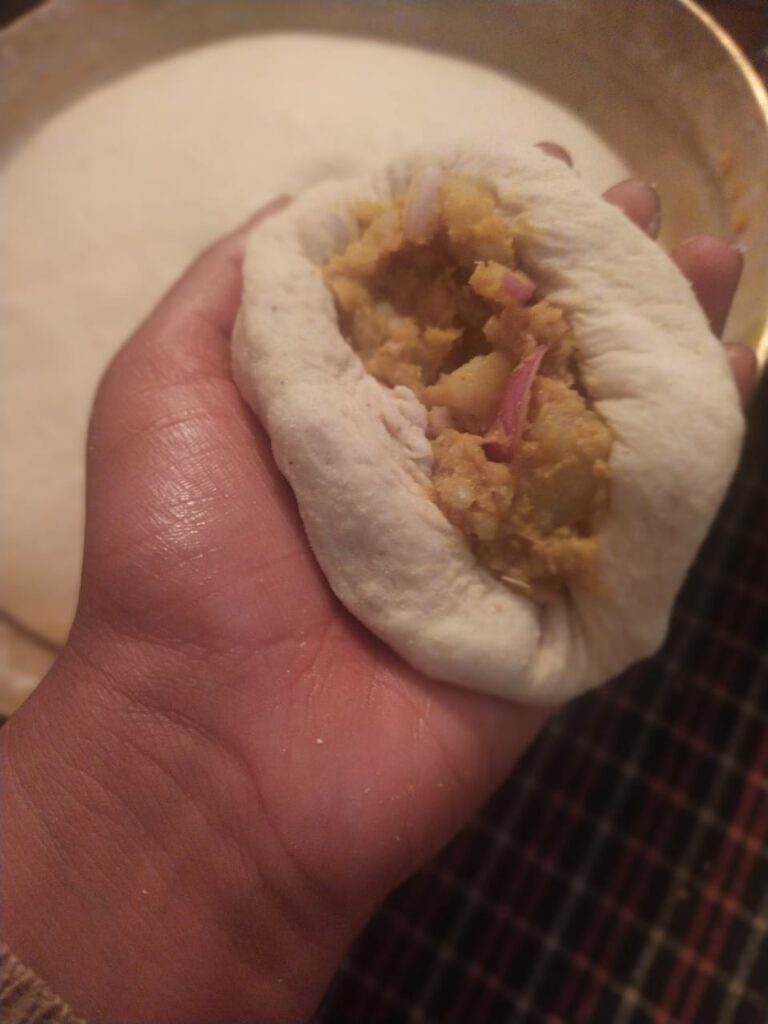 Make a thick chapatti of dough and stuff it with khod (walnut) seed paste. Now fold this chapatti and twist from side to prepare siddu. Place all siddu prepared like this in a plate and apply thin film of oil over them. Now place water inside siddu maker and let it boil. Now place siddu in all the partition of siddu maker. Keep a cotton cloth or Berginia cillata leaves over uppermost partition of siddu maker to avoid steam drops on the siddu. Steam all the siddu inside siddu maker for 20 to 25 minutes. Now siddu are ready to serve. They can be served with Tomato catchup, chutney or Desi ghee.
Kachru or sosaru:
Kachru is a traditional dish of Werstern Himalaya cooked as chilla with spices and basen or corn flour. It is served as a evening snack with tea/ chutney/tomato ketch-up.
Ingredients:
For preparing a kachru, ingredients required are 1kg fresh leaves and flowers of neela ghoongru ghaa, 1/2 kg besan (black gram powder) or corn flour. 1 cup amount fresh coriander leaves,1/2 table spoon ajwain, 3-5 green chillies, ½ table spoon turmeric powder, 2-3 chopped onions and salt according to taste
Method:
Make a paste of leaves, besan or corn flour and spices. Heat some oil on a flat heating pan. Put this paste over a pan and cook for 15 to 20 minutes then kachru will be ready to serve.
Soup:
Ingredients:
Locally available vegetable (chopped) of summers, leaves and above ground plant parts of neela ghoongru ghaa,1/2 kg; mint leaves,10-15 (chopped); corn flour, 1 spoon; black pepper powder,1/4 tea spoon, salt acc.to taste.
Method:
Boil ariel plant parts of neela ghoongru ghaa and vegetable in one litre water till they are soft, mesh these manually and sieve the extract in a container. Add to it mint leaves, corn flour, black pepper and salt, then boil for 5-10 minutes. Now soup is ready to serve
Ingredients:
Neela ghoongru ghaa fresh leaves, 250g; cold water, 2 glass;mint leaves, 5-8; sugar/honey/natural sweetener according to taste.
Method:
Take neela ghoongru ghaa and mint leaves in a blender and add to it two small size water glass, mix it well and pour in a container. Dilute the extract with water and then add sugar/honey/natural sweetener acc. to taste, stir well and serve.
Tea:
The fresh or dried roots of neela ghoongru ghaa can be used to prepare caffeine-free tea.
Ingredients:
Neela ghoongru ghaafresh or dried powdered roots, 1/2 table spoon or 10g; water, 2 cup amount; sugar, 2 table spoons; lemon juice, 1 tea spoons.
Method:
Boil fresh root or dried root powder with water. Add sugar to it and simmer in low flame for 10 minutes. Strain into tea cups. Add lemon juice to each and serve hot.
Seek professional advice before treating this plant medicinally.
Medicinal Uses:
Neela ghoongru ghaa is helpful to treat dizziness due to hypertension; headache; tinnitus; conjunctivitis, dry cough, skin inflammation and boils. Plant is an expectorant (used to get relief from cough) and antispasmodic ( cure muscle spasm) 2.The whole plant is alterative, antibacterial, antipyretic, antiseptic, antispasmodic, astringent, carminative, diuretic, febrifuge, hypotensive, stomachic, styptic (Stop bleeding), tonic, vermifuge and vulnerary 3,4 .
Chemical composition:
Neela ghoongru ghaa contains on an average alkaloid (1120 mg %), saponins (350 mg %), phenolics (55.785 mg %) and tannins (52.25 mg %). The medicinal plant contained carbohydrates (375 mg %), proteins (441.6 mg %) and lipids (2403.8 mg %) 5.
Other Uses
Neela ghoongru ghaa considered a scared plant and worshipped in SEER festival. Local people believe that if this plant is grown near to houses it can keep away evil spirits. Plant can also be grown as an ornamental plant for its beautiful blue flowers. Sheep and goats forage this plant as fodder.
 An olive-green dye is obtained from the flowers and stems 6.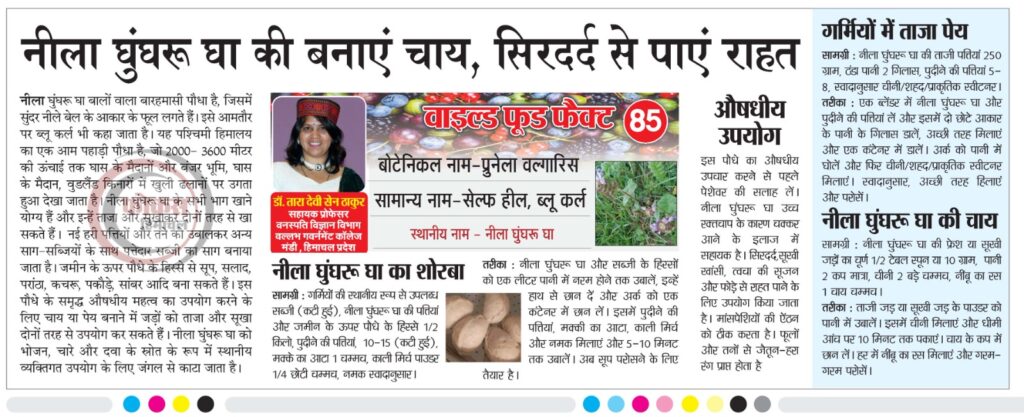 References:
https://www.flowersofindia.net/catalog/slides/Common%20Self-Heal.html
Purohit SS, Sharma AK, Prajapati ND, Kumar T. (2009); A handbook of medicinal plants: a complete source book. 2:352-3.
Grieve. (1984). A Modern Herbal. Penguin.
Launert. E. (1981). Edible and Medicinal Plants.
Facciola, S. (1990). Cornucopia: a source book of edible plants (No. BOOK). Kampong publications.
Grae, I. (1974). NATURE'S COLORS, DYES FROM.