Family: Rosaceae
Common Name: Nepalese White Thorn, Nepalese firethorn
Synonyms: Mespilus crenulate, Crataegus crenulata
Local Name: Choota seb (छोटा- सेब), Hawthorn.
Choota seb is a large evergreen shrub. occasionally found on open slopes and shrubberies along roadsides, stream and grassy places upto an altitude of 1000-2400 m in Western Himalayas. It spread and propagate with the help of seeds and grows best in any well drained moisture retentive habitat.
Ripe fruits of choota seb are edible and eaten fresh. These are also added to desserts and puddings. Leaves are used to make beverage tea both fresh and dried. Fruits are rich in medicinal and nutritive value and are also sold in local market.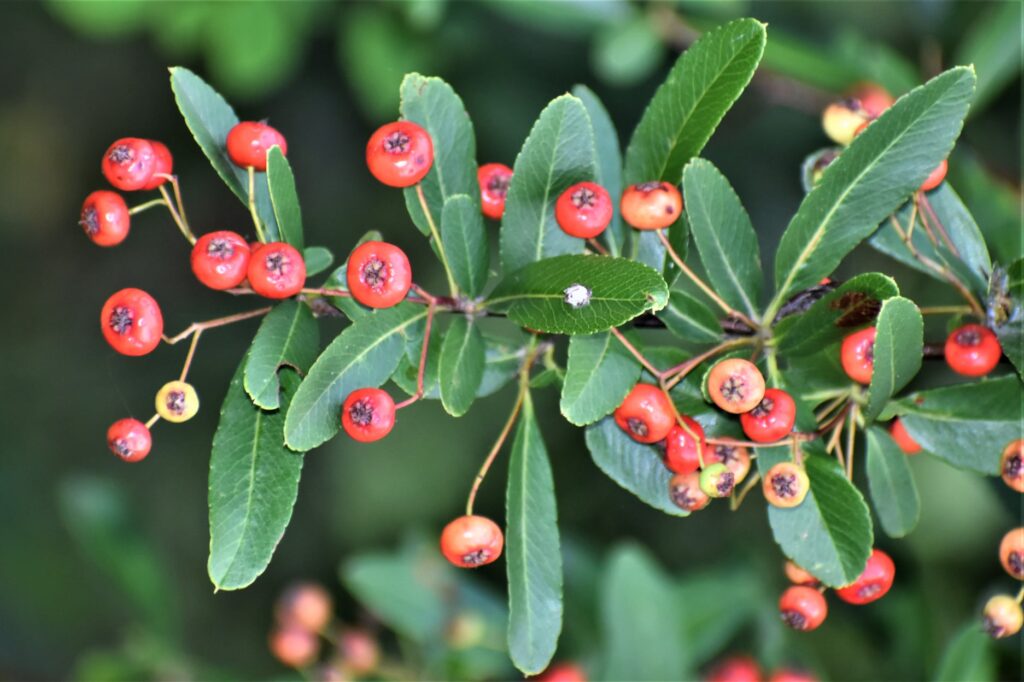 Choota seb wood and branches are used as a fuel, in making walking sticks, low-cost household items and agricultural implements etc.
Local people of Western Himalayas harvest this plant from the wild habitat for local use as a source of fuel, wood, food, medicine and source of materials for local and commercial uses. Sometime plant is also grown for its multifarious uses as a hedge to demarcate boundaries.
Choota seb Plant:
Plant is evergreen, spiny, large shrubs or small trees, up to 5 m high.
Spines are straight, stout, 1.5-3 cm long.
Leaves are usually crowed at the ends of short, lateral branches, shortly petioled, narrowly oblong or oblong – lanceolate, 1.5-3 cm long, crenate, obtuse, shining green above, glaucous beneath.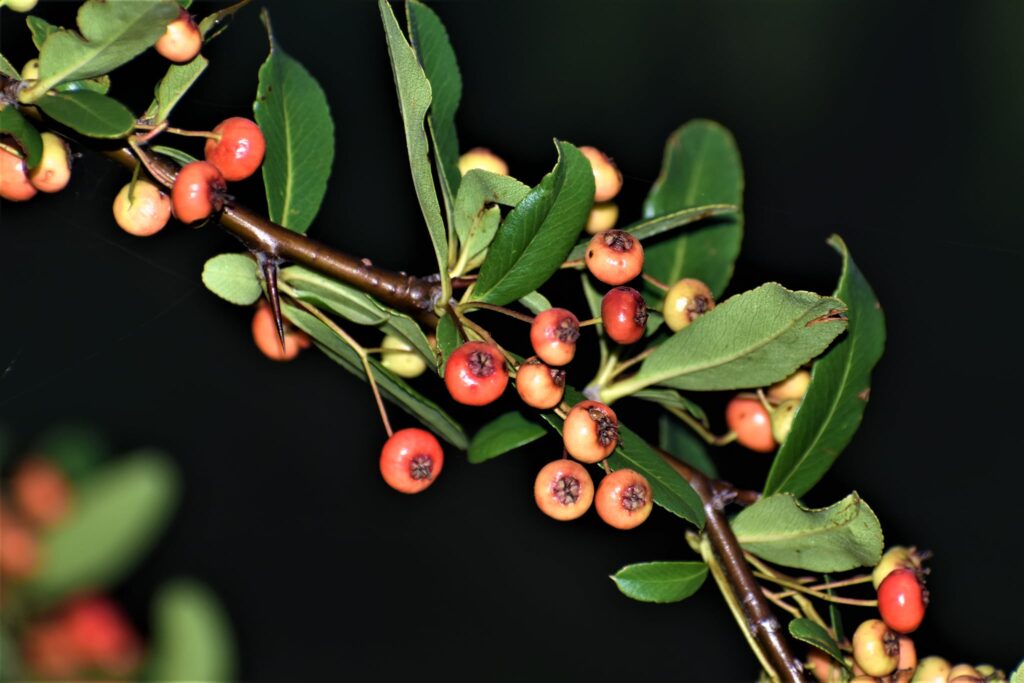 Flowers are white, 5-6 mm across, in many flowered, terminal corymbs. Calyx bell- shaped; lobes obtuse. Petals 5, orbicular.
Fruits pome; orbicular to ovoid, orange- red, shining, ca 6 mm across, containing 4-5 pyrenes.
Choota seb can best provide edible fruits in summer season. Fruits should be harvested in sustainable ways like habitat rotation and keeping some fruits on parent plant for regeneration. Harvesting fruits in this way will ensure sustainable development
Edible Uses:
Fruits and leaves of choota seb are edible and are used fresh raw or as a food supplement. Leaves fresh and dried are consumed in tea for harnessing medicinal value. Ripe fruits are eaten raw or added to desserts.
Dessert:
Ingredients:
Ripe fruits of choota seb and other chopped fruits acc. to taste,1/2kg; curd, 1kg; sweetener like honey/ sugar/ condensed milk, 1-3 tea spoon; cardamom powder,1/4 tea spoon; black salt according to taste.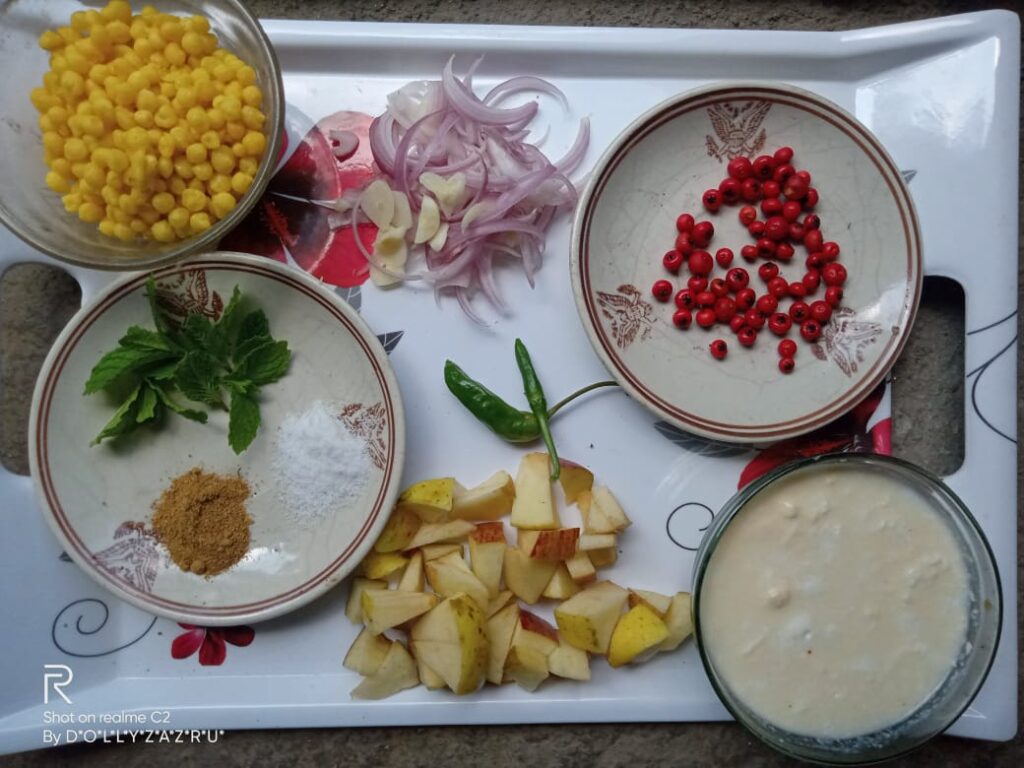 Method:
Take curd in a bowl. Add to it sweetener according to choice and stir well. Add cardamom powder, black salt, choota seb fruits and other chopped fruits according to preference. Mix well and serve.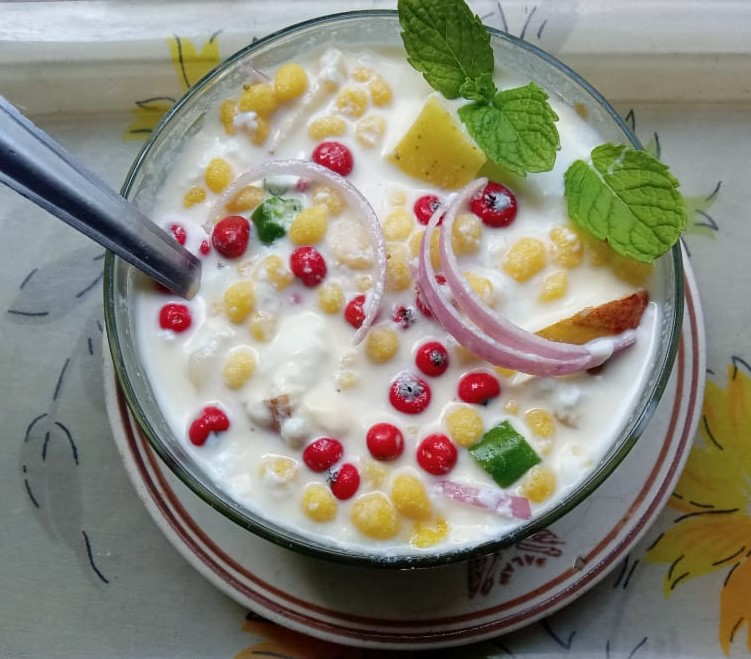 Tea:
Ingredients:
Choota seb leaves, 3; water, 2 cup amount; sugar, 2 table spoons; lemon juice, 2 tea spoons.
Method:
Dice leaves and boil with water. Add sugar to it and simmer in low flame for 10 minutes. Strain into tea cups. Add lemon juice to each and serve.
Nutritional Value:
Fruits pulp (%) contains moisture, 60.10 ± 0.15; ash, 1.50 ± 0.08; crude fat (%) 1.00 ± 0.25 crude fibre, 7.40 ± 0.09; total nitrogen, 0.82 ± 0.07; total protein, 5.13 ± 0.04; carbohydrate, 24.88± 0.16; organic matter, 98.50± 0.22; insoluble ash, 25.29 ± 0.05; soluble ash, 74.71 ± 0.08 % 1,2.
Medicinal Uses:
Fruits are credited with cardio tonic, coronary vasodilator and hypotensive properties. It has been used for cardiac failure, myocardial weakness, paroxysmal tachycardia, hypertension, arteriosclerosis and Burger's diseases 3. The anti-oxidants present in fruits are helpful in reducing the ill-effects of free-radicals in our body, maintain blood-pressure and reduce cholesterol. Apart from this the fruits are helpful for rejuvenation in aged people, reduce joint pains and act as appetizer.
The leaves are used in the preparation of herbal tea, sun burn creams and many facial creams. The bark of the shrub is used in heavy bleeding during menstrual cycles. A combination of Ginkgo and Pyracantha leaves are a tonic to mind. The stem bark is useful in fevers especially malaria. It is rich is beta-carotene, iron, potassium, and anti-oxidants and therefore a healthy choice 4,5.
Chemical Constituents:
Leaves contain leucocyanidins flavonoids principle – vitexin -4- rhamnoside, vitexin glycoside, oligomeric leucoantho- cyanidin and polymeric flavone; rutin, tannins and saponins. Fruits contain flavonols – kaempferol, quercetin; flavone derivatives, rutin, hyperoside, glycosides of vitexin and orientin; procyanidins, tannins, saponins and cyanogenetic glycosides 3.
Other Uses:
Dried wood is used as fuel, branches are used to prepare low cost household items, walking sticks and agricultural tool.
Choota seb can be grown as a hedge to demarcate boundaries and a good source of fuel, wood and medicine for personal and commercial purposes.
Source of income:
Choota seb fruits are also sold in local market at the price of 30 to 50 Rs/kg.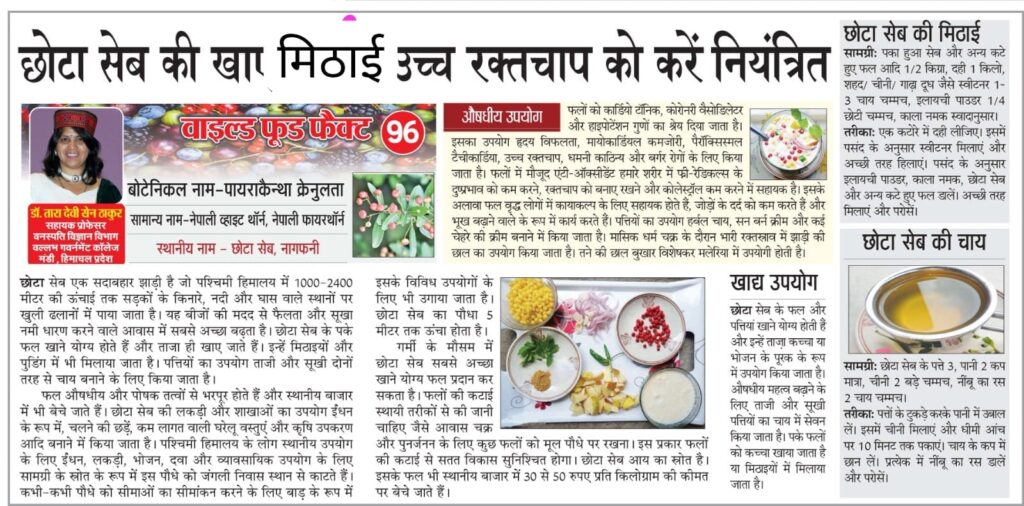 References:
1.Iswaran, V (1980); A Laboratory Handbook for Agricultural Analysis. New Delhi Today and Tomorrow's Prienters and Publisher, 209-222.
2. G. M, (1962) Chemical Methods of plant Analysis; Canada: Department of Agriculture Publication, 1064, 19-20.
3.Chauhan, N. S. (1999). Medicinal and aromatic plants of Himachal Pradesh. Indus publishing
4. Bisht VK, Kandari LS, Negi JS, Bhandari AK, Sundriyal RC (2013) Traditional use of medicinal plants in district Chamoli, Uttarakhand, India. Journal of Medicinal Plants Research 7(15): 918-929.
5.Saklani S, Chandra S (2014) In Vitro Antimicrobial Activity, Nutritional Value, Antinutritional Value and Phytochemical Screening of Pyracantha crenulata Fruit. Int J Pharm Sci Rev Res 26(1): 1-5.