Family: Rutaceae
Synonyms: Citrus penivesiculata, Citrus reticulata
Common Name: Galgal, Khtta, Hill lemon.
Local Name:Galgal (गलगल), Khtta.
Galgal is a medium sized wild or semi-wild fruit of Western Himalayas found growing along roadsides, pathways, hill margins and field edges up to an altitude of 3000 m in the hill states of Jammu and Kashmir, Punjab, Himachal Pradesh and Uttarakhand.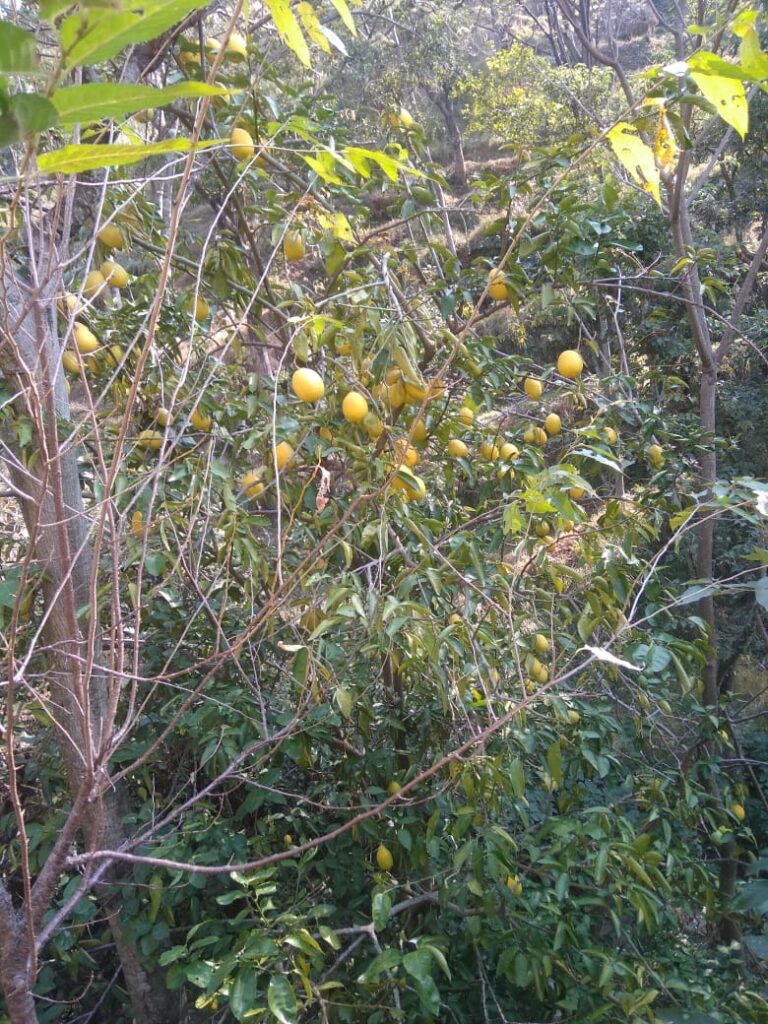 It is an important member of genus Citrus which can be utilized in commercial crop improvement program because it can tolerate adverse climatic conditions and its plants can easily grow in far flung and barren areas with water scarcity. Galgal can tolerate more than 40.0 °C temperature during summer and -4.0 °C low temperatures during winter season without any frost injuries1. Galgal is propagated by seed. It is indigenous to India.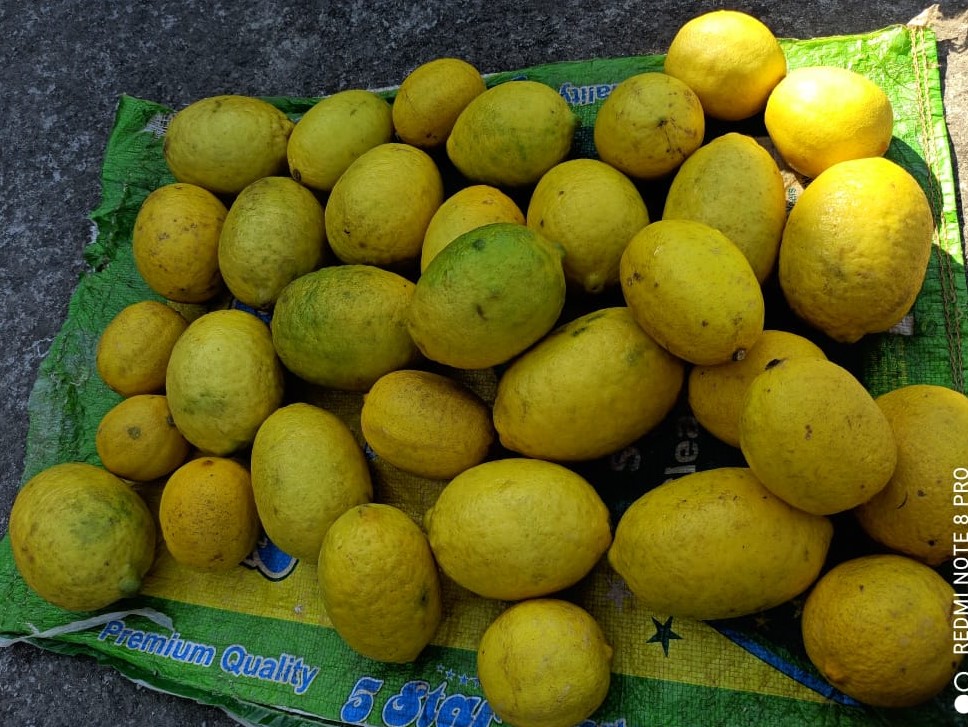 Galgal fruits are eaten raw or preserved in the form of pickle or concentrated fruit juice called "chukh" in local dialect for off season. Raw fruits are made into "chacha" a widely admired traditional preparation of Western Himalayas for winter season. For making "chacha"chopped fruits are mixed with some sweetener and a special salt made up of locally available winter greens and chilies. "Chacha"is taken in bright sunny days of winter season and its making and ingestion is a symbol of friendship and togetherness.
Ripe galgal fruits are also used in pickle making. Galgal pickle is very popular in Western Himalayas and sold in local fair and market by members of various Self-Help Groups. Villagers also concentrate galgal juice "chukh" by heating. This juice is then stored in glass bottles and is used later in the off season as a souring agent in many food preparations.
Galgal is considered a sacred plant in many parts of Western Himalayas, its unripe fruits are worshipped in "Seer" festival of Himachal Pradesh North Western Himalaya. Leaves are used in worship od house or door (Grih poojan) called "patri dhalna" in local dialect. This is an indispensable ritual and performed before every religious ceremony, worship, fast and festivals.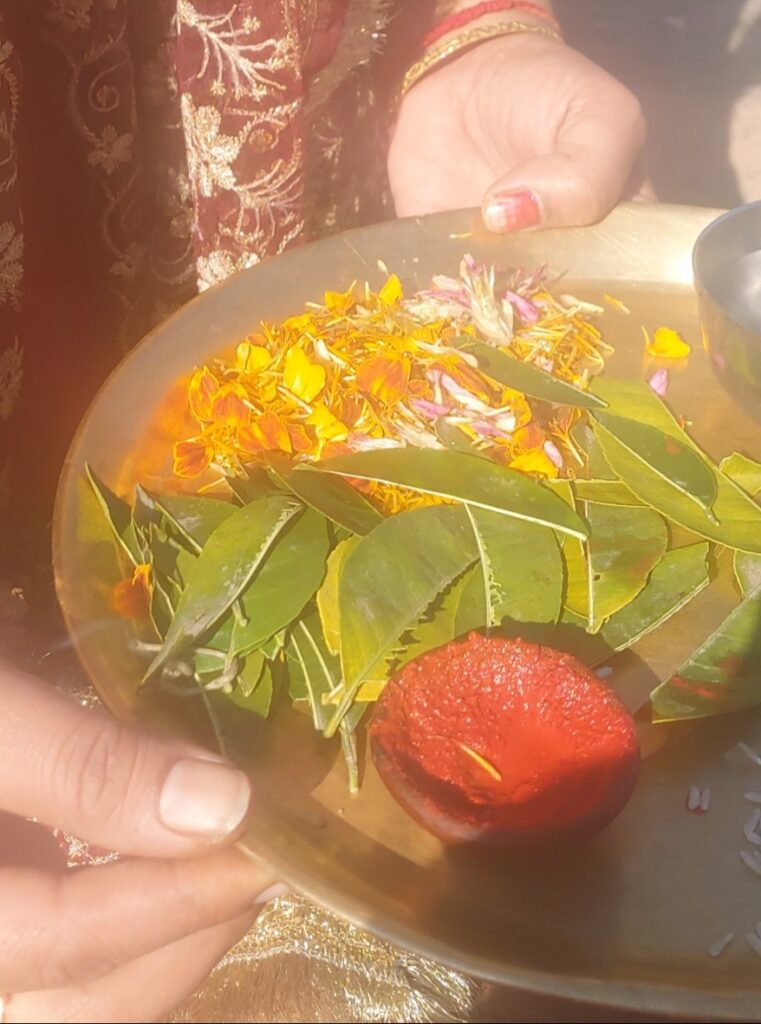 Galgal is also a easy good source of earning as fruits are sold in local market both raw or processed and are source of earning for local people[td1] .
Galgal is harvested from wild habitat and its plant ate also sometime cultivated for its fruits near to home or in garden.
Galgal Plant:
A medium sized tree, 5-6.5 m tall, with an irregular and loose crown.
Trunk 28 cm in diameter.
Bark smooth, green, thorns numerous, stout, upto 2.3 cm log; petioles; petioles 1-2 cm long and 0.3-0.4 cm wide, marginally winged, distinctly articulated; leaflets broadly elliptic-ovate to oblong, 9.5-15.5 cm, crenate, base cunceate-rounded, obtuse-acute to blunt or pointed.
Flowers in clusters of 4-9, seldom solitary, terminal or axillary, mildly fragrant.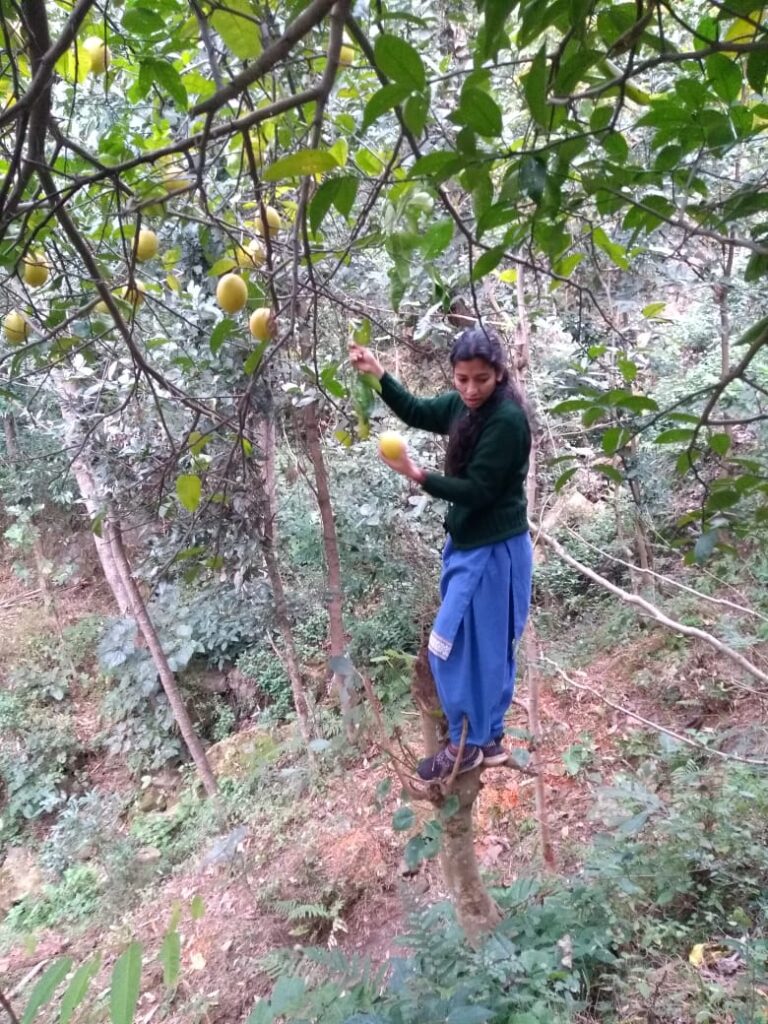 Fruits ovate-oblong, yellow, 10-11.5 cm in diameter, weight 400 – 500 g, apex slightly nippled, rind 0.6-0.8 cm thick, strongly adhering, segments 8-10, pulp light yellow, coarse, vesicles cylindrical, fusiform, loosely packed, seeds 28-59, light yellow, conical ovate with prominent ridges and smooth surface.
Galgal fruits are harvested from wild during winter season, mainly from October to January. Galagal need to be grown and sustainably harvested for ensuring sustainable development.
Edible Uses:
The main use of galgal fruits is in pickle making. Galgal pickle is very popular in Western Himalayas and taken with "kachouri", "siddu" etc and also served in dhabas, restaurant's, local and famous Shivratri fair of Mandi area of Himachal Pradesh,. Fruit juice is concentrated to prepare "chukh" as explained earlier and ripe fruits are eaten raw in bright sunny winter as "chacha" recipe of these preparations are given below: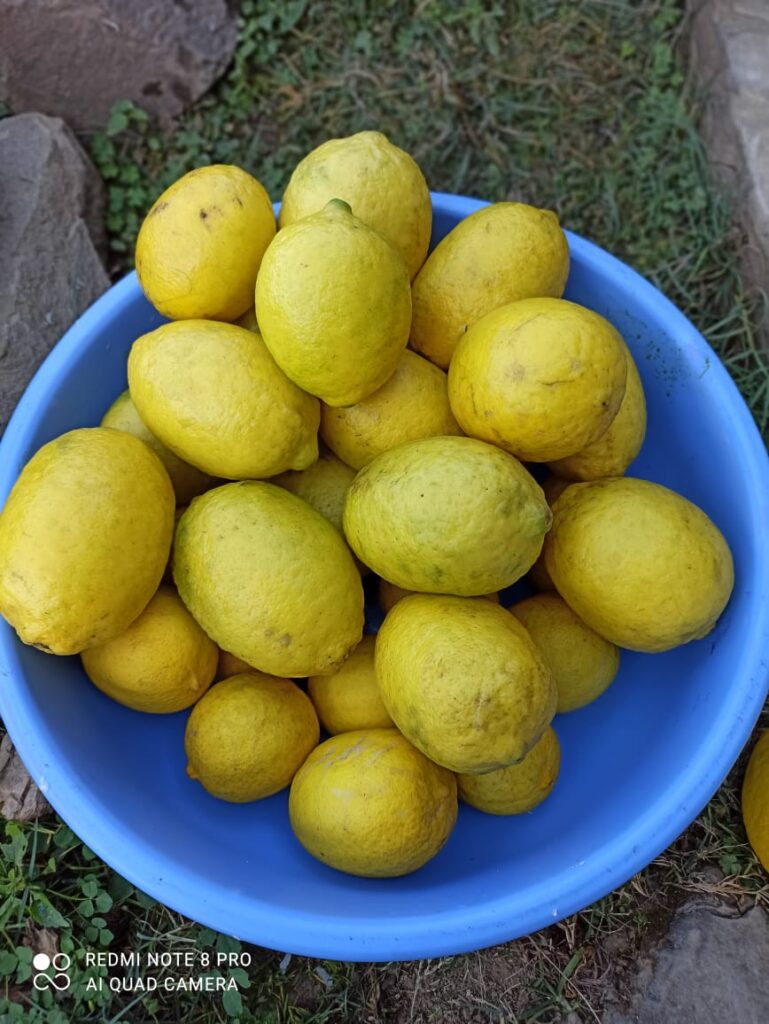 Preparing Pickle:
Ingredients:
Ripe galgal fruits, 1 kg; mustard oil, 7-9 table spoons; fenugreek powder, 2 table spoons; cumin seed, 2 table spoons; turmeric powder, 1; table spoon. red chillies, 8-12; jaggery,250 g and salt, according to taste.
Method: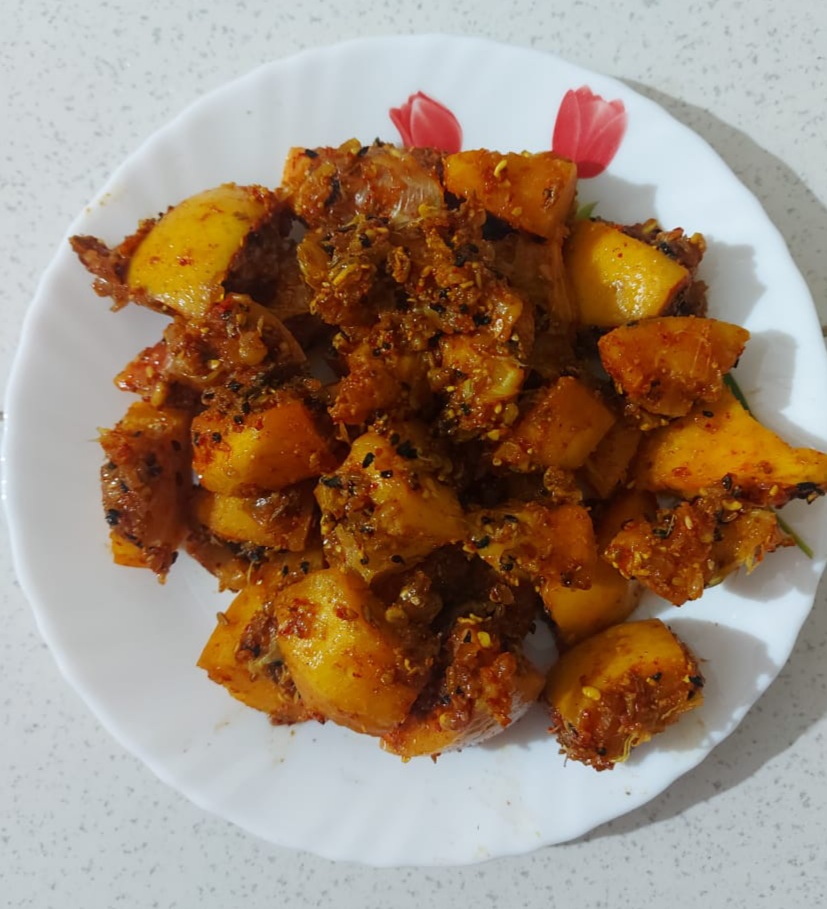 For preparing pickle, dip fruits in boiling water for 10 minutes and dry in full sunlight for 6 to 8 hours then place in open for next two nights. Now cut fruits in small rectangular pieces and saute in mustered oil with spices like fenugreek seed powder, turmeric powder, red chillies powder and salt acc.to taste. Now add jaggery to it and mix well. Store pickle in ceramic jar. Place jar in bright sun for 3 to 5 days. Pickle will be ready to eat after 15 to 20 days.
"Chacha":
Ingredients:
Ripe galgal fruits,2 to 4; locally available greens of winter season (Young leaves of coriander, Brassica spp. and garlic etc.) mustard oil, 2-4 drops; green chillies, 6-8; jaggery, 50 g and salt according to taste.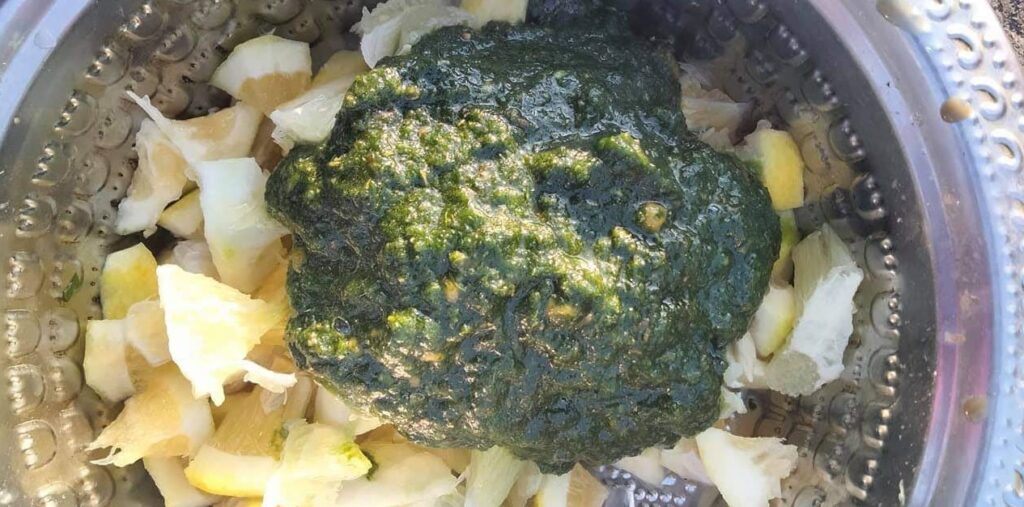 Method:
Prepare salt for "chacha" making by grinding greens leaves, chillies and salt over a grinding stone or mixer. Peel off ripe galgal fruits skin and chop into small cubical pieces. Mix galgal chopped pieces well with salt prepared earlier.
Add sugar/ jiggery/ some natural sweetener to it and mix well. Now place a burning or burnt coal piece in this blend and pour some mustard oil to the burning coal. Immediately cover it with a lid to give pungent taste to the "chacha". Remove lid after 1 to 2 minutes. Mix well the blend and now "chacha". is ready to serve.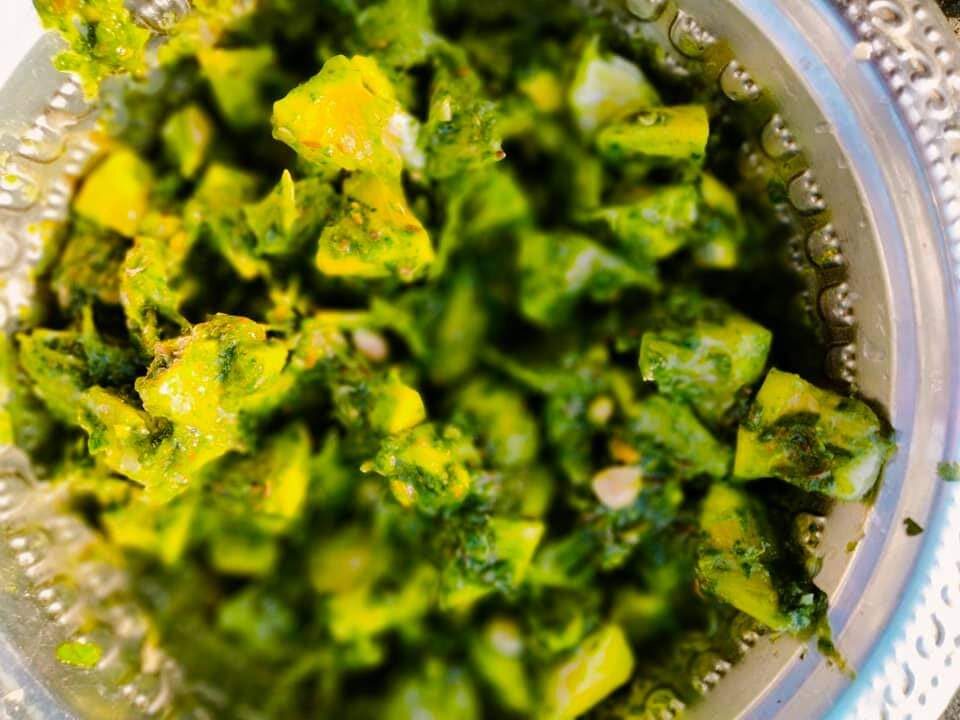 Chukh:
"Chukh" is concentrated fruit juice to be used in off season as a souring agent. It is used in a variety of traditional dishes. Mainly it is used to make 'khatta' a sour dish served in any social gathering or in "Dham" (Food served in religious social gatherings).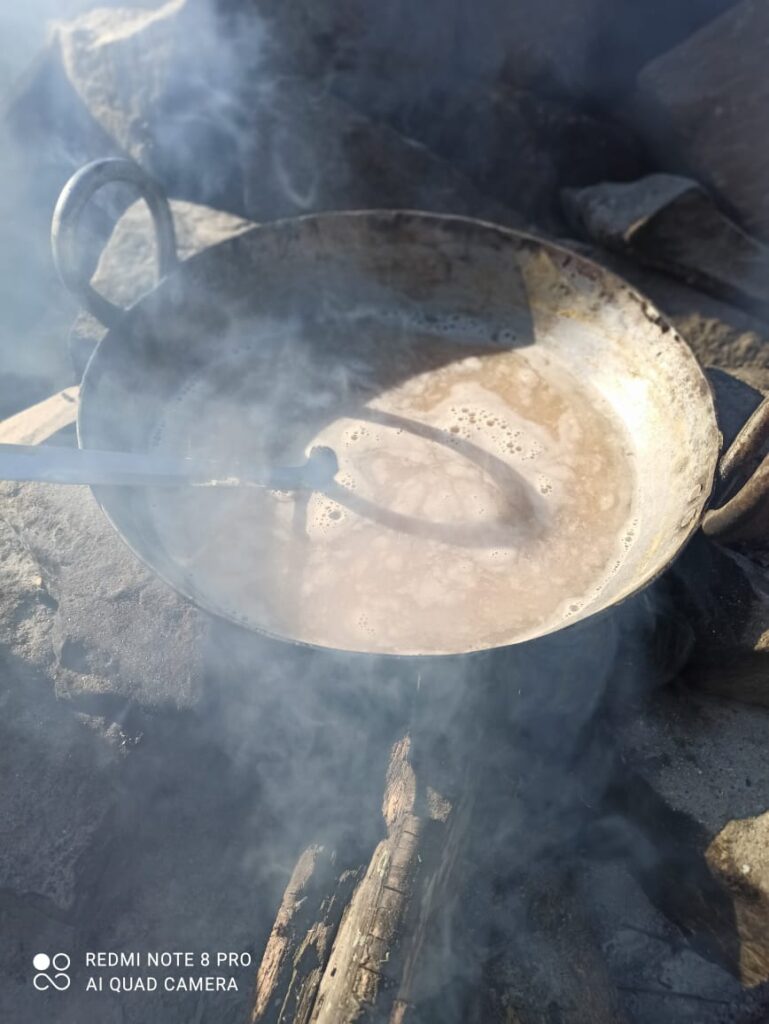 Method:
Beat ripe galgal fruits over a grinding stone for easy extraction of juice. Concentrate extracted juice by heating till its volume reduce to ¼ of its total volume. Let it cool down and store in glass bottles.
Many unscrupulous traders also use. Galgal juice as a cheap substitute for more expensive kaghzi lime (Citrus aurantifolia) juice while preparing lime squashes 2.
Religious Value:
Galgal is a sacred plant for the inhabitants of Western Himalayas. Local people use its leaves and fruits during worship. Immature raw fruits are worshipped in "Seer" festival along with other important sacred plants of this region.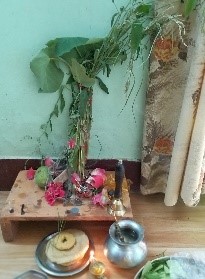 Leaves are used to worship house or door (Grih poojan) which is an indispensable ritual and performed before every religious ceremony, worship, fast and festivals. This ritual is known as "paatri dhalna" in local dialect.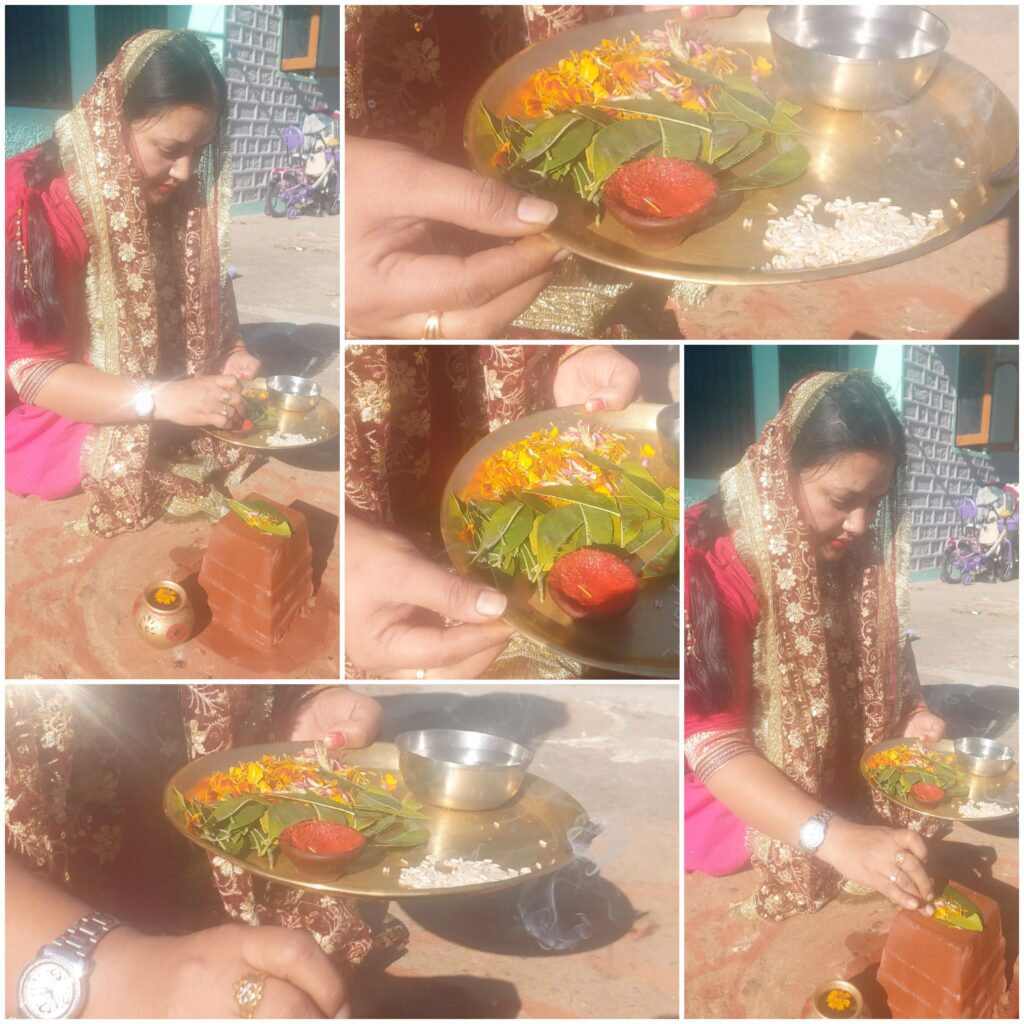 Other Uses:
Galgal leaves are locally used in "childu" (Dosa from rice flour) making a traditional dish made up of rice flour. Large mature leaves are used to give spherical shape of "childu" to rice flour slurry. Leaves are also placed in siddu maker as a basement during siddu making another traditional dish of Western Himalayas. Galgal is a wild relative of commercial Citrus spp and can be utilized as a good rootstock in crop improvement programme.
Source of Income:
Galgal raw fresh fruits are sold at the price of Rs 40 to 80/kg in local market. Pickle and fruit juice "chukh" are also sold in local fair and in local market by members of various Self-Help groups at the rate of 300 to 500/kg. Thus, this plant is an easy source of earning for local people.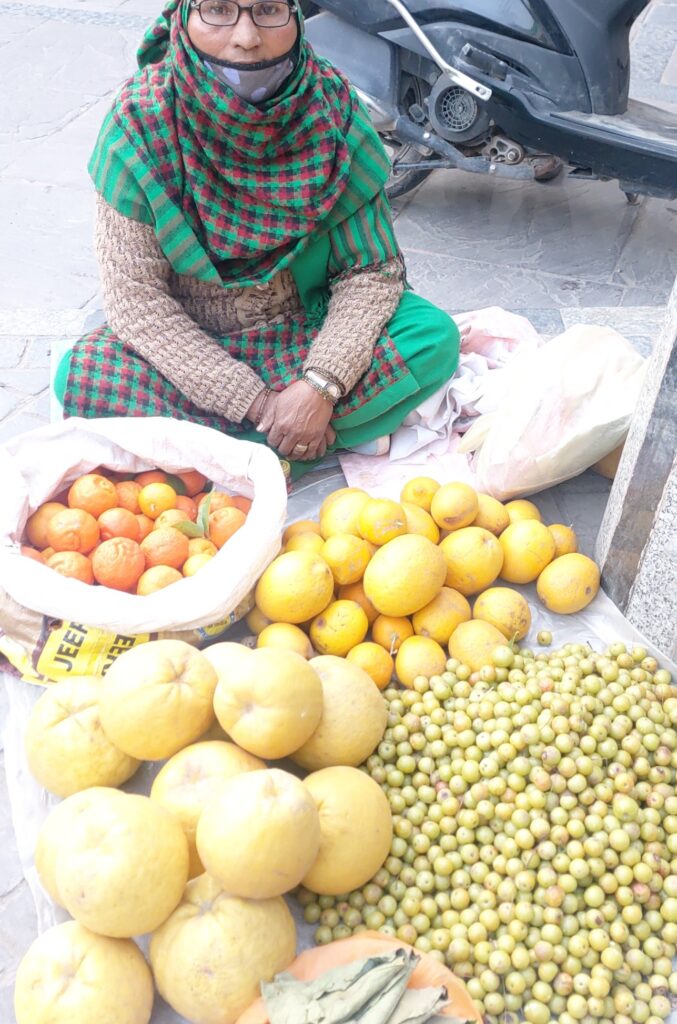 References:
Kumar, R ; Kumar, V; Sharma, J; Bakshi P; Singh , V.B; Raina, V and Sinha. (2018): Galgal: A boon for pickle industry. RASHTRIYA KRISHI. Volume 13 Issue 1; 89-91
Parmar. C. and Kaushal. M.K. (1982) Wild Fruits of the Sub-Himalayan Region. Kalyani Publishers. New Delhi.
---