Family: Pinaceae
Synonyms: Pinus gerardii, Pinus neosa, Pinus chilgoza, Pinus aucklandii
Common Name: Chilgoza Pine
Local Name: Neoza (नेऊजा), Chilgoza.
Neoza is an evergreen coniferous tree of Western Himalayas restricted to mountain ranges of India, Pakistan, and Afghanistan. It's plant is with a deep, wide and open crown comprising long, erect branches. It is found growing on sunny, dry, steep, rocky slopes in dry inner valleys and forests usually on limestone upto an altitude of 2500 to 3800 metres. Neoza is mostly found in the dry temperate forest of the inner ranges of the in Western Himalayas, where the summer monsoon is weak and precipitation, mostly in the form of snow, rarely exceeds 1000 mm per year. In these forests it occurs with Cedrus deodara, Quercus ilex and Juniperus excelsa subsp. Polycarpos1.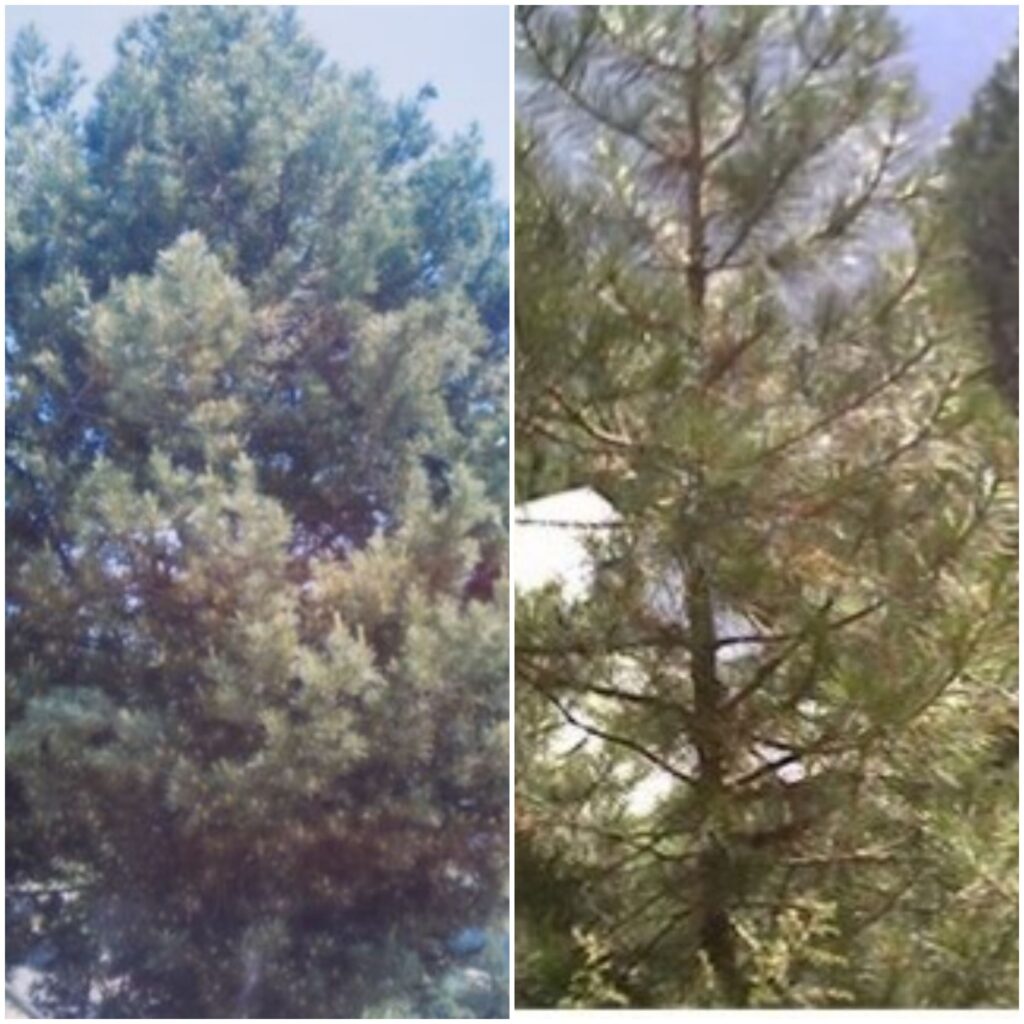 The seeds known as "Chilgoza" or "Neoze"are edible and eaten raw or cooked. These are highly nutritious and medicinal and considered to be delicacy mostly eaten in winters mainly by rich people. These are taken as dry fruits or nuts and quite often used in making puddings (Kheer) or to garnish sweet dishes. Seeds are usually eaten roasted, often these are ground into powder and mixed with flour to harness its rich medicinal and nutritive values. Mature seeds are also used to make garland locally that is wore by bride during marriage ceremony.
Neoza is harvested from the wild habitat as a source of food, fuel, timber, medicine and materials for local personal and commercial uses. Neoza is one of the most important cash crops of tribal people residing in the Kinnaur district and Pangi Valley of Chamba district of Himachal Pradesh in India. They used to sell seeds as dry fruits at very high price of 2000 to 3000 Rs/kg in local, national or International market.
.Harvesting and processing of neozae is very laborious and time consuming. Usually cones are harvested before they open, then are warmed so that scales got expand and open, the scales are then shaken out.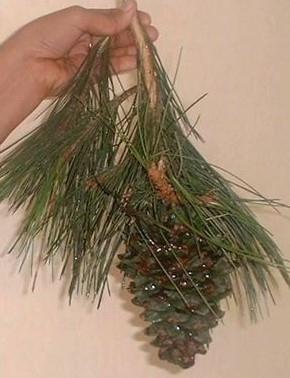 For its commercial and edible uses this plant is also cultivated in some parts of the worlds especially in Afghanistan, as a food plant 2,3. Neoza forests have declined and continue to decline throughout their extensive range due to over exploitation of its reproductive parts that is edible seeds.However, local people are knowledgeable enough to keep some reproductive parts on the parent plant for regeneration, because it is bread and butter for many of them,
While there is insufficient range wide information to quantify this decline accurately, it is strongly suspected that it is approaching at least 30%. So, it is classified as 'Near Threatened' in the IUCN Red List of Threatened Species 4.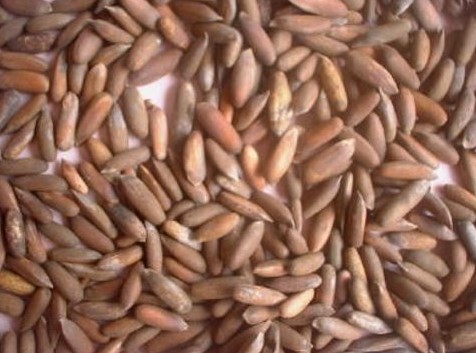 Neoza Plant:
Plant is conifer up to 20m tall.
Neoza crown is usually deep, wide and open with long, erect branches, but crown narrower and shallower in dense forest.
Bark very flaky, peeling to reveal light greyish-green patches, similar to Pinus bungeana.
Leaves needle-like, 5-10cm long, borne in bundles of 3.
Branchlets smooth, olive-green.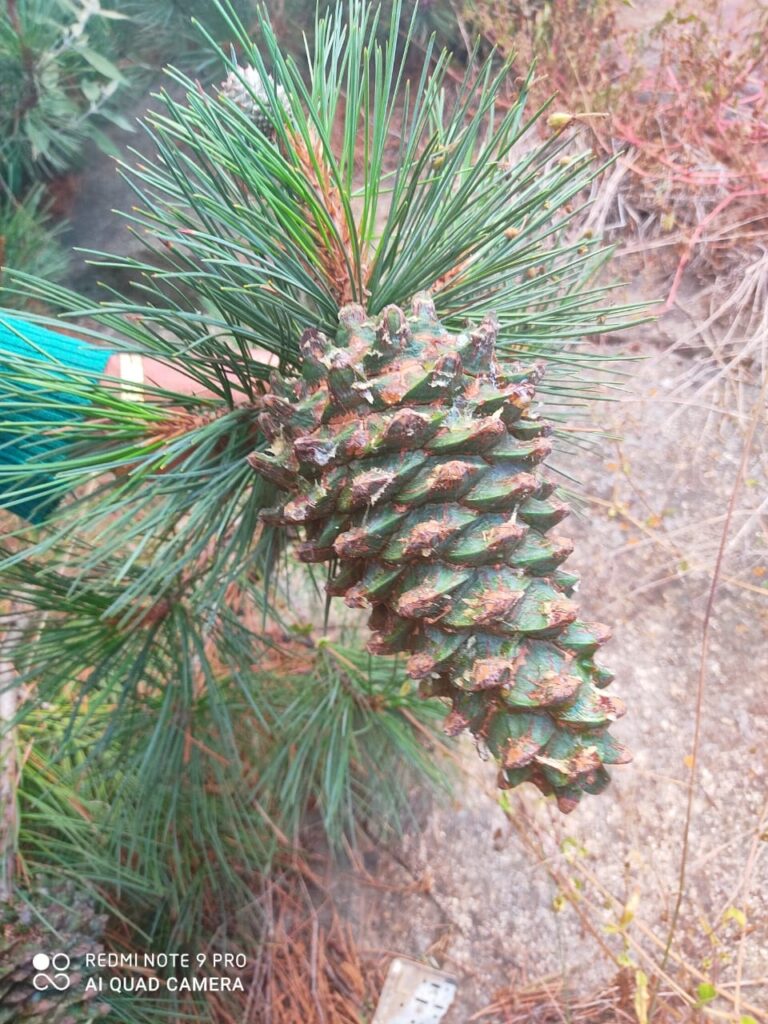 Ripe cones 15-23cm long, comprising woody scales having recurved beaks.
Female cones 12-20 cm long, 10 cm wide when open, with wrinkled, reflexed apophyses and a umbo curved inward at the base.
Seeds less then 2 cm long with a rudimentary wing 5.
Edible nuts are available from autumn to late winter season of the year. These are kept in the form of a garland to ensure their availability round the year. Over exploitation of seeds for commercial benefits has significantly reduced natural population of neoza and recently it is placed in the IUCN Red List of Threatened Species. So awareness among inhabitants is needed for its sustainable harvesting like habitat rotation and keeping some seeds on parent plant for regeneration. Efforts are also needed for its large scale cultivation and domestication even in other parts of Western Himalayas with similar habitat and altitude.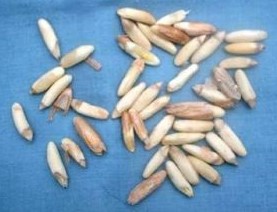 Edible Uses:
Dried seed called "Neoza" or "Chilgoza" are edible and often eaten raw, roasted or cooked. These are ground into powder and mixed with flour and then cooked. These are used as other dry fruits in various traditional sweet dishes like puddings (Kheer), meetha, halwa, gajrela etc or as a garnishing agent in variety of shakes and cakes. Being rich in oil, they have a pleasant flavour with a hint of resin and can be used as a staple food 6. A vanillin flavouring is obtained as a by-product of other resins that are released from the pulpwood2.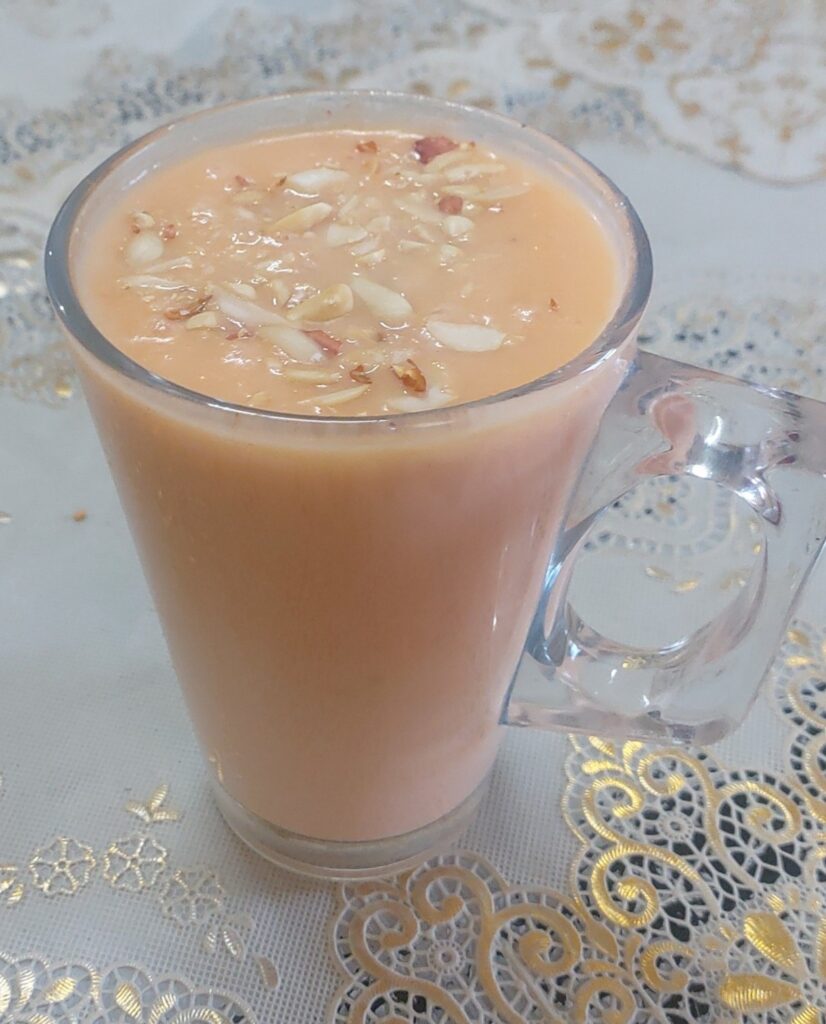 Kheer (Pudding):
Ingredients:
Rice, 250 g; milk, 1 liter; sugar, 250 g; neoza & other grated dry fruits,100g
Method:
For preparing kheer cook whole rice with sugar in milk till they are soft then garnish the recipe with neoza and other grated dry fruits acc.to taste and serve.
Food Value:
100 gram neoza seeds contains energy, 673Kcal; carbohydrate,13.08g; Protein, 13.69g; Total Fat, 68.37g; Cholesterol,0mg; Dietary Fibre, 3.7g;
Vitamins: Folates,34 µg; Niacin,4.387mg; Pantothenic acid,0.313mg; Pyridoxine,0.094mg; Riboflavin, 0.227; Thiamin, 0.364mg; Vitamin A,29IU;VitaminC, -0.8mg; VitaminE, 9.33mg.
Electrolytes: Sodium, 2mg; Potassium,597mg.
Minerals:Calcium,16mg;Copper,1.324mg;Iron,5.53mg;Magnesium,251mg; Manganese,8.802mg; Phosphorus,575mg; Selenium,0.7µg; Zinc,6.45mg.
Phytonutrients: Carotene β ,17 µg; Crypto-xanthin, β-0 µg; Lutein-zeaxanthin, 9 µg. 7
Seek professional advice before treating this plant medicinally.
Medicinal Uses:
Neoza is a popular medicinal plant that is used in several traditional medicines to cure various diseases 8. Locally it is used to cure cold and cough. It is reputed as the "Champion of Rocky Mountains" in the interior Himalayas of India8. Seed, bark and leaves of neozae constituents are used in various part of the world as potential ayurvedic medicine and nutraceuticals 8. The plant shows various biological activities such as antioxidant activity, antithrombotic and anti-platelet activity, antidiabetic activity, anti-inflammatory activity, antifungal activity, antibacterial activity on scientific evaluation 8.The seed is anodyne and stimulant 9.The oil obtained from the seeds is used as a dressing on wounds and ulcers, it is also used externally in the treatment of head diseases 9.
Oil of turpentine, obtained from the oleo-resin of all pine trees, is antiseptic, antispasmodic, astringent, diuretic, rubefacient, stimulant and vermifuge 3,10. It is a valuable remedy used internally in the treatment of kidney and bladder complaints and is used both internally and as a rub and steam bath in the treatment of rheumatic affections 10. It is also very beneficial to the respiratory system and so is useful in treating diseases of the mucous membranes and respiratory complaints such as coughs, colds, influenza and TB 10.Applied externally in the form of liniment plasters, poultices, herbal steam baths and inhalers, it is a very beneficial treatment for a variety of skin complaints, wounds, sores, burns, boils etc 10.
Other Uses:
Neoza is source of fuel, timber and material for local people. They use it fuel as compare to timber. Cones left after removing seeds are also used as fuel in winters. Dry seeds are used to make garland which is wore by bride in marriage ceremony. A tan or green dye is obtained from the needles11.The bark of the tree is made into baskets and also into rough buckets for fetching water 12.The resins are obtained by tapping the trunk, or by destructive distillation of the wood 10. Turpentine has a wide range of uses including as a solvent for waxes etc, for thinning and dissolving varnish and paints, a shoe polish etc 3,10.Rosin is also obtained by distillation of pine resin. This is used in paper glue and soap manufacturing, as a constituent of varnishes and paints, and for coating the bows of stringed musical instruments such as violins3,10.Pitch can also be obtained from the resin and is used for waterproofing, as a wood preservative etc3,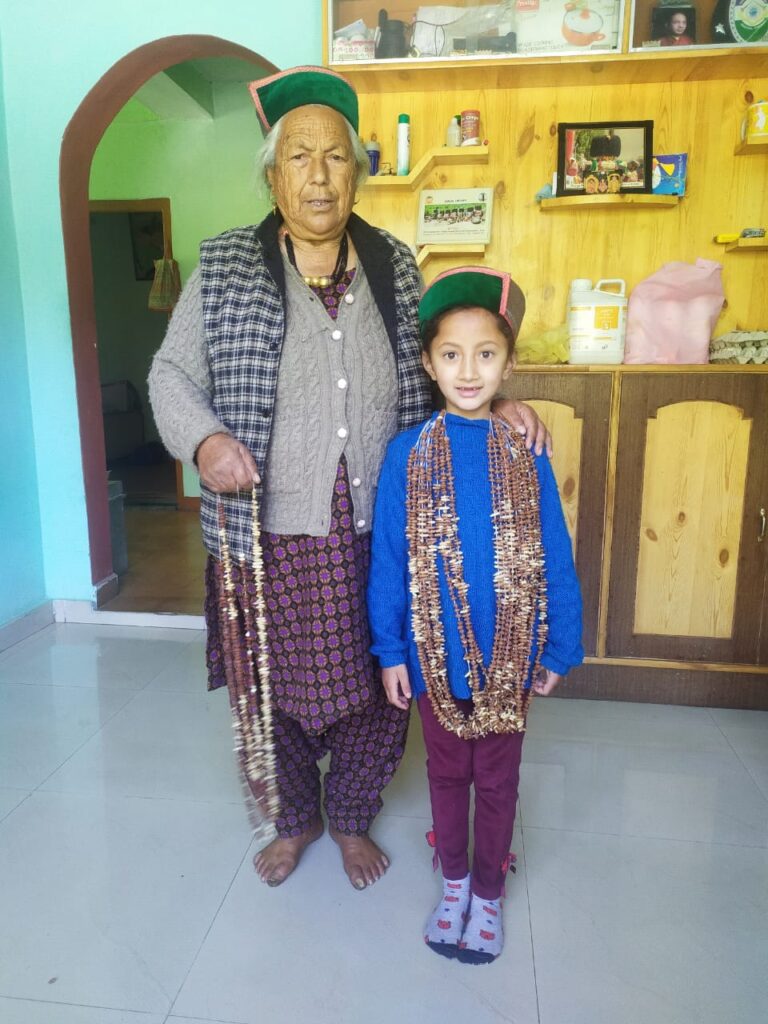 Source of income:
Neoza are good source of income for local people. Seeds are collected by villagers who have exclusive rights for collection. Then sold to the buyers of Delhi in trade fairs. Then these are also traded to other countries of the word. Locals fetch a quite high price by Indian standards. According to Smt. Susil kumari Negi from Kalpa tehsil of district Kinnur of Himachal Pradesh in India seeds are sold as dry fruit mostly at high price of 2000 to 3000 Rs/kg and sometime at the price of 500 to 1000 Rs/kg in local, national or International market.

References:
1. Bhattacharyya, A., LaMarche Jr, V. C., & Telewski, F. W. (1988). Dendrochronological reconnaissance of the conifers of northwest India.
2. Huxley, A. J., & Griffiths, M. (1992). Dictionary of gardening. Stockton Press
Farjon, A. (1984). Pines: drawings and descriptions of the genus. E. Brill/DR. Backhuys, Leiden, The Netherlands.
Hedrick, U. P. (1919). Sturtevants edible plants of the world (No. 581.632/H456). Dover Publications, 1919.
USDA National Nutrient data base
Chopra, R. N., Nayar, S. L., & Chopra, I. C. (1956). Glossary of Indian medicinal plants (Vol. 1, pp. 138-139). New Delhi: Council of Scientific & Industrial Research.
10. Grieve, M. (1984). Tansy. A Modern Herbal. Penguin Books Ltd, Middlesex, Great Britain, 789-790.
Grae. I.(1974);Nature's Colors – Dyes from Plants. MacMillan Publishing Co. New York. Publication. ISBN;0-02-544950-8.
Gamble. J. S. (1972) ; A Manual of Indian Timbers. Bishen Singh Mahendra Pal Singh, publication.