Family: Taxaceae
Synonyms: Taxus fuana,Taxus wallichiana subsp. contorta.Taxus Baccata subsp. Wallichiana
Common name: Yew,West Himalayan yew,
Local Name: Rakhal (रखाल)
Rakhal is a medium to large sized tree of Western Himalayas found growing in forest, road-side, sunny edges, dappled shade and shady revrine up to an altitude of 2000 to 3500m. It is generally middle sized, but some times grows very large, with a large spreading crown. Rakhal is in leaf round the year, in cone from March to April and in mature seeds ( ripened aril comparable to fruit) from September to November. It can propagate through seeds,

Rakhal is adapted to grow in diverse habitat. Mostly, it prefers well-drained, dry or moist soil. But, can also grow in heavy clay soil, very acid and very alkaline soils.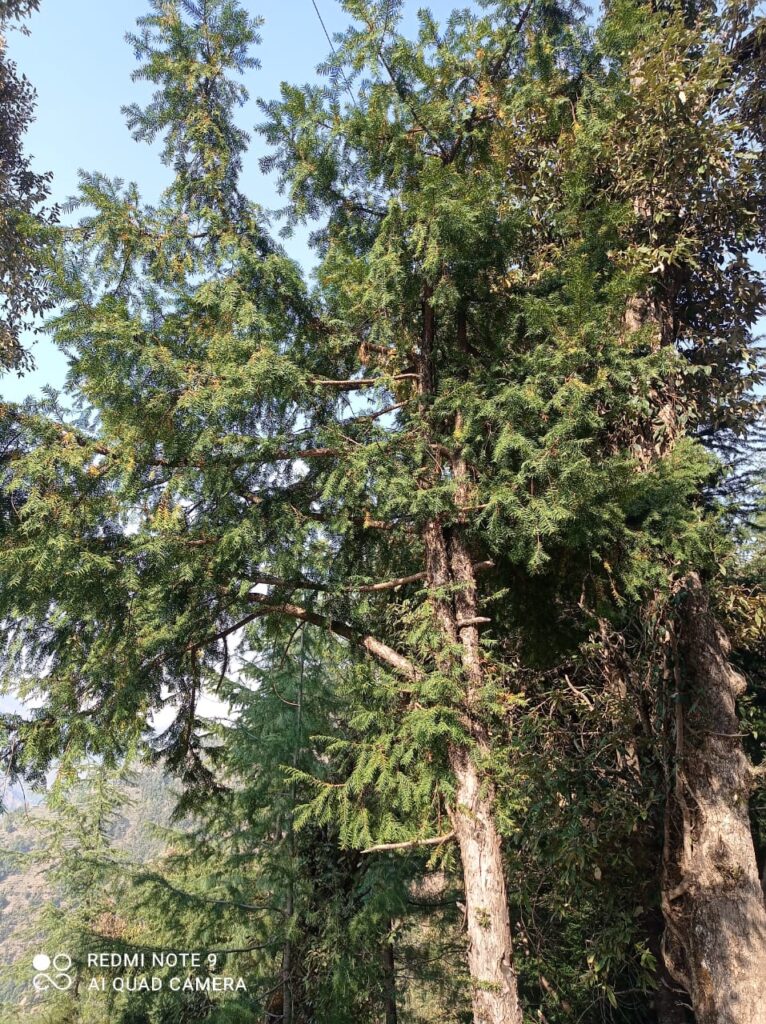 The fleshy ripened aril around the seed is edible, it is often eaten raw and can be used in dessert. This pulpy aril is very sweet, gelatinous and delicious, it can be deseeded and made into jam to preserve for off season. Seeds are however poisonous and need to be discarded before use.
Bark of rakhal is used as a substitute for tea in many parts of Western Himalayas. Tea is considered medicinal and quite often taken to cure cough, bronchitis and asthma
Rakhal is considered a sacred plant and quite often found cultivated around temples and near habitation for religious purposes. Its leaves, twigs and wood all are used in worshipping. Wood is also used to make temple and deities.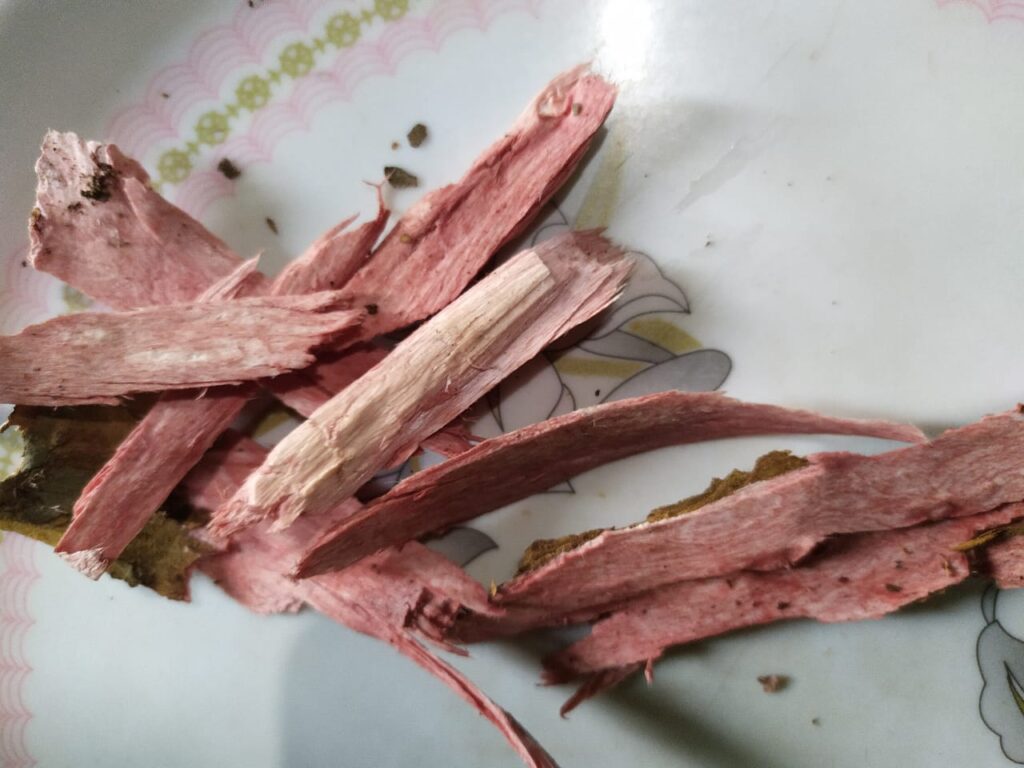 Rakhal is a multipurpose tree for the people residing in hills and collected from wild as a source of food, medicine,fuel and timber for local personal uses. Its riped seeds are center of attraction for visitors and wildlife. It is also grown as an ornamental tree in gardens and temples. However, the leaves contain an alkaloid poisonous to live-stock, but the alkaloid content varies from area to area 1. Himalaya. Rakhal is entered in list of endangered plants due to overexploitation for trade and need cultivation and awareness for sustainable use.
Rakhal Plant:
Rakhal is a small or medium sized, evergreen trees, usually upto 6m high.
Leaves are 2.5-3.8cm long, linear, flattened, distichous, acute, narrowed into a short petiole, dark green and shining above, pale yellowish- brown or rusty-red below, aromatic when dry.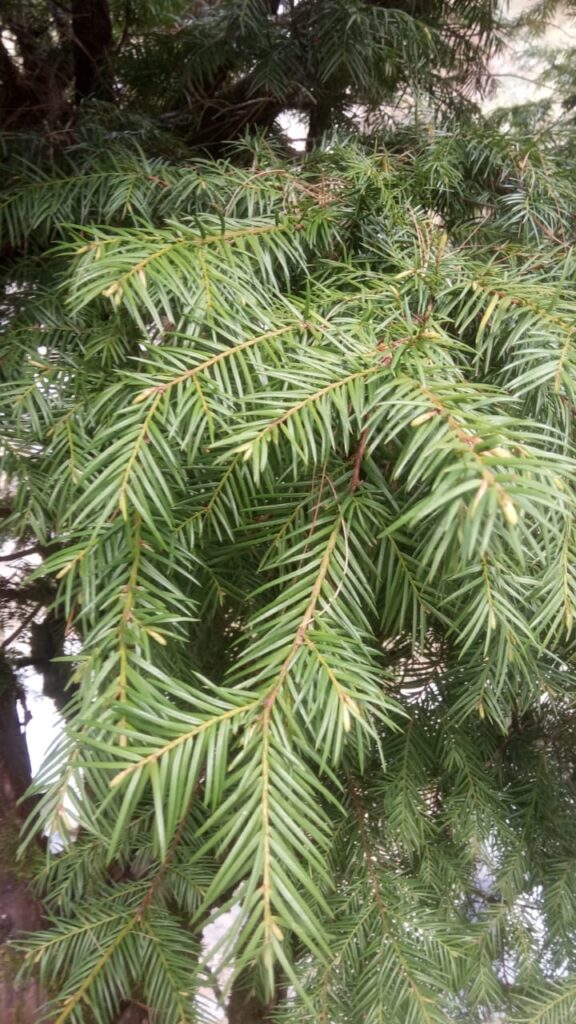 Cones usually dioecious.
Male cones sub-globose and solitary, axillary, green, with3 pairs of scales, decussate.
Ovule erect, surrounded at the base by a cup-shaped disc, which enlarges and becomes succulent and bright red at maturity.
Seed olive-green.
Edible ripened aril of rakhal is available from September to November, while bark can be collected round the year. Rakhal is listed endangered plant due to its overexploitation for trade, so need cultivation and sustainable harvesting by habitat rotation.
Edible Uses:
Pulpy aril of seed is edible and eaten raw or cooked and considered sweet, gelatinous and delicious.These are supplement in dessert and deseeded ripened aril is made into jam. Bark is used in making of medicinal tea considered good to cure cough, bronchitis and asthma.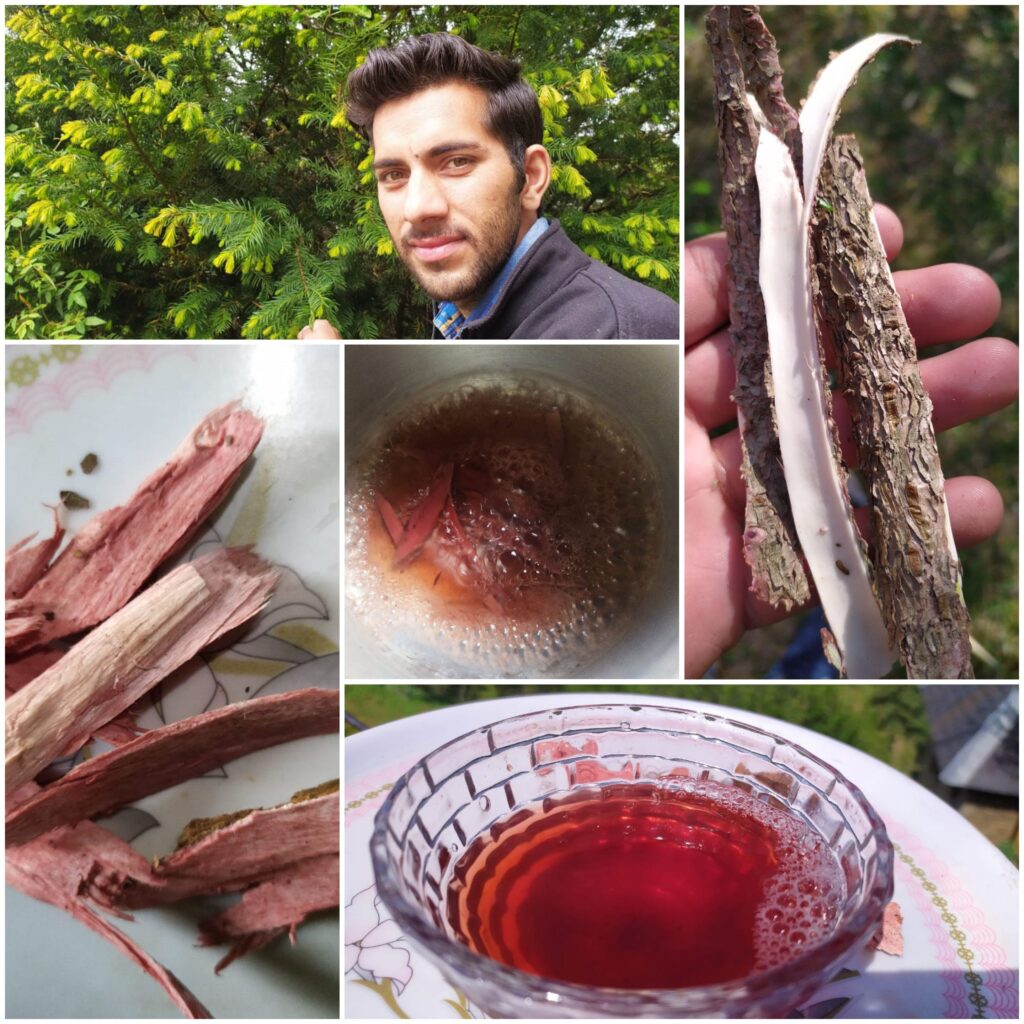 Desserts:
Ingredients:
Ripe rakhal deseeded aril and other chopped fruits acc. to taste, 250g; curd, 1/2kg; sweetener like honey/ sugar/ condensed milk, 1-3 tea spoon; cardamom powder,1/4 tea spoon; black salt according to taste.
Method:
Put ripened seed in freezer for 2 days, it will help to separate aril from seeds. Take curd in a bowl. Add to it sweetener according to choice and stir well. Add cardamom powder, black salt, deseeded aril and other chopped fruits according to preference. Mix well and serve.
Jam:
Ingredients:
Ripened deseeded aril,1 kg; sugar, 500 g; lemon juice, 4-5 tea spoon.
Method:
Put mature seed in freezer for two days, so that pulp (aril) can be easily separated from poisionous seeds. Put deseeded fruits (Aril) in pan, boil till they are soft and let them cool down. Mesh boiled fruit pulp manually or in a mixer. Place meshed pulp in a pan, add sugar to it and cook in low flame with constant stirring till sugar dissolve completely and jam become dense. Now mix it well with lemon juice and let it cool down. Jam is now ready to serve. Jam should be used fresh and can be preserved for two months.
Tea:
Ingredients:
Powdered bark, 1 tea spoon; water, 2 cup amount; sugar, 2 table spoons; lemon juice, 1/2 tea spoon and a pinch of salt.
Method:
Boil powdered bark in water. Add sugar, salt to it and simmer in low flame for 10 minutes. Strain into tea cups. Add lemon juice and serve.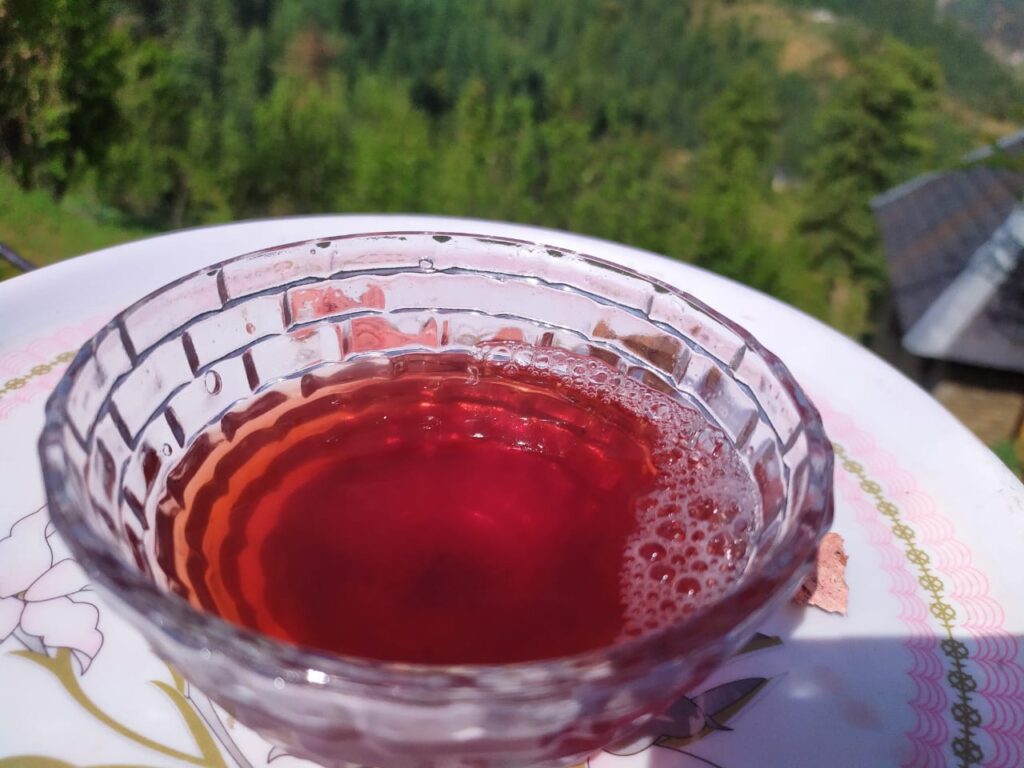 Salted Tea
In some parts of Western Himalayas salted tea is prepared from bark and is named differently in different regions. In kullu and Lahul district of Himachal Pradesh India it is called as "namkeen chai" or :looni chai" while in kinnaur district it is called as "chh-se-byai".
Ingredients:
Powdered bark, 1 tea spoon; water, 2 cup amount; milk, 1/2 cup amount, salt according to taste; butter, 1 cube amount.
Method:
Boil bark in water and let it cooldown (luke warm or more than that),strain into a bowl or "dongmo" (a special wooden utensil made for making this type of tea). Add to it milk, salt and butter. Shake well and heat as per your choice. Now pour tea into cups and serve.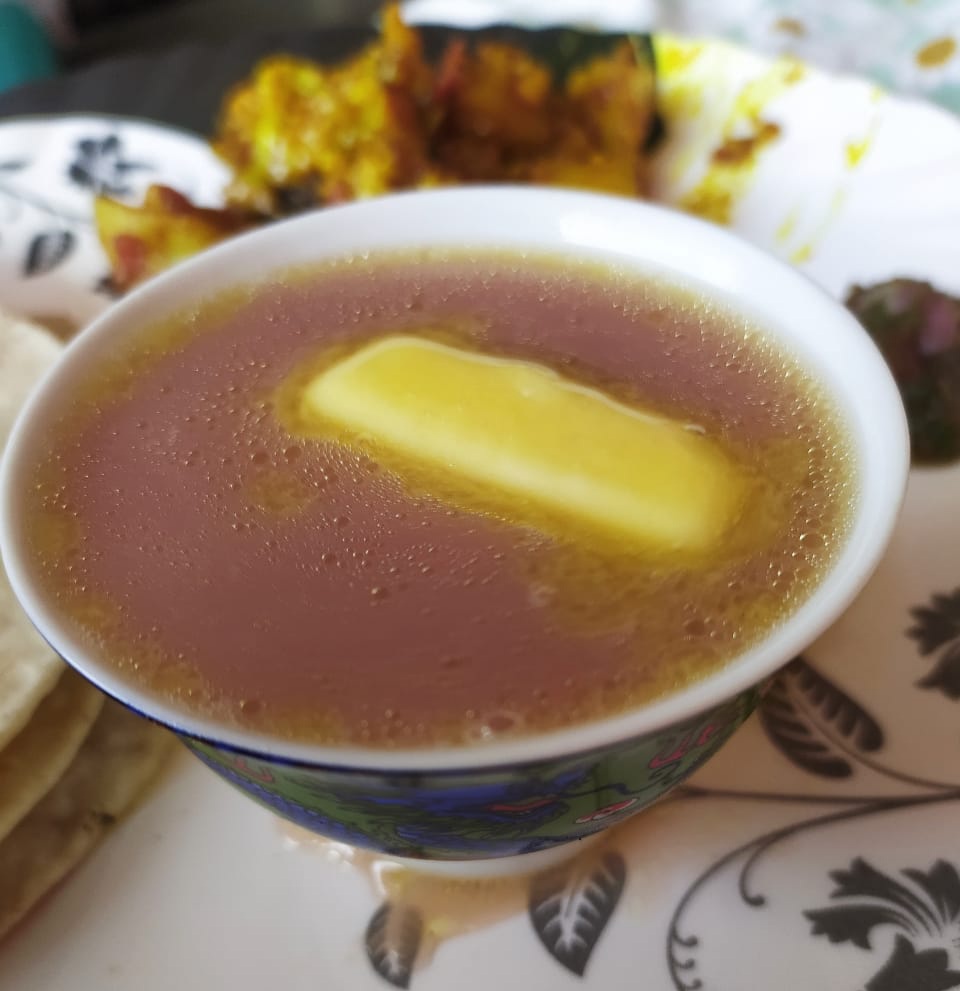 Food value:
100g of fruit contains calories from Fat 269;Total Fat, 29.9 g;Cholesterol, 288.2 mg;Sodium, 2240.9 mg;Total Carbohydrate, 75.3;Dietary Fiber ,2.7 g;Sugars, 6.8 g 2 .
Seek professional advice before treating this plant medicinally..
Medicinal Uses:
The leaves have been used internally in the treatment of asthma, bronchitis, hiccup, indigestion, rheumatism and epilepsy 3,4. Externally, the leaves have been used in a steam bath as a treatment for rheumatism4. A homeopathic remedy is made from the young shoots and the berries5. It is used in the treatment of many diseases including cystitis, eruptions, headaches, heart and kidney problems, rheumatism etc5. Leaves are also the source of Taxol, a potent anti-cancerous drug 6.
Taxol has shown exciting potential as an anti-cancer drug, particularly in the treatment of ovarian cancers7. Unfortunately, the concentrations of Taxol in this species are too low to be of much value commercially, though it is being used for research purposes7.
It is used as a remedy for pustular diseases of skin and night sweats, gout and chronic rheumatism. Complaints of supra-orbital and temporal pain of right side, with lachrymation & dilated pupil. Pain in pit of stomach and region of navel with feeling of pain and needles at the pit of stomach. Sensation of emptiness of stomach, which makes one to eat frequently. Skin with larger, flat, itching pustule8.
Chemical Constituents:
Alkaloids, Taxine, Taxinine, Ephedrine, Beta- sitosterl, Glucoside, Taxicant, Taxiphyllin, Ecdysterone, Hydrocyanic acid. Formic acid, resins8.
Religious Uses:
Rakhal is a religious plant for the local people residing in hills. Its leaves are used during worship and Wood is used to make temple and deities.So, plant is also cultivated for religious purposes around the temples.
Other Uses:
The wood is used for cabinet-marketing, furniture, poles, axles of carts, house construction, particularly shingles, as well as more specialised uses such as grave coverings and beehives1.The foliage is used as litter and fed to cattle in Pakistan 1.Wood is also uses as fule. Plant is grown as a ornamental tree near to home,garden and temples for its attractive foliage and red fruits.
Source of income:
Leaves are collected and sold as a substitute for 'Talispatra' of Ayurveda; used in treatment of asthma and bronchitis. Leaves are also the source of Taxol, a potent anti-cancerous drug 6.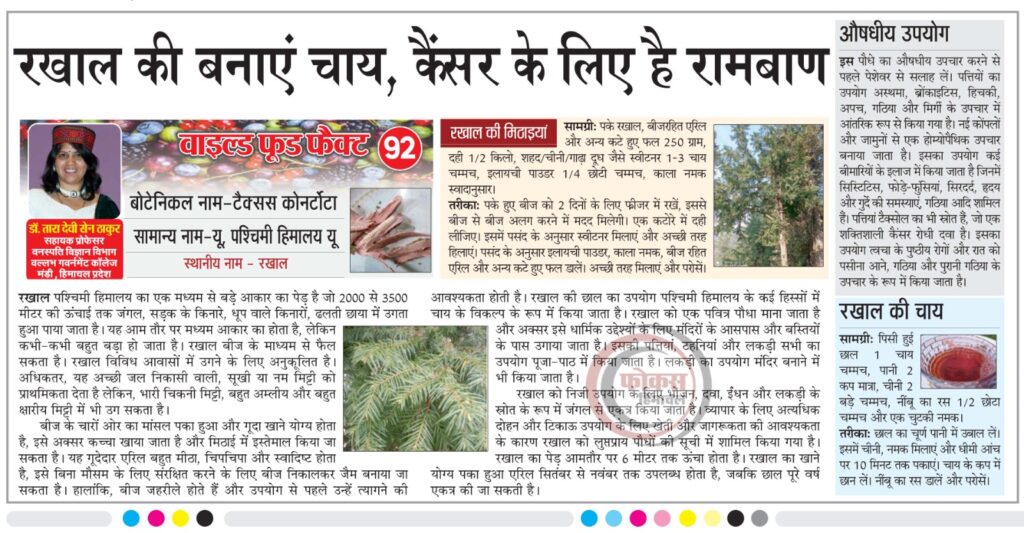 References:
1. Polunin, Oleg, and Adam Stainton. Flowers of the Himalaya. Oxford University Press, 1984.
Chopra, R. N., Nayar, S. L., & Chopra, I. C. (1956). Glossary of Indian medicinal plants (Vol. 1, pp. 138-139). New Delhi: Council of Scientific & Industrial Research.
Chevallier. A. (1996); The Encyclopedia of Medicinal Plants. Dorling Kindersley. London, ISBN, 9-780751-303148.
5. Grieve, M. (1984). Tansy. A Modern Herbal. Penguin Books Ltd, Middlesex, Great Britain, 789-790.
Singh PB. (2018). Flora of Mandi district. Himachal Pradesh: North West Himalaya.
Bown. D. (1995): Encyclopaedia of Herbs and their Uses. Dorling Kindersley, London. ISBN,0-7513-020-31.
Purohit SS, Sharma AK, Prajapati ND, Kumar T. (2009); A handbook of medicinal plants: a complete source book. 2:352-3.