Family: Caryophyllaceae
Synonyms: Holosteum cordatum,Cerastium cordifolium, Drymaria diandra, D. cordata sensu, D. cordata subsp. diandra.D. extensa, Stellaria adenophora, Drymaria procumbens, Alsine rotundifolia.
Common Name: Tropical Chickweed, chickweed, drymaria, heartleaf drymary, West Indian chickweed
Local ame: Padyala (पडयाला), Kharish-gulab.
Padyala is a herbaceous annual of Western Himalayas quite frequently seen growing in cultivated land, grassland, forest margins, roadsides, pathways, garden and waste places in shade or moist shady habitat. It can grow upto an altitude of 700-2000m from summers to autumn season of the year. There is one another plant which is known by same local and common name that is Stellaria media member of same family Caryophyllaceae. That might be due to their superficial resemblance with one another and presence of elastic inner core in both. However, unlike Drymaria cordata. Stellaria media is a winter annual and there is no fine line of hair on its stem. Its leaves also do not taste like raw corn.
Plant being described here with local name padyala is Drymaria cordata. It is easily propogated through seeds and is so much widespread in its natural habitat as well as in cultivated land that it is usually considered as a weed to be removed. Inspite of its rich food value, so far its use is limited to its medicinal property only and very few people in villages use it as food or food supplement. As padyala shows higher concentration of protein, carbohydrate, minerals and is a moderate sources of fat, so it can be served as a nutritional rich source in combating malnutrition at one end and obesity at other. So, padyala need to be promoted as a food supplement or as an alternate source of bio-nutrient to promote health 1.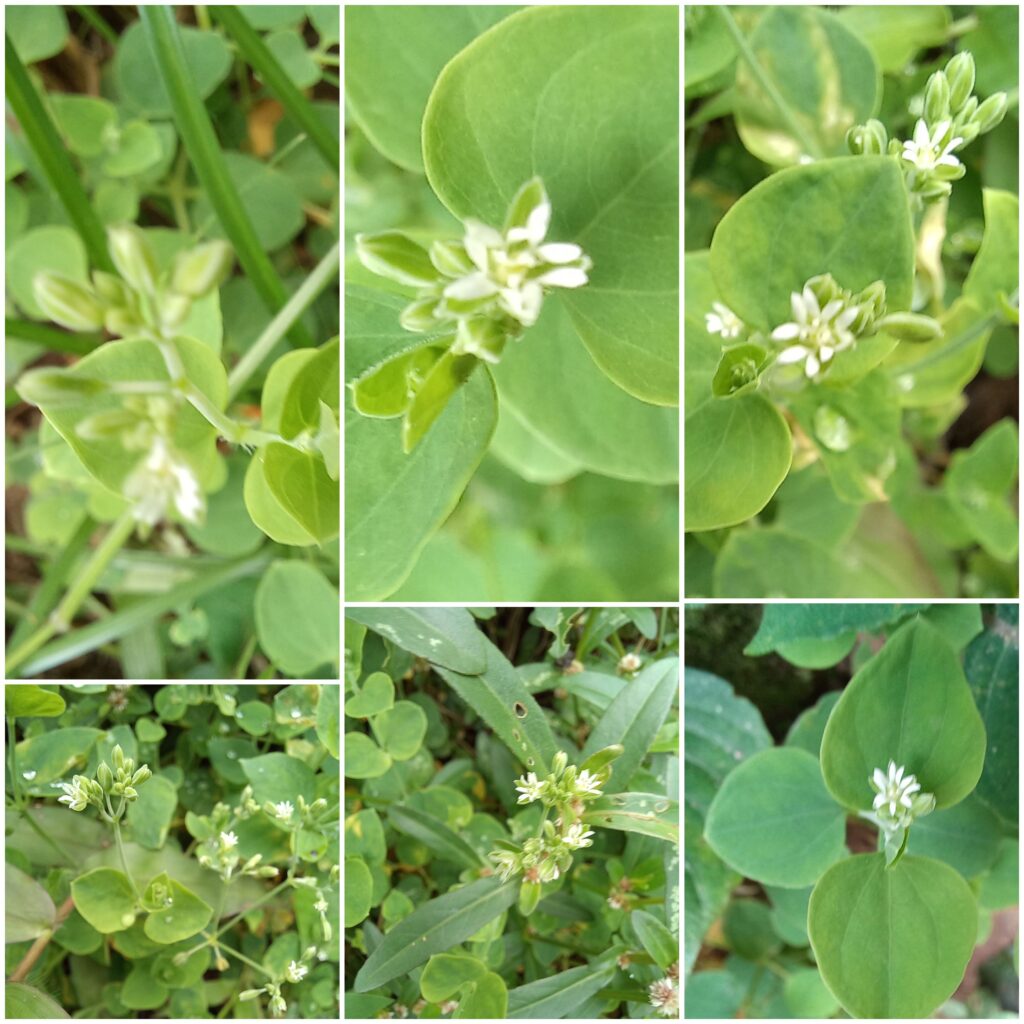 Locally young leaves and tender shoot terminals of padyala are taken cooked exclusively or in combination with other available summer wild annuals like Amaranthus, Chenopodium and Bidens etc.It is mainly taken to harness its rich medicinal value. Its young leaves are taken as a refreshing salad in some parts of the world 2. Leaves can also be added to other traditional dishes as a food supplement viz parantha, pakoras, bhale etc. or cooked to make another traditional dish kachru (a local traditional dish usually taken as snack with chutney or tomato ketchup) which is very much liked by everyone including kids. Addition of such type of medicinal and nutritive plants in tempting preparation like kachru, pakoras, bhale is an excellent way to make kids (who are generally very choosy for thier meal) of ruling era to eat what you want them to intake to boost their immunity and face ongoing challenges of pollution, stress, depression and pandemic like COVID-19.
Padyala is harvested from wild as a source of food, medicine and fodder for local personal uses. It os found useful as a ground cover to prevent erosion, especially on steep slopes 3.
Padyala Plant:
Plant is slender diffuse, prostrate or decumbent, dichotomously branched herbaceous annual.
Stems is rooting at the base, trailing or straggling upwards with minute hairs.
Leaves are opposite, broadly ovate- orbicular, with rounded-subcordate base, 8-15mm long, white in lax, glandular, puberulous, stalked, with outgrowths of several bristles at the base.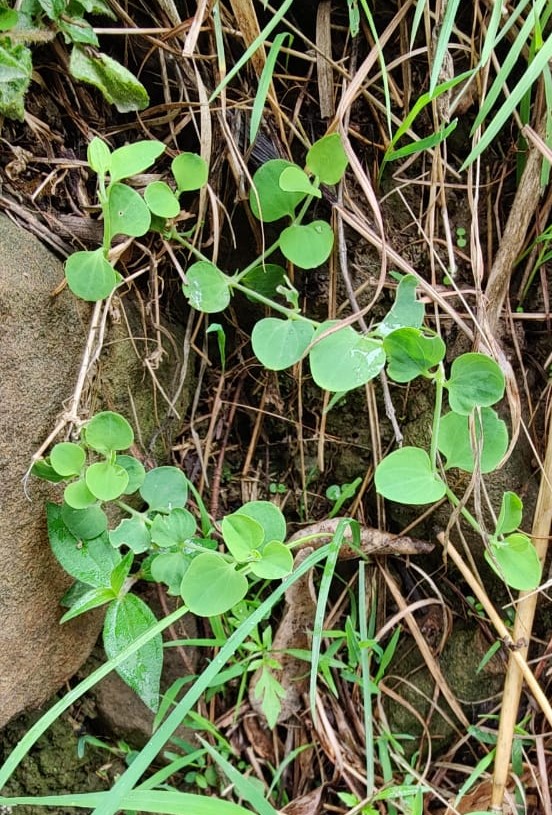 Flowers 4-6mm, repeatedly forked cymes. Sepals 5, free, oblong acute. Petals 5, white, bifid; lobes narrow. Stamens2-3.
Capsules are 3-gonnous, 2-3 valve, 1.5-2.5mm long.
Seeds may be 1 or few, or compressed, finely tuberculate.
Edible leaves can be collected from summer to rainy season of the year.
Edible Uses:
Tender green parts of padayla are used as potherb. It is cooked to make a leafy vegetable saag usually with available wild greens of summer season like plants belonging to genus Amaranthus, Chenopodiim, Bidens etc.
Leaves are also made into kachru and taken as a snack with basen and spices.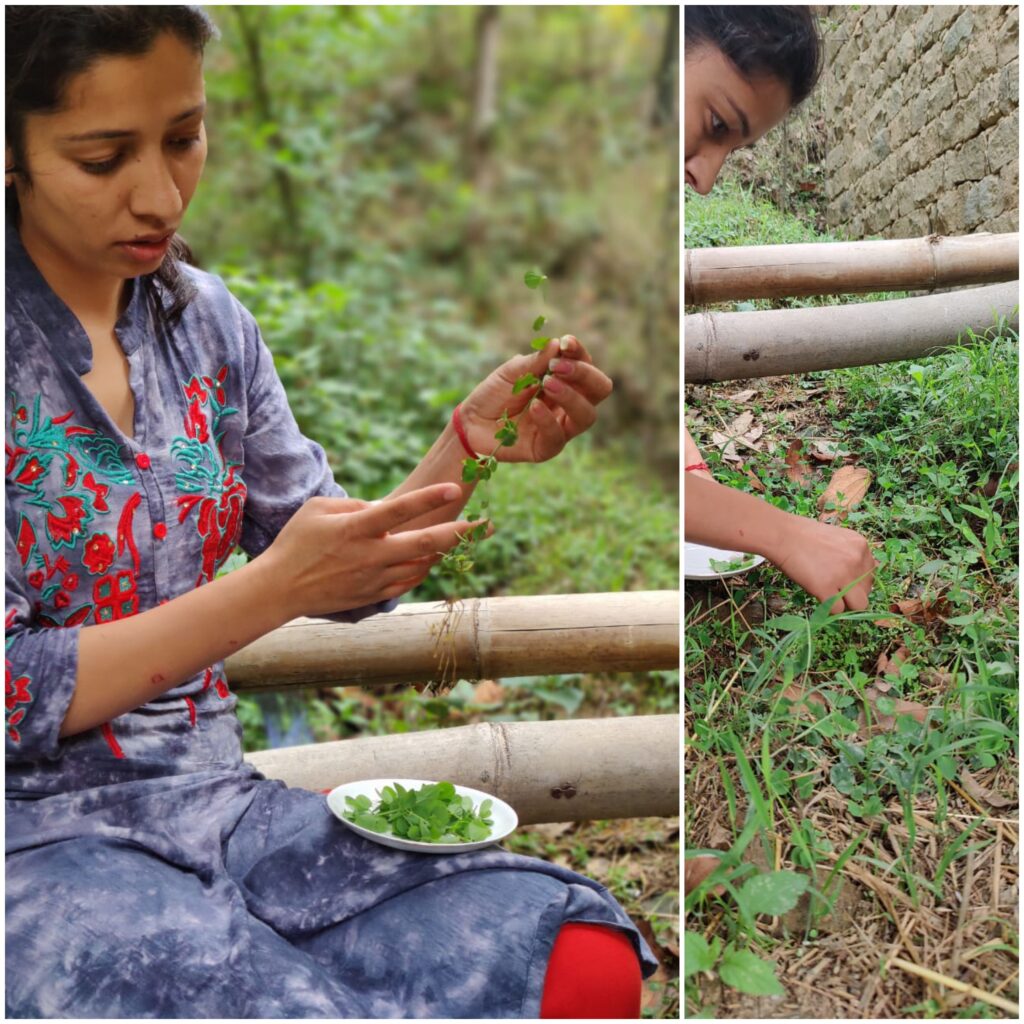 Saag:
Ingredients:
Above ground parts of padyala, and other wild potherbs, 1 kg; mustard oil, 2 table spoons; coriander powder 1 table spoon; fenugreek powder, ½ table spoon; cumin seed ¼ table spoon; turmeric powder, 1/4 table spoon; red chilies, 2-3; chopped onions 2-4; garlic, 4-5 cloves; ginger paste ½ table spoon and salt according to taste.
Method:
Boil chopped plant parts they become soft. Then mesh manually or in a mixer. Then sauté with hot mustard oil and the spices listed before in sequence. This sauted saag is then ready and can be served as such or can be mixed with 2 or 3 chopped onion and cooked for another 5 to 10 minutes before serving.
Pakoras:
Ingredients:
Fresh chopped padyala leaves ,250 g; besan (black gram flour) or corn flour,1/2 kg ;mustard oil, 10-12 table spoon; 1 cup fresh coriander plus curry and mint leaves (chopped), 5-6 green chilies, ½ table spoon turmeric powder, 2-3 medium sized chopped onions, 2-3 medium sized finely chopped potato and salt according to taste.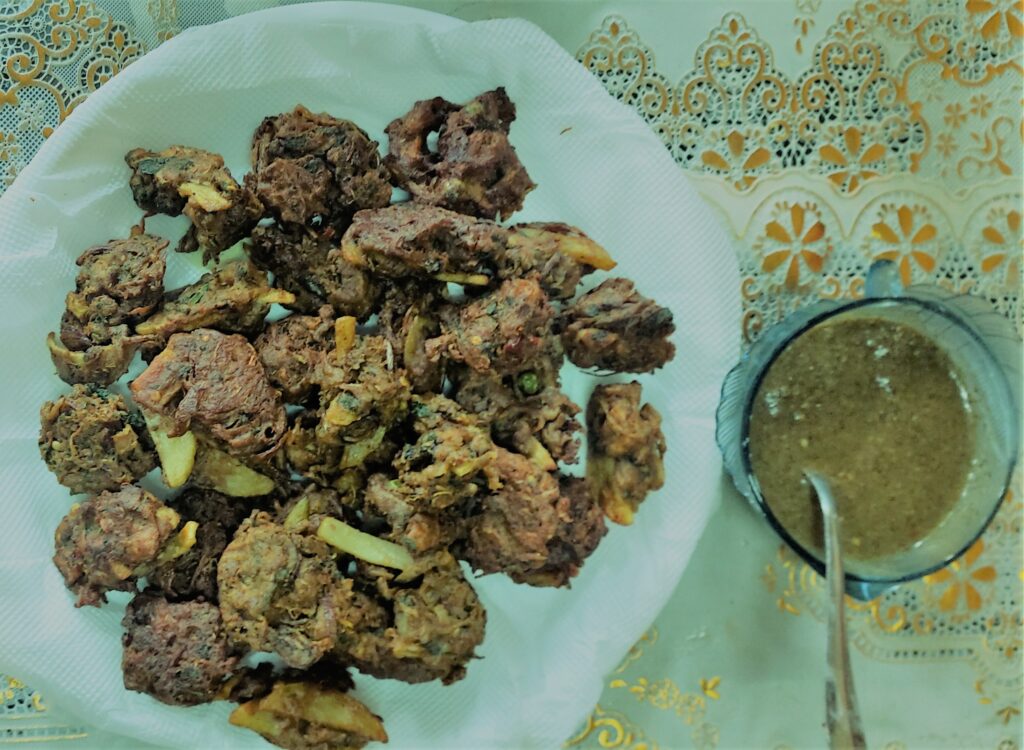 Method:
Make a paste of chopped padyala leaves, chopped potatoes, basen and spices listed above. Mix well and and make small ball of this paste. Put mustard oil in a fry pan and give these balls a deep fry.Repeat this process till whole paste is over. Pakoras are now ready to serve. Serve these hot with chutney or tomato-ketchup.
Kachru or sosaru:
Kachru is a traditional dish of Werstern Himalaya cooked as chilla with spices and basen or corn flour. It is served as a evening snack with tea/ chutney/tomato ketch-up.
Ingredients:
For preparing a kachru, ingredients required are 1kg fresh leaves of padyala, 1/2 kg besan (black gram powder) or corn flour. 1 cup amount fresh coriander leaves,1/2 table spoon ajwain, 3-5 green chillies, ½ table spoon turmeric powder, 2-3 chopped onions and salt according to taste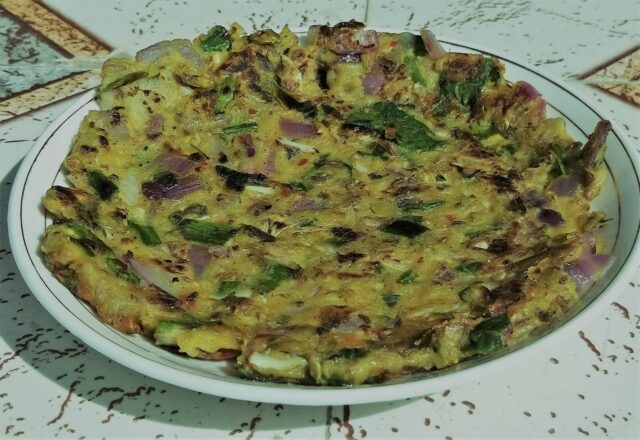 Method:
Make a paste of chopped padyala leaves, besan or corn flour and spices. Heat some oil on a flat heating pan. Put this paste over a pan and cook for 15 to 20 minutes then kachru will be ready to serve.
Nutrient Value:
100g of padyala leaves contains: Moisture,10.67%; Crude protein, 20.57%; Ether extract, 0.32 %; Crude fiber, 15.00 %; Total ash, 9.00%; Carbohydrate, 44.44%; Gross energy, 262.92 Kcal. Mineral content is Calcium, 0.978%; Phosphorous, 0.600%; Zinc, 10.760 ppm; Iron 792.000ppm; and Copper, 1.000ppm 1.
Seek professional advice before treating this plant medicinally.
Medicinal Uses:
Locally powdered plant is given with cold water in morning hours for one month to restore sexual potency in women. Its sap is said to be febrifuge and laxative3. It has an aromatic pungency leading it to be much used in many countries for treating respiratory chest-ailments, colds and bronchitis 3.The dried leaf is smoked like a cigarette for treating chest-complaints and bronchitis 3,4 .
The plant is diuretic, stomachic and vesicant 2,3 . An infusion of the leaves or whole plant is used as a treatment for jaundice, colds, biliousness and malaria 2.
It is used for curing asthma, burns, cold, constipation, diarrhoea, dysentery, food poisoning, hay fever, headache, insect-bite, mouth and tongue sores, pneumonia, skin diseases, snake-bite, stomachache, vomiting and wounds, and as a salad for its cooling properties 5,6,7 .
Other Uses:
Padyala is used as fodder and can be grown as ground cover  in gardens or at steep slopes to reduce soil erosion.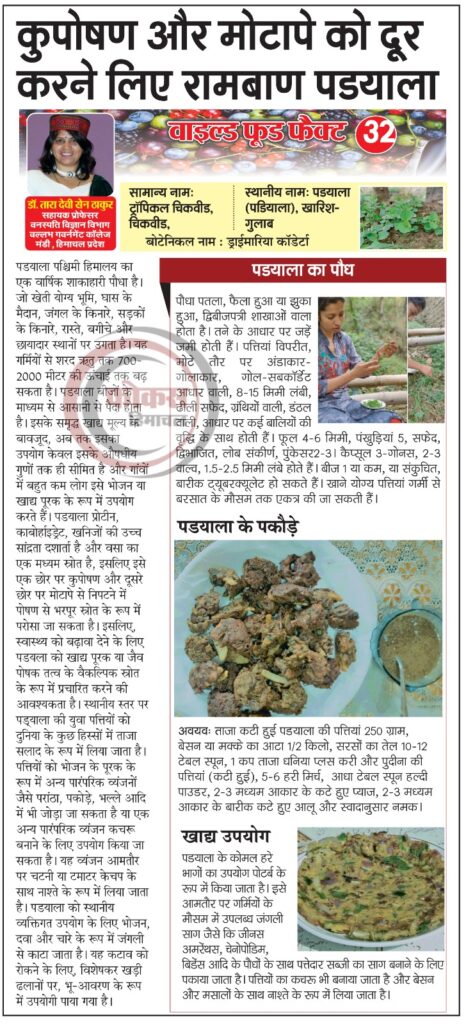 References:
Barua, C. C., Bora, M., Saikia, B. N., Hazarika, M., Misri, J., & Chandrabarua, I. (2015). Nutritional evaluation of few selected medicinal plants of north eastern region. Int. J. Pharm. Biosci, 6, 538-546.
Defilipps, R. A. (1994). Medicinal plants of the Guianas. Reference Publ..
Burkill, H. M. (1995). The useful plants of west tropical Africa, Vols. 1-3. The useful plants of west tropical Africa, Vols. 1-3., (2. ed.).
Ruffo, C. K., Birnie, A., & Tengnäs, B. (2002). Edible wild plants of Tanzania.
Chopra, R. N., Nayar, S. L., & Chopra, I. C. (1956). Glossary of Indian medicinal plants (Vol. 1, pp. 138-139). New Delhi: Council of Scientific & Industrial Research.
Gupta. B. L. (1945); Forest Flora of Chakrata, Dehra Dun and Saharanpur.
Jain, S. K. (1991). Dictionary of Indian folk medicine and ethnobotany. Deep publications.