Family: Equisetaceae
Synonyms: Equisetum calderi. Equisetum saxicola Equisetum arvense subsp. Boreale,Equisetum arvense subsp. Ramulosum,Equisetum arvense var. Arcticum,Equisetum arvense var. campestre.Equisetum arvense var. Ramulosum.Equisetum boreale,Equisetum. calderi, Equisetum campestre Equisetum saxicola.
Common Name: Field Horsetail, Common Horsetail, bottlebrush, foxtail, jointed rush, horse pipes, mare's tail, snake grass.
Local Name: Nali (नली ), Dandli.
Nali is a herbaceous perenial plant (fern) of Western Himalayas with hollow, jointed stems containing large amounts of silica and silicic acids. It is a cosmopolitan fern which grows in variety of habitat like open fields, in pastures, arable land, waste places, damp and open woodlands, hedgerows, roadsides,disturbed areas and near the edge of streams usually on moist soil. Nali can grow upto an altitudes of 4100m in Western Himalayas.
It usually grows best in neutral or slightly basic clay loams that are sandy or silty, especially where the water table is high, though it can also occur occasionally on slightly acid soils. Nali being the member of Pteridophytes propogate through spores unlike by seeds which is common method of propogation in higher plants i.e. naked seed and floweing plants. Spores in nali germinate to produce separate sterile non-reproductive and fertile spore-bearing stems growing from a perennial underground rhizomatous stem system.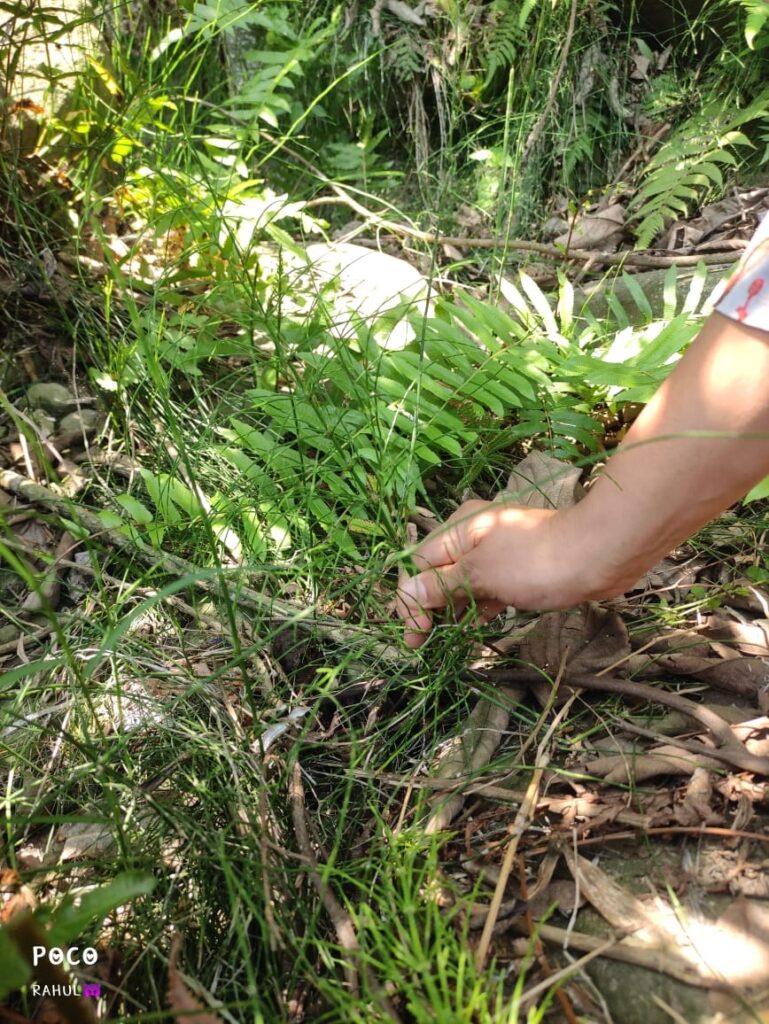 Nali is considered as a useless plant by majourity of people of Western Himalayas. it is an important medicinal plant for few knowledgeable people, but even for them nali is more a medicinal herb than an edible fern.Some of local people specially smokers use its stem as tootbrush to remove black stain of teeth. It is source of amusement for childern they break and join its stem from nodes during their play. Traditional knowledge and medicinal uses of most of plants is further on sharp decline and is very less among youth.
Very few people of this region (Himachal Pradesh, India) might be knowing that this plant is edible and effective immunity booster, which can be utilized to combat ongoing and after impacts of great pandemic COVID-19. Nali is an excellent source of silicon (10%), potassium, calcium, manganese, magnesium and phosphorus, phytosterols, dietary fiber, vitamins A, E and C, tannins, alkaloids, saponins, flavonoids, glycosides and caffeic acid phenolic ester 1. Nali is frequently eaten cooked in other parts of the world like in Japan & Native American cultures . Its buds or fertile shoots are are taken as a vegetable in Japan and Korea in spring while its sterile shoots are taken as a herbal and tonic tea round the year to harness its rich medicinal value. In Japan the young spore bearing stems are boiled and eaten as a potherb. They are also simmered in soy sauce and mirin to make a dish called Tsukudani 2.
Nali is found luxuriantly in Western Himalayas and its medicinal and edible uses are negligible for local people specially of Himachal Pradesh due to lack of knowledge and awarness. So main motive of this write- up is to promote sustainable edible and medicinal use of this plant to make our coming generation more healthy and happy.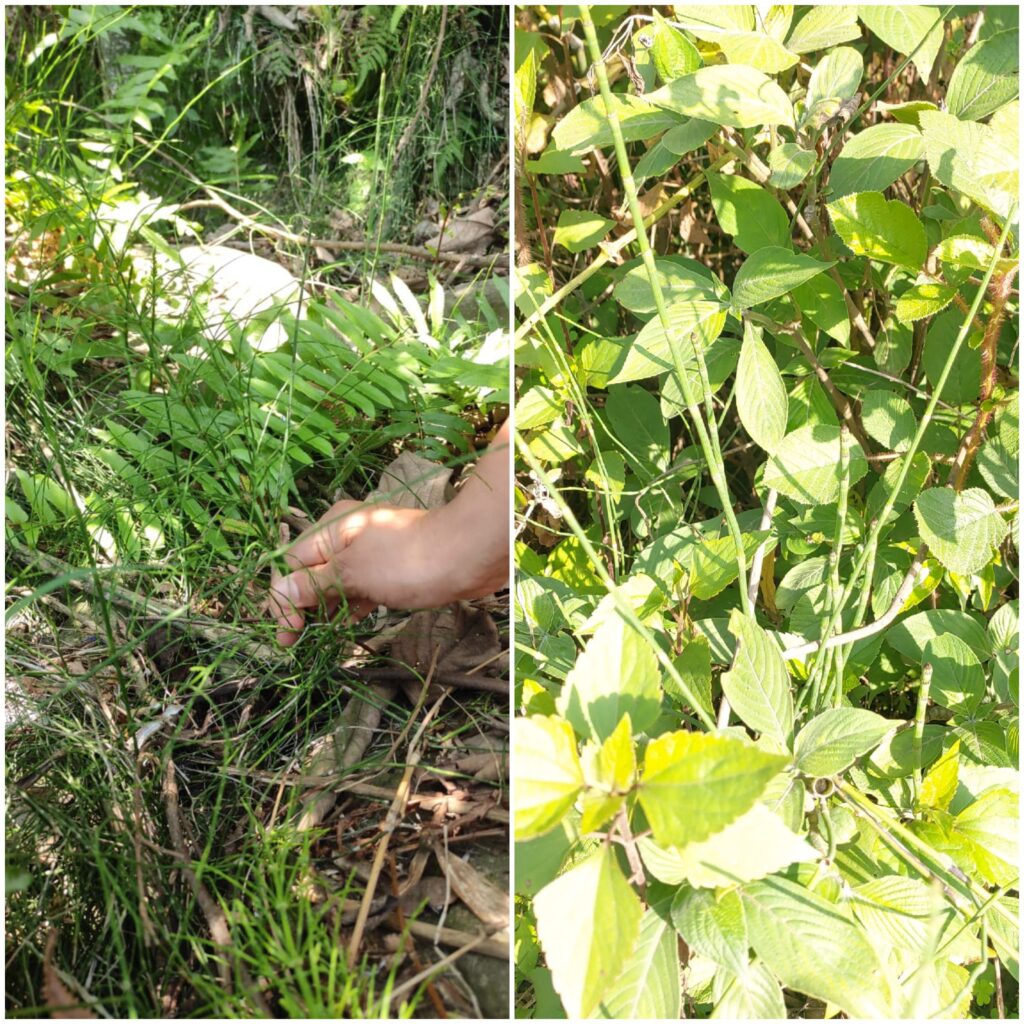 Eating large quantity of this plant can be toxic. This is because it contains the enzyme thiaminase 3, a substance that can rob the body of the vitamin B complex. In small quantities this enzyme will do no harm to people eating an adequate diet that is rich in vitamin B, though large quantities can cause severe health problems. The enzyme is destroyed by heat or thorough drying, so cooking the plant will remove the thiaminase3.
Nali can be harvested from wild as a source of food, medicine and material for both personal and commercial uses. It can also be grown near to habitation as an ornamental plant due to its eye catching appearence.
Nali Plant:
A rush like herb with perennial branched rootstock.
Stem green, hollow grooved and jointed, bearing minute leaves in circle at each joint.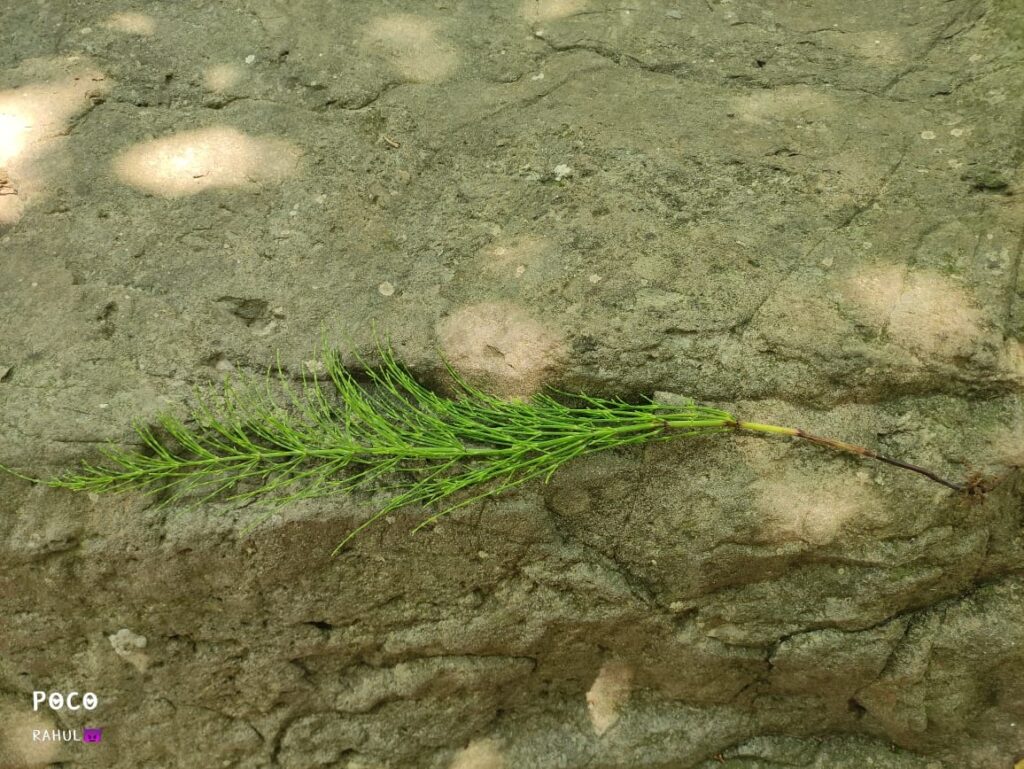 The stems often carry short branchlets from leaf axils. Branches are of two types: fertile spore bearing and sterile non reproductive.
The fructification is an egg-shaped cone about 2cm(0.8in.) long at a special branch tip, and comprises spore-bags arranged like horses of a 'merry-ground' and disposed in circles upon the underside of stalked discs making up the cone.
Spores tailed with 4-ribbons.
Edible fertile shoots are harvested in spring and sterile one can be from spring to summers and can be used round the year.Edible fertile shoot should be sustainably harvested by habitat rotaton and leaving some fertile shoot at the harvesting sites for ensuring sustainable development.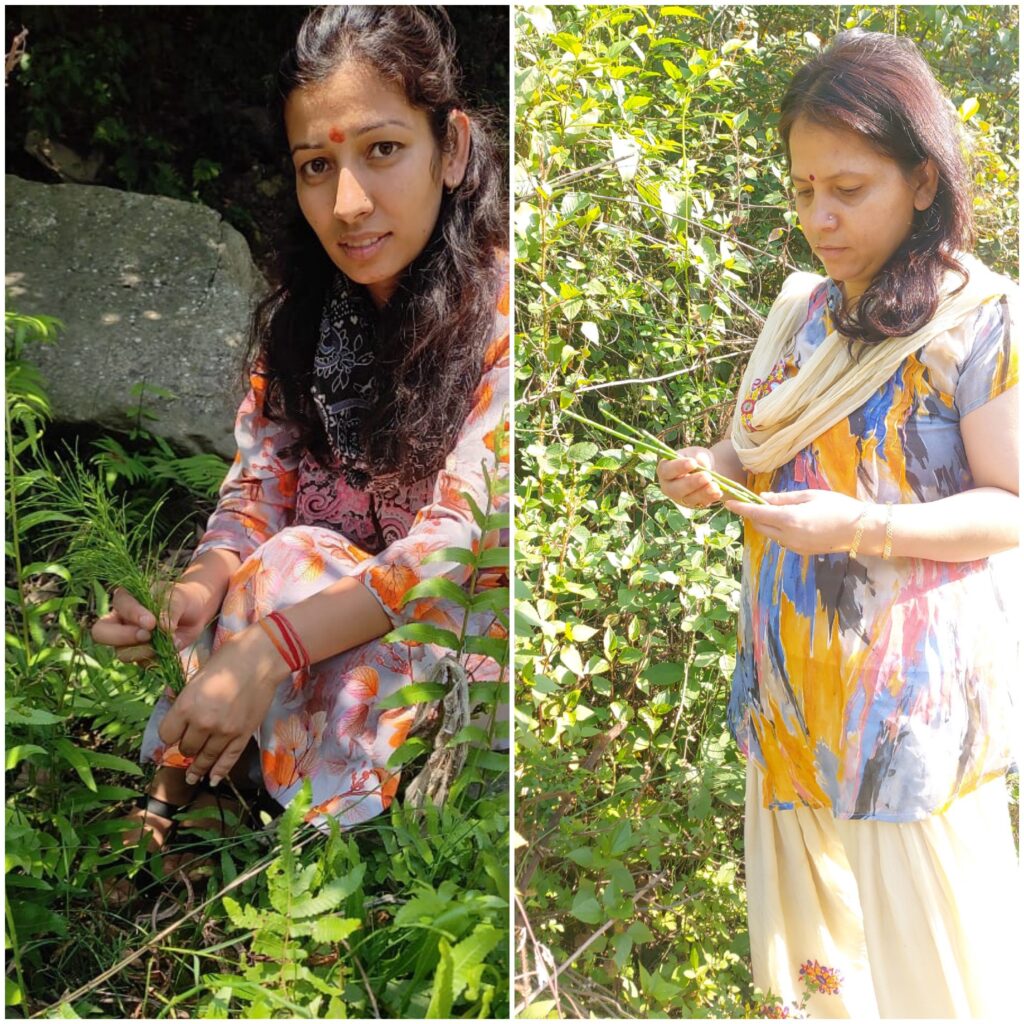 Edible Uses:
Fertile shoots of spring growth are taken as a food, these can be stirr fried or cooked as snack or cutlets. Vegetative shoots which emerge after fertile shoots usually considered good from spring to early summer are more taken as tonic rather than food due their rich content of silica, diuretic, and minerals which is considered benificial to improve hair, nails, bones, bladder, and kidneys. These can also be dried and stored as tea leaves for later use..
Nali snacks:
Ingredients:
Fresh fertile shoots ,250 g; besan (black gram flour) or corn flour,1/2 kg ;mustard oil, 10-12 table spoon; 1 cup fresh coriander plus curry and mint leaves (chopped), 5-6 green chilies, ½ table spoon turmeric powder, 2-3 medium sized chopped onions and salt according to taste.
Method:
Make a paste of basen and spices listed above. Dip throughly washed fertile shoots of nali and give a deep fry in hot mustard oil .Repeat this process for all the shoots. Nali snacks are now ready to serve. Serve these hot with chutney or tomato-ketchup.
Tea:
Ingredients:
Handfull nali green tops/ dried strile shoot;Water, 3 cup amount; honey 3 table spoon.
Method:
Simmer nali greens in water for 10 minutes, add honey and serve. If dried boil 3 cup amount of water in a boiling pain. Add 1 table spoon dried nali and honey strain into cups and serve.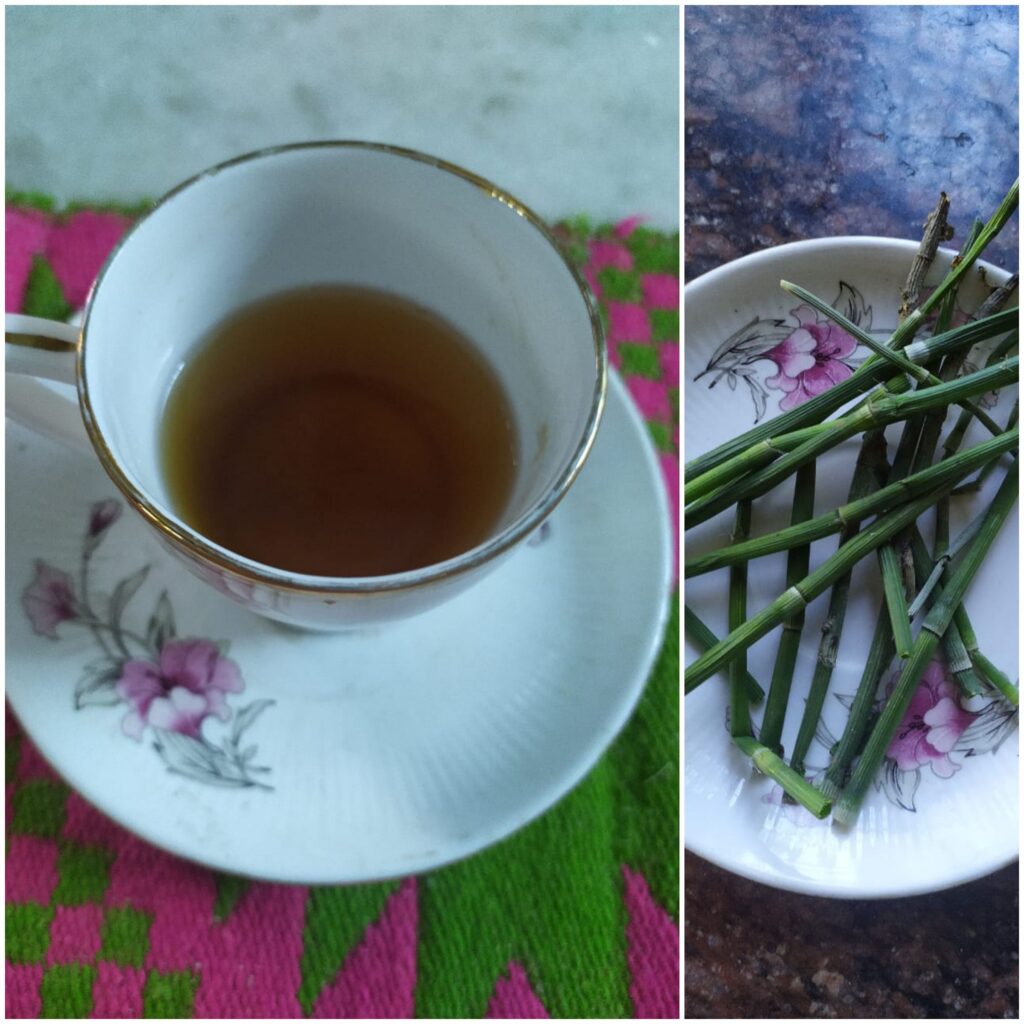 Nutritional value:
The nutritive value of the sterile shoots of field horsetail, as
percentage of dry weight, is as follows:Protein;15,nitrogen-free extract ; 40.6,ether extract ; 3.7, gross kilocalories, 2.9 per 100 g 4.
Aerial shoot contains as percentage of dry
Weight as follows dry matter100 g, ash ;18.5, crude fiber;23.5,ether extract; 2.4,nitrogen free extract, 50.3; protein (nitrogen; 6.25) 5.
The plant contains several substances that can be used medicinally. It is rich silicon (10%), potassium, calcium, manganese, magnesium and phosphorus, phytosterols, dietary fiber, vitamins A, E and C, tannins, alkaloids, saponins, flavonoids, glycosides and caffeic acid phenolic ester 1.
Seek professional advice before treating this plant medicinally.
Medicinal Uses:
Silica present in nali reduces the risk of excessive bleeding and contributes to the building of healthy blood cells. It increases the number of phagocytes (a type of cell within the body capable of engulfing and absorbing bacteria and other small cells and particles), which improves the functioning of the entire immune system.Bronchitis, lung and respiratory tract disorders have been shown to be helped by this plant, which increases the functioning and elasticity of lung tissues 1.Nali contains chemicals that work like "water pills" (diuretics) and increase urine output. hair loss.heavy periods.kidney and bladder stones. swelling (inflammation) of the tonsils (tonsillitis).urinary tract infections.weight loss etc.
As its traditional usage indicate, nali is an excellent clotting agent. It staunches wounds, stops nosebleeds and reduces the coughing up of blood. In addition, it has an astringent effect of the Genito-urinary system, proving especially valuable where there is bleeding within the urinary tract, and in case of cystitis, urethritis and prostrate disease. The herb is also prescribed to treat rheumatic and arthritic problems for chest ailments such as emphysema, for chronic swelling of the legs and for various other conditions 6. The plant is anodyne, antihaemorrhagic, antiseptic, astringent, carminative, diaphoretic, diuretic, galactogogue, haemostatic and vulnerary 3,7, 8, 9, 10. 11. 12. The green infertile stems are used, they are most active when fresh but can also be harvested in late summer and dried for later use 7,9. Sometimes the ashes of the plant are used 7.. The plant is a useful diuretic when taken internally and is used in the treatment of kidney and bladder problems, cystitis, urethritis, prostate disease and internal bleeding, proving especially useful when there is bleeding in the urinary tract 7,13. A decoction applied externally will stop the bleeding of wounds and promote healing7.
Chemical constituents:
Nali contains large amount of silicic acid and silicates, flavonoids, phenolic acids, alkaloids, and sterols. Much of the therapeutic effectiveness of this herb is due to its high silica content, a large proportion of which is soluble and can be absorbed. Silica supports the regeneration of connective tissue6.
Other Uses:
Nali is .Sometimes used in cosmetics and shampoos.
The stems contain 10% silica and are used for scouring meta 7.,8.14 and as a fine sandpaper 8, 15, 16 . They can also be used as a polish for brass, hardwood etc 14. The infused stem is an effective fungicide against mildew, mint rust and blackspot on roses16 . It also makes a good liquid feed 15. A light pink dye is obtained from the stem16. The plant has been used for making whistles 16. It can be used as an ornamental plant and used as hair wash for shining and dense hairs as follow:
Hair wash:
Simmer 250 g of fresh or dried nali in 1/2 liter water for 10 minutes and leaves this infusion for 3 to 5 hours. Rinse hairs with the infusion 2 to 3 times and  towel dry the hair. This rinse makes hair feel silky and look shiny. Rinse at least 2 times in a week for dense hair growth,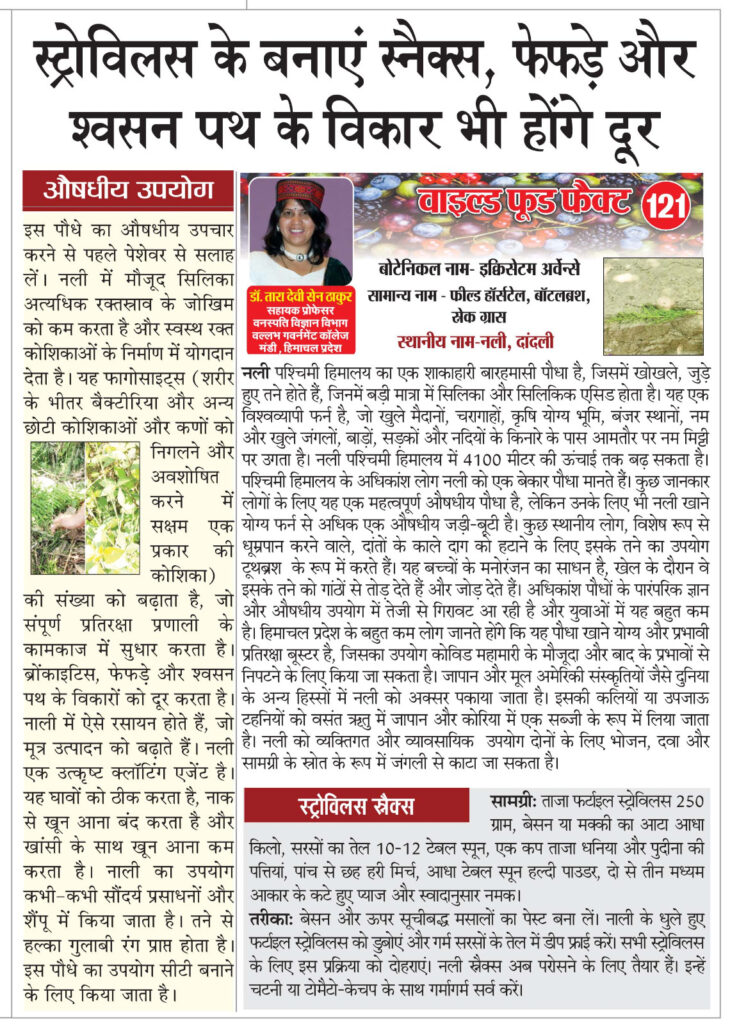 References:
(https://nutritionreview.org/2013/10/horsetail-2/)
Facciola, S. (1998). Cornucopia II. 1st ed. Vista, CA: Kampong Publications.
Schofield. J. J. Discovering Wild Plants – Alaska, W. Canada and the Northwest.
Mealey, Stephen Patrick. (1975). The natural food habits of free ranging grizzly bears in Yellowstone National Park, 1973-1974. Bozeman, MT: Montana State University. 158 p. Thesis.
National Academy of Sciences. (1971). Atlas of nutritional data on United States and Canadian feeds. Washington, DC: National Academy of Sciences. 772 p.
Purohit SS, Sharma AK, Prajapati ND, Kumar T. (2009); A handbook of medicinal plants: a complete source book. 2:352-3.
Grieve (1984): A Modern Herbal. Penguin ISBN 0-14-046-440-9
Chiej. R(1984): Encyclopaedia of Medicinal Plants. MacDonald 1984 ISBN 0-356-10541-5
Launert. E. Edible and Medicinal Plants. Hamlyn 1981 ISBN 0-600 37216-2.
Duke. J. A. and Ayensu. E. S (1984). Medicinal Plants of China Reference Publications, Inc. 1985 ISBN 0-917256-20-4
Chopra. R. N., Nayar. S. L. and Chopra. I. C(1986). Glossary of Indian Medicinal Plants (Including the Supplement). Council of Scientific and Industrial Research, New Delhi.
Uphof. J. C(1959):The Dictionary of Economic Plants. Weinheim .
Chevallier. A.(1996) The Encyclopedia of Medicinal Plants Dorling Kindersley. London. ISBN 9-780751-303148
Sweet. M (1962). Common Edible and Useful Plants of the West. Naturegraph Co. ISBN 0-911010-54-8
Hatfield. A. W(1977). How to Enjoy your Weeds. Frederick Muller Ltd. ISBN 0- 584-10141-4
Moerman. D.(1998) Native American Ethnobotany Timber Press. Oregon. ISBN 0- 88192-453-9