Family: Orchidaceae
Synonym: Orchis hatagirea
Common Name: Hatta Haddi
Local Name : Salampanja (सालमपंजा), Hathajari
Salampanja is a temperate to alpine, monocotyledonous, perennial, orchid of Western Himalayas which grows from palmately lobed rhizome. The genus name Dactylorhiza of Salampanja is based on the finger like shape of its rhizome, it is derived from Greek word "daktylos" meaning finger and "rhiza" meaning root. Thus Dactylorhiza reffer to palmately shaped two- to five lobed tubers.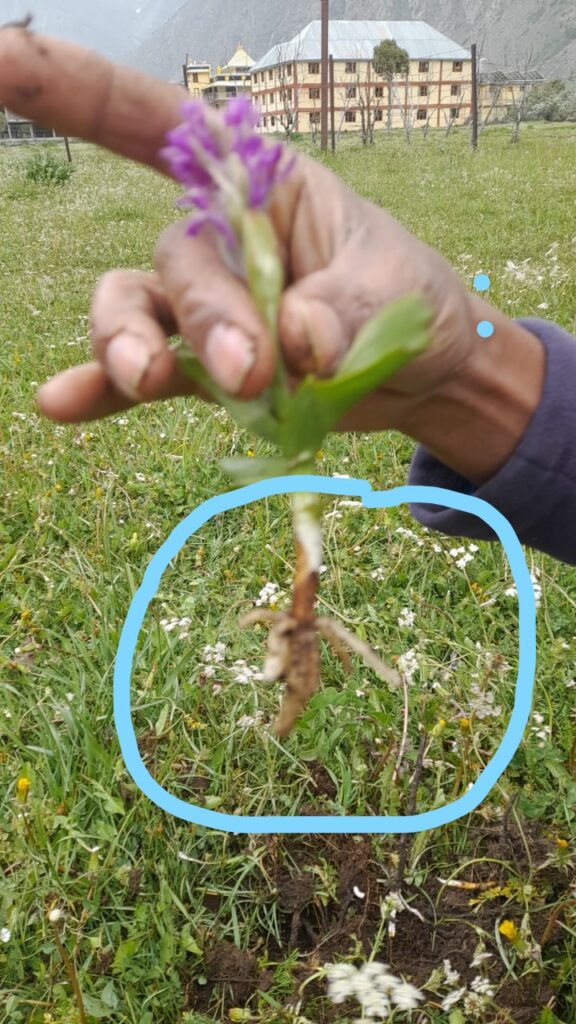 Salampanja is highly valued for its ornamental and medicinal use and has widespread utilization in traditional medicine systems.It is centre of attraction because of its lanceolate leaves, presence of a sheathing leaf base, pink flowers with purple-colored notches and a curved spur, which provide it appealing appearance.
Salampanja found growing wild usually in damp pastures, in moist region, shady regions of sloppy mountains and moist meadew soils. of Western Himalayas at an altitudinal range of 2500-5000 m, where winters are very harsh generally below the freezing point. Salampanja usually grows best in moist meadow soils like dark grey, granular, sandy loam, micaceous sandy soils at greater depth. The materials for salampanja propagation are seeds and tuber cuttings.It can be grown by splitting the sprouting tubers.
According to Agarwal et al., 2008 salampanja is a habitat-specific and inherently slow growing species in nature, It is poorly regenerating species because its seeds are microscopic and non-endospermous with undifferentiated embryos 1. It needs a mycorhizal association for germination, thus posing a significant concern for long-term survival in a natural condition 2 .Plant is in flowering and fruiting from summers to autumn season of the year.
High quality of salampanja 'Salep' is a farinaceous food, expectorant, aphrodisiac and nervine tonic. Dried root powder of thus plant is taken as a tonic with milk to increase strength, immunity and vigourness. This powder can be used as a food supplement in variety of dishes to harness its rich medicinal value. It can be an excellent addition to soups as thickning agent and to sweet traditional dishes like sirra, halwa etc.]
Video showing habitat & morphology of Salampanja
Salampanja is widely used in folk medicine to cure a wide range of disorders of the circulatory, respiratory, nervous, digestive, skeletal, and reproductive systems, besides boosting the immune system to fight infectious diseases like chronic diarrhea, fractured bones, seminal debility, erectile dysfunction, gout, diebetes,cancer etc. So the plant is high in demand in both national or International market.
Salampanja is collected from wild habitat and usually overexploited and illegally traded due to its high market price. As a result there is significant decline in natural population of salampanja in natural habitat, So it has been categorized as critically endangered species (CAMP status), critically rare (IUCN status) and is listed under Appendix II of CITES 3,4 . Besides these, being an orchid, Salampanja can be considered inherently slow growing and poorly regenerating species, because of pollinator specificity and requirement for mycorrhizal association 5.
Salampanja can be grown as an ornamental plant for its beautiful purple is harvested from wild as a source of food, medicine and material for both personal and commercial uses.
Salampanja Plant:
Erect, glabrous, terrestrial herbs, 30-90 cm high.
Root-tubers palmately divided into 2or 3 fingers like lobes.
Leaves erect, 7-15cm long, oblong- lanceolate, obtuse, base sheathing.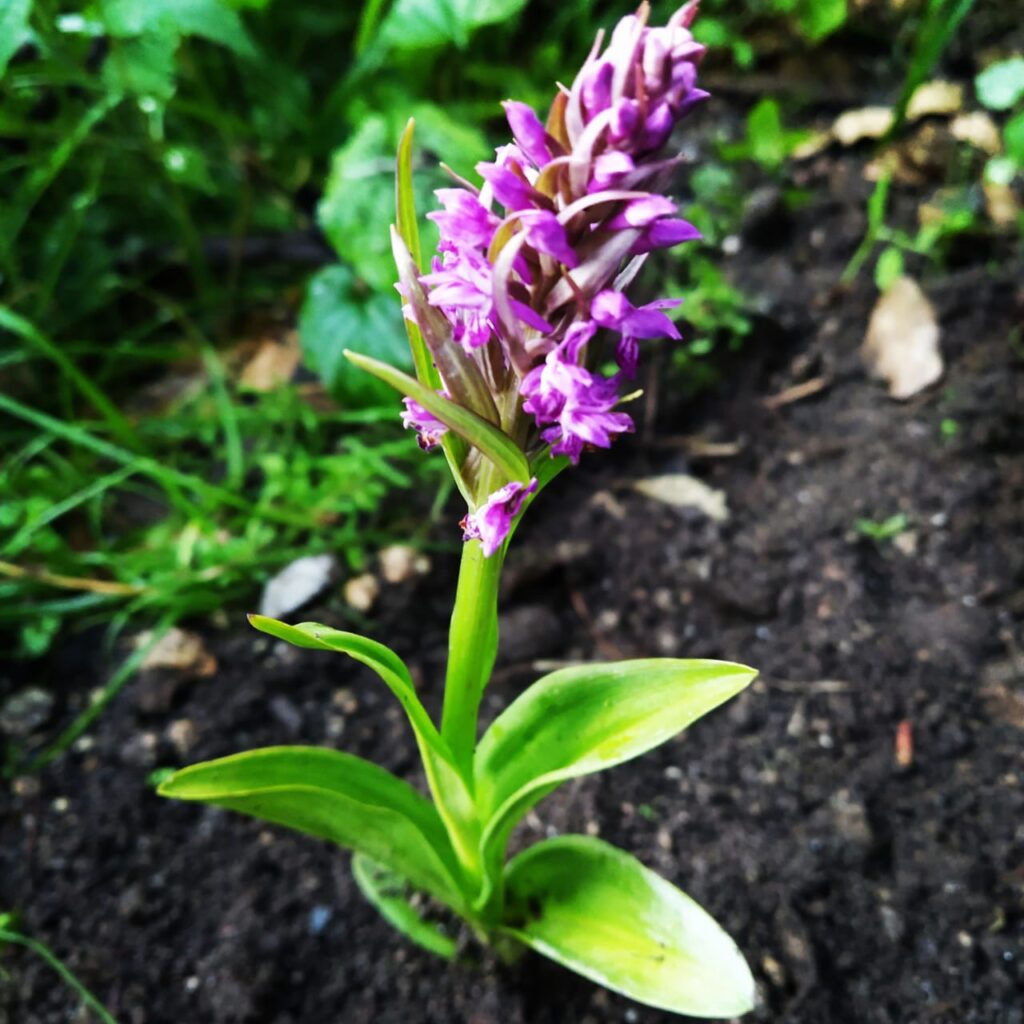 Inflorescence is raceme, 5.0-15.0 cm long, crowded with many flowers.
Flowers ca 1.8 cm long , dull, purple or pink, in dense flowered spikes. Bracts green, narrowly lanceolate, the lower much longer than the flowers. Sepals and petals nearly equal, the lateral sepals spreading, the dorsal one forming with the petals a hood over the column. Lip rounded shallowly 3-lobed, spotted dark purple. Spur straight, cylindric, nearly as long as the ovary. Column very short. Anthers adnate to its face, cells diverging, pollinia 2, caudicles attached to 2 small globose, viscid glands enclosed in a minute pouch overhanging the broad, 2-lobed stigma.
Medicinally important edible roots of this plant can be collected round the year, but to ensure sustainable harvesting and sustainable development these should be collected after floweing and fruiting is over and habitat rotation.
Edible Uses:
Roots of salampanja are edible. Powdered dry roots are taken as tonic. These are taken as food supplement and can be excellent addition to many traditionally dishes. Salampanja root powder is usually used as a thickning agent in soups and can also be added to halwa and sirra for their rich medicinal value.
Soup:
Ingredients:
Locally available vegetable (chopped) ,1/2 kg; salampanja root powder, 5-6 table spoon; mint leaves,10-15 (chopped); cheese (Paneer), 20 g; black pepper powder,1/4 tea spoon, salt acc.to taste.
Method:
Boil vegetable in one litre water till they are soft, mesh these manually and sieve the extract in a container. Add to it mint leaves, salampanja root powder salampanja root powder , black pepper and salt, then boil for 5-7 minutes.Garnish with grated cheese. Now soup is ready to serve.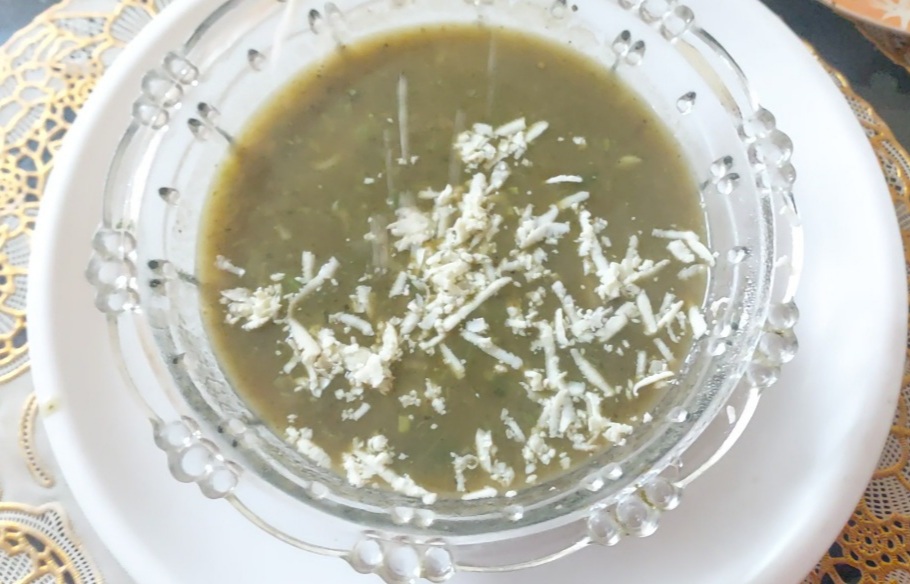 Food Value:
Tubers are rich in starch, mucilage, sugar, phosphate, chloride and glucoside-loroglossin 6.
Seek professional advice before treating this plant medicinally.
Medicinal Uses:
Salep obtained from tubers (77%) and leaves (23%) is used in curing ailments like dysentery, chronic diarrhoea, etc. 7, besides being used as a nerve tonic, emollient, demulcent, astringent, and aphrodisiac 8 . It is also useful in treating general debility, emaciation, seminal weakness, neurasthenia, and cerebropathy 9 Pharmacological studies on the secondary metabolites have confirmed its antibacterial, anti-cancerous, and testosterone-increasing potential. In the healthcare system, salampanjaacts as adjuvant therapy for the treatment of diseases and in maintaining good health 10.
It is used in ailment of dysentery, general weakness, diarrhoea, chronic fever, cough, stomachache, wounds, cuts, burns,wounds, fractures and general weakness, particularly in debilitated women after delivery It effectively used in treatment of women after child birth via enhancing level of regenerative fluids. Tubers are highly rich in glucosideloroglossin, albumen, mucilage, volatile oil chloride sugar, starch, and phosphate11,12. Tubers are used as emollient, astringent, demulcent, cooling and sweet in nature. It shows its potential in treatment of phthisis, cerebropathy, neurasthenia, seminal weakness, hemiplegia, diabetes, dysentery, emaciation chronic diarrhea, general debility and colic pain. Powder derived from tubers is helpful in relieving fever, wounds curing to and quicken healing. Tubers is also used in urinary troubles, rejuvenation of skin 11,12.
Bioactive Compounds:
Extract of tubers yields albumin, butanedioic acid, hydroquinone, lesoglossin, militarrin, pyranoside, pyrocatechol, and volatile oil. The antioxidant property of compounds obtained from the plant finds its use in the treatment of different human diseases. Indole alkaloids, phenolics (stilbene, e.g., resveratrol), and saponins along with ascorbic acid, phyllo- and naphthloquinones, glucomannan, and carotenoids13/form the active constituents of salampanja Dactylorhins A-E (glycosidic compounds: dactylorhin A (C40H56O22), dactylorhin B (C40H57O23), dactylorhin C (C14H24O10), dactylorhin D (C27H40O17), dactylorhin E (C27H40O17)) and dactyloses A-B (glycosidic compounds: dactylose A, dactylose B, C12H16O6) obtained from salampanja exhibit a wide range of pharmacological activities 14
Source of income:
Root tubers of salampanja are good source of earning for local people, these are sold at high rate of 16,000/kg.
Other Uses:
Salampanja can be grown as an ornamental plant. Besides its medicinal importance, salep obtained from its tubers is used as a sizing material in silk industry. Grounded stem and leaves are used as insect repellant. Leaves and stem of the plant are used as fodder for livestock. D. hatagirea helps in improving the flavor and taste, color and appearance, body and texture, and melting quality of frozen milk products. Moreover, young leaves and shoots are also used as vegetables 15. Extract of the flowers is used in perfume industries to increase fragrance. Tubers of the plants are used for witchcraft 16.
References:
Agarwal, A., Khokhar, D., and Vishwanath. 2008. Conservation through in vitro propagation of a critically endangered medicinal plant, Dactylorhizahatagirea (D. Don) Soo. In: Reddy MV (ed). Wildlife Biodiversity Conservation.Daya Publishing House, pp.294-299.
Warghat, A.R., Bajpai, P.K., Srivastava, R.B., Chaurasia, O.P. and Sood, H. 2013. Population gennetic structure and conservation of small fragmented location of Dactylorhiza hatagirea in Ladakh region of India. Scientia Horticulturae 164:448- 454.
Kala CP (2000). Status and conservation of rare and endangered medicinal plants in the Indian Trans-Himalayas. Biol. Cons., 93(3): 371-79
Samant, S.S., Dhar, U. and Rawal, R.S. 2001. Himalayan Medicinal Plants- Potential and Prospects Gyanodaya Prakashan, Nainital, India, 166-184.
Bhatt A, Joshi SK, Gairola S (2005). Dactylorhiza hatagirea (D.Don) Soo-a west Himalayan Orchid in peril, Curr. Sci., 89: 610-612
Csir, F. J. (1996). Evaluation and Criteria of the World Wide Web: Reference Web Sites.
Giri, D.; Tamata, S. (2010):A general account on medicinal uses of D. hatagirea. N. Y. Sci. J. 2, 78–79.
Rana, C.S.; Tiwari, J.K.; Dangwal, L.R.(2012); Sundriyal, R.C. Herbal remedies for sexual capability. Indian J. Tradit. Knowl. 4, 646–651.
Chauhan, N.S.(1984); Medicinal Wealth of Pabbar Valley in Himachal Pradesh. Master's Thesis, HPKVV Palampur, Palampur, India; pp. 68–69.
Wani, I. A., Kumar, V., Verma, S., Tasleem Jan, A., & Rather, I. A. (2020). Dactylorhiza hatagirea (D. Don) Soo: A critically endangered perennial orchid from the North- West Himalayas. Plants, 9(12), 1644.
Pant, S., & Rinchen, T. (2012). Dactylorhiza hatagirea: A high value medicinal orchid. Journal of medicinal plants research, 6(19), 3522-3524.
Magar, M. M., Dhital, S. P., Yamada, T., & Pun, U. K. (2020). Dactylorhizahatagirea: A Critical Issue for Research and Development in Nepal. Nepal Journal of Science and Technology, 19(1), 26-38.
Dhiman, N.; Sharma, N.K.; Thapa, P.; Sharma, I.; Swarnkar, M.K.; Chawla, A.; Shankar, R.; Bhattacharya, A. (2019); De novo transcriptome provides insights into the growth behavior and resveratrol and trans-stilbenes biosynthesis in Dactylorhiza hatagirea— An endangered alpine terrestrial orchid of Western Himalayas. Sci. Rep. , 9, 13133.
Kizu, H.; Kaneko, E.I.; Tomimore, T.(1999): Studies on Nepalese Crude Drugs. XXVI.1) Chemical Constituents of PanchAunle, the Roots of Dactylorhiza hatagirea D. DON. Chem. Pharm. Bull. 11, 1618–1625.
15 Singh, B.; Gupta, V.; Bansal, P.; Singh, R.; Kumar, D.(2010); Pharmacological potential of plant used as aphrodisiacs. Int. J. Pharm. Sci. Rev. Res. 1, 104–113.
16. Khan, S.W.; Khatoon, S. (2008): Ethnobotanical Studies on Some Useful Herbs of Haramosh and Bugrote Valleys in Gilgit, Northern Areas of Pakistan. Pak. J. Bot. , 1, 43–58.