Family: Rosaceae
Synonyms: R. balsamica ,R. caesia, R. corymbifera,R. dumalis, R. montana, R. stylosa, R. subcanina, R. subcollina
Common name: Dog Rose
Local Name: Ban Gulab (बन- गुलाव)
Ban Gulab is a perennial deciduous shrub that comes from family Rosaceae . It grows wild at the margin of forests, shrubberies, pastures hedges, scrub, woods, roadsides and banks etc upto an altitude of 2000 m in Western Himalayas. It is usually present in sunny well drained habitat having roots in shady area. It is easily propagated by seeds an natural habitat and can be cultivated by using both seeds and cuttings. Common name 'dog' flower is given to Ban Gulab because its roots are considered effective against the bite of a mad dog.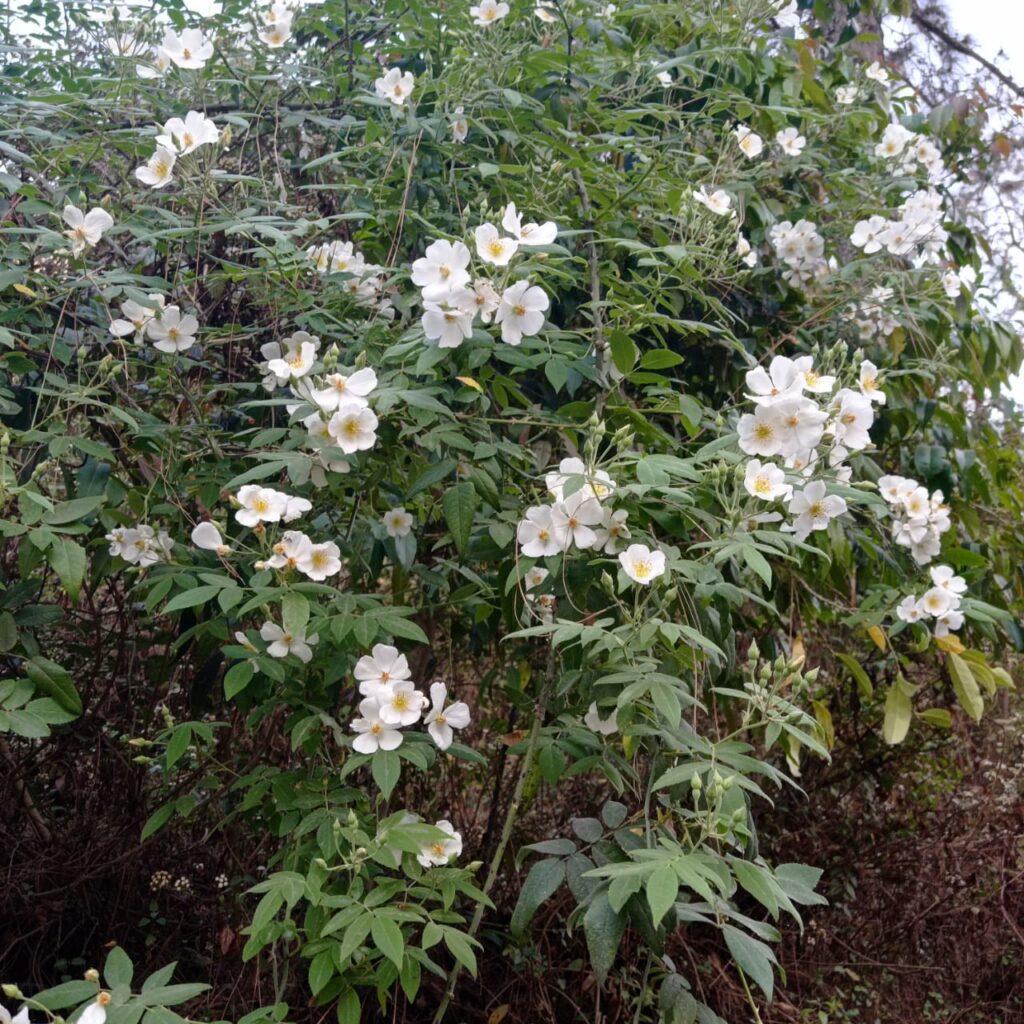 Wild roses are among those non-woody forest products which constitute the majority of the biological diversity of the forests of the Western Himalayas and are important economically, culturally as well as ecologically.
Plant is harvested from natural habitat for both commercial and personal uses. Sometime it is grown near to habitation for its ornamental or riligious value. Ban Gulab being a multipurpose plant can be useful to meet the diverse needs of medicine, pharmacy, food, cosmetic, religion and aesthetic sense for the society. Ban Gulab is of great importance in terms of economic, ecological and social aspects.It is used both raw and processed. Its ripe fruit are dried and used as tea.
Flowers and berries are used in the production of jam, syrup, marmalade and liquor like other roses it is a rich source of vitamins, medicine and food supplement throughout the world. Fresh flowers are made into kachru a delicious traditioal dish taken as snack with chutney or tomato ketchup. Dried flower petals are excellent garnish for sweets. Fruits are dried and taken as tea, berries are used in the production of jam, syrup, marmalade and liquor. Ban Gulab is excellent source of minerals like iron, calcium, manganese, selenium, phosphorus, magnesium, silicon, sulfur and zinc vitamins A, C, E, B-complex, essential nutrients and organic compounds. It also include vital components such as pectin, lycopene, beta carotene and lutein which are essential for the body 1.
Ban Gulab is a good source of income for local people, Rose hips are sold at high price in national or International market, But wild roses like other commercially,medicinally and economically useful plants such as Taraxacum officinale, Euphorbia hirta inspite of their luxuriant growth usually get wasted due to lack of awarness in most parts of Western Himalayas, especially in Mid Himalayan range of this region , .
Only very few people of this region use wild roses for their edible and commercial uses. For many these are of only religious and aesthetic importance. Local people can sell plant parts of ban gulab both raw or prcessed as rose hips, jam. syrup etc. Flowers are made into gulkand by woman of some Self-Help Groups which is sold in local market and in various fairs and festivals.
Ban Gulab:
Ban Gulab is a deciduous shrub 1-5 m tall, though sometimes it can scramble higher into the crowns of taller trees.
Its stems are covered with small, sharp, hooked prickles, which aid it in climbing.
The leaves are pinnate, with 5-7 leaflets.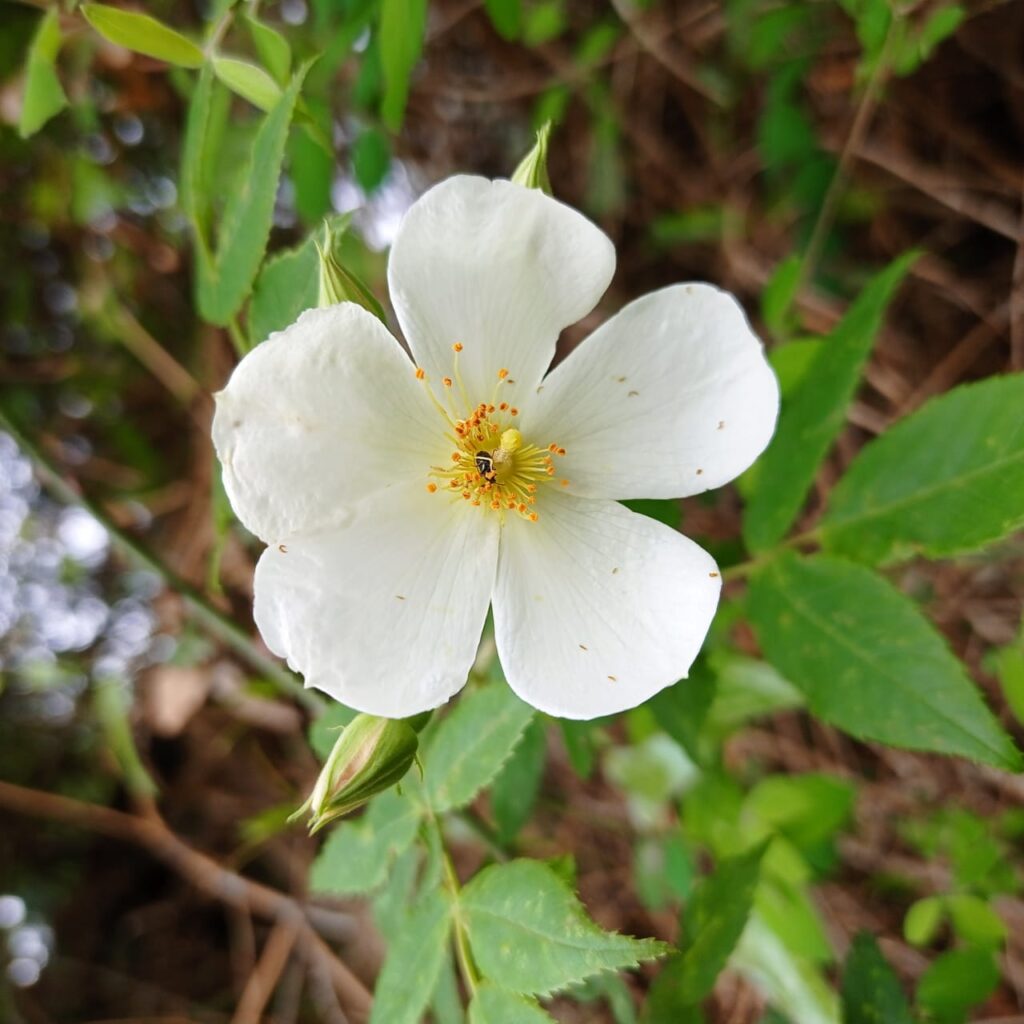 The flowers are usually pale pink, but can vary between a deep pink and white.
They are 4-6 cm diameter with five petals, and mature into an oval 1.5-2 cm red-orange fruit, or hip.Interestingly the species name canina also stems from the common name .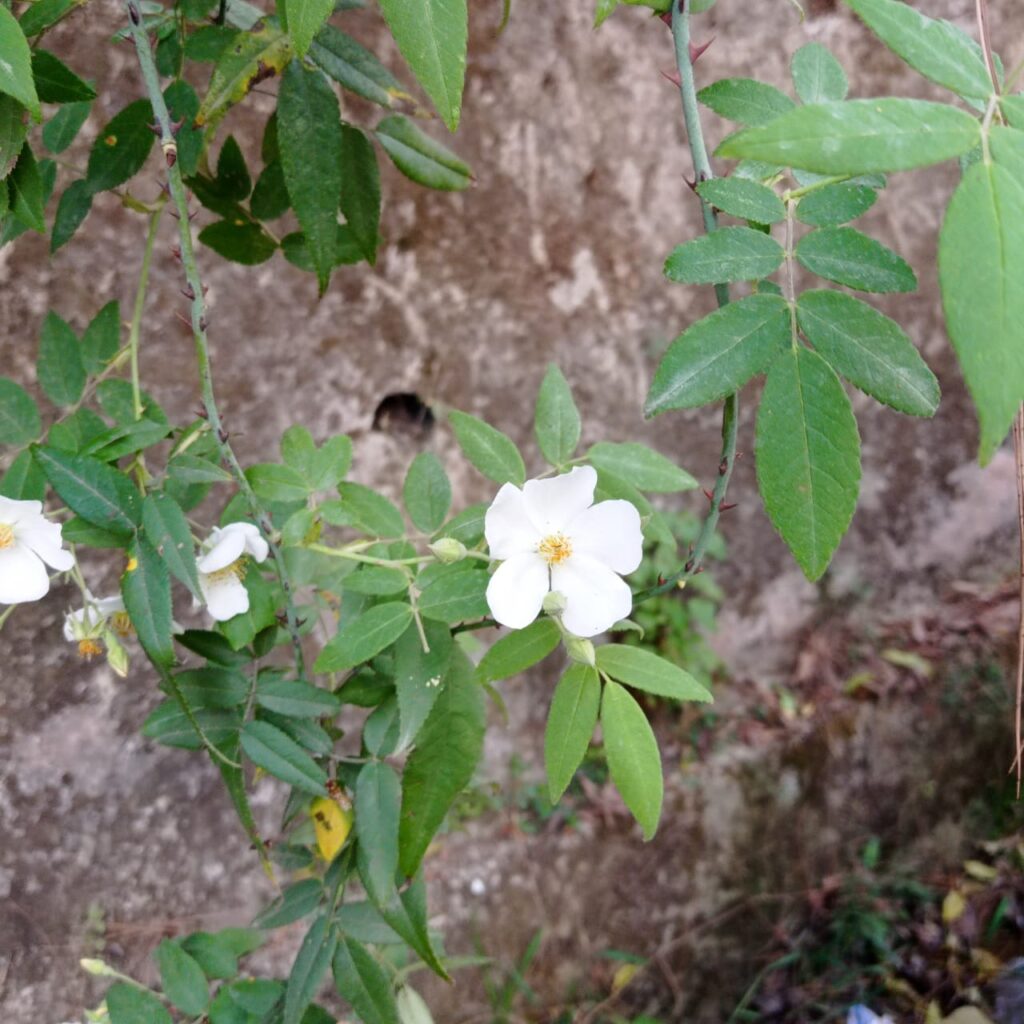 Edible plant parts of Ban Gulab can be harvested from mid summers to early winters. Rose hips and flowers are means of further regeneration so need to be harvested sustainably to ensure sustainable development.
Edible Uses:
Leaves, flowers, fruits and seed of Ban Gulab all are edible. Flowers can be used both raw and cooked. Fresh flowers are cooked into kachru and taken as snack or processed to make gulkand. Dried flower petals are used as garnishing agent in sweets. Fruits can also be consumed both raw or cooked. These are cooked into delicious jams, syrups etc. The fruits & leaves can also be dried and taken as tea. Seeds are dried and ground into flour for their rich nutrient content. This flour can be used as food supplement as addition to wheat flour or thickning agent in soup.
Fruit/ Flower Jam
Ingredients:
Ban gulab fruits pulp / petals,1 kg; sugar, 500 g; fennel powder, 1tea spoon; cardamom powder,1 tea spoon, honey or lemon juice 4-5 table spoon.
Method:
Fruit Jam:
Boil fruit hip pulp of Ban gulab in water till they are soft and let them cool down. Mesh them in a mixer grinder and transfer into a saucepan, Add to it sugar, fennel powder, cardamom powder and lemon juice. Keep stirring this mixture in slow flame till sugar completely melt and absorb. Stop heating when preparation become viscous. Now let it cool down and put it into a ceramic jar. This gulkand can be used from six month to one year.
Flower Petal Jam:
Take flower petal, sugar, fennel powder, cardamom powder in a container and mix them all well. Add to it honey so that gulkand remain soft. Make paste of this mixture by grinding in a pestle motor. Transfer this to a ceramic jar and place in full sunlight for 5-6 days. Sugar will melt and get absorb. Now Ban gulab petal gulkand is ready to serve.
Ban gulab sherbet or refreshing summer drink:
Flower petals are cooked to extract sherbet and boiled petal left behind can be further used to prepare gulkand as a by-product.
Ingredients:
Ban gulab flower petals,1 kg; sugar, 2kg; fennel powder, 1tea spoon; cardamom powder,1 tea spoon. lemon juice, 2-3 table spoon, emulsion of any flavour.
Method:
Boil finely ringed flower petal in water along with sugar till sugar melt and absorb completely. Keep stirring it in slow flame for 15 to 20 minutes till it become viscous. Now sieve it in a large container and let it cool down. For having better flavour and colour, one can mix to it emulsion of any flavour. After mixing it well place sherbet in glass bottles. This sherbet can be used for one year by diluting it with water in summer as a cool refreshing drink
Boiled flower petal left over can further be cooked into gulkand. For this add 4-5 table spoon sugar, fennel and cardamom powder in a saucepan. Keep stirring in low flame for 8-12 minutes and add lemon juice, mix it well then let it cool down. Transfer gulkand to ceramic jar and serve.
Ban gulab flower kachru:
Ingredients:
For preparing 1/2 kg flower Kachru ingredients one will need 1/2 kg besan (black gram flour) or corn flour,1 cup fresh coriander leaves (chopped), 3-5 green chillies, ½ table spoon turmeric powder, 2-3 medium sized chopped onions and salt according to taste.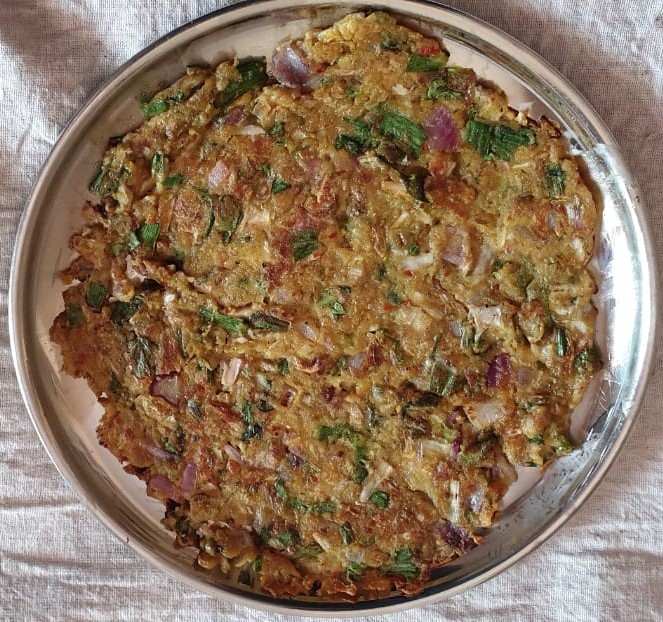 Method:
Mix flower petals, besan and other spices well to make paste. Heat some oil on a flat cooking pan and spread paste on it. Heat for 15-20 minutes occasionally turning it to other side and kachru will be ready. Serve hot with tomato sauce or some other ketchup.
Food Value:
Water-598.66g; Energy- 162Kcal; carbohydrate-38.22g; Protein-1.6g; Total Fat-0.34g; Dietary Fibre-24.1g; sugar total—2.58g
Vitamins: Lycopene-6800Aµg; Niacin-1.3mg; Pantothenic acid-0.8mg; Riboflavin-0.166; VitaminB6-0.076mg; Thiamin-0.016mg; Vitamin A-4345IU; VitaminC-426mg; VitaminE-5.84mg; Vitamin K (phylloquinone)-25.9Aµg. Electrolytes: Sodium-4mg; Potassium-597mg;
 Minerals: Calcium-169mg; Copper-0.113mg; Iron-1.06mg; Magnesium-69mg; Potassium-429mg; Manganese-1.02mg; Phosphorus-61mg; Zinc-0.25mg; Phytonutrients: Crypto-xanthin-β- 483µg; Lutein-zeaxanthin-2001Aµg; Carotene beta-2350 A µg; Carotene alpha-31A µg1;
Rose seeds were evaluated for weight of 100 seeds, moisture, crude protein, ash, crude oil, energy, and mineral content. Also, fatty acid composition was determined in the seed oils. The major fatty acids are: palmitic (3.17%, 1.71%, and 2.14%), stearic (2.47%, 2.14%, and 1.69%), oleic (16.73%, 18.42%, and 14.71%), linoleic (54.41%, 51.71%, and 48,64%), linolenic (17.14%, 16.42%, and 18.41%), and arachidic (2.11%, 1.87%, and 2.61%). The seeds were rich in oil and minerals. The oil may be valuable for food and other uses because of its high unsaturated content 2.
Seek professional advice before treating this plant medicinally.
Medicinal
Ban gulab have extremely high lavels of vitamins. When consumed fresh, they provide vitamins and other nutrients in a form that is readily absorbed byy the body. This makes rose hop syrup a nourishing drink for young children. The tannin content of rose hops makes them a gentle remedy for diarrhoea. The hips are midly diuretics. Additipnally, dog rose hips reduce thirst and alleviate gastric inflammation 3.
Due to rich nutrient content Ban gulab rose hips are able to lower the symptoms of rheumatoid arthritis,common cold, prevent cancer, relieve respiratory, lower cholesterol, increase urination, manage diabetes, boost immune system, build stronger bones and promote circulation 1.
The petals, hips and galls are astringent, carminative, diuretic, laxative, ophthalmic and tonic 4,5,6,7,8.
A distilled water made from the plant is slightly astringent and is used as a lotion for delicate skins 4.The seeds have been used as a vermifuge4.
Chemical constituents- Dog rose hips contain vitamins C, A, B1,B,B3 and K, flavonoids, tannins, invert sugar, pectin, plant acids, polyphenols, carotenoids, volatile oil and vanillin3.
Source of income:
Rose hips of Ban gulab are high in demand in International market and sold at high rate of 1600 Rs/kg. Plant is widely used in medicine, pharmacy, food, chemical and cosmetic industry.This plant usually which is not of much importance for local people can be utilized as most important sources of income especially in foreign trade and thus can be an important element of sustainable rural development. Locally few people specially woman and childern collect Ban gulab and sell it as gulkand in local market.
Other Uses:
Ban gulab is sometime grown as hedge or ornamental plant near to habitation.
References:
Fan, C., Pacier, C., & Martirosyan, D. M. (2014). Rose hip (Rosa canina L): A functional food perspective. Functional Foods in Health and Disease, 4(12), 493-509. (National Nutrient Database for Standard Reference )
Özcan, M. (2002). Nutrient composition of rose (Rosa canina L.) seed and oils. Journal of Medicinal Food, 5(3), 137-140.
3. Purohit SS, Sharma AK, Prajapati ND, Kumar T. (2009); A handbook of medicinal plants: a complete source book. 2:352-3.
Chiej. R. (1984). Encyclopaedia of Medicinal Plants. 21 Lust. J. (1983). The Herb Book. Bantam books.
Launert. E. (1981). Edible and Medicinal Plants.
. Holtom, J. A., & Hylton, W. H. (Eds.). (1979). The Complete Guide to Herbs: How to Grow and Use Nature's Miracle Plants. Rodale Press.
. Mills. S. Y. The Dictionary of Modern Herbalism.
Ersin Yücel a* , Turgay Karakaya b, Dilge Yücel (2019): Importance of Rosa canina's In Terms Of Public Health And Turkey Forester: International Journal of Environmental Research and Technology E-ISSN:2667-4041 2(3): 204-208,