Family: Podophyllaceae.
Synonym: Sinopodophyllum hexandrum, Podophyllum emodi
Common Name: Himalayan May Apple, Indian Podophyllum,
Local Name: Bankakri (बनककरी)
Bankakri is native and endemic1 plant of Himalayas, which is widely used in traditional and modern medicine. Rhizomes of this plant yield podophylline and podophyllotoxin which are used in production of modern anticancerous drugs 2. Bankakri is succulent, eract herbaceous and glabrous plant arises from creeping long knotty rhizomes. Its stem is with one or two, simple, leaves without top. Being an valuable medicinal plant of Western Himalayas it is heavely harvested from natural habitat for medicinal purposes. So, it is listed in endangered plant list category. Bankakri is distributed in the lower elevation of Western Himalayan at an altitudes ranging from 2200 to 4200 m above sea level. It is found growing from Indian Himalayas Region to Bhutan, Pakistan, Nepal, Taiwan and China. In India it is commonly found in Uttarakhand, Assam, Arunachal Pradesh, Manipur and Jammu-Kashmir. In Himachal Pradesh, it is found sporadically in Mandi, Rohru, Kangra, Chamba and Lahaul-Sptiti. Bankakri is also present in the hilly areas of Tosh, Malana, Kheer Ganga and Rohtang regions of district Kullu 3. It mainly grows in scrub forests and alpine meadows where it thrives best as an undergrowth in humus rich soils.
Bankakri is propagated by seeds and rootstocks .The Genus name of bankakri Podophyllum is derived from ancient Greek words 'Podos' means a foot and 'Phyllos' means leaf 4. So, the name is given due to resemblance of its leaves to duck's foot.4 The six petals and stamens of this species had led to species name hexandrum. Bankakri is also known as Mayapple because of its fruits ripen in spring2 .
Deseeded bankakri fruits are edible and eaten when fully ripen.Imature one are considered laxative and toxic. Fruits are eaten both raw ripe as well as cooked in the form of jam or jelly. . These are an excellent addition to dessserts and salad for their rich medicinal values.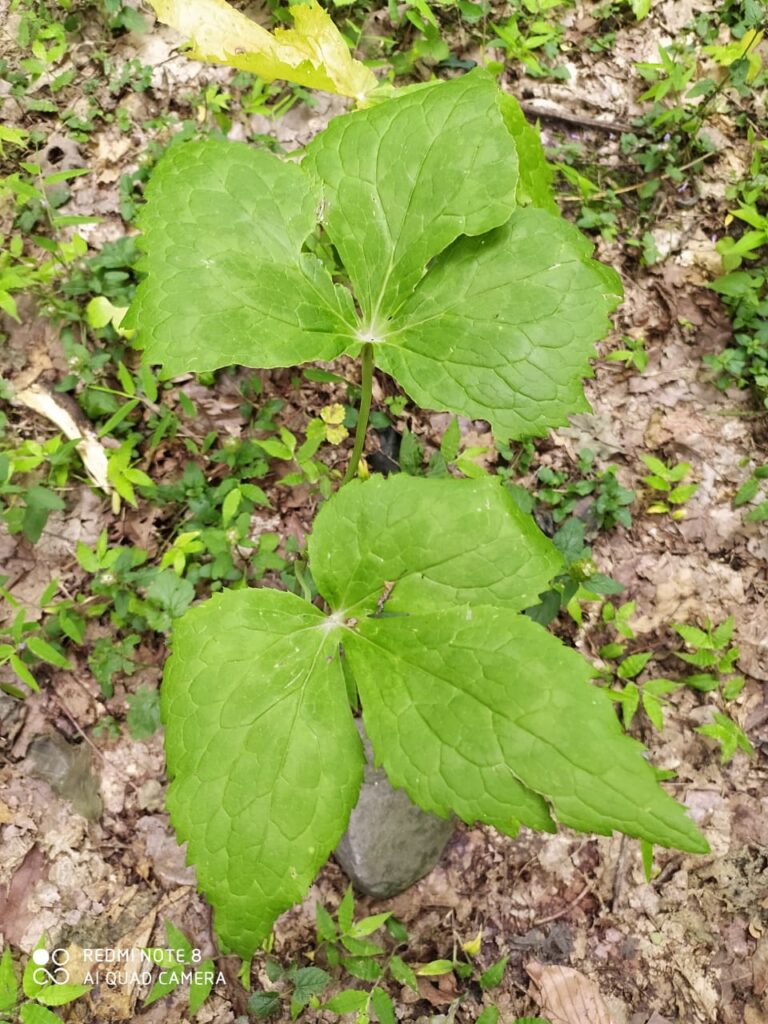 Bankakri is harvvested from wild as a source of food, medicine, resin and material for local personal and commercial uses which lead to its significant decline in natural habitat, So, plant need serious protection and conservation. Appriciable efforts have been taken by Himachal Pradesh Forest department in this direction.
Bankakri Plant:
Erect, smooth, glabrous, somewhat fleshy, perennial herbs, 15-40cm high,
Stem unbranched, bearing two large leaves above the middle and usually one supra- axillary flower (or fruit).
Leaves alternate, peltate, rounded, 10-25cm across, deeply cut into 2 ovate toothed lobes, sometimes further lobed.
Flowers cup-shaped, 2-4cm across, white to pink. Sepals 3, petaloid. Petals 4-6, obovate-oblong. Stamens 6. Berries oblong, 2.5-5cm, scarlet or reddish, pulpy, many seeded.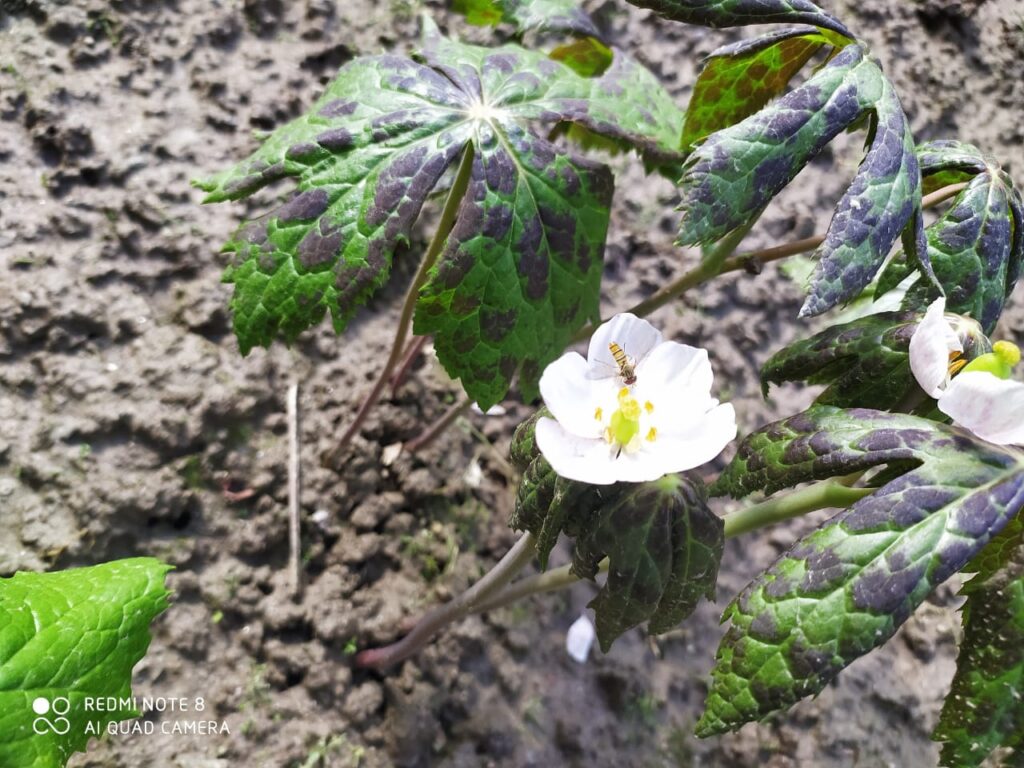 Bankakri bloom in spring its edible fruits can be collected from late summer to autumn season of the year depending on climatic conditions. As plant is already listied in endengered plant list category, so need to be harvested sustaianbly or cultivatecfor ensuring sustaianble development.
Edible Uses:
Fruits and leaves of bankakri are edible. Fruits are juicy but insipid and must only be eaten deseeded when are fully ripe. The leaves are edible but can be toxic, so should be taken in small quantity as an addition with other avialable greens. Dried leaf powder can be an excellent addition to pakoras. kachru, Parantha mainly to harness its rich medicinal values however it can be toxic in large quantities so need to be taken in small quantities.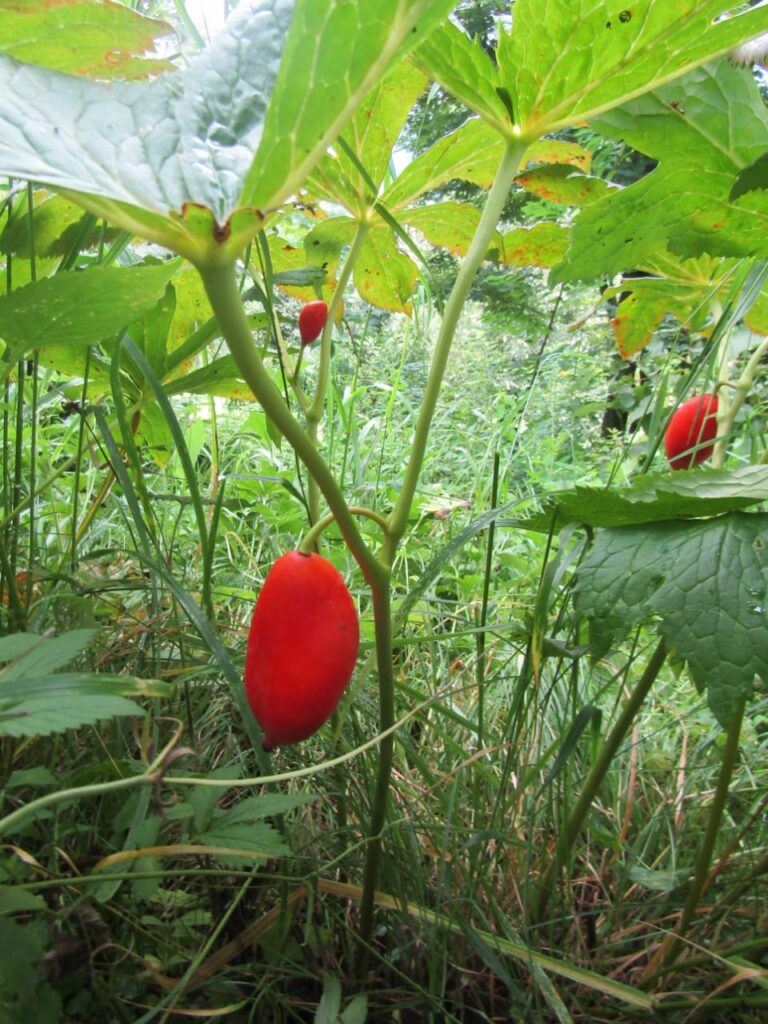 Jam:
Ingredients:
Fully ripe fruits of bankakri ,1/2 kg; sugar, 300 g; lemon juice, 4-5 tea spoon.
Method:
Wash fruits and discard the seeds. Put deseeded fruits in pan, boil till they are soft and let them cool down. Mesh boiled fruit pulp manually or in a mixer. Place meshed pulp in a pan, add sugar to it and cook in low flame with constant stirring till sugar dissolve completely and jam become dense. Now mix it well with lemon juice and let it cool down. Jam is now ready to serve. Jam should be used fresh and can be preserved for two months.
Desserts:
Ingredients:
Ripe desseded fruits of bankakri and other chopped fruits acc. to taste,1/2kg; curd, 1kg; sweetener like honey/ sugar/ condensed milk, 1-3 tea spoon; cardamom powder,1/4 tea spoon; black salt according to taste.
Method:
Take curd in a bowl. Add to it sweetener according to choice and stir well. Add cardamom powder, black salt, ache fruits and other chopped fruits according to preference. Mix well and serve.
Seek professional advice before treating this plant medicinally.
Locally Bankakri rhizomes are used in the treatment of colds, constipation, septic wounds and in burning sensation.Plant is useful in variety of complaints like erysipelas, mental disorders plague, allergic and inflammatory conditions of the skin, cancer of brain, bladder and lung, venereal warts, monocytoid leukemia.Root paste of this plant is applied on ulcers, cuts wounds and used to treat vaginal warts. Rhizomes of this plant yield podophylline and podophyllotoxin which is used in production of modern anticancerous drugs. Also used as hepatic stimulant and purgative in Ayurvedic medicines 2. Fruits and decoction of grounded roots with sugar are eaten by Gaddis as medicine against constipation persisting for long also used for stomach problems in Animals 3 Fruit of plant is edible but these must be eaten when fully ripe. Rhizomes of this plant have a long medicinal history among native North American tribes who used a rhizome powder as a laxative or an agent that expels worms 3.
The whole plant, but especially the root, is cholagogue, cytostatic and purgative. The plant contains podophyllin, which has an antimiotic effect (it interferes with cell division and can thus prevent the growth of cells). It is, therefore, a possible treatment for cancer, and has been used especially in the treatment of ovarian cancer 4,5 However, alopecia is said to be a common side-effect of this treatment 5 .
The roots contain several important anti-cancer lignans, including podophyllin and berberine 5. The roots are also antirheumatic 6. The root is harvested in the autumn and either dried for later use or the resin is extracted 7 This plant is highly poisonous and should only be used under the supervision of a qualified practitioner7 . It should not be prescribed for pregnant women 7.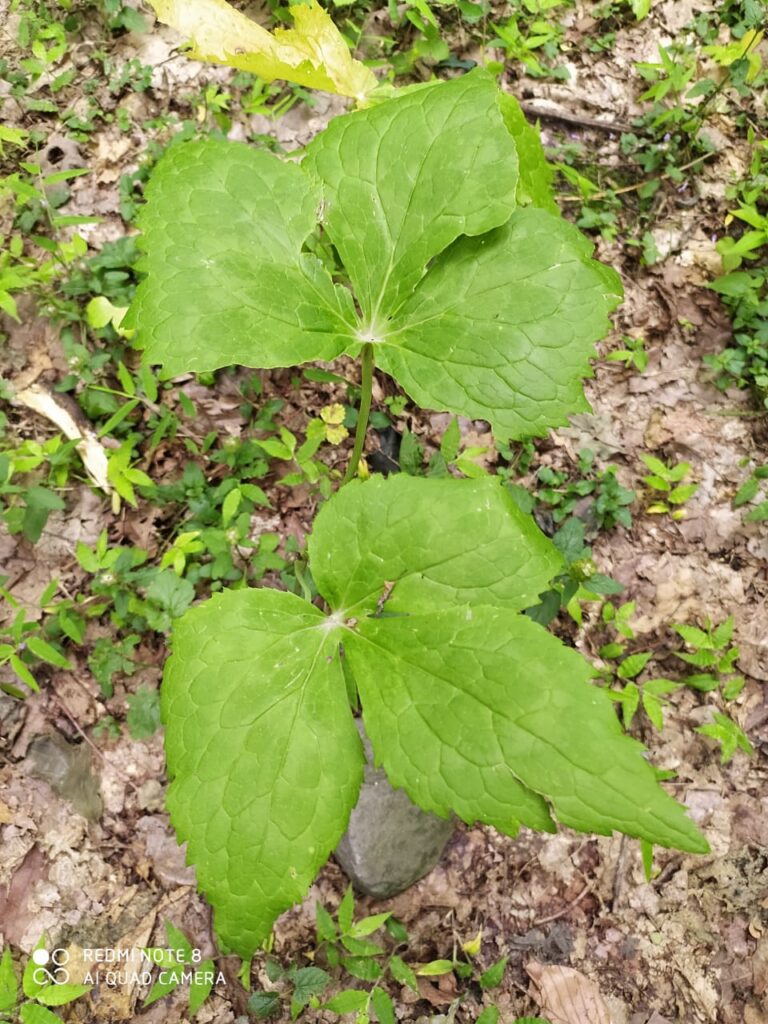 Domestication
Other Uses:
It is source of resin.
References:
Kalam MA, Malik AH, Ganie AH, Butt TA. Medicinal importance of Papra (Podophyllum hexandrum Royle) in Unani System of Medicine. J Complement Integr Med. 2021 Jan 29. doi: 10.1515/jcim-2020-0178. Epub ahead of print. PMID: 33544520.
Singh PB. (2018). Flora of Mandi district. Himachal Pradesh: North West Himalaya.
Sharma, A., & Singh, R. (2016). A breathtaking herbal plant of Himalaya- Podophyllum hexandrum. International Journal of Applied and Pure Science an d Agriculture, 2, 192-194.
Qazi PH, Rashid A, Shawl SA. Podophyllum hexandrum – A versatile medicinal plant. International Journal of
Uphof.J.C.Th. (1968); Dictionary of Economic Plants. H.R. Englemann (U.Cramer), Weinheim.
Arayne, M. S., Sultana, N., Mirza, A. Z., Zuberi, M. H., & Siddiqui, F. A. (2007). In vitro hypoglycemic activity of methanolic extract of some indigenous plants. Pak J Pharm Sci, 20(4), 268-273.
Duke. J. A. and Ayensu. E. S. (1985); Medicinal Plants of China reference Publications, Inc. ISBN 0-917256-20-4
Bown. D. (1995): Encyclopaedia of Herbs and their Uses. Dorling Kindersley, London. ISBN,0-7513-020-31.