Family: Astraceae
Synonyms: Minyranthes heterophylla, Sigesbeckia brachiata, Sigesbeckia caspica, Sigesbeckia gracilis, Sigesbeckia humilis, Sigesbeckia iberica 
Common Name: Holy herb, Indian-weed, stickyweed,
Local Name: Teenpath (तीनपथ)
Teenpath is a plant of  tropical and subtropical regions and is commonly present throughout India. It usually grows  wild and frequently found in  open, waste lands, roadsides, fallow fields and forest  up to  an altitude of 2400m in Western Himalayas.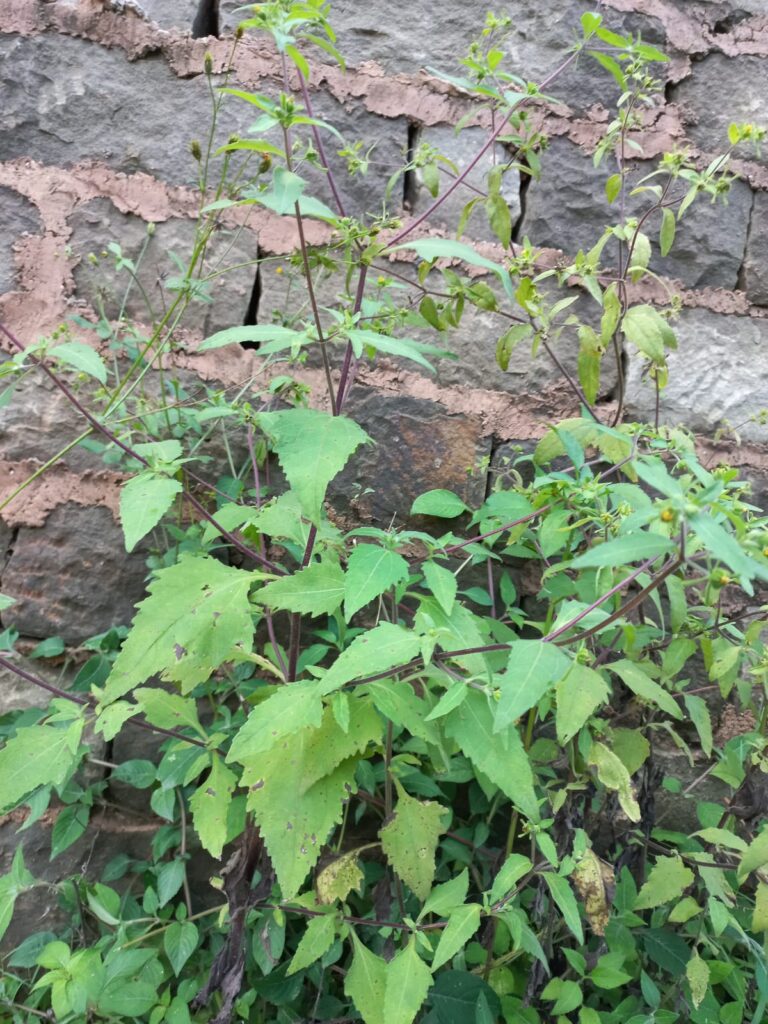 Teenpath grows  best where the temperature is within the range 10 – 27°c. It is  traditionally  used medicinal plant and also sometime cultivated for its wide range of  medicinal uses where it is not frequent in natural habitat. Teenpath  can be easily propagated  through seeds. It  usually prefers moist, fertile but well-drained sunny habitat to grow. Plants are in flowers and fruits from summers to autumn season of the  year.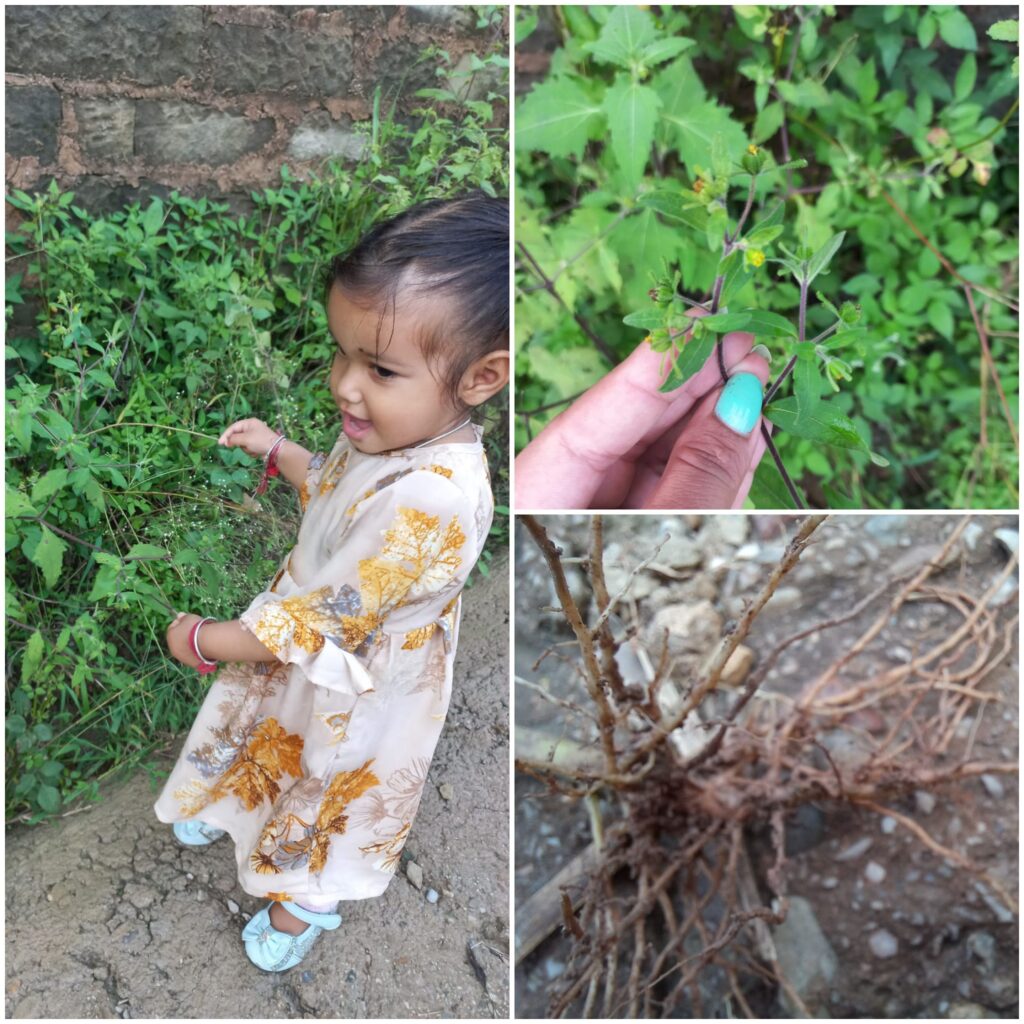 Young leaves of Teenpath are eaten cooked. It is known for its unpleasant aroma and bitter taste, so need to be thoroughly boiled or leeched before eating. Boiling removes the bad odour, toxin and taste. Boiled leaves also produces a mucilaginous pot-herb which is preferred for its medicinal value.
Teenpath is harvested from wild habitat as a source of food, medicine and oil for local personal uses. It is also cultivated in some parts of India for its rich medicinal value but this practice has not been observed in Western Himalayas where plant grows luxuriantly and considered as a weed to be removed.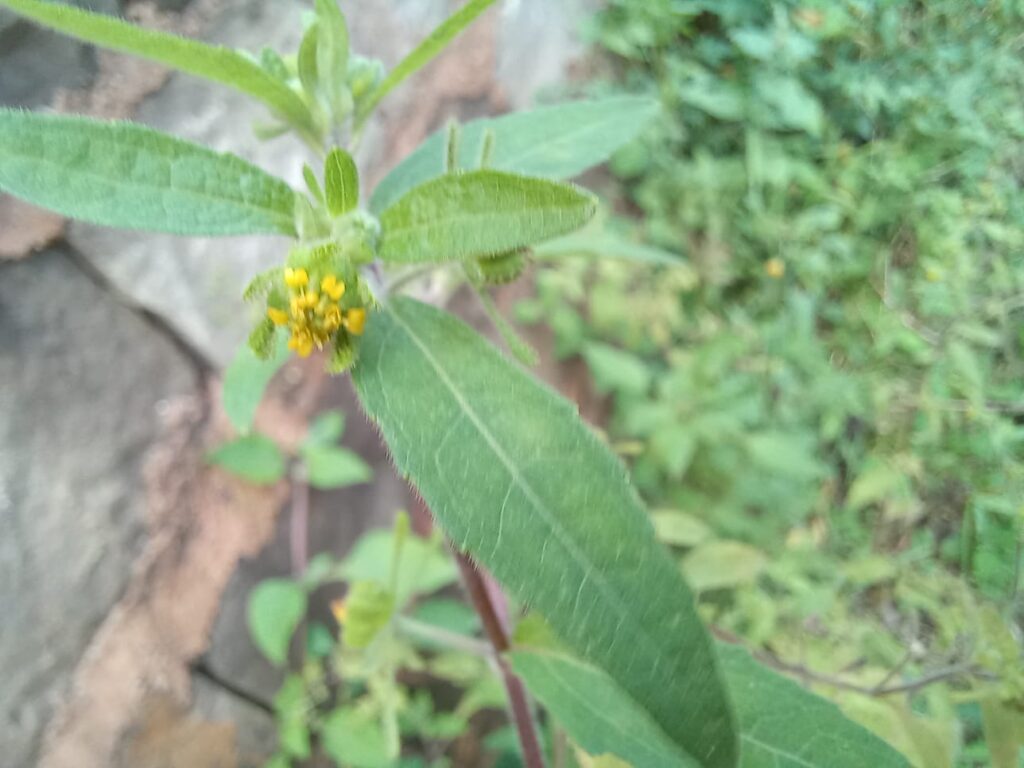 Teenpath Plant :
Teenpath annual erect, crisped-hairy, branched herbs, up to 1.5m tall.
Leaves are opposite, ovate or broadly triangular, coarsely toothed, acute or obtuse, 5-12*3-10cm, pubescent on both the surfaces, glandular beneath; petioles 1-5cm long, winged.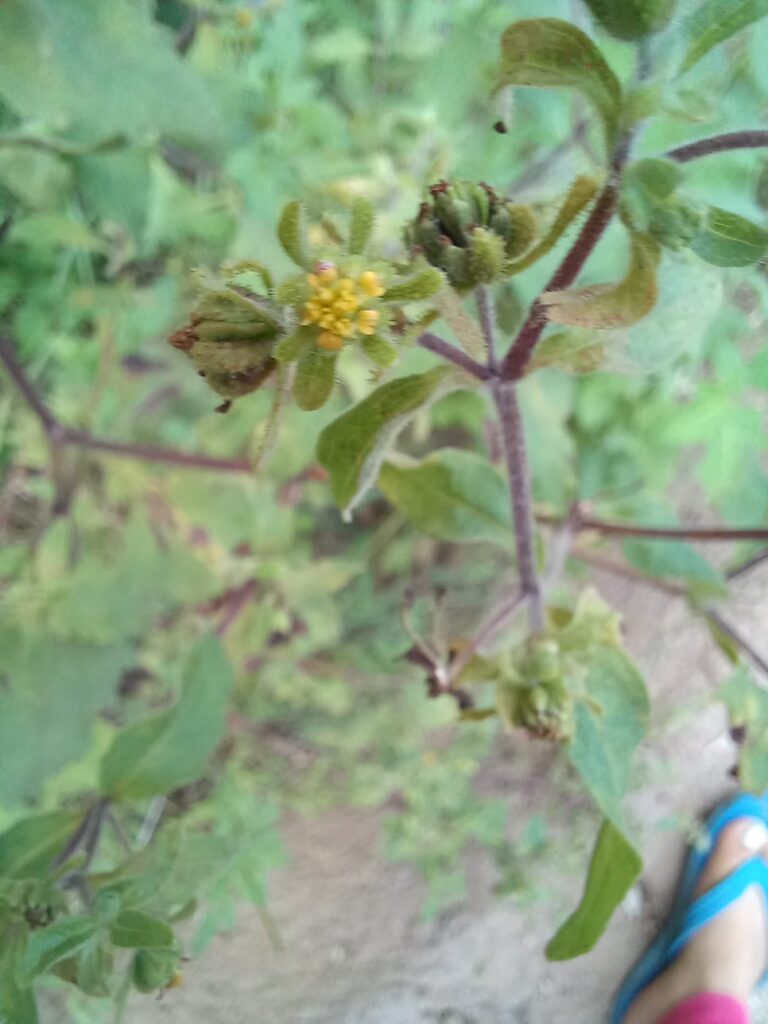 Heads yellow- white, radiate, in leafy panicles, 5-8mm long, bi-or-tri lobed; disc florets bisexual, ca 12.
Achenes curved, angled, blunt at the base, up to 5 mm long, enclosed by 4-5mm long scales.
Leaves are best harvested from spring to summers
Edible Uses:
Young leaves of Teenpath are thoroughly washed and cooked as leafy vegetable. It is better to use leaves in addition to other available greens of spring or summer season. YoungLeaves are mainly eaten for their nutritive and medicinal value.
Leafy Vegetable (saag):
Ingredients:
Tender leaves of Teenpath exclusively or in addition with other avilable greens, 1 kg; mustard oil, 2 table spoons; coriander powder 1 table spoon; fenugreek powder, ½ table spoon; cumin seed ¼ table spoon; turmeric powder, 1/4 table spoon; red chillies, 2-3; chopped onions 2-4; garlic, 4-5 cloves; ginger paste ½ table spoon and salt according to taste.
Method:
Boil chopped leaves till they become soft. Then mesh manually or in a mixer. Then sauté with hot mustard oil and the spices listed before in sequence. This sauted saag is then ready and can be served as such or can be mixed with 2 or 3 chopped onion and cooked for another 5 to 10 minutes before serving.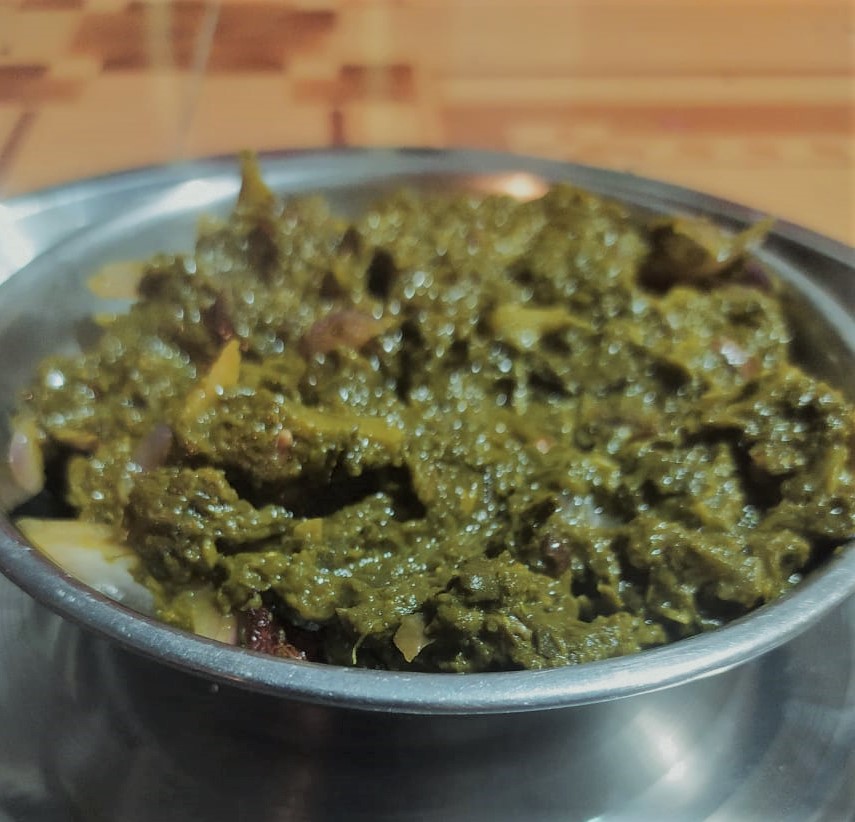 Nutritional value:
Moisture content-75.50±1.00; Ash-4.77±0.03; Fibre-6.38±0.11%; Protein-10.73±0.03%; Fat-2.27±0.07%; carbohydrate-0.35±0.02%; Ca-142.20±0.40%; Ca-142.20±0.40g; Fe-45.72±2.02g; Mg-142.89±4.10g; P-63.00±2.50g; Zn-19.14±1.01g; CO-0.02±0.01g; Cu-0.03±0.02g; Mn-0.57±0.02g; K- 32.97±0.04g; Na-25.58±0.02g; VitA-12.46±0.06g; VitC- 8.45±0.03g 1.
Seek professional advice before treating this plant medicinally.
Medicinal Uses:
Decoction of Teenpath roots are considered useful in leucorrhoea by local people (1teaspoon in one cup of water twice a day, for 15 days ).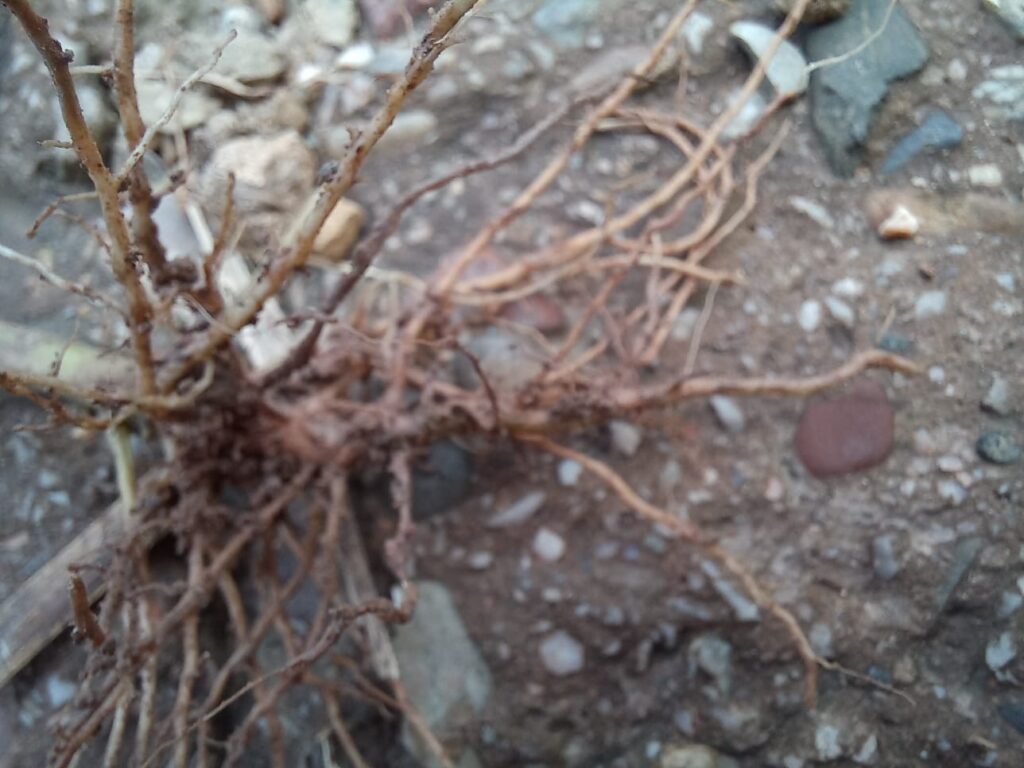 The whole plant of Teenpath is considered to be alterative, anodyne, anthelmintic, antiphlogistic, cardiac, diuretic, febrifuge, salve, sialagogue, stimulates blood circulation 2, 6.Leaf extracts are widely used for restoring blood circulation; stimulating urine secretion; as a renal tonic; a stomachic; cardiotonic; to facilitate menstruation (as a pain reliever); for treating conditions such as diarrhoea, leucorrhoea etc., and to cure snake, insect or dog bites 6. A paste of the plant is applied to wounds between the toes that have been caused by prolonged walking barefoot in muddy water 3. A decoction of the plant is used in the treatment of rheumatoid arthritis, pains and aches in the legs and sides, hemiplegia, hypertension, sciatica, weeping dermatitis and mastitis 4,6A decoction of the dried leaves and flowers is used in the treatment of dysentery 6.
Chemical constituents & Biological activity : Plant antiviral and hypoglycaemic.Aerial parts contain darutigenol, darutoside, germacranolides, geranylnerol derivatives, kauranes, melampolides, 3-ent-primarenes, phytol and thymohydroquinone dimethyl ether 5.
:
Other Uses:
Plant is good source of essential oil.A fatty oil is obtained from the seed 6. It contains about 20% epoxy acids (16% coronary-epoxyacid, 4% vernolic-epoxyacid), these are of potential interest as replacements for synthetic epoxy compounds, used as stabilizers for plastic materials6. The aerial parts contain an essential oil, that has been recommended for use in perfumery6.An extract of the plant has shown significant antifeedant and insecticidal properties on the larvae of Crocidolomia binotalis, an important pest on cruciferous crops in Mauritius6. An extract of the leaves is used as an ingredient in skin conditioners and tonics 7.
References:
Nwaogu, L. A., Igwe, C. U., Ujowundu, C. O., Obasi, K. U., & Okeke, U. L. (2017). Chemical composition of Siegesbeckia orientalis: A valuable, but less known ethnomedicinal plant. Biokemistri, 29(2), 54-60.
Gupta. B. L. (1945): Forest Flora of Chakrata, Dehra Dun and Saharanpur. Forest Research Institute Press . A good flora for the middle Himalayan forests, sparsly illustrated. Not really for the casual reader.
Manandhar. N. P. (2002): Plants and People of Nepal Timber Press. Oregon.  ISBN 0-88192-527-6
Linghu, K. G., Xiong, S. H., Zhao, G. D., Zhang, T., Xiong, W., Zhao, M., … & Yu, H. (2020). Sigesbeckia orientalis L. Extract Alleviated the Collagen Type II–Induced Arthritis Through Inhibiting Multi-Target–Mediated Synovial Hyperplasia and Inflammation. Frontiers in Pharmacology, 11, 1360.
Anon (1972). The Wealth of India. Ruw Material, CSIR IX p. 257. Ncw Dclhi: CSIR.