Family: Fabaceae
Synonyms: , Abrus melanospermus, Abrus fruticulosus, Abrus gorsei, Abrus mollis, Abrus pulchellus, Abrus repens, Abrus stictospermus, Abrus tenuiflorus.
Common Name: Liquorice Root,Guangdong Abrus, Guangzhou Abrus, Canton Abrus
Local Name: Safed rati (सफ़ेद रत्ती),,Naryaanae
Safed rati is a branched woody climber of Western Himalayas ocassionaly found along roadside, scrub jungles,valley forests, in moist slopes of shrubs and bushes up to an altitude of 1800m in Western Himalayas. It is perennial in habit and spread through seeds Being member of Fabaceae safed rati has symbiotic association with certain soil bacteria, which form nodules on the roots for fixing atmospheric nitrogen for itself and to the plants growing nearby .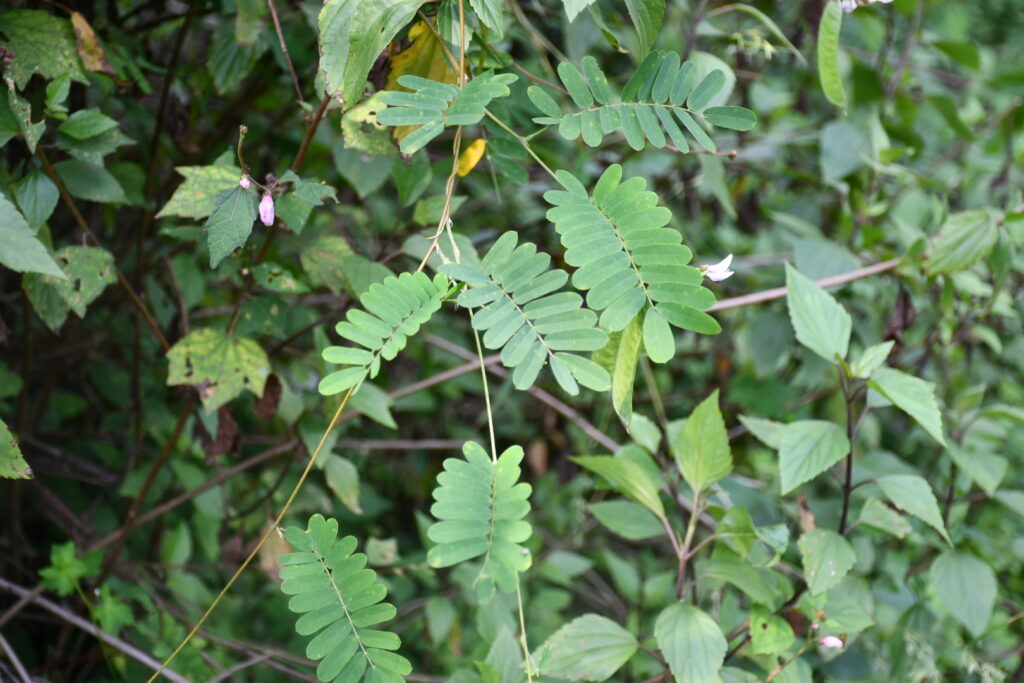 Safed rati is used by inhabitants to cure a wide range of aliments due to its antioxidant, anti tumor and immunomodulatory activities of water-soluble polysaccharides 1. Being strong antioxidant it boost immunity, inhibit malfunctioning of immune system and avoid autoimmune diseases. It is also helpful to slow aging.
Safed rati leaves and roots are edible and eaten cooked these are generally used as a food supplement in the form of tea, soups, folk beverages or Liquorice etc. Leaves are also excellent addition to a variety of traditional dishes like kachru, pakoras, paranthas which are taken as breakfast or snacks with tea, chutney or tomato ketchup etc. Leaves can also be cooked as leafy vegetable saag in addition with other available greens. for cleansing liver toxicants and preventing liver diseases. Safed rati has cooling effect on body and its seeds are toxic therefore not recommended to eat.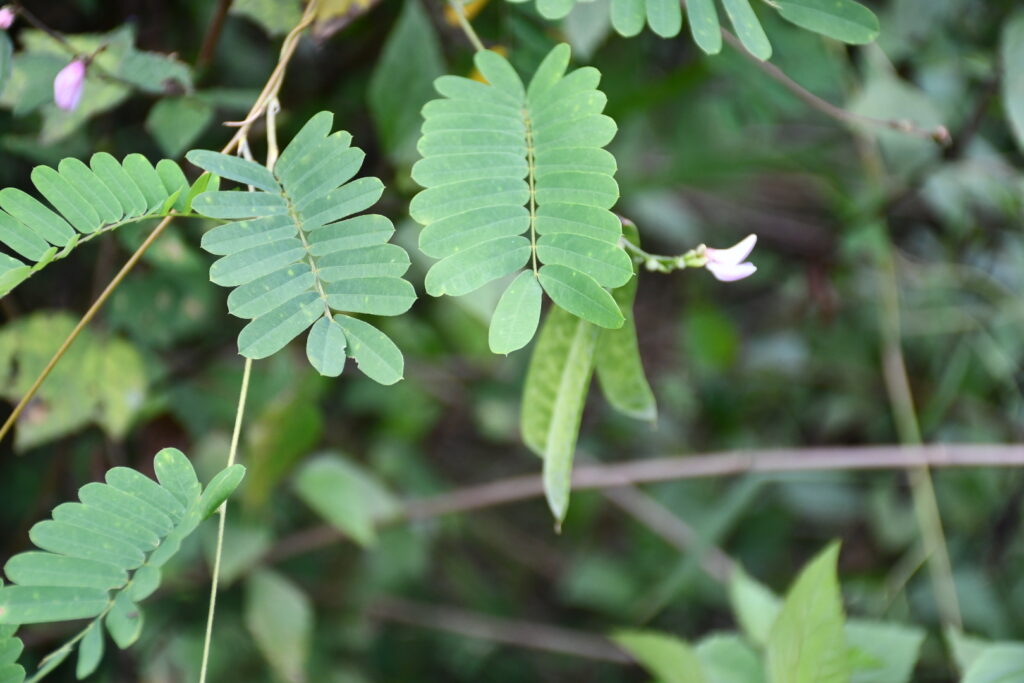 Safed rati is harvested from wild habitat as source of food, fodder and medicine,for local personal use only, however it can be cultivated as ornamental plant around home or in gardens. .
Safed rati Plant:
Safed rati is a woody perennial climbers.
Leaves are paripinnate, 10-13cm long; leaflets oblong, glabrous above, thinly hairy beneath, 2-3.5 cm long, in 10-12 opposite pairs.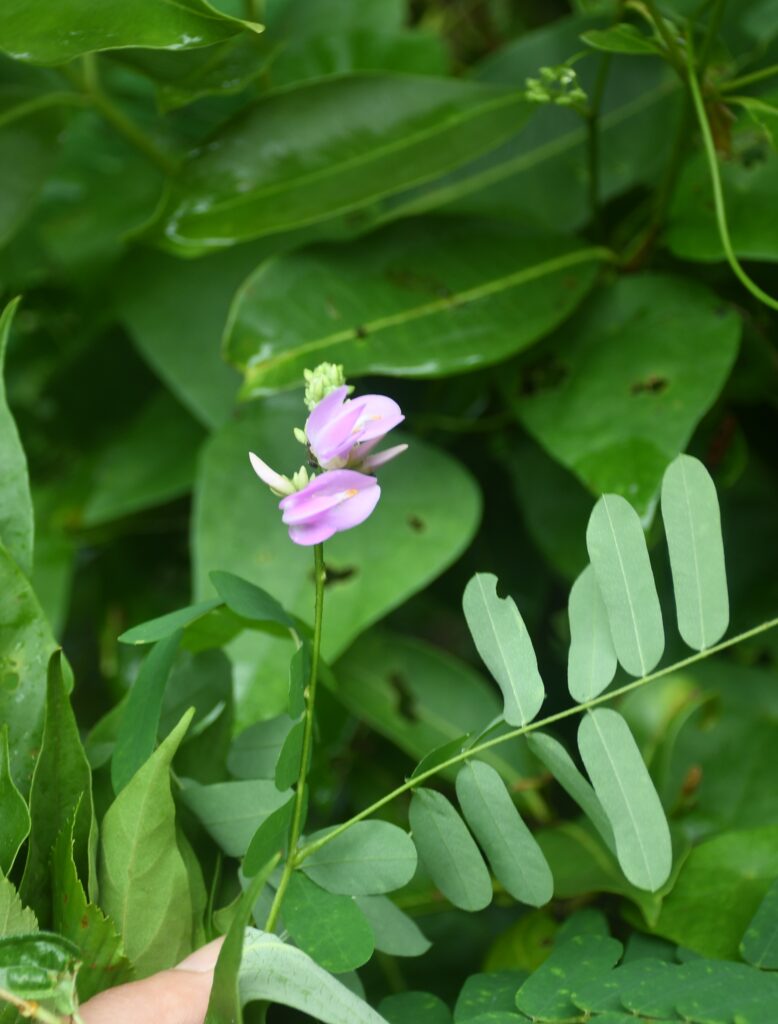 Flowers vary from purple to violet, in long axillary racemes.
Pods 1 cm are 5-6, flat, incurved.
Seeds compressed, black or light brown.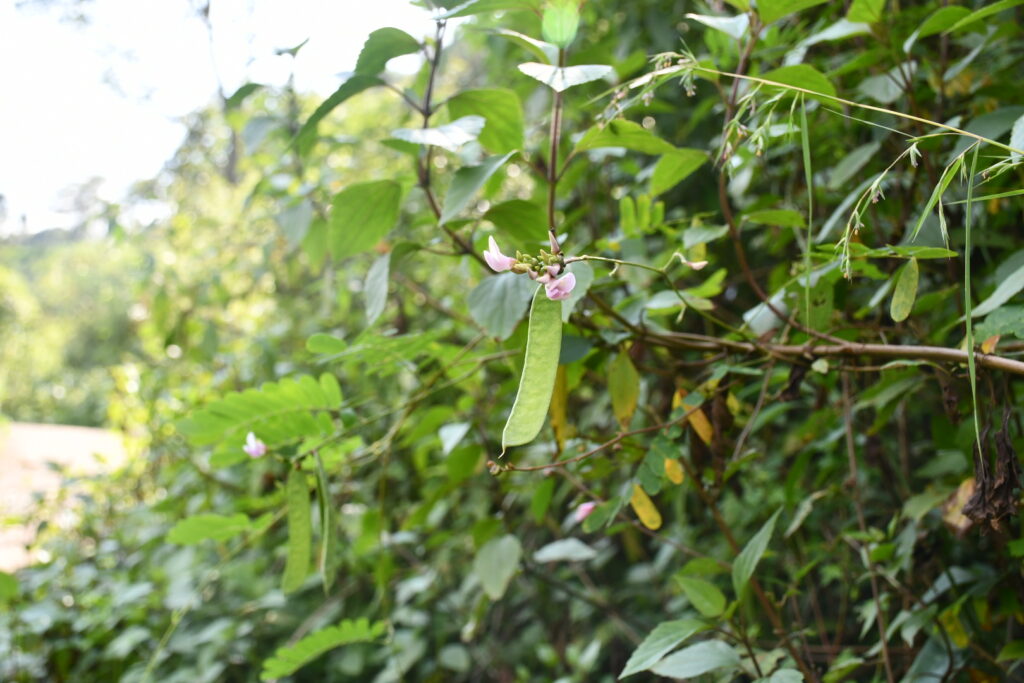 Safed rati edible leaves can be harvested round the year.It is in fruiting or flowering from August to October.
Edible Uses:
Safed rati leaves are eaten cooked to harness its rich medicinal value. Roots are used to make medicinal Liquorice. Tender leaves are addition to local dishes like kachru, pakoras, paranthas and as tea as follows.
Tea:
Ingredients:
Safed rati leaves fresh or dried, 10 to 20g; water, 2 cup amount; sugar/honey, 2 table spoons; lemon juice, 2 tea spoonsm a pinch of salt & black pepper.
Method:
Dice leaves and boil with water. Add sugar to it and simmer in low flame for 10 minutes. Add salt, sugar.honey and black pepper. Strain into tea cups. Add lemon juice to each and serve hot.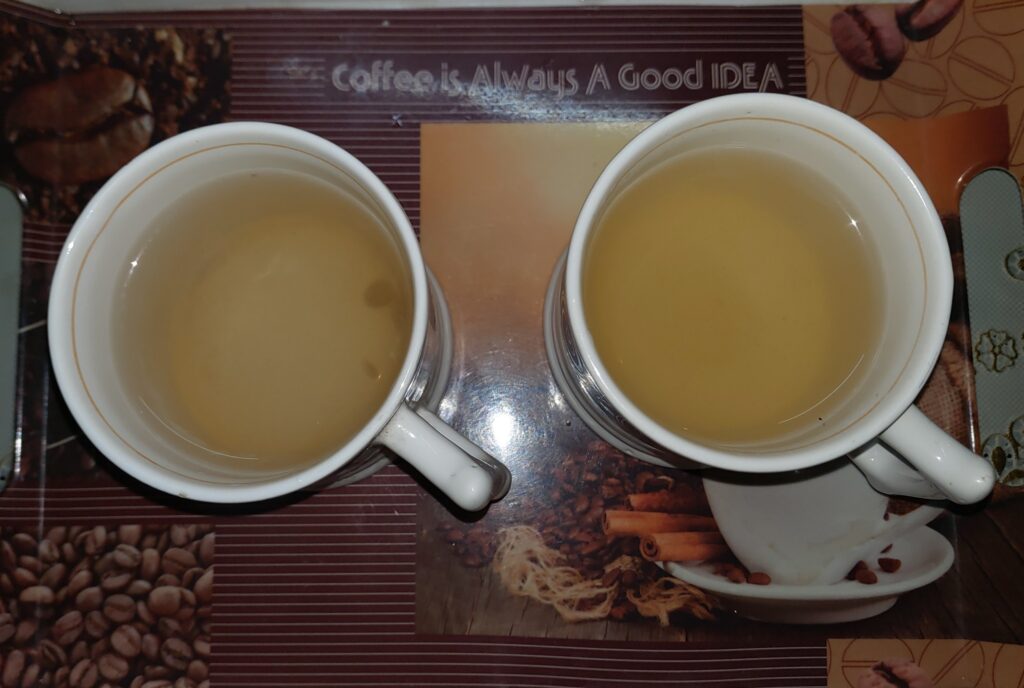 Parantha is a morning breakfast prepared served with curd/butter/pickle/chutney etc. It can be cooked with any greens/boiled potatoes/cheese or some wild boiled fruits like fig spp.
Ingredients:
Safed rati leaves, 250 g; boiled medium sized potato/ fig fruits; 4-5, Oil or ghee. 8-10 table spoon; wheat flour, 4 cup amount; chopped medium sized onion, 2-3, red or green chilies, 3-4, black pepper, ¼ tea spoon, black salt according to taste.
Method:
Mesh boiled potato/ fruits. Add to it chopped leaves and spices listed above. Mix well to make fine paste. Now parantha dough is prepared by mixing wheat flour and water. Knead dough till it is soft, let it rest for sometime. Make small round balls of dough, stuff paste inside balls and roll to thin layered flat breads, Now in hot tawa smear some oil and place flatbread over it. Cook both sides by applying oil. Now parantha is ready to serve. Serve it hot with chutney/ tomato ketchup/ pickle / butter/ curd according to choice.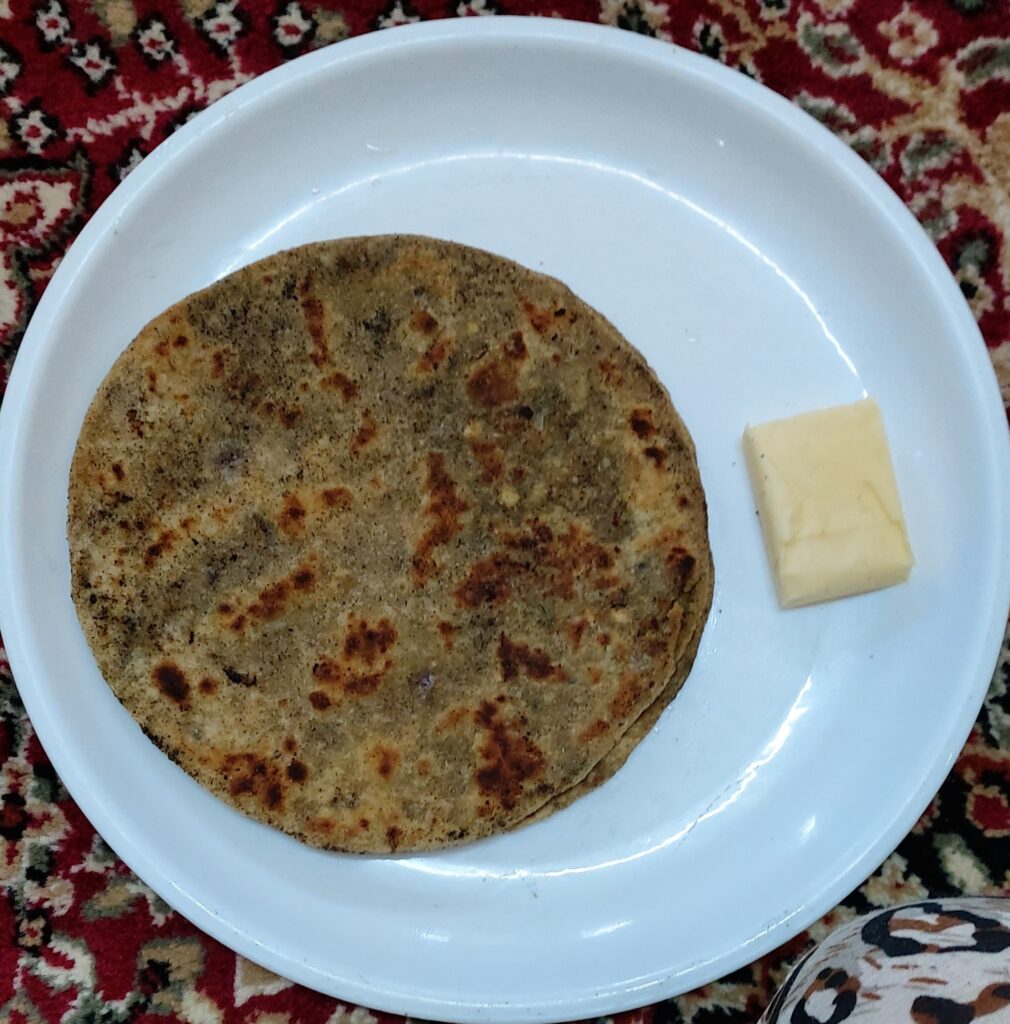 Kachru is a traditional dish of Western Himalaya cooked as chilla with spices and basen or corn flour. It is served as a evening snack with tea/ chutney/tomato ketch-up.
Ingredients:
For preparing a kachru, ingredients required are 500g fresh safed rati leaves, 1/2 kg besan (black gram powder) or corn flour. 1 cup amount fresh coriander leaves,1/2 table spoon ajwain, 3-5 green chillies, ½ table spoon turmeric powder, 2-3 chopped onions and salt according to taste
Method:
Make a paste of leaves, besan or corn flour and spices. Heat some oil on a flat heating pan. Put this paste over a pan and cook for 15 to 20 minutes then kachru will be ready to serve.
Pakoras:
Ingredients:
Fresh Safed rati leaves ,250 g; besan (black gram flour) or corn flour,1/2 kg ;mustard oil, 10-12 table spoon; 1 cup fresh coriander plus curry and mint leaves (chopped), 5-6 green chilies, ½ table spoon turmeric powder, 2-3 medium sized chopped onions, 2-3 medium sized finely chopped potato and salt according to taste.
Method:
Make a paste of leaves, chopped potatoes, basen and spices listed above. Mix well and and make small ball of this paste. Put mustard oil in a fry pan and give these balls a deep fry.Repeat this process till whole paste is over. Pakoras are now ready to serve. Serve these hot with chutney or tomato-ketchup.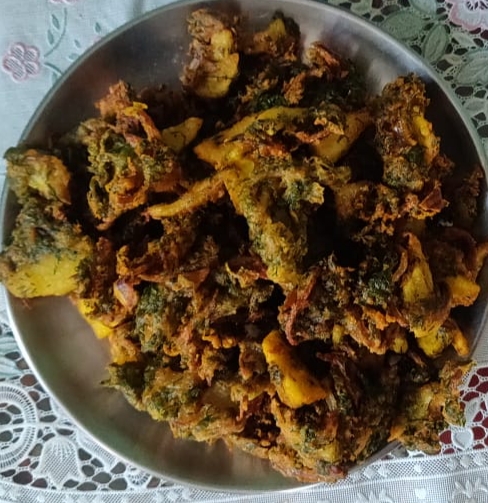 Seek professional advice before treating this plant medicinally.
Medicinal Uses:
Safed rati contains chemical consituients like abrine, bilineurine and sterol compounds. 2 and antioxidant, antitumor and immunomodulatory activities due to presence of ACP-I and ACP-II polysaccharides .There for whole plant especially leaves are used to cure tumar, pains; diabetes and auto-immune diseases and liver problems, Locally powdered leaves of this plant 2-3 g are given to cure chest affections The leaves are diuretic, febrifuge, laxative 3. They are used in the treatment of kidney problems,check constipation. pulmonary troubles etc3..The root is used to treat stomach problem3..
Other Uses:
Green foliage of this plant is used  fodder and given to milch cattle. It can also be grown as medicinal ornamental in gardens.

References:
Wu, S., Fu, X., You, L., Abbasi, A. Mehmood, Meng, H., Liu, D., & Aadil, R. Muhammad. (2016). Antioxidant, antitumor and immunomodulatory activities of water-soluble polysaccharides in Abrus cantoniensis. International journal of biological macromolecules, 89, 707-716. doi: 10.1016/j.ijbiomac.2016.04.005
Medicinal Plant Images Database
Burkil. H. M (1985 – 2004) The Useful Plants of West Tropical Africa. Publisher Royal Botanic Gardens; Kew