Family: Lamiaceae
Synonyms: Ajuga disticha, Ajuga glabrata, Ajuga mollissima, Anisomeles albiflora, Anisomeles disticha, Anisomeles glabrata, Anisomeles malabarica albiflora, Anisomeles mollissima, Anisomeles ovata, Anisomeles secunda, Anisomeles tonkinensis, Ballota disticha, Ballota mauritiana, Epimeredi indicus, Epimeredi secundus, Marrubium indicum, Monarda zeylanica, Nepeta amboinica, Nepeta disticha, Nepeta indica, Phlomis alba
Common name: Indian Catmint, Malabar catmint
Local Name: Kala bhangra (काला भंग्रा), Codhara
Kala bhangra is a camphor-scented perennial herb of Western Himalayas, frequently seen growing in wastelands, roadsides and scrubs jungles, upto an altitude of 1500m. Its stems often become more or less woody and persist. Kala bhangra is widely used as a medicinal herb and is added to various traditional dishes to harness its rich medicinal values. It is mainly used as a flavoring agent and is source of essental oil having strong antioxident, anti-inflammatory and anticancer properties 1., Kala bhangra propagate through seeds and is in flower throughout the year, when get enough water.
Kala bhangra is gathered from the wild as source of food, medicine and oil. It is also cultivated both as an ornamental and as a source of the essential oil
Kala bhangra Plant :
Erect, hairy, strongly aromatic, shrub-like herbs, 0.8-1.8m tall.
Stem 4-angled, simple or branched.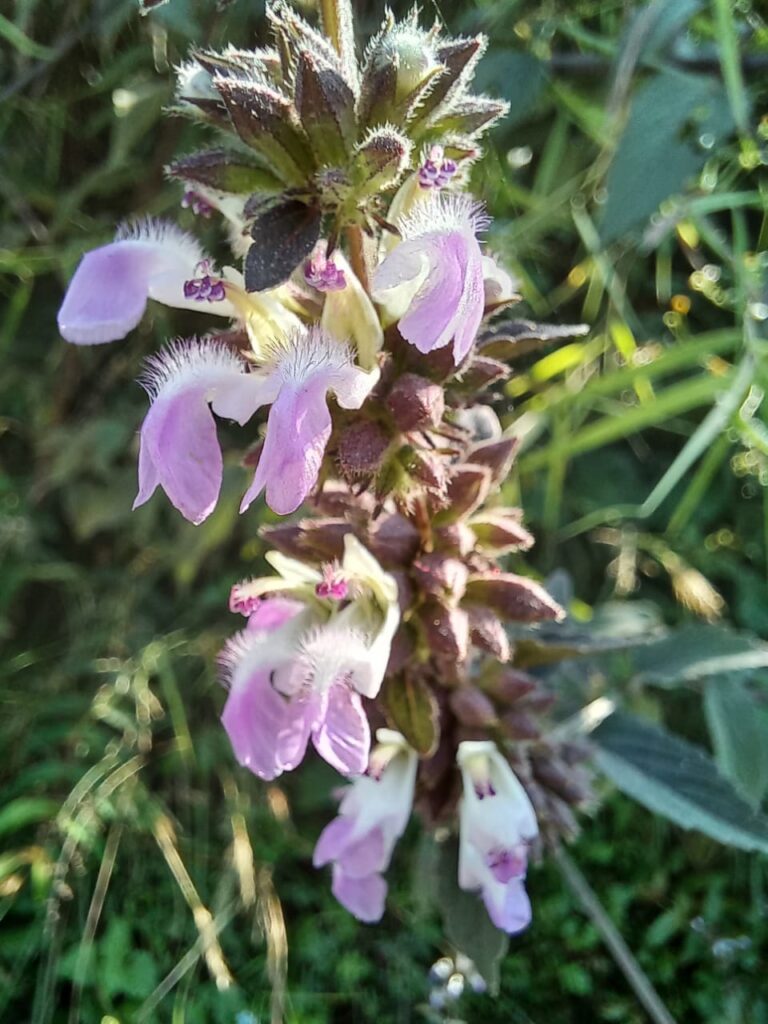 Leaves petiolate, ovate, acute, 2.5-10cm long, crenate- serrate. Flowers 1.2-1.5cm long, crowded in axillary whorls, forming more or less interrupted, terminal spikes; bracts linear, hairy. Calyx ovoid; teeth 5, lanceolate, acute. Corolla white, tinged bluish- purple, 2-lipped; upper lip short, concave, entire; lower longer, 3-lobed, spreading. Stamens 4, in unequal pairs, protruding.
Nutlets smooth, shinning black.
Kala bhangra  is in flowering and fruiting from June to September, edible plant parts can be best harvested from Spring to winters.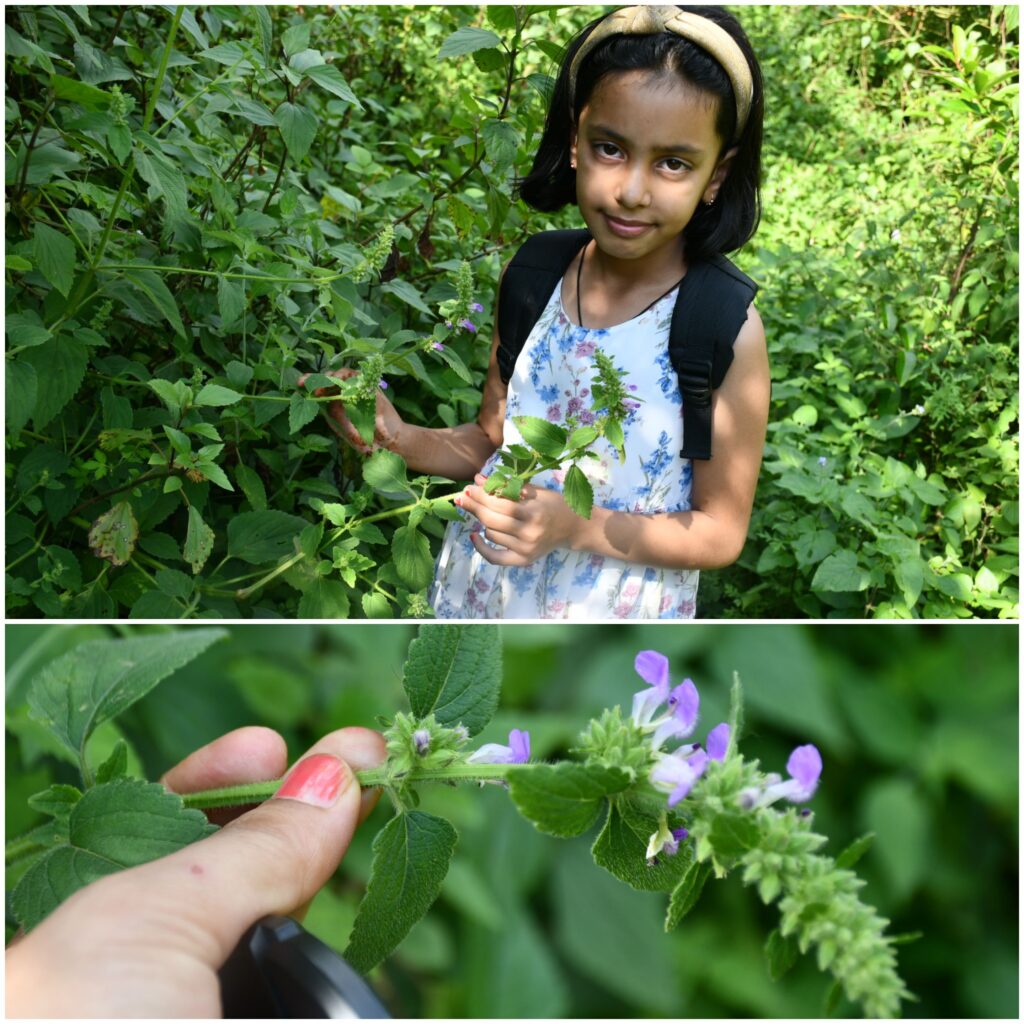 Edible Uses:
Kala bhangra is used as a flavouring agent in a variety of traditional dishes both fresh and dried. As the plant is acrid, bitter and aromatic so should be added in small quantity to dishes like pasta, poha, porridge, kachru, parantha, chutney to avoid any adulteration in taste. As leaves are not very pleasent in taste so, should be added to traditional sweet dishes like Kheer (puddings), meetha etc. as a flavouring agent.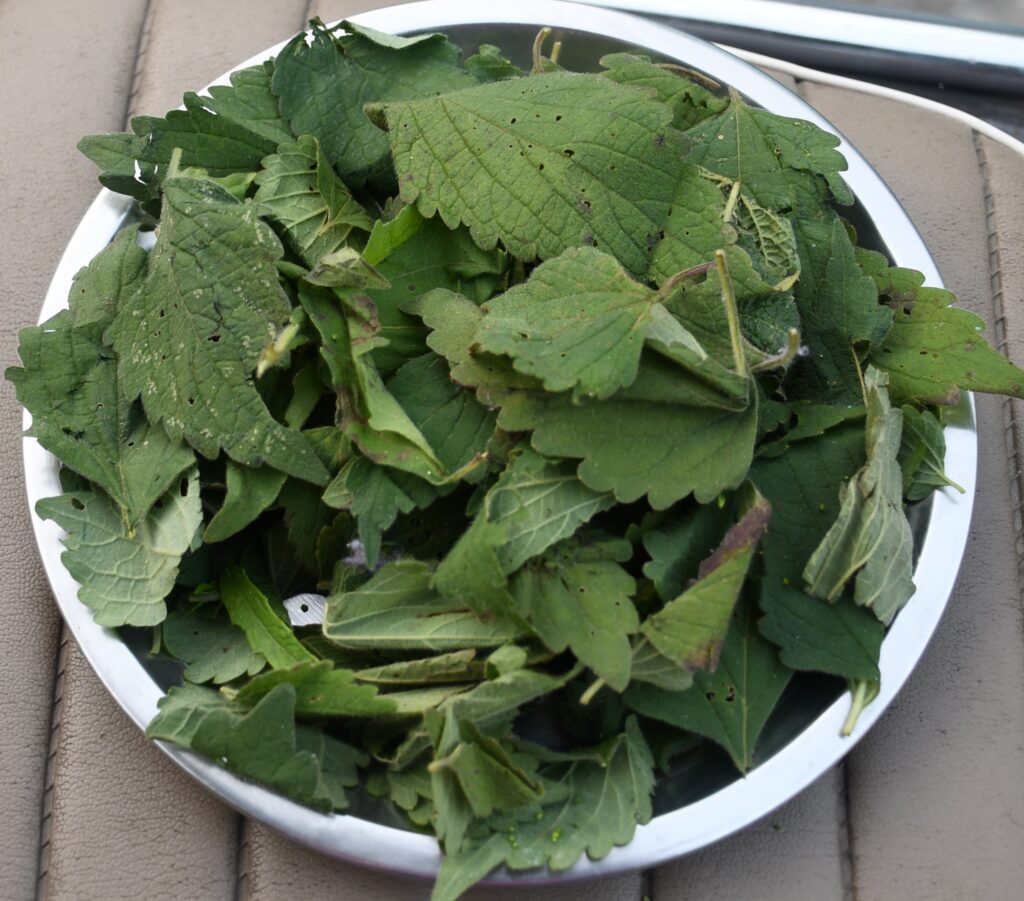 Pakoras:
Ingredients:
Kala bhangra fresh leaves ,250 g; besan (black gram flour) or corn flour,1/2 kg ;mustard oil, 10-12 table spoon; 1 cup fresh coriander plus curry and mint leaves (chopped), 5-6 green chilies, ½ table spoon turmeric powder, 2-3 medium sized chopped onions, 2-3 medium sized finely chopped potato and salt according to taste.
Method:
Make a paste of leaves, chopped potatoes, basen and spices listed above. Mix well and and make small ball of this paste. Put mustard oil in a fry pan and give these balls a deep fry.Repeat this process till whole paste is over. Pakoras are now ready to serve. Serve these hot with chutney or tomato-ketchup.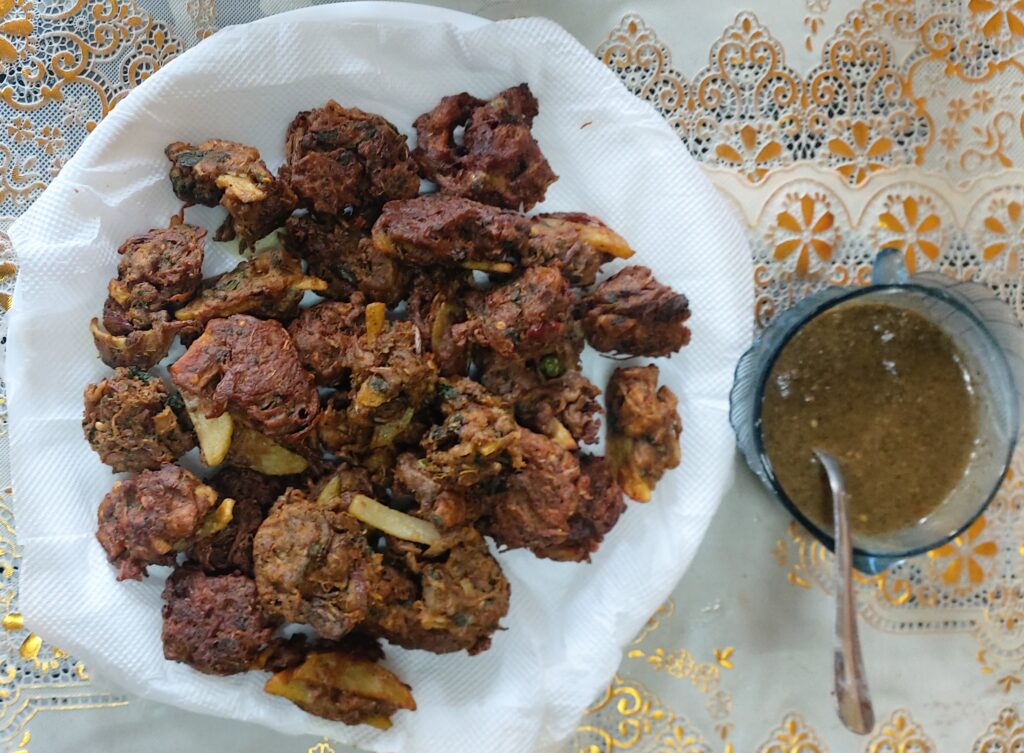 Porridge:
Ingredients:
Rice, 2 cup; Kala bhangra fresh leaves, 250g amount;ghee/ olive oil, 2-3 table spoon; 2, red or green chilies, 3-4, turmeric powder, 1/4 table spoon; amount; salt according to taste.
Method:
Heat ghee.oil in a pressure cooker and add Kala bhangra chopped leaves , cumin seeds, chillies,turmeric o\powder, rice and salt according to taste. Mix well add water 5 cup amount and pressure cook for 2 whistles. Allow the steam to escape and serve hot with curd.ghee
Kachru or sosaru:
Kachru is a traditional dish of Werstern Himalaya cooked as chilla with spices and basen or corn flour. It is served as a evening snack with tea/ chutney/tomato ketch-up.
Ingredients:
For preparing a kachru, ingredients required are 250 g fresh Kala bhangra leaves, 3 cup amount besan (black gram powder) or corn flour. 1 cup amount fresh coriander leaves,1/2 table spoon ajwain, 3-5 green chillies, ½ table spoon turmeric powder, 2-3 chopped onions and salt according to taste
Method:
Make a paste of leaves, besan or corn flour and spices. Heat some oil on a flat heating pan. Put this paste over a pan and cook for 15 to 20 minutes then kachru will be ready to serv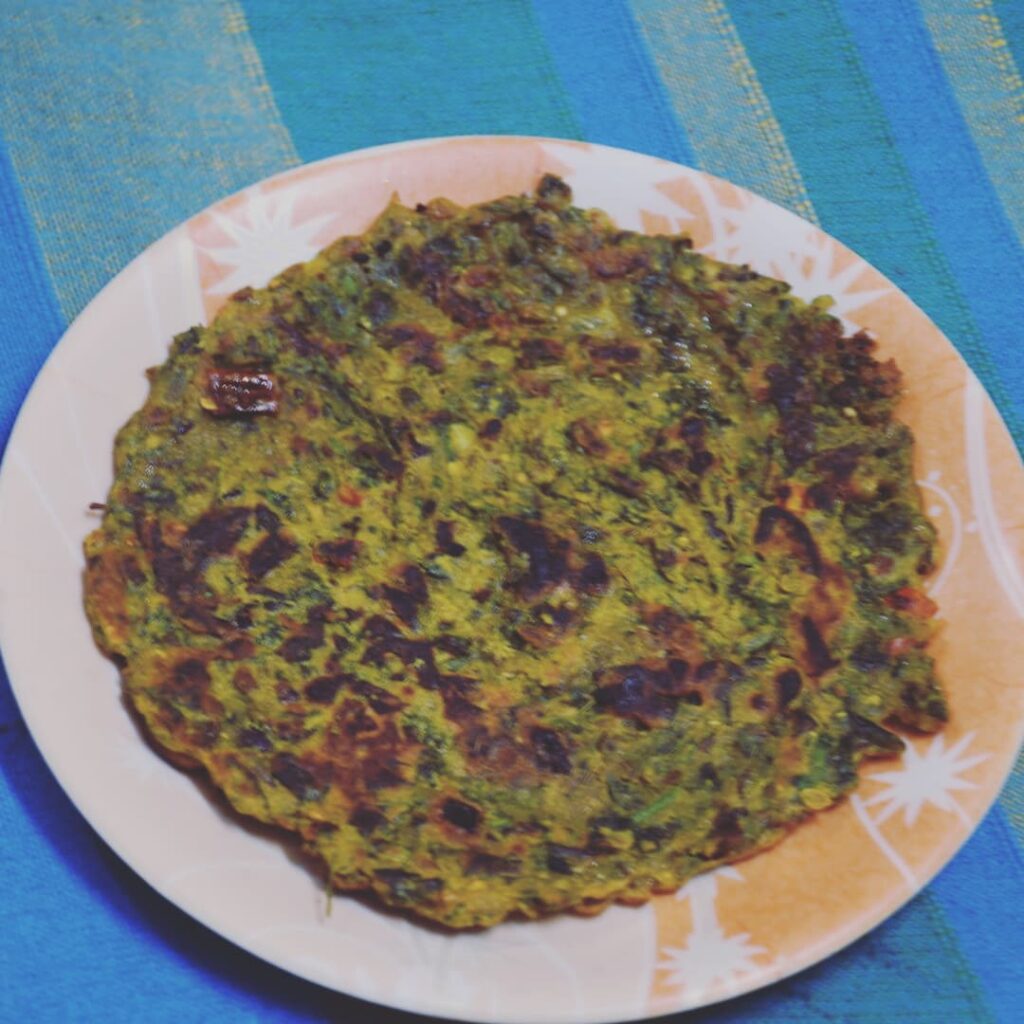 Seek professional advice before treating this plant medicinally.
Medicinal Uses:
Plant shows natural strong antioxident, anti-inflammatory and anticancer properties 1. Plant is widely used to treat gastric dysfunction, inflammatory disorders and hypertension. It possesses carminative, astringent and tonic properties. The dried or fresh material is used as a wash for external afflictions, eczema, pruritis and skin problems such as snakebites. The leaves are chewed for toothaches. It has been used in rheumatism, cold, fevers, abdominal pain, intermittent fever, and dyspepsia 2. The plant is burned to act as a-repellent.The juice of the leaves is given to children for colic, dyspepsia and fever caused by teething. Inhaling the vapour of the hot infusion induces copious perspiration. The whole plant is used, but especially the leaves and the roots. It is a powerful astringent, carminative, febrifuge and tonic 3.
Other Uses:
An essential oil is obtained from the leaves.  Oil is used in perfumes and cosmetics.It is used as  a hair dressing and as a compound essential oil of this plant is  a source of natural antioxidant. The plant is burnt to repel mosquito . Plant can also be used as a decorative and ornamental plant for its beautiful flowers.
References:
Kundu A, Saha S, Walia S, Kour C (2013) Antioxidant and antifungal properties of the essential oil of Anisomeles indica from India. J Med Plants Res 7:1774-1779.
Purohit SS, Sharma AK, Prajapati ND, Kumar T. (2009); A handbook of medicinal plants: a complete source book. 2:352-3.
Uphof. J. C. Th (1959); Dictionary of Economic Plants. Weinheim, publication