Family: Chenopodiace
Synonyms:Ambrina ambrosioides, Ambrina incisa, Ambrina parvula, Ambrina spathulata, Atriplex ambrosioides, Blitum ambrosioides, Botrys ambrosioides, Chenopodium album ambrosioides, Chenopodium amboanum, Chenopodium ambrosioides, Chenopodium angustifolium, Chenopodium citriodorum, Chenopodium cuneifolium, Chenopodium integrifolium, Chenopodium opulifolium amboanum, Chenopodium querciforme, Chenopodium sancta-maria, Chenopodium santamaria, Chenopodium spathulatum, Chenopodium suffruticosum, Chenopodium vagans, Chenopodium variegatum. Orthosporum ambrosioides,Orthosporum suffruticosum, Teloxys ambrosioides, Teloxys vagans, Vulvaria ambrosioides.
Common Name: Mexican Tea, The sweet Pigweed,
Local Name: Dunger ajwain (डंगर अजवाइन), Longo
Dunger ajwain is an erect, aromatic, much-branched annual or short-lived perennial herb of Western Himalayas. It is commonly seen growing in wastelands, cultivated ground and roadsides, up to 1200m. Dunger ajwain is an easily grown plant and succeed well in most of moderately fertile soil.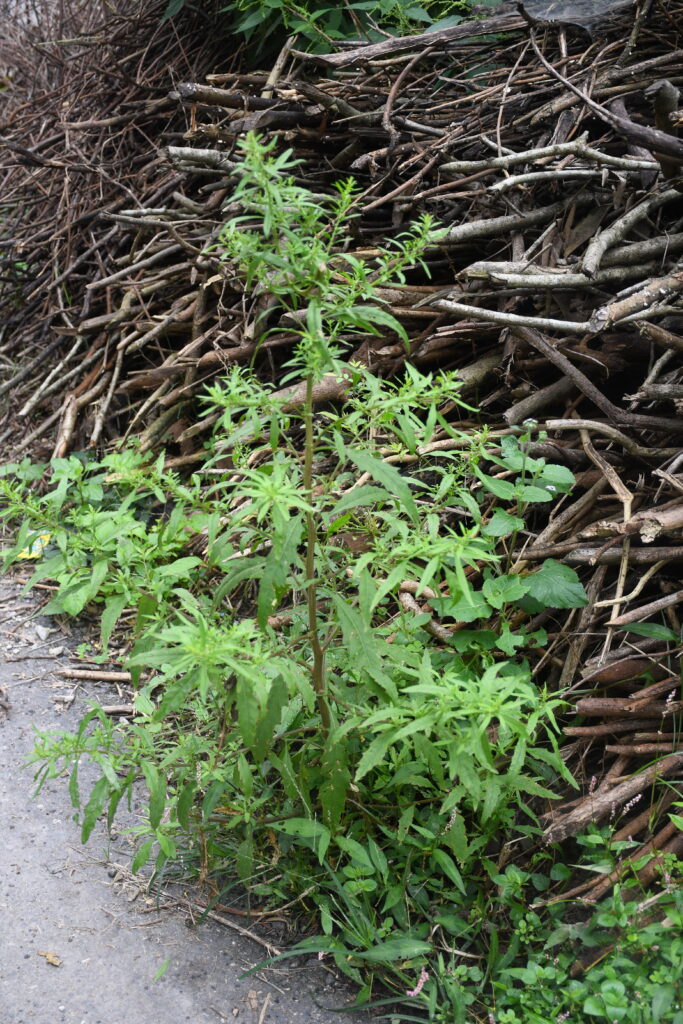 Locally leaves and seeds are considered good for flatulence and stomach ailments principally known for its ability to expel worms. For local people it is a very effective and popular remedy given to livestock against these ailments, therefore the local name Dunger ajwain is given to this plant.
Tender Leaves and seeds of this plant are eaten cooked. These are best to taken as leafy vegetable saag along with other wild or cultivated greens. These can be excellent addition to soups, parantha, kachru, kachouri, pakoras and other traditional dishes of Western Himalaya and should be taken for its medicinal uses. Leaves can be taken fresh or dried.
Dunger ajwain is harvested from wild habitat as a source of food, fodder and medicine for local personal uses, sometime it is also grown for its medicinal and culinary uses.
Dunger ajwain Plant:
Tall, erect, branched, aromatic, annual herbs, upto 1m tall.
Leaves are lanceolate to oblong- lanceolate, generally 4-12 cm or more long, coarsely or shallowly serrate-dentate or deeply incised, or higher ones entire, gradually passing into bracts.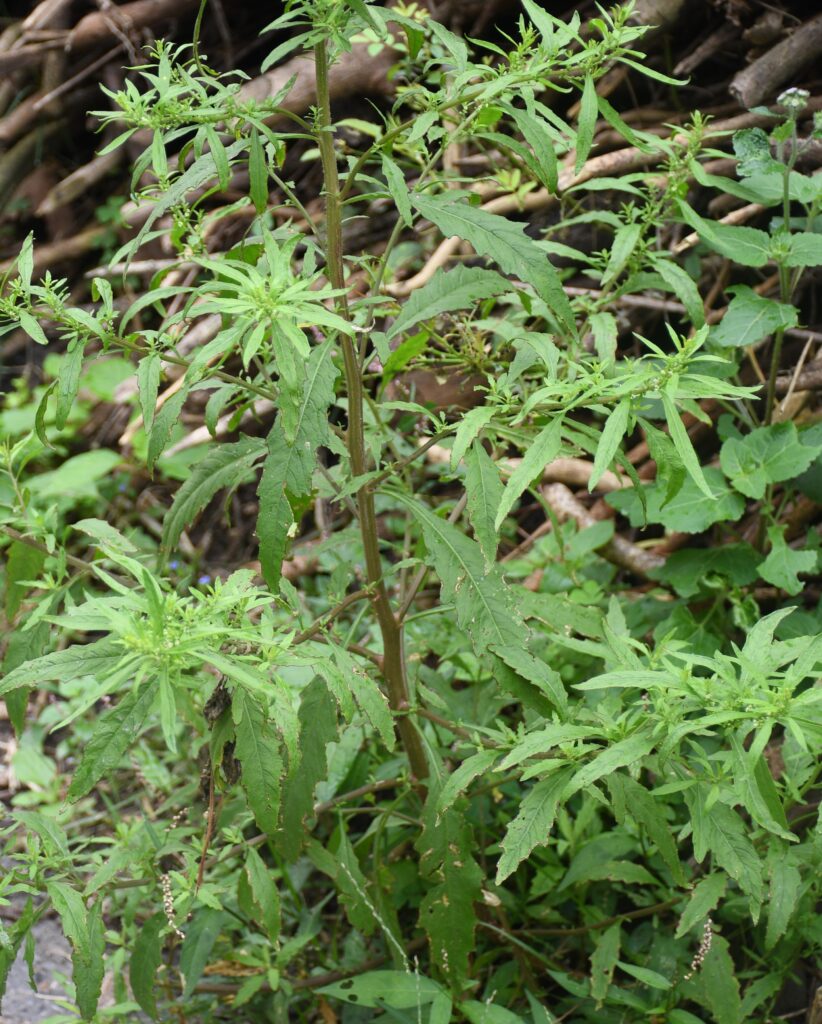 Flowers yellowish- white, minute, clustered, forming slender, axillary and terminal, simple or paniculate, leafy spikes. Tepals 5, connate at the base, ovate-rounded, hairy outside. Stamens 3-5. Stigma 3-5 (usually 5), spreading.
Seeds shining, brown, smooth.
Plant is in flowering and fruiting from June to September, edible seeds can be collected in winters, while edible leaves can be collected round the year.
Edible Uses:
Tender leaves and seeds of Dunger ajwain are edible and eaten cooked. Leaves in small amount are excellent addition to variety of traditional dishes like kachru, kachouri, patrodu or pakoras which are usually taken as snacks with chutney or tomato ketch-up. These can also be used as a flavouring agent to soups, parantha etc. Inclusion of medicinally important wild herbs like Dunger ajwain in small quantity to our day to day food items is best way to harness their rich medicinal and nutritive value and boost our immunity without any majour alteration in taste. An infusion of the leaves is also a tea substitute.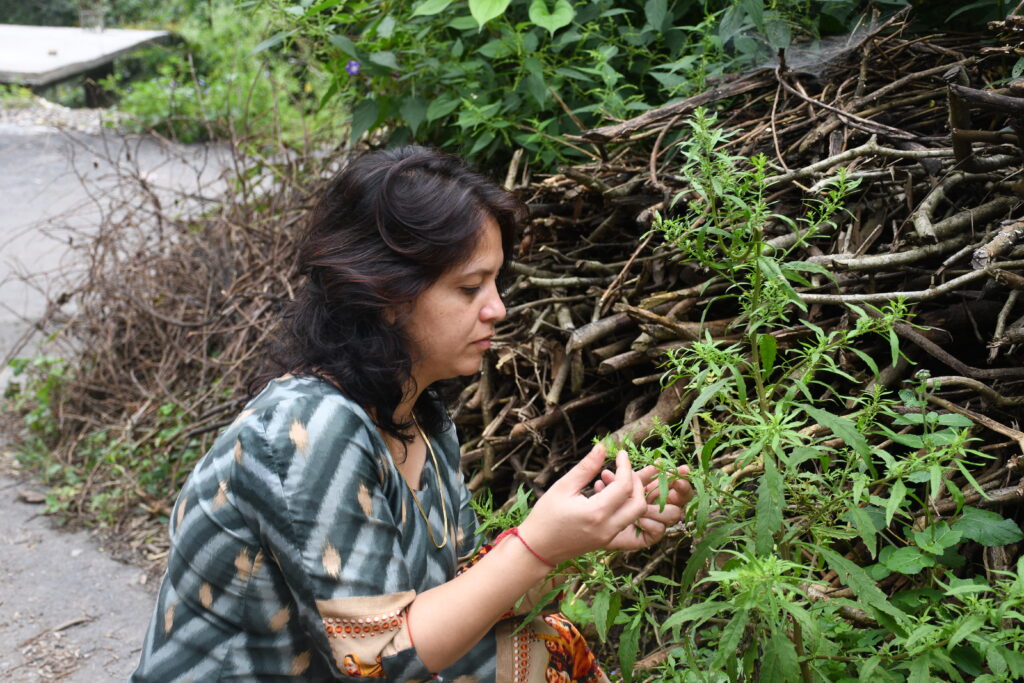 Seeds of this plant can be added in small quantity to sweet dishes like oats, puddings etc. These should be soaked in water overnight and thoroughly rinsed before use in order to remove any saponins contant in them.
Parantha:
Parantha is a morning breakfast prepared served with curd/butter/pickle/chutney etc. It can be cooked with any greens/boiled potatoes/cheese or some wild boiled fruits like fig spp.
Ingredients:
Finely chopped leaves of Dunger ajwain, 250 g; boiled medium sized potato/ fig fruits; 4-5, Oil or ghee. 8-10 table spoon; wheat flour, 4 cup amount; chopped medium sized onion, 2-3, red or green chilies, 3-4, black pepper, ¼ tea spoon, black salt according to taste.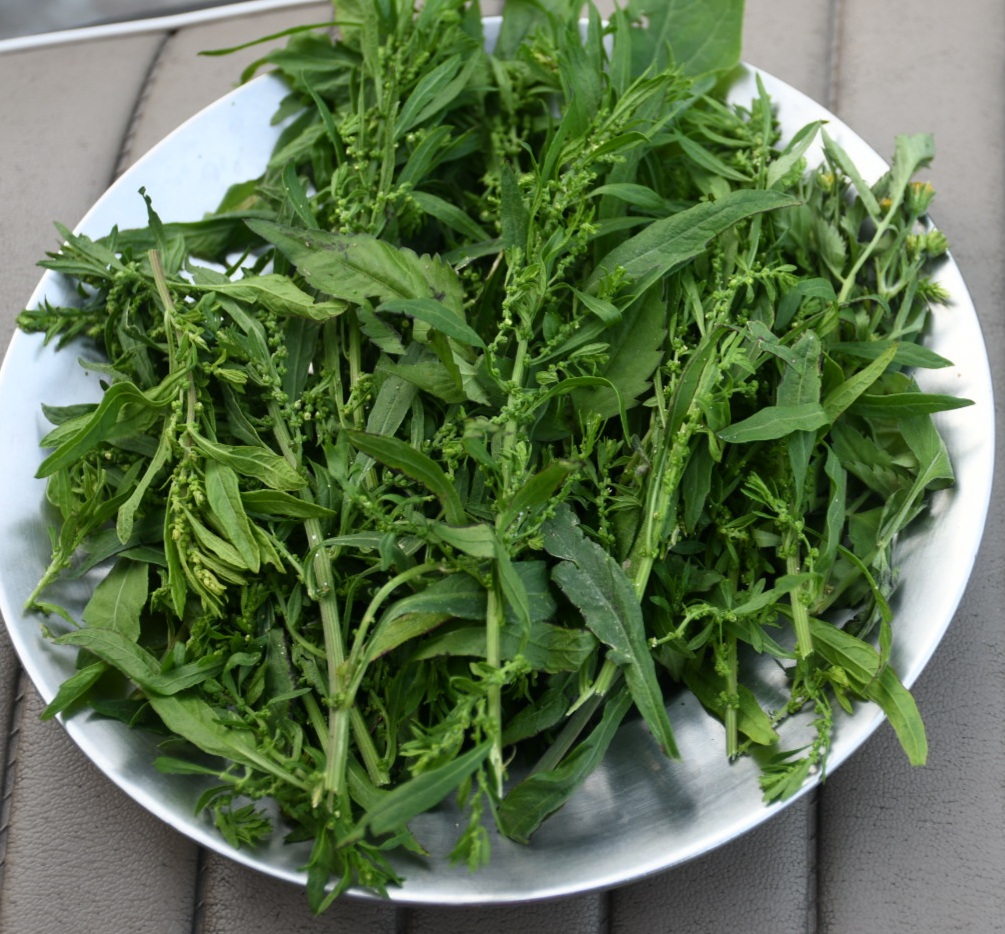 Method:
Mesh boiled potato/ fruits. Add to it chopped leaves and spices listed above. Mix well to make Fine paste. Now parantha dough is prepared by mixing wheat flour and water. Knead dough till it is soft, let it rest for sometime. Make small round balls of dough, stuff paste inside balls and roll to thin layered flat breads, Now in hot tawa smear some oil and place flatbread over it. Cook both sides by applying oil. Now parantha is ready to serve. Serve it hot with chutney/ tomato ketchup/ pickle / butter/ curd according to choice.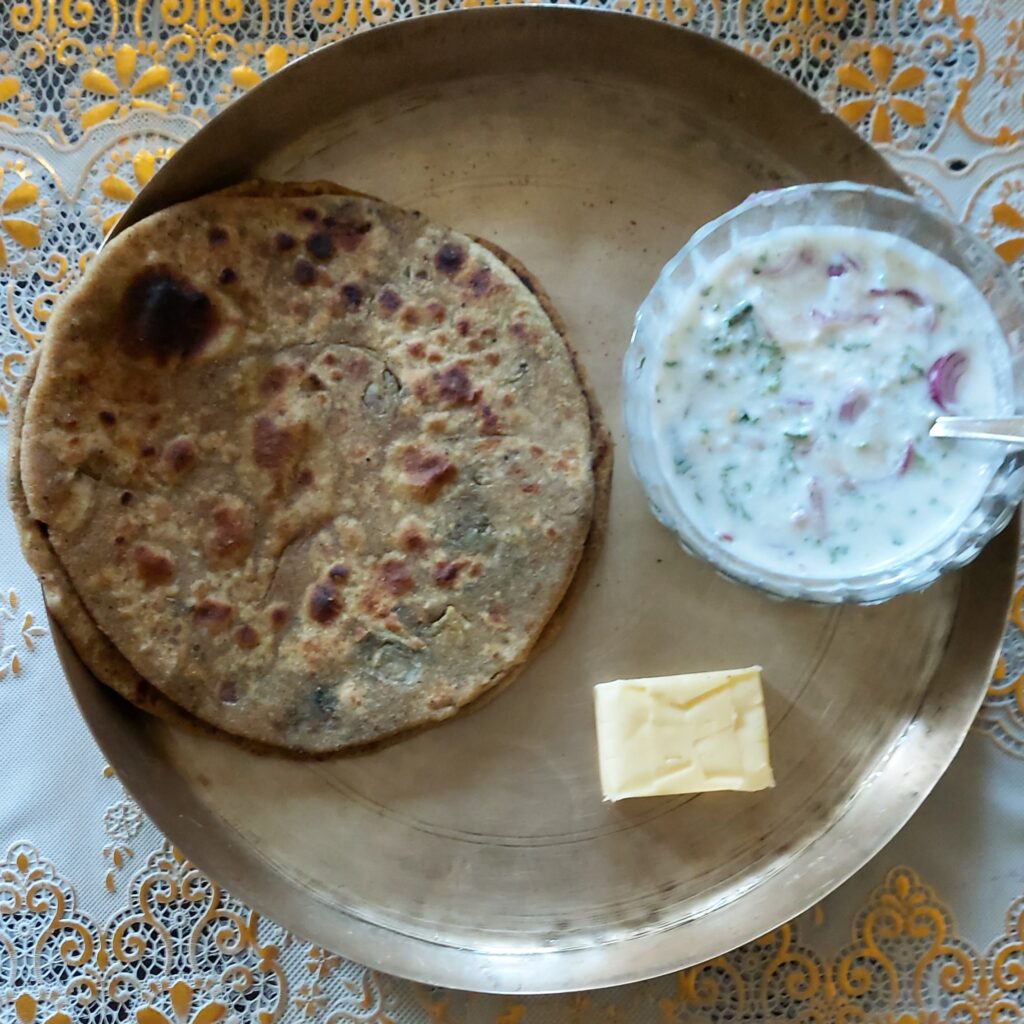 Kachru or sosaru:
Kachru is a traditional dish of Western Himalaya cooked as chilla with spices and basen or corn flour. It is served as a evening snack with tea/ chutney/tomato ketch-up.
Ingredients:
For preparing a kachru, ingredients required are 1kg fresh or dried leaves of Dunger ajwain 1/2 kg besan (black gram powder) or corn flour. 1 cup amount fresh coriander leaves,1/2 table spoon ajwain, 3-5 green chillies, ½ table spoon turmeric powder, 2-3 chopped onions and salt according to taste
Method:
Make a paste of leaves, besan or corn flour and spices. Heat some oil on a flat heating pan. Put this paste over a pan and cook for 15 to 20 minutes then kachru will be ready to serve.
Saag:
Ingredients:
Tender leaves of Dunger ajwain and other wild potherbs, 1 kg; mustard oil, 2 table spoons; coriander powder 1 table spoon; fenugreek powder, ½ table spoon; cumin seed ¼ table spoon; turmeric powder, 1/4 table spoon; red chilies, 2-3; chopped onions 2-4; garlic, 4-5 cloves; ginger paste ½ table spoon and salt according to taste.
Method:
Boil leaves till they become soft. Then mesh manually or in a mixer. Then sauté with hot mustard oil and the spices listed before in sequence. This sauted saag is then ready and can be served as such or can be mixed with 2 or 3 chopped onion and cooked for another 5 to 10 minutes before serving.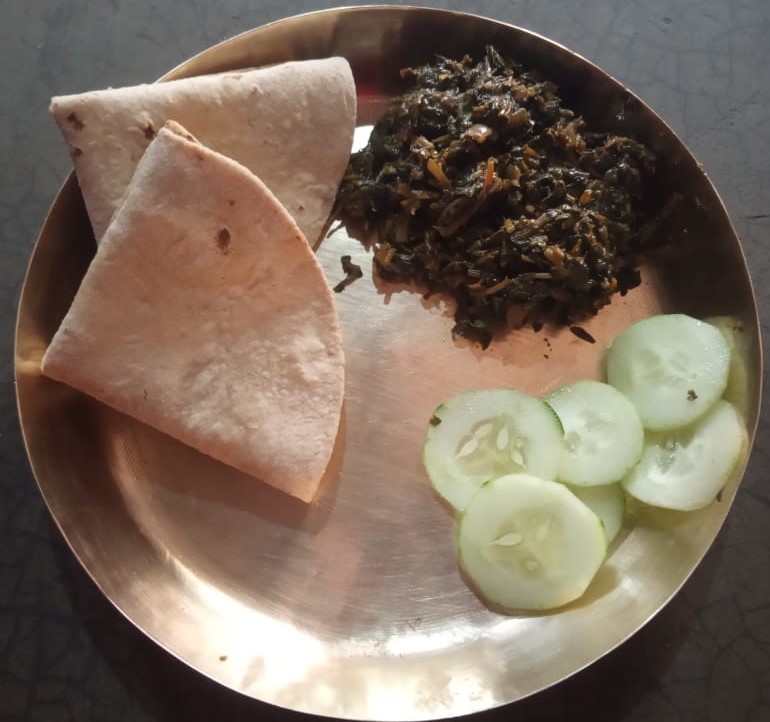 Porridge:
Ingredients:
Dunger ajwain seeds 1/2 cup amount; rice, 2 cup amount;ghee/ olive oil, 2-3 table spoon; 2, red or green chilies, 3-4, turmeric powder, 1/4 table spoon; amount; salt according to taste.
Method:
Soak seeds in water overnight and thoroughly rinse. Heat ghee.oil in a pressure cooker and add Dunger ajwain cumin seeds,chillies,turmeric o\powder, rice and salt according to taste. Mix well add water 5 cup amount and pressure cook for 2 whistles. Allow the steam to escape and serve hot with curd.ghee
Dunger ajwainTea:
Ingredients:
Dunger ajwain leaves, 3; water, 2 cup amount; sugar, 2 table spoons; lemon juice, 2 tea spoons.
Method:
Dice leaves and boil with water. Add sugar to it and simmer in low flame for 10 minutes. Strain into tea cups. Add lemon juice to each and serve hot.
Soup:
Ingredients:
Locally available vegetable (chopped) , leaves and soaked and thoroughly washed seeds of Dunger ajwain ,1/2 kg; mint leaves,10-15 (chopped); corn flour, 1 spoon; black pepper powder,1/4 tea spoon, salt acc.to taste.
Method:
Boil leaves, seeds of Dunger ajwain and vegetable in one litre water till they are soft, mesh these manually and sieve the extract in a container. Add to it mint leaves, corn flour, black pepper and salt, then boil for 5-10 minutes. Now soup is ready to serve
Seek professional advice before treating this plant medicinally.
Medicinal Uses:
Plant is potential source of antimicrobial, anti-allatoxigenic and anti-oxidant activities 1.  Decoction of leaves and seeds is good for flatulence and stomach ailments. Mixture of powdered leaves and stem used to cures cough locally. Dunger ajwain is principally known for its ability to expel worms, especially roundworms and hookworms. However, it is more used as a digestive remedy, being generally taken to settle colic and stomach pains, also extensively given to lives tocks . Dunger ajwain  leaves have antispasmodic properties, a wormseed's muscle-relaxing action has led to its use in the treatment of spasmodic coughs and asthma. The plant also has external uses. Juice expressed from the whole herb is applied as a wash for haemorrhoids 2.
Chemical constituents: Dunger ajwain contains a volatile oil and triterpenoid saponins. Ascaridol is a powerful worm-expellant 2.
Biological activity: Essential oil from leaves antifungal against human pathogenic fungi and antimicrobial. Leaves ext. anthelmintic and shoot and root ext. Nematicidal 3.
Other Uses:
The plant is used as a fumigant against mosquitoes and is also added to fertilizers to inhibit insect larvae4.
Gold/green dyes can be obtained from the whole plant 5.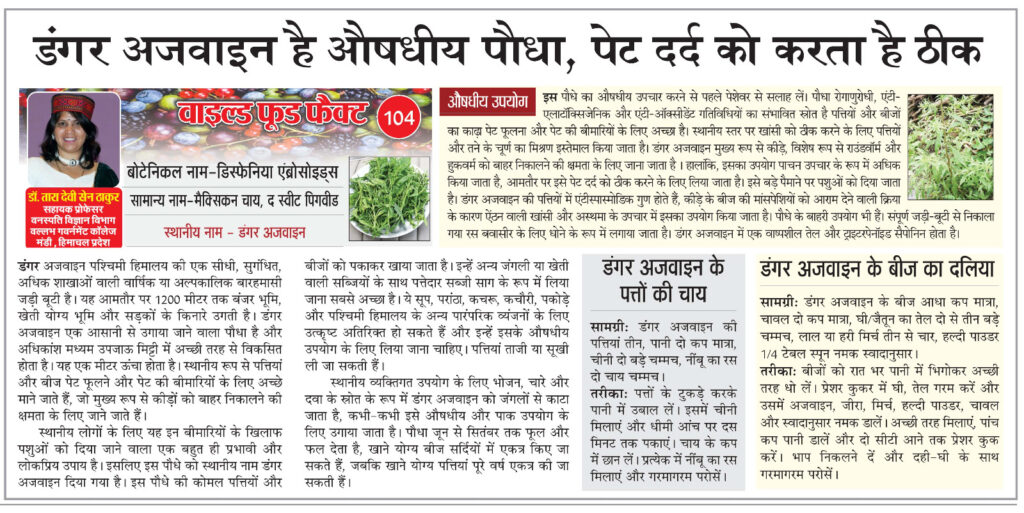 References:
Kasali, F. M., Tusiimire, J., Kadima, J. N., & Agaba, A. G. (2021). Ethnomedical uses, chemical constituents, and evidence-based pharmacological properties of Chenopodium ambrosioides L.: extensive overview. Future Journal of Pharmaceutical Sciences, 7(1), 1-36.
Purohit SS, Sharma AK, Prajapati ND, Kumar T. (2009); A handbook of medicinal plants: a complete source book. 2:352-3.
Sood SK, Thakur S. (2004): Ethnobotany of Rewalsar Himalaya. Deep Publications.
Bown. D. (1995): Encyclopaedia of Herbs and their Uses. Dorling Kindersley, London. ISBN,0-7513-020-31.
Grae, I. (1974). NATURE'S COLORS, DYES FROM.