Family: Tiliaceae
Synonym: Grewia oppositifolia
Common Name: Bhimal, biul, beul, bhiunal, dhaman, bihul.
Local Name: Beul, Bihul (बिहुल)
Bihul is a deciduous or semi-decidous small to moderate-sized multipurpose tree of Western Himalayas. It is extensively used as fodder, fuel and material. Its multifarious traditional uses includes; ripe fruits are eaten; wood employed for making cot frames and tool handles; Infusion of leaves and bark used as shampoo; shoots are used as torch and bark-fibre is employed for ropes, nets, sacs, brushe making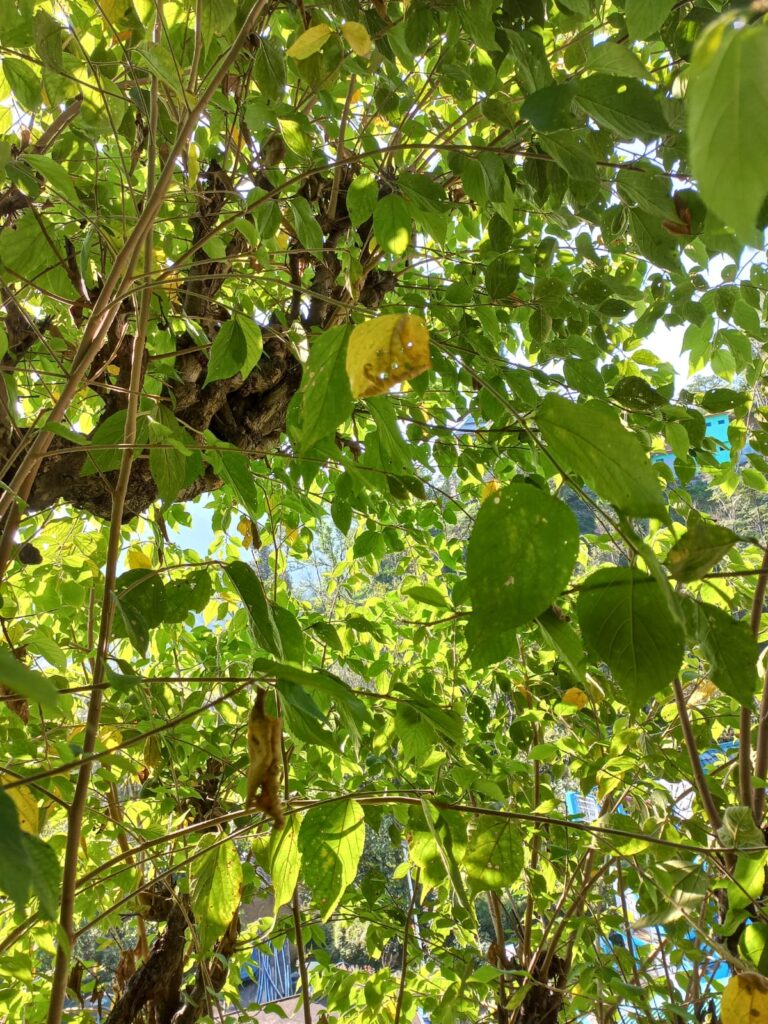 Bihul is very commonly seen growing in and around villages, at margins of fields, along roadsides, pathways and foothills of the Western Himalayas upto an elevations of 1,800 to 2000 metres.It succeeds best in most soils, though prefers a moist, sandy loam. Bihul usually grows in subtropical climate, where day temperatures fall between -2°C and 38°C and where summer and autumn months are dry. It can also survive Himalayan frosts in autumn and winter. Bihul thrives on sandy loam with adequate moisture but can still grow on a variety of soils 1 It propagate through seeds.
Ripe fruits of bihul are edible and is an excellent addition to desserts and is usually taken for its aphrodisiac properties.
Bihul is a multipurpose tree for the local people of Western Himalayas. It is harvested from wild habitat for fodder, fuel, food, fibre, material and income but quite often cultivated for both personal and commercial uses. Sometime it is also cultivated as a forage crop on margins of agricultural land as an important agro-forestry species.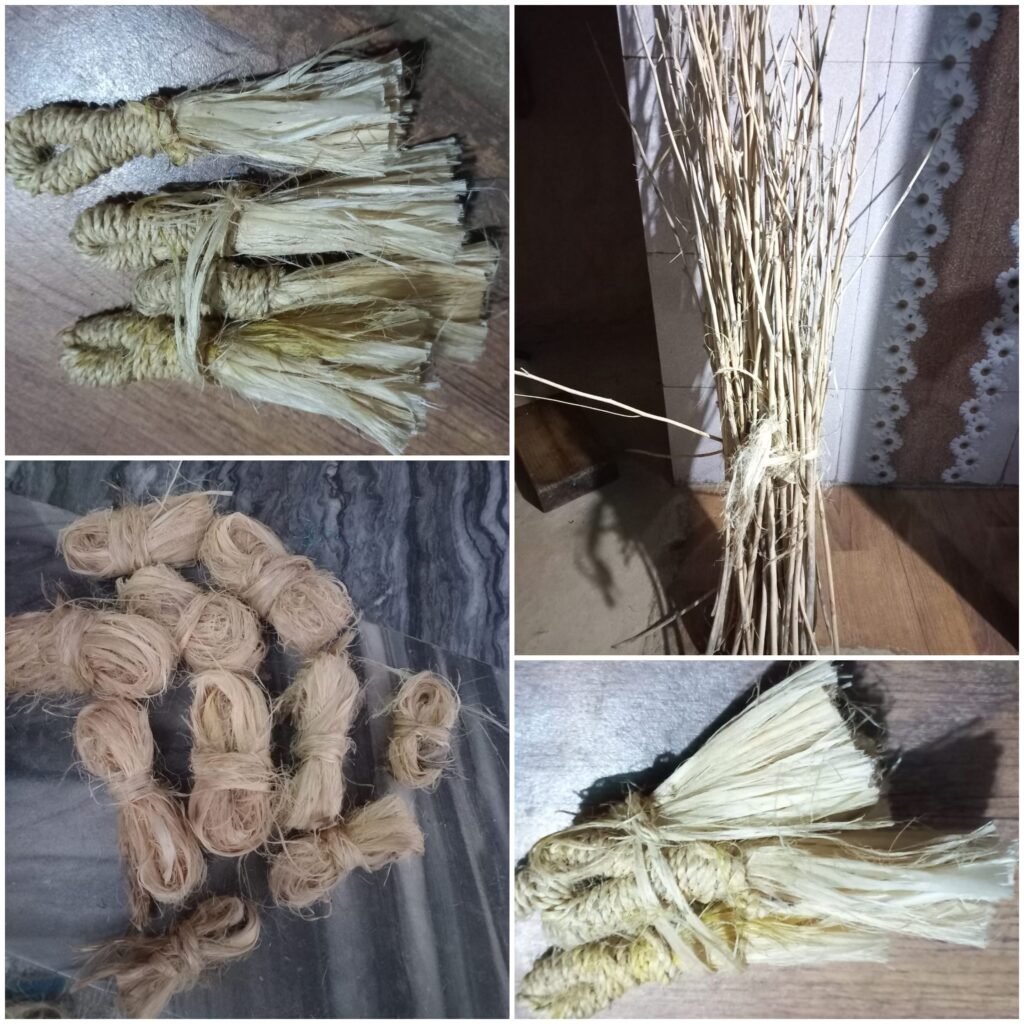 Bihul Plant
Small or moderate- sized trees, with grey bark, with a spreading crown 9 – 12 metres tall, though can reach 15 metres.
Leaves are 5-10cm long, rough, ovate or ovate-lanceolate, acuminate, toothed, base rounded, usually 3-nerved, lower surface pale, pubescent.
Flower yellow, in stalked, 3-5 flowered cymes, placed nearly or quite opposite the leaf. Sepals linear, outside densely tomentose. Petals shorter than the sepals.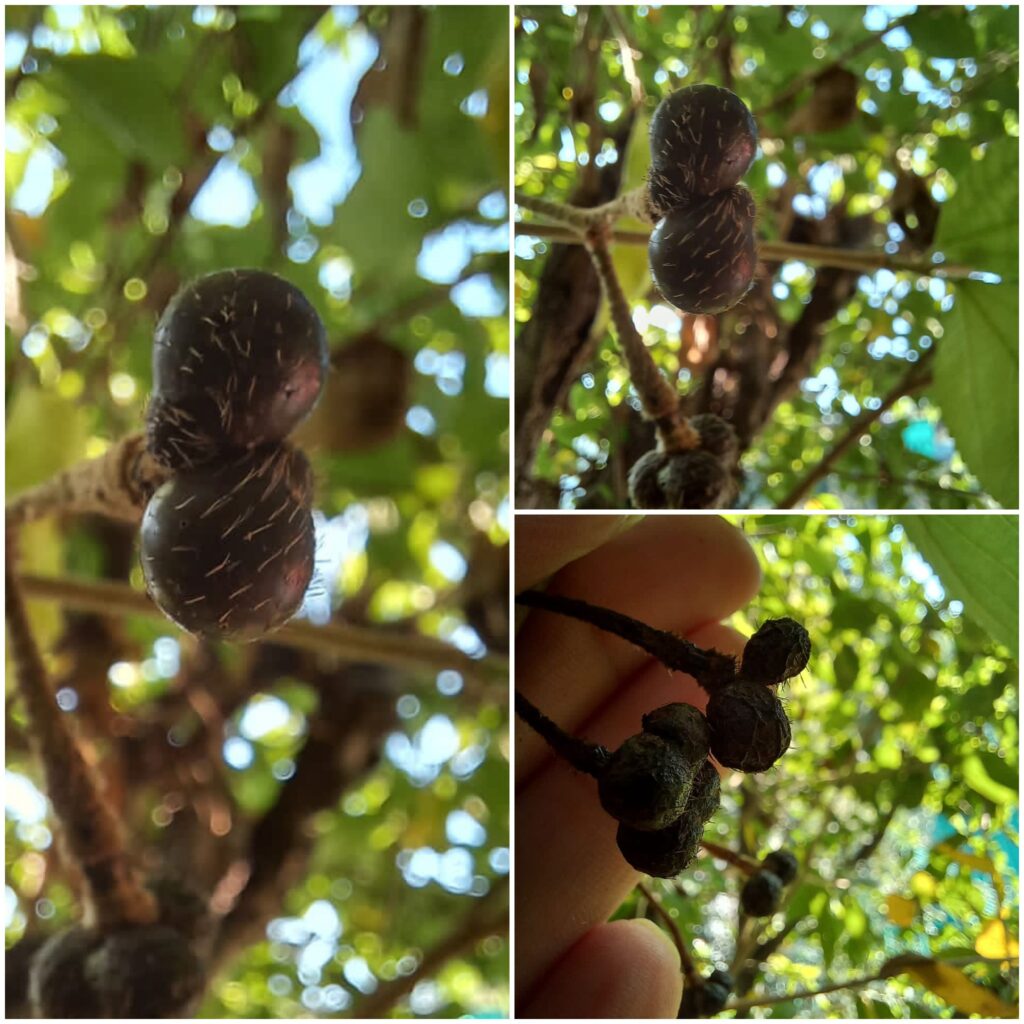 Drupes are olive-green, 5-10mm across, 2-4 lobed, blue- black when ripe.
Bihul is in flowering and fruiting from April to December. Ripe fruits are best harvested from September to December. It is valued more as a forage crop as compare to food crop. Its fruits need to be popularized and included in diet to boost health and immunity.
Edible uses:
Bihul ripe fruits are edible. These are known for their pleasant acid taste and make an excellent addition to desserts as a seasonal fruit.
Desserts:
Ingredients:
Ripe bihul fruits and other chopped fruits acc. to taste,1/2kg; curd, 1kg; sweetener like honey/ sugar/ condensed milk, 1-3 tea spoon; cardamom powder,1/4 tea spoon; black salt according to taste.
Method:
Take curd in a bowl. Add to it sweetner according to choice and stir well. Add cardamom powder, black salt, ache fruits and other chopped fruits according to preference. Mix well and serve
Seek professional advice before treating this plant medicinally .
Medicinal Uses:
Bihul is traditional used for treating various diseases like, cough, dysentery, diarrhea, small pox, malaria, typhoid, intestine and bladder with irritable conditions, rheumatism and eczema 2 Its bark was used to assist child birth. The products made are also Anti- bacterial and Antimalarial 3,4
Other Uses:
Bihul is highly rated as good fodder, it is considered best for milch cattle. Bihul leaves are heavily lopped as fodder in the winter season when usually no other green fodder is available. These are rich in nutrients. Fresh leaves constitute about 70 % of the total green weight of branches. Leaves are also fairly rich in protein and other nutrients and do not contain tannins. Crude protein is highest in young leaves in winter leaves but decreases during the rainy season. Branches left after cattle feed are dried and used as fuel. Bihul is also highly rated for its bark locally. The bark yields a fibre that is used for cordage and clothing.It is also used as hair wash n the form of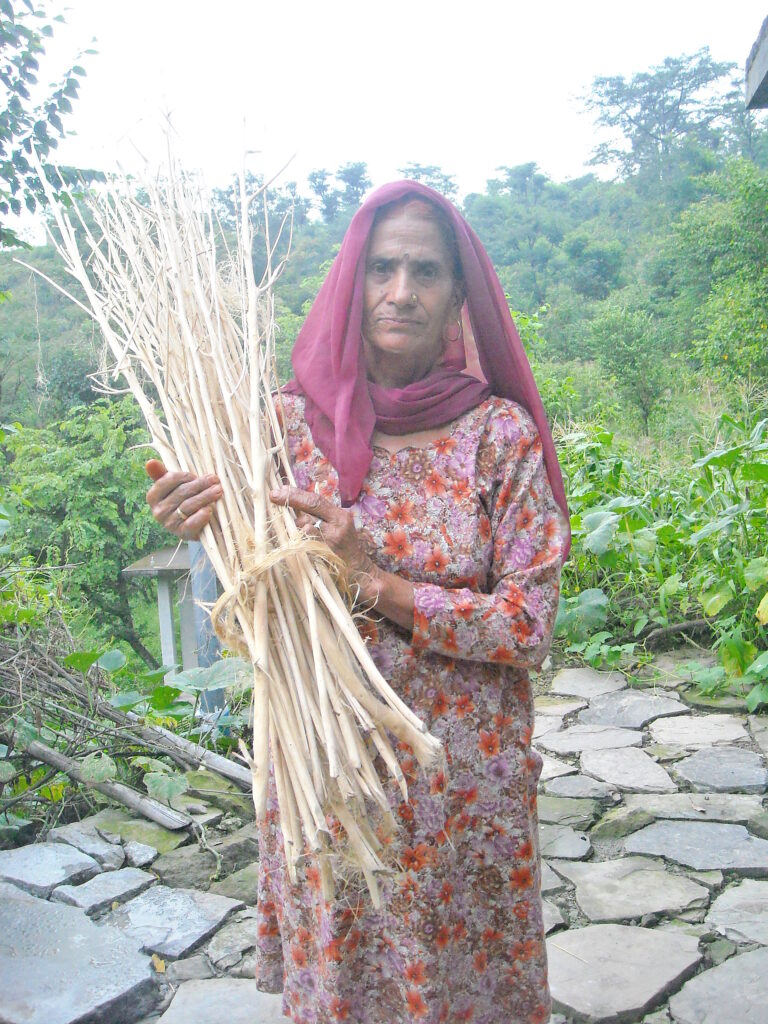 Bark fiber is used to make pachayara ( Bundle of Bihul fiber used to clean tawa), which is also sold in local market.
Shampoo as contains saponin. Local people use it as an alternative of soap.An herbal shampoo product has been developed by mixing it with Amla and Shikakai. The bark of the tree is dried in sunlight or in dryer and ground to a powder, this then mixed with Amla and Shikakai powder in the proportion 35 % bark, 40 % Shikakai powder and 25 % Amla powder and packed. It is considered good treatment for dandruff and graying hair. Liquid shampoo can also be prepared with the sap 5 Plant also help in checking soil erosion, farmers basically grow it in their field periphery and widely used it for checking soil erosions5. Its wood is employed for cot frames and tool handles. Infusion of leaves and bark is used as shampoo, while shoot is used as torch in religious ceremonies.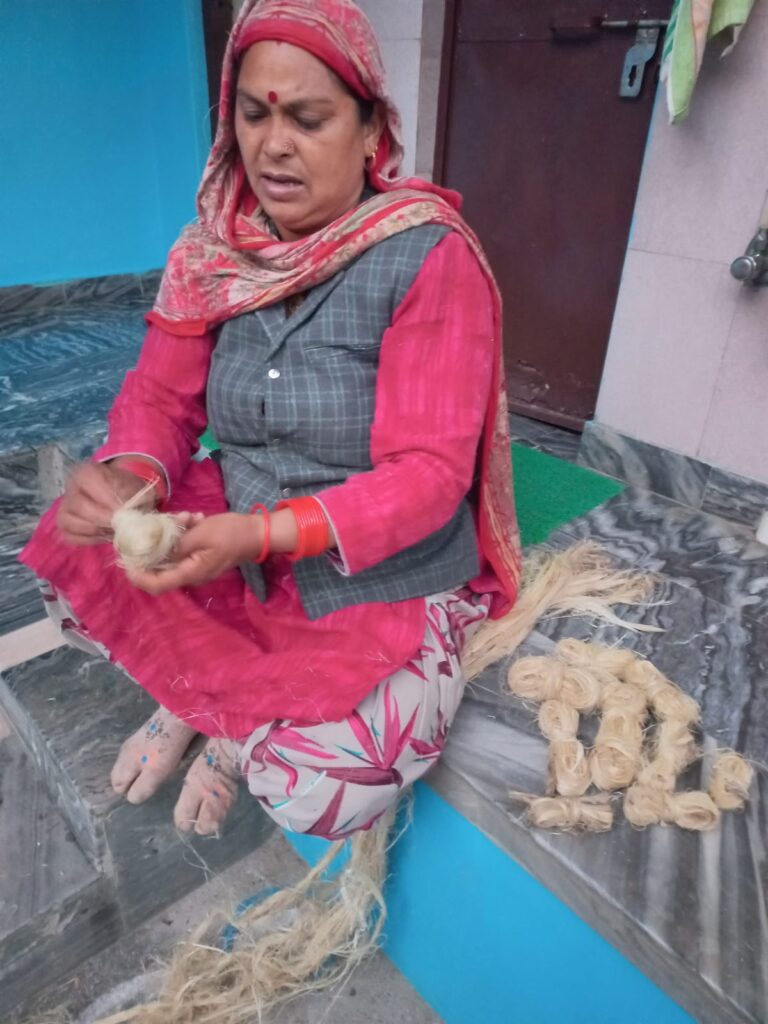 Source of income:
As Bihul is highly rated as fodder, so green foliage of whole tree is sold in villages and it is good source of earning for them. cordage and pachayara ( Bundle of Bihul fiber used to clean tawa) from Bihul fiber are also source of earning for local people.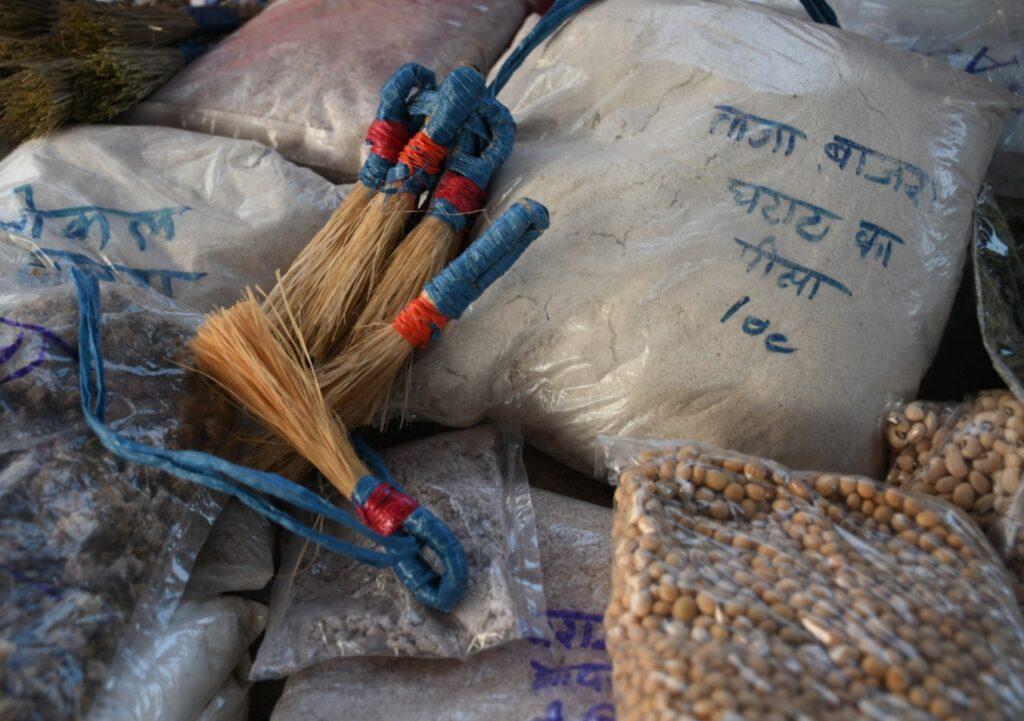 References;
Orwa, C, A. Mutua, R. Kindt, R. Jamnadass and A. Simons. 2009. Agroforestry Database: a tree reference and selection guide version 4.0 optiva. (http://www.worldagroforestry.org/af/treedb/).
Chopra, R.N., Nayar, S.L., & Chopra, I.C. (1956). Glossary of Indian medicinal plants. New Delhi: Council of Scientific and Industrial Research.
Grierson, D.S., & Afolayan, A. J. (1999). Antibacterial activity of some indigenous plants used for the treatment of wounds in the Eastern Cape, South Africa. Journal of Ethnopharmacology, 66(1); 103 106.
Uddin, G., Ullah, W., Siddiqui, B.S. & Shah, S.Q. (2013). Grewialin and optivanin new constituents from the stem bark of Grewia optiva Drummond ex Burret (Tiliaceae), Natural Product Research: Formerly Natural Product Letters, 27(3): 215-220.
Kumar, R. R., Chauhan, J., & Joshi, U. Social Economical and Medicinal Importance of Grewia
Kar, S., Chandel, A., & Pant, K.S. (2019). Effect of Different Tree Spacings of Grewia optiva and Combined Doses of Poultry Manure and Vermicompost on Growth and Yield of Bell Pepper under Agrisilviculture System. International Journal of Current Microbiology and Applied Sciences, 8(1): 2213-2223.
al