Family: Rutaceae
Synonyms: Aralia labordei, Paullinia asiatica,Toddalia aculeata,Toddalia angustifolia,Toddalia floribunda,Toddalia nitida,Toddalia rubricaulis,Toddalia tonkinensis.
Common Name: Forest pepper, lopez-root tree, Wild Orange tree.
Local Name: Jangali Kalimirc (जंगली कालीमिर्च)
Jangali Kalimirc is a prickly, climbing, evergreen shrub of Western Himalayas attaining 15-20m hight. It is occasionally seen growing in shrubberies in scrub forests and forests near rivers or streams upto an altitude of 1500m. Jangali Kalimirc stems attach themselves to other plants for support by means of their sharp, recurved prickles. It can also grow in dry places, when grows in an open, sunny position, it often grows as a shrub and does not climb. Jangali Kalimirc usually propogate through seeds but can be grown by cuttings.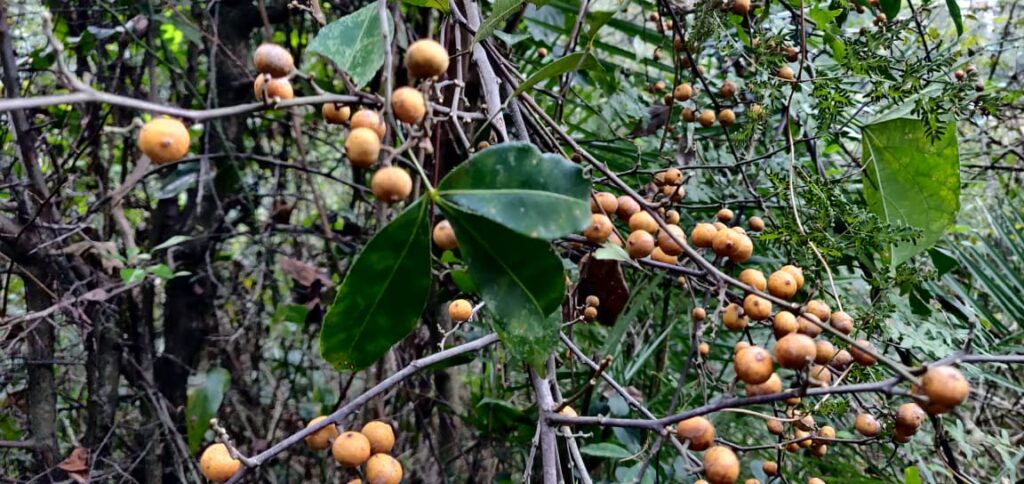 The whole plant is aromatic and pungent, so all the parts of plant roots, leaves, flowers and fruits are used as flavoring agent in various traditional dishes. They are also used as a bitter or aromatic tonic to boost digestive function and to treat fevers. Ripe fruits are eaten raw. Being sweet midway between lemon and orange in taste, they make an excellent addition to desserts and fruit salad as raw and sometime made into jam to preserve for off season. Tender leaves and fruits are made into soup with available vegetable of winter season.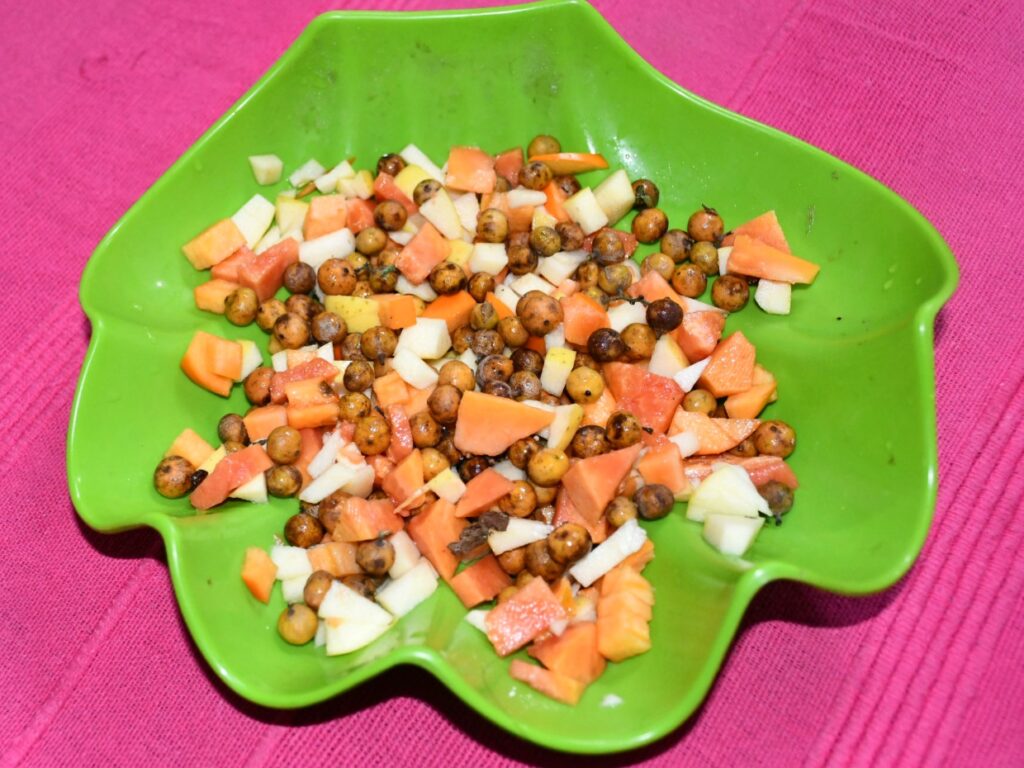 Jangali Kalimirc is harvested from the wild for local use as a food, fodder, medicine and material (dyes and essential oils). It is sometimes cultivated for its fruits and medicinal use and is also grown as a hedge to demarcate boundaries.
Jangali Kalimirc Plant:
Plant is large, evergreen, prickly, climbing shrubs upto 15-20m in tall
Leaves alternate, usually 3-foliate; leaflets sessile, obovate, elliptic or oblanceolate, glabrous. Flowers are white or greenish -yellow to pale-yellow, in axillary cymes or less frequently in terminal panicles. polygamous,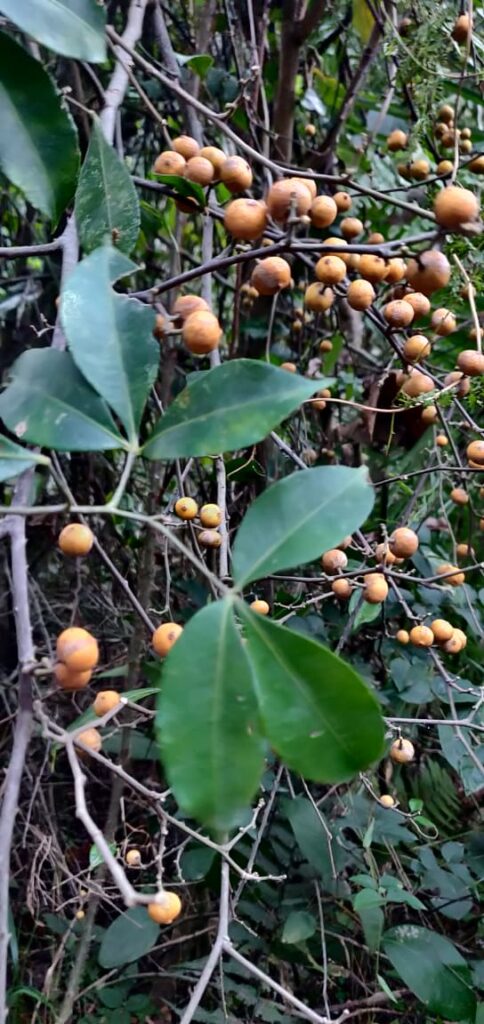 Fruits sub-globose to globose, fleshy to the size of a large pea, shallowly 5-grooved or lobed, yellow to orange.
Seeds reniform, surrounded by colorless mucilage.
Jangali Kalimirc is in flowering and fruiting from April to September, so leaves of this plant can be used round the year while flowers and fruits from spring to autumn season of the year. Seeds are the means of propogation in natural habitat, so they need to be harvested sustainably to ensure sustainable development.
Edible Uses:
Although all the parts of   jangali kalimirc  are considered medicinal and can be taken as tonic both fresh or dried (Powdered). But ripe fruits are mostly eaten more both raw or cooked as jam, soup, chutney in following ways.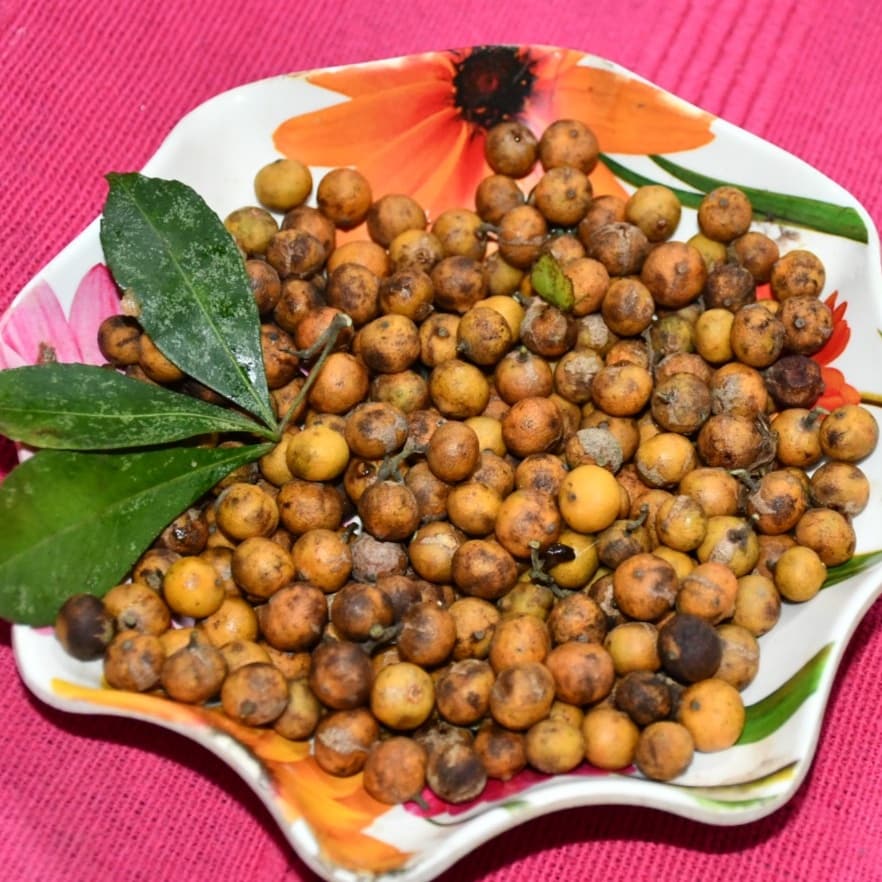 Jam:
Ingredients:
Ripe jangali kalimirc fruits ,1 kg; sugar, 500 g; salt, 1tea spoon; lemon juice, 4-5 tea spoon.
Method: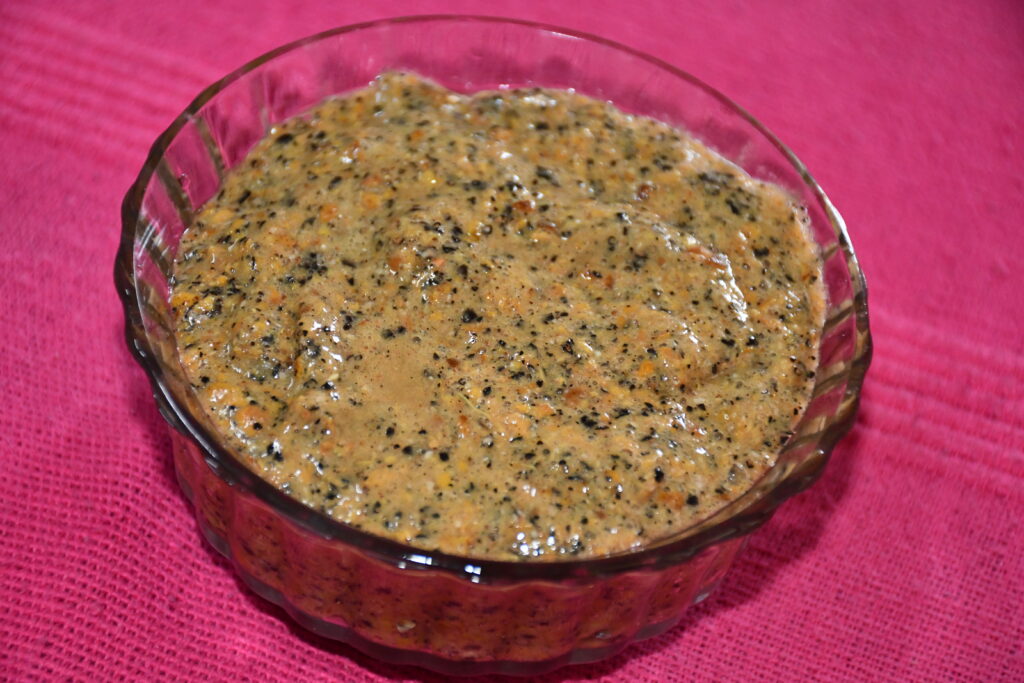 Put fruits and one tea spoon salt in water for 20 minutes. Transfer fruits into pan and boil till they are soft. Pinch these them to remove its pulp and segregate seeds from pulp. Remove seeds with the help of spoon and then boil them in low flame with sugar for two minutes. Keep stirring in slow flame till sugar dissolve completely and jam become dense. Now mix it well with lemon juice and let it cool down. Now jam is ready to serve. Jam should be used fresh and can be preserved for 10 to 15 days.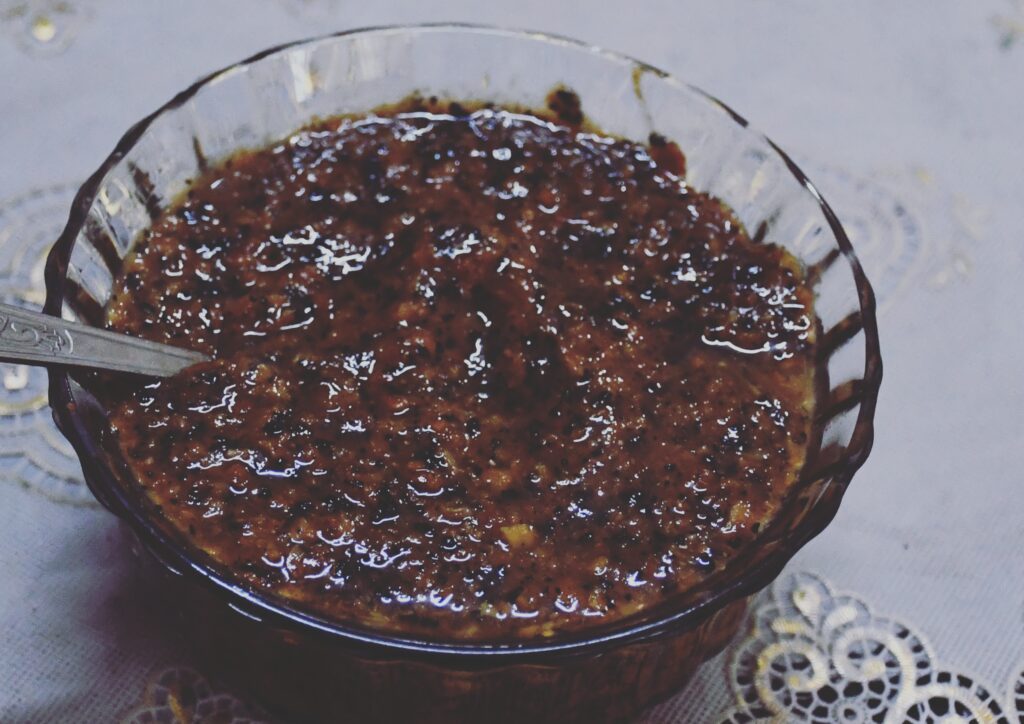 Soup:
Ingredients:
Locally available vegetable (chopped) of summers, leaves and ripe deseeded fruits of jangali kalimirc ,1/2 kg; mint leaves,10-15 (chopped); corn flour, 1 spoon; black pepper powder,1/4 tea spoon, salt acc.to taste.
Method:
Boil leaves, deseeded fruits of jangali kalimirc and vegetable in one litre water till they are soft, mesh these manually and sieve the extract in a container. Add to it mint leaves, corn flour, black pepper and salt, then boil for 5-10 minutes. Now soup is ready to serve
Desserts:
Ingredients:
Ripe deseeded fruits of jangali kalimirc and other chopped fruits acc. to taste,1/2kg; curd, 1kg; sweetener like honey/ sugar/ condensed milk, 1-3 tea spoon; cardamom powder,1/4 tea spoon; black salt according to taste.
Method:
Take curd in a bowl. Add to it sweetener according to choice and stir well. Add cardamom powder, black salt, deseeded fruits of jangali kalimirc fruits and other chopped fruits according to preference. Mix well and serve.
Seek professional advice before treating this plant medicinally.
Medicinal Uses:
All parts of Jangali Kalimirc are considered useful to cure a large no of aliments. It shows many biological activities including anti-inflammatory and analgesic, blood coagulation, antibacterial, anti-oxidant and anti-tumor effects 1. Roots are widely used to treat indigestion, cough and fever. Roots are acrid, astringent, bitter, sweet, aromatic, diaphoretic, antiperiodic, antipyretic, digestive, carminative, constipating, expectorant, antibacterial, vulnerary and tonic. They are useful in vitiated conditions of vata and kapha odontalgia, paralysis, malarial and intermittent fevers, dyspepsia, colic, flatulence, diarrhoea, cough, bronchitis, nausea, wound filthy ulcers, epilepsy, gonorrhea and general debility. The unripe fruits and leaves are good for vitiated condition of vata. Flowers useful as an external application in wasp-stings 2.
Chemical constituents
Essential oil. Alkaloid berberine. Roots contain a poisonous resin which product abortion in guinea pigs and in large doses paralysis and death. Leaves contain toddalinine, toddalolactone, pimpinellin, isopimpinellin, resins and glycosides. Two new coumarins-norbraylin, 5, 7, 8-trimethooxycoumarin isolated 2.
References:
1. Zeng, Z., Tian, R., Feng, J., Yang, N. A., & Yuan, L. (2021). A systematic review on traditional medicine Toddalia asiatica (L.) Lam.: chemistry and medicinal potential. Saudi Pharmaceutical Journal.
Purohit SS, Sharma AK, Prajapati ND, Kumar T. (2009); A handbook of medicinal plants: a complete source book. 2:352-3.