Family: Smilacaceae
Synonyms: Smilax balearica, Smilax brevipes, Smilax capitata, Smilax catalonica, Smilax conferta, Smilax excelsa, Smilax goetzeana, Smilax inermis, Smilax intricatissima, Smilax longipes, Smilax maculata, Smilax mauritanica, Smilax mauritanica, Smilax nigra, Smilax nilagirensis, Smilax oxycarpa, Smilax peduncularis, Smilax pendulina, Smilax picta, Smilax platyphylla, Smilax rettiana, Smilax rigida, Smilax sagittata, Smilax sagittifolia, Smilax saxicola, Smilax tetragona, Smilax variabilis, Smilax willkommii.
Common Name: Sarsaparilla
Local Name: Bagru-bel (बगरू बेल)
Bagru-bel is a climbing shrub of Western Himalayas with creeping root stocks, zigzag branches and prickly Leaf margins. It attaches itself to other plants for support by tendrils which arises near the base of leaves. It is commonly seen growing in shrubberies (over shrubs and hedges), river banks and ravines upto an altitude of 2000m. Bagru-bel succeeds well in most soils in sun or semi-shade even found growing luxuriantly in moist rocky situations, It can be propogated through seeds or cuttings . Cuttings of half-ripe shoots are usually successfull. Being dioecious.both male and female plants of Bagru-bel must be grown nearby if seeds are required.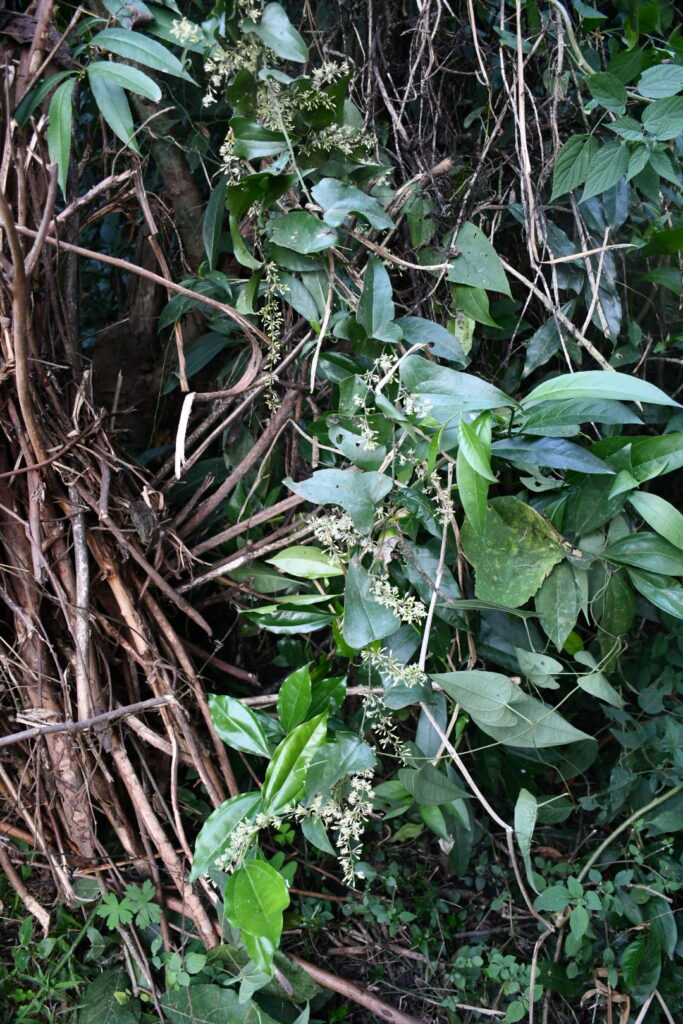 Young shoot and tendril of Bagru-bel are edible. Flowers are fragrant, along with young shoot they are mostly used as flavouring agents in food, drinks and alcoholic drinks. Ripe fruits are eaten occasionaly . Young shoot, tendrils and flowers can also be cooked as vegetable or can be used in variety of traditional dishes with some modern twist like in kachru, pakoras, parantha, poha, pasta etc. The roots of Bagru-bel are considered medicinal due to its is alterative, demulcent, depurative, diaphoretic, diuretic, stimulant properties 1, so locally used as tonic and quite often also used in soft drinks.
Bagru-bel is gathered from the wild for local use as a food, medicine and dyestuff. Sometimes it is also grown as an impenetrable hedge.
Bagru-bel Plant:
Large, climbing shrubs, branches zigzag more or less prickly.
Leaves linear-lanceolate, ovate-lanceolate or deltoid, 5-10cm long, acute or acuminate, base hastate or cordate, margins entire or with prickly teeth; petioles usually prickly, bearing a pair of tendrils near the base.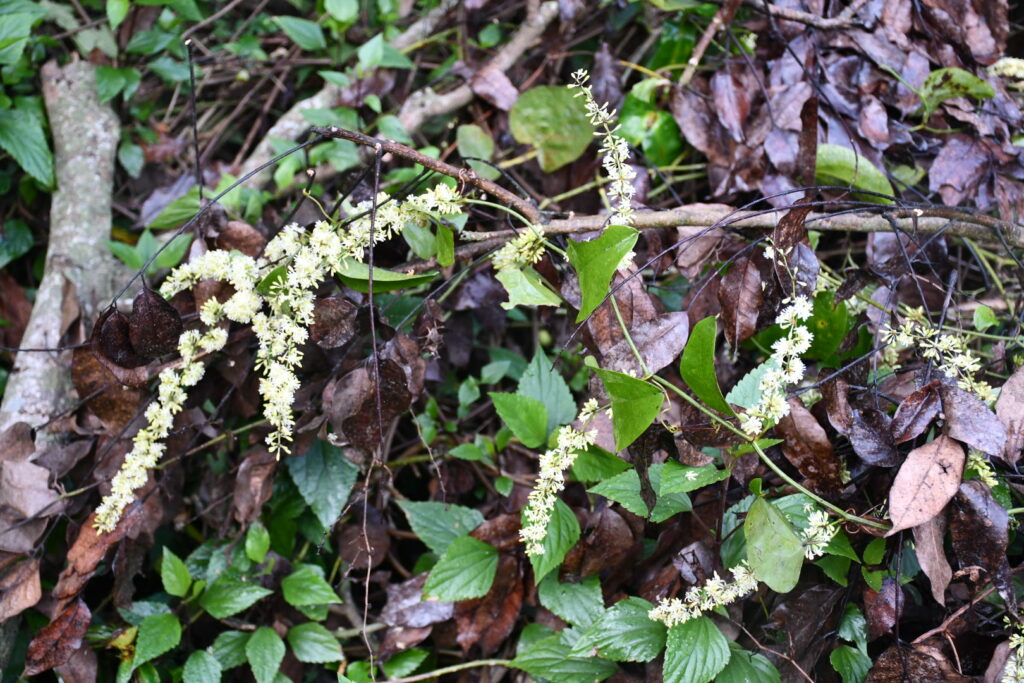 Flowers unisexual, small 4-6 mm long, white, fragrant, in sessile, umbels, forming axillary and terminals spikes. Male spikes 10-15 cm long; stamens 6. Female spikes shorter, staminodes6.
Berries globose, blue-black when ripe.
Bagru-bel is in flower and fruit from autumn to winters. Edible plant parts can be collected round the year but best collected from spring to rainy season of the year.
Edible Uses:
Bagru-bel is mainly eaten to harness rich nedicinal value of this plant. Its young shoots & tendrils are eaten raw or cooked as a vegetable. They make an excellent addition to kachru, parantha, pakoras, bread toast etc.
Bagru-bel shoot vegetable:
Ingredient:
Young shoor & tender tendrils of Bagru-bel, 300g -500g; chopped potatoes in cubical shape, 1 kg: mustard oil, 3-4 table spoons; coriander powder, 1 table spoon; fenugreek powder, ½ table spoon; cumin seed, 1 tea spoon; turmeric powder, 1 table spoon; red chilies , 2-3; chopped medium sized onions 2-4; garlic, 4-5 cloves; ginger paste ½ table spoon; meshed tomatoes, 3-4; milk cream, 2-3 spoon, and salt, according to taste.
Method:
In hot mustard oil shallow fry spices listed above in a sequence. Add meshed tomatoes, finely chopped young shoor & tender tendrils of Bagru-bel and saute for one minute, Now add chopped potato pieces and again saute for 2-3 minutes in slow flame. Then add 3-4 medium sized glass of water and cook till potato pieces are soft enough to eat. Add 1/4 spoon of garam masala to it and serve with rice or chapatis.
Kachru :
Ingredient:
for preparing a kachru, ingredients required are tender green of Bagru-bel, 300g; 250g besan (black gram powder) or corn flour. 1 cup amount fresh coriander leaves,1/2 table spoon ajwain, 3-5 green chillies, ½ table spoon turmeric powder, 2-3 chopped onions and salt according to taste.
Method:
Make a paste of green, besan or corn flour and spices. Heat some oil on a flat heating pan. Put this paste over a pan and cook for 15 to 20 minutes then kachru will be ready to serve.
Bread toast/ Pakora:
Ingredient:
 Bread slices, 2-3 Boiled Potato, flowers & tender tendrils  of Bagru-bel,  300g -500g Peas, 2-3 Spoon Ginger and garlic paste, 1-2 green chillies, 2-3 curry leaves (Murraya koenigii ), ½ table spoon ajwain, ½ table spoon turmeric powder, Coriander leaves, 2 table spoon lemon juice, and salt according to taste.
Method:
Steam or boil potato until just cooked, place all the potatoes in a bowl also add some peas (you can skip if you do not like), mash them up well, heat 1 teaspoon oil in a pan, add Bagru-bel flowers , tendrils, ginger and garlic paste, green chillies, curry leaves. Saute them all until aromatic. Add ½ tablespoon turmeric powder and garam masala , mix well. Now add mashed potatoes, sprinkle ½ teaspoon  salt, and stuffing masala is ready, Take bread slices  and then spread the potato masala. Cover with another slice of bread , cut them diagonally. Now its ready to serve.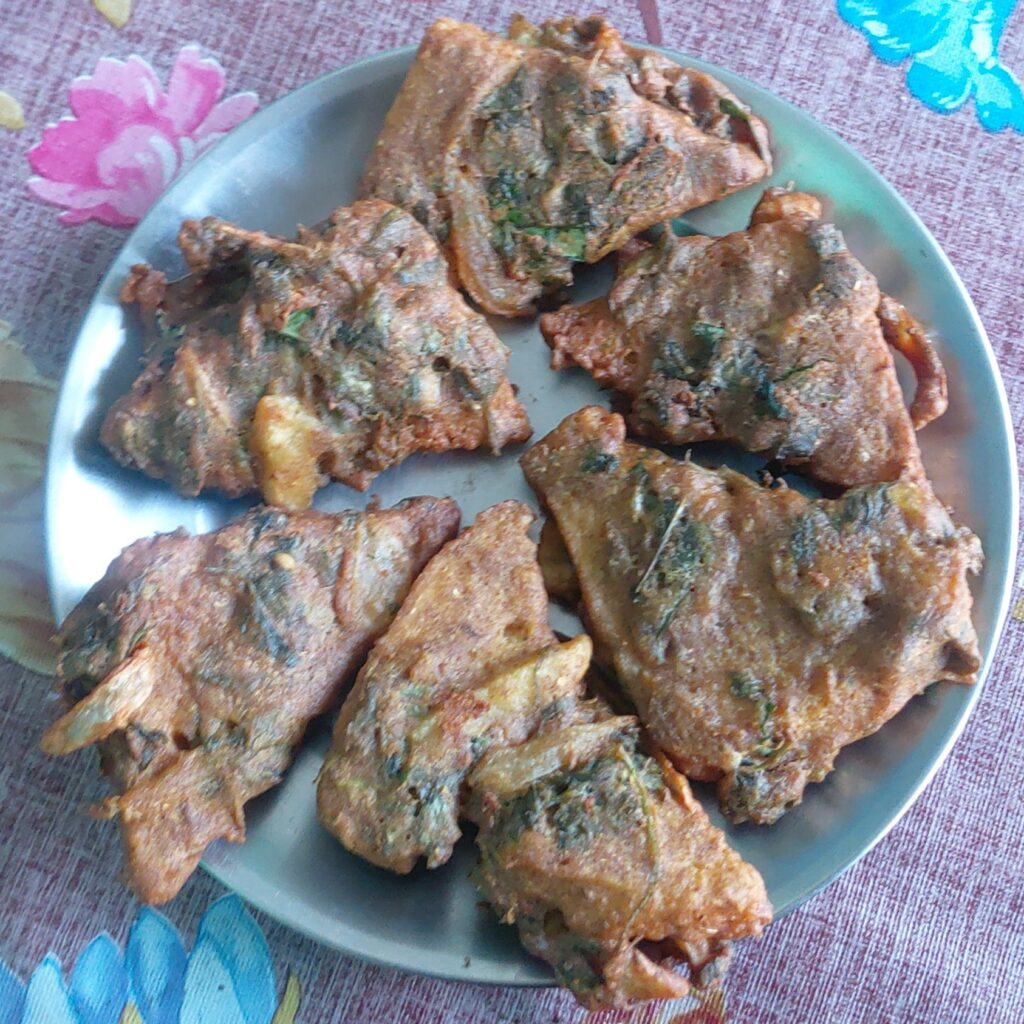 Seek professional advice before treating this plant medicinally
Medicinal Uses:
Locally powdered plant is used to cure yellow leucorrhoea.The root is alterative, demulcent, depurative, diaphoretic, diuretic, stimulant and tonic 1. This is one of the best depurative medicines and is used as a springtime tonic and general body cleanser, usually with woody nightshade (Solanum dulcamara)1.The ripe fruits are squeezed and applied to the skin in the treatment of scabies 2[.It shows antimicrobial activity against Pseudomonas and Salmonella typhi 3. Plant is used as folk medicine for treating syphilis, diabetes and rheumatism and treatment of symptoms of menopause of women 4 . Stem and leaf juice are used for post-pregnancy or maternity problems, scabies and skin diseases 5,6. Roots are used as tonic, relief inflammation or irritation, have a detoxifying effect, increase frequent urination and used as stimulant 7. They are also used to cure diarrhoea 8 and to purify blood 9. The ripe fruit is squeezed and applied in the skin to cure scabies. Root decoction is used for veneral diseases 10,11,12 . Surkhet district: Root juice is crushed and extracted and taken orally to cure stomachache and fever by the Raji community 13. Leaf used in gastritis 14 . Tender vegetative parts are crushed to the paste and applied in case of scabies 15. Root juice is applied to cure rheumatic pain 16 . Leaf infusion and compress decoction used as antihypertensive, skin lenitive, hypertensive and antitumour 17. Roots, leaf and stem used to cure skin eruption, sores and wounds and also used as fuel 18 . Leaf used in venereal diseases and dysentery 19. Applied to snakebites and scorpion stings 20. Used as analgesic in Central America 21.
Chemical components:
The chemical components present in the plant are asparagenin, engelitin, parallin, pseudogenin, rutinoside, sarsasapogenin, smilagenin and tannin 22
Other Uses:
Locally Bagru-bel is used as fodder, A red dye is also obtained from the ripe tendrils.
References:
Chiej. R. (1984). Encyclopaedia of Medicinal Plants.
Manandhar. N. P.(2002); Plants and People of Nepal. Publication; Timber Press. Oregon.ISBN; 0-88192-527-6
Gyawali R, Dahal B, Gautam R, Shrestha S, Joshi S, Luitel A, Khanal D. Phytochemical studies traditional medicinal plants of Nepal and their formulations. Int J Biol Pharm Allied Sci. 2014;3:189–203.
Harb AH, Zarga M, Abdalla S. Effect of trans-resveratrol, isolated from Smilax aspera, on smooth muscle, blood pressure, and inflammation in rats and nociception in mice. Jordan J Biol Sci. 2009;2:69–76.
Balami NP. Ethnomedicinal uses of plants among the Newar community of Pharping village of Kathmandu district, Nepal. Tribhuvan Univ J. 2004;24:13–9.
Manandhar NP. Plants and people of Nepal. Portland: Timber Press; 2002.
Singh S. Ethnobotanical study of some climbers of Parsa district forest of Nepal. J Med Plants. 2016;4:6–10
Kumari P, Joshi GC, Tewari LM. Diversity and status of ethno-medicinal plants of Almora district in Uttarakhand, India. Int J Biodiv Conserv. 2011;3:298–326.
Baral SR, Kurmi PP. A compendium of medicinal plants in Nepal. Kathmandu: Mrs Rachana Publishers; 2006. p. 534.
Kunwar RM, Shrestha KP, Bussmann RW. Traditional herbal medicine in Far-west Nepal: a pharmacological appraisal. J Ethnobiol Ethnomed. 2010;6:35.
Kunwar RM, Mahat L, Sharma LN, Shrestha KP, Kominee H. Underutilized plant species in Far-West Nepal – a valuable resource being wasted. J Mt Sci. 2012;9:589–600
Bhattarai KR, Måren IE, Chaudhary RP. Medicinal plant knowledge of the Panchase region in the middle hills of the Nepalese Himalayas. Banko Janakari. 2011;21:31–9.
Paudel M. Medical ethnobiology and indigenous knowledge system found in Raji group of Nepal (A case study of Uttarganga village development committee, Surkhet, Nepal). Master's thesis, Tribhuvan University, Kathmandu, 2015.
Singh AG. Survey of some medicinally important leafy vegetables in Rupandehi District of Western Nepal. Int J Appl Sci Biotechnol. 2015;3:111–8.
Joshi AR, Joshi K. Ethnomedicinal plants used against skin diseases in some villages of Kali Gandaki, Bagmati and Tadi Likhu watersheds of Nepal. Ethnobot Leafl. 2007;11:235–46.
Joshi K, Joshi R, Joshi AR. Indigenous knowledge and uses of medicinal plants in Macchegaun, Nepal. Indian J Tradit Knowl. 2011;10:281–6.
Maxia A, Cristina MC, Balia AN, Alborghetti R, Pieroni A, Loi MC. Medical ethnobotany of the Tabarkins, a Northern Italian (Ligurian) minority in South-Western Sardinia. Genet Resour Crop Evol. 2008;55:911–24.
Pant S, Samant SS. Ethnobotanical in the Mornaula reserve Forest of Kumaun, west Himalaya, India. Ethnobot Leafl. 2010;14:193–217.
Mukhia B, Mukhopadhyay M. An ethnobotanical study on Limboos of West Sikkim. In: International seminar on 'multidisciplinary approaches in angiosperm systematics'. Kalyani: University of Kalyani; 2012. p. 716–24.
Singh A, Nautiyal MC, Kunwar RM, Bussmann RW. Ethnomedicinal plants used by local inhabitants of Jakholi Block, Rudraprayag district, Western Himalaya, India. J Ethnobiol Ethnomed. 2017;13:49. https://doi.org/10.1186/s13002-017-0178-3.
Marshall E, Newton AC, Schreckenberg K. Commercialisation of non-timber forest products: first steps in analysing the factors influencing success. Int For Rev. 2003;5(2):128–37.
Longo L, Vasapollo G. Extraction and identification of anthocyanins from Smilax aspera L. berries. Food Ch