Family: Lamiaceae
Synonym: Thymus serpyllum, Thymus himalayicus, Thymus himalayicus, Thymus afghanicus, Thymus baluchistanicus
Common Name: Himalayan Thyme, Wild Thyme, Mother of Thyme, Creeping Thyme,
Local Name: Jangali ajwain (जंगली अजवाइन)
Jangali ajwain which is commonly known as Himalayan Thyme or Mother of Thymeis one ofimportant aromaticplants of Western Himalayas with tremendous medicinal and economic value. Ithas been used as a functional food since ancient times (functional food are natural or processed herbs containing biologically-active compounds; which, in defined or non-toxic amounts, provides clinically proven and documented health benefit for the prevention, management, or treatment of chronic diseases). Jangali ajwain commonly found growing on slopes in forest clearings and waysides between an altitudinal ranges of 1500-4000m in Western Himalayas. Its health benefitsare associated with chemical components present and essential oils extracted from its Ariel parts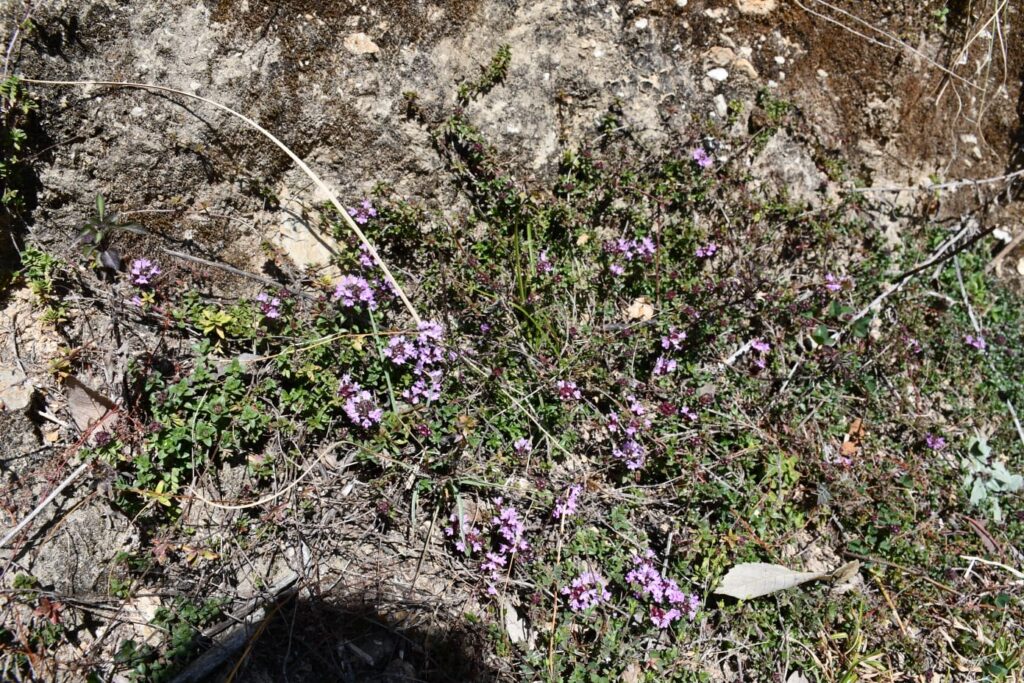 Jangali ajwain is pungent in taste, it may be the reason that its generic name Thymus comes from the Greek verb Thym, which translates to perfume, in allusion to its intense and pleasant aroma. Whole plant is traditionally used as a spice or food supplement in tea or other traditional dishes like paratha, kachru, pakoras etc in small quantities to harness its rich medicinal value. As a diet rich in spices not only enhances the taste of food but also makes it healthier, so the Infusions of Jangali ajwain in various food items have been in practice from thousands of years. It has tremendous health benefits, for local people they mainly employ the leaves and floral shoots of this plant for the treatment of cough, epilepsy, suppression of urine and menstrual catarrh.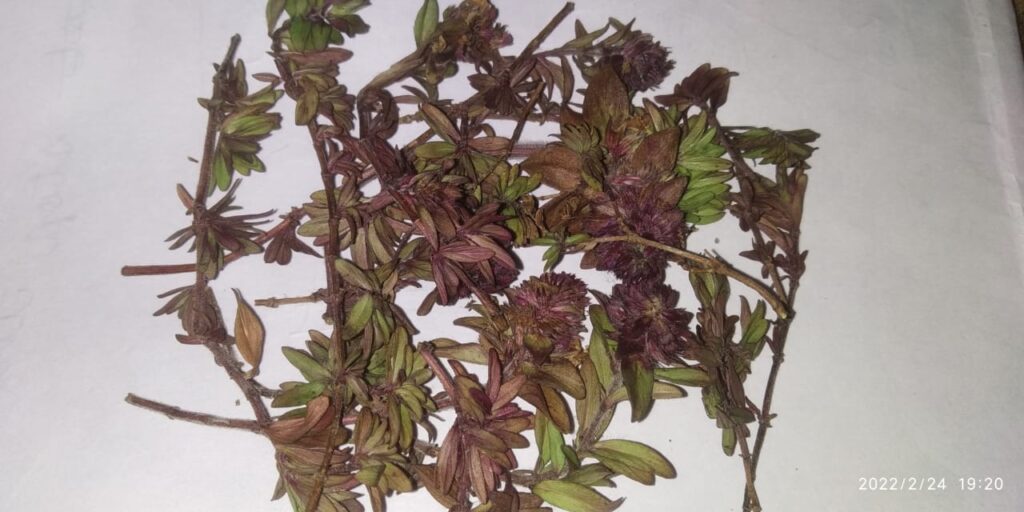 The essential oilthymolobtained fromit shows marked antioxidant and antimicrobial properties with potential use in the foodindustry1 so Jangali ajwain can be in priority list of food companies in coming year As these are now showing much interest in the incorporation of natural antioxidants and antimicrobials into food in response to the growing demand of consumers for safer and more natural foods 1. Jangali ajwain grows best in well drained full sunny to partial shady habitat and is propagated by root suckers.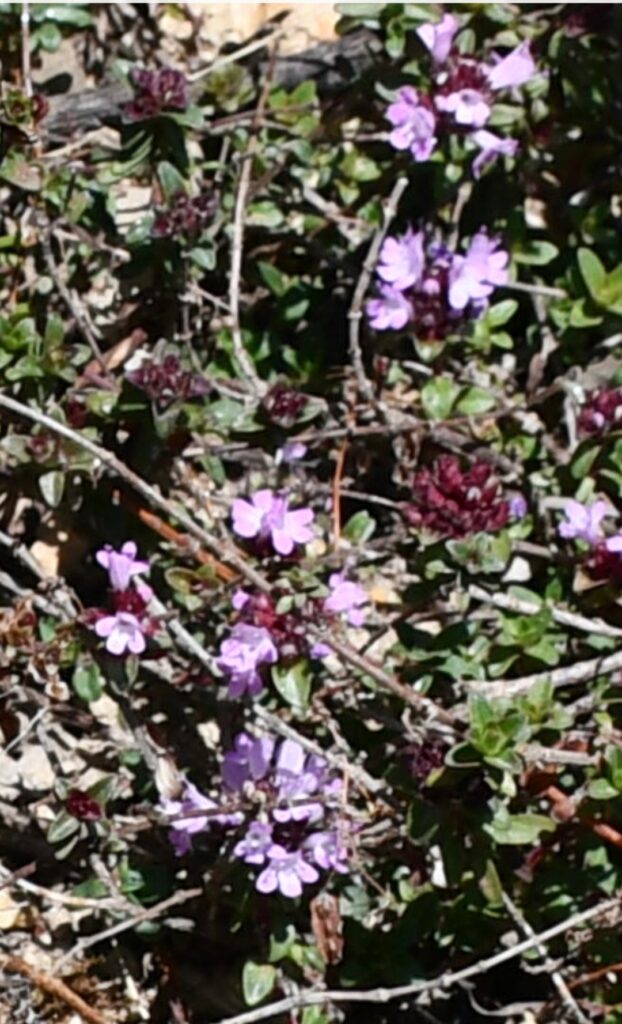 Jangali ajwain isone of the most effective ground covers which forms a dense mats. It is also given locally to livestock as treatment for stomach complaints or to enhance the milk yield and quality. The antioxidant activity of this plant is especially useful in food preservation, so it is utilized as a preservative in a number of food items 1.
It is harvested from wild habitat as a source of spice, medicine and oil for local personal uses. Due to its pharmacological characteristics, the essential oil of wild thyme represents an important natural resource for the pharmaceutical industry. Plant is dried and preserved to ensure its use as a spice round the year. Additionally, it is a source of natural antioxidants, nutritional supplements, or components of functional foods in the food industry. The widespread use of different species of the Thymus genus dates back to ancient Egypt, where they were used for making perfumed balms, for embalming, and for medical purposes 2.
Jangali ajwain Plant:
Prostrate or ascending, much-branched, hairy, aromatic prostrate and evergreen perennial herb.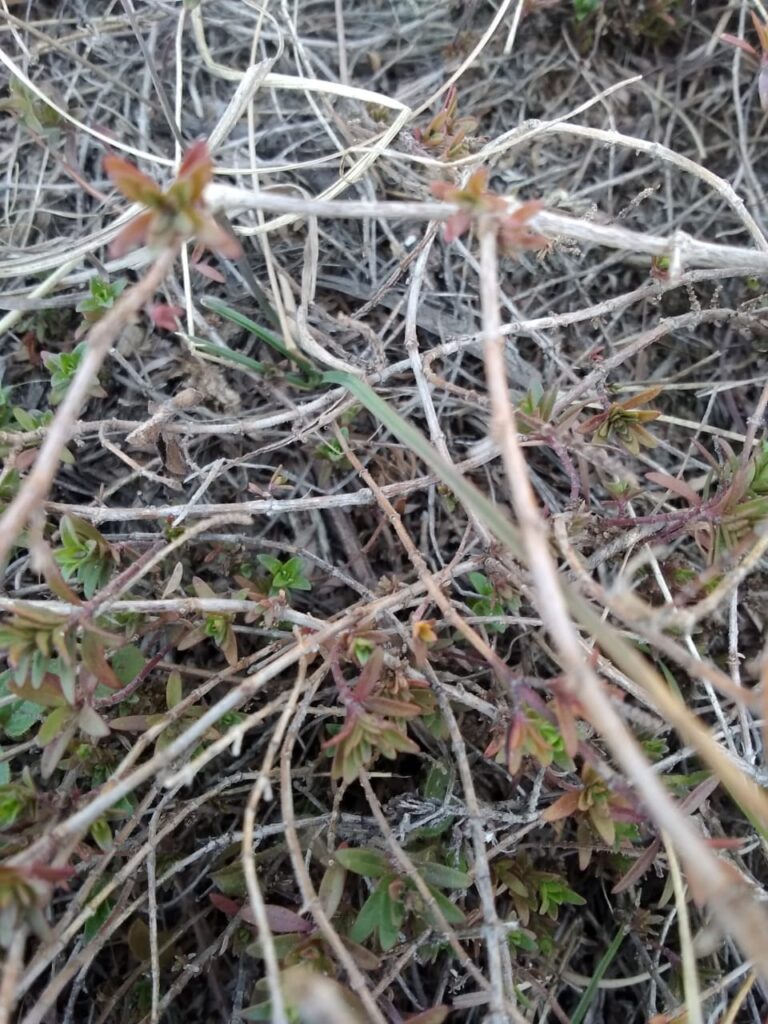 Rootstock is woody
Stems spreading, 10-30cm long.
Leaves sub sessile, oblong-ovate, ca 8mm long, obtuse, entire, gland-dotted.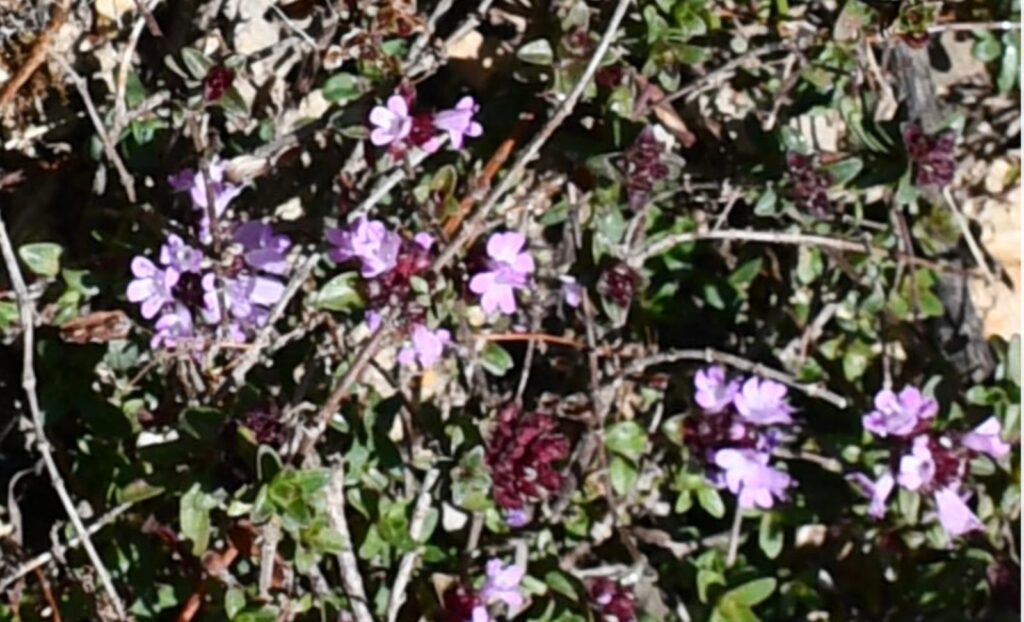 Flowers ca 6 mm or more long, polygamous, in compact capitate spikes; bracts minute. Calyx hairy outside and at the mouth within, gland-dotted, 2-lipped with ciliate lobes. Corolla purple, 2-lipped; upper lip erect, hood like; lower spreading, 3-lobed, mid lobe longest. Stamens 4, exerted.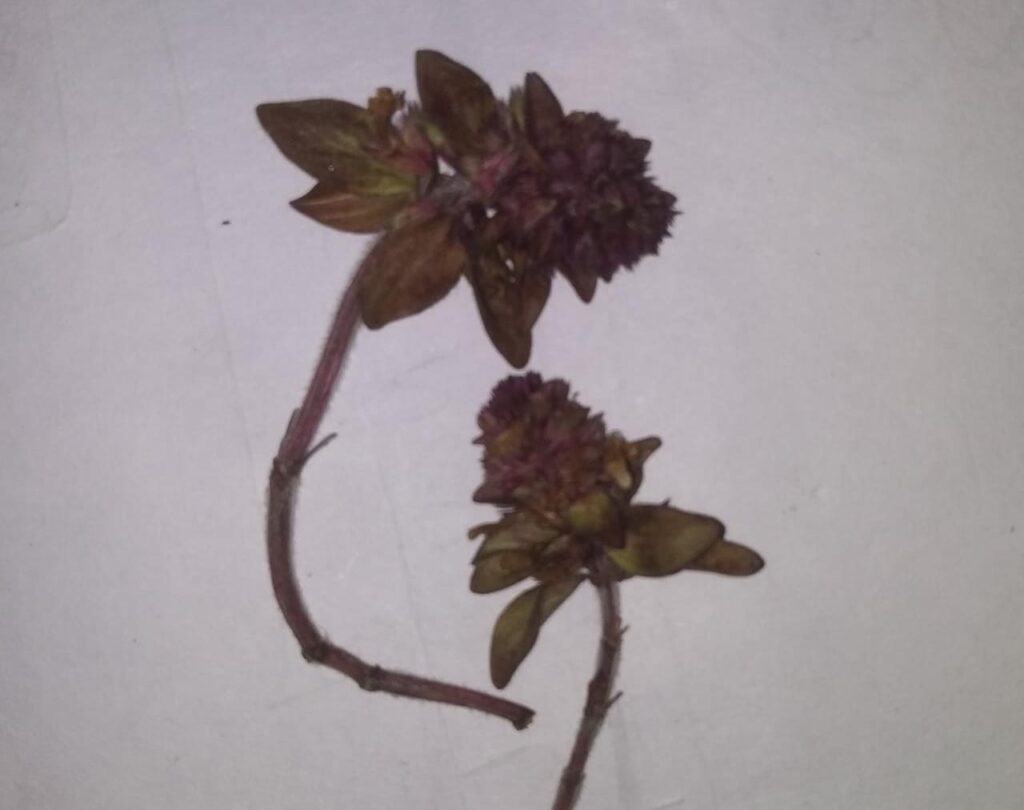 Nutlets are smooth.
Jangali ajwain is in flowering and fruiting from May to October, rest of parts can be harvested round the year. Plants should be sustainably harvested by habitat rotation to ensure sustainable utilization and development.
Edible Uses:
Jangali ajwain is traditionally used as a food supplement or spice in various dishes as follows.
Paratha is a morning breakfast prepared served with curd/butter/pickle/chutney etc. It can be cooked with any greens/boiled potatoes/cheese or some wild boiled fruits like fig spp.
Ingredients:
Finely chopped leaves and shoot tops of Jangali ajwain, 50-100 g; boiled medium sized potato/ fig fruits; 4-5, Oil or ghee. 8-10 table spoon; wheat flour, 4 cup amount; chopped medium sized onion, 2-3, red or green chilies, 3-4, black pepper, ¼ tea spoon, black salt according to taste.
Method:
Mesh boiled potato/ fruits. Add to it chopped leaves and spices listed above. Mix well to make Fine paste. Now paratha dough is prepared by mixing wheat flour and water. Knead dough till it is soft, let it rest for sometime. Make small round balls of dough, stuff paste inside balls and roll to thin layered flat breads, Now in hot tawa, smear some oil and place flatbread over it. Cook both sides by applying oil. Now paratha is ready to serve. Serve it hot with chutney/ tomato ketchup/ pickle / butter/ curd according to choice.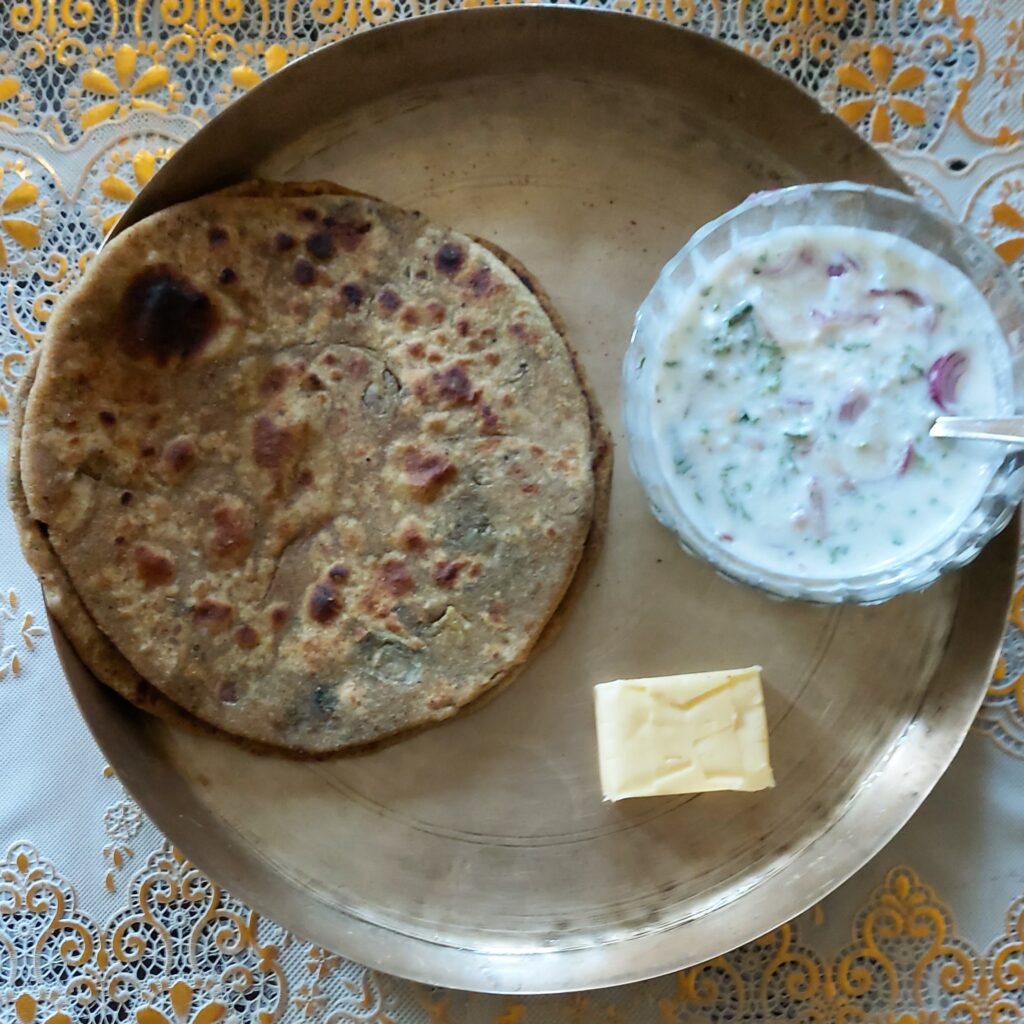 Masala oats is a quick morning breakfast cooked with oats, spices with or without curd.
Ingredients:2qc
Finely choppedvegetables, 1-2 cup amount; oats, 3 cup amount; Finelychopped leaves and shoot tops of Jangali ajwain, 50-100 g; curd/ butter milk, cup amount; olive oil, 2-3 tablespoon;3 chopped medium sized onion, 2, red or green chilies, 3-4, ajwain (carom seeds), ¼ tea spoon, turmeric powder, 1/4 tablespoon; black pepper, ¼ tea spoon, mint and coriander leaves,1/2 cup amount; salt according to taste.
Method:
Saute alon seed pods in hot oil with spices listed above and cook till these are soft. Add equal amount of oats and water. Cook for 2-3 minutes and add curd, ajwain, Cook till oats are soft add black pepper powder and chopped coriander / Cyclospermum leptophyllum leaves for garnishing. Mix well and serve.
Cook oats with butter milk/ curd or water by adding finely chopped bhringraj leaves, spices and salt according to taste. Cook till oats are soft and then serve after garnishing with chopped coriander leaves.
Pakoras:
Ingredients:
Finelychopped leaves and shoot tops of Jangali ajwain, 50-100 g;; besan (black gram flour) or corn flour,1/2 kg ;mustard oil, 10-12 table spoon; 1 cup fresh coriander plus curry and mint leaves (chopped), 5-6 green chilies, ½ table spoon turmeric powder, 2-3 medium sized chopped onions, 2-3 medium sized finely chopped potato and salt according to taste.
Method:
Make a paste of leaves, chopped potatoes, basen and spices listed above. Mix well and make a small ball of this paste. Put mustard oil in a fry pan and give these balls a deep fry.Repeat this process till the whole paste is over. Pakoras are now ready to serve. Serve these hot with chutney or tomato-ketchup.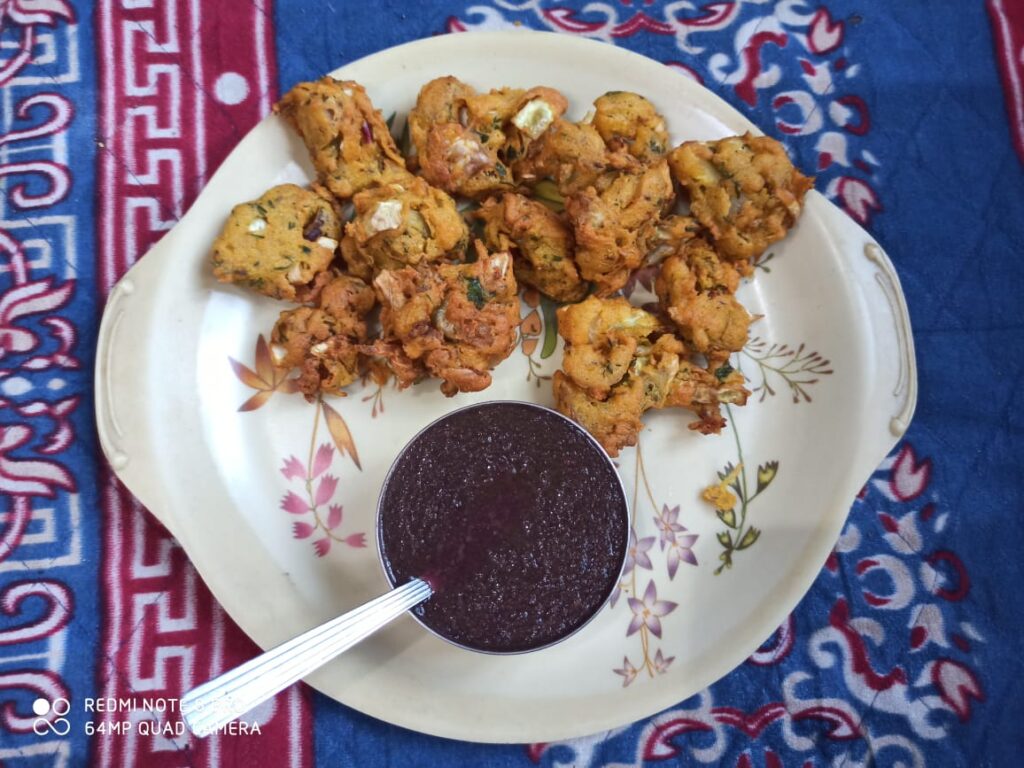 Tea:
Ingredients:
Dry or fresh leaves and shoot tops of Jangali ajwain, 8-10g; water, 2 cup amount; sugar, 2 tablespoons; lemon juice, 2 tea spoons.
Method:
Dice leaves and boil with water. Add sugar to it and simmer in low flame for 10 minutes. Strain into tea cups. Add lemon juice to each and serve hot.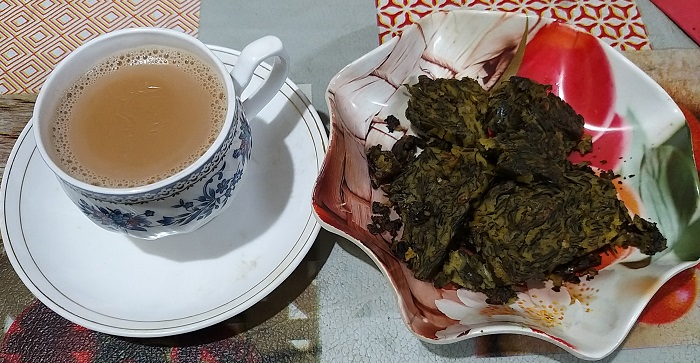 Medicinal Uses:
Jangali ajwain widely used by locals as a treatment of illnesses and problems related to the respiratory, digestive, and urogenital tracts, like stomach complaints, colds, cough, headache epilepsy, suppression of urine and menstrual catarrh in the form of tea, spices, tonic, decoction or gargles. Whole plant is considered useful in weak vision, complaints of stomach and liver, suppression of urine and menstruation 3. Seeds are used as vermifuge, and the oil in toothaches. The herb possesses anti-spasmodic, antiseptic, expectorant, carminative, anthelmintic and stimulating properties. An infusion of the leaves is used in the treatment of itch and skin eruptions. The leaves are used in biliousness and their juice is considered emetic. The leaf juice is applied over bald patches of alopecia. The seeds are considered antifebrile and anthelmintic. It is a popular remedy in the hills for stomach complaints, cough and colds. Infusion of leaves with 'gur' acts as a diuretic 4. In addition, the potential therapeutic effects of thymol have been used for the treatment of disorders affecting different organ systems, such as the cardiovascular, nervous, and respiratory systems 2 Aromatic balm from this plant is used tp cure headache from toothache.
Chemical constituent:
The leaves and floral tops yield a volatile oil known as oil of wild thyme 0.27percent from fresh and 0.0 percent from dried plants. Three flavonoids, i.e. scutellarin heteroside, luteolin 7-glucoside, and apigenin, have been isolated from the plant. The floral tops and leaves are reported to yield 0.75 per cent of ursolic acid. Its nectar is rich in ascorbic acid. Oil contains chiefly thymol, with marked antioxidant and antimicrobial properties4
Other Uses:
Plant is an excellent ground cover with medicinal and edible uses. Essential oil Thymol is extracted from this plant and is used in the food industry as a natural preservative due to its antioxidant and antimicrobial properties. Given to milch cattle to improve milk yield. Plant tops are also used in balm and bath for its aroma and sedative effects.
References:
1. Lorenzo,J.M.;Khaneghah,A.M.;Gavahian,M.;Marszałek,K.;Es,I.;Munekata,P.;Ferreira,I.C.F.R.;Barba,F.J.( 2018)Understanding the potential benefits of thyme and its derived products for food industry and consumer health: From extraction of value-added compounds to the evaluation of bioaccessibility, bioavailability, anti-inflammatory, and antimicrobial activities. Crit. Rev. Food Sci. Nutr., 59, 2879–2895.
2. Jarić, S., Mitrović, M., & Pavlović, P. (2015). Review of ethnobotanical, phytochemical, and pharmacological study of Thymus serpyllum L. Evidence-based complementary and alternative medicine.
3. Singh PB. (2018). Flora of Mandi district. Himachal Pradesh: North West Himalaya.
4. Purohit SS, Sharma AK, Prajapati ND, Kumar T. (2009); A handbook of medicinal plants: a complete source book. 2:352-3.