Family: Cactaceae
Synonyms: Cactus ficus-indica; Opuntia megacantha; Opuntia paraguayensis.
Common Name: Sweet prickly pear, Barbary fig, Cactus pear, Indian fig, Indian fig prickly pear, Indian-fig, Mission cactus, Mission prickly pear, Prickly pear cactus, Prickly-pear, Smooth mountain prickly pear, Smooth prickly pear, Spineless cactus,
Local Name: Kabuli chhoonh (काबलीछूंह(
Kabuli chhoonh is a frequently growing wild edible succulent found in wasteland of mid hill zone of Western Himalayas. It is also known by its local name drabhad chhoonh in some areas. In Hindipeople call it Nagfani. For most of people of this region it is a useless plant and very few people might be knowing that tender immature pads of this plant are edible and make a delicious vegetable.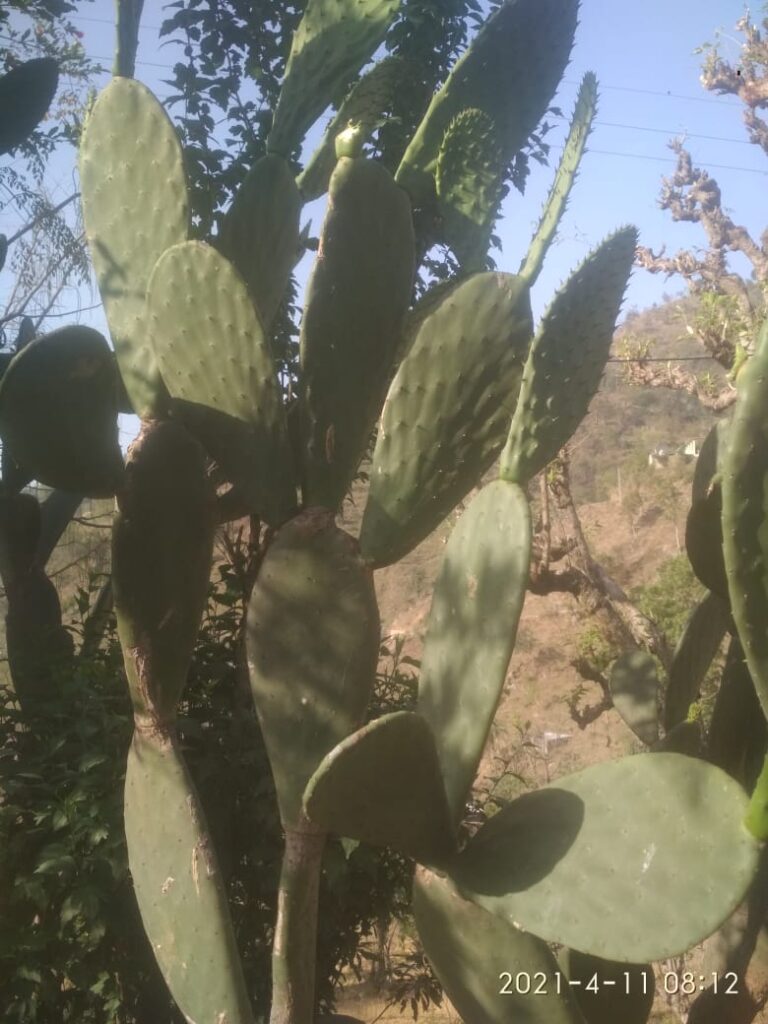 Chopped pads of Kabuli chhoonh are also excellent addition to many modern dished like Pizza, masala oats, pasta and can also be added to traditional dishes like palau, sambhar, dalia etc. with some modern twist. Kabuli chhoonh is a rich source of Vitamin C, B2 andcalcium. Fruits are eaten raw and sometime fermented by locals to make local alcoholic drink for their personal use. Prickly spines present on this plant may pierce into body and can cause a severe pain, however prickly spines of this plant are not as painful as are present in Opuntia dillenii.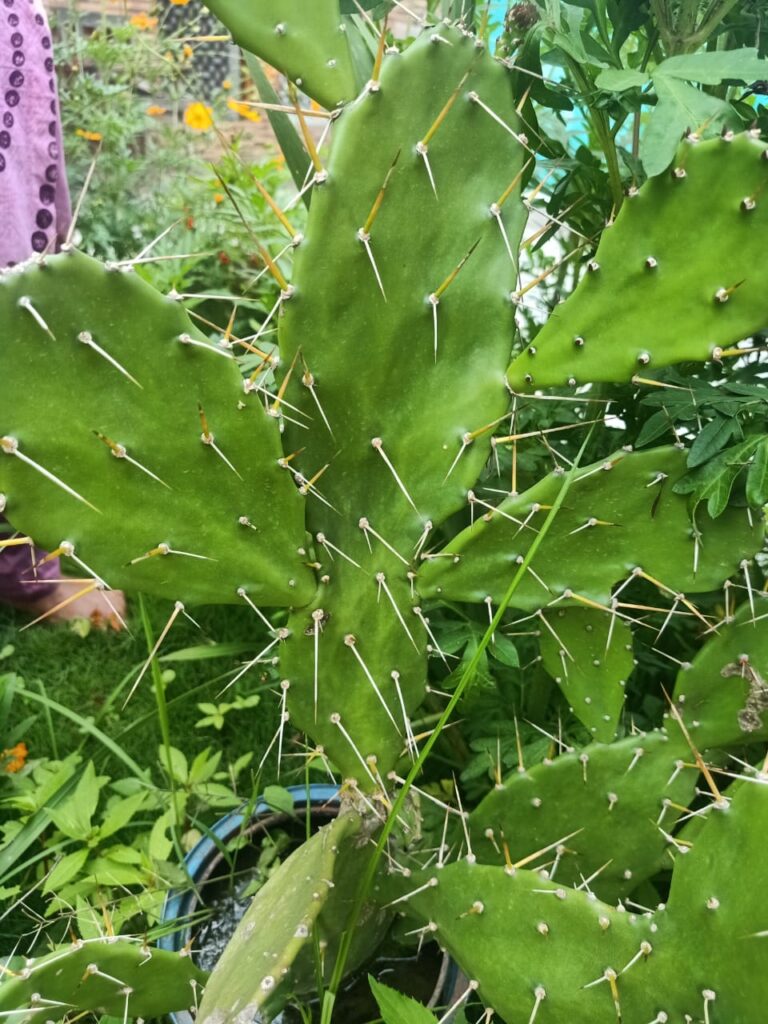 So, handling of Opuntia ficus indica is not as problematic as of Opuntia dillenii. Still, care is needed during harvesting of pads for cooking. Due to presence of these spines the English name 'Prickly pear cactus" has been assigned to this plant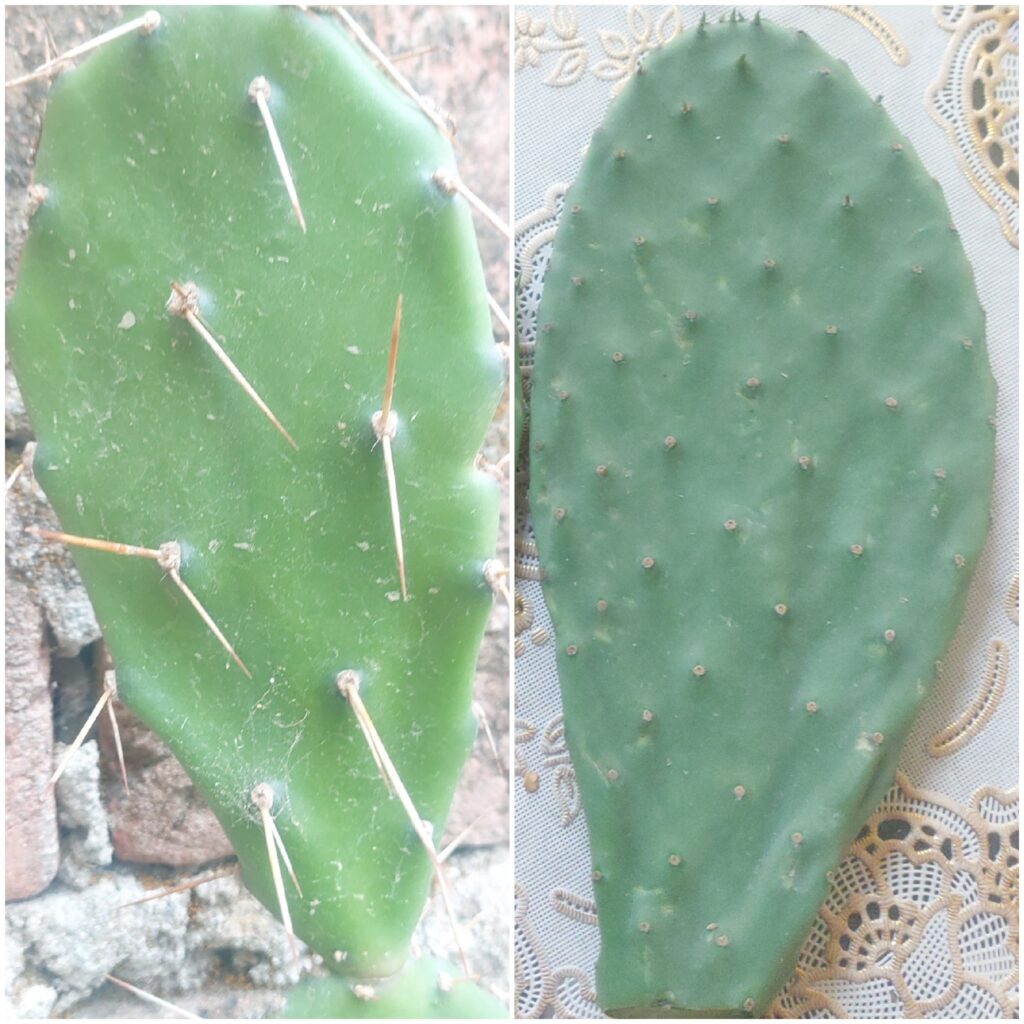 kabuli chhoonh is a xerophytic perennial shrub and thrives best under conditions of drought and erratic rainfall. It is mostly seen growing along roadsides, pathways, hill slopes and in open forests upto an elevation of 1500 m. Plant is with green flat stem and branches, looking very much like leaves called pads, sometimes paddles 1.These are known as cladode in botanical jargon, leaves are modified into spines.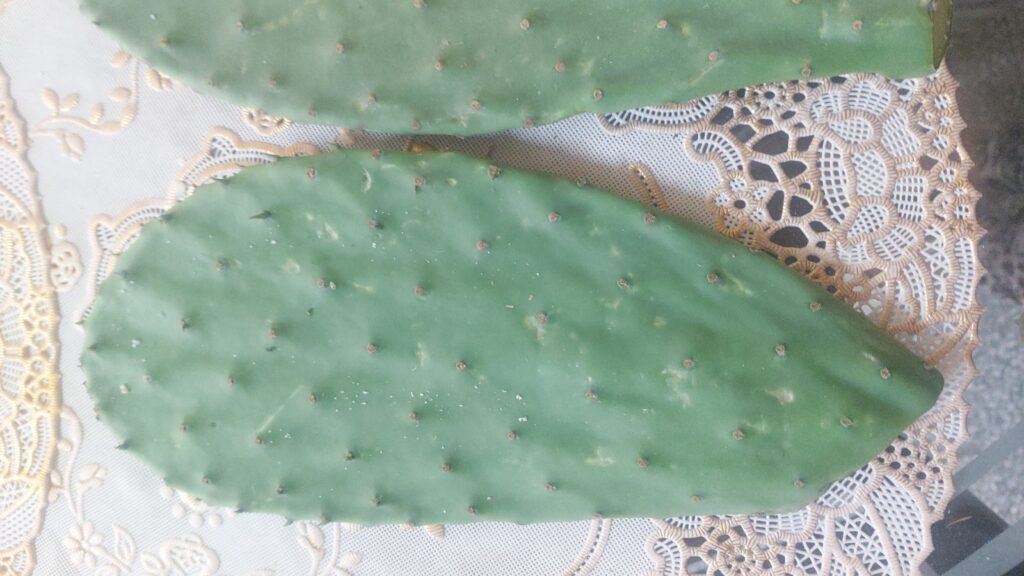 kabuli chhoonh is usually harvested from wild habitat as a source of food, fodder, medicine for both personal and commercial uses. Its ripe fruits have market value and sold in local market. Being beautiful, prickly and unusual in appearance it can be grown as a multipurpose plant (Source of fruits, vegetable, medicine, fodder and income) either as a decorative or live fence around home and cultivated land to demarcate boundaries.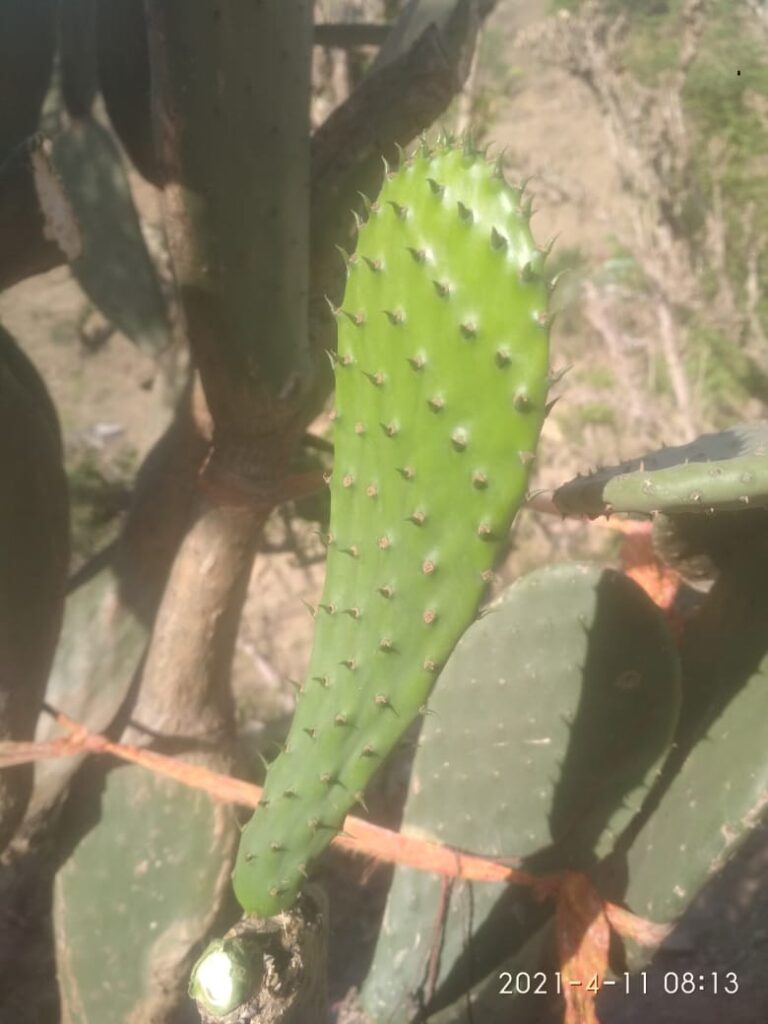 kabuli chhoonh can be propagated either by seeds or cuttings of pads. Seeds grow best from late spring to early summer in field, while cuttings can be grown round the year.
kabuli chhoonh is thought to have originated in Mexico and naturalised worldwide. It is also cultivated in many parts of world as a food or fodder plant.
As kabuli chhoonh can store water and thrives best under conditions of drought and erratic rainfall, so it can be easily domesticated in areas of water scarcity. Being CAM plant it is more efficient in capturing atmospheric carbon dioxide, so can be a potential future crops capable of tolerating the adverse effects of global warming or climate change.
kabuli chhoonh Plant:
Perennial shrub or small tree up to 3 m tall.
It has a horizontal root system, which ramifies into the soil.
The stems is large thick, succulent and spatula shaped, covered with clusters of spines.
Leaves are thorny and some varieties are without thorns or spines.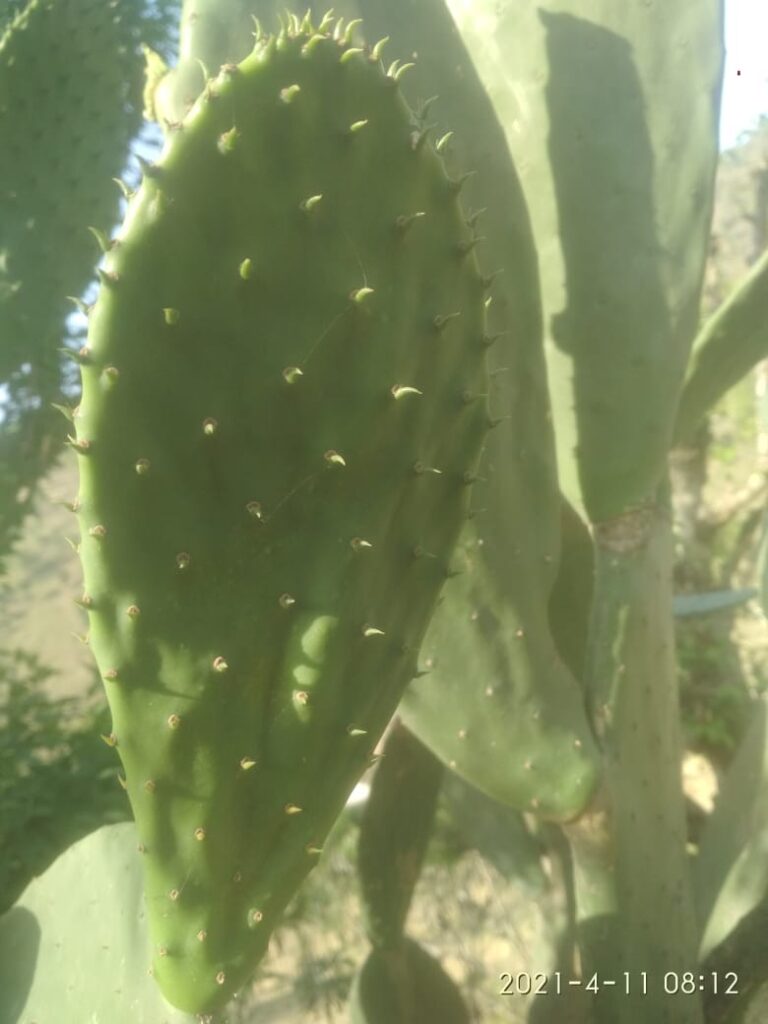 Flowers yellow grow on the cladodes, which are about 1-2 years old.
Fruit berry, purple to reddish; roundish or ellipsoid with a length of approximately 7 cm.
Edible pads of kabuli chhoonh can be harvested round the year but new spring growth are best to eat. Edible flowers can be collected in summers while fruits from autumn to winter season of years. As very few people of this region (Western Himalayas) utilize this plant for edible purposes, as a result useful plant parts like fruits get wasted at resource level. So, mass awareness is needed about its rich medicinal and food value for its optimum utilization. Large scale plantation is need of hour to ensure sustainable utilization and development.
Edible Uses:
Fruits, tender pads, seeds and flowers of kabuli chhoonh all are edible and taken raw or cooked. Fruits or young pads can be cooked into delicious vegetable. Ripe fruits are fermented to prepare local alcoholic drink. Chopped pads can be an excellent addition to sandwich, pizza, palau, daliya, and shambar etc. Flowers can be an excellent addition to pakoras, kachru, rayata etc. Powdered seeds can be added to flour and cooked as chapatti. As fruits and pads bear bristles which might pierce into fingers. So a special care has to be taken about it.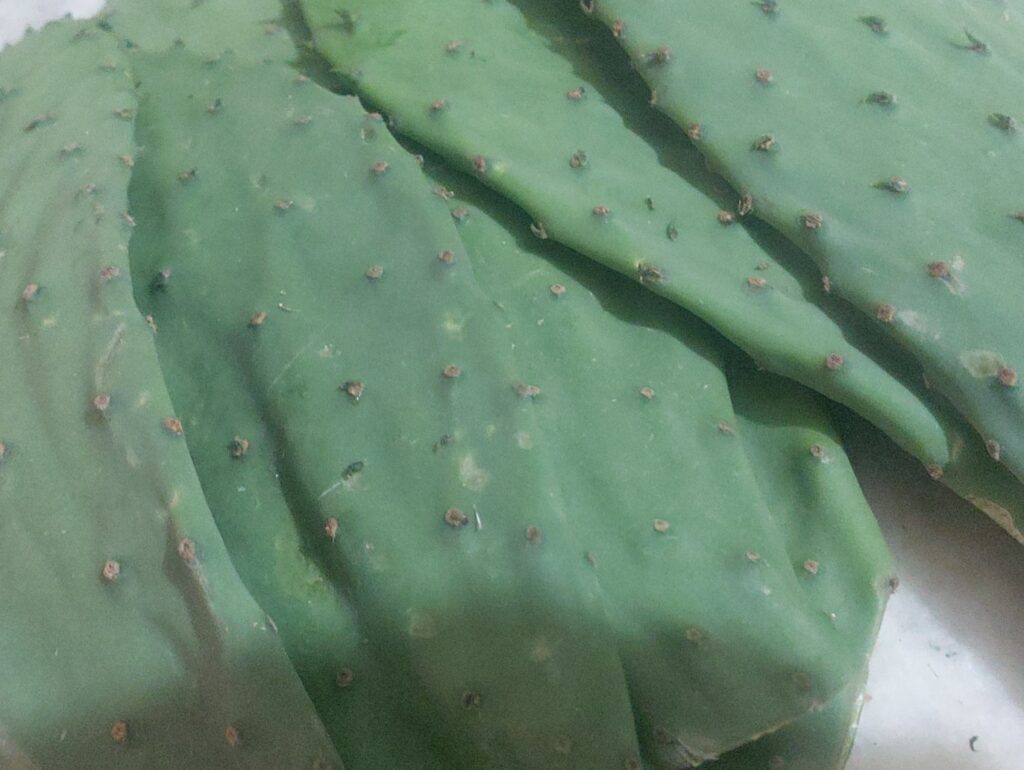 The bristles can be removed by rubbing the fruits or pads with some wet piece of thick cloth or burning on fire. The pads and green unripe fruits are made into vegetable. These can also be eaten raw or in a tossed salad. For cooking only green immature and tender pads have to be selected. Remove their bristles and spines, trim off the edges and dice the "meat" into half-inch squares or simply cut the food into green bean-sized strips. They will then be ready to be cooked into a vegetable or any other dish as follow:
Vegetable:
Ingredients:
Chopped and diced pads or fruits, 1 kg; chopped medium sized potatoes, 3-4; mustard oil, 3-4 table spoons; coriander powder, 1 table spoon; fenugreek powder, 1 tea spoon; cumin seeds, 1 table spoon; turmeric powder, 1 table spoon; red chillies, 2-4; medium sized chopped onion, 1; chopped garlic cloves, 4-5; green coriander leaves (chopped), half cup amount; ginger paste, 1/2 table spoon; tomato puree, 2 cup amount; branded garam masala,1 tea spoon; salt, according to taste.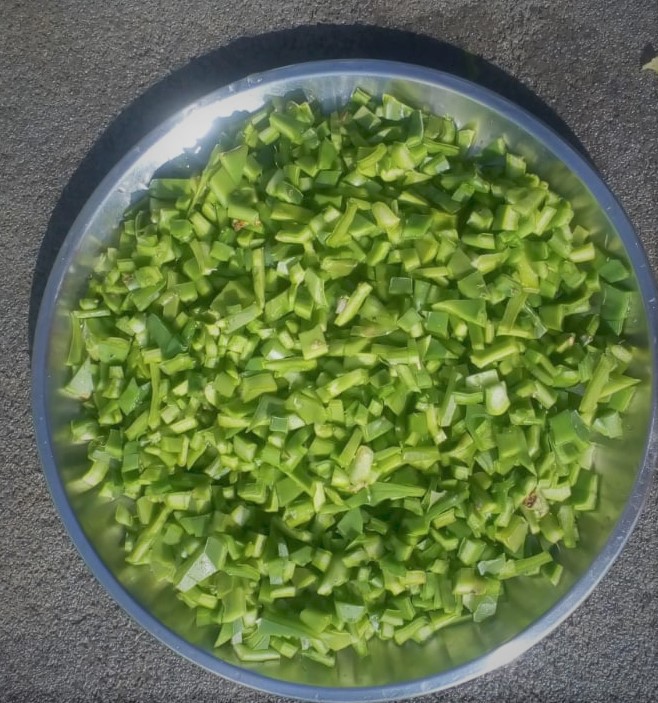 Method:
Heat mustard oil and add coriander powder, fenugreek powder, red chillies and cumin seed in sequence. Mix it well and then add paste of onion, garlic, ginger, turmeric powder and tomato puree. Sauté this mixture in slow flame for 5 minutes and add chopped pads and potatoes. Mix thoroughly. Cook for 15 to 20 minutes till these are soft. Add garam masala powder and chopped green coriander leaves before serving.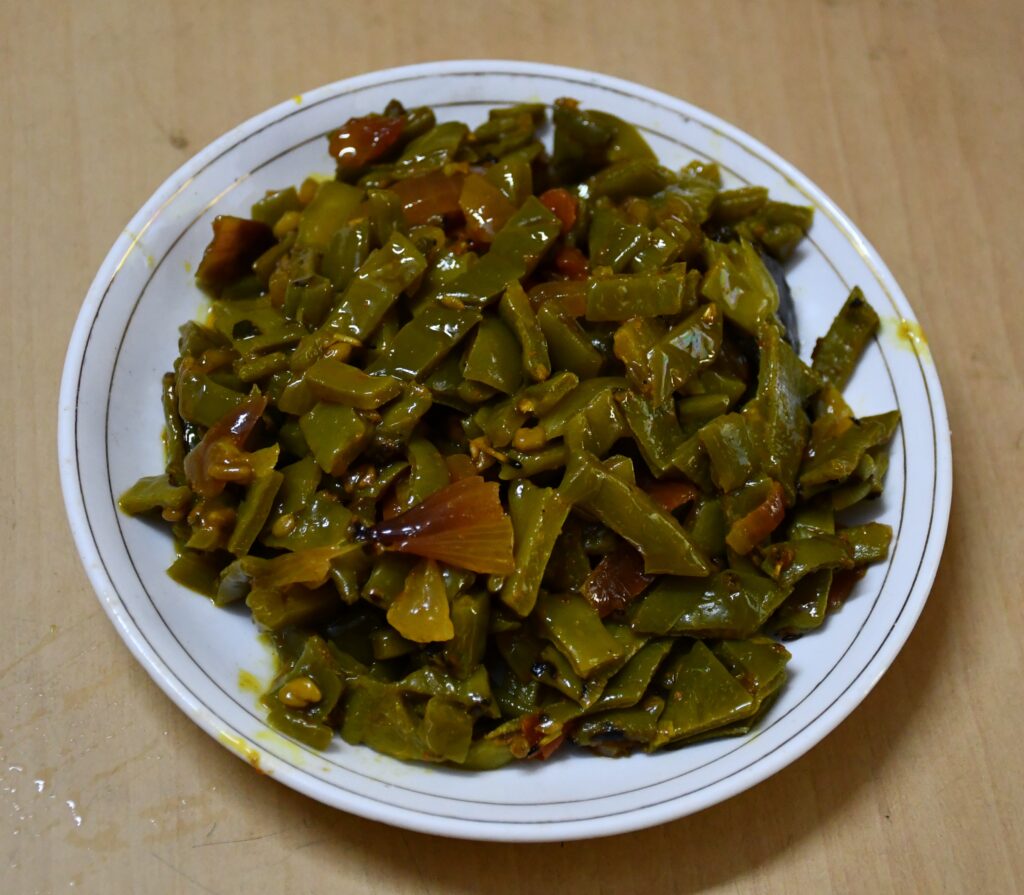 Pasta
Ingredients:
Pasta, 1- 2 cup amount; chopped green pads & finely chopped vegetable acc to taste; 1-2 cup amount; Butter or any vegetable oil; 2 table spoon, grated or meshed tomato; 3-4, medium sized finely chopped onion; 2; garlic & ginger paste 1/2 tea spoon, white sauce, salt, coriander, black pepper acc. to taste. .
Methods
Pour 3-4 cups of water to a large pot and add ¼ teaspoon salt. Bring the water to a rapid and add pasta, cook on a medium high flame till pasta become soft. Drain to a colander. Set the cooked pasta aside. Pour oil or butter to a pan. Add coriander, meshed tomato, grated onion, garlic, chopped pads & vegetables, white sauce, salt one by one. Sauté them on a medium high heat until slightly tender yet crunchy. Now add pasta to it, Stir well. Garnish with green coriander leaves & black pepper Serve it immediately as it cools down.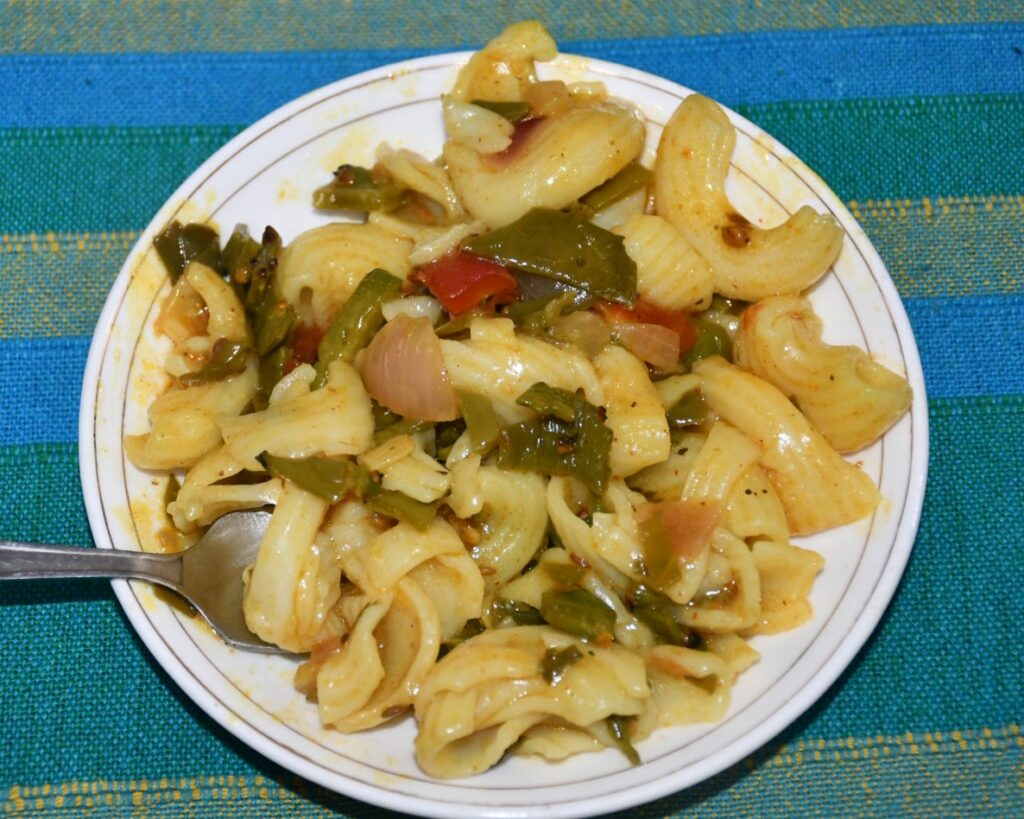 Sambar:
It is a popular South Indian dish made with lentil, mix vegetable, tamarinds, spices curry leaves and other herbs. As kabuli chhoonh pads or fruits are sour in taste so one can skip tamarinds or reduce its amount. Recipe is not only healthy and nutritious but also tastes delicious, as it is good source of protein, vitamins, minerals and antioxidant. It can be served with idli, dosa, vada, plain rice or with chapattis.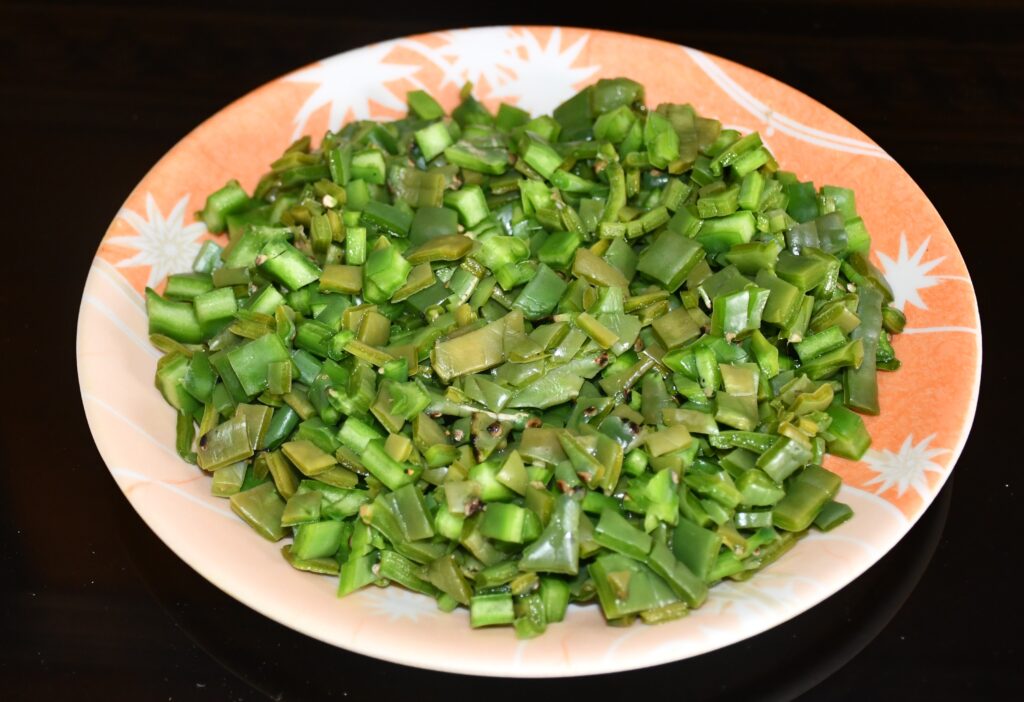 Ingredient:
Lentils (Arahar dal plus moong dal), chopped vegetable according to taste (Carrot, beans, ladies finger, finely chopped pads 250 g; curry leaves, 200 g chopped medium sized onion, 2, red or green chilies, 3-4, ajwain (carom seeds), ¼ tea spoon, turmeric powder, 1/4 table spoon; black pepper, ¼ tea spoon, mint and coriander leaves,1/2 cup amount; salt according to taste.
Method:
Boil chopped vegetable and pads, steam cook lentils till these become soft. Mesh manually or in a mixer. In hot mustard oil sauté meshed vegetable, pads and lentils with curry leaves and spices listed above. Cook for five to 10 minutes. As pads are sour in taste so one can skip tamarind. Add garam masala and garnish with chopped coriander or mint leaves and serve.
Pulau or Dalia:
Palau is a spicy rice dish prepared by cooking rice with green vegetables and spices.
Wheat dalia can also be cooked with addition of chopped green pads, green vegetables and spice.
Ingredients:
Rice/ wheat dalia ,2 cup amount; finely chopped green pads,1 to 2 cup amount, peas, ¼ cup amount; finely chopped beans, ¼ cup amount; mustard oil, 3-4 table spoons; coriander powder, 1 table spoon; fenugreek powder, 1 tea­­­­­­­­ spoon; cumin seed, 1 table spoon turmeric powder, 1 table spoon; red chillies, chopped medium sized onion, 1-2;chopped tomato,2; cinnamon powder, ¼ tea spoon; cloves, 4;turmeric powder, ½ table spoon; 2-4; green coriander leaves(chopped), 1/2 cup amount; branded garam masala,1/2 table spoon amount; salt, according to taste.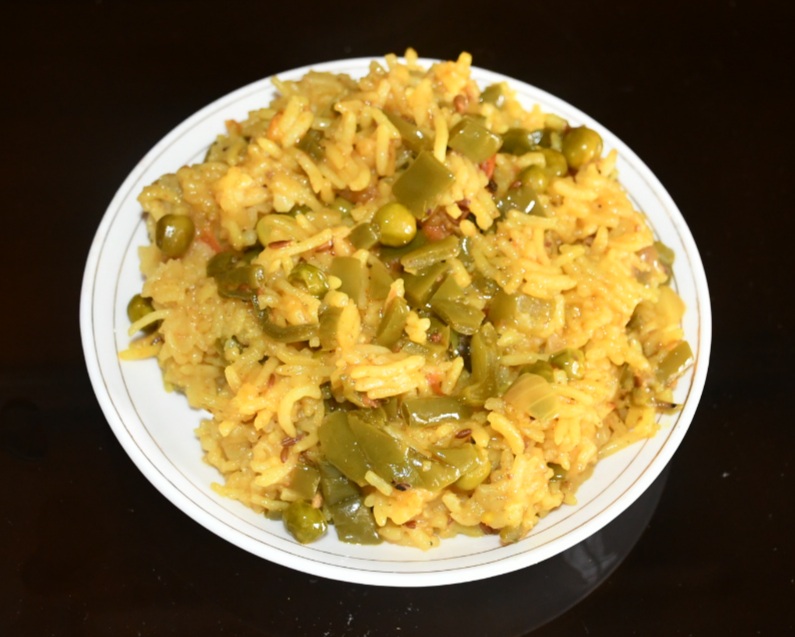 Method:
Take oil in a pressure cooker. In hot oil saute spices listed above with rice/Wheat dalia , green vegetable and green pads. Add 6 cup amount water to it stir well and add garam masala. Close the lid and cook over medium flame for 2 whistles. When 1st whistle is completed, reduce the flame to low and cook until another whistle. Turn off flame. Let it cool down at room temperature. Open the lid carefully and fluff the rice with a fork. Transfer it to a serving bowl and garnish with fresh coriander leaves. Serve with desi ghee or curd.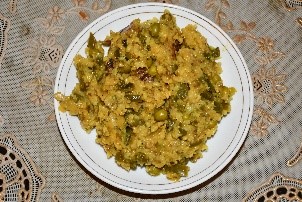 Local alcoholic drink
Take 1 kg ripefruits, remove spines, wash & cut fruit outer skin layer. Mesh pieces manually & add about 750 ml water to it. Mix well, Now add 1-2 spoon of sugar, mix well .and pour into bottle or jar. Leave it for fermentation for at least 48 hours . Drain it into another container, add more sugar acc. to choice. Keep it for another 2 to 3 days. Now it is ready to serve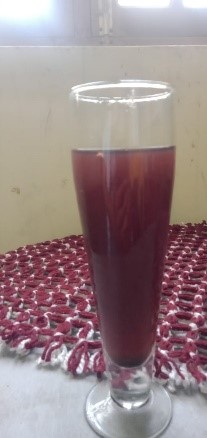 Food Value:
Cladodes:
Energy 16 Kcal; Carbohydrates 3.33 g; protein 1.32 g; Total fat 0.09 g; Dietary fibre 2.2 g; Vitamins Folates 3 μg; Niacin 0.410 mg; Pantothenic acid 0.167 mg; Pyridoxine 0.070 mg; Riboflavin 0.041 mg; Thiamine 0.012 mg ; Vitamin C 9.3 mg; Vitamin A 457 IU; Vitamin K 5.3 μg; Electrolytes Sodium 21 mg; Potassium 257 mg; Calcium 164 mg; Copper 0.052 mg; Iron 0.59 mg; Magnesium 52 mg; Manganese 0.457 mg; Phosphorus 16 mg; Selenium 0.7 μg; Zinc 0.21 mg; Phytonutrients Carotene-β 250 μg Carotene-α 48 μg 2.
Seeds:
The seeds contained 16.6% protein, 17.2% fat, 49.6% fiber and 3.0% ash. The meal showed a high amount of iron (9.45 mg %). The contents of Mg,
P, K, Zn and Cu were nutritionally significant contributing approximately 10–20% of the Recommended Dietary Allowances (RDA) of these elements per 100 g of dry weight. The seeds were rich in sulfur amino acids (methionine + cystine) 3.
Seek Professional advice before treating thus plant medicinally.
Medicinal
Rich nutrient profile of kabuli chhoonh assist in lowering body weight, cholesterol and blood glucose levels 4. Inclusion of this plant in lifestyle not only prevent lifestyle diseases but also assist in the protection of liver from fatty liver disease 4,5,6. Studies shows that fruits are effective in the reticence of cancer growth 7and against colon and prostate cancer cells 8. Vegetables from kabuli chhoonh are noted to possess very low calorie. About 100g of freshly prepared vegetable leaves provide just 16 calories. As, the pads of kabuli chhoonh have many vital phytochemicals, fibre, anti-oxidants, vitamins, and minerals which are 2,9 immunity booster. Its daily consumption in any form improves the functioning of the blood platelet 10. kabuli chhoonh flowers are astringent and are used to reduce bleeding and treat problems of the gastro-intestinal tract, especially diarrhoea, colitis and irritable bowel syndrome11. The flowers are also used in the treatment of an enlarged prostate gland11.
Chemical constituents:
The fruits of kabuli chhoonh contains mucilage, sugars, vitamin c and other fruit acids. The flowers are astringent and reduce bleeding, and are used for problems of the gastro- intestinal tract- particularly diarrhea, colitis and irritable bowel syndrome. The flowers are also taken to treat an enlarged prostate gland. The fruit are nutritious considered good against tumor12.
Other Uses:
kabuli chhoonh  is known for its aesthetic beauty. Due to its unusual appearance, presence of eye catching beautiful yellow flowers or red fruits, it is grown as an ornamental succulent around home and boundaries. It can also be grown as a multipurpose plant to harness its multifarious uses.  Young pads of kabuli chhoonh  can be an alternative or backup feedstock in periods of drought, because succulence keep pads fresh  and green for longer periods It  can also be used in combination with other feed sources to reduce the demand of resource-intensive forage crops for raising livestock in dryland areas13,14.  Gum obtained from the stem of this plant is mixed with oil to make candles. The juice of the boiled stem segments is very sticky. It is added to plaster, whitewash etc to make it adhere better to walls 15.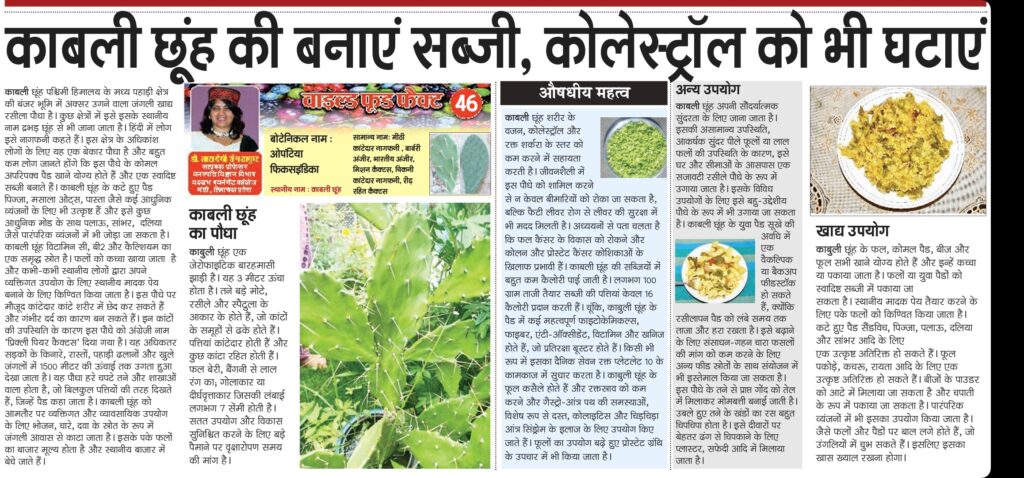 References:
Isaac, A. A. (2016). Overview of Cactus (Opuntia Ficus-Indica (L): a myriad of alternatives. Studies on Ethno-Medicine, 10(2), 195-205.
United States Department of Agriculture (USDA) (2012): National Nutrient Data Base.
Sawaya, W. N., Khalil, J. K., & Al-Mohammad, M. M. (1983). Nutritive value of prickly pear seeds, Opuntia ficus-indica. Plant Foods for Human Nutrition, 33(1), 91-97.
Hahm SW, Park J, Son YS (2010): Opuntia humifusa partitioned extracts inhibit the growth of U87MG human gliobla stoma cells. Plant Food and Human Nutrition, 65: 247–252.
Frati-Munari AC, Rios GU, Ariza-Andraca CR, IslasAndrade S, Lopez-Ledesma R 1989. Duration of the hypoglycemic action of Opuntia streptacantha Lem. Arch Invest Med (Mex), 20(4): 297-300.
Morán-Ramos S, Azalia AN, Armando RT, Pedraza JC, López PR, Torres N 2012. Opuntia ficus indica (Nopal) Attenuates Hepatic Steatosis and Oxidative Stress in Obese Zucker (fa/fa)Rats. Rockville: American Society for Nutrition.
Zou D, Brewer M, Garcia F, Feugang JM, Wang J, Zang R, Liu H, Zou C 2005. Cactus pear: A natural product in cancer chemoprevention. Nutritional Journal, 4(1): 25-41.
Chavez-Santoscoy RA, Gutierrez-Uribe JA, Serna SO 2009. Phenolic composition, antioxidant capacity and in vitro cancer cell cytotoxicity of nine prickly pear (opuntia Spp.) juices. Plan Foods for Human Nutrition, 64: 146-152.
Kuti JO 2004. Antioxidant compounds from four Opuntia cactus pear fruit varieties. Food Chemistry, 85(4): 527-533.
Wolfram R, Budinsky A, Efthimiou Y, Stomatopoulos J, Oguogho A, Sinzinger H 2003. Daily prickly pear consumption improves platelet function. Prostaglandins, Leukotrienes and Essential Fatty Acids, 69: 61-66.
Purohit SS, Sharma AK, Prajapati ND, Kumar T. (2009); A handbook of medicinal plants: a complete source book. 2:352-3
Le Houérou, H. N. 1992. The role of Opuntia cacti in the agricultural development of Mediterranean arid zones. Secundo congresso internacional de Tuna y Cochinilla, Santiago (Chile), 22-25 Septiembre 1992.
Mayer, J. A., & Cushman, J. C. (2019). Nutritional and mineral content of prickly pear cactus: A highly water‐use efficient forage, fodder and food species. Journal of Agronomy and Crop science, 205(6), 625-634.
Balls. E. K. (1975): Early Uses of Californian Plants University of California Press. ISBN0-520-00072-2