Family: Asteraceae
Synonyms: Crassocephalum diversifolium,Gynura crepidioides,Gynura diversifolia,Gynura microcephala, Gynura polycephala.Senecio crepidioides.Senecio diversifolius.
Common Name: Okinawa Spinach
Local Name: Lal phulnu ghaa (लाल फुलनू घा)
Lal phulnu ghaa is a perennial herb of Western Himalaya growing up to 1 metre tall.
It is found growing as a weed in waste places, grassland, under trees, abandoned farm land, and backyard gardens. Tender shoots and leaves of this plant make an excellent substitute to spinach that might be the reason that the common name 'Okinawa Spinach' is given to it. Local name lal phulnu ghaa is perhaps given due to yellowish reddish flowers of it. Lal phulnu ghaa grows best in shady moist habitats rich in humus. It can grow upto an altitude of 2000m in Western Himalaya. It is native to tropical Africa, but now well naturalized in India and considered as a weed to be removed. Lal phulnu ghaa can easily be propagated either by seed or by cuttings. Light, plumed seeds of this plant are easily distributed by the wind and help this plant to grow luxuriantly even to distant areas.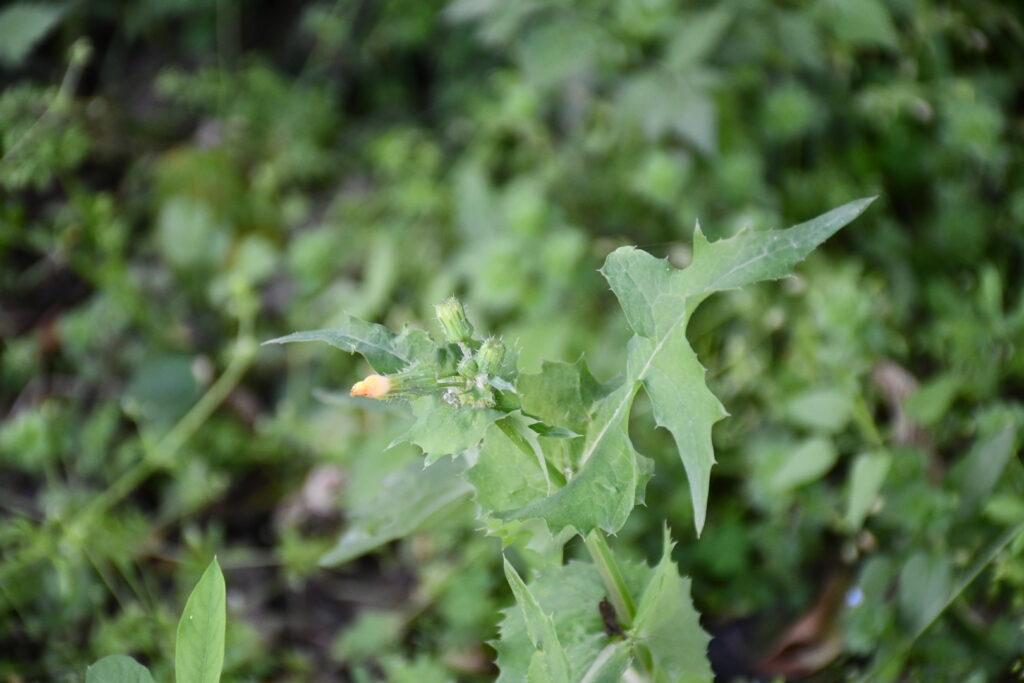 Tender shoot terminals, leaves and roots of this plant are edible and eaten both raw and cooked. Leaves are taken in salad for their distinctive, pine or nutty flavour which is sharp but not bitter. Lal phulnu ghaa is highly admired and appreciated around the world for its special flavour. In south-western Nigeria it is popularly used in soups and stews. Firstly leaves are blanched, excess water is drained off, and then cooked with peppers, onions, tomatoes, melon and sometimes fish or meat to make soups and stew1. In Sierra Leone the leaves are also popular and are made into a sauce with groundnut paste 1. In Australia it is eaten as a salad green, either cooked or raw 1. Its roots are eaten with chilli sauce in Thailand2.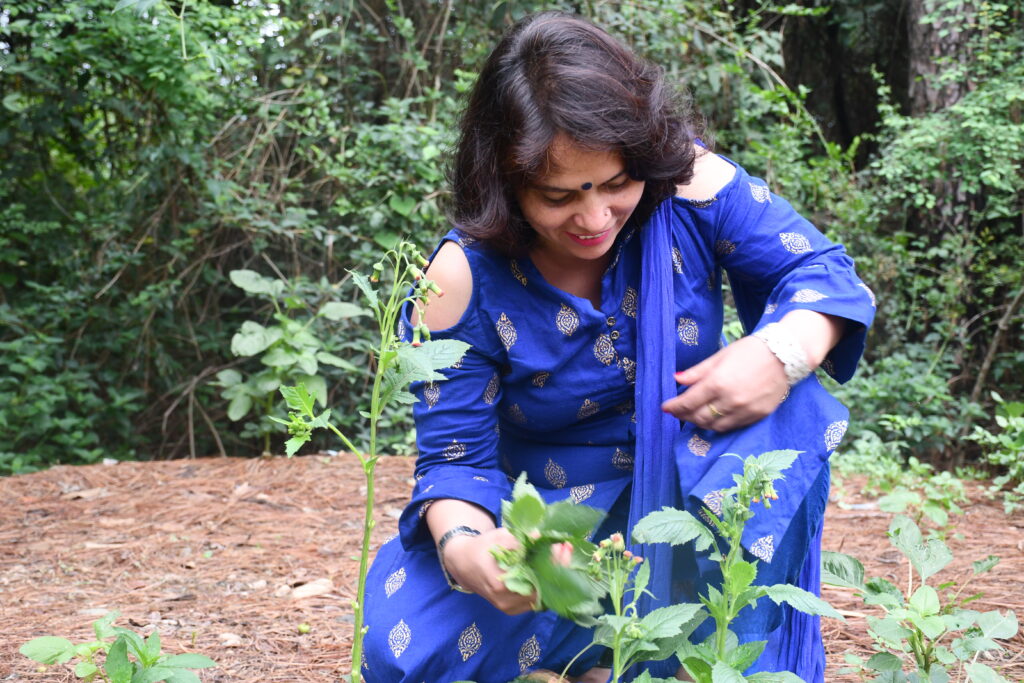 In India especially in villages of north India tender plant parts are cooked as leafy vegetable saag along with other edible greens of spring or rainy season. Here women in villages usually collect more than 40 cultivated and wild growing edible herbs for making saag. in this practice they wisely include a variety of naturally growing herbs along with cultivated greens in desirable quantities. This practice not only makes vegetables delicious but also enriches them with minerals, vitamins and medicines. This practice of utilizing plants growing around , identifying them and taking medicinal food once in a week is passed from generation to generation. But a sharp decline has been noticed in this practice due to modernisation, urbanisation and westernisation. It need to be revived to boost our health and Immunity. Lal phulnu ghaa can also be included in various traditional and modern dishes like Kachru, soups, pakoras, parantha, oats, poha, pasta etc.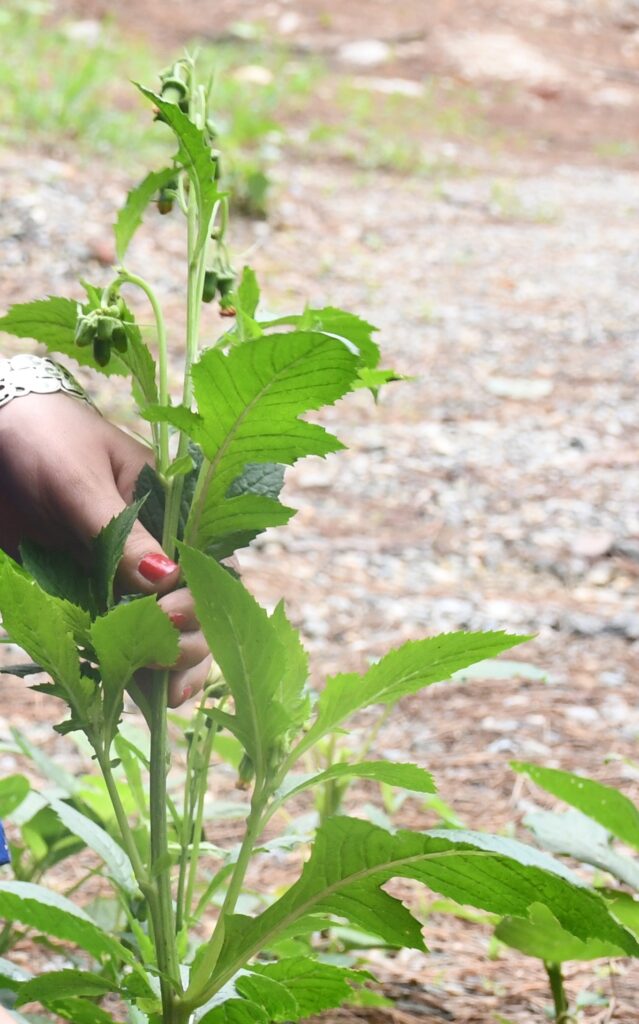 Lal phulnu ghaa is harvested from the wild habitat as a source of food, fodder and medicine for local personal use. It is widely cultivated as a food crop in the tropics and also sold in the market as vegetable, It has escaped from cultivation in many areas and become an invasive weed in some places 2,3 .
Lal phulnu ghaa Plant:
Plant is is an erect little-branched perennial smooth or finely hairy herb growing 1 m tall.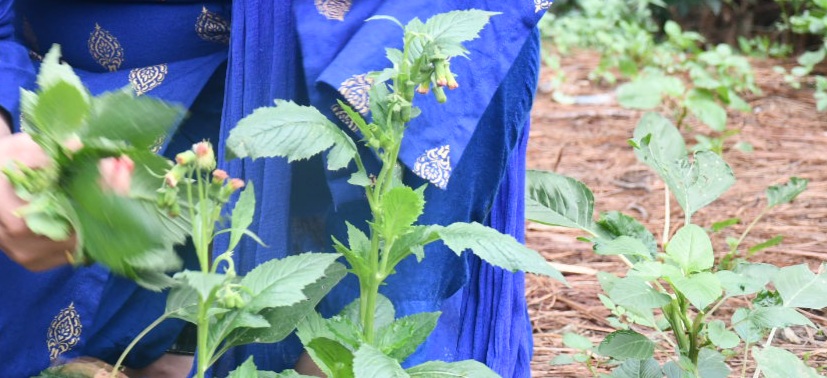 Leaves with lamina elliptic to ovate in outline; lowest leaves lyrate-pinnately cut, up to 20 cm long and 10 cm wide, base often with a pair of stipule-like lobes, margins coarsely toothed; upper leaves smaller, not lobed or with a lobe each side towards base; petiole up to 4 cm long.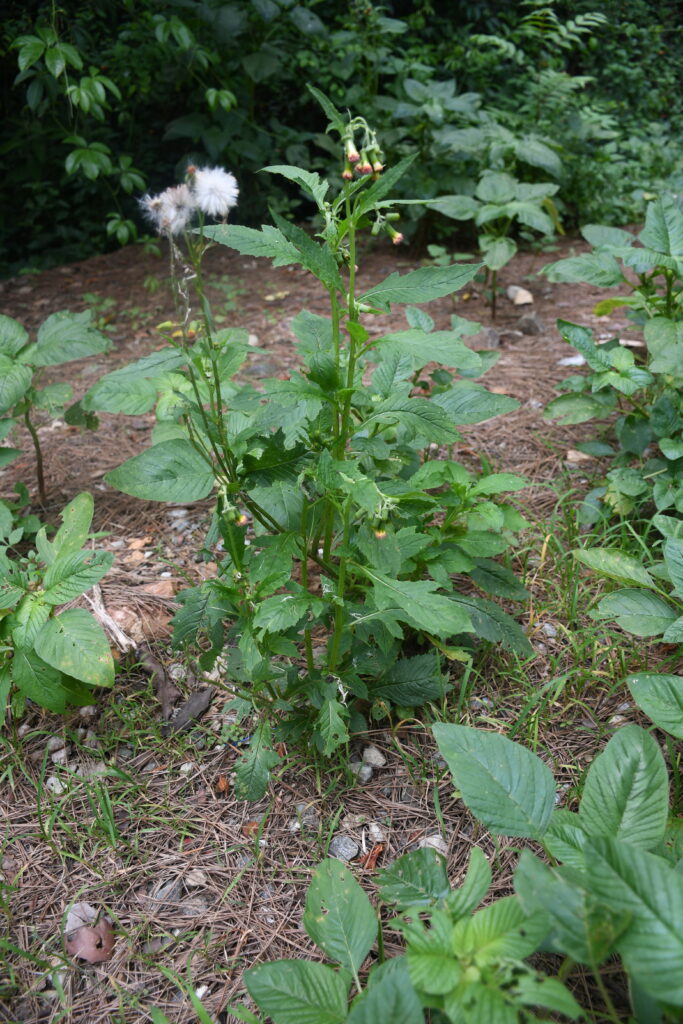 Heads in cymes, few to many, nodding at first, later erect; heads 4 mm diameter. Flower heads are cylindrical, green, with red florets visible on top.
Seeds are floating balls of numerous silky white hair.
Edible Uses:
Tender shoot terminals and leaves are eaten as vegetables exclusively or in addition with other available greens. These can be an excellent addition to parantha, kachru, pakoras, soups and any other dish as a green due to its unique pine or nutty flavour.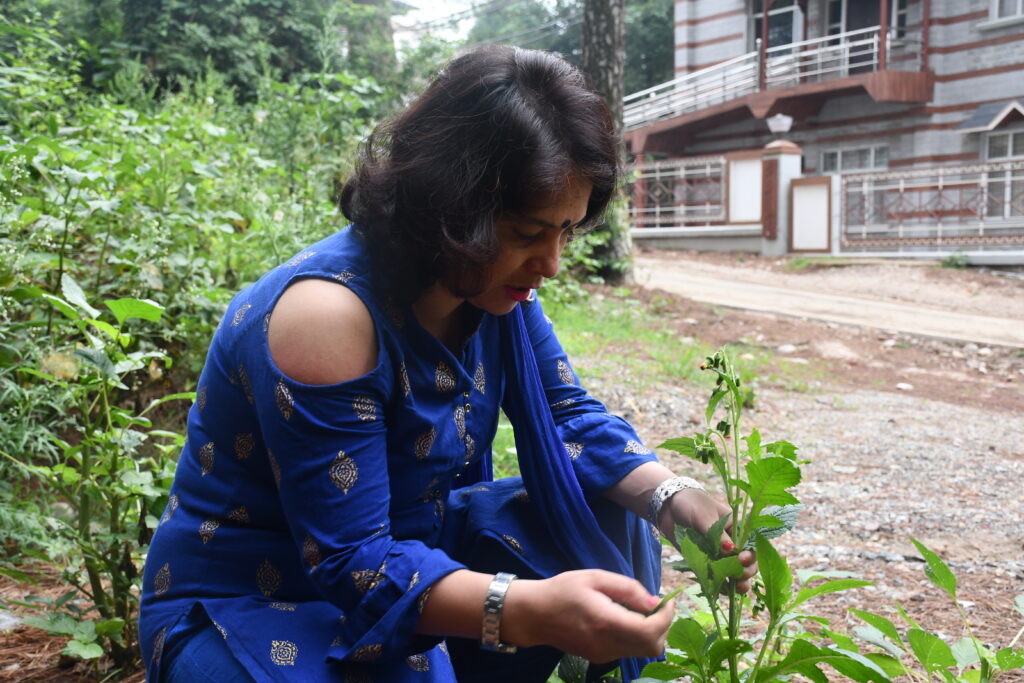 Saag:
Ingredients:
Lal phulnu ghaa, and other wild potherbs, 1 kg; mustard oil, 2 tablespoons; coriander powder 1 tablespoon; fenugreek powder, ½ table spoon; cumin seed ¼ tablespoon; turmeric powder, 1/4 tablespoon; red chilies, 2-3; chopped onions 2-4; garlic, 4-5 cloves; ginger paste ½ table spoon and salt according to taste.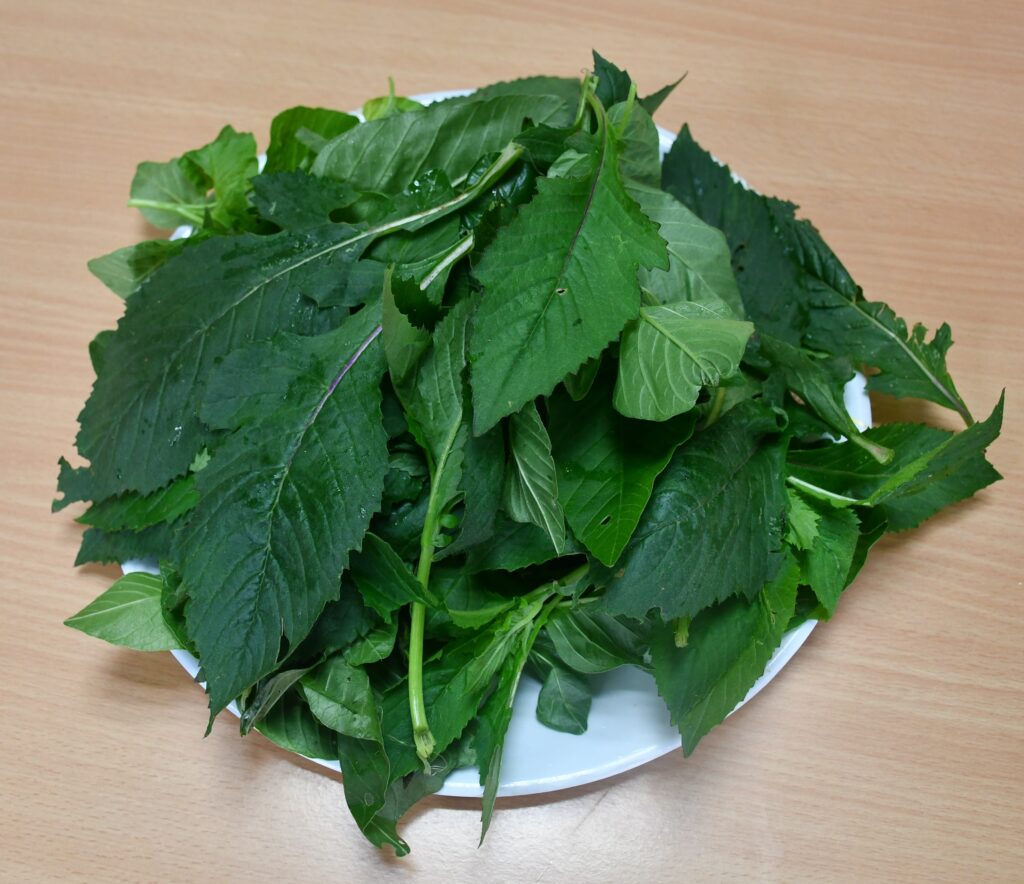 Method:
Boil chopped plant parts and they become soft. Then mesh manually or in a mixer. Then sauté with hot mustard oil and the spices listed before in sequence. This sauted saag is then ready and can be served as such or can be mixed with 2 or 3 chopped onions and cooked for another 5 to 10 minutes before serving.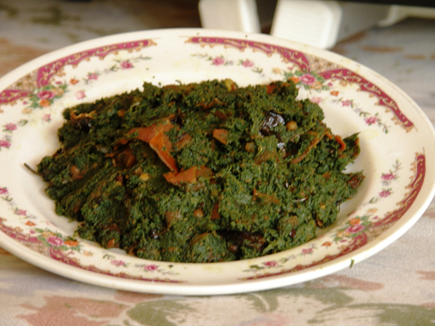 Soup:
Ingredients:
Locally available vegetable (chopped) of summers and lal phulnu ghaa,1/2 kg; mint leaves,10-15 (chopped); corn flour, 1 spoon; black pepper powder,1/4 tea spoon, salt acc.to taste.
Method:
Boil leaves and vegetables in one litre water till they are soft, mesh these manually and sieve the extract in a container. Add to it mint leaves, corn flour, black pepper and salt, then boil for 5-10 minutes. Now soup is ready to serve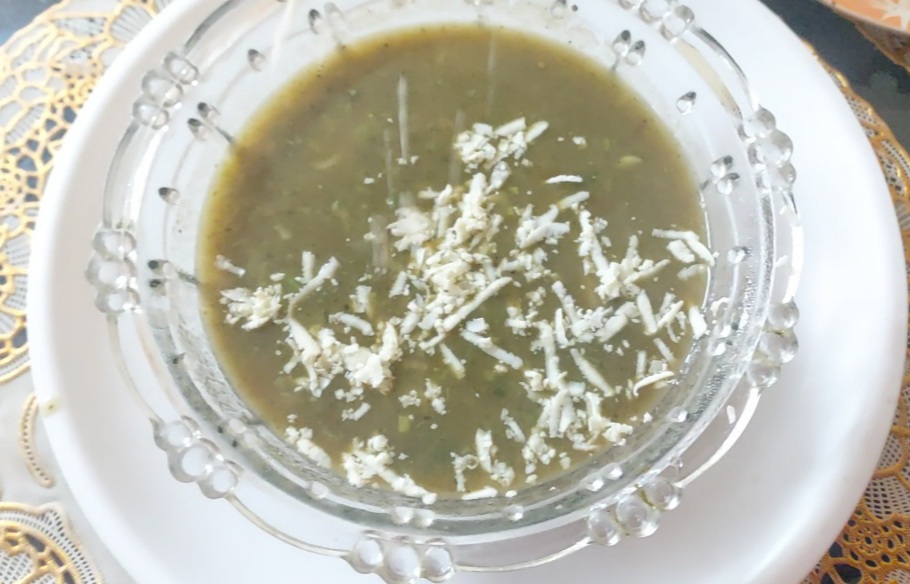 Kachru or sosaru:
Kachru is a traditional dish of Western Himalaya cooked as chilla with spices and basen or corn flour. It is served as a evening snack with tea/ chutney/tomato ketch-up.
Ingredients:
For preparing a kachru, ingredients required are 1/2kg fresh lal phulnu ghaa leaves, 300kg besan (black grampowder) or corn flour. 1 cup amount fresh coriander leaves,1/2 table spoon ajwain, 3-5 green chillies, ½ table spoon turmeric powder, 2-3 chopped onions and salt according to taste
Method:
Make a paste of leaves, besan or corn flour and spices. Heat some oil on a flat heating pan. Put this paste over a pan and cook for 15 to 20 minutes then kachru will be ready to serve.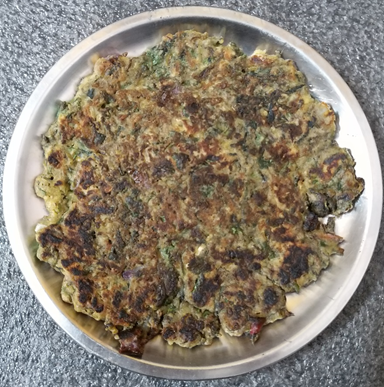 Nutritional value:
100 g dry Matter contains: 85.08%; Crude Protein: 27.17%; Crude Fibre: 8.13%, Ether extract; 12.45%, Ash: 17.31%; Organic matter: 82.69%; Metabolizable energy(Kcal/g): 2.64. Mineral Content is Fe: 0.056%; Mn: 7.87%; Na: 0.09%; K:0.07%; Mg: 0.04%; Ca: 0067% 4.
Phytochemicals:
Phytochemicals present in powdered samples are flavonoid, phenol, oxalate, tannin, saponin, phytate and ascorbic acid but no alkaloid 5..
Medicinal Uses:
Locally plants are eaten to improve digestion, A leaf lotion or decoction is used to treat headaches 1. A mixture of the leaf sap, combined with Cymbopogon giganteus, is used orally and externally for the treatment of epilepsy .Applied externally, the leaf sap is used as a treatment for fresh wounds 1. The dried leaf powder is applied as a snuff to stop nose bleeding and smoked to treat sleeping sickness1.Tannin found in the roots of the plant is used to treat swollen lips1. A lotion of leaves is used as a mild medicine that strengthens the stomach and excites its action.
Other Uses:
Used as fodder and supposed to enhance milk yield in milch cattle.
Source of income:
Lal phulnu ghaa is a commercially cultivated crop in many parts of the world. In Western Himalaya tender plant parts are collected from natural habitat and sold in local markets along with Amaranthus spp. Thus it is an easy source of income for local people.
References:
1. Website: http://www.prota.org
2. http://www.hear.org/pier/scientificnames/index.html
3. Martin, F. W., Ruberte, R. M., & Meitzner, L. S. (1998). Edible leaves of the tropics/; by Franklin W. Martin, Ruth M. Ruberte, Laura S. Meitzner.
4. Dairo, F. A. S., & Adanlawo, I. G. (2007). Nutritional quality of Crassocephalum crepidioides and Senecio biafrae. Pakistan Journal of Nutrition, 6(1), 35-39.
5. Arawande, J. O., Komolafe, E. A., & Imokhuede, B. (2013). Nutritional and phytochemical compositions of fireweed (Crassocephalum crepidioides). Journal of Agricultural Technology, 9(2), 439-449.