Family: Fabaceae
Common Name: Zombi pea, Wild Mung, Wild cowpea
Synonyms: Dolichos angustifolius, Dolichos cylindricus, Phaseolus quadriflorus, Phaseolus vexillatus, Plectrotropis angustifolia,Plectrotropis hirsute, Strophostyles capensis ovatus, Vigna angustifolia, Vigna crinite, Vigna davyi, Vigna dinteri, Vigna dolichonema, Vigna golungensis, Vigna hirta, Vigna lobatifolia, Vigna phaseoloides, Vigna senegalensis, Vigna thonningii, Vigna tuberosa.
Local Name: Janglee Mung (जंगली मूंग).
Junglee Mung is a vigorous twining or scrambling vine of Western Himalayas with large, showy purple or purplish-yellow flowers developing from fleshy tuberous roots. It is found growing in the foothills of the Western Himalayas upto an altitude of 900-1500m. Junglee Mung stems often scramble over the ground and twine into the surrounding vegetation.
It can thrive in a wide range of environmental conditions and can even succeed in poor soils. Mostly it is seen growing in sloppy grasslands, savannahs, thicket, forest and meadows but it can also grow in disturbed areas, deep shade of trees and in sunny places. Like most of the other members of Fabaceae, this species also shows symbiotic relationship with certain soil bacteria, which form nodules on the roots and help in fixing atmospheric nitrogen.
This nitrogen is utilized by the growing plant itself and the plants growing nearby tt . Knowledgeable people in the villages cut only the aerial parts of the plant either for food or fodder, leaving behind the tuberous roots of few plants in the ground to decay and release their nitrogen for increasing soil fertility. Junglee Mung propagate with seed and easily spread to distant places. Due to the luxuriant growth of this plant it is quite effective in weed control, suppression, or soil erosion-control. Junglee Mung grows best in a light to medium, well-drained soil but mostly prefers a sunny position. Sometimes it is also considered as a weed to be removed.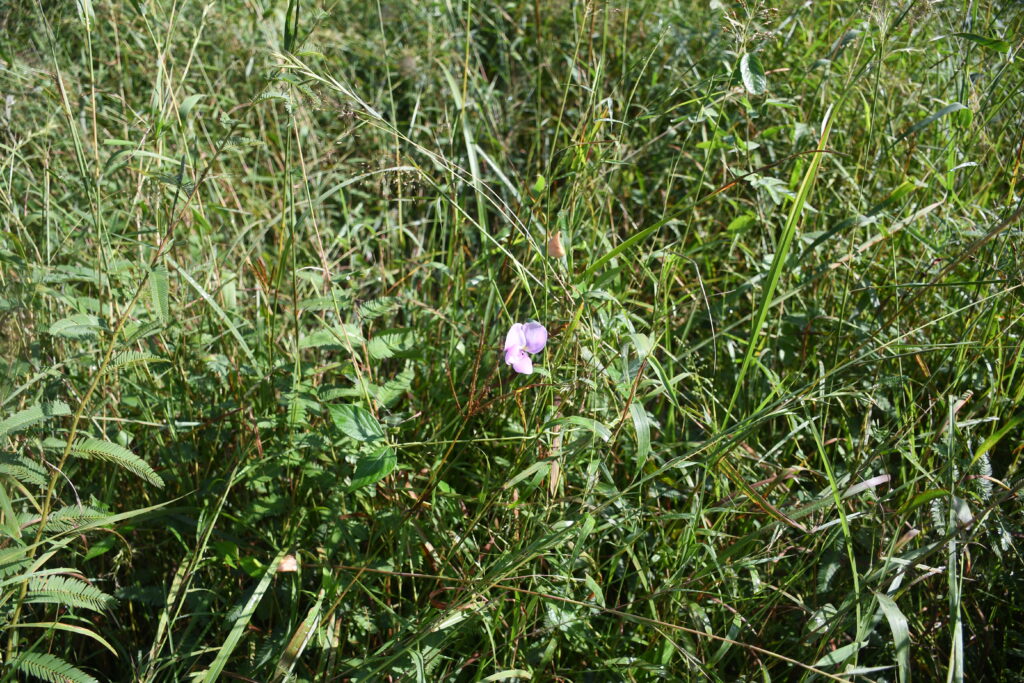 All the plant parts of Junglee Mung are edible. Tender shoot tip, young leaves, young pods and seeds are cooked and eaten as a vegetable. Seeds are mixed with other pulses and cooked as mixed daal. Daal can be taken either with rice or chapatis. The root tubers are eaten both raw and cooked. They are rich in protein and have a soft, easily peeled skin and creamy flesh. Tubers are eaten either boiled or roasted. Boiled tuber is an excellent stuffing for many traditional dishes of Western Himalayas like kachuri, parantha, siddu etc..
Janglee Mung is a promising agronomical and nutritionally rich crop to domesticate. Protein content in its tubers is up to eightfold higher than that in sweet potato and tapioca 1. It can also be grown as a green manure and cover crop. Studies report it is a climate-resilient tuberous legume, resistant to bruchid and abiotic stresses, so it has full potential to meet the future needs of food and nutritional security 1. It can also be utilized in Vigna improvement programme1.
Janglee Mung Plant:
Variable perennial climbing plant.
A strong twiner with fusiform, tuberous roots.
Stems are usually clothed with brownish silky hairs, or trichomes.
Leaflets 3, nearly equal, entire, long pointed variable in shape, ovate, lanceolate or nearly lanceolate, pointed at the tip, lateral near sessile, terminals one stalked. The leaflets are dark green and with appressed trichomes on both surfaces.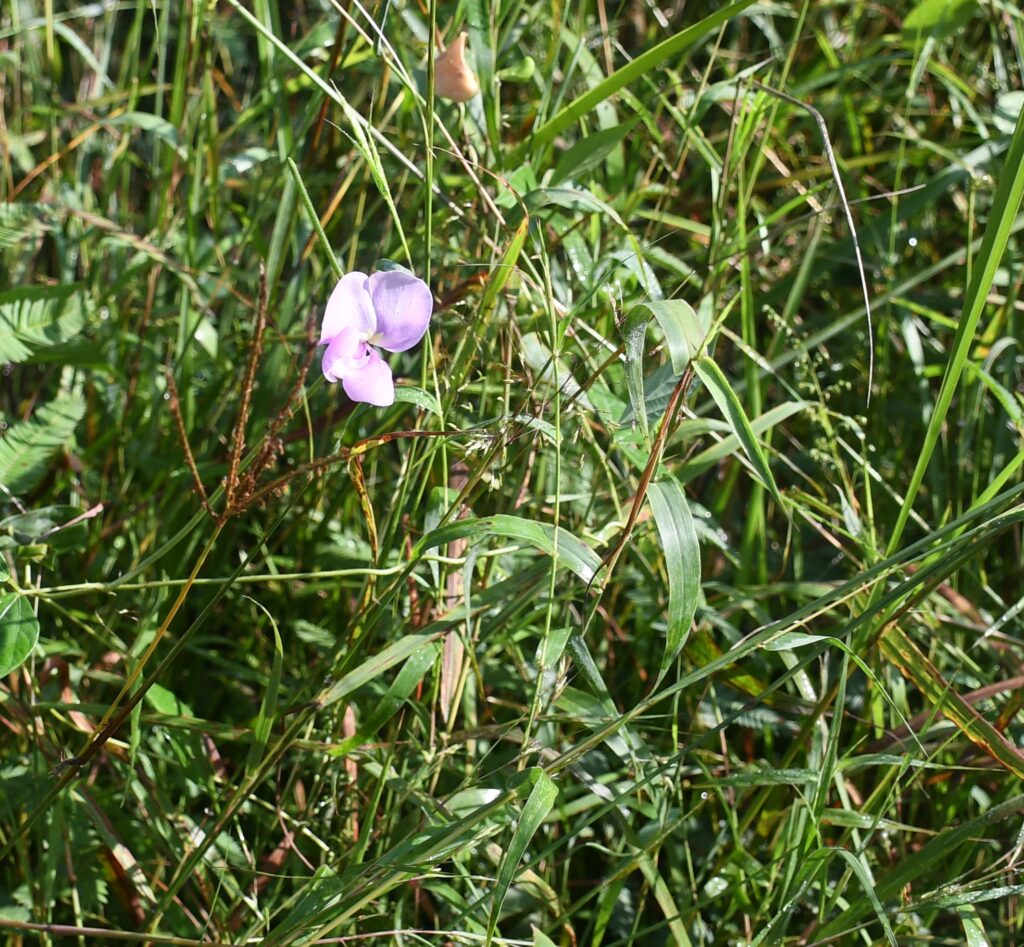 The flowers pink or red, fading to blue purple are sweetly scented in a cluster of 2-4 at the end of long, naked, axillary stalked.
The pod is recurved, flat, acute, linear, long, silky and densely hairy.
Seeds 10-15.
Edible Junglee Mung leaves can be eaten round the year, Green pods can be collected in winters while seeds can be collected in late winters. Edible roots should be collected after flowering and fruiting is over for ensuring sustainable development.
Edible Uses:
Whole plant is edible. Its green parts (Young leaves and pods) are cooked as vegetables. Root tubers are eaten either raw or cooked. Seeds are cooked as pulses. Junglee Mung is considered superior to sweet potato in flavours and nutrition2. It is a very important food crop in several parts of the world, where it is collected from the wild for local use. Boiled tubers of this plant is an excellent stuffing to parantha, kachuri or siddu along with potato.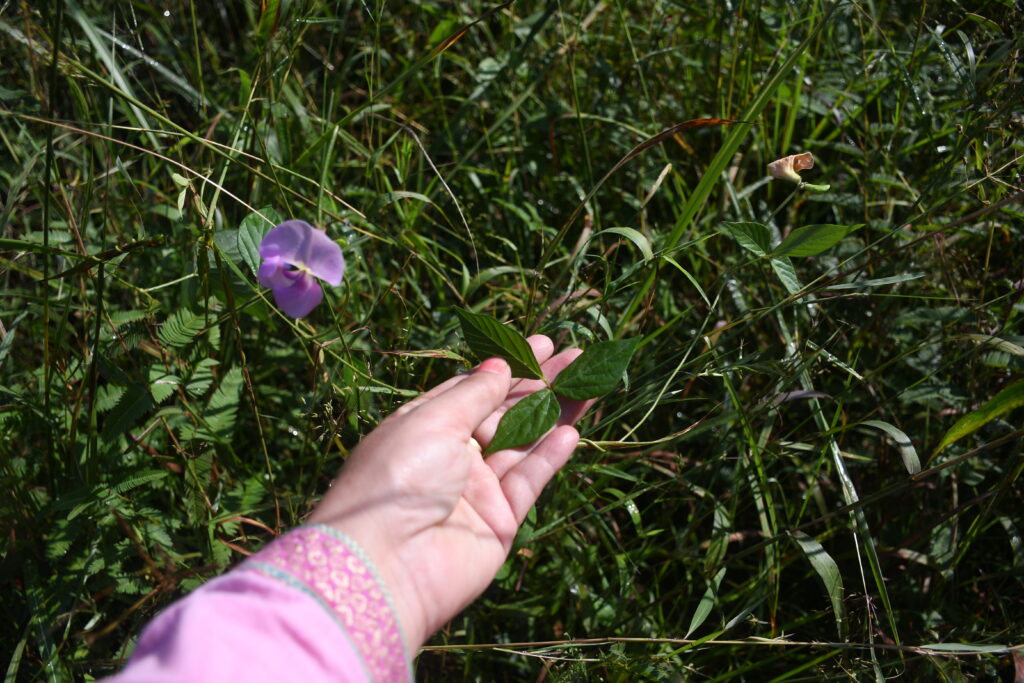 Vegetable:
Ingredients:
Chopped pods and young leaves, 1 kg; medium sized potatoes, 1-2; mustard oil, 3-4 tablespoons; coriander powder, 1 tablespoon; fenugreek powder, ½ table spoon; cumin seed 1 teaspoon; turmeric powder, 1 tablespoon; red chillies, 2-3; chopped medium sized onions, 2-4; garlic, 4-5 cloves; ginger paste, ½ table spoon; chopped medium sized tomato, 1-2; branded garam masala powder, 1 teaspoon; salt, according to taste.
Method:
Sauté chopped pods and young leaves alone or along with chopped potato in hot mustard oil along with spices listed above in the same sequence. Cook for 20 to 25 minutes till the pods and potatoes become soft. Add garam masala and mix thoroughly. Serve with chapatis.
Parantha:
Parantha is a morning breakfast prepared served with curd/butter/pickle/chutney etc. It can be cooked with any greens/boiled potatoes/cheese or some wild boiled fruits like fig spp.
Ingredients:
Junglee Mung tubers; 4-5, Oil or ghee. 8-10 table spoon; wheat flour, 4 cups amount; chopped medium sized onion, 2-3, red or green chilies, 3-4, black pepper, ¼ tea spoon, black salt according to taste.
Method:
Boil and finely mesh Junglee Mung tubers. Add to it chopped coriander leaves and spices listed above. Mix well to make Fine paste. Now parantha dough is prepared by mixing wheat flour and water. Knead dough till it is soft, let it rest for some time. Make small round balls of dough, stuff paste inside balls and roll to thin layered flat breads, now in hot tawa smear some oil and place flatbread over it. Cook both sides by applying oil. Now parantha is ready to serve. Serve it hot with chutney/ tomato ketchup/ pickle / butter/ curd according to choice.
Kachuri:
Ingredient:
Janglee Mung tubers and potato, 1 kg; wheat flour, 7-8 cup amount; yeast, 5-10 g; mustard oil, 1/2 liter; fenugreek powder, 1/2 table spoon; cumin seed, 1 tea spoon; turmeric powder, 1-3 table spoon; red chilies; 10-15; grated ginger , 250 g; , Chopped green coriander, Tirmir (Zanthoxylum armatum), mint (Mentha piperita) and curry (Murraya koeingii) leaves, 2-3 cup amount and salt according to taste.
Method:
For preparing kachuri prepare dough of wheat, flour along with yeast. Allow it to rest for 3-4 hour. Boil tubers and potato till they are soft and mesh manually. Add spices listed above and mix well to make a fine paste. Roll dough already made into a small disc or round breadspread and stuff it with paste. Give a deep fry to the stuffed disc in hot mustard oil and take them out. Repeat this for whole dough and paste, now kachuri is ready to serve. Serve hot with chutney/rayata/pickle/ desi ghee.
Siddu:
Siddu is a healthy delicious steam cooked dish of upper region of Western Himalayas
Ingredient:
Wheat flour, 3 cup amount; Junglee Mung boiled tubers,5-6 walnut seed, ½ cup amount; yeast ½ teaspoon; medium sized onion, 1; coriander powder, 1table tablespoon; red or green chilies, 4-5; chopped green coriander leaves, 1 cup amount and salt according to taste.
Method:
Dip yeast in half cup of water for 3-5 minutes. Add it to wheat flour along with one cup of warm water and then make its dough. Keep this dough for 3-4 hour and if the weather is cool then cover the dough with warm cloth. Mesh boiled Junglee Mung tubers. Dip walnut seed in water for 3 hour and grind dipped seed along with onion, chopped coriander leaves and chilies. Add ground material to meshed tubers and mix well into a fine paste for stuffing siddu. Make a thick chapati of dough and stuff it with khod seed paste. Now fold this chapati and twist from side to prepare siddu. Place all siddu prepared like this in a plate and apply a thin film of oil over them. Now place water inside siddu maker and let it boil. Now place siddu in all the partitions of siddu maker. Keep a cotton cloth or Berginia cillata leaves over the uppermost partition of siddu maker to avoid steam drops on the siddu. Steam all the siddu inside siddu maker for 20 to 25 minutes. Now siddu are ready to serve. They can be served with Tomato catchup, chutney or Desi ghee
Mixed Daal:
Ingredients:
Junglee Mung seeds andother pulses of your choice, 1 cup amount; , 1-2; mustard oil, 3-4 tablespoons; coriander powder, 1 tablespoon; fenugreek powder, ½ table spoon; cumin seed 1 teaspoon; turmeric powder, 1 tablespoon; red chillies, 2-3; chopped medium sized onions, 2-4; garlic, 4-5 cloves; ginger paste, ½ table spoon; chopped medium sized tomato, 1-2; branded garam masala powder, 1 tea spoon; salt, according to taste.
Method:
Boil daal (Junglee Mung seeds andother pulses) till it becomes soft and let it cool down. Sauté spices listed above in hot mustard oil and add boiled daal to it. Cook for 10 to 15 minutes. Add garam masala and I tablespoon Desi ghee. Mix thoroughly and serve either with rice or chapatis
Nutritional Value:
Protein (%) 9.93 ± 0.13; Starch (%) 13.21 ± 0.03; Fat (%) 0.97 ± 0.017; Sugar (%) 2.05 ± 0.01; Moisture (%) 71.77 ± 0.32 ; Ash (%) 2.14 ± 0.06 ; Dietary fibre (%) 3.93 ± 0.03 1 .
Seek professional advice before treating this plant medicinally.
Medicinal uses:
Locally Junglee Mung isconsidered effective for joint disorders like swelling of joints and arthritis. It also checks hemorrhaging in individuals which suffer from internal bleeding thus its intake prolongs their life by building their body strength with its nutritive action. Recent studies confirm presence of flavonoids, many phyto- constituent and anti-inflammatory activity in this plant 3, 4. Levodopa present in this plant is useful for Parkinson diseases 5.
Other Uses:
Junglee Mung isgenerally used as a fodder plant due to its luxuriant growth in grasslands and pastures along with other grasses on which it twine. It is an excellent pioneer plant for growing on poor or degraded land in order to conserve and improve soil erosion. It can be grown as a green manure, cover crop for erosion or weed control.
References:
1. Tripathi, K., Gore, P. G., Pandey, A., Nayar, E. R., Gayacharan, C., Pamarthi, R. K., … & Kumar, A. (2021). Morphological and nutritional assessment of Vigna vexillata (L.) A. Rich.: a potential tuberous legume of India. Genetic Resources and Crop Evolution, 68(1), 397-408.
2. Arora RK (2014): Diversity in underutilized plant species-an asia-pacific perspective. Bioversity International New Delhi India
3. Leu YL, Hwang TL, Kuo PC, Liou KP, Huang BS, Chen GF. (2012); Constituents from Vigna vexillata and their antiinflammatory activity. International Journal of molecular sciences. 13:9754-9768. 53.
4. Lattanzio V, Cardinali A, Linsalata V, Perrino P, Ng NQ. (1996); A chemosystematic study of the flavonoids of Vigna, Genetic Resources and Crop Evolution. 43:493-504. 54.
5. Battu G, Male A, Hari priya T, (2011); Malleswari VN, Reeshma SK. A phytopharmacological Review on vigna Species. 2(1):62-67.