Family: Verbenaceae.
Synonym: Callicarpa dunniana, Callicarpa incana
Common name: Perfumed Cherry. Beauty berry
Local Name: Dahin mangal (दही मंगल), Sans, Priyangu
Dahin mangal is an evergreen to subdeciduous shrub or small tree of western Himalaya found growing upto an altitude of 1800m. It is commonly seen growing in waste areas and roadsides specially in swampy localities and ravines.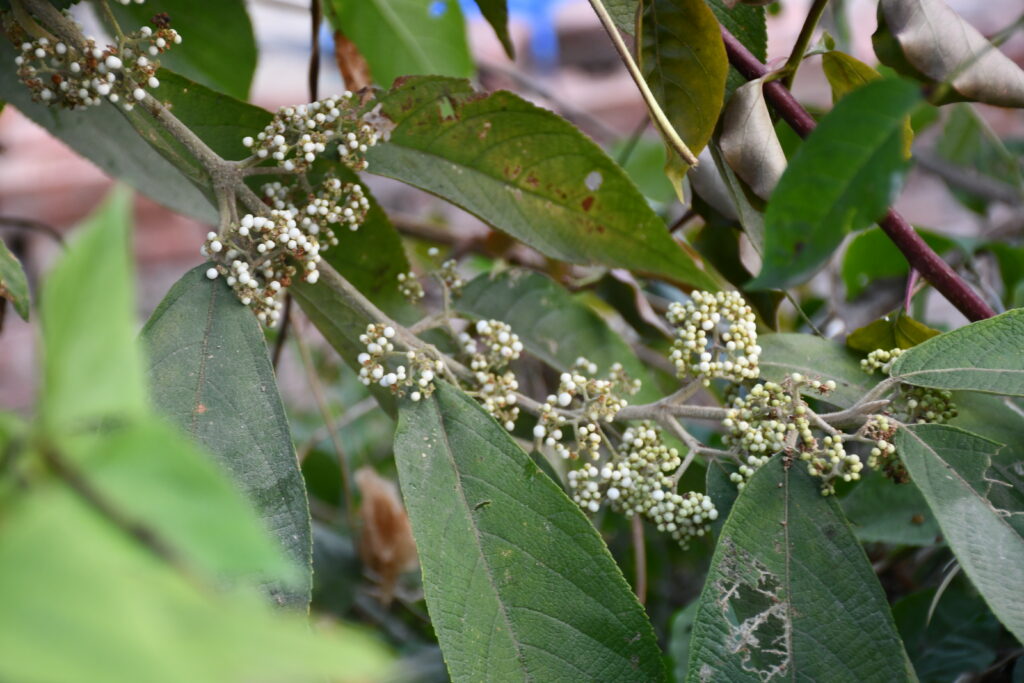 Dahin mangal is known for its colourful berries and large sized leaves, that might be the reason that its genus name Callicarpa  (which is made up of two words  kalos   means beautiful and carpa means fruit ) and species name macrophylla  (where  macro means large and phylla means leaf) were given to this plant. Dahin mangal grow well in highly fertile well-drained loamy soil. It generally requires a sunny position or light dappled shade for luxuriant growth. It can be propagated through seeds or stem cuttings.  
Fruit, leaves and roots of this plant have medicinal value so can be included in life-style as food supplement in the form of tea, desserts, jam etc. They are usually taken to harness their rich medicinal value. Raw fruits are eaten when ripe. Being small, sweet, spongy and succulent they make an excellent addition to dessert. Being profoundly astringent berries are also made into wine. Leaves are considered useful in gastric troubles so can be taken as herbal drink or green tea. Oil obtained from the roots of Dahin mangal is aromatic and stomachic, so used as flavoring agent in many traditional dishes.
Dahin mangal is usually harvested from wild as a source of food, oil, fuel, fodder and medicine.It is also cultivated as an ornamental or multipurpose tree in garden or near to home. for its beautiful flowers, berries and other multiple uses.
Dahin mangal Plant:
Dahin mangal is eract, evergreen or subdeciduous, grey-pubescent shrubs,1-2.5 m tall.
Leaves opposite, elliptic-oblong or ovate–lanceolate,9-22×3-10 cm , acuminate, crenate or sharply toothed; upper surface wrinkled , stellately-pubescent ; lower tomentose;petiole 0.5- 1.5 cm long.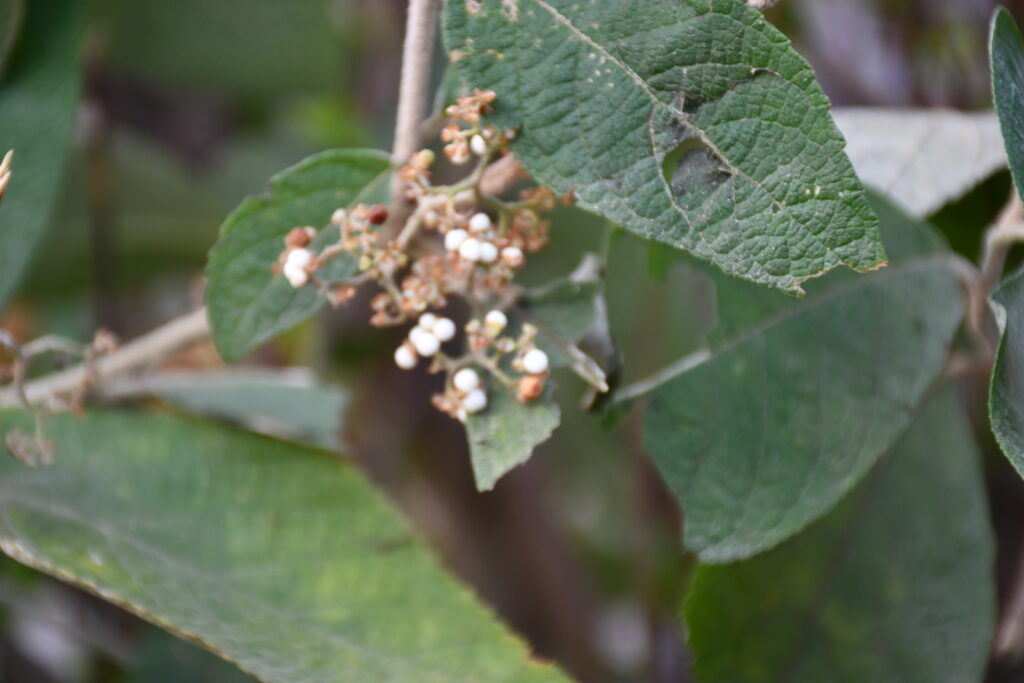 Flowers pink, crowded in axillary, dichotomous cymes. Calyx 4- toothed, stellate hairy, Corolla tubular, lobes subequal, spreading. stamens 4.
Fruits globose, white, succulent.
Edible fruits of Dahin mangal can be harvested from pre- autumn to winter season of the year. As edible part of this plant are fruits which are means of  natural regeneration, so they should be harvested sustainably either by  habitat rotation or by keeping some fruits on parent plant for dispersal. However a significant decline in natural population of  Dahin mangal has already noticed in its wild habitat. So it is recommended to domesticate this plant as ornamental or multipurpose plant  for ensuring sustainability.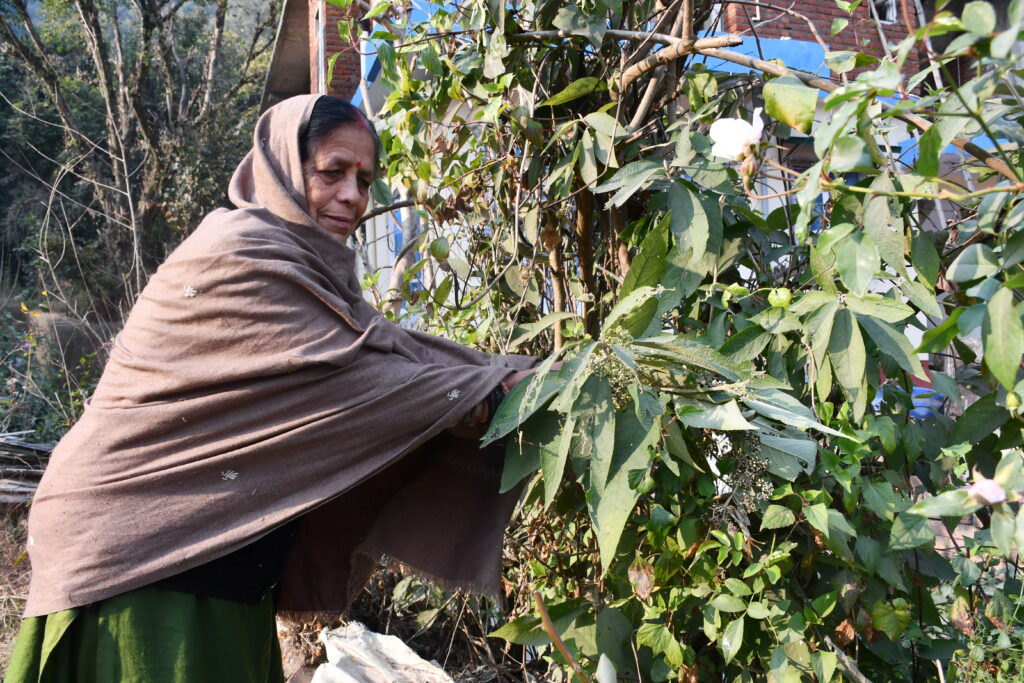 Edible Uses:
Ripe fruits are sweet, spongy and succulent so they make an excellant addition to desserts, rayata etc. They can be made into jam or wine, while leaves are taken as herbal drink or tea for harnessing their medicinal value.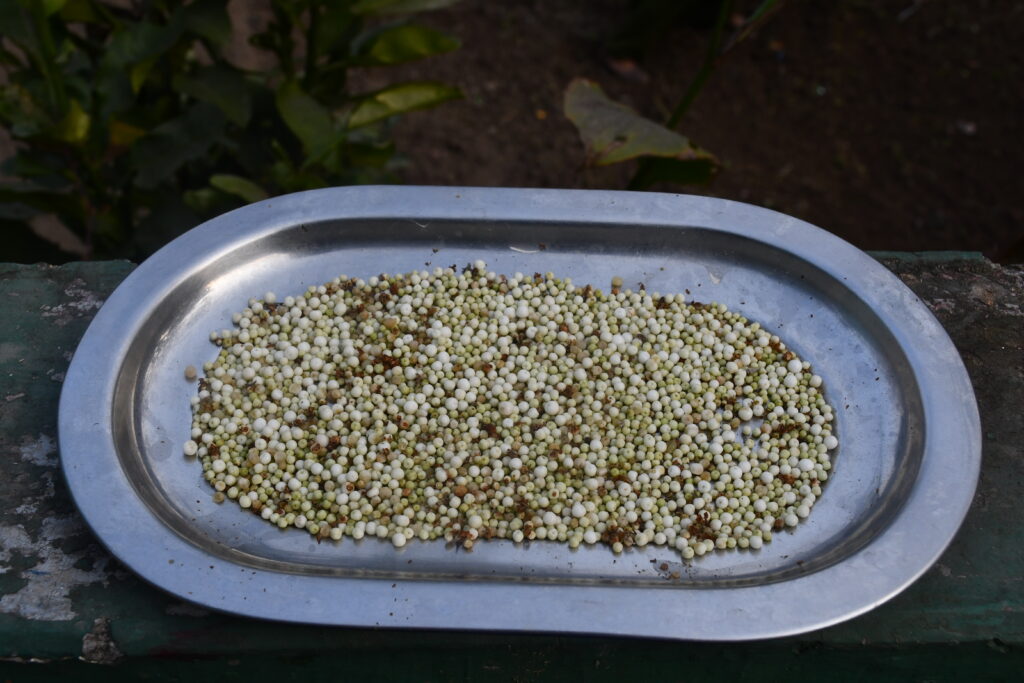 'Rayata':
Ingredients:
Dahin mangal ripe berries 1/2kg; curd, 1kg; Chopped medium sized onion, 3-4, red or green chilies, 3-4, black pepper, ¼ tea spoon, black salt according to taste.
Method:
Take curd in a bowl. Add to all above in sequence. Mix well and serve.
Desserts:
Ingredients:
Ripe fruits of Dahin mangal and other chopped fruits acc. to taste,1/2kg; curd, 1kg; sweetener like honey/ sugar/ condensed milk, 1-3 tea spoon; cardamom powder,1/4 tea spoon; black salt according to taste.
Method:
Take curd in a bowl. Add to it sweetener according to choice and stir well. Add cardamom powder, black salt, ache fruits and other chopped fruits according to preference. Mix well and serve
Jam:
Ingredients:
Fruit1 kg; sugar, 500 g; salt, 1tea spoon; lemon juice, 4-5 tea spoon.
Method:
Put fruit and half tea spoon salt in water for 20 minutes. Transfer fruits into pan and boiltill they are soft. Mash fruits manually and remove seeds. Now boil it in low flame with sugar for 7-10 minutes. Keep stirring in slow flame till sugar dissolve completely and jam become dense. Now mix it well with lemon juice and let it cool down. Now jam is ready to serve. Jam should be used fresh and can be preserved for 10 to 15 days.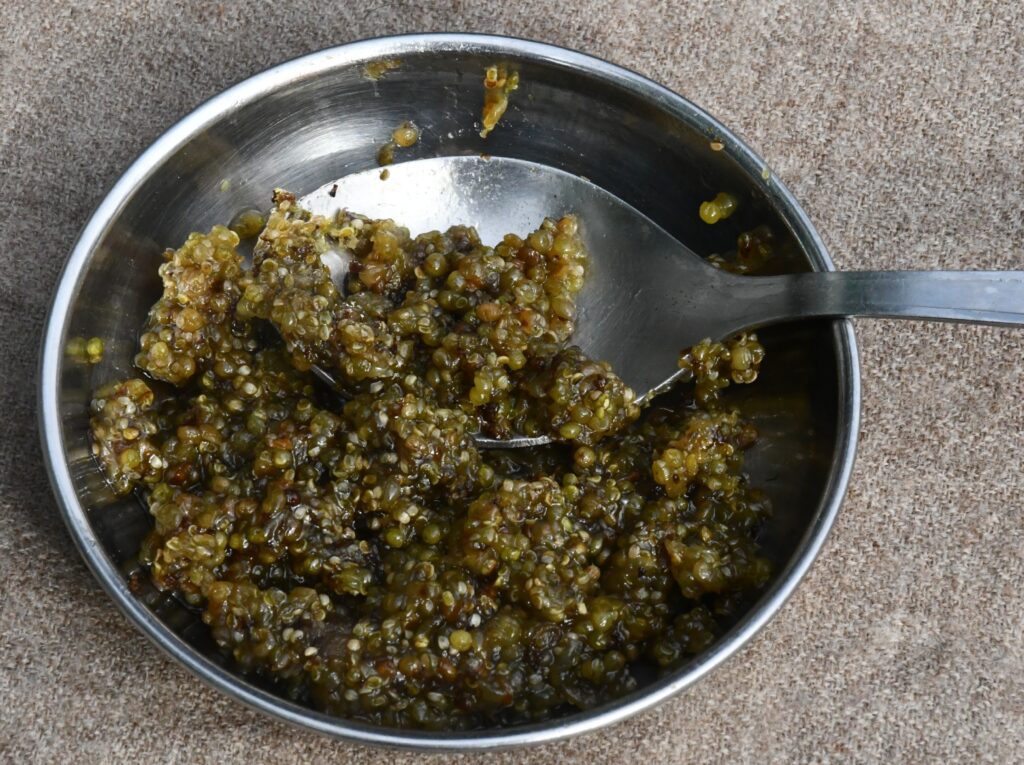 Wine:
Ingredients:
1 kg Dahin mangal berries; 1 lt water; 1-2 spoon yeast ;1 kg jaggery/sugar.
Method:
Put l kg of Dahin mangal berries in a clean fermenting container. Add 1/2kg jaggery and about 1 litter water to it. Mix well till the jaggery get dissolved. Now add 1-2 spoon of yeast and pour into bottle after mixing well . Leave it for 15 days and after that open the cap and drain into another container. Add more Jaggery/sugar make sure it is dissolved well. Store it in bottle and leave it for 15 days. After that it is ready to serve.
Tea/ herbal drink:
Ingredients:
Dahin mangal leaves, 2; water, 2 cup amount; sugar/honey, 2 table spoons; black pepper,2-3 .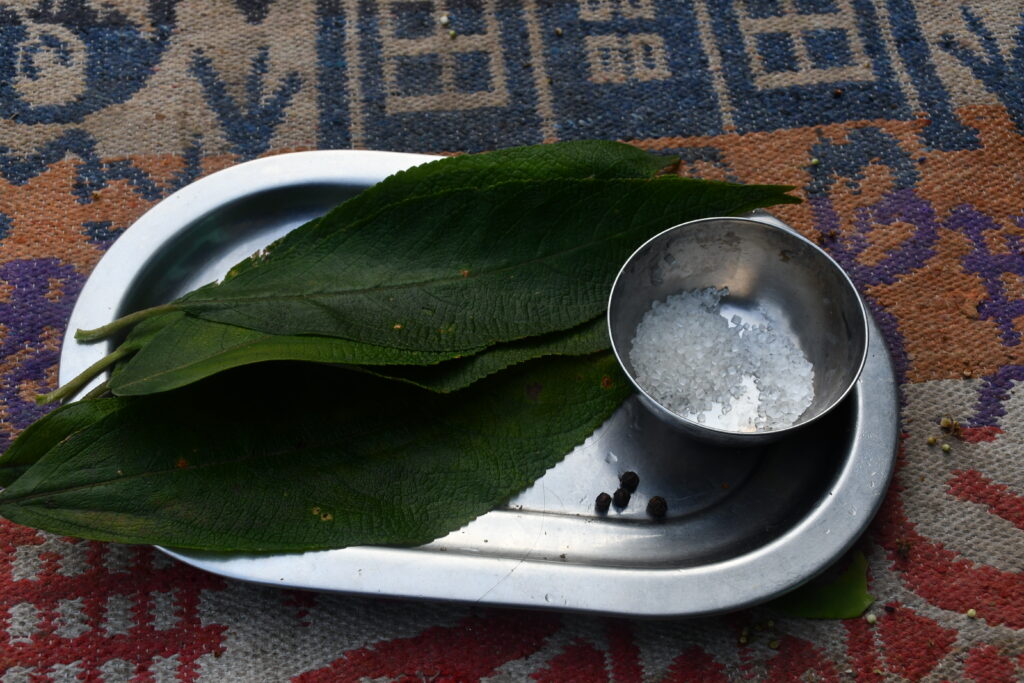 Method:
Dice leaves and boil with water. Add sugar/honey and powdered black pepper to it and simmer in low flame for 10 minutes. Strain into tea cups and serve hot.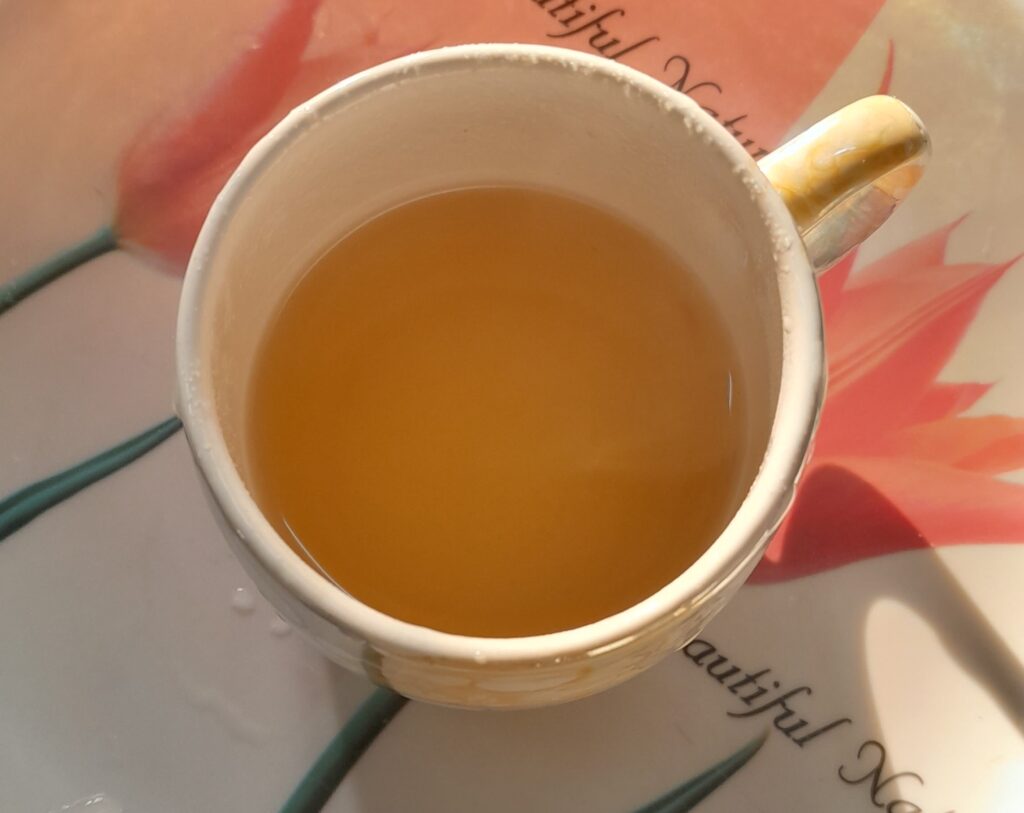 Seek professional advice before treating this plant medicinally.
Medicinal uses:
Leaves are considered good locally to treat stomach disorder and usually taken with honey and black pepper. Fruits are considered effective against boils of tongue and chewed as a remedy to treat boils. Chopped leaves with flour are given to milch cattle before delivery for better milk yield. A decoction of the leaves is used in the treatment of diarrhoea, dysentery and gastro-intestinal bleeding 1.The juice of ripe fruits is used in the treatment of indigestion and fevers.The leaves are heated and applied as a poultice to ease the pain of rheumatic joints 1,2.The root is chewed to relieve rashes on the tongue.The glue of the bark is applied over brow to treat migraine.A paste made from the roots is used to treat fevers1The juice of the root is used to treat indigestion. An oil obtained from the roots is aromatic and stomachic1,2 It is assumed that this is an essential oil. The inner bark is pounded and used as a poultice on cuts and wounds1
Chemical constituents:
Calliterpenone (3-0X0-13β – Karane- 16α , A –diol) and its acetate are seen in seeds, leaves and aerial parts. Crategolic acid, 2α – hydroxyursolic acid, ursolic acid, β-Sitosterol, β-D-glucoside, apigenin, luteolin, their 7-0-glucuronides 3, 3'-7 trime thoxy-4', 5- dihydroxy-flarone (CNF-1) L(t)- α- amino- β-(P-methoxyphenyl), Propronic acid, C22 –C24 fatty acids, ethyl ester of C23 fatty acid are obtained from leaves. A new diterpenoid- Isopropylidenocalliterpenone is isolated from essential oil of leaves along with calliterpenone and its monoacetate and characterized as 16α, 17-Iso propylideno-3-oxo-phyllocladane 3.
Other Uses
Plant is used as ornamental tree for its beautiful flowers and berries. It is alo used as a fuel and fodder. Recent studies shows that a natural and novel plant growth enhancer "calliterpenone," is isolated from this plant for increasing crop productivity in six crops, viz., rice, wheat, potato, tomato, chickpea, and onion. The application of calliterpenone (foliar spraying or seed soaking) enhanced the yield of rice (28.89%), onion (20.63%), potato (37.17%), tomato (28.36%), and chickpea (26.08%) at 0.001 mM and of wheat (27.23%) at 0.01 mM concentrations in comparison to control 4.
References:
Manandhar, N. P. (2002). Plants and people of Nepal. Timber press.
Chopra, R. N., Nayar, S. L., & Chopra, I. C. (1956). Glossary of Indian medicinal plants (Vol. 1, pp. 138-139). New Delhi: Council of Scientific & Industrial Research.
Wang, Z. H., Li, Q., Huang, M., Xu, P. F., Yang, L. P., Zhai, Y. Y., … & Wang, H. (2020). Chemical constituents of Callicarpa macrophylla. Chemistry of Natural Compounds, 56(6), 1125-1127.
Pandey, P., Pandey, S., Awasthi, A., Tripathi, A., Singh, H., Singh, A., … & Kalra, A. (2022). Calliterpenone, a natural plant growth promoter from a medicinal plant Callicarpa macrophylla, sustainably enhances the yield and productivity of crops. Frontiers in Plant Science, 13.