Family: Fabaceae
Synonyms: Butea frondosa,Erythrina monosperma,Phaso monosperma.
Common Name: Bastard Teak, Butea Gum, Flame of Forest, Battle of Plassey tree, Bengal kino, Palas tree, Parrot tree.
Local Name: Plah (प्लाह)‌.Palash,
Plah is a slow-growing small to medium-sized, deciduous tree of Western Himalayas found growing up to an altitude of 1500m. It is a well-known medicinal and religious plant for local people and utilised as food, medicine, fodder, fuel ,timber, resin, dye and material. Due to these multifarious uses  plah is considered as a valuable multipurpose tree of Western Himalayas.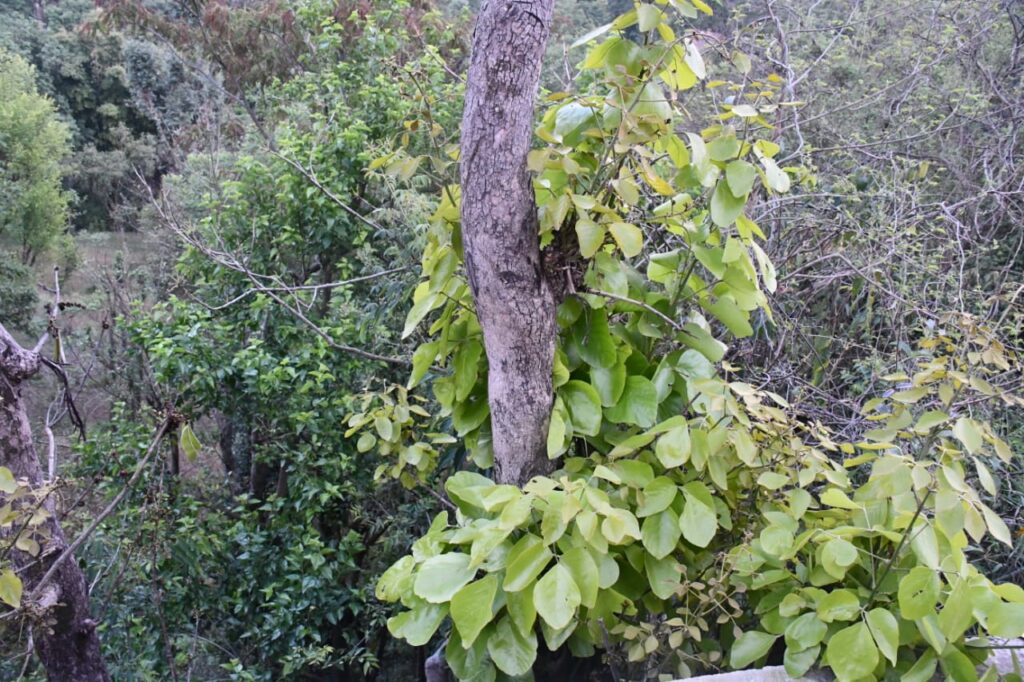 Plah growing wild
Plah is usually a plant of drier areas and frequently seen growing in forests, open grasslands, wastelands and along the borders of agricultural fields. It prefers a sunny position and can also thrive well with some shade. However, heavy shade is not good for its overall growth and depresses the yield of plant. Plah can be propagated both by sexual or vegetative means either by seed or by root suckers and air layering.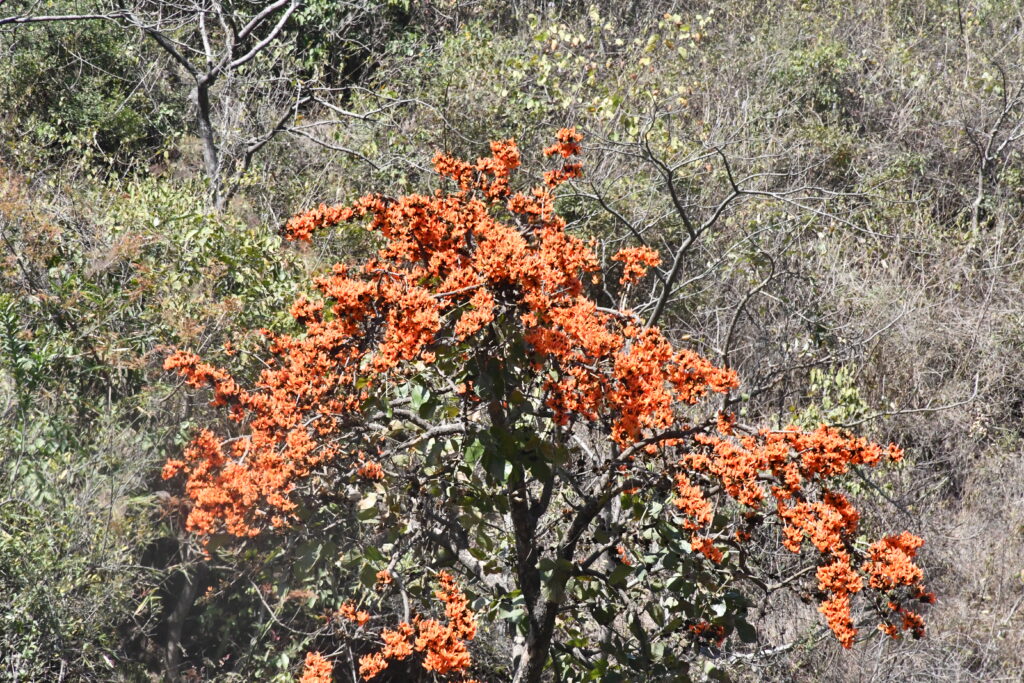 Plah  is in full bloom from late winters to spring season of the year and bear  eye catching bright orange-red flowers. Flowers start appearing before the leaves. This leafless blossoms resemble like fire and because of this appearance, Plah is regarded as a form of Agnidev (God of Fire)1. During full bloom plah growing in forests appear like a flame among other plants, so it is commonly called   as the 'Flame of Forest'.
Plah being a member of fabaceae bears flowers having five petals comprising one standard, two smaller wings and a very sharp curved beak-shaped keel. On the bases of presence of this very curved beak-shaped keel of its flowers another common name "Parrot Tree" has been assigned to it , Some other well-known names of plah are Palas, palash, mutthuga, bijasneha, dhak, khakara, and chich Plah is native to India 1,2,3,4.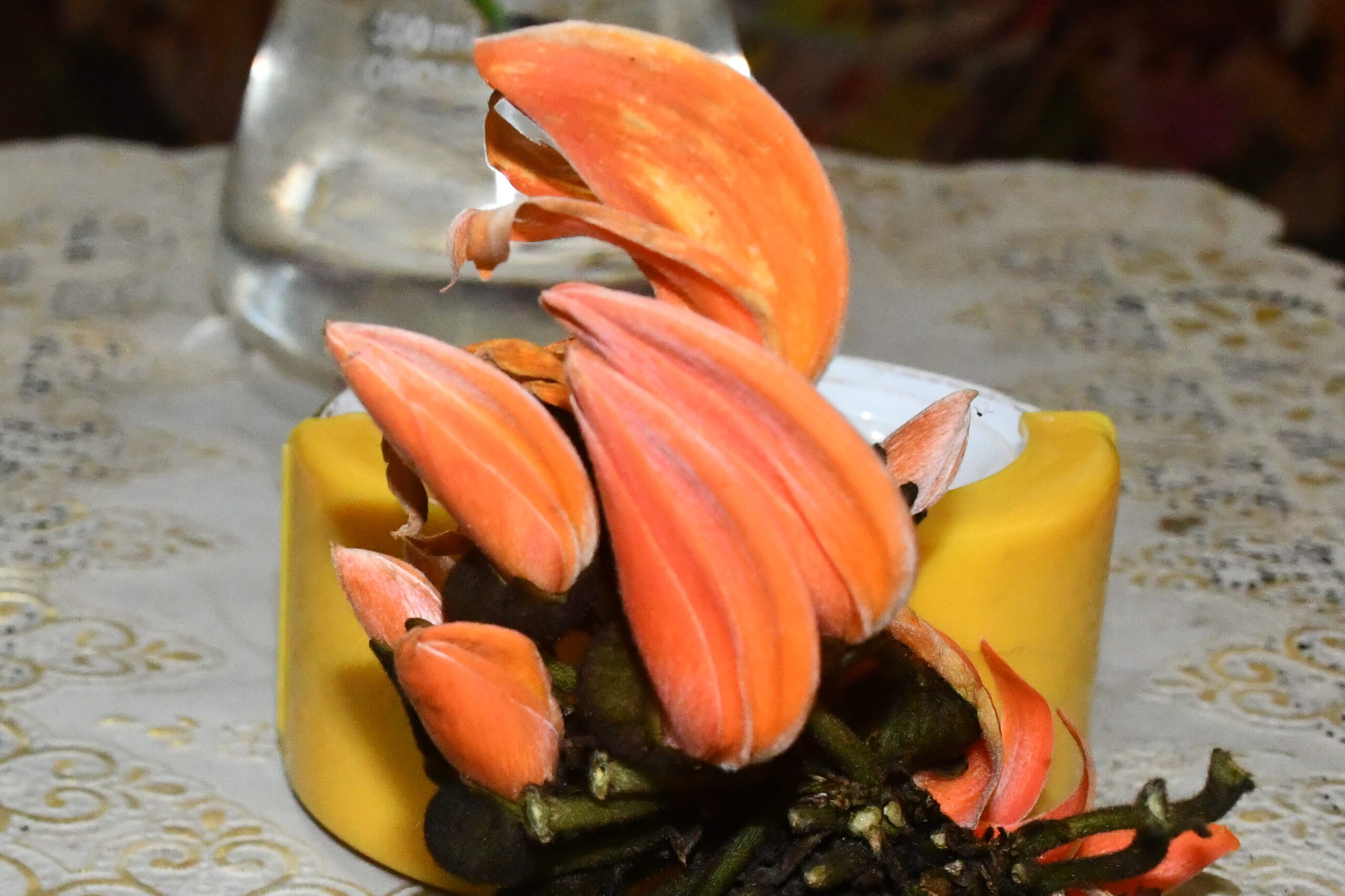 Plah tree is a holy tree for local people and is listed among religious plant of Western Himalayas. Whole tree is worshipped as sacred plant. Its wood is widely used in performing ' Havana' and considered an indispensable during cremation. Wood also employed for making storage containers and musical instruments used during various sacred rites. Plah leaves being trifoliate represent the Holy Trinity- Lord Brahma, the Creator in the left, Lord Shiva, the Destroyer on the right and Lord Vishnu, the Preserver in the middle. The hindi phrase ढाक क तीन पात ("Dhaak ke teen paat") also comes from the prominent three leaflets of this tree. Indian people being very religious and knowledgeable has intelligently placed many medicinally important plant like plah in the list of sacred plant to preserve and sustainable utilize  these plants from generation to generation.
Literature review clearly reveals that plah is part of Indiian civilization from centuries. Nobel Laureate Sri Rabindranath Tagore has compared the bright orange flowers of Palasa to fire. Kalidasa, in his work, Ritusamhara, describes the Palasa forest as "resembling a blazing fire, making the earth look like a newly-wed bride with red garments". In Santiniketan, the abode of Sri Rabindranath Tagore, Plah flowers are part of the celebrations during spring. A town in West Bengal is named after the Palasa tree as Palashi. The historic battle was fought in Palashi, which later came to be known as the as the battle of Plassey. Plah  is also the state flower of Jharkhand. In Jharkhand. A postal stamp was issued by the Department of Posts to commemorate the Plah flower1,2,3,4.
All the parts of the plant are considered medicinal and traditionally used to cure a number of diseases since decades. Now after COVID-19 herbal medicines are more popular than modern medicine and are considered more safe and better round the world, because of their effectiveness, low cost, easy availability to local community as well as mostly being devoid of any side effects. But we need to understand that herbal plants are more effective to prevent diseases if taken as a medicinal food, tonic or food supplement at initial stages of any disease or before prevalence of any disease.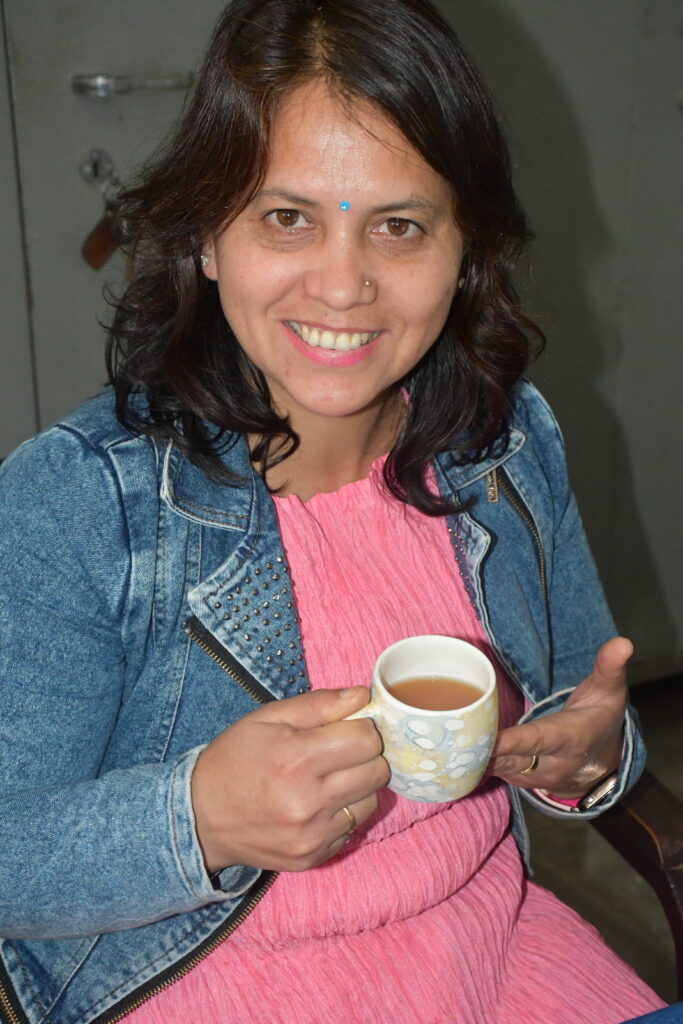 So, Plah bark (6-10g),flowers ( 5-6g), leaves juice (10ml), seed powder (1g) and gum (40-50mg) need to be included in our day to day life as a tonic or food supplement (tea, leaf juice etc) in small quantity to harness rich medicinal value of this plant. Gum extracted from stem of plah is abundant in gallic and tannic acids 1, so it makes an excellent addition to various sweet culinary traditional dishes like laddu, soond (Mixture of dry fruits) etc., usually made in winters to keep body warm and enhance strength, vigor and vitality.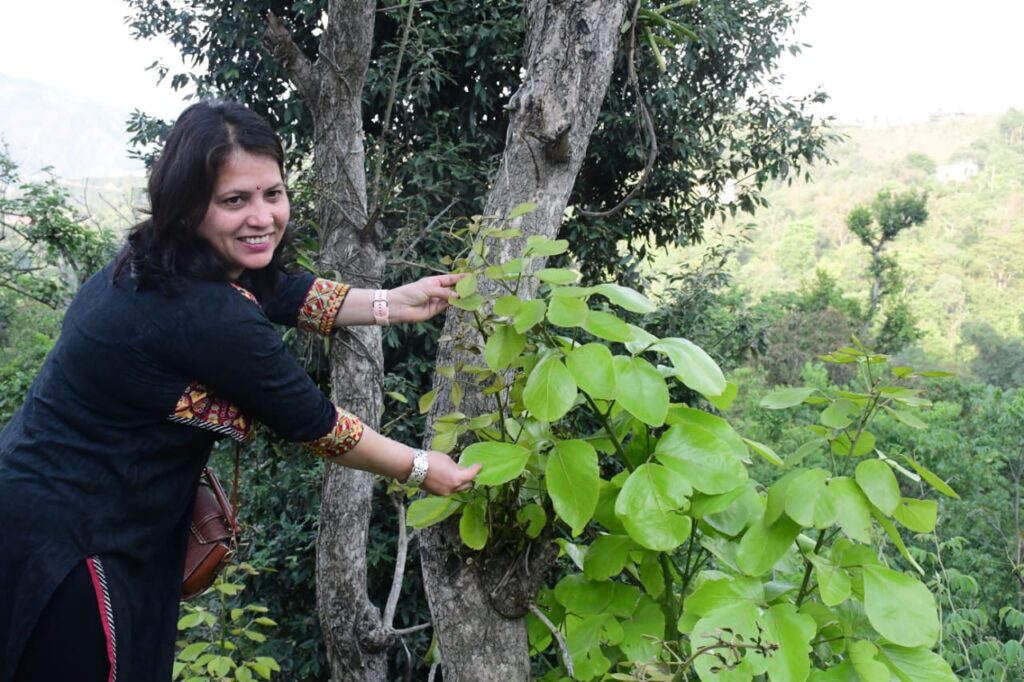 Harvesting new growth from plah
Plah is mostly harvested from wild habitat for local personal use, sometime it is also grown near to habitation or in temple for its easy access. Plah is recommended to grow in large scale along road side as an multipurpose ornamental tree for ensuring beautification and its sustainable use.
An erect small or moderate- sized deciduous tree, young parts silky- pubescent., deciduous trees.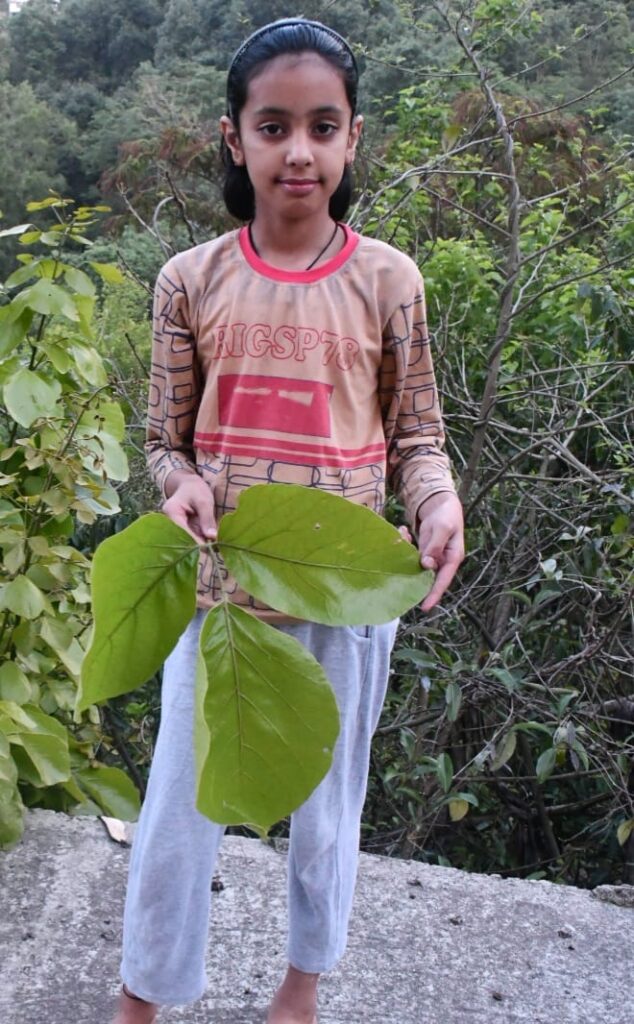 Leaves pinnately 3-foliate; leaflets broadly obovate from a cuneate or deltoid base.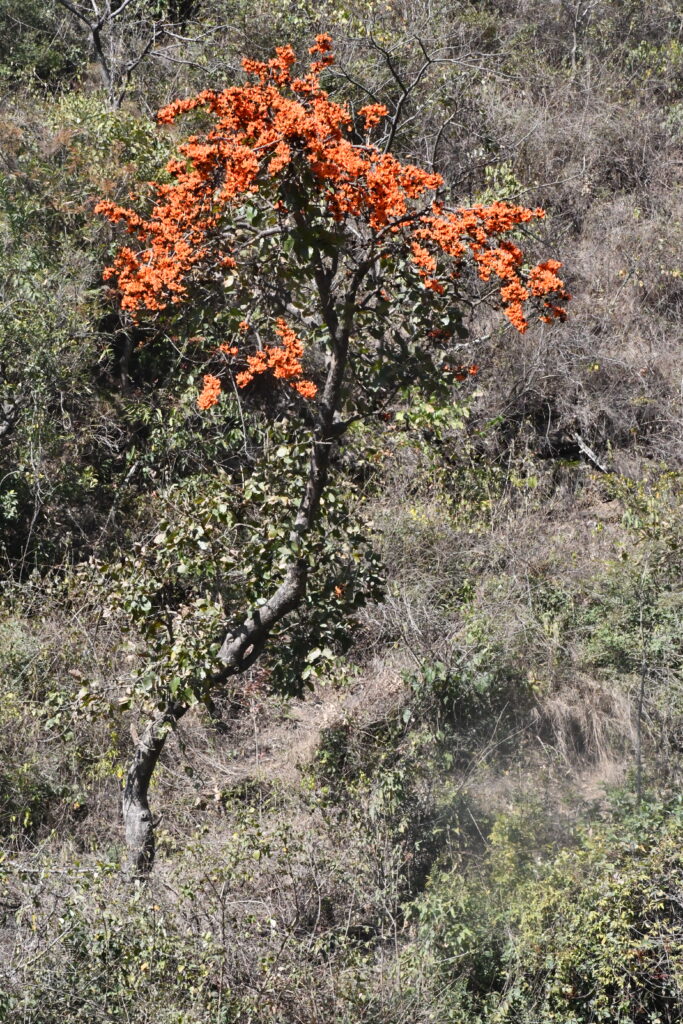 Flowers 5-8 cm long, bright orange-red, appearing before the leaves, in rigid, axillary and terminal racemes. Rachis, pedicels, bracts, bracteoles and calyx outside dark-brown, velvety.
Pods 10-20 * 2.5-5cm, thin, flat, silky-tomentose.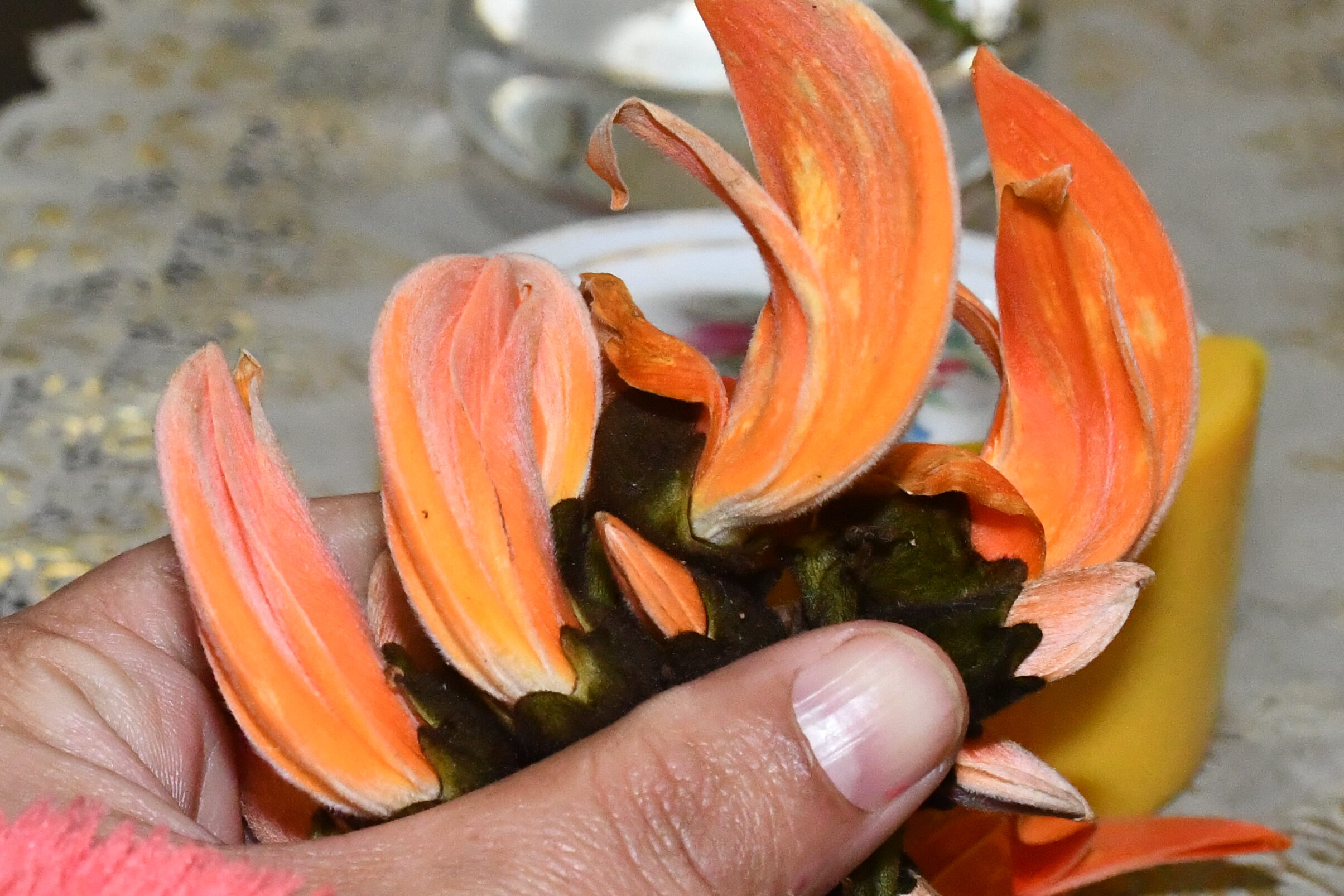 Plah is in flowering and fruiting from March to April, so flower can be collected in spring season and dried for rest of the year. Its seeds can be collected in summers. Bark of plah can be extracted round the year while gum is best collected in summers. Leaves can be harvested from late spring to autumn period of year.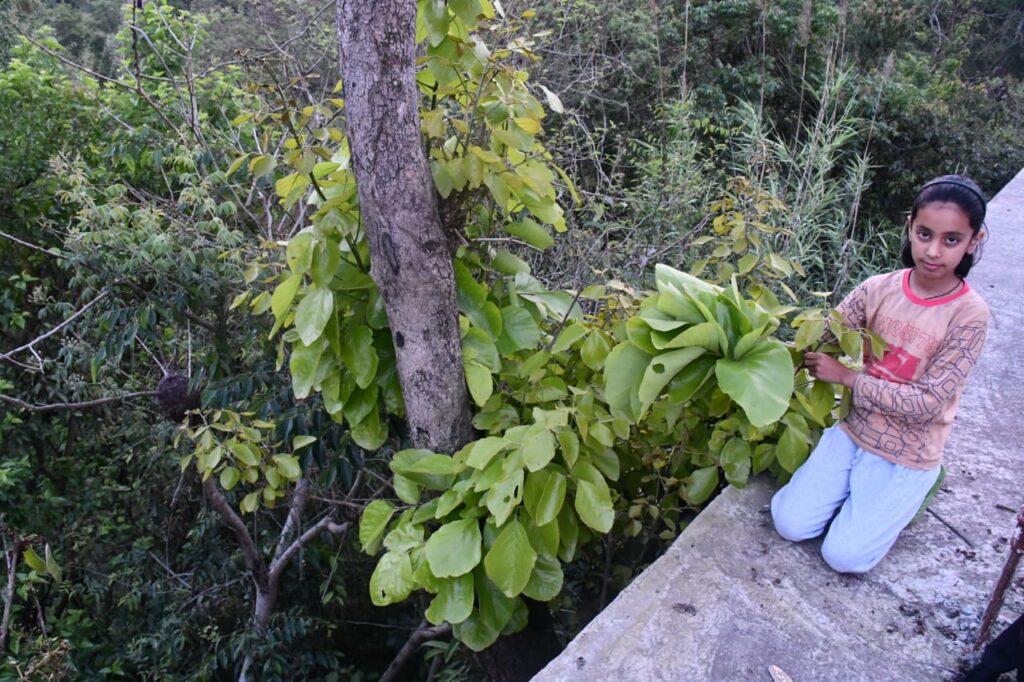 Edible Uses:
As explained above plah need to be included in our food plate as a food supplement in small quantity to harness its rich medicinal value. Dried flower, seed and bark powder is generally taken as tonic with milk. Flowers are also taken as tea both fresh and dried. Young roots are boiled and cooked as vegetable. Plah gum is used in sweet culinary dishes as follow: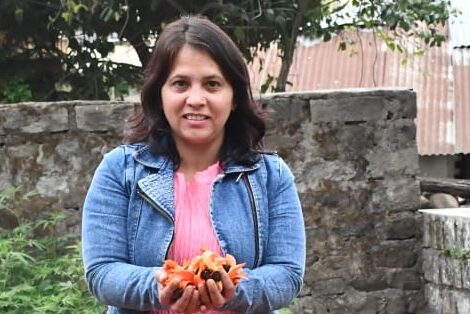 Laddu:
Ingredients:
Kuri (Galium aparin) dried seeds, 100 g; dridh seeds (Sida rhombifolia), 100 g: mawa, 250 g; rice/ moong daal, 250 g; sugar, 100-200 g; plah gum, 25-50mg; raisins from seedless grapes, 2 table spoons; grated dry coconut and other dry fruits acc. to taste, 500g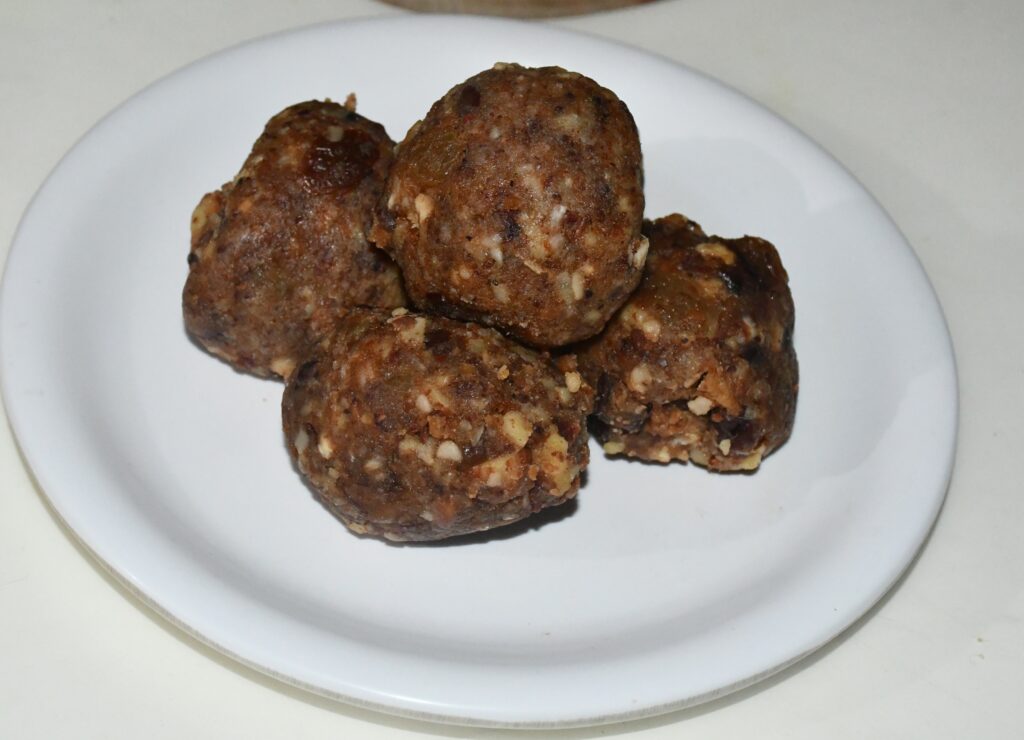 Method:
Roast rice/moong daal, kuri and dridh seeds on a hot pan. Now grind roasted seeds in metate (mealing stone) with grinding stone. Mix this ground mixture well along with grated dry fruits and raisin. Now in hot fry pan cook it with mawa, sugar and plah gum for 5 to 10 minutes. Let it be cool down and make small balls from this cooked mixture. Now laddu are ready to serve. These are eaten in winter.
Method:
Herbal Plah flower Tea:
Ingredients:
Plah flower fresh or dried , 5-6g; water, 2 cup amount; sugar/honey/ jeggery, 2 table spoons; lemon juice/ amla powder, 1/2 tea spoons; ajwain, black pepper and black salt a pinch amount or according to taste.
Method:
Mince flowers and boil with water. Add sugar/honey/ jeggery, ajwain, black pepper and black salt to it and simmer in low flame for 10 minutes. Strain into tea cups and add lemon juice to each and serve.
Vidio showing recipe of plah-amla herbal tea
Seek professional advice before treating this plant medicinally
Medicinal Uses:
Locally plah is considered beneficial in treating gynological disorder, improving male fertility and eyesight, manage diabetes and heal wounds. Its flowers are specially recommended to treat infertility, leprosy, diabetes, eye infections fever, bone fractures, and skin diseases. Recent studies shows that Plah is a potential plant to cure a wide spectrum   of diseases. The bark of Plah is reported to possess astringent bitter, pungent, alliterative, aphrodisiac and anthelmintic properties, so it is useful in treatment of tumors, bleeding piles, ulcers, cold, cough, fever and menstrual disorders. Plah roots are useful   in curing night blindness and other eyes related disorders. Roots may cause temporary sterility in women. Also applied in sprue, piles, ulcers, tumors and dropsy. Leaves have astringent, tonic, diuretic and aphrodisiac properties.  They are also used to cure boils, pimples and  tumors  hemorrhoids  and  piles.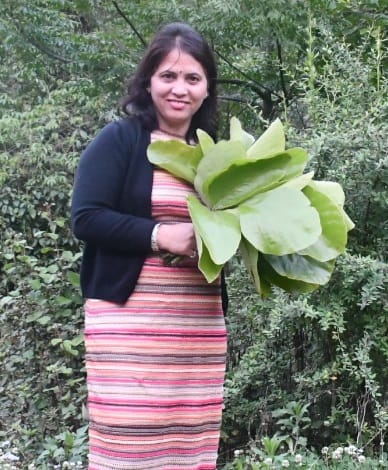 Flowers are reported to possess astringent, diuretic, depurative, aphrodisiac and tonic properties. They are used as emmenagogue and to reduce swellings both inhuman and veterinary applications.5, 6, 7,8,9,10,11.           
Chemical Constituents:
The main constituent of the flower is butrin (1.5%) besides butein (0.37%) and butin (0.04%).Also contains flavonoids and steroids. Other than these in flowers, coreopsin, isocoreopsin, sulphurein (glycoside) and other two with monospermoside and isomonospermoside structures are also identified. Roots contain glucose, glycine, gluco-sides and aromatic compounds. Tetramers of leucocynidin are iso-lated from gum and stem bark. Seed contains oil. The bright colour of the flower is attributed to the presence of chakones and aurones 12, 13, 14.15.
Plah wood is used as fuel and musical instruments. Its green      young leaves are used as fodder, while mature leaves are used for making platters, cups, bowls and beedi wrappers etc.
Fibers from stem bark is used locally for making cordage. Young roots are used for making ropes. Flowers are boiled in water to obtain a dye, this dye is used for coloring garments. Flowers are also used  to make organic holi colors.
References:
Gupta A, Singh S, Gaur K, et al. A Review on pharmacognostic study of Butea monosperma. Int J Res Ayu Pharm. 8 (Suppl 2), 2017; 196-199.
Prasad PV, Subhaktha PK, Narayana A, Rao MM. Palăśa (Butea monosperma (Lamk.) Taub.) and its medico- historical study. Bulletin of the Indian Institute of History of Medicine (Hyderabad). 2006; 36(2):117-128.
Wanjari P, Meena D, Sun D. Literature review of Palash (Butea Monosperma Lamk. Taub). Int Ayu Med J. 2016; 1(1)101-106
http://www.flowersofindia.net/catalog/slides/Flame%20of%20the%20Forest.html#:~:text=Butea%20monosperma%20%20Flame%20of%20the%20Forest&text=Native%20to%20India%2C%20Flame%20of,leaflet%2010-20%20cm%20long.
.Cowen, D. V. (1984). Flowering Trees and Shrubs in India, SixthEdition. Bombay: THACKER and Co. Ltd.. p. 3. Agroforest. Today6:7.
Aubréville, A. et al., eds. 1960–. Flore du Cambodge du Laos et duViet-Nam. (F CambLVN)
Boutelje, J. B. 1980. Encyclopedia of world timbers, names and tech-nical literature. (Ency WTimber)
Hara, H. et al. 1978–1982. An enumeration of the flowering plants ofNepal. (L Nepal)
Huxley, A., ed. 1992. The new Royal Horticultural Society dictionaryof gardening. (Dict Gard)
Kala, C. P. et al. 2004. Prioritization of medicinal plants on the basisof available knowledge, existing practices and use value status inUttaranchal, India.Biodivers. & Conserv. 13:459.
Liberty Hyde Bailey Hortorium. 1976. Hortus third.(Hortus 3)
Prakash, IndianJ Exp Biol, 4, 246, 1966; Khanna, Indian J Med Res,56, 1575, 1968.
Choudhury Bull Medethno-bot Res, 1, 420, 1980; Garg, Indian J ExpbBiol, 16, 1077, 1978; Kamboj, JEthnopharmacology, 6, 195, 1982.
Germplasm Resources Information Network: Butea monosperma
Huxley, A., ed. (1992). New RHS Dictionary of Gardening. MacmillanISBN 0-333-47494-5.