Family: Moraceae (Mulberry family)
Synonyms: Covellia conglomerata,Covellia cunia,Covellia inaequiloba, Ficus conglomerata, Ficus cuneata,Ficus cunia,Ficus hapalophylla,Tremotis cordata.
Common Name: Wedgeleaf Fig
Local Name: Choti Debre (छोटी देब्रे), Bhui Uoomre (भुईउमरे)
Choti Debre is a multipurpose small to medium sized tree of Western Himalaya bearing a flat, spreading, umbrella-like crown. It is commonly seen growing on rocky slopes along road, pathways, forest margins, valleys and banks of ravines unto an altitude of 1800m in Western Himalayas.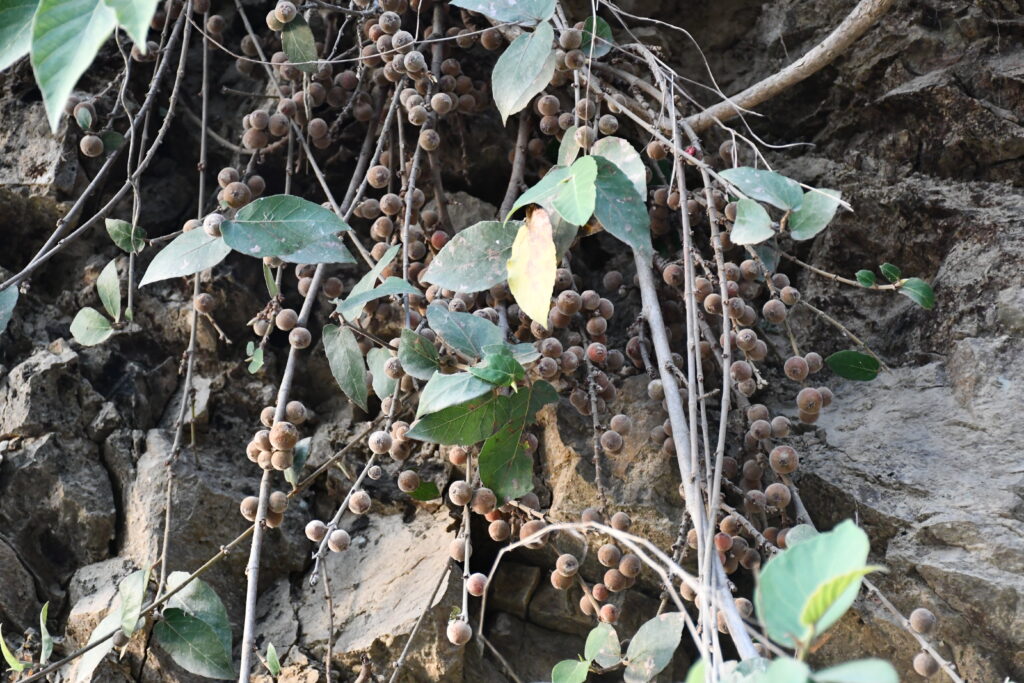 It is usually propagated by seeds in natural habitat, however it can be propagated or cultivated either by apical stem cutting or through air layering. Ripe fruits are very sweet and eaten raw. They are dispersed by birds and other animals. The fruits present on the lower part of the leafless branches get buried in the soil surface and may germinate in leaf litter and humus, that might be the reason that common name drooping fig and local name Bhui Uoomre is given to this plant. Its leaves base is semi cordate type so the botanical na
me Ficus semicordata was given to it.
Young leaves and fruits of Choti Debre both are edible. Fruits are eaten both raw and cooked, while leaves are taken cooked. Choti Debre is a rich source of nutrients 1, so fruits as well leaves of this plant need to be included in day to day to boost health and immunity.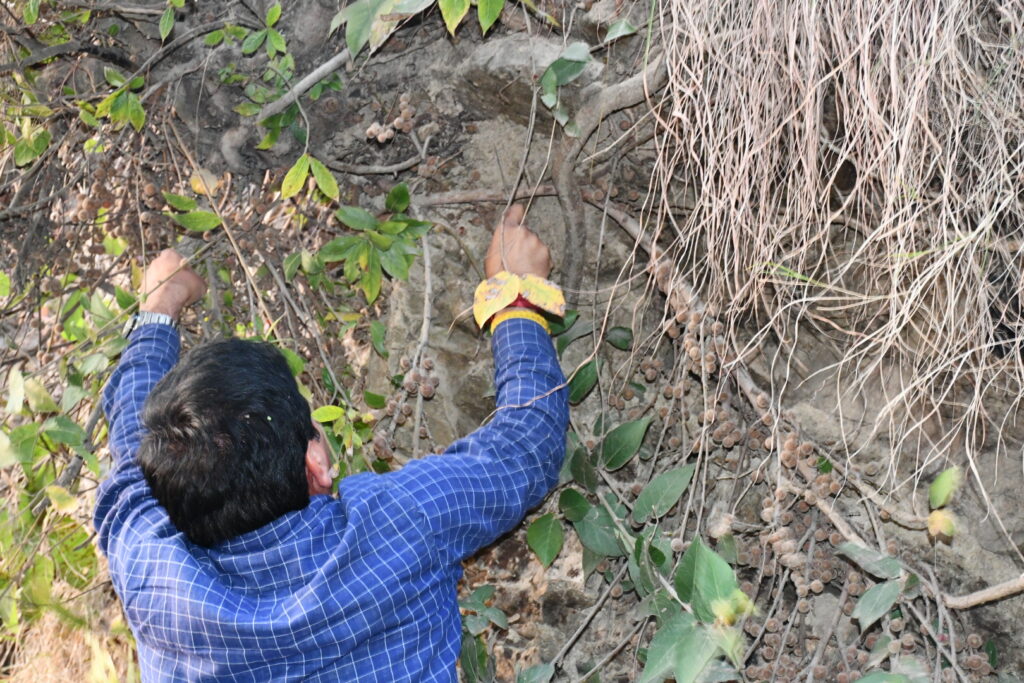 As Choti Debre is a multipurpose tree for local community, it is harvested from the wild habitat as a source of food, fodder, fuel, medicine, fibre and material for their local personal use. Choti Debre can be grown near to habitation as a ornamental plant for its beautiful umbrella-like crown. This will make its access and harvesting easy too.
Choti Debre Plant:
Small trees of irregular habit.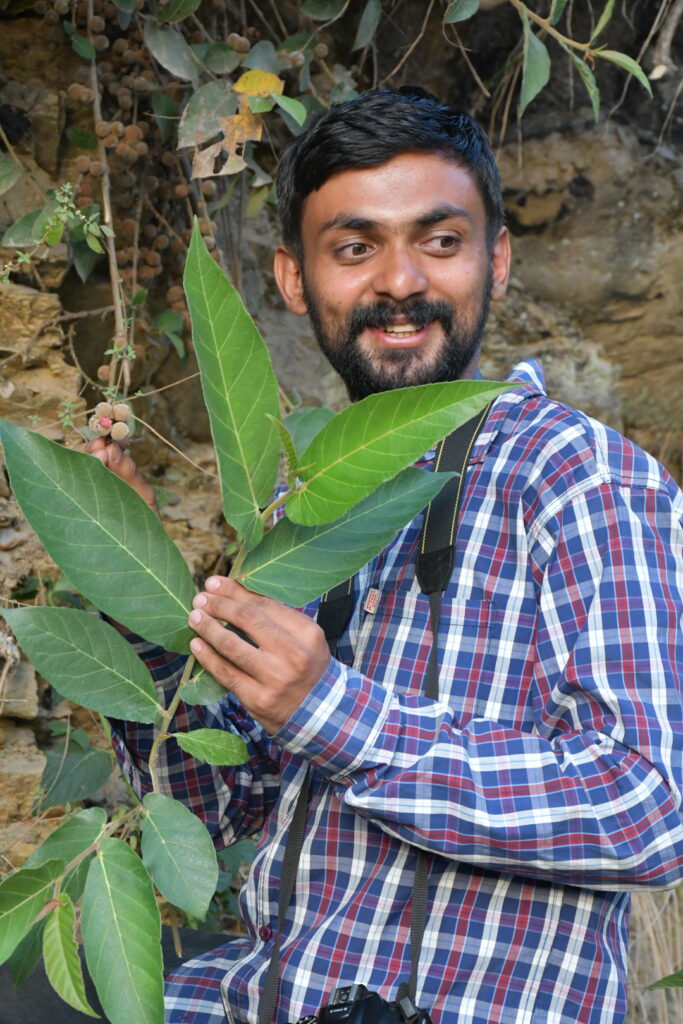 Leaves shortly petioled, variable in size, 15-30cm long, oblong-lanceolate, acuminate, entire or serrate, scabrid on both surfaces or pubescent beneath, base very unequal, semi-sagittate.
Figs shortly stalked, globose, 8-15 mm across, reddish brown and ribbed when ripe, on leafless panicled racemes which issue in great numbers from the trunk and the larger branches.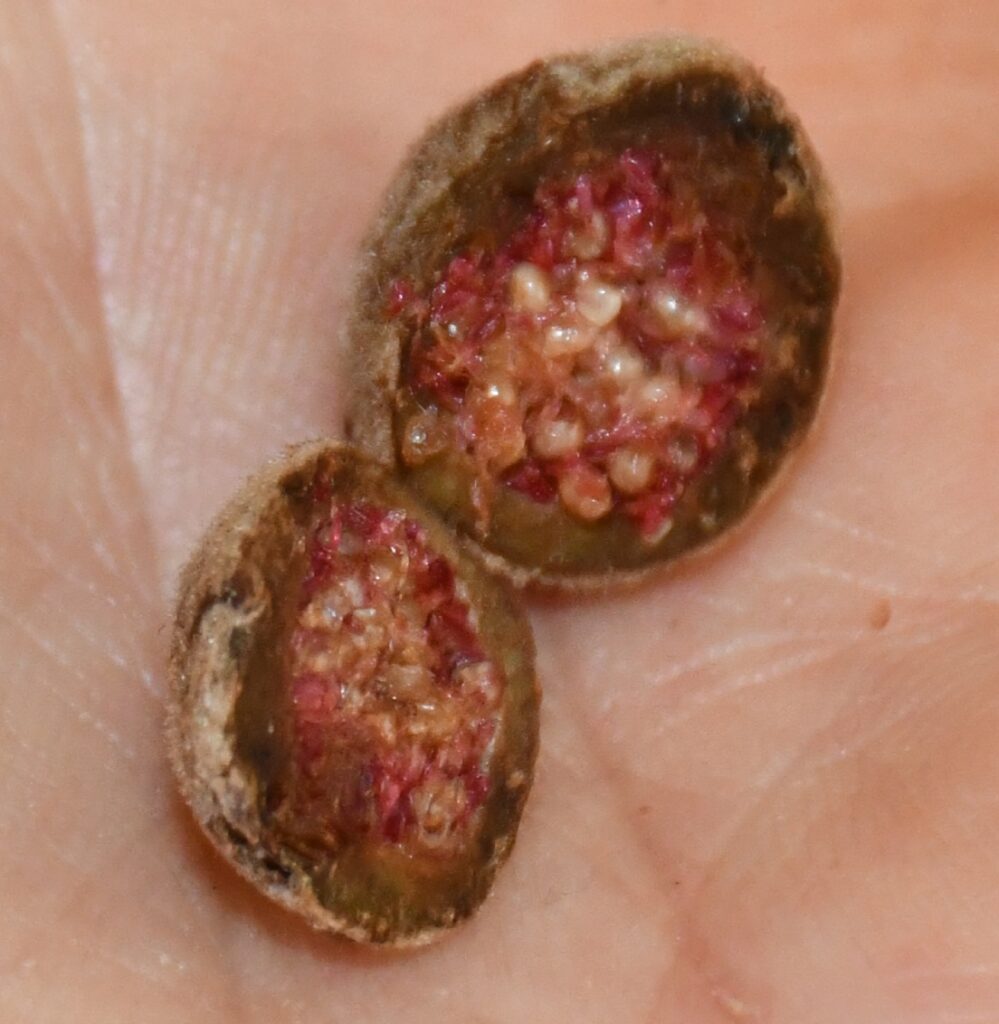 Choti Debre can provide edible leaves round the year. Its fruits are best harvested from late spring to the end of autumn season. As fruits are means of dispersal and regeneration so they need to be best harvested either by habitat rotationor by keeping some fruits on parent plant.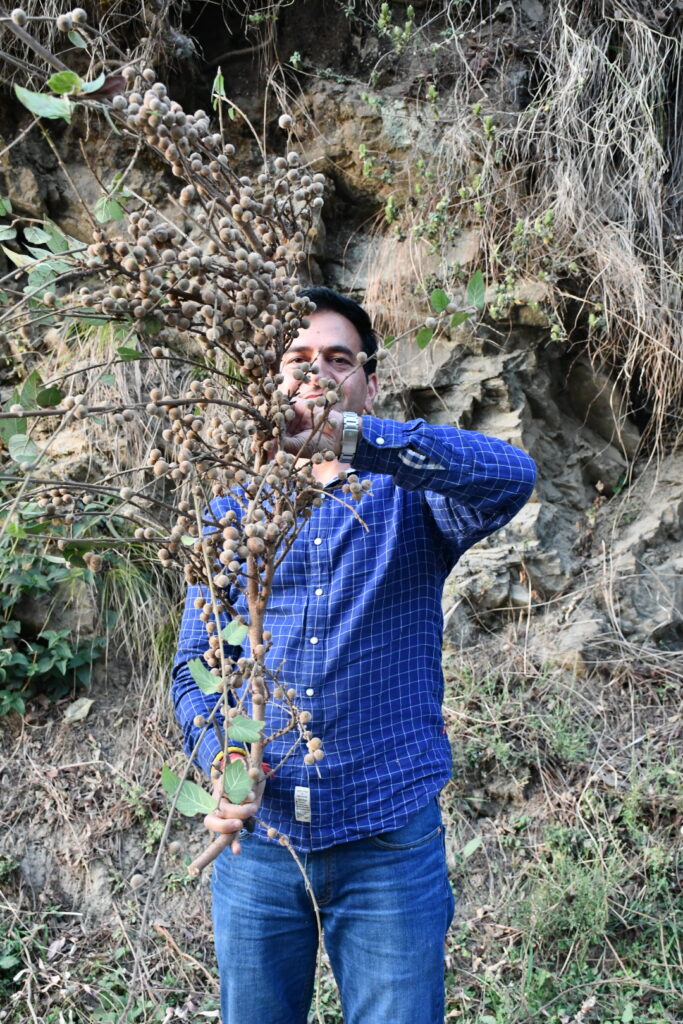 Edible Uses:
As stated above Choti Debre fruit and leaves are edible. Fruits are eaten both raw and cooked. Imature fruits are either cooked as vegetable or vegetable curry. They are also boiled and meshed with spices to stuff in paranthas, kachouri etc ripe fruits with a pleasant, sweet-sour flavor can be used in jam making. Young leaves can be an excellent addition to many traditional dishes of Western Himalays like kachru, pakoras, paranthas, patrodu etc.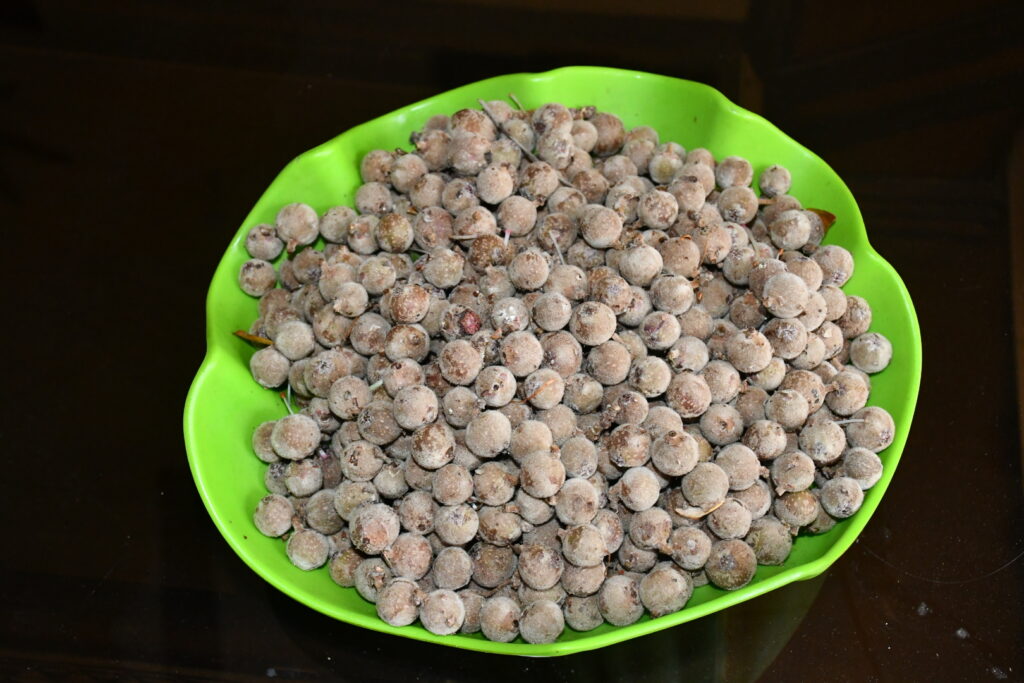 Vegetable/ Vegetable curry:
Ingredients:
Young fruits of Choti Debre, 1 kg; mustard oil, 2 table spoons; coriander powder 1 table spoon; fenugreek powder, ½ table spoon; cumin seed ¼ table spoon; turmeric powder, 1/4 table spoon; red chilies, 2-3; chopped onions 2-4; garlic, 4-5 cloves; ginger paste ½ table spoon and salt according to taste.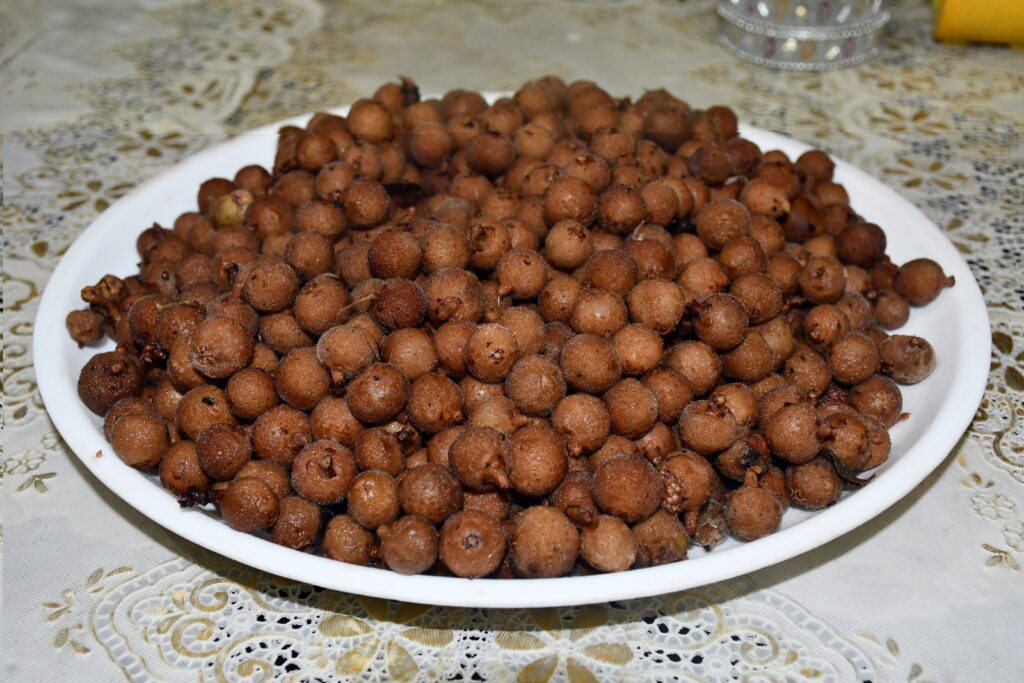 Method:
For making vegetable boil fruits till they become soft. Then mesh manually and sauté with hot mustard oil and the spices listed before in sequence. Cook for 5 to 8 minutes and serve. Add curd to make vegetable curry. Cook for another 5-8 minutes. Garnish with garam masala and serve with rice or chapatti.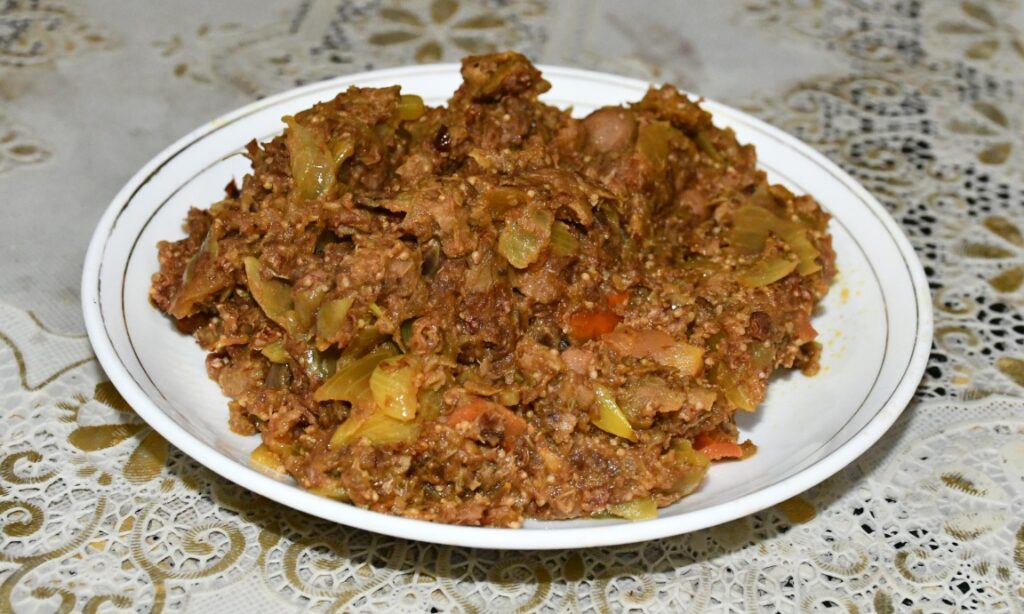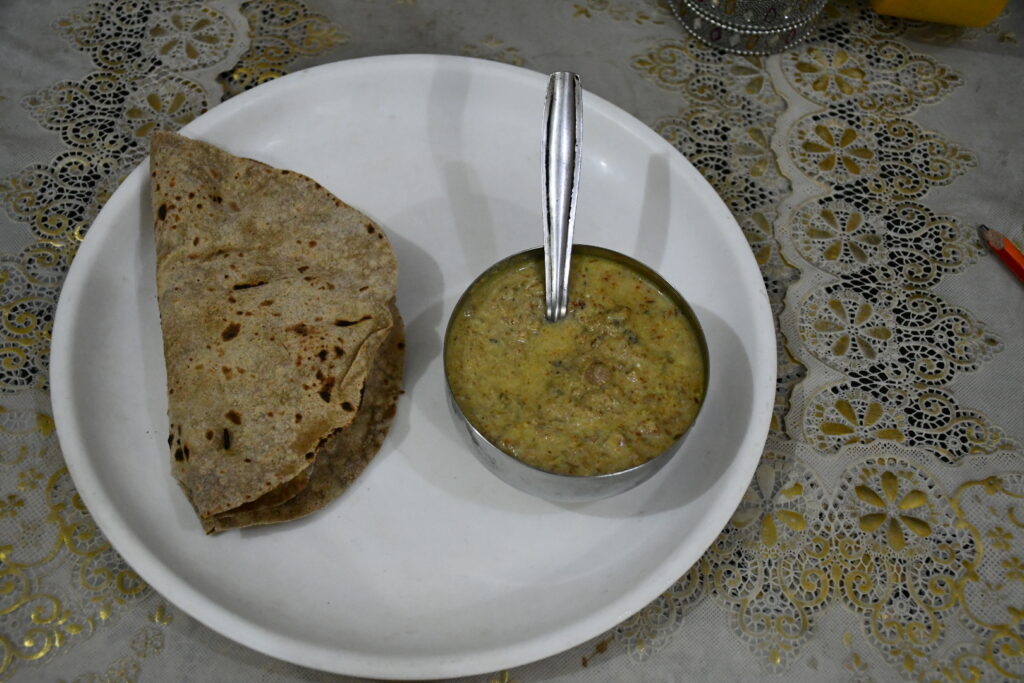 Parantha is a morning breakfast prepared served with curd/butter/pickle/chutney etc. It can be cooked with any greens/boiled potatoes/cheese or some wild boiled fruits like fig spp.
Ingredients:
Boiled Choti Debre fruits; 150g, Young leaves 50g; Oil or ghee. 8-10 table spoon; wheat flour, 4 cup amount; chopped medium sized onion, 2-3, red or green chilies, 3-4, black pepper, ¼ tea spoon, black salt according to taste.
Method:
Mesh boiled fruits. Add to it chopped young leaves and spices listed above. Mix well to make fine paste. Now parantha dough is prepared by mixing wheat flour and water. Knead dough till it is soft, let it rest for sometime. Make small round balls of dough, stuff paste inside balls and roll to thin layered flat breads, Now in hot tawa smear some oil and place flatbread over it. Cook both sides by applying oil. Now parantha is ready to serve. Serve it hot with chutney/ tomato ketchup/ pickle / butter/ curd according to choice.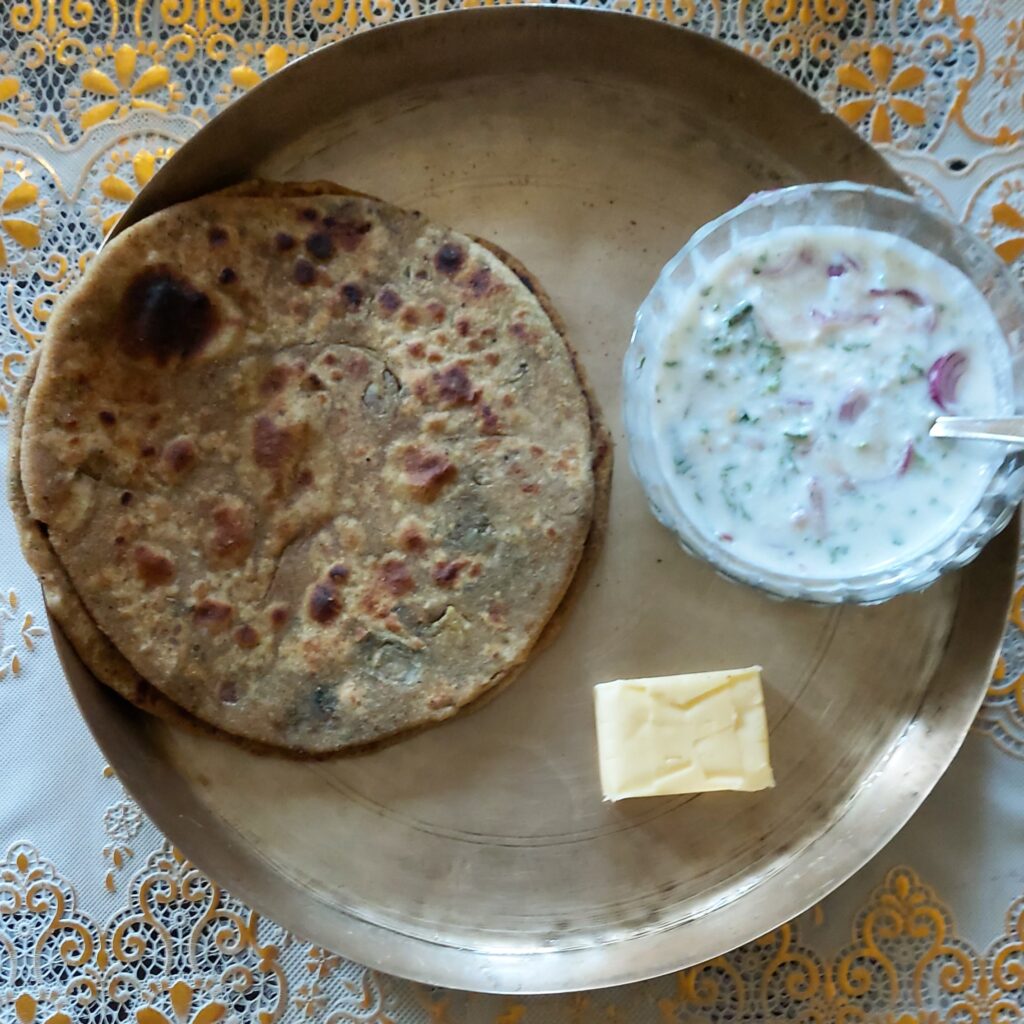 Kachuri:
Ingredient:
Choti Debre young fruits, 1 kg; wheat flour, 7-8 cup amount; yeast, 5-10 g; mustard oil, 1/2 litter; fenugreek powder, 1/2 table spoon; cumin seed, 1 tea spoon; turmeric powder, 1-3 table spoon; red chilies; 10-15; grated ginger , 250 g; chopped green coriander, tirmir (Zanthoxylum armatum), mint (Mentha piperita) and curry (Murraya koeingii) leaves, 2-3 cup amount and salt according to taste.
Method:
For preparing kachuri prepare dough of wheat, flour along with yeast. Allow it to rest for 3-4 hour. Boil boil till these are soft and mesh manually. Add spices listed above and mix well to make a fine paste. Roll dough already made into small disc or round bread-spread and stuff it with paste. Give a deep fry to the stuffed disc in hot mustered oil and take them out. Repeat this for whole dough and paste, now kachuri is ready to serve. Serve hot with chutney/rayata/pickle/ desi ghee.
Kachru or sosaru:
Kachru is a traditional dish of Werstern Himalaya cooked as chilla with spices and basen or corn flour. It is served as a evening snack with tea/ chutney/tomato ketch-up.
Ingredients:
For preparing a kachru, ingredients required are 1kg fresh leaves, 300 g besan (black gram powder) or corn flour. 1 cup amount fresh coriander leaves,1/2 table spoon ajwain, 3-5 green chillies, ½ table spoon turmeric powder, 2-3 chopped onions and salt according to taste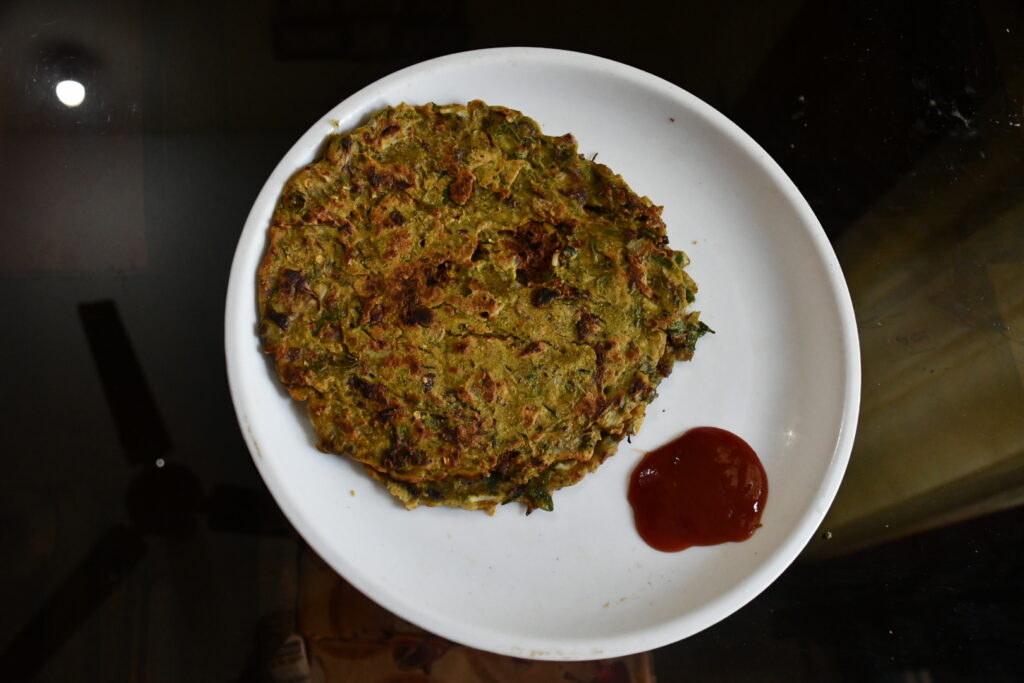 Method:
Make a paste of leaves, besan or corn flour and spices. Heat some oil on a flat heating pan. Put this paste over a pan and cook for 15 to 20 minutes then kachru will be ready to serve.
Pakoras/ Pakora curry:
Ingredients:
Fresh leaves ,250 g; besan (black gram flour) or corn flour,1/2 kg ;mustard oil, 10-12 table spoon; 1 cup fresh coriander plus curry and mint leaves (chopped), 5-6 green chilies, ½ table spoon turmeric powder, 2-3 medium sized chopped onions, 2-3 medium sized finely chopped potato and salt according to taste.
Method:
Make a paste of leaves, chopped potatoes, basen and spices listed above. Mix well and and make small ball of this paste. Put mustard oil in a fry pan and give these balls a deep fry. Repeat this process till whole paste is over. Pakoras are now ready to serve. Serve these hot with chutney or tomato-ketchup. For making curry saute curd with spices of choice and add pakoras. Cook for 8-12 minutes and serve.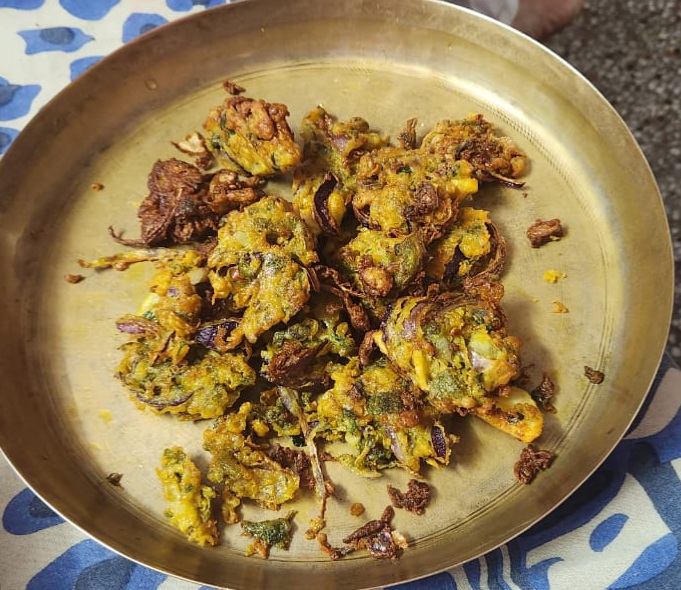 Pickle:
Ingredients:
Unripe fruits, 1 kg; mustard oil, 7-9 table spoons; fenugreek powder, 2 table spoon; cumin seed, 2 table spoon; turmeric powder, 1; table spoon. red chillies, 8-12. mustard (rai ) powder, 4 table spoon and salt, according to taste. .
Method:
For preparing pickle, boil 5 to 8 minutes and dehydrate in full sunlight for 3 to 4 hours fruits for shallow fry shoot slices in hot mustered oil and add roasted seed powder of fenugreek, cumin and red chillies into these fried shoot slices. Then add to this turmeric powder, mustard (rai ) and salt, according to taste. Keep this mixture in a ceramic jar for one month. During this period, the bans pieces will develop a sour taste and will be ready to eat.
Jam
Ripe fruits,1 kg; sugar, 500 g; lemon juice, 4-5 tea spoon.
Method:
Putwashed ripe fruits in pan and boil till they are soft. Let them cool down. Mesh boiled fruit pulp manually . Place meshed pulp in a pan, add sugar to it and cook in low flame with constant stirring till sugar dissolve completely and jam become dense. Now mix it well with lemon juice and let it cool down. Jam is now ready to serve. Jam should be used fresh and can be preserved for two months.
Nutritional value fruit:
100g of leaf contains;Total carbohydrate, 19.51 g/;True protein,7.50 g g;Protein,9.78 g;Total fat,2.96 g;Energy value,138.86 Kca;,Vitamin C, 5.3 mg;Vitamin A, 0.979 mg;Iron, 264.62ppm; Zinc, 10.24 ppm; Manganese, 10.24; Phosphorus, 0.17 ppm; Calcium, 2623.09 ppm 1.
Nutritional value leaf:
100g of leaf contains; Total carbohydrate, 22.29 g;True protein,2.95 g;Protein,12.20 g;Total fat,1.41 g;Energy value,113.65 Kca;,Vitamin C,8.5 mg;Vitamin A,0.091 mg;Iron, 145.33 ppm; Zinc,6.46 ppm; Manganese, 29.5 ppm; Phosphorus,0.16 ppm; Calcium,22048.33 ppm1.
Seek professional advice before treating this plant medicinally.
Medicinal Uses:
Locally people use raw fruits of Choti Debre to cure diarrhea and constipation. They use juice or paste of either root or fruits to relieve headache. For this juice or paste of root or fruits is applied externally on forehead.Acc to locals plants containing milky latex is helpful to cure piles and anaemia. However, literature review shows that this plant has multiple medicinal uses and it shows antioxidant, antidiabetic, antibacterial, anticancer activity for recognition of bacteria 2,3. It is also recommended for treating fevers and menstrual disorders 4. Latex is used to treat children with fevers4.Leaf decoction in combination with other plant extract is taken orally to get relief from jaundice. Leaf juice is applied externally for curing scabies2.
Other Uses
Locally Choti Debre is considered more a fodder tree as compare to food plant. Its branches are lapped for fodder, left over branches are dried and stored for winter season to be used as fuel. Sometime wood of this plant is used in making tool handles. Fibre from the bark of used in making coarse ropes.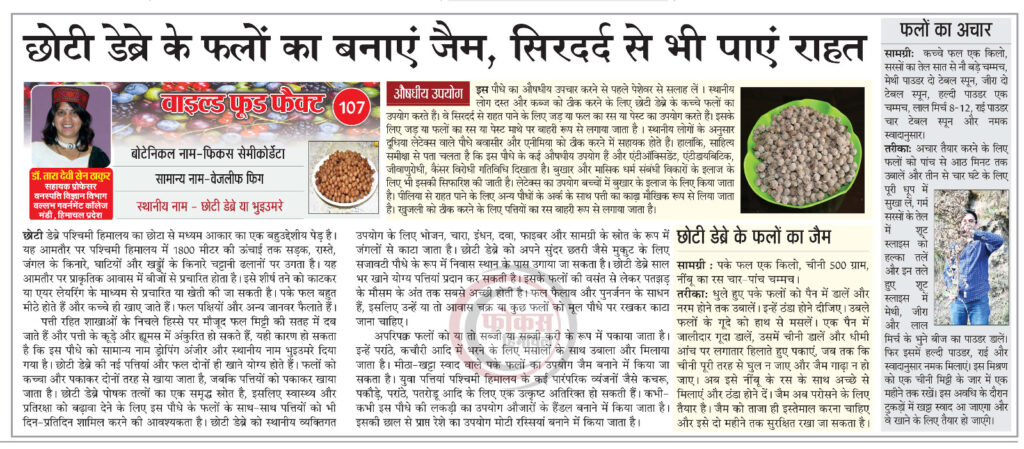 Reference:
Gupta, S., & Acharya, R. (2019). Antioxidant and nutritional evaluation of Bhu Udumbara (Ficus semicordata Buch.-Ham. ex Sm.) leaves and fruits: An extra pharmacopoeial drug of Ayurveda. Ayu, 40(2), 120.
Mabey. R. Food for Free. Collins 1974 ISBN 0-00-219060-5
Edible wild plants found in Britain. Fairly comprehensive, very few pictures and rather optimistic on the desirability of some of the plants
Shashi G, Rabinarayan A. Ethnomedicinal claims of Ficus semicordata Buch-Ham. Ex Sm: A review. Int J Green Pharm. 2018;12:206–13.
Manandhar, N. P. (2002). Plants and people of Nepal. Timber press.