Family: Acanthaceae
Synonyms: Adhatoda adhatoda, Adhatoda arborea, Adhatoda vasica,Adhatoda zeylanica,Dianthera latifolia,Ecbolium adhatoda, Ecbolium latifolium Gendarussa adhadota
Common Name: Malabar Nut Tree
Local Name: Basuti (बसूटी)
Basuti is a tall, much-branched, dense and evergreen shrub of Western Himalayas with large, lance-shaped leaves. It bears white flowers with sweet nectar at base, unpleasant smell and bitter taste. It is native to India and occurs throughout the plains as well as in the foothills of Himalaya. Its Sanskrit name is Vasaka, where 'vasa' means 'perfumes' that denote smell from its flowers. In Sanskrit botany it is known as "lion's muzzle" and "stallion's tooth"; both names symbolize the strength of this plant..
Basuti can grow in variety of habitats that varies from moist river banks to dry slopes and disturbed areas, most commonly it is present in wasteland nearby habitation and roadsides, upto 1200m. Basuti usually prefers a sunny position, but it can also tolerate light shade. Its leaves are unpalatable to livestock and has the ability to colonize waste and disturbed areas, so quite often it is seen growing as a weed specially when introduced to new areas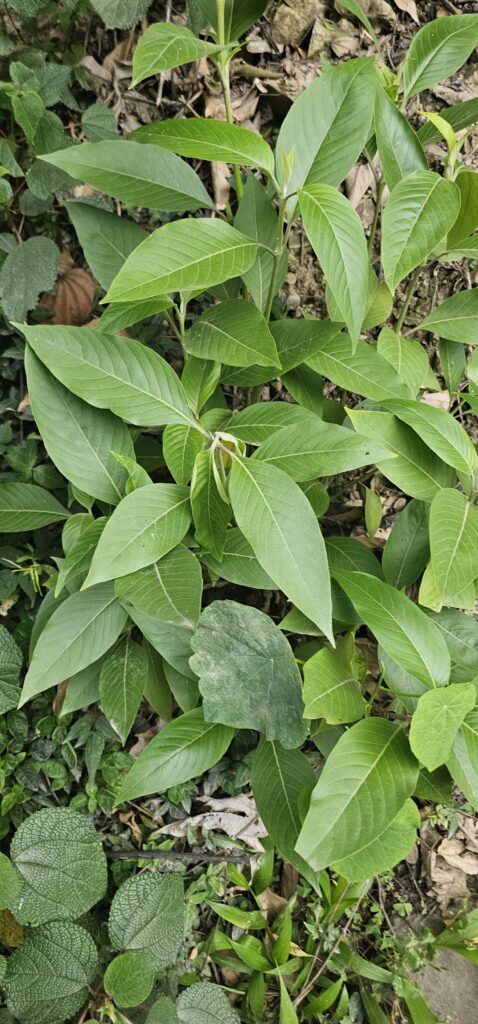 Basuti growing wild
Basuti is considered an important medicinal plant of Western Himalayas which has many medicinal uses as well as health benefits. There is a well-known saying in local dialect of Mandi Himachal Pradesh, Western Himalayas that "jaethi banaha, basuti, bare taethi manu kiyan mare", means where bana (Vitex negundo), Basuti (Justicia adhatoda), bare (Acorus calamus) grows there is hardly any death due to any diseases, because of immense medicinal values of all these three plants to fight with any deadly disease.
There are references of culinary uses of basuti flowers and leaves 1.2, but not very common in Himachal Pradesh. However, flower nectar being sweet and pleasant is sucked by children during their play and this is a very common practice in villages. To harness the rich medicinal value of basuti its flowers are made into gulkand with sugar by some knowledgeable locals like Vaidya & Priest. Basuti leaf juice is also made into jellies along with sugar, salt, honey etc, However, not very palatable in taste but can be taken for its medicinal uses.
Basuti is a multipurpose plant for the local community. Its wood is used as fuel. Green foliage is made into cattle bed during winter and rainy season due to insecticides and fungicides properties of its leaves. Leaves are also used to ripen unripe fruits like banana, mango, papaya etc. Basuti is harvested from the wild habitat for local personal use as food. Fuel, medicine and material. The plant is also sometimes grown in gardens as an ornamental.
Basuti Plant:
Evergreen glabrous much branched shrub, to2.5 m tall.
Leaves opposite petiolate, ovate or elliptic- lanceolate,4,5-15×2.5-8 cm, acuminate,
Flowers white with pink or purple stripes,in dense axillary peduncled spikes,at the end of branches; bracts leaf like,ovate,1.3-2cm long; bracteoles narrowly lanceolate. Calyx 5 –parted; lobes lanceolate, acute, corolla 2.5-3cm long, 2-lipped; upper lip notched, curved; lower 3-lobed, deflexed. Stamens 2,Capsules 2.5×0.8cm or more, clavate. Seeds 4, suborbicular, rugose.
Basuti can provide medicinal edible leaves round the year while edible flowers can be collected from spring to pre-summers season of the year.
Edible Uses:
The young tender shoots, leaves and flowers of basuti are edible and eaten cooked. Due to their unpleasant taste they are eaten with sugar, honey or salt in the form of jellies or gulkand. Tender shoots are boiled and eaten with salt 1. Flowers nectar is sucked by children. Flowers and young shoot can also be addition to kachru, pakoras erc in following manner.
Gulkand:
Basuti flowers,1 kg; sugar, 500 g; fennel powder, 1 tea spoon; cardamom powder,1 tea spoon, honey; 4=5 table spoon and lemon juice 1-2 table spoon.
Flower Petal Jam:
Take flowers, sugar, fennel powder, cardamom powder in a container and mix them all well. Add to it honey so that gulkand remain soft. Transfer this to a ceramic jar and place in full sunlight for 5-6 days or make paste of this mixture by grinding in a pestle motor then put in jar. Sugar will melt and get absorb. Now gulkand is ready to serve
Jellies:
Ingredients: Basuti leaves,1/2kg; Deshi ghee, 5-8 table spoon; Sugar/jeggery,500g; honey, 200g, lemon juice, 2 table spoon; black pepper,1/4 tea spoon; black salt,1/2 tea spoon.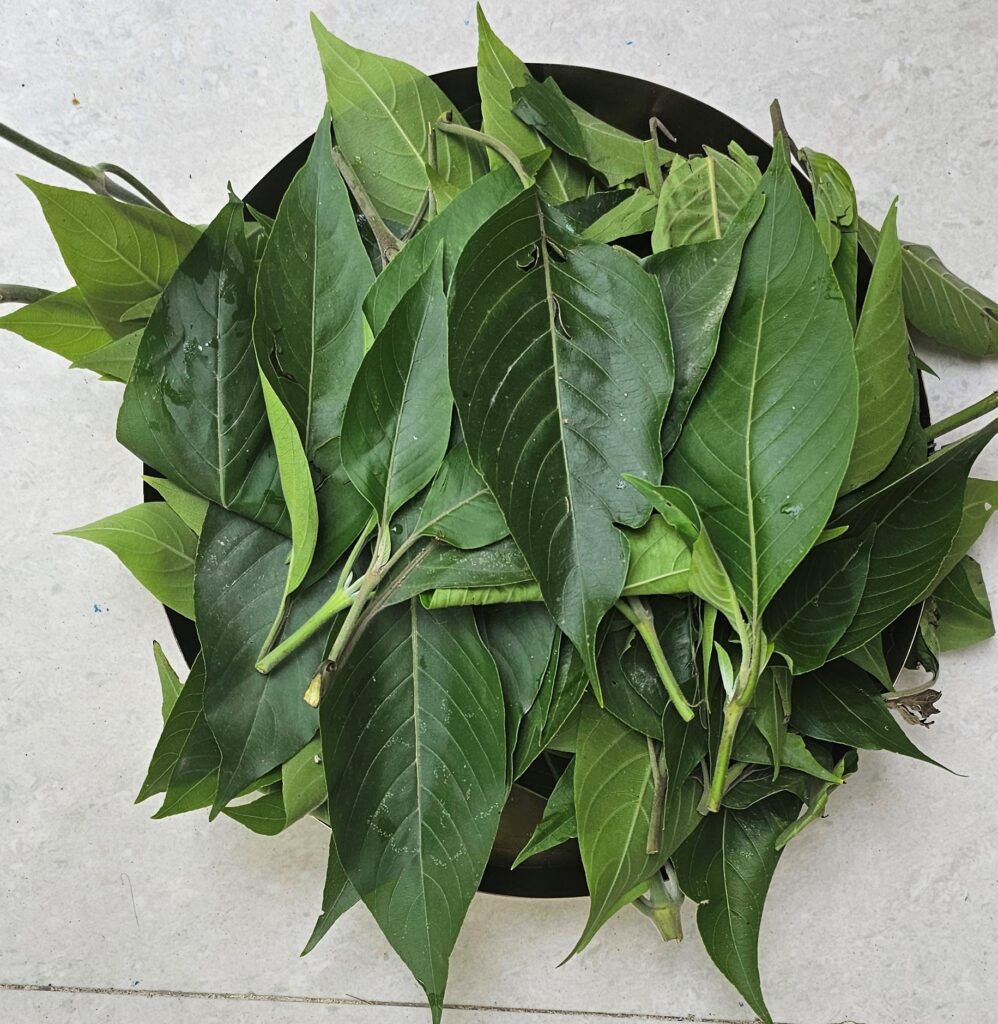 Leaves collected for making Jelly
Method
Grind fresh Basuti leaves with some water in a mixer grinder and strain the extract in a container. Now put deshi ghee in a pan. In hot deshi ghee pour extracted leaf juice and add to it sugar/jiggery, honey, black pepper, salt and boil y stirring constantly till it dense. Let it cool down and put in a extracted leaf juice and add to it sugar/jiggery, honey, black pepper, salt and boil till it dense. Let it cool down and put in ceramic jar. Take a spoon daily to harness the rich food and medicinal value of this plant.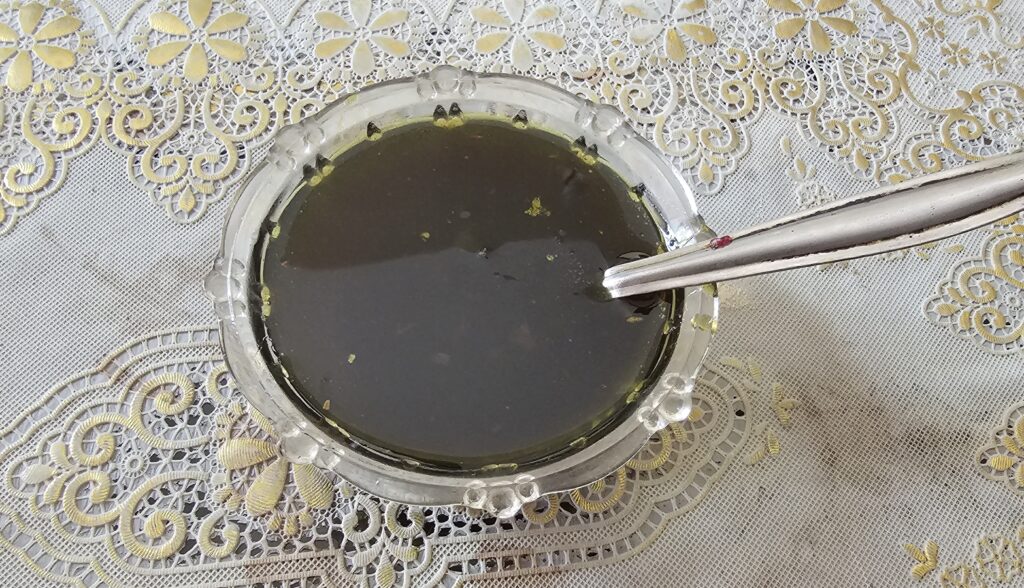 Jelly from Basuti leaves ready to serve
Kachru or sosaru:
Kachru is a traditional dish of Western Himalaya cooked as chilla with spices and basen or corn flour. It is served as a evening snack with tea/ chutney/tomato ketch-up.
Ingredients:
For preparing a kachru, ingredients required are 300 fresh/ flowers, 1/2 kg besan (black gram powder) or corn flour. 1 cup amount fresh coriander leaves,1/2 table spoon ajwain, 3-5 green chillies, ½ table spoon turmeric powder, 2-3 chopped onions and salt according to taste
Method:
Make a paste of flowers, besan or corn flour and spices. Heat some oil on a flat heating pan. Put this paste over a pan and cook for 15 to 20 minutes then kachru will be ready to serve.
Pakoras:
Ingredients:
Fresh flowers ,250 g; besan (black gram flour) or corn flour,1/2 kg ;mustard oil, 10-12 table spoon; 1 cup fresh coriander plus curry and mint leaves (chopped), 5-6 green chilies, ½ table spoon turmeric powder, 2-3 medium sized chopped onions, 2-3 medium sized finely chopped potato and salt according to taste.
Method:
Make a paste of leaves, flowers chopped potatoes, basen and spices listed above. Mix well and make small ball of this paste. Put mustard oil in a fry pan and give these balls a deep fry. Repeat this process till whole paste is over. Pakoras are now ready to serve. Serve these hot with chutney or tomato-ketchup.
Food Value:
Carbohydrate,16.4 % ; Fats, 1.6 % ; Fibre , 6.4%; Protein , 6.5% Energy, 106 calories ; Potassium, 31.15 g ; Calcium, 67.99 g; Iron, 0.70 g ; Copper, 0.06 g ; Zinc, 0.06 g ; Chromium, 0.04 2
Seek professional advice before treating this plant medicinally.
Medicinal Uses:
Locally this plant is used in treatment of respiratory diseases like cough, phlegm, asthma etc in the form of juice, syrup or decoction. Decoction of roots is given to cure high fever. Leaf juice 3 to 4 drops poured into the ear as a treatment of carache. Root, flowers, fruits, stem & leaves decoction as a whole taken regularly for 3 month is considered an effective remedy to cure kidney diseases uric acid and swelling in the body. Tender leaves are also given to livestock for relief in case of appetite loss (4 to 5 days). Leaves and roots are powerful expectorant, bronchodilator and antispasmodic, used in acute bronchitis, asthma and cough 3. The whole plant is antiinflammatory, antispasmodic, febrifuge, pectoral 4. It is used to remove phlegm and as a treatment for excessive menses 5.The roots and leaves are widely used in the Ayurvedic and Unani systems of medicine in India and Thailand for treating bronchitis, asthma, fever and jaundice 1.A medicine for setting broken bones, relieving pain, resolving phlegm 6.The leaves are antiseptic 5,7About 50 g of the freshly collected root is boiled and mixed with cow milk (125 ml), then given orally once a day as a treatment for diabetes 8.The plant is potential anti-diabetic due to the presence of the compounds vasicine and vasicinol 8 .The plant is said to have definite expectorant activity and is used in the treatment of bronchitis 9 an erect, evergreen, shrub with few branches to many branches[. It usually grows up to 2.5 metres tall, but exceptional specimens to 6 metres can be found [Used in traditional medicine, in craftwork etc

Chemical composition
Basuti leaves contain phytochemicals such as alkaloids, tannins, saponins, phenolics and flavonoids. Leaves contain vasicine, a quinazoline alkaloid and an essential oil. It also have other chemicals such as Luteolin, Tritriacontane, B- Sitosterol, Kaempferol, 3- Sophoroside, Adhatodic acid, q- Hydroxyvasicinine, Vit –C, vasicol. Vasicinol, Vaicinolone, Adhatodine, Adhavasinone, Anisotine, Carotene, Vasakin, Vasicinone, Vascicolone, Vasicolinone and many more 10.
Other Uses:
Dry wood is used as a fuel. Leaves are used ( stuffed as a wrap around unripe fruits) to ripen the unripe fruits of mango, banana, papaya etc. Basuti sometimes grown as hedge to demarcate boundaries, exclude livestock and for medicinal and other uses. Extracts of the leaves are used as insecticides and fungicides 5,7 . Young branches bearing leaves are used as cattle's bed in rainy season. The leaves, when boiled with the sawdust of Jack wood (Artocarpus integrifolia), yield a yellow dye 7,9 The wood is also made into beads 9 and a good quality charcoal is made from it 7,9 The plant is used for reclaiming waste land 7
References:
Plant Resources of Southeast Asia http://proseanet.org/
Kumar M, Dandapat S, Kumar A, Sinha MP. Determination of Nutritive Value and Mineral Elements of Five-Leaf Chaste Tree (Vitex negundo L.) And Malabar Nut (Adhatoda vasica Nees). Acade J of Plant Sci. 2013;6(3):103–8. Available from: http://idosi.org/ajps/6(3)13/1.pdf
Singh PB. (2018). Flora of Mandi district. Himachal Pradesh: North West Himalaya
Sharma, P., & Devi, U. (2013). Ethnobotanical uses of biofencing plants in Himachal Pradesh, Northwest Himalaya. Pakistan journal of biological sciences: PJBS, 16(24), 1957-1963.
Perry, L. M., & Metzger, J. (1980). Medicinal plants of east and southeast Asia: attributed properties and uses. MIT press.
Brach, A. R., & Song, H. (2006). eFloras: New directions for online floras exemplified by the Flora of China Project. Taxon, 55(1), 188-192.
Namsa, N. D., Tangjang, S., Arya, S. C., Rajbonshi, B., Samal, P. K., & Mandal, M. (2011). An inventory of the ethnobotanicals used as anti-diabetic by a rural community of Dhemaji district of Assam, Northeast India. Journal of ethnopharmacology, 138(2), 345-350.
Uphof. J. C. Th (1959); Dictionary of Economic Plants. Weinheim, publication
​ ​