Family: Trilliaceae
Synonyms: Trillidium govanianum
Common Name: Himalayan Trillium
Local Name: Nag Chhatri (नाग छत्री)
Nag Chhatriis a robust, trifoliate herbaceous perennial of Western Himalayas. It is found growing between an altitude range of 2700m-4000m.The genus name of this plant Trillium is derived from the prefix "tri"meaning "three" both in Latin and ancient Greek because each Trillium flower has three leaves,three petals and three sepals. On the basis of the number of the floral parts this plant can be easily identified and it is locally known as Teen Patra, tri flower or birthroot. Nag Chhatri is commonly seen growing in shady moist habitats chiefly in forest, along pathways, hill slopes, field margin and grasslands. It grows best in fertile black soil and propagates further by seeds or rhizome cut sections. Nag Chhatri is one of the high valued magical herbs utilized in traditional and modern health care systems. Due to its high demand, roots of Nag Chhatri are unsustainably harvested from the wild habitat and traded illegally. As roots are also one of dispersal means, the unsustainable harvesting practice of this plant has placed it in the list of threatened plants of Himalayan region.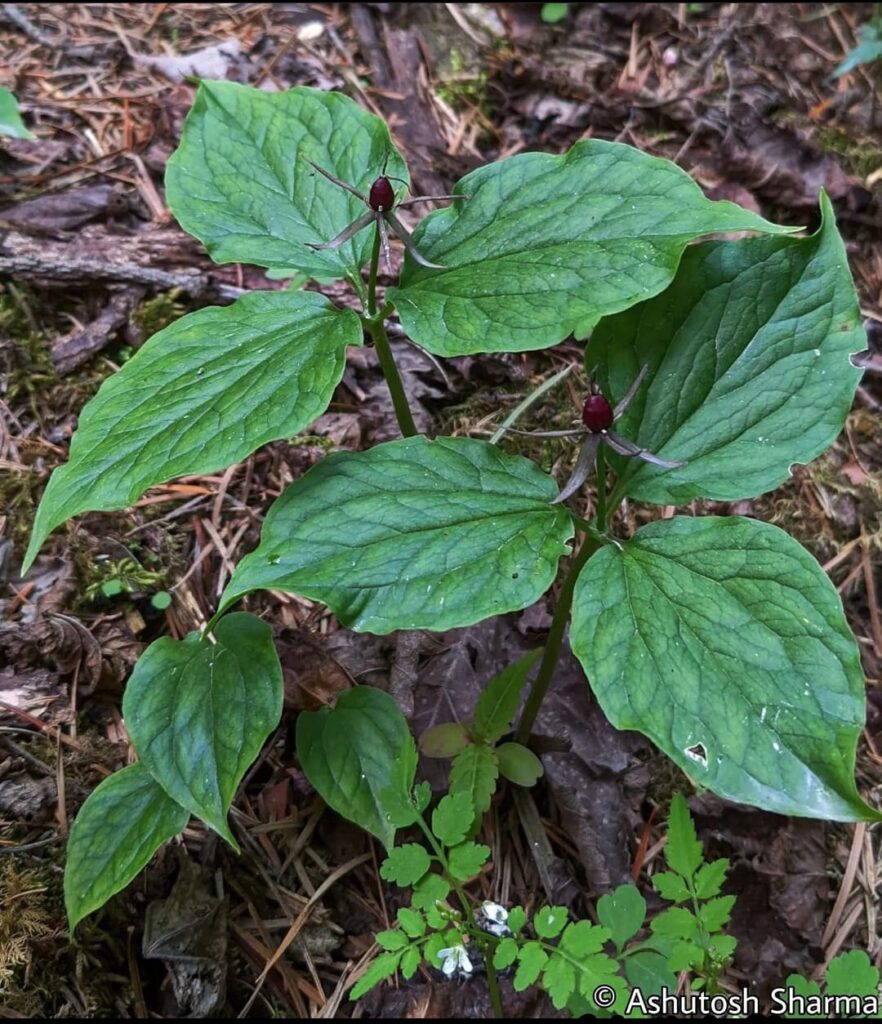 Rhizomes of Nag Chhatri are key material for trade and contain trillarin, which upon hydrolysis yields 2.5% diosgenin. Until now, a number of steroidal glycosides, steroids and steroidal saponins have been extracted from the different species of Trillium 1. This plant is very useful in curing many disorders but mainly used in the treatment of cancer. So it is also known as an anticancer herb. Diosgen is an ingredient of many pharmaceutical drugs 2.
Leaves of Nag Chhatri areutilized in culinary items to harness its rich medicinal value. Leaves are mainly cooked into leafy vegetable saag exclusively or in addition to other edible green leaves. Leaves can also be cooked into a traditional chilla like dish called kachru . It can be an excellent addition to pakoras, omelette, paratha etc.
Nag Chhatri is harvested from wild habitat as a source of food, fodder and medicine for both personal and commercial uses. To promote its sustainability it needs to be cultivated and sustainably harvested.
Nag Chhatri Plant:
Erect, glabrous, unbranched, perennial herbs, 15-30 cm high.
Rootstock thick, creeping. Leaves 3 shortly petioled, broadly ovate, 3.5-10 cm long, acute or acuminate, arranged in a whorl at the top of the stem.
Flowers solitary, pedicelled, 2-2.5 cm long, lurid-purple, in the centre of the leaves. Perianth-segments-6, spreading. Stamens 6. Ovary 3-celled; style purple, divided to the base into 3 long, linear arms.
Berries globose, red, 1-2 cm long.
Seeds ovoid, numerous.
Nag Chhatri is in flowering and fruiting from May to August. Its edible leaves can be harvested round the year but best harvested in the spring season. Rhizome should be harvested by rotating habitat, they can be best harvested after flowering and fruiting to ensure sustainable harvesting.
Edible Uses:
Leaves of this plant are eaten locally to harness rich medicinal value of this plant. They can be eaten as vegetable or as a supplement to various traditional and modern dishes as follow:
Saag:
Ingredients:
Young leaves of Nag Chhatri exclusively or with other edible leaves, 1 kg; mustard oil, 2 table spoons; coriander powder 1 table spoon; fenugreek powder, ½ table spoon; cumin seed ¼ table spoon; turmeric powder, 1/4 table spoon; red chilies, 2-3; chopped onions 2-4; garlic, 4-5 cloves; ginger paste ½ table spoon and salt according to taste.
Method:
Boil chopped plant leaves they become soft. Mesh manually or in a mixer. Then sauté with hot mustard oil and the spices listed before in sequence. This sauted saag is then ready and can be served as such or can be mixed with 2 or 3 chopped onion and cooked for another 5 to 10 minutes before serving.
Parantha is a morning breakfast prepared served with curd/butter/pickle/chutney etc. It can be cooked with any greens/boiled potatoes/cheese or some wild boiled fruits like fig spp.
Ingredients:
Finelychopped leaves, 250 g; boiled medium sized potato/ fig fruits; 4-5, Oil or ghee. 8-10 table spoon; wheat flour, 4 cup amount; chopped medium sized onion, 2-3, red or green chilies, 3-4, black pepper, ¼ tea spoon, black salt according to taste.
Method:
Mesh boiled potato/ fruits. Add to it chopped leaves and spices listed above. Mix well to make Fine paste. Now parantha dough is prepared by mixing wheat flour and water. Knead dough till it is soft, let it rest for sometime. Make small round balls of dough, stuff paste inside balls and roll to thin layered flat breads, Now in hot tawa smear some oil and place flatbread over it. Cook both sides by applying oil. Now parantha is ready to serve. Serve it hot with chutney/ tomato ketchup/ pickle / butter/ curd according to choice.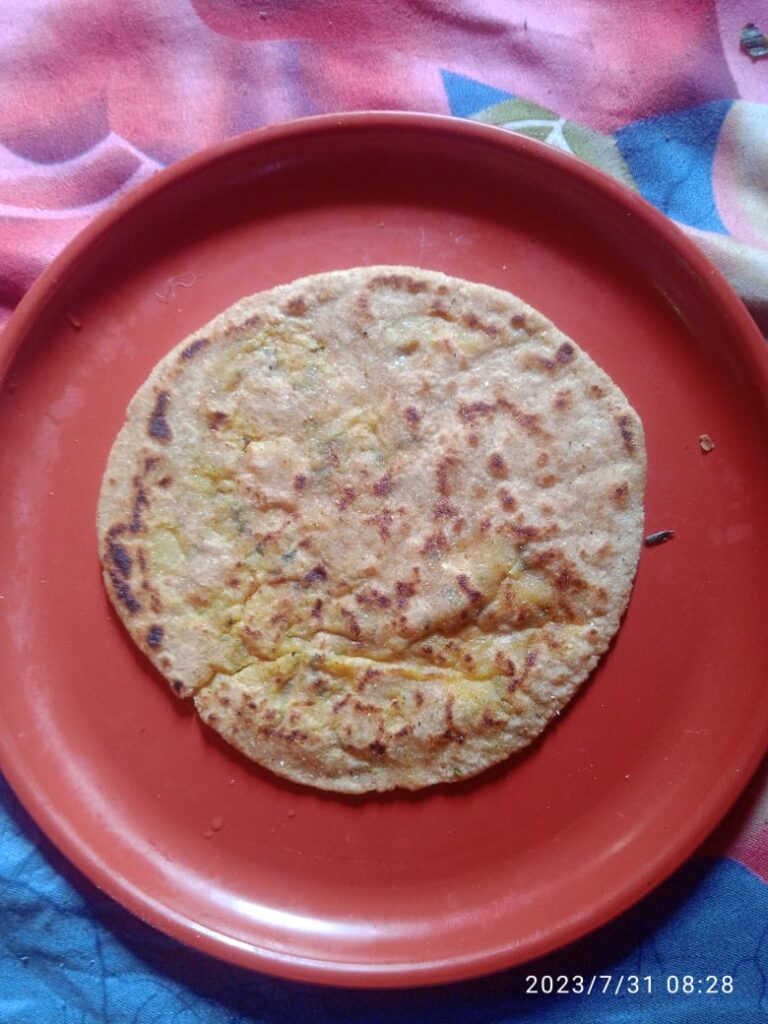 Pakoras:
Ingredients:
Fresh leaves ,250 g; besan (black gram flour) or corn flour,1/2 kg ;mustard oil, 10-12 table spoon; 1 cup fresh coriander plus curry and mint leaves (chopped), 5-6 green chilies, ½ table spoon turmeric powder, 2-3 medium sized chopped onions, 2-3 medium sized finely chopped potato and salt according to taste.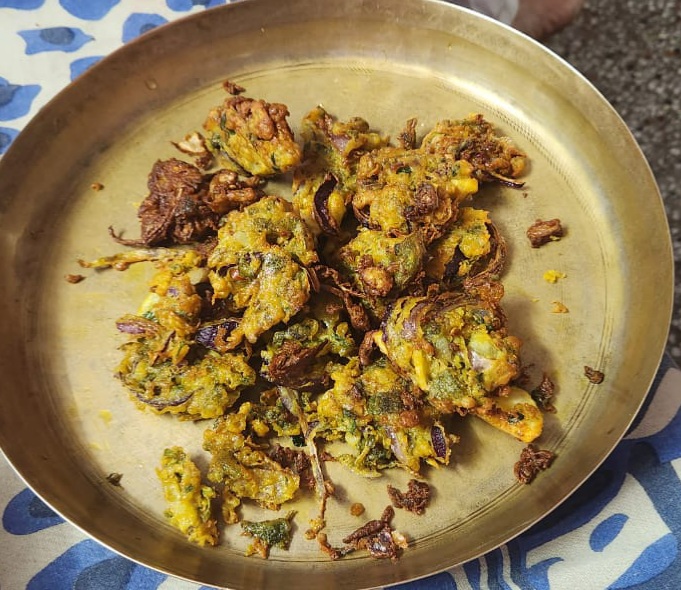 Method:
Make a paste of leaves, chopped potatoes, basen and spices listed above. Mix well and and make small ball of this paste. Put mustard oil in a fry pan and give these balls a deep fry. Repeat this process till whole paste is over. Pakoras are now ready to serve. Serve these hot with chutney or tomato-ketchup.
Kachru or sosaru:
Kachru is a traditional dish of Werstern Himalaya cooked as chilla with spices and basen or corn flour. It is served as a evening snack with tea/ chutney/tomato ketch-up.
Ingredients:
For preparing a kachru, ingredients required are 1kg fresh leaves, 1/2 kg besan (black gram powder) or corn flour. 1 cup amount fresh coriander leaves,1/2 table spoon ajwain, 3-5 green chillies, ½ table spoon turmeric powder, 2-3 chopped onions and salt according to taste
Method:
Make a paste of leaves, besan or corn flour and spices. Heat some oil on a flat heating pan. Put this paste over a pan and cook for 15 to 20 minutes then kachru will be ready to serve.
Seek professional advice before treating this plant medicinally.
Medicinal Uses:
Locally plant (Leaves and root powder) is considered best to cure various stomach disorders like dysentery, diarrhea,menstrual disorders etc. 1-2 grams of the dried root powder is used as an analgesic and anti-inflammatory remedy 2 ( Sharma)). It has anti-inflammatory, anticancer, analgesic and antifungal properties, due to which it can cure different diseases like dysentery, diarrhoea, sexual, ulcerous wounds and menstrual disorders 2,3,4.
Phytochemical Analysis:
Rhizome of Nag Chhatri shows the presence of secondary metabolites such as steroidal saponins, glycosides, tannins, flavonoids and sterols 5,6,7.
References:
Chauhan, N.S. (1999). Medicinal and Aromatic Plants of Himachal Pradesh. Indus Publishing Company, New Delhi, India.
Sharma, A., and Parashar, B. (2017). Review on Trillium govanianum. World Journal of Pharmaceutical Research, 6(2): 500-511.
3. Sharma A., Shanker C., Tyagi L.K., Singh M., Rao C.V., (2008). Herbal medicine for market potentialin India: An overview. Academic Journal of Plant Sciences, 1(2): 26-36.
4. Sharma, O.R. Arya, D., Goel, S., Vyas, K. and Shinde, P. (2008). Trillium govanianum Wall. Ex D. Don (Nagchatri): An important Ethno medicinal Plant of Himalayan region (Himachal Pradesh). Journal of Medicinal Plants Studies, 6(1): 11-13.
5. Rahman ur, S., Ismail, M., Shah, M.R., Iriti, M., and Muhammad, S., GC/MS. (2015). Analysis, free radical scavenging, anticancer β glucuronidase inhibitory activities of Trillium govanianum rhizome. Bangladesh J. Pharmacol., 10: 577-583.
6. Rahman, S., Ismail, M., Khurram, M., and Inam, Haq. (2015). Pharmacognostic and Ethnomedicinal studies on Trillium govanianaum. Pak. J. Bot. 47: 187- 192.
7. Rahman, S., Ismail, M., Shah, M.R., Adhikari, A., Anis, I., Ahmad, M.S. and Govanoside, A. (2015). A new steroidal saponin from rhizomes of Trillium govan