Family: Cucurbitaceae
Synonyms: Trichosanthes anguina L
Common Name: Snake Gourd
Local Name: Jangali Parod (जंगली परोड ).
Jangali Parod is an annual herbaceous climber that can sprawl over the ground or climb upon other plants for support. Vine of Jangali Parod attaches itself to support by means of tendrils and its slightly twining stems. Jangali Parod is commonly seen growing over hedges and shrubs found along pathways, roads, around cultivated fields and in waste places. Itcan grow upto an altitude of 800-1000m in western Himalayas. Jangali Parod requires sufficient moisture in the growing season. It shows optimum growth in well-drained soil in sunny position. However, it can toleratee light shade too. Jangali Parod propagate through seeds in their natural habitat.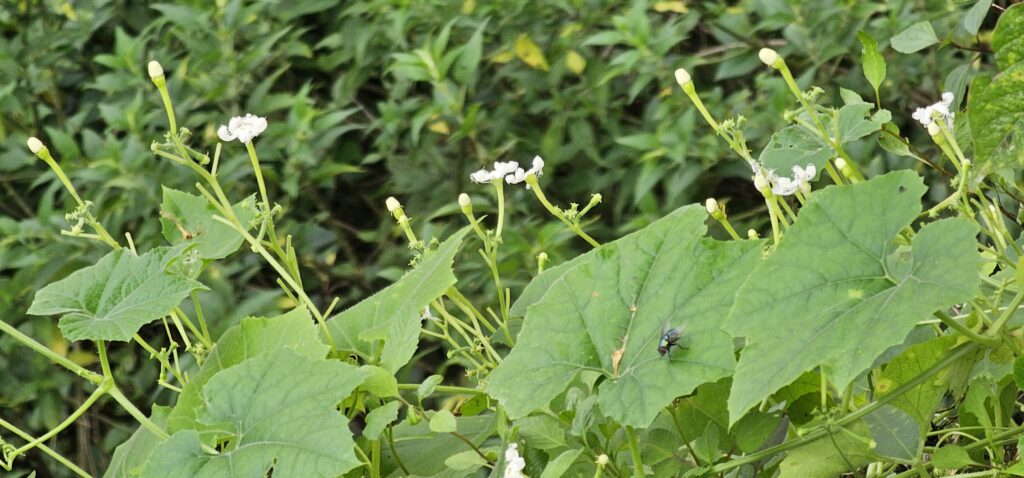 Young fruits of Jangali Parod are edible and eaten cooked. Fruits should be eaten when young as fully mature fruits may develop a bitter flavour and become inedible. However fruits of all the wild vines are not suitable for cooking, fruits of some vines are too bitter to eat. So, one should taste fruits before harvesting and cooking. However, edible Jangali Parod is tastier and more nutritious than other members of Cucurbitaceae family. Young fruits can be cooked as vegetable or vegetable curry. Fruits are an excellent addition in Sambar. There are references of edible uses of Jangali Parod leaves and young shoots too 1.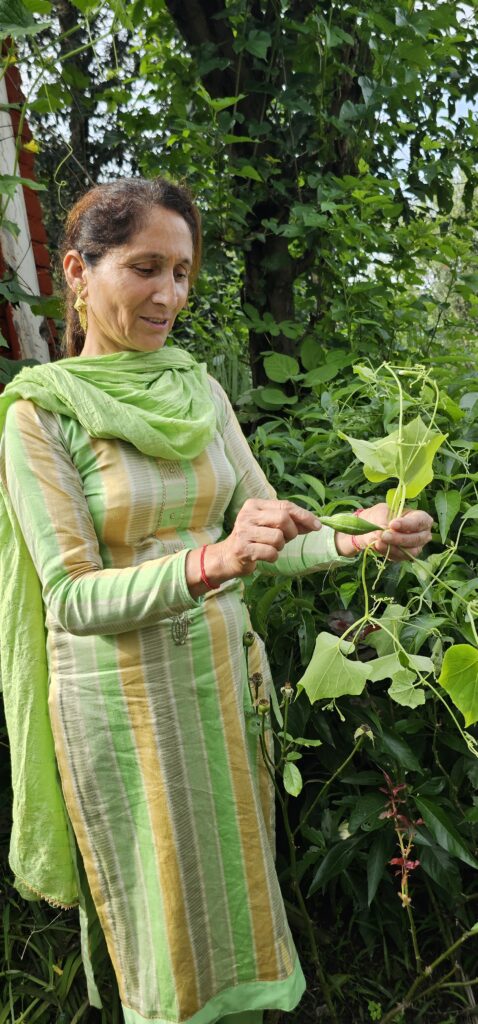 Jangali Parod is harvested from the wild as a source of food,fodder and medicine. It is a wild relative of cultivated variety so it is a climate resilient food crop. Hence, it needs to be domesticated and protected to preserve its germplasm for hybridization and crop breeding programs.
Jangali Parod Plant:
Annual, hairy, climbing or spreading herbs.
Tendrils 3-fid.
Leaves orbicular-renform, 3-7 lobed or angled, 5-20 cm across, faintly denticulate.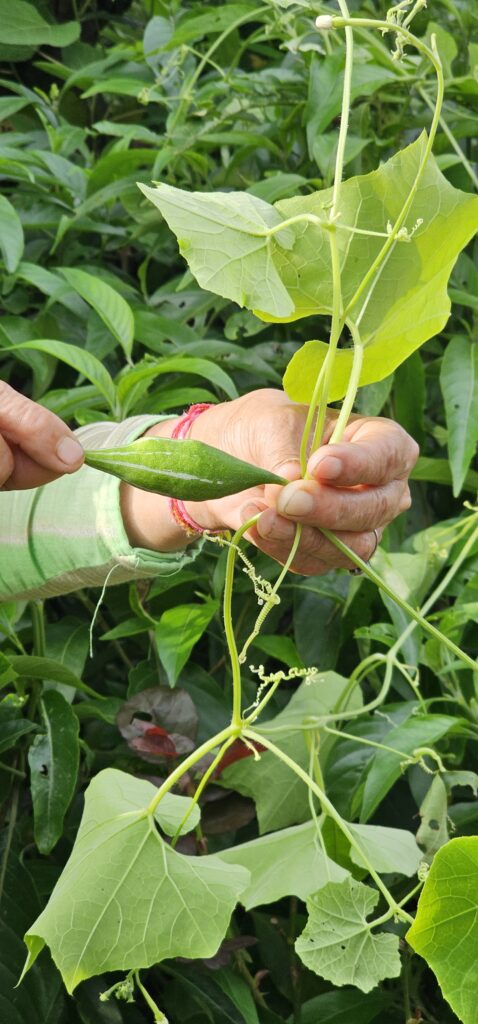 Flowers white, 2-3 cm across; male flowers peduncled, few in number; female flowers solitary.
Fruits yellow, ovoid-conical, 4.5-6.5 cm long, beaked, 7-10 seeded. Seeds ovate-oblong, compressed, rugulose, embedded in red pulp.
Jangali Parod is in flowering and fruiting from rainy to autumn period of the year.Fruits can be harvested in middle of this season. However, fruits need to be sustainably harvested either by habitat rotation or keeping some fruits on parent plant for regeneration.
Edible Uses:
Young fruits of edible vines are edible and eaten cooked as vegetable or vegetable curry. Leaves of Jangali Parod show highest concentration of phenolic compounds, flavonoids, and antioxidant capacity as compared to fruits. Furthermore, the mineral element content of the leaves and flowers is considerably higher than that of the fruit, while the fibre content is significantly high in the fruit compared to the leaves and flowers 2,3. So leaves and flowers of this plant can be an addition to leafy vegetable saag with other edible leaves and can be taken in snacks like pakoras, kachru (chilla) etc.`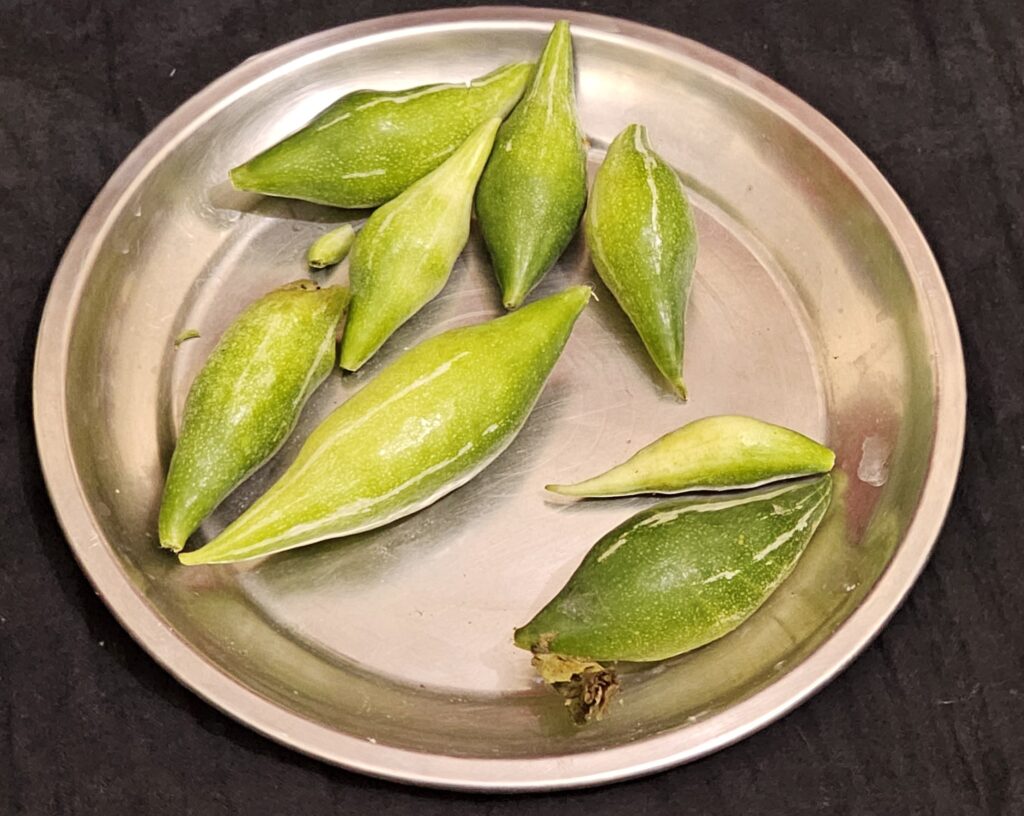 Vegetable:
Ingredients:
Raw fruits, 1 kg; mustard oil, 3-4 tablespoons; coriander powder, ½ table spoon; fenugreek powder, 1 teaspoon; cumin seed, 1 tablespoon; turmeric powder, 1 tablespoon; red chillies, 2-4; medium sized chopped onion, 1; chopped garlic cloves, 4-5; tomato puree, half cup; salt according to taste; amchoor (dried mango powder), one heaped tablespoon; garam masala,1/2 tablespoon.
Method:
Cut slices of fruits and sauté in hot oil along with whole spices like coriander, cumin seeds, chillies, turmeric, onion, garlic and tomato puree etc in sequence. Then cook for 20 to 30 minutes till they are soft. Now the vegetables are ready to serve. Add curd if you want to prepare veg curry and cook for another 4 to 10 minutes. Garnish it with garam masala and serve.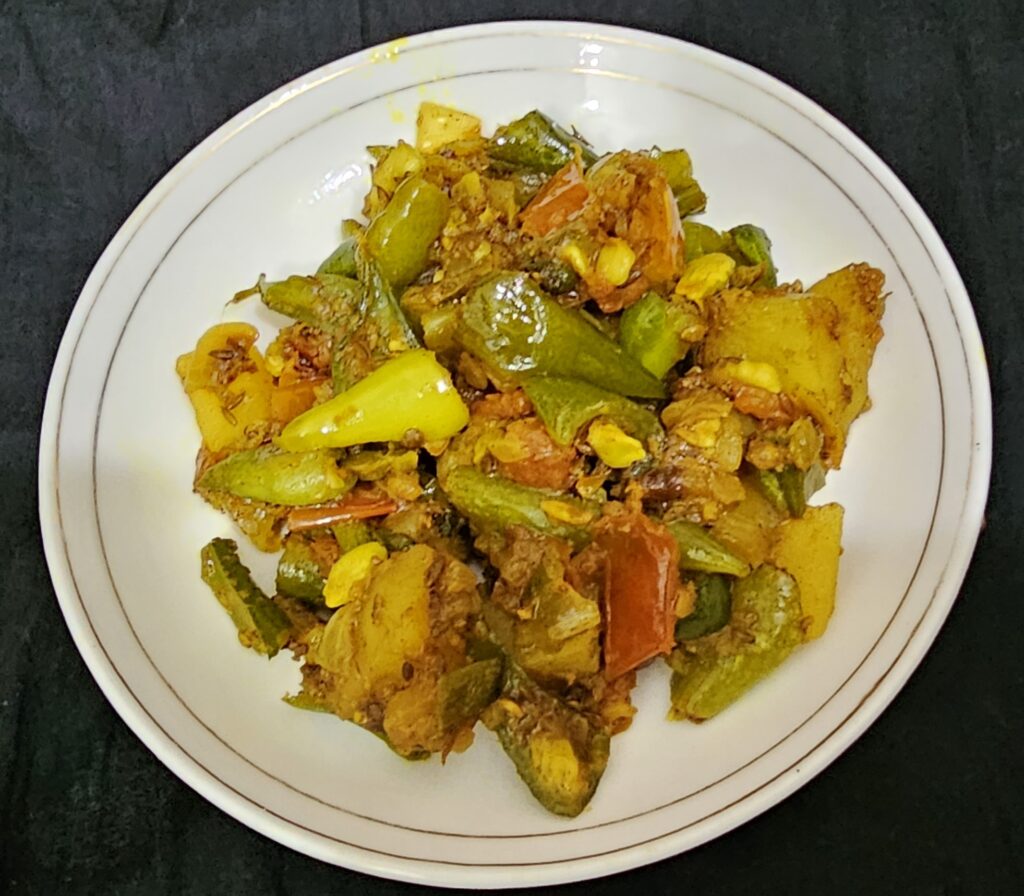 Kachru or sosaru:
Kachru is a traditional dish of Western Himalaya cooked as chilla with spices and basen or corn flour. It is served as an evening snack with tea/ chutney/tomato ketch-up.
Ingredients:
For preparing a kachru, ingredients required are 300-400g fresh leaves & shoot terminals of jangli parod, 1/2 kg besan (black grampowder) or corn flour. 1 cup amount fresh coriander leaves,1/2 tablespoon ajwain, 3-5 green chillies, ½ table spoon turmeric powder, 2-3 chopped onions and salt according to taste
Method:
Make a paste of leaves, besan or corn flour and spices. Heat some oil on a flat heating pan. Put this paste over a pan and cook for 15 to 20 minutes then kachru will be ready to serve.
Food Value:
The plant is a rich source of functional constituents other than its basic nutrients such as flavonoids, carotenoids, phenolic acids, and soluble and insoluble dietary fibers and essential minerals, 3,4. The plant contains proteins, fat, fiber, carbohydrates, minerals, and vitamins A and E in high levels. The predominant mineral elements are potassium (121.6 mg/100 g) and phosphorus (135 mg/100 g) and also sodium, magnesium, and zinc are found in fairly high amounts 5.
Seek Professional advice before treating this plant medicinally.
Medicinal Uses:
Traditionally Jangali parod is considered useful in treating headache, fever, abdominal tumors, bilious, boils, acute colic diarrhea, haematuria, and skin allergy. Fruit pulp is considered anti-fungal and effective to get rid of dandruff and strengthen hair scalp3. Almost all the plant parts like roots, leaves, fruits, and seeds of this plant are reported to have medicinal properties such as antidiabetic, antibacterial, anti-inflammatory, anthelmintic, antifebrile, gastroprotective, and antioxidant activity 2, 3, 6,7,8,9,10,11,12.
References:
1. Facciola, S. (1990). Cornucopia: a source book of edible plants. Kampong publications.
Arawwawala M., Thabrew I., Arambewela L. Antidiabetic activity of Trichosanthes cucumerina in normal and streptozotocin–induced diabetic rats. International Journal of Biological and Chemical Sciences. 2009;3(2):287–296.
Sandhya S., Vinod K. R., Sekhar J. C., Aradhana R., Nath V. S. An updated review on Tricosanthes cucumerina L. International Journal of Pharmaceutical Sciences Review and Research. 2010;1(2):56–60.
Yusuf A. A., Folarin O. M., Bamiro F. O. Chemical composition and functional properties of snake gourd (Trichosanthes cucumerina) seed flour. The Nigerian Food Journal. 2007;25(1):36–45. doi: 10.4314/nifoj.v25i1.33652.
Ojiako O. A., Igwe C. U. The nutritive, anti-nutritive and hepatotoxic properties of Trichosanthes anguina (snake tomato) fruits from Nigeria. Pakistan Journal of Nutrition. 2008;7(1):85–89. doi: 10.3923/pjn.2008.85.89.
Kirana H., Srinivasan B. P. Trichosanthes cucumerina Linn. improves glucose tolerance and tissue glycogen in non insulin dependent diabetes mellitus induced rats. Indian Journal of Pharmacology. 2008;40(3):103–106. doi: 10.4103/0253-7613.42301.
Arawwawala L. D. A. M., Thabrew M. I., Arambewela L. S. R. A review of the pharmacological properties of Trichosanthes cucumerina Linn of Sri Lankan origin. Unique Journal of Pharmaceutical and Biological Science. 2013;1(1):3–6.
Ajiboye T. O., Akinpelu S. A., Muritala H. F., et al. Trichosanthes cucumerina fruit extenuates dyslipidemia, protein oxidation, lipid peroxidation and DNA fragmentation in the liver of high-fat diet-fed rats. Journal of Food Biochemistry. 2014;38(5):480–490. doi: 10.1111/jfbc.12080.
9. Arawwawala M., Thabrew I., Arambewela L. In vitro and in vivo evaluation of antioxidant activity of Trichosanthes cucumerina aerial parts. Acta Biologica Hungarica. 2011;62(3):235–243. doi: 10.1556/abiol.62.2011.3.3.
10. Arawwawala M., Thabrew I., Arambewela L., Handunnetti S. Anti-inflammatory activity of Trichosanthes cucumerina Linn. in rats. Journal of Ethnopharmacology. 2010;131(3):538–543. doi: 10.1016/j.jep.2010.07.028.
11. Arawwawala L. D. A. M. Antibacterial activity of Trichosanthes cucumerina Linn. extracts. International Journal of Pharmaceutical & Biological Archive. 2011;2(2)
12. Arawwawala L. D. A. M., Thabrew M. I., Arambewela L. S. R. Gastroprotective activity of Trichosanthes cucumerina in rats. Journal of Ethnopharmacology. 2010;127(3):750–754. doi: 10.1016/j.jep.2009.11.026.