Family: Asteraceae
Synonyms:Aster minutus,Aster virgaurea,Dectis decurren,Doria virgaurea,Solidago alpestris,Solidago armena,Solidago cambrica,Solidago cantoniensis,Solidago caucasica,Solidago corsica,Solidago dahurica,Solidago gebleri,Solidago insularis,Solidago jailarum,Solidago japonica,Solidago lapponica,Solidago lapponica stenophylla,Solidago macrorrhiza,Solidago minor,Solidago minuta,Solidago nudiflora,Solidago pygmaea,Solidago stenophylla,Solidago talyschensis,Solidago taurica,Solidago turfosa,Solidago vulgaris.
Common Name: Himalayan Goldenrod
Local Name-Pinja phool,पिंजा फूल )Chui-ghas ,
Pinja phool is a herbaceous perennial plant of Western Himalays that can grow up to 60cm tall. It is an easily growing plant, that can succeeds well in any moderately fertile moisture retentive soil of sunny to semi-shady habitat. Pinja phool is seen growing in variety of habitat like along roadsides,dry woods,open moist places, in grassland, rocks, hill slopes, field margins hedgebanks, dunes, as forest undergrowth and in open fields. It can grow between an altitudinal of .900-3800 m.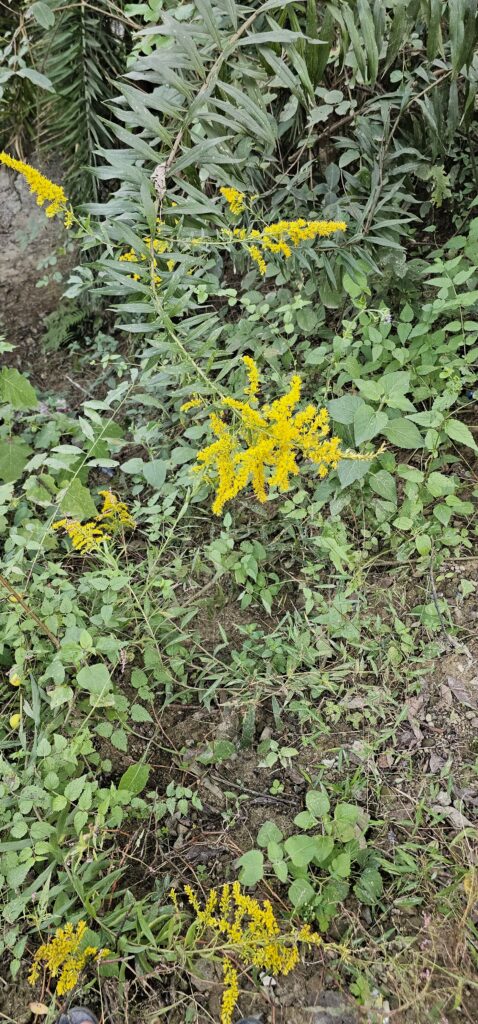 Genus name Solidago of Pinja phool is a Latin word which means "to make whole or heal". Thus it reflects ethnomedicinal use of Pinja phool in traditional herbal medicine. It is used as a food supplement for improving urinary health and reducing inflammation.The aerial parts of this plant are known and used for centuries as anti-inflammatory, spasmolytic, and diuretic remedies in the traditional medicine for the treatment of numerous diseases, especially as a urological agent in kidney and bladder inflammation, urolithiasis, and cystitis 1,2,3,4,5.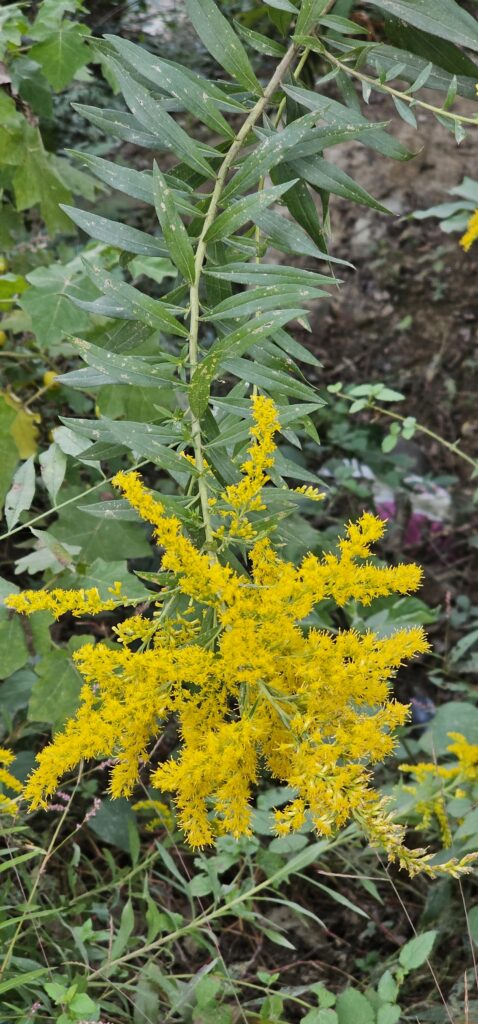 Leaves and fruits of Pinja phool are edible and taken as food supplement to harness its richmedicinal value. Its flowers being fragrant mostly used as garnishing agent in various culinary dishes.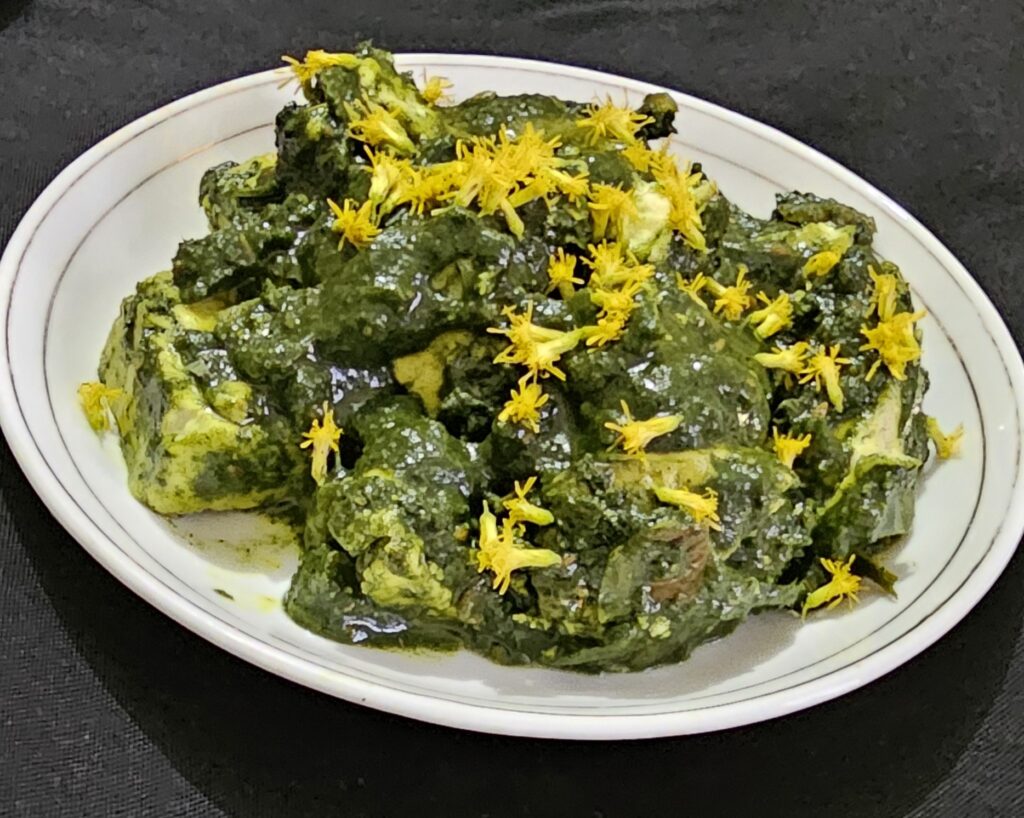 They can be an excellant addition to kachru (Chilla), pakors, kachuri, parantha etc, Leaves are taken as herbal tea.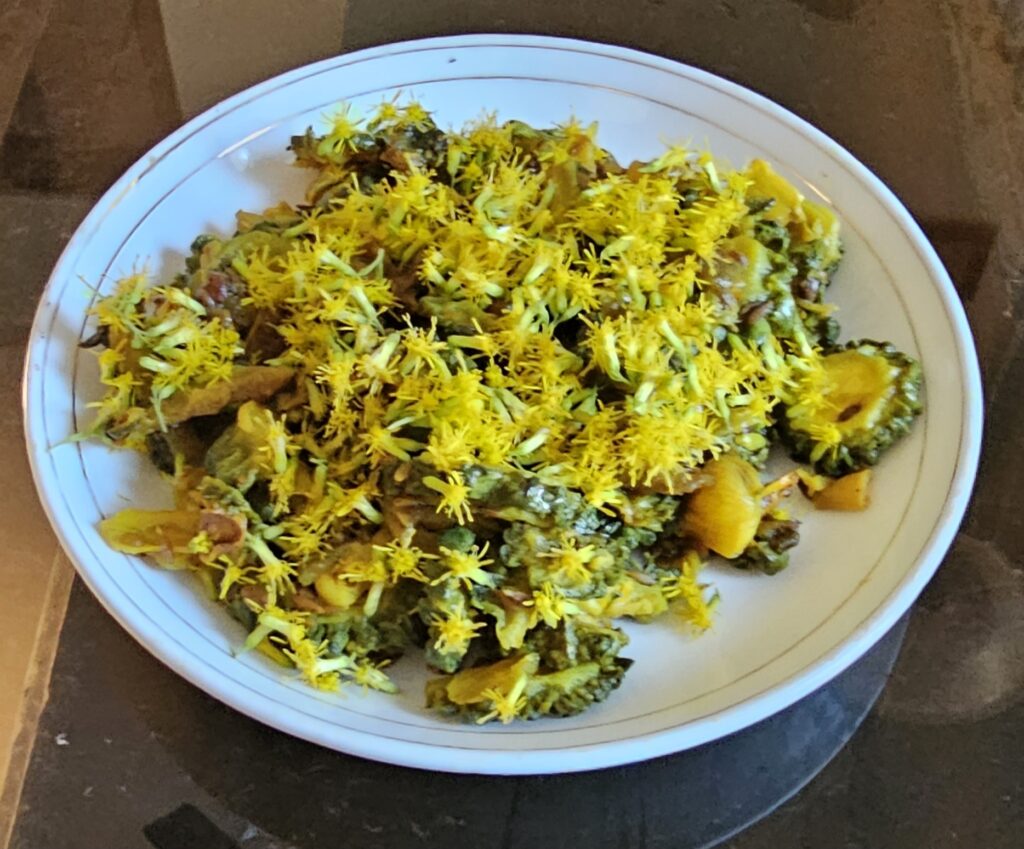 They are even sold in local food markets of some countries like Korea 6. Pinja phool is harvested from the wild for local use as a food,fodderm medicine and material. However, it can also be cultivated as a ornamental plant.
Pinja phool Plant:
Erect, Pubescent herbs, up to 75 cm high.
Stems simple, rarely branched.
Leaves alternate, pubescent on midrib and veins; lower ones petioled, ovate or oblong, 6-12 cm long, toothed; upper ones sessile or shortly petioled, narrower, entire or toothed, 4-9 cm long.
Heads yellow, 1-4, 0.5-1.5 cm across, in rusty-brown racemes, combined into leafy terminal panicles. Involucral bracts 5-8 mm long, unequal, acute. Ray florets 8-12 mm long. Disc florets ca 8 mm long.
Achenes pubescent, 1-2 mm long.
Pappus hairs slender.
Edible Pinja phool leaves can be harbested round the year while flowers can be collected in autumn to pre -winter period of the year, Flowers need to be harvested sustainably either by habitat rotation or by keeping some on parent plant for ensuring sustainable development.
Edible Uses:
Both flowers and leaves of this plant are edible. Flowers can be taken both raw and cooked. Leaves can be a green addition to various culinary dishes, usually they are taken as tea. Flowers are dried to use in off season.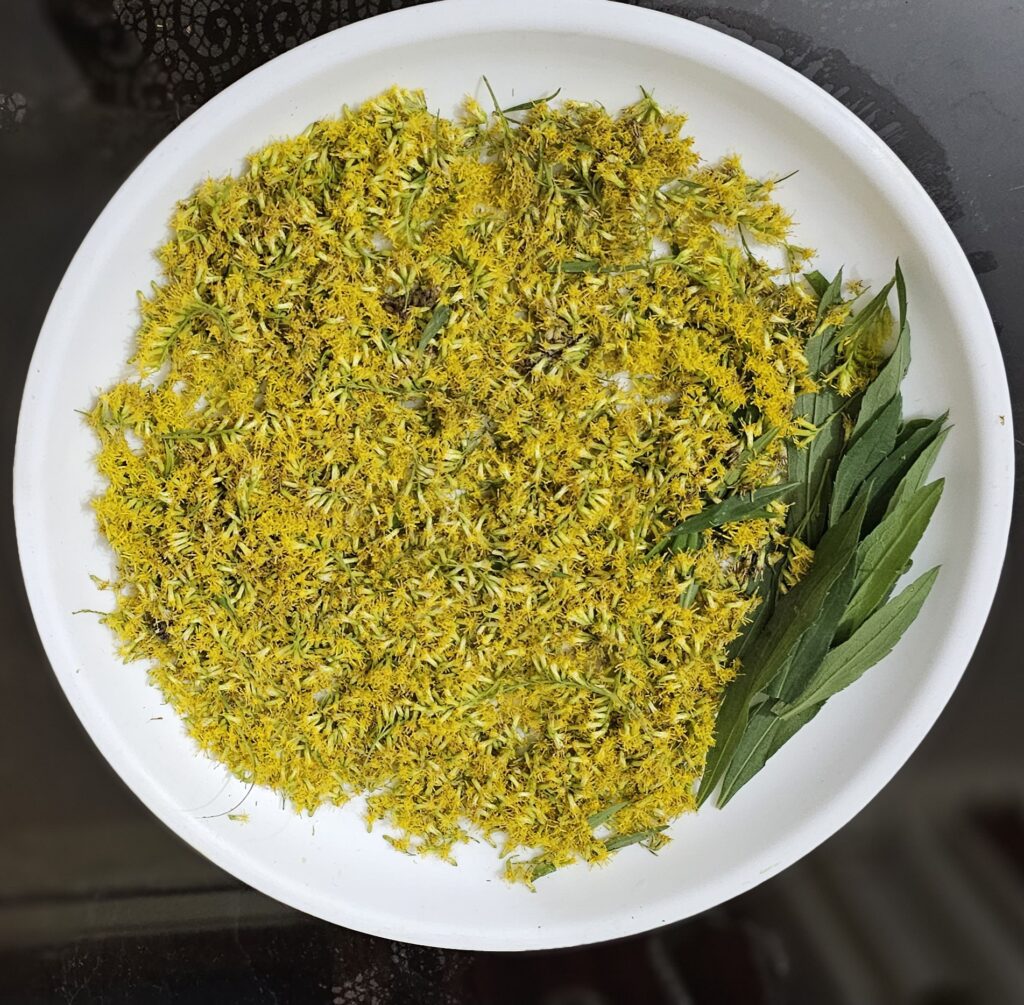 Missi Roti:
Ingredients:
Milltes (Flour of maize; kodo millets; pearl millet ), 2 cup amount each;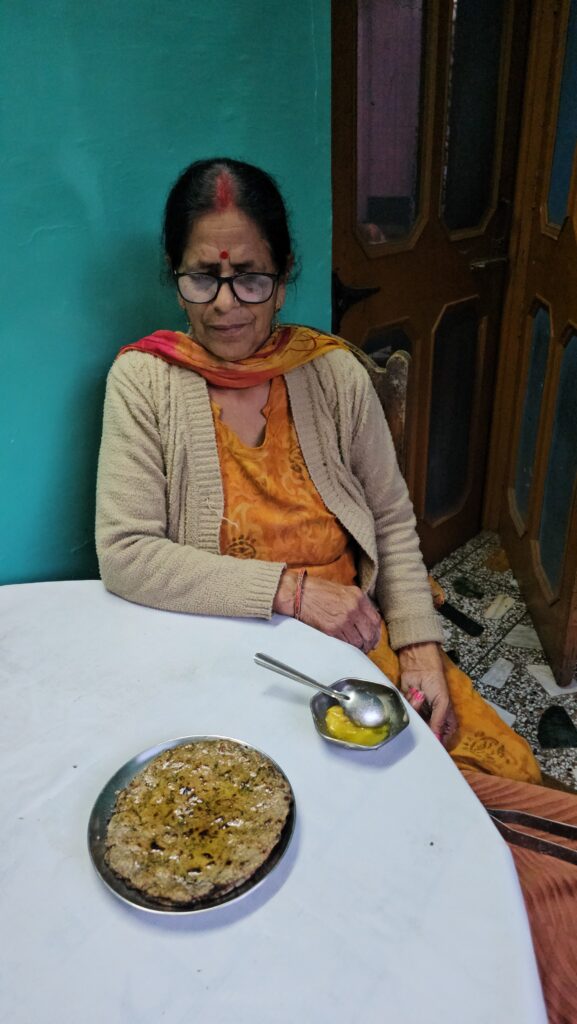 Pinja phool, 250 g; Finely chopped wild green leaves of choice( tender Rumex spp or Mucuna pruriens ),200 to 300g; green chilles,1-2; spices to choice; salt to taste.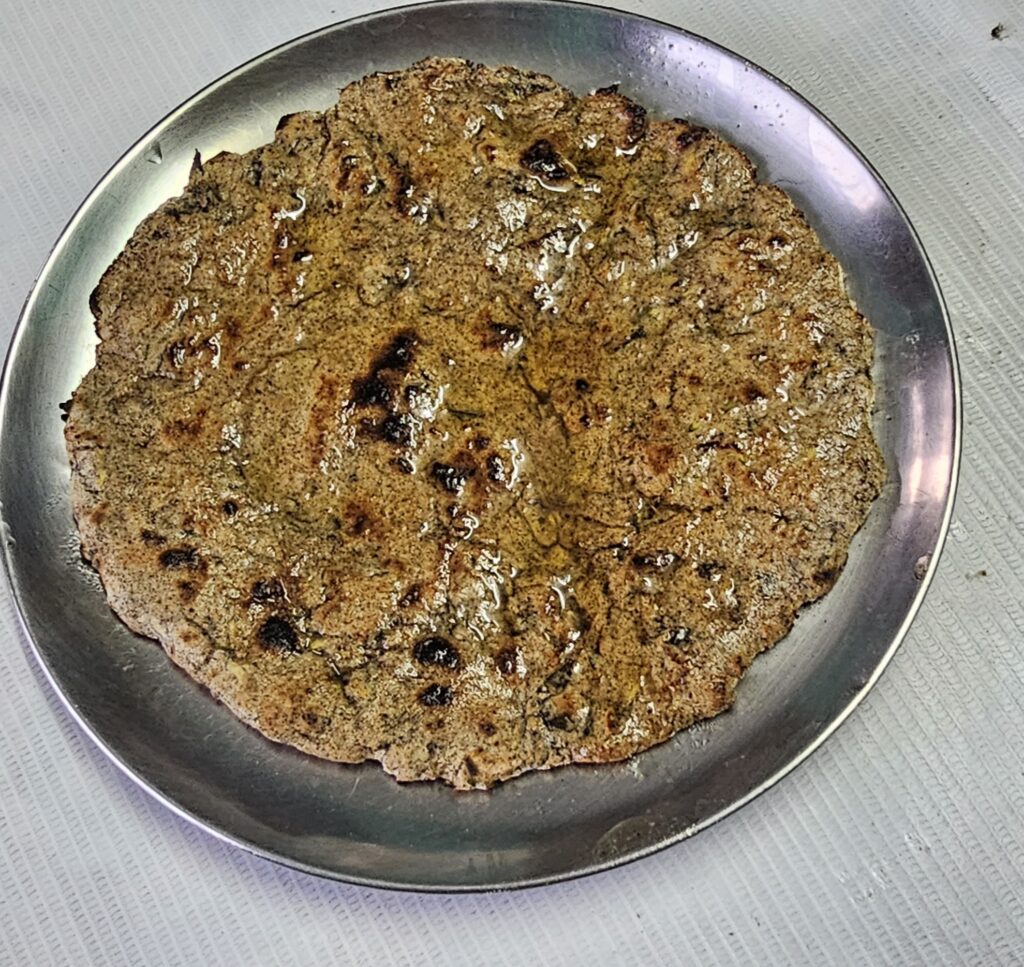 Methods:
Mix milletts flour with flowers,chopped leaves,chilles and spices. Add salt to taste and make a fine dough. Now make roti and cook both sides. Now missi roti is ready to serve. Put some desi ghee on roti and serve it with tea.
Kachru (Chilla):
Ingredients:
Fresh flowers, 1kg; besan (black gram flour) or corn flour, 1/2 kg; fresh coriander leaves (chopped), 1 cup amount; 1/2 table spooncaraway seeds, 3-5 green chillies, ½ table spoon turmeric powder, 2-3 chopped medium sized onions and salt according to taste.
Method:
Make a paste of fresh flowers, besan and spices listed above. Heat some oil on a flat heating pan. Put some paste over a pan, spread it like a chappati and cook on its both sides for 15 to 20 minutes. Kachru will then be ready to serve. Repeat this process till whole paste is ov
Rayata:
Take 1 kg curd in a bowl and add to it fresh flowers,; chopped medium sized onion, 3-4, red or green chilies, 3-4, black pepper, ¼ tea spoon, black salt according to taste Mix well and serve.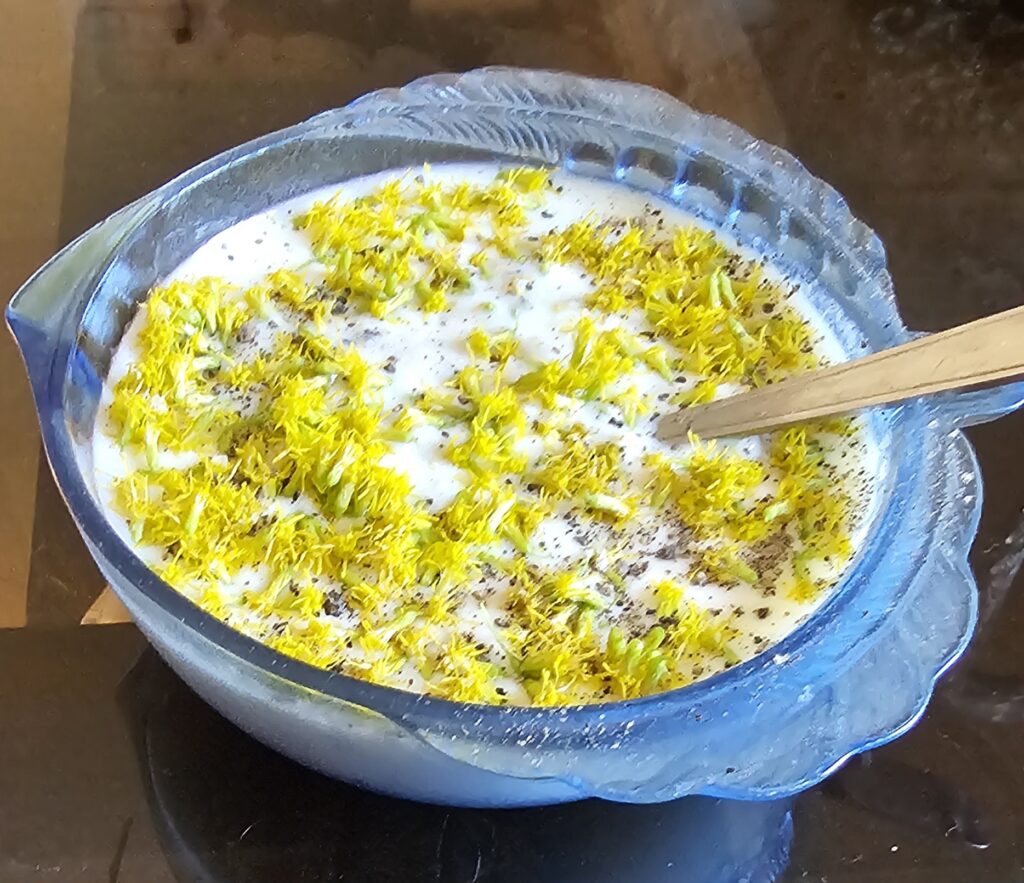 Herbal Tea:
Ingredients:
Pinja phool leaves, 6-8; water, 2 cup amount; sugar, 2 table spoons; lemon juice, 2 tea spoons
Method:
Mince leaves and boil with water. Add sugar to it and simmer in low flame for 10 minutes. Strain into tea cups. Add lemon juice to each and serve.
Seek professional advice before treating this plant medicinally.
Medicinal Uses:
Locally this plant is considered good to cure cold. powdered leaves 3g twice a day is given with warm water. Used as an antiseptic, astringent, carminative, diuretic, lithnotriptic, nervine, sudorific and tonic 7. Being astringent it is considered a remedy for treating wounds and bleeding, whilst it is particularly useful in the treatment of urinary tract disorders, being used both for serious ailments such as nephritis and for more common problems such as cystitis 8. The plant contains saponins that are antifungal and act specifically against the Candida fungus which is the cause of vaginal and oral thrush 9,10.The leaves and flowering tops are anthelmintic, anti-inflammatory, antiseptic, aromatic, astringent, carminative, diaphoretic, mildly diuretic, febrifuge and stimulant 10,11,12,13,14.. It is used in the treatment of kidney and bladder disorders, rheumatism and arthritis 12.
A good vulnerary herb, it has also proved of value when used internally in the treatment of urinary infections, chronic catarrh, skin diseases, influenza, whooping cough, bladder and kidney stones etc 9,12 .
Other Uses:
A yellow dye is obtained from the leaves and flowers 11 .
The plant attracts various beneficial insects such as ladybirds, lacewings and hoverflies to the garden, these insects will help to control insect pests in the garden 9.

References:
Toiu A., Vlase L., Vodnar D.C., Gheldiu A.-M., Oniga I. (2019) Solidago graminifolia L. Salisb. (Asteraceae) as a Valuable Source of Bioactive Polyphenols: HPLC Profile, In Vitro Antioxidant and Antimicrobial Potential. Molecules. 24:2666.
Woźniak D., Ślusarczyk S., Domaradzki K., Dryś A., Matkowski A. (2018); Comparison of Polyphenol Profile and Antimutagenic and Antioxidant Activities in Two Species Used as Source of Solidaginis herba—Goldenrod. Chem. Biodivers. 15:e1800023.
Goulart S., Moritz M.I.G., Lang K.L., Liz R., Schenkel E.P., Fröde T.S.(2007); Anti-inflammatory evaluation of Solidago chilensis Meyen in a murine model of pleurisy. J. Ethnopharmacol. 113:346–353.
Abdel Motaal A., Ezzat S.M., Tadros M.G., El-Askary H.I (2016). In vivo anti-inflammatory activity of caffeoylquinic acid derivatives from Solidago virgaurea in rats. Pharm. Biol. 54:2864–2870.
Yarnell E (2002);. Botanical medicines for the urinary tract. World J. Urol. 20:285–293.
Pemberton, R. W., & Lee, N. S. (1996). Wild food plants in South Korea; market presence, new crops, and exports to the United States. Economic Botany, 50, 57-70.
Chopra, R. N., & Nayar, S. L. (1956). Glossary of Indian medicinal plants. Council of Scientific and Industrial Research.
Chevallier, A. (1996). The encyclopedia of medicinal plants
Loudon, J. C. (1829). An encyclopaedia of plants. Longman.
Grieve, M. (2013). A modern herbal (Vol. 2). Courier Corporation.
Pullaiah, T. (2006). Encyclopaedia of world medicinal plants(Vol. 1). Daya books.
Lim, T. K. (2012). Edible medicinal and non-medicinal plants(Vol. 1, pp. 656-687). Dordrecht, The Netherlands:: Springer.
Lust, J. (2014). The herb book: the most complete catalog of herbs ever published. Courier Corporation.
Bone, K., & Mills, S. (2012). Principles and practice of phytotherapy: modern herbal medicine. Elsevier Health Sciences.